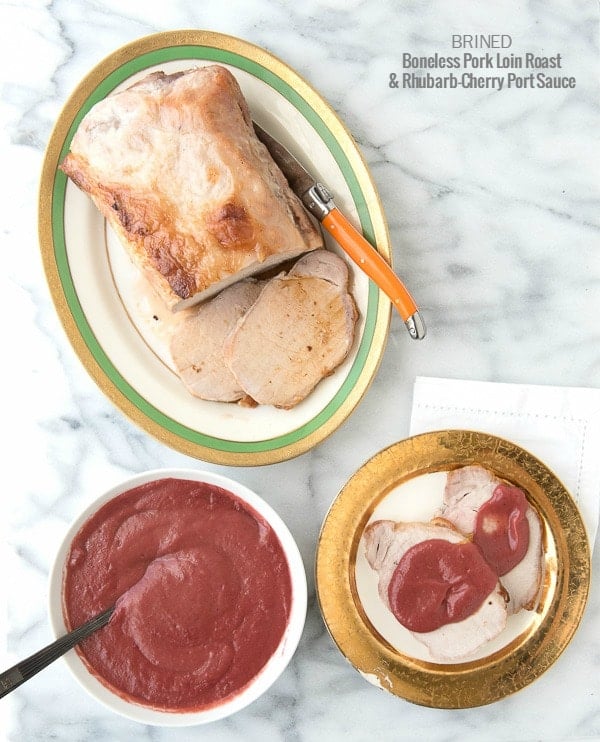 I always make a point of cooking at least a few dishes with new spring ingredients before they give way to summer's bounty. Asparagus, of course. Fresh, feisty greens; yes. And then there is rhubarb. I'm not sure I ever had rhubarb until I began eating seasonally as an adult. It did not hold rank amongst any desserts in my childhood home. I think I had a slice of Strawberry-Rhubarb Pie at a friend's house but all I remember was the consistency was chunky and unlike any other pie I'd tasted, and the odd tang of it.
Now that I'm all grown up, that 'odd tang' is what I live for in spring. It's difficult to describe as it's not like a citrus tang. There is a second, equally indescribable flavor that goes along with it giving it a signature taste all its own. As I began to cook with it, I wanted to branch out from the iconic pie. I believed in the uniqueness of rhubarb and felt there was more it could deliver!
A first recipe I shared was for a Rhubarb Pie cocktail. Not super sweet as the name suggests, it is a fantastic, semi-sweet cocktail serving up that wonderful tang. I also made a Rhubarb Upside-Down Cake from a vintage 1930's recipe I found in a recipe box I purchased on eBay. I loved it. Rustic and unpretentious and sort of 'Little House on the Prairie', cooked and serve up in a cast iron skillet. The last recipe I shared here was Rhubarb Crunch, another taste of Americana dug up from my Grandmother's recipe box. Also simple and relaxed, it's a great dessert for a casual Sunday dinner.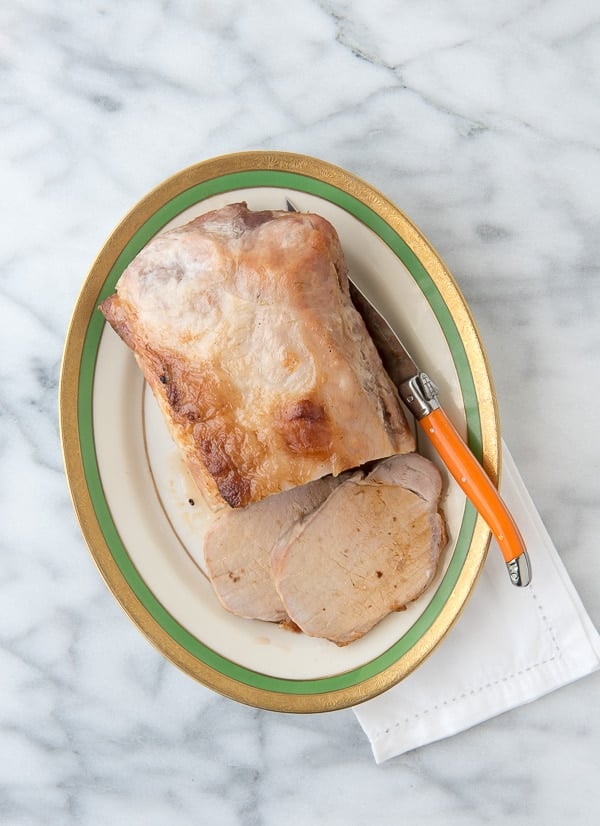 I grabbed some rhubarb at the store recently committed to make something different. I thought it was going to be a dessert of some sort. Maybe a topping for a dessert. Maybe a swirl inside a dessert. As my muse hopscotched around the possibilities, I landed on a savory option of a Rhubarb-Cherry Port Sauce for a pork dish. Don't ask me how I got there, I have no clue. Those where the flavors that emerged from the murky, mercurial process that is recipe development inside my head!
One of my favorite cuts of pork is a Boneless Pork Loin Roast. It is the same cut a butcher would use to prepare boneless pork chops, it's just left intact. It is very easy to cook and larger than a pork tenderloin so easier to keep moist and succulent when cooking. I prefer starting at a very high temperature and then cooking it slowly at a lower temperature which really ends up with wonderful roast. The texture of the pork loin roast is fantastic as well, giving excellent mouth-feel, which is largely why I love it so much as well as the moistness. Brining the roast overnight really ensures a moist result as well.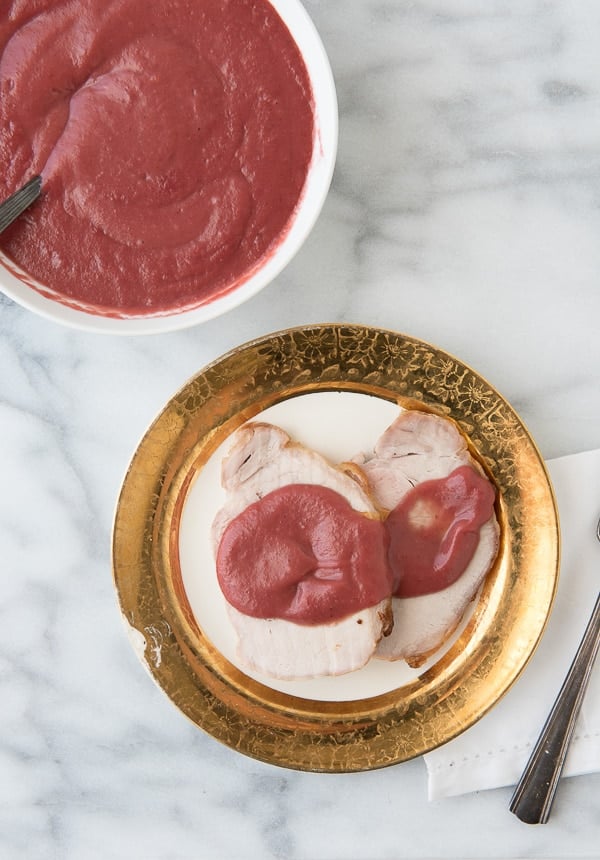 The Rhubarb-Cherry Port Sauce worked fantastically with the mild flavored pork roast. Tangy and sweet. When I'd made it, well before dinner, I gave my son a few small pieces to taste with a bit of sauce in the bottom of a bowl. I heard a spoon scraping as though he was savoring every last drop of ice cream. When I asked he was indeed lapping up any vestige of sauce left in the bowl!