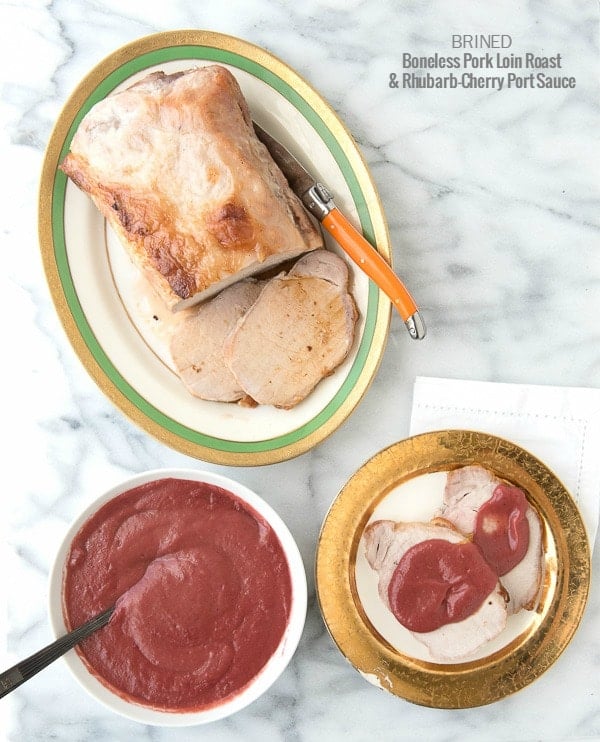 I always make a point of cooking at least a few dishes with new spring ingredients before they give way to summer's bounty. Asparagus, of course. Fresh, feisty greens; yes. And then there is rhubarb. I'm not sure I ever had rhubarb until I began eating seasonally as an adult. It did not hold rank amongst any desserts in my childhood home. I think I had a slice of Strawberry-Rhubarb Pie at a friend's house but all I remember was the consistency was chunky and unlike any other pie I'd tasted, and the odd tang of it.
Now that I'm all grown up, that 'odd tang' is what I live for in spring. It's difficult to describe as it's not like a citrus tang. There is a second, equally indescribable flavor that goes along with it giving it a signature taste all its own. As I began to cook with it, I wanted to branch out from the iconic pie. I believed in the uniqueness of rhubarb and felt there was more it could deliver!
A first recipe I shared was for a Rhubarb Pie cocktail. Not super sweet as the name suggests, it is a fantastic, semi-sweet cocktail serving up that wonderful tang. I also made a Rhubarb Upside-Down Cake from a vintage 1930's recipe I found in a recipe box I purchased on eBay. I loved it. Rustic and unpretentious and sort of 'Little House on the Prairie', cooked and serve up in a cast iron skillet. The last recipe I shared here was Rhubarb Crunch, another taste of Americana dug up from my Grandmother's recipe box. Also simple and relaxed, it's a great dessert for a casual Sunday dinner.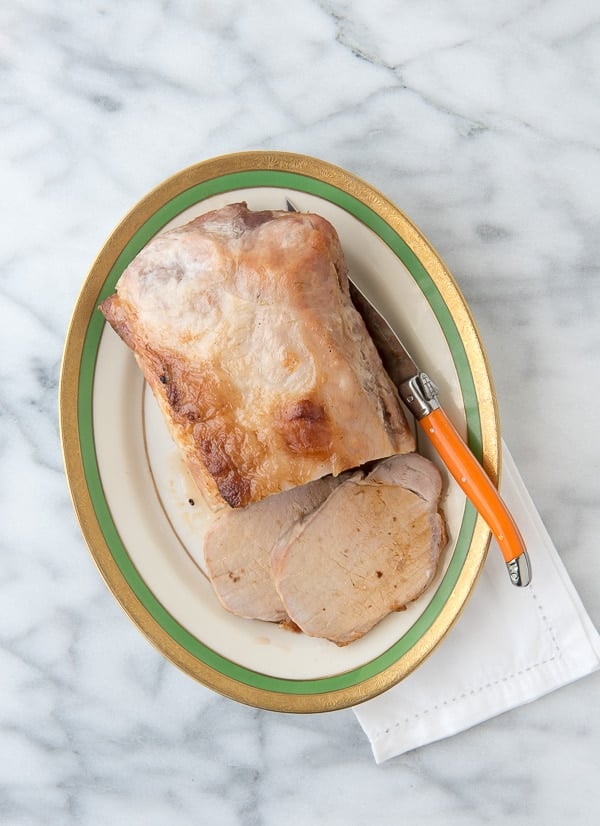 I grabbed some rhubarb at the store recently committed to make something different. I thought it was going to be a dessert of some sort. Maybe a topping for a dessert. Maybe a swirl inside a dessert. As my muse hopscotched around the possibilities, I landed on a savory option of a Rhubarb-Cherry Port Sauce for a pork dish. Don't ask me how I got there, I have no clue. Those where the flavors that emerged from the murky, mercurial process that is recipe development inside my head!
One of my favorite cuts of pork is a Boneless Pork Loin Roast. It is the same cut a butcher would use to prepare boneless pork chops, it's just left intact. It is very easy to cook and larger than a pork tenderloin so easier to keep moist and succulent when cooking. I prefer starting at a very high temperature and then cooking it slowly at a lower temperature which really ends up with wonderful roast. The texture of the pork loin roast is fantastic as well, giving excellent mouth-feel, which is largely why I love it so much as well as the moistness. Brining the roast overnight really ensures a moist result as well.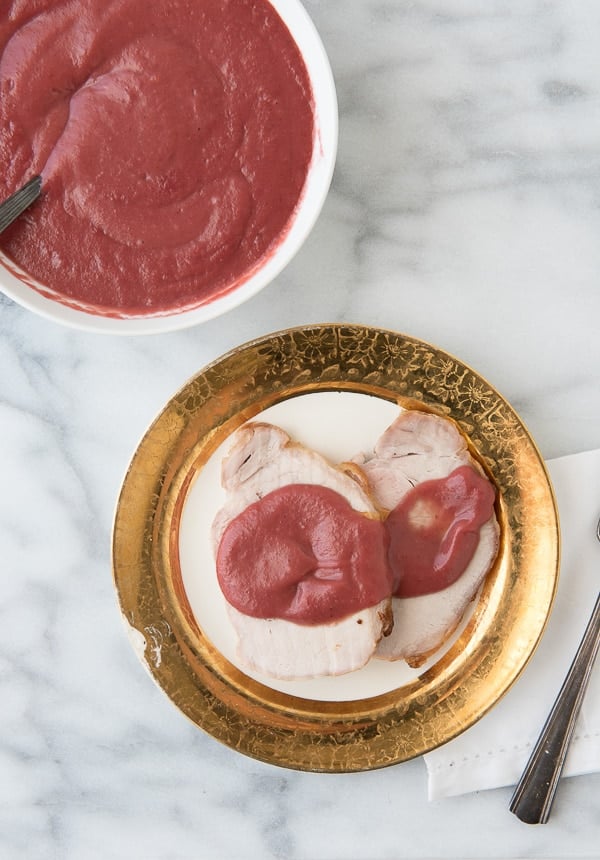 The Rhubarb-Cherry Port Sauce worked fantastically with the mild flavored pork roast. Tangy and sweet. When I'd made it, well before dinner, I gave my son a few small pieces to taste with a bit of sauce in the bottom of a bowl. I heard a spoon scraping as though he was savoring every last drop of ice cream. When I asked he was indeed lapping up any vestige of sauce left in the bowl!
Recipe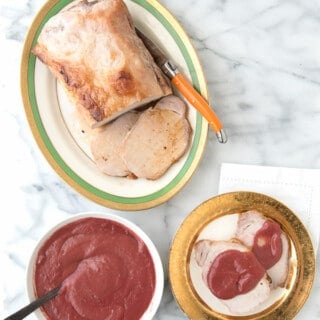 Brined Boneless Pork Loin Roast with Rhubarb-Cherry Port Sauce
Brining this pork loin roast creates a succulent end result you'll love! The method produces pan juices as well which can be spooned back over the slices of the roast. The Rhubarb-Cherry Port sauce adds beautiful and sophisticated flavors to the moist pork that is always a favorite.
Print
Save Recipe
Recipe Saved!
Pin
Rate
Servings:
8
6-8 servings depending on the thickness of the slices; 3 cups Sauce
Ingredients
2

to 2 1/2 Boneless Pork Loin Roast

(if larger increase the cooking time until the temperatures are met)
Ingredients for Brine:
5

cups

Water

¼

cup plus 2 tablespoons

Granulated Sugar

3

tablespoons

Kosher Salt

1

tablespoon

Lime Zest
Ingredients for Rhubarb-Cherry Port Sauce:
1

large shallot

, chopped

1

tablespoon

Olive Oil

1

cup

Cherries

(can be frozen and thawed)

1 ½

cups

Rhubarb

, chopped into ½-inch pieces

3

tablespoons

Granulated Sugar

2

tablespoons

Water

2

tablespoons

Port

1/8

teaspoon

Cardamom

1

teaspoon

Balsamic Vinegar

Salt and Pepper to taste
Instructions
Instructions for Brine:
Combine the water, sugar and salt in a sauce pan and heat just until the sugar and salt dissolve. Allow to cool to room temperature.

Place the pork roast in a plastic gallon zipper top bag or a sealable container and fill with the brine. If using a plastic bag, I suggest double bagging it in and placing it in a baking dish or bowl in the refrigerator to prevent the bag from being punctured. Place in the refrigerator and allow to sit overnight or up to 24 hours.
Cooking the Pork Roast:
Remove the roast from the refrigerator and allow to sit at room temperature for 30 minutes. Preheat oven to 450 degrees.

Remove the roast from the brine (and discard the brine) and allow liquid to drain from the roast. Place the roast on a rack in a baking pan. Place in the oven and cook at 450 for 15 minutes.

Lower the temperature to 300 degrees and cook the roast until the internal thermometer inserted into the middle of the roast registers 145 degree (40-50 minutes). Check the temperature at 40 minutes and then every 5 minutes so the roast does not overcook.

Remove the roast and tent the pan with tin foil (shiny side in) for an additional 15 minutes which allows the temperature to rise an additional 10 degrees still allowing the roast to stay moist and succulent.
Instructions for Rhubarb-Cherry Port sauce:
In a medium saucepan, heat the oil over medium-high heat. When the oil is shimmering add the shallots and sauté until the shallots become limp; 2-3 minutes.

Add the cherries, rhubarb, sugar, water, and port to the saucepan. Bring the mixture to a low boil, then lower the heat until the mixture is simmering. Cover and allow to cook 5-10 minutes until the rhubarb has softened.

Remove from heat and add the cardamom and vinegar. Spoon into a free standing blender, or use an immersion blender in the sauce pan, to blend the mixture into a smooth sauce.
Notes
The bulk of the total time is 12 hours of brining before cooking which is passive time.
Nutrition
Calories:
806
kcal
|
Carbohydrates:
15
g
|
Protein:
123
g
|
Fat:
24
g
|
Saturated Fat:
7
g
|
Cholesterol:
345
mg
|
Sodium:
2894
mg
|
Potassium:
2166
mg
|
Fiber:
0
g
|
Sugar:
13
g
|
Vitamin A:
35
IU
|
Vitamin C:
3.5
mg
|
Calcium:
56
mg
|
Iron:
3.1
mg