Strawberry Muffins taste just like Strawberry Shortcake….for breakfast! Fresh strawberries in a lemony muffin that's easy to make.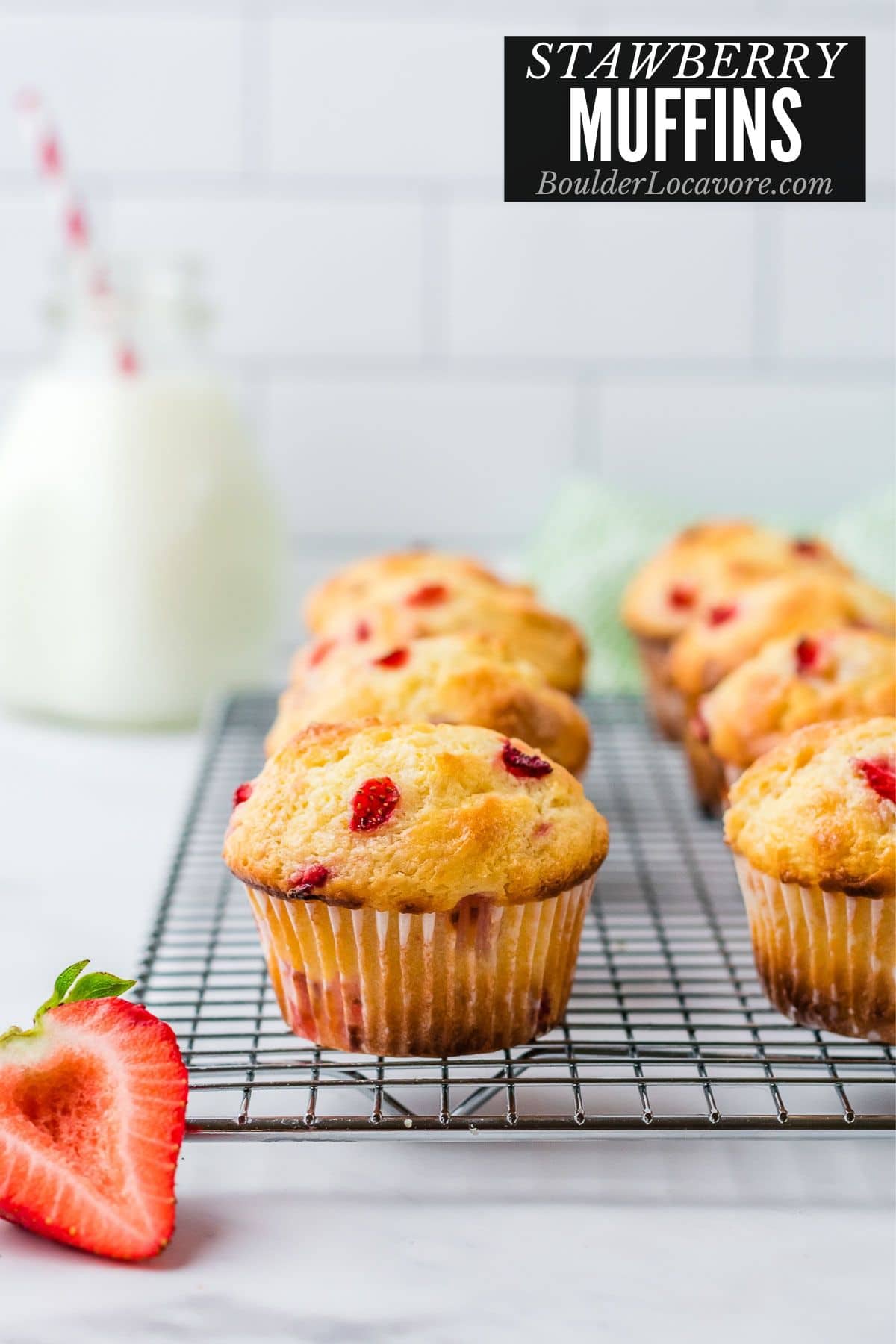 Strawberry muffins are deliciously sweet and loaded with fresh strawberry flavor.
They're quick and easy to make and are the ultimate treat for breakfast, dessert or a snack.
Recipe Ingredients
This recipe uses fresh diced strawberries in the batter and on top of the muffins.
The muffins are also sprinkled with some granulated sugar for the perfect sugary, golden brown top.
Sour cream gives the batter delicious taste and texture!
All Purpose Flour (regular or gluten-free measure-for-measure flour blend)
Baking powder
Baking soda
Salt
Unsalted butter
Granulated sugar
Eggs
Sour cream
Whole milk
Vanilla extract
Lemon zest
fresh Strawberries

Flour – Regular or Gluten-Free!
Regular All Purpose Flour or gluten-free measure-for-measure flour blend may be used.
The recipe has been tested with both with fantastic results!
Strawberries
Fresh strawberries are recommended for this recipe.
Frozen strawberries can be used in a pinch. Thaw them first and proceed with the recipe.
Helpful Tools
This is my favorite zester. It makes zesting very fast, smooth and never zests the bitter white pith under the outer skin.
Hulling strawberries can be tedious and time consuming. I like using a strawberry huller.
It removed the top of the strawberry easily and leaves all the fruit!
How to Make Strawberry Muffins – Step-by-Step
STEP 1: Preheat the oven to 400 degrees F. Place liners in muffin pan (there will be 18 total).
STEP 2: In a medium mixing bowl, whisk together the flour, baking soda, baking powder and salt (photo 1).
STEP 3: In a large bowl, whisk together the melted butter, sugar, eggs, sour cream, milk, vanilla and lemon zest (photos 2-4).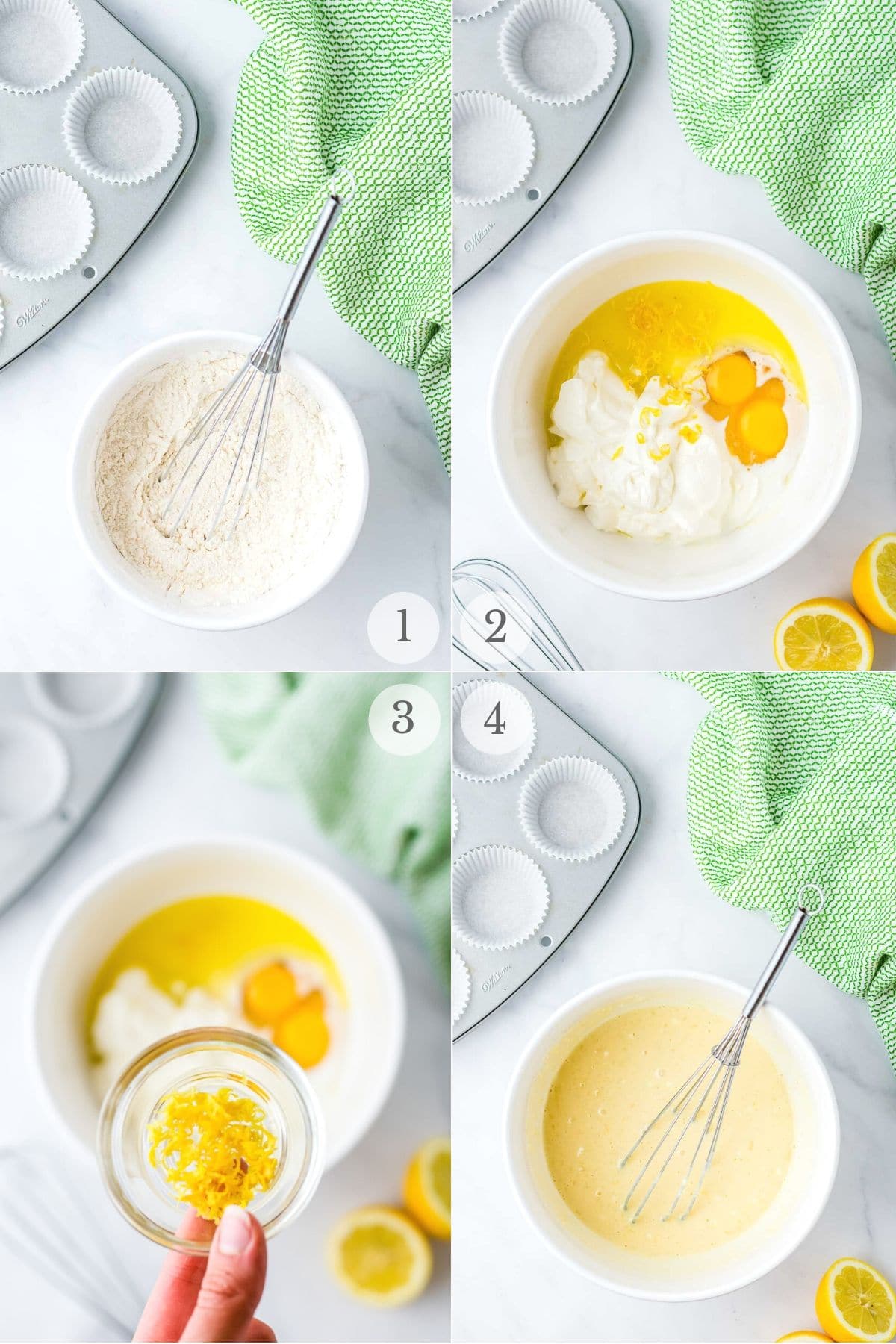 STEP 4: Toss 1 3/4 cups of the strawberries with 1 tablespoon of flour (photos 7-8).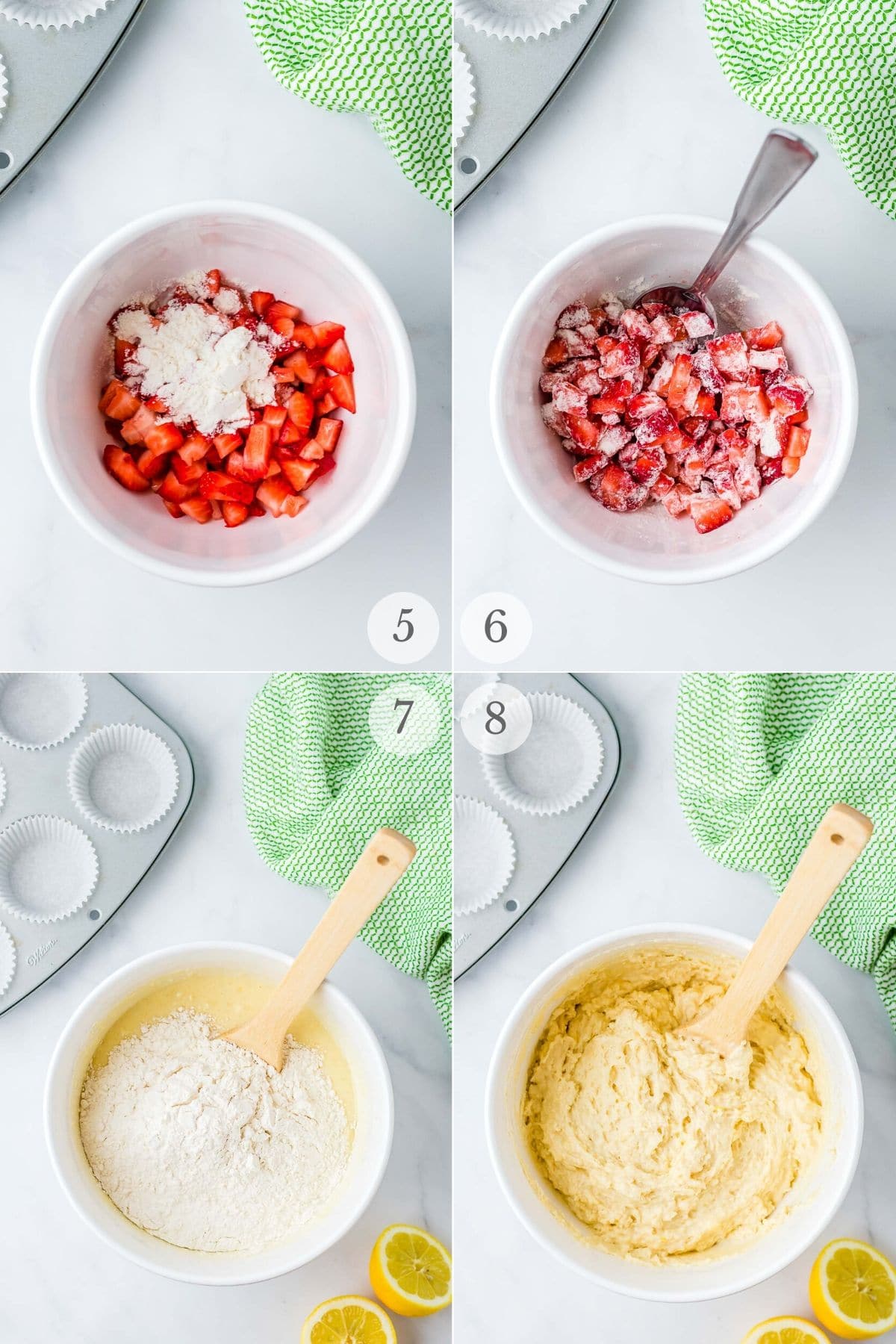 STEP 5: Combine the wet and dry ingredients (photo 7-8). Stir in the strawberries (photos 9-10). Do not overmix batter.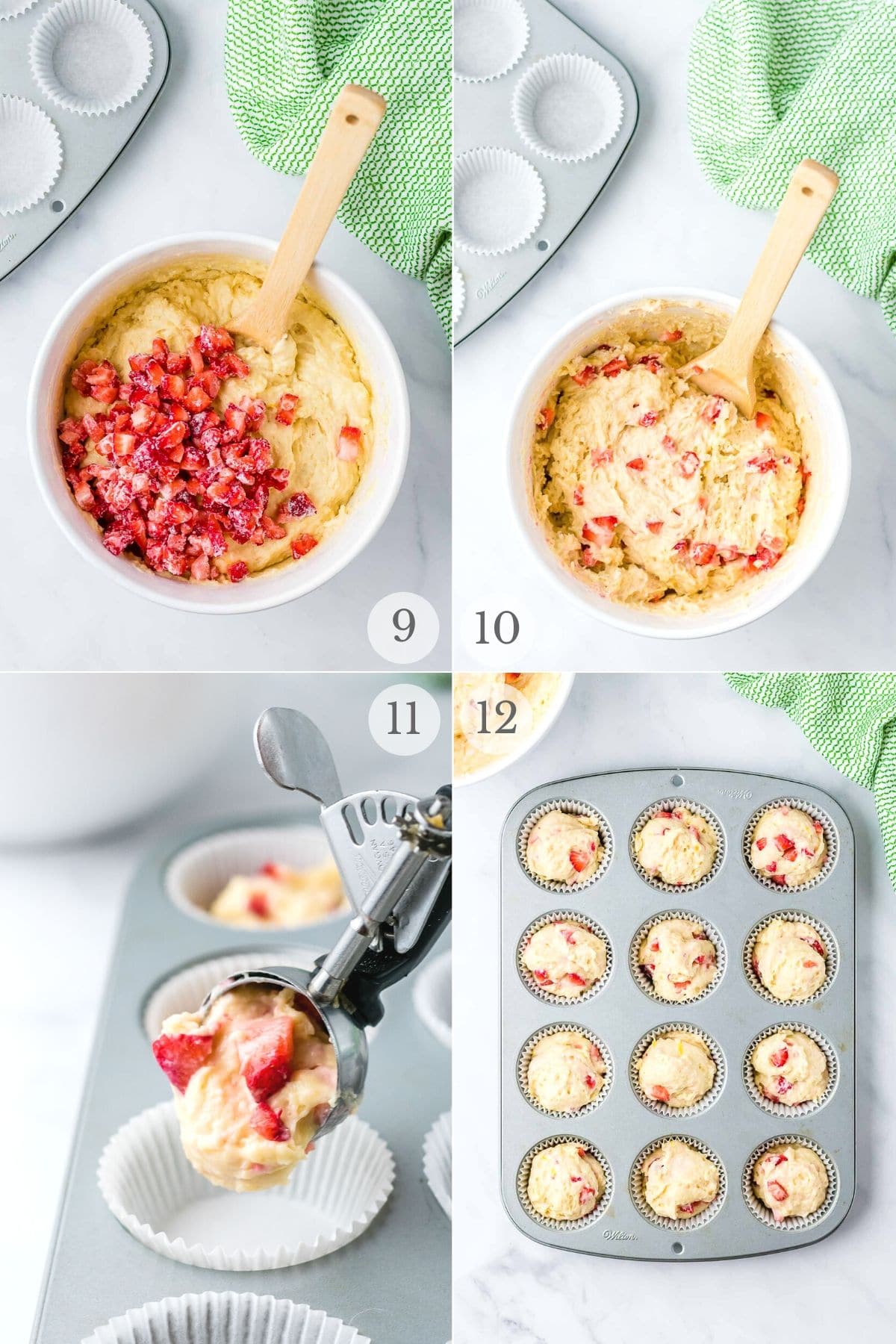 STEP 6: Scoop batter into muffin liners (photo 11) filling close to the top (photo 12). Add a few pieces of the reserved strawberries and sugar on top (photo 13-14).
STEP 7: Bake for 17-20 minutes (photo 15) until golden on top and a toothpick inserted comes out clean. Cool in the muffin pan for 5 minutes and then fully on a cooling rack (photo 16).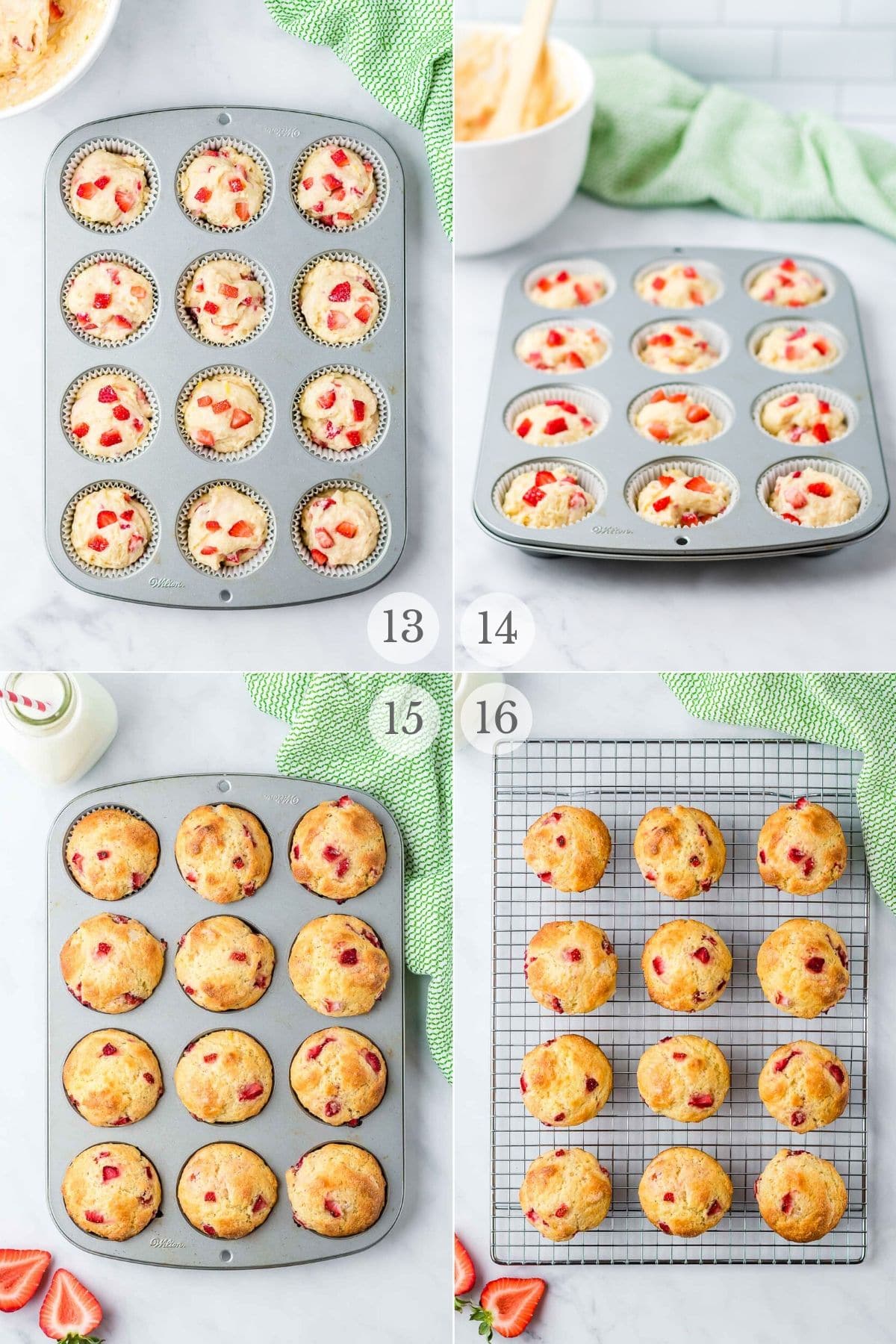 Pro Tips for Making Strawberry Muffins
Fill Muffin cavities almost Full
Usually muffins and cupcake batter fills the muffin cavity by 2/3's. For this recipe fill the batter almost to the top! Refer to photos in the recipe steps above.
Use a Cookie Scoop
To have muffins that are all the same size, use a cookie scoop or ice cream scoop.
Toss the Strawberries in Flour
The strawberries that go in the muffin batter should be tossed in flour first.
This keeps them from all sinking to the bottom of the batter!
You'll have delicious bites of strawberry all through the muffin.
The Batter Will be Thick
The muffin batter should be thick.
Be careful not to overmix it for best results. Mix only until the recipe step has been completed.
A Trick for Sticky Batter
This batter is slightly sticky.
To make it easy to transfer the batter into the cupcake liners, spray a silicon spatula with non-stick cooking spray (or the inside of the cookie scoop if using one).
This makes it easy to move the batter into the muffin liners.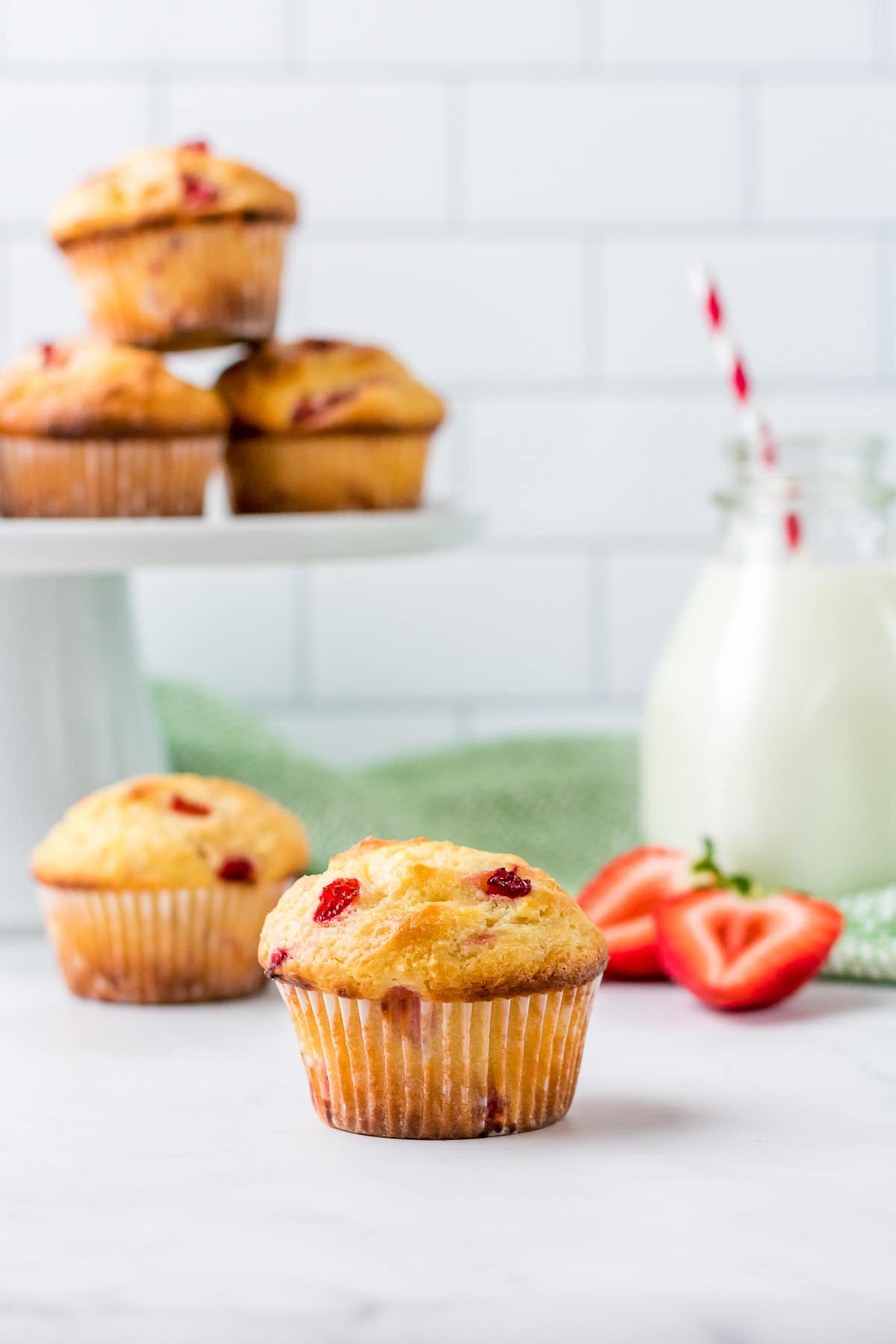 How to Store the Muffins
At Room Temperature
After the muffins cool they can be stored in an airtight container at room temperature for a few days.
If in a hot or humid climate, store in the refrigerator.
In the Refrigerator
Store in an airtight container in the refrigerator for up to 5 days.
Warm slightly before eating.
Freezing Strawberry Muffins
Wrap the individual muffins snugly with plastic wrap. Place in a freezer bag or freezer-safe container.
Freeze for up to 3 months. Thaw in the refrigerator and warm before eating.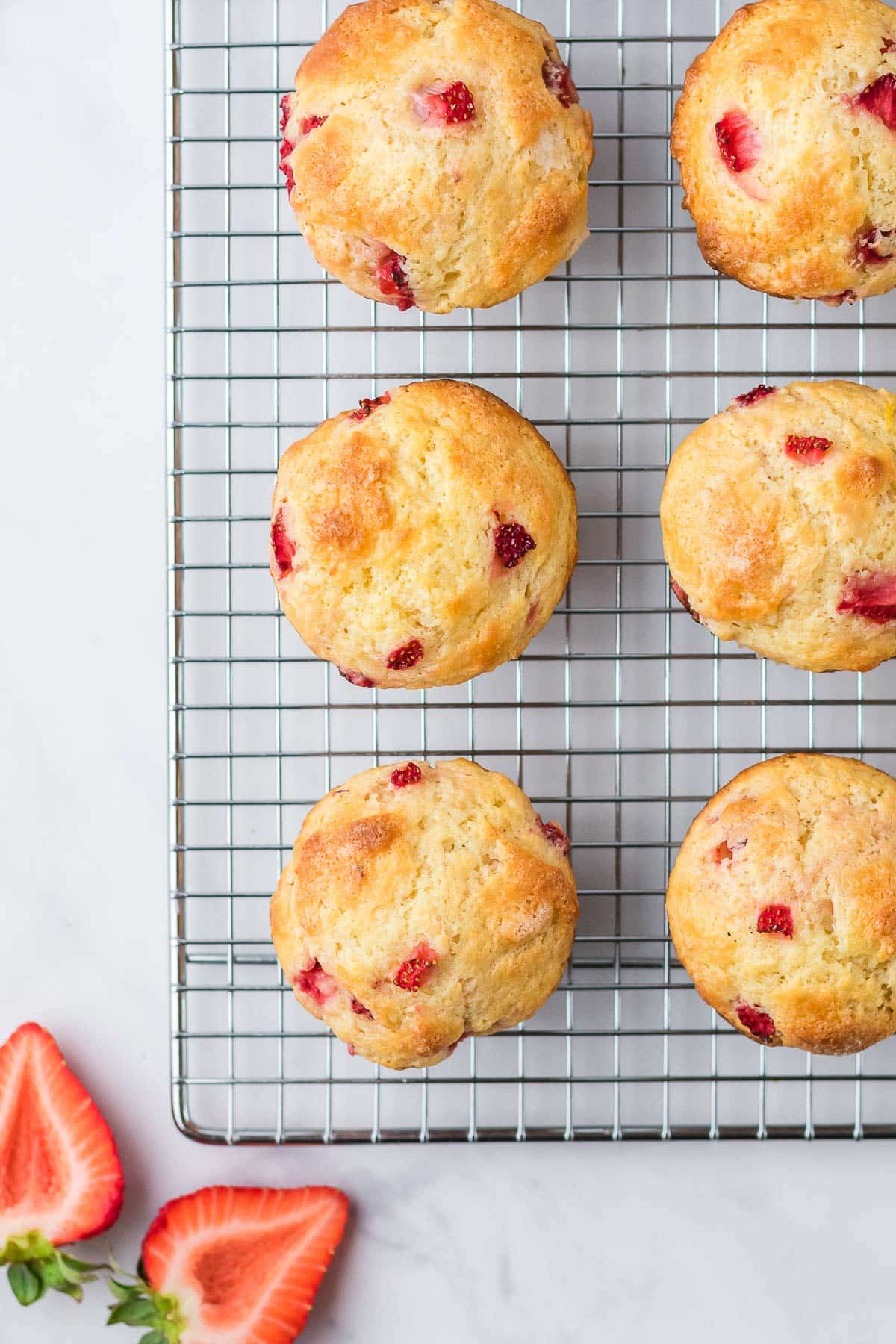 More Strawberry Recipes You'll Love!
How to Make Strawberry Frosting – with real Strawberries
Try these Muffin Recipes too!
Did you make it? Please RATE THE RECIPE below!
Please SUBSCRIBE and FOLLOW ME on FACEBOOK , TWITTER , INSTAGRAM and PINTEREST !