Challah French Toast is an easy, delicious breakfast recipe made with light airy Challah bread and fresh berries. It's baked making fast to prepare and perfect for a special breakfast any day!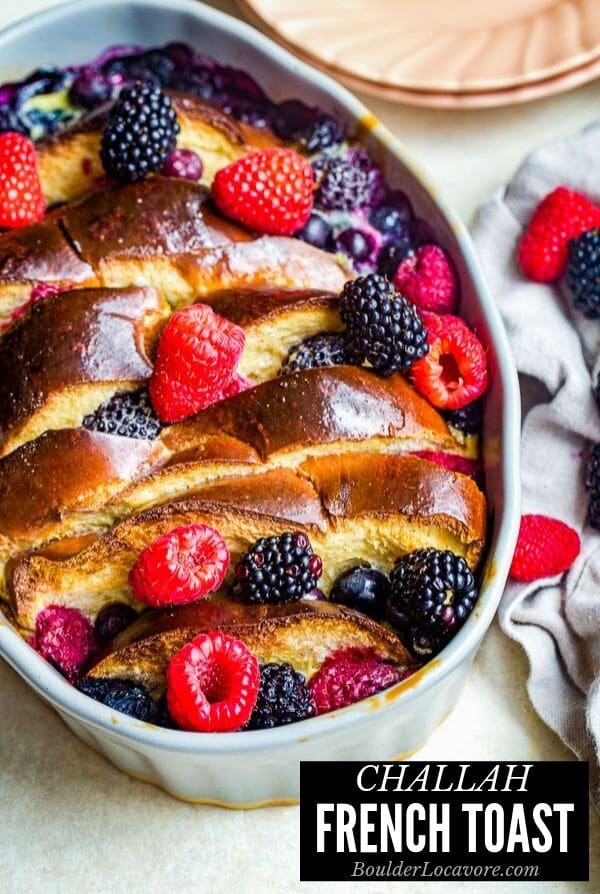 Weekends are a perfect time for a hot breakfast recipe. Something delicious and cozy to share with family and friends.
Challah French Toast is that recipe but it's easy enough to make on weekdays too!
Another fun recipe is Baked French Toast made with croissants. Specialty breads make delicious French toast casseroles!
What is Challah Bread?
Challah (pronounced 'haa-luh') is a light, slightly sweet braided bread.
It is a Jewish bread that is typically made without dairy products. Eggs give it a wonderful airy texture.
Challah is most similar in texture to brioche, the French bread, rather than traditional bread.
It can be found all year but is widely available around the Jewish holidays.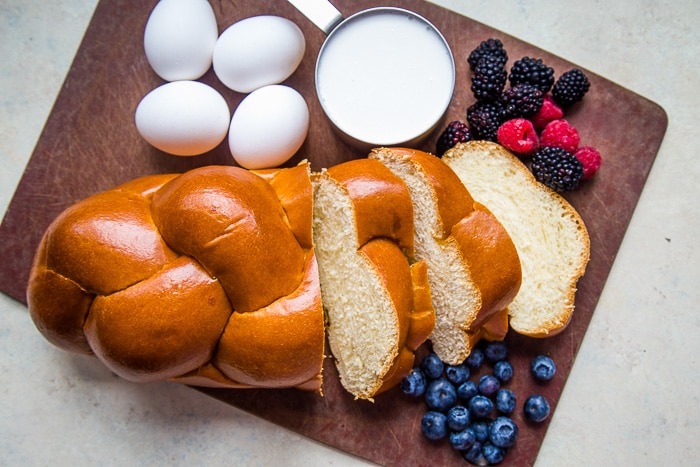 Challah French Toast
French toast is usually made by dipping slices of bread in an egg mixture then cooking it in a hot skillet.
This Challah French Toast recipe is made by baking it. Thick slices of challah with fresh berries stuffed between are all placed in a small baking dish.
An egg and Half & Half mixture coat the slices before baking for 30 minutes.
The end result is a luscious custardy bottom (think bread pudding) and golden brown top. Drizzled with syrup and dusted with powdered sugar, it's a favorite breakfast recipe any day.
Challah French Toast Ingredients
The ingredient are simple and easy to find for this Challah French toast casserole.
Challah Bread
Eggs
Half & Half
Fresh Berries
The lightly sweet challah bread and the natural sweetness from the fresh berries give this easy French toast a wonderful flavor.
Add a bit of vanilla extract, cinnamon or some orange zest is a fun way to punch up the flavor too.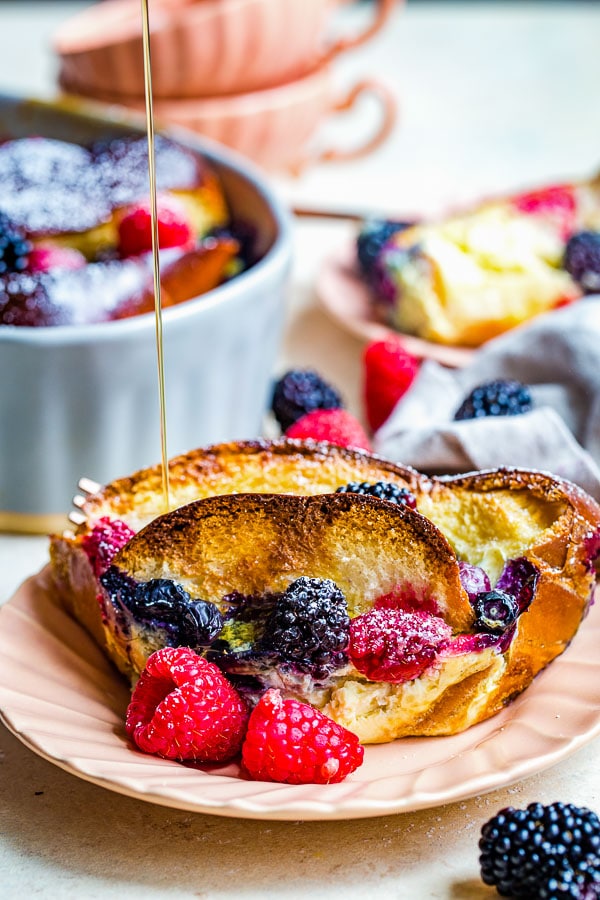 Where to Buy Challah Bread
Challah is usually available at bakeries and grocery stores especially during the Jewish holidays. Its familiar braided form makes it easy to spot.
If you enjoy baking you can also make it yourself with a mix or recipe.
Using Gluten-Free Challah Bread
Most challah bread is made with traditional flour although gluten-free challah can also be used for this French bread recipe.
Gluten-free Challah can be trickier to find. My recommendations:
Contact local gluten-free bakeries or grocery stores. Ask if they carry it or if they know where to find it
Make it yourself. It's an easy bread to make. There are gluten-free mixes or several recipes available online.
PRO TIP: Gluten-free breads often do not absorb liquids the same as wheat flour.
If using gluten-free challah you may not need the entire egg mixture. Use less if the challah bread has absorbed enough (refer to the recipe step photos for guidance).
How to Make Challah French Toast – Step by Step
For a detailed printable recipe refer to the recipe card at the end of the blog post.
Preheat oven to 350 degrees. Spray a small baking pan lightly with non-stick spray.
Slice Challah into 1-inch thick slices (photo 1).
Layer bread slices into the prepared pan with berries in between slices (photo 2).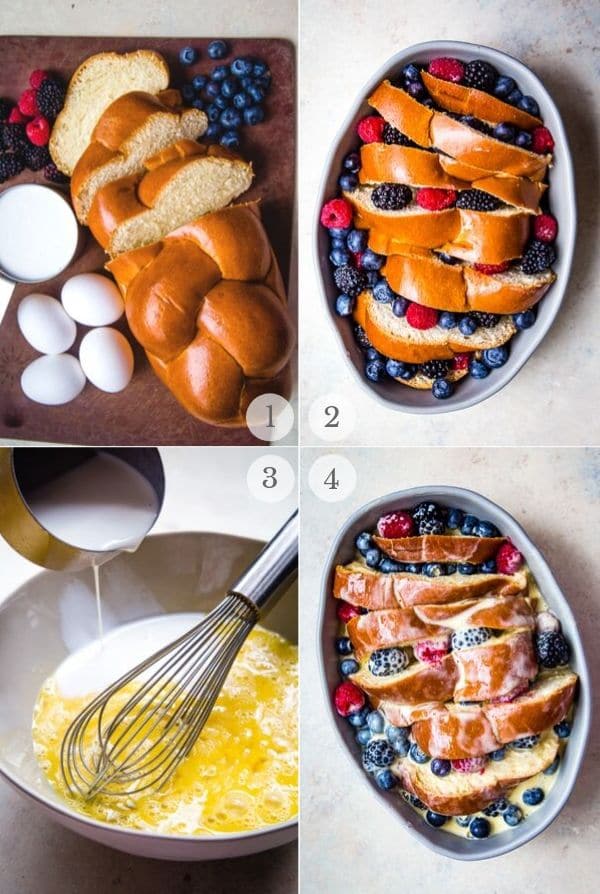 Whisk together eggs and Half & Half (photo 3).
Pour egg mixture over bread, moving the slices slightly to ensure the egg mixture gets in between each slice (photo 4).
Bake for 30-35 minutes. Or until slices have turned golden in color and until a knife inserted in center comes out clean.
Garnish with additional berries and dust with powdered sugar. Serve with warm syrup, if desired.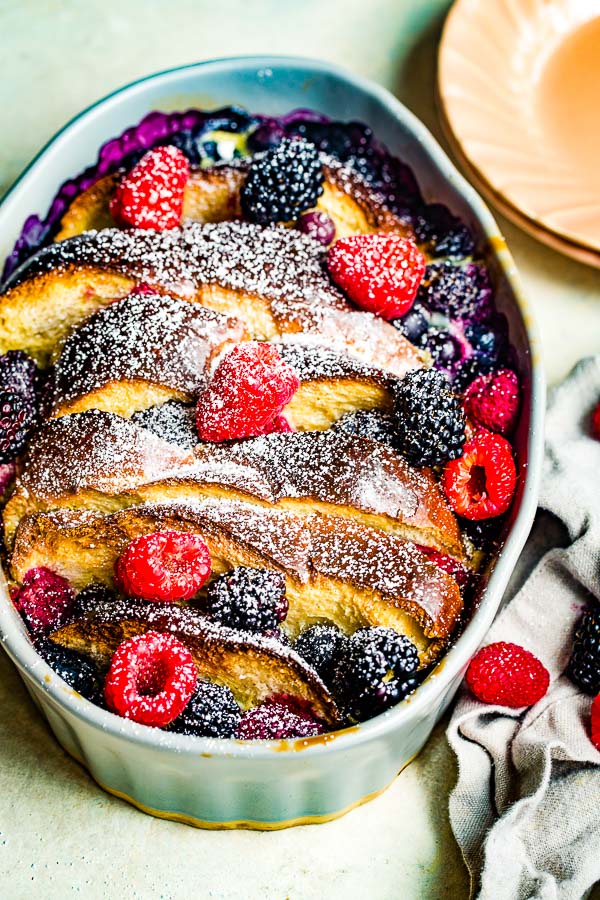 More Delicious French Toast Recipes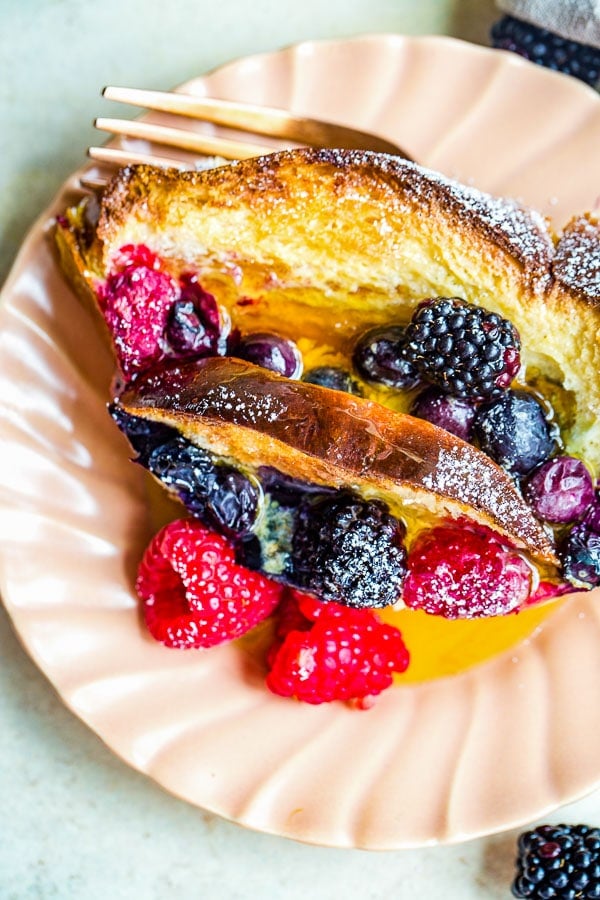 Did you make it? Please RATE THE RECIPE below!
Please SUBSCRIBE and FOLLOW ME on FACEBOOK , TWITTER , INSTAGRAM and PINTEREST!
Challah French Toast is a fast easy breakfast recipe perfect for families or brunch with friends!