Cheddar Bay Biscuits are packed with cheesy flavor in a soft biscuit topped with melted butter, parsley and a touch of garlic. This Red Lobster copycat recipe will be a hit at your dinner table every time!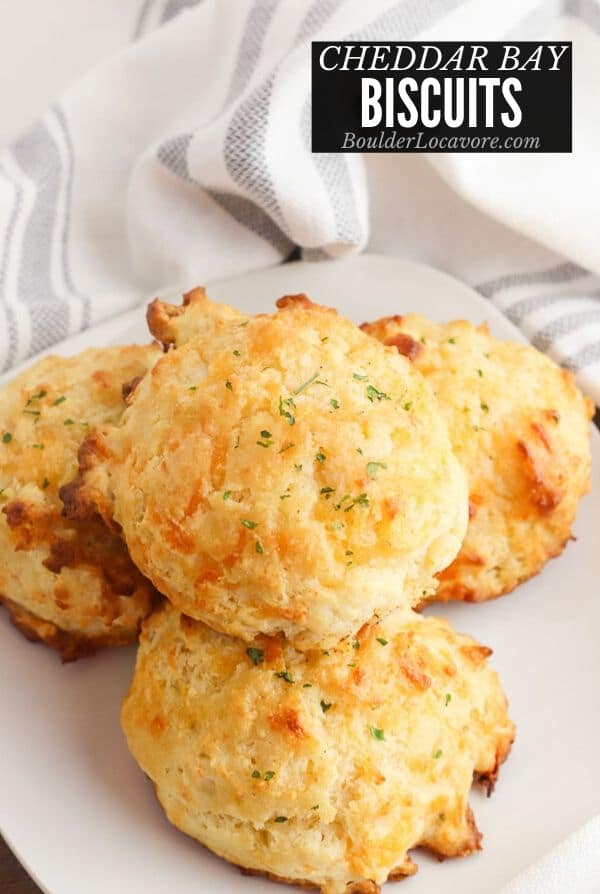 Anyone who has dined at Red Lobster will have tried the Homemade Cheddar Bay Biscuits. I'd guess more than just once!
If you haven't, or are perhaps gluten-free, you are in for a treat!
This Red Lobster biscuit recipe can be made in less than 30 minutes and changes dinner time to an event!
These fly off the baking sheet as soon as they come out of the oven and are brushed with melted butter at my house.
I think you'll find the same!
This homemade Cheddar Bay Biscuit recipe will become a favorite side dish.
What are Cheddar Bay Biscuits?
These are a special biscuit made by the Red Lobster seafood chain.
When the Red Lobster biscuits were originally introduced they were called 'freshly baked hot cheese garlic bread'. Descriptive but not a very catchy name.
Five years later they were renamed Cheddar Bay Biscuits as a nod to the seaside ambiance of the restaurants.
These biscuits are a wonderful combination of a traditional biscuit laced with cheddar cheese and light garlic flavor.
There is no Old Bay seasoning in them (as you might think from the name).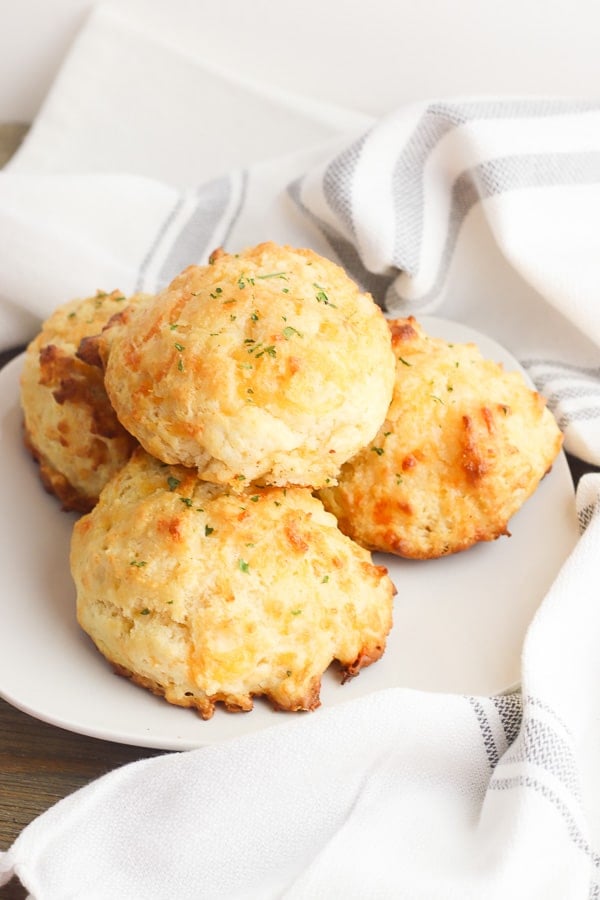 What do These Red Lobster Biscuits Taste Like?
Hot out of the oven the Red Lobster biscuits are brushed with a garlic, parsley melted butter.
The biscuit texture is out of this world!
Baked to a golden crust with a soft, cheesy center.
The butter topping makes them seem to melt in your mouth.
The garlic is not overly strong but just right to make the biscuits very difficult to resist.
Ready in less than 30 minutes!
Fast to prepare too making them an easy side dish for dinner any night of the week.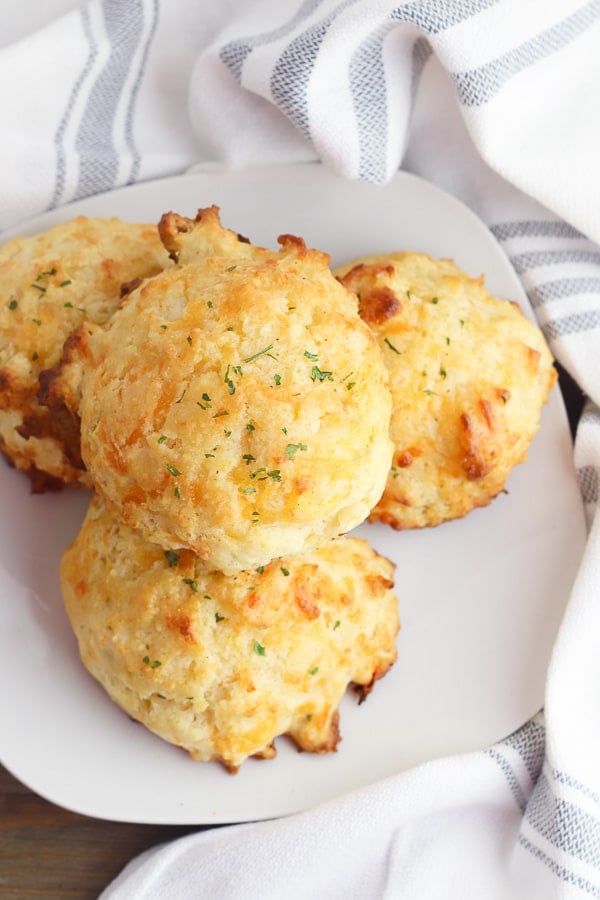 Recipe Ingredients
All Purpose Flour (regular or gluten-free measure-for-measure flour blend)
Baking powder
Granulated sugar
Salt
Garlic powder
Unsalted butter
shredded Sharp Cheddar Cheese
Milk or Half-and-Half
dried Parsley
Make them Regular or Gluten-Free!
This recipe has been tested multiple times each with regular All Purpose Flour and gluten-free measure-for-measure flour blend.
Whether you make this copycat Red Lobster biscuit recipe with regular OR gluten-free flour, they will be delicious!
Both work wonderfully to create rich, delicate biscuits.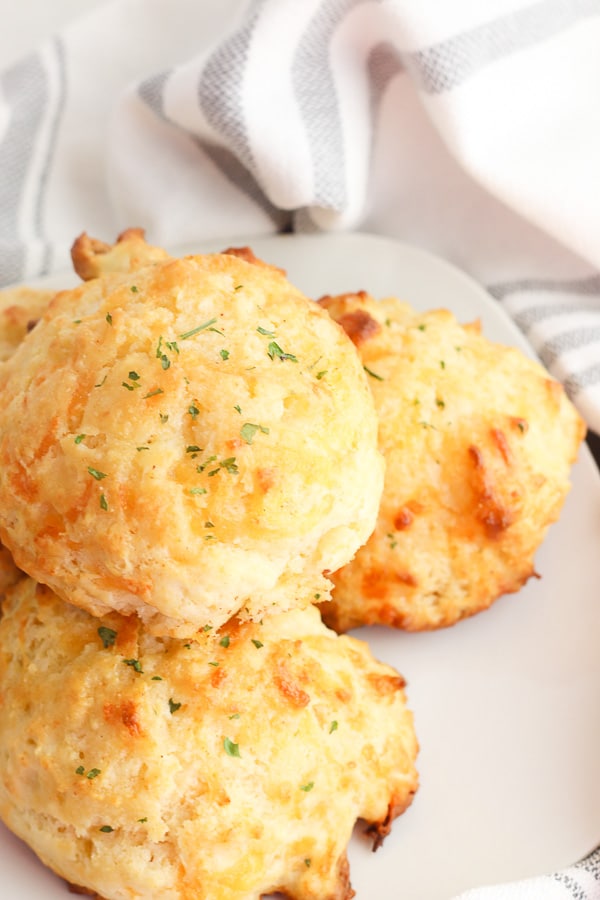 How to Make Homemade Cheddar Bay Biscuits – Step-by-Step
STEP 1: Preheat the oven to 425 degrees F. Spray a baking sheet with non-stick cooking spray.
STEP 2: In a large mixing bowl whisk together the flour, baking powder, sugar, salt and 1/2 teaspoon garlic powder (photo 1).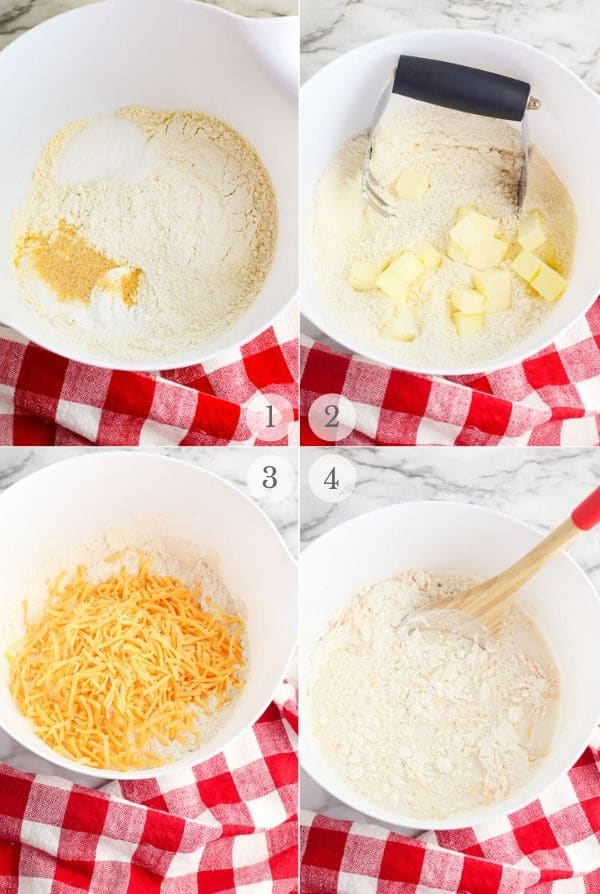 STEP 3: Add the cubed butter and mix in with a pastry blender (or 2 dining knives) (photo 2). It should look like coarse sand when mixed.
STEP 4: Stir in the cheese (photo 3).
STEP 5: Stir in the milk just until combined (photo 4). Do not overmix.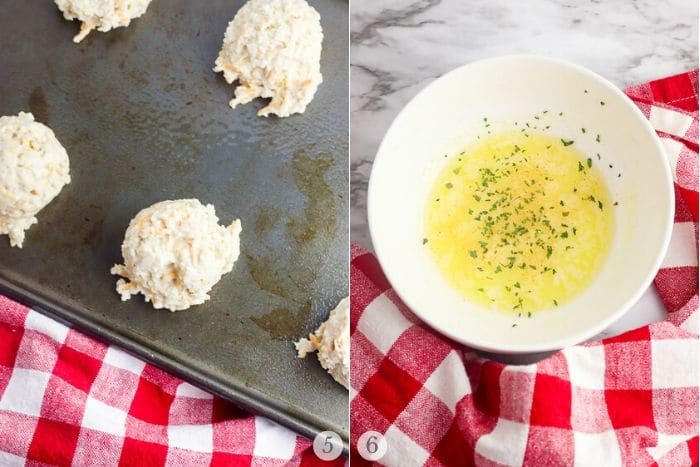 STEP 6: Using a large ice cream scoop or a 1/4 cup measuring cup, scoop out the dough and place onto the prepared baking sheet (photo 5). Bake for 13-15 minutes until golden brown on top.
STEP 7: While the biscuits are baking prepare the butter topping (photo 6).
STEP 8: When the biscuits are done baking, remove from oven and brush with the butter mixture. Allow to cool slightly on a cooling rack. Serve warm.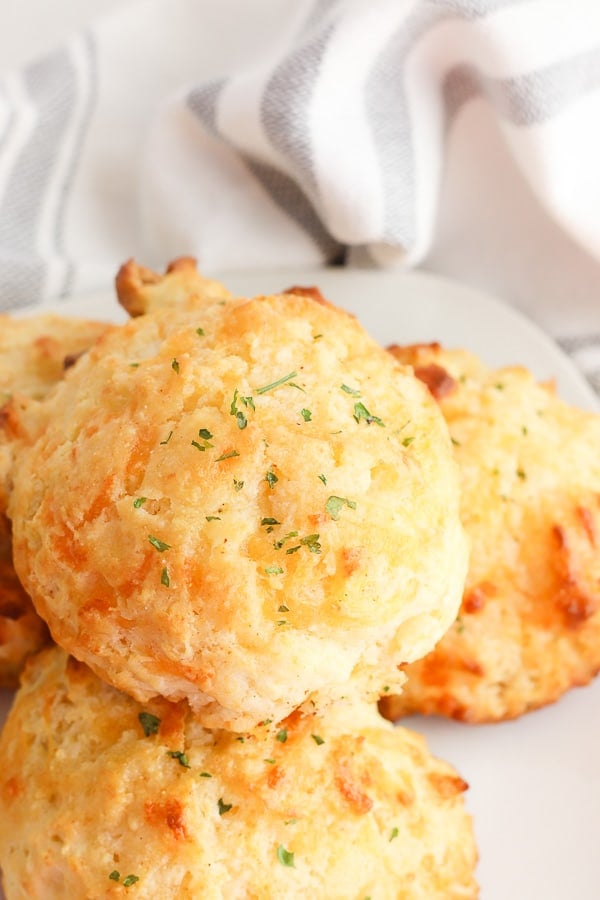 How to Store the Cheddar Biscuits
At Room Temperature
Store the biscuits in an airtight container for up to 3 days.
In the Refrigerator
Store in an airtight container for up to a week. Allow to come to room temperature before serving.
In the Freezer
Wrap each cooked, fully cooled biscuit separately in plastic wrap. Place all wrapped cheddar biscuits in a freezer plastic bag.
Store up to 1 month. Thaw at room temperature and warm slightly before eating.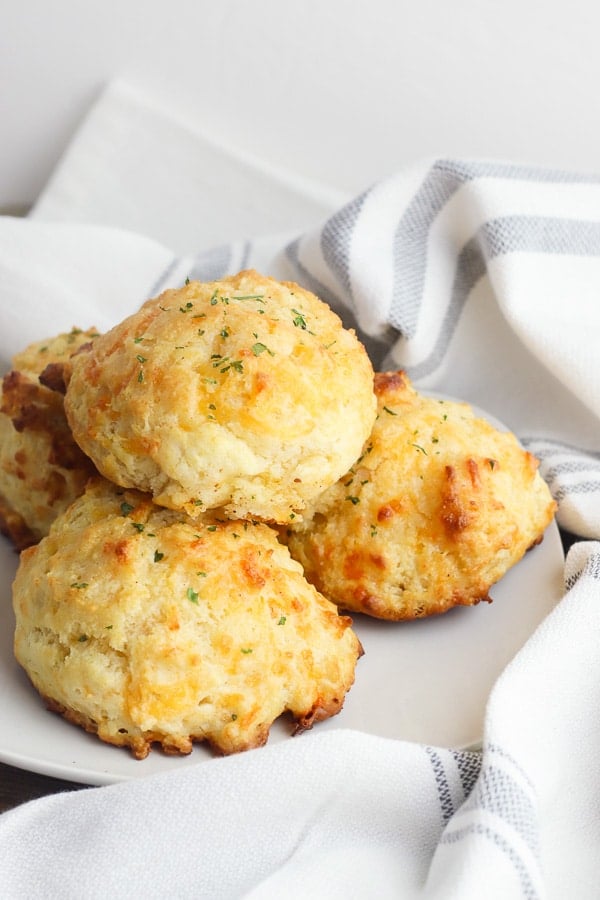 More Recipes You'll Love
Did you make it? Please RATE THE RECIPE below!
Please SUBSCRIBE and FOLLOW ME on FACEBOOK , TWITTER , INSTAGRAM and PINTEREST !