Crumble recipes are easy and relaxed. This Apricot Crumble is a perfect apricot dessert to finish any meal. One bite and it will become your favorite apricot recipe!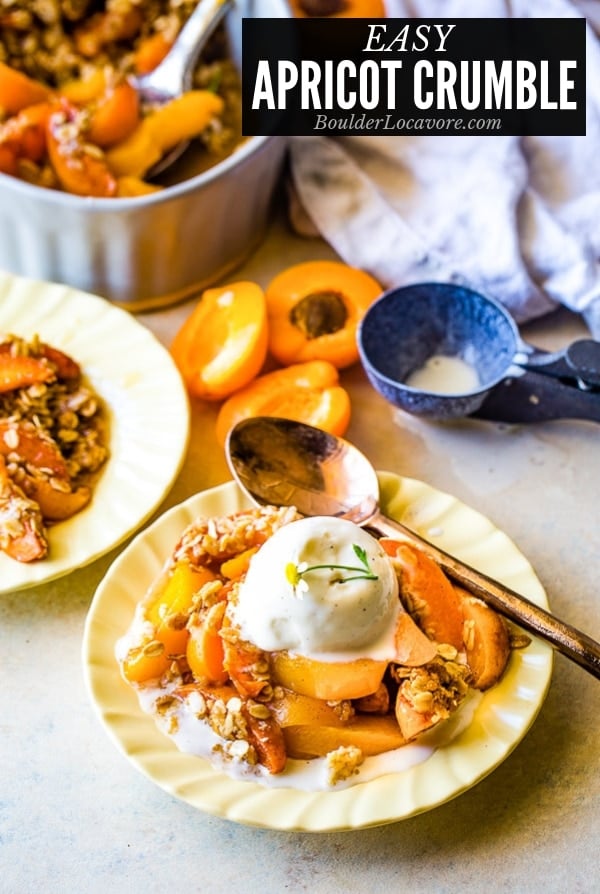 Relaxed summer days call for easy dessert recipes. With all the seasonal fruits available, crumble recipes are a perfect choice!
What is a Crumble Recipe?
Fruit crumbles are easy desserts make of a fruit layer and a crisp sweet topping layer.
Fresh fruits are tossed with sugar, spices and sometimes a thickener. The fruit layer is topped with a layer of rolled oats, sugar, butter and spices to bake into an irresistible dessert.
When done the irresistible dessert is scooped onto a plate and often topped with ice cream.
Crumble recipes are not fussy desserts. They are fast and easy making them a classic dessert everyone love.
This apricot dessert serves up fresh apricots glazed with sugar and cinnamon. With a rolled oat crumble topping served up piping hot in a baking dish.
Add a cold sweet scoop of vanilla ice cream or some whipped cream for a finishing touch!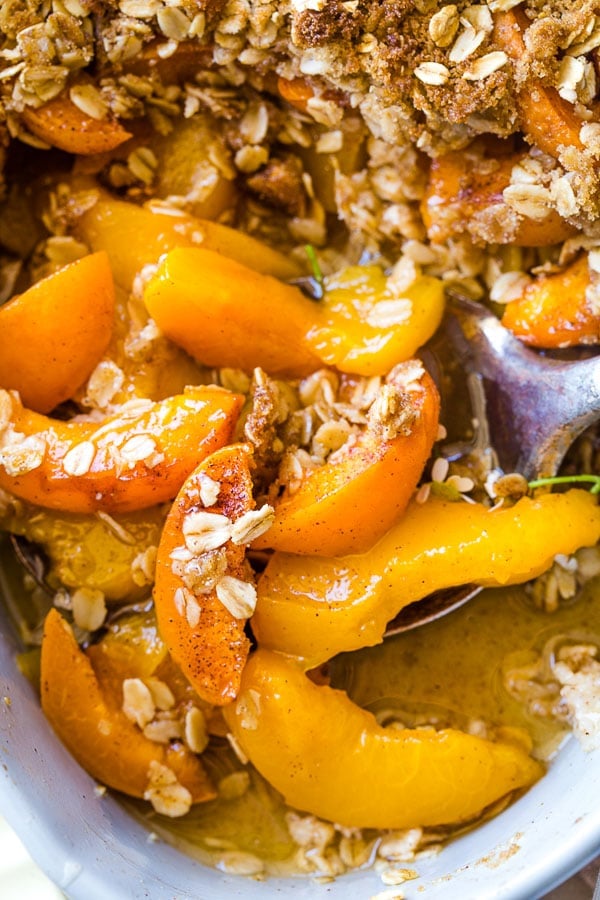 What you Need to Know About Apricots
Often overlooked for more popular stone fruit like peaches and plums, apricots are a sweet, soft delicious fruit perfect for a crumble recipe.
Apricot Season
Apricots are available beginning in May when peaches and nectarines begin to show up in stores. The season is shorter, only lasting two months and is complete by the end of July.
If you love apricots grab them when you see them! Their sweet and sometimes tangy flavor make them a darling of the stone fruits.
How to Pick a Perfect Apricot
Look for apricots with a deep orange color, sometimes with a peachy blush. They should be plump. Apricots should NOT be mushy (they are bruised or over ripe if they are).
Select apricots that are slightly soft when gently applying pressure.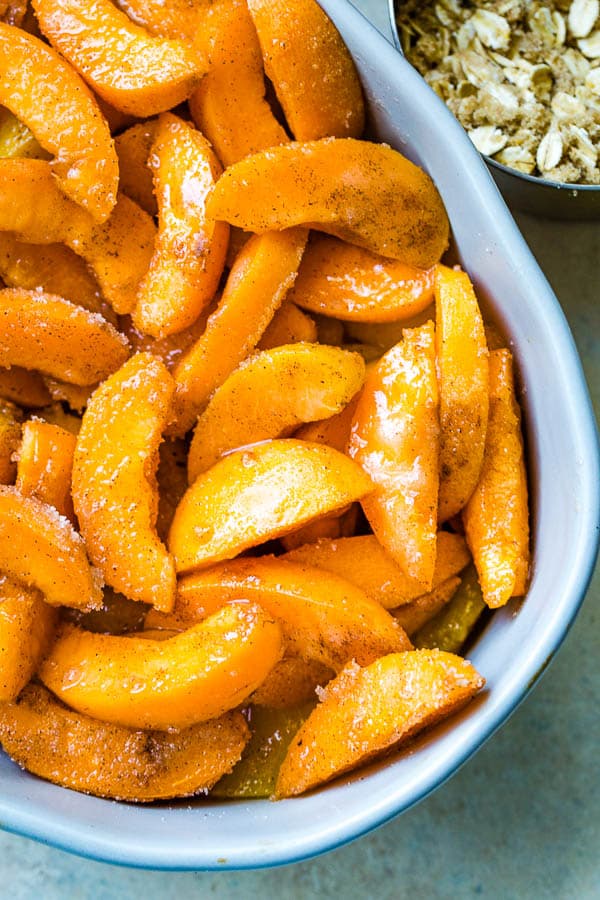 How to Ripen and Store Apricots
Did you know most stone fruit does not ripen properly if added to the refrigerator before it is fully ripe?
To ripen apricots leave them out at room temperature until they are ripe. They will be slightly soft to the touch.
At this point put them in the refrigerator and store for up to one week.
No Peeling Required
The skin of the apricot is soft and does not require peeling before eating or using in apricot recipes.
The flesh easily separates from the pit making them fast for recipes like this apricot dessert recipe.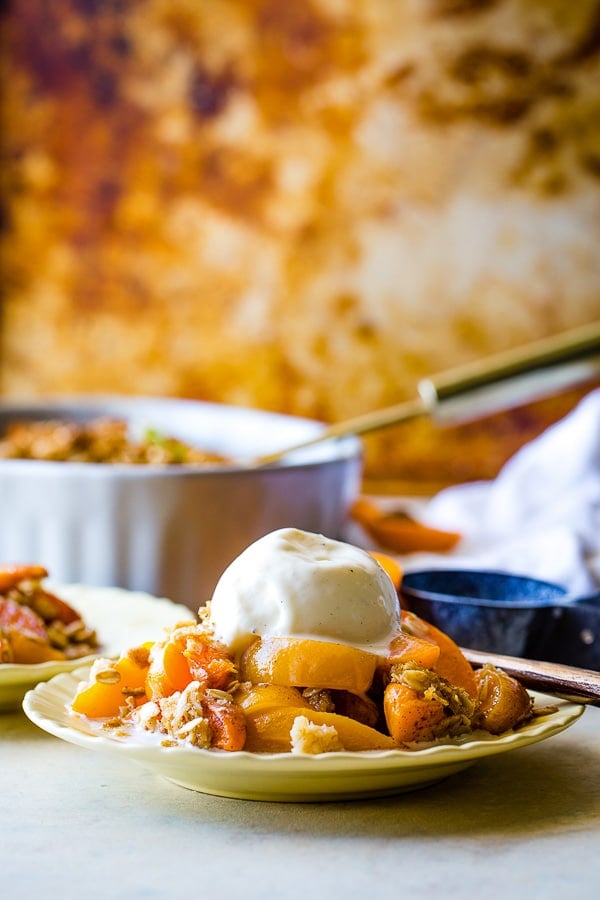 Apricot Crumble Recipe Ingredients
Another great thing about crumble recipes is the wholesome ingredients that are always easy to find!
They also can be made gluten-free by swapping the flour for a gluten-free blend.
10-12 apricots
Granulated sugar
Cornstarch
Cinnamon
All-purpose flour (regular or gluten-free)
Brown sugar
Kosher Salt
Old-fashioned Rolled oats (regular or gluten-free)
Unsalted butter

How to Make it Gluten-Free
Crumble recipes are very easy to make gluten-free.
Use a gluten-free flour blend. I prefer a measure-for-measure type blend.
Use gluten-free Rolled Oats.
How to Make this Apricot Crumble recipe – Step by Step
For a detailed printable recipe please refer to the recipe card at the end of the blog post.
Preheat oven to 350 degrees.
Halve the apricots and remove the pits. Slice each half into quarters.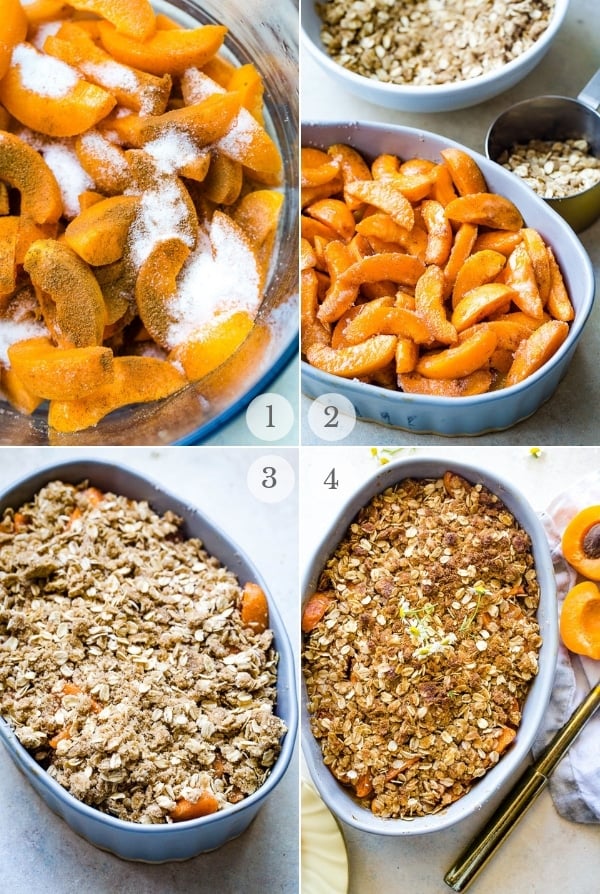 Place apricots slices in a large bowl. Toss with sugar, cornstarch, and cinnamon (photo 1).
Spoon coated apricots into a small casserole dish (photo 2).
To Make the Crumble layer
Whisk together flour, brown sugar, salt, and oats.
Cut in the butter using a pastry cutter or two dining knives until the mixture is coarse and crumbly.
SHORTCUT: place the flour, sugars, salt and butter in a food processor with the dough blade. Process until crumbly. Stir in oats. NOTE: adding oats initially will shred them.
Sprinkle topping over apricots (photo 3).
Bake for 35-40 minutes or until the juices are bubbling and the topping is golden brown (photo 4).
Serve warm or at room temperature with a scoop of ice cream, if desired.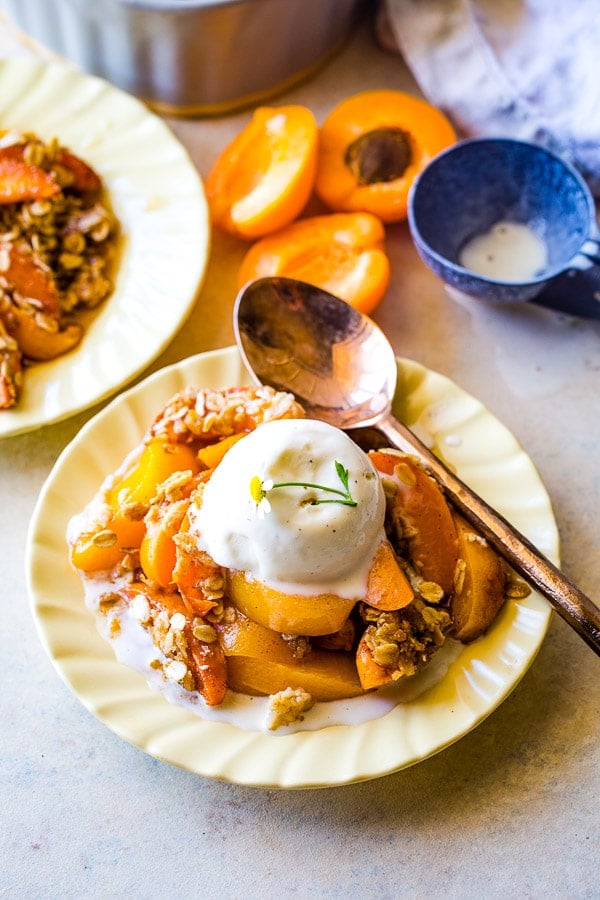 If you loved this apricot dessert recipe….
More Delicious Recipes to Try
Did you make it? Please RATE THE RECIPE below!
FOLLOW ME on FACEBOOK , TWITTER , INSTAGRAM and PINTEREST!