Three Berry Cobbler with Sour Cream Biscuits is a homey dessert great for all seasons. It's easy to make and the biscuits can be made gluten-free or with gluten.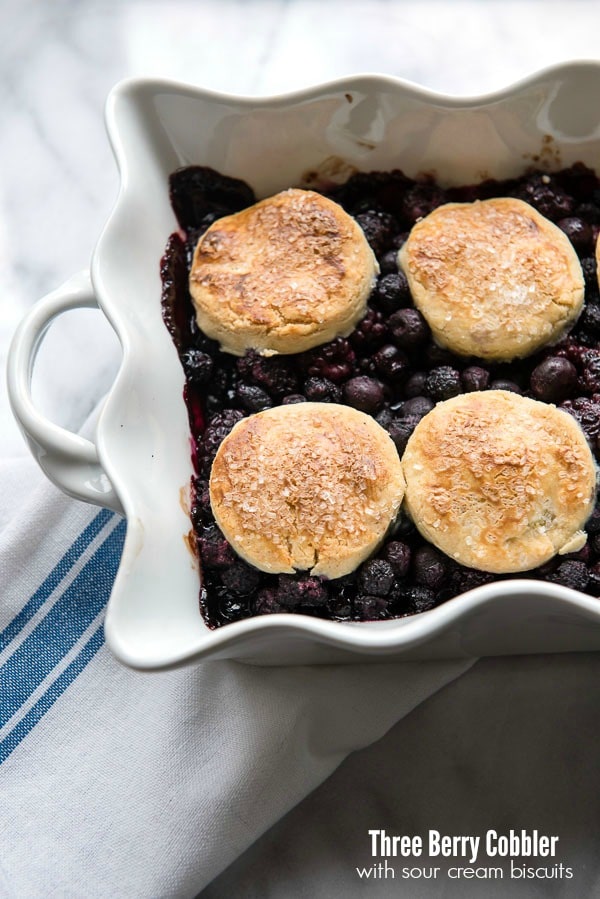 We have been having a rainy, foggy start to spring. It's welcome, don't get me wrong, though unusual. Normally we soak up the sun on brighter days and cross our fingers the snow is gone for now. Mother's Day is the arbitrary safe planting date even though we could still get some flakes in May.
It's been a cozy week in between showers. I realize I'm a bit of a human battery; boundless energy when the sun is out, and happy to hunker down indoors when it is gray outside.
In the kitchen, lighter, fresher ideas have been popping to mind that warm the soul. Enter Three Berry Cobbler with Sour Cream Biscuits.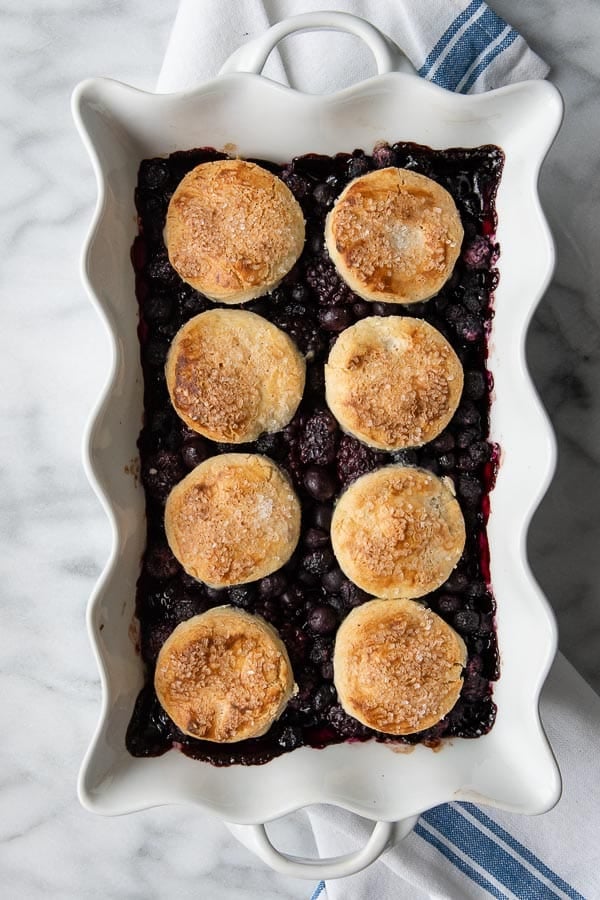 Easy Berry Cobbler – Americana Comfort Food Dessert
I love a rustic Americana dessert. They are easy, relaxed recipe that no one worries over how they'll turn out.
They are perfect for summer, featuring fresh fruits with some sort of topping or is in the case of a cobbler, a sweet biscuit layer that cooks along with the fruit filling. You don't have to be a 'baker' to make a perfect cobbler!
I've shared crisps, buckles, slumps, crumbles and pandowdy. Cobblers are the quintessential summer dessert. They are unpretentious , allowing summer fruits to shine. In the case of this Three Berry Cobbler, blackberries, raspberries and blueberries 'wow' in the fruit layer.
Cobblers are never met with 'oh, no thank you, I'm just too full for dessert'. They conjure images of Grandmother's kitchens, lazy summer evenings, rural landscapes and a slower pace.
NOTE on the Berries: fresh fruits may be found all year round it seems but frozen, thawed berries can also be used.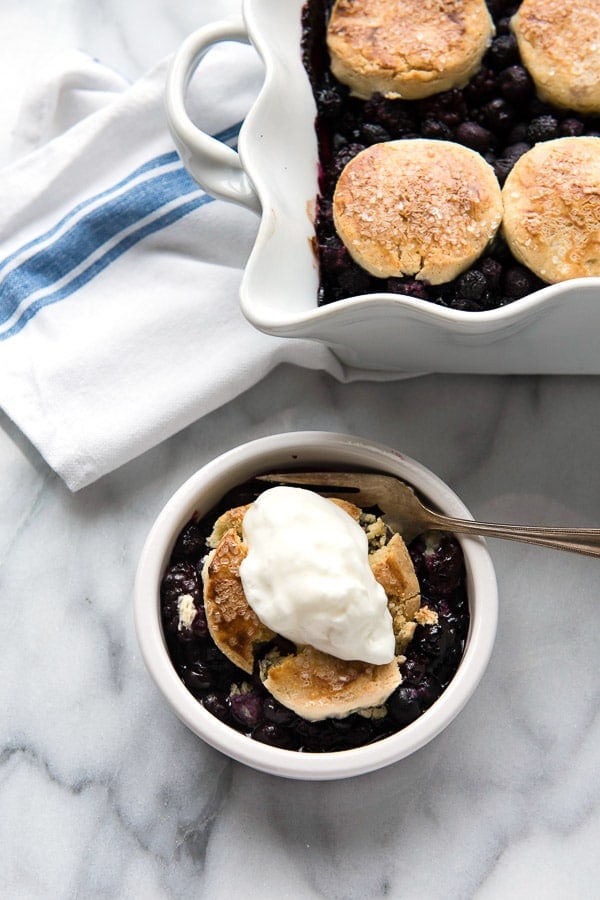 Easy Sour Cream Biscuits for the Win!
Three Berry Cobbler with Sour Cream Biscuits is not only a delicious way to enjoy fresh berries, but these biscuits are to die for. My version was made gluten-free however regular flour can be substituted.
The biscuits are light, slightly sweet with a bright tang from the sour cream both in the batter and brushed on the top before being sprinkled with sugar for some sparkle.
To make the berry cobbler I used a mix of fresh berries and berries I had in the freezer which I thawed before compiling the filling. Any mix of store-bought frozen and thawed berries, hand-picked frozen/thawed berries if you have them or fresh berries work great. It's a very flexible recipe.
I used up some Black Raspberries we picked at a favorite berry picking farm last summer which I was saving in the freezer for a perfect recipe.
Cobblers are very easy to make and forgiving, unlike fussier desserts demanding precise execution. This is a perfect Sunday dinner dessert.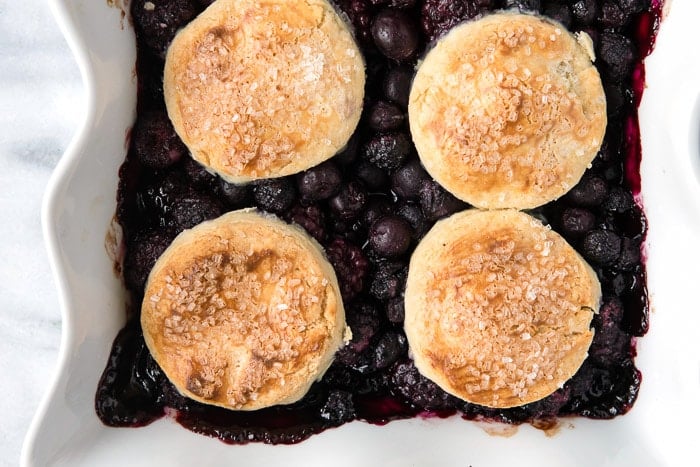 Suggested Supplies
For the Biscuits:
For the Berry Cobbler:
Did you make it? Please RATE THE RECIPE below!
Please
SUBSCRIBE
and
FOLLOW ME
on
FACEBOOK
,
TWITTER
,
INSTAGRAM
and
PINTEREST
!