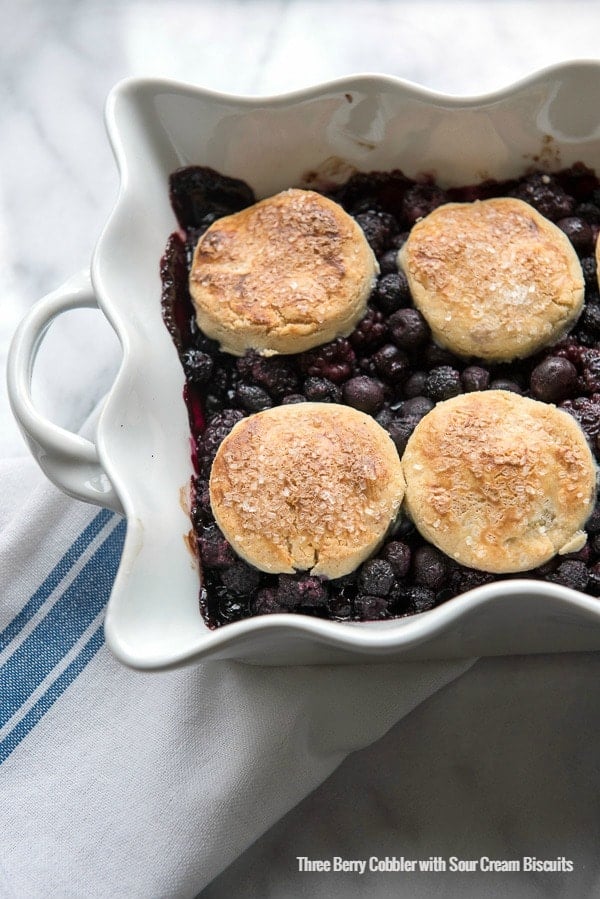 We have been having a rainy, foggy start to spring. It's welcome, don't get me wrong, though unusual. Normally we soak up the sun on brighter days and cross our fingers the snow is gone for now. Mother's Day is the arbitrary safe planting date even though we could still get some flakes in May.
It's been a cozy week in between showers. I realize I'm a bit of a human battery; boundless energy when the sun is out, and happy to hunker down indoors when it is gray outside. Mentally I have moved into spring foods however. Even when thinking up things to cook, warm homey things, they aren't the signature comfort foods of winter. Lighter, fresher ideas have been popping to mind that warm the soul.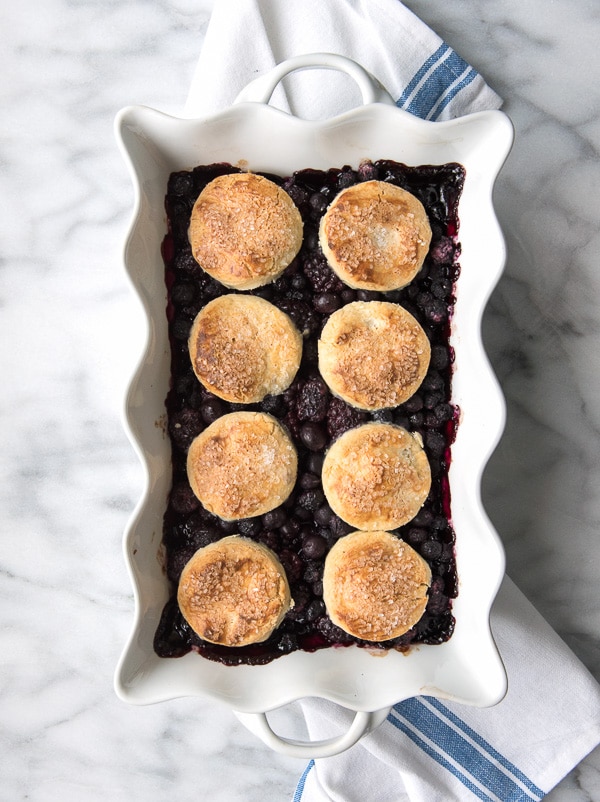 We have been devouring blackberries lately. Plump, juicy berries have landed on cereal, in smoothies and in lunchboxes daily. I have really wanted to make a recipe using them and loving a rustic Americana dessert began to mentally think through what to make. I've shared crisps, buckles, slumps, crumbles and pandowdy but was shocked to realize I've never shared a cobbler recipe on Boulder Locavore! Cobblers are the quintessential summer dessert with a fruit filling topped with biscuits. They are unpretentious and relaxed, allowing summer fruits to shine. Cobblers are never met with 'oh, no thank you, I'm just too full for dessert'. They conjure images of Grandmother's kitchens, lazy summer evenings, rural landscapes and a slower pace.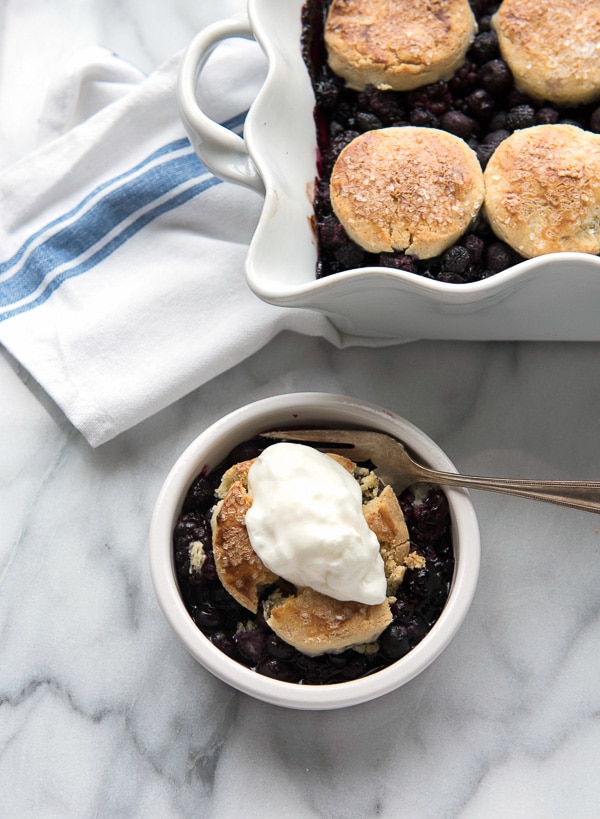 Three Berry Cobbler with Sour Cream Biscuits is not only a delicious way to enjoy fresh berries, but these biscuits are to die for. My version was made gluten-free however regular flour can be substituted. The biscuits are light, slightly sweet with a bright tang from the sour cream both in the batter and brushed on the top before being sprinkled with sugar for some sparkle.
I used a mix of fresh berries and berries I had in the freezer which I thawed before compiling the filling. Store-bought frozen berries will work (again thawed) as well as hand-picked and frozen if you have them; and fresh berries of course are great. I used up some Black Raspberries we picked at a favorite berry picking farm last summer which I was saving in the freezer for a perfect recipe. Cobblers are very easy to make and forgiving, unlike fussier desserts demanding precise execution. This is a perfect Sunday dinner dessert.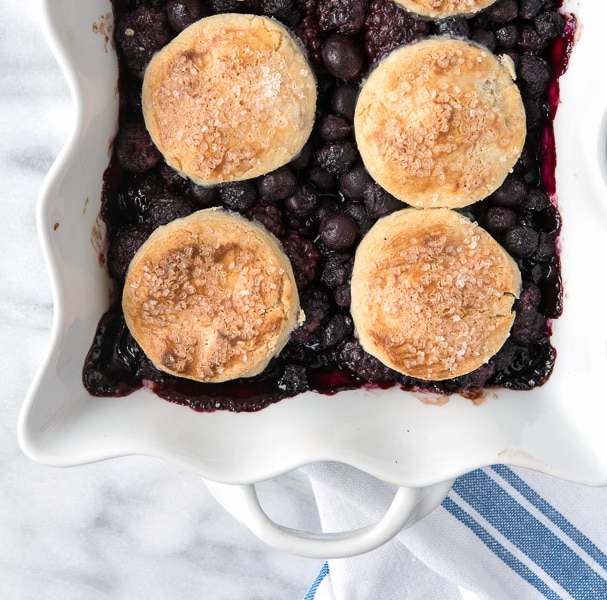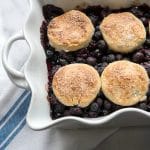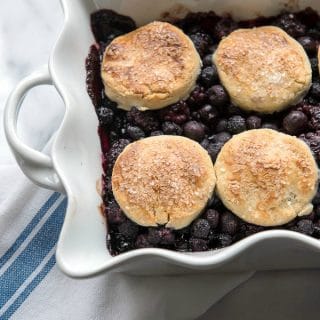 Three Berry Cobbler with Sour Cream Biscuits
Cobbler is one of the most homey, soul-satisfying desserts around. A rustic mix of three berries with lime zest make a delicious filling topped with light, sweet sour cream biscuits. Simple and relaxed, this dessert is a sure favorite!
Ingredients
Ingredients for Sour Cream Biscuits:
1 1/3

cups

flour; gluten-free or regular

(I used King Arthur's Gluten-Free blend)

2

tablespoons

Granulated Sugar

, plus extra to sprinkle on the biscuits

1 ½

teaspoons

Baking Powder

¼

teaspoon

Baking Soda

4

tablespoons

Unsalted Butter

, cold

¼

cup

Sour Cream

, plus extra to brush the biscuits

2

tablespoons

Heavy Whipping Cream

Optional: Whipped Cream to top cobbler servings
Ingredients for the Berry Filling:
2

cups

Blackberries

2

cups

Raspberries

2

cups

Blueberries

½

cup

Granulated Sugar

1 ½

teaspoons

Lime Zest

1

tablespoon

Lime Juice
Instructions
Preheat the oven to 375 degrees. Cobbler may be made in an 8-inch or 9-inch square pan, or a 2.5 quart casserole or baking dish.
Instructions for the Sour Cream Biscuits:
Note: the biscuit dough may be made by hand or in a food processor with a dough attachment. In a large mixing bowl combine the flour, sugar, baking powder, baking soda; whisk to fully incorporate.

Using a medium size grater, grate the cold butter into the dry ingredients. Toss with your hands to gently mix the ingredients or with a mixing spoon.

Add the sour cream and heavy cream to the mixture and mix until all ingredients are incorporated. Biscuit dough may be rolled out and cut into pieces to cover the top of the cobbler or formed by hand.
Instructions for the Cobbler filling:
Combine the berries in a large mixing bowl.

In a second mixing bowl combine the flour, sugar and lime zest; whisk to fully incorporate. Drizzle the lime juice over the berries.

Sprinkle the berries with the flour-sugar mixture and gently spoon into the berry mixture to evenly distribute. Spoon berries into the baking dish, evenly distributed in the pan.
Assembling the Cobbler:
Spoon berries into the baking dish, evenly distributed in the pan.

Place the biscuits on top of the berries and gently brush with a thin coating of sour cream, followed by a sprinkle of sugar.

Bake for 30-35 minutes until the biscuits are golden and cooked, and the berries are bubbling. Remove and allow to cool before serving. Serve with a dollop of whipped cream.