Homemade Pumpkin Butter is packed with sweet, fall flavors! It's super easy to make. There are so many delicious ways to use it in sweet and savory recipe!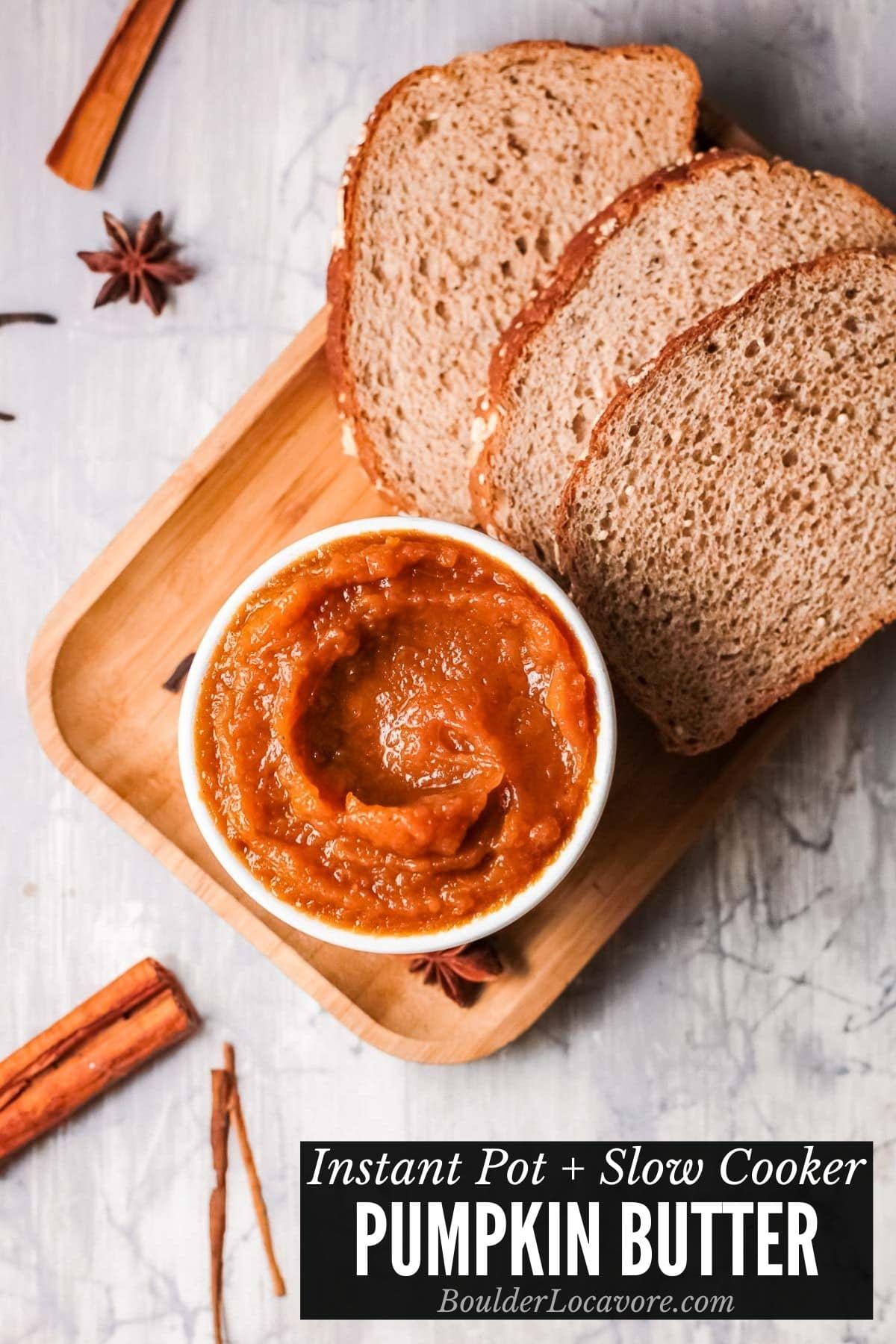 Like homemade apple butter, this is one of those fall treats that's so easy to make!
There are many ways to enjoy it from spreading it on toast to adding it baked goods and savory recipes too.
What is Pumpkin Butter?
This fall food is a thick, spreadable, sweet mixture of pumpkin, sugar and spices.
The pumpkin is cooked with the sweeteners (this recipe uses molasses and granulated sugar) and the spices like cinnamon.
It's a delicious mixture that can be used as an ingredient in other recipes, a topping or a spread.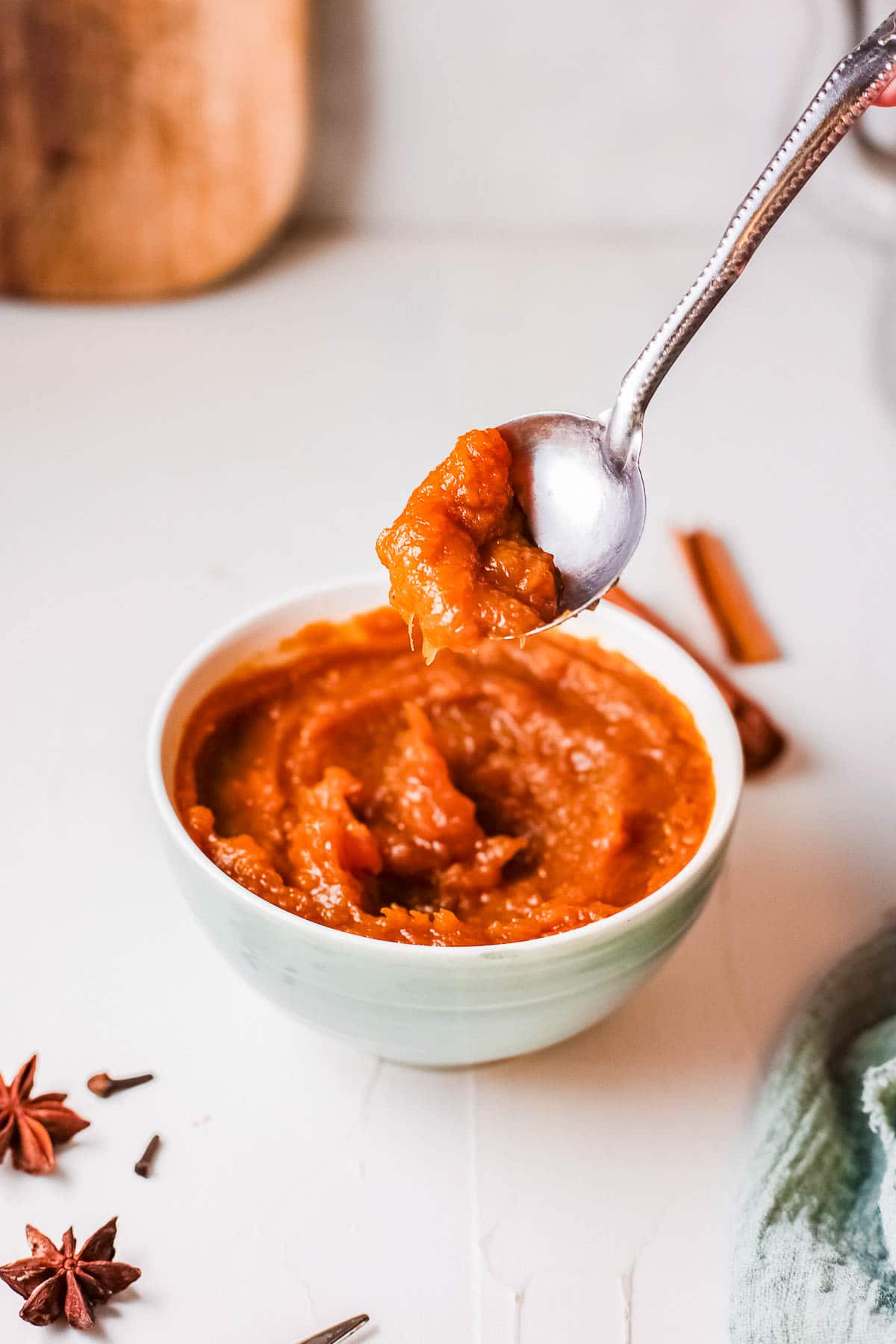 What is the consistency of Pumpkin Butter?
When it is homemade it has the consistency of thick applesauce. It's not as sticky as jam but similarly thick.
Also it will thicken as it cools and is chilled in the refrigerator.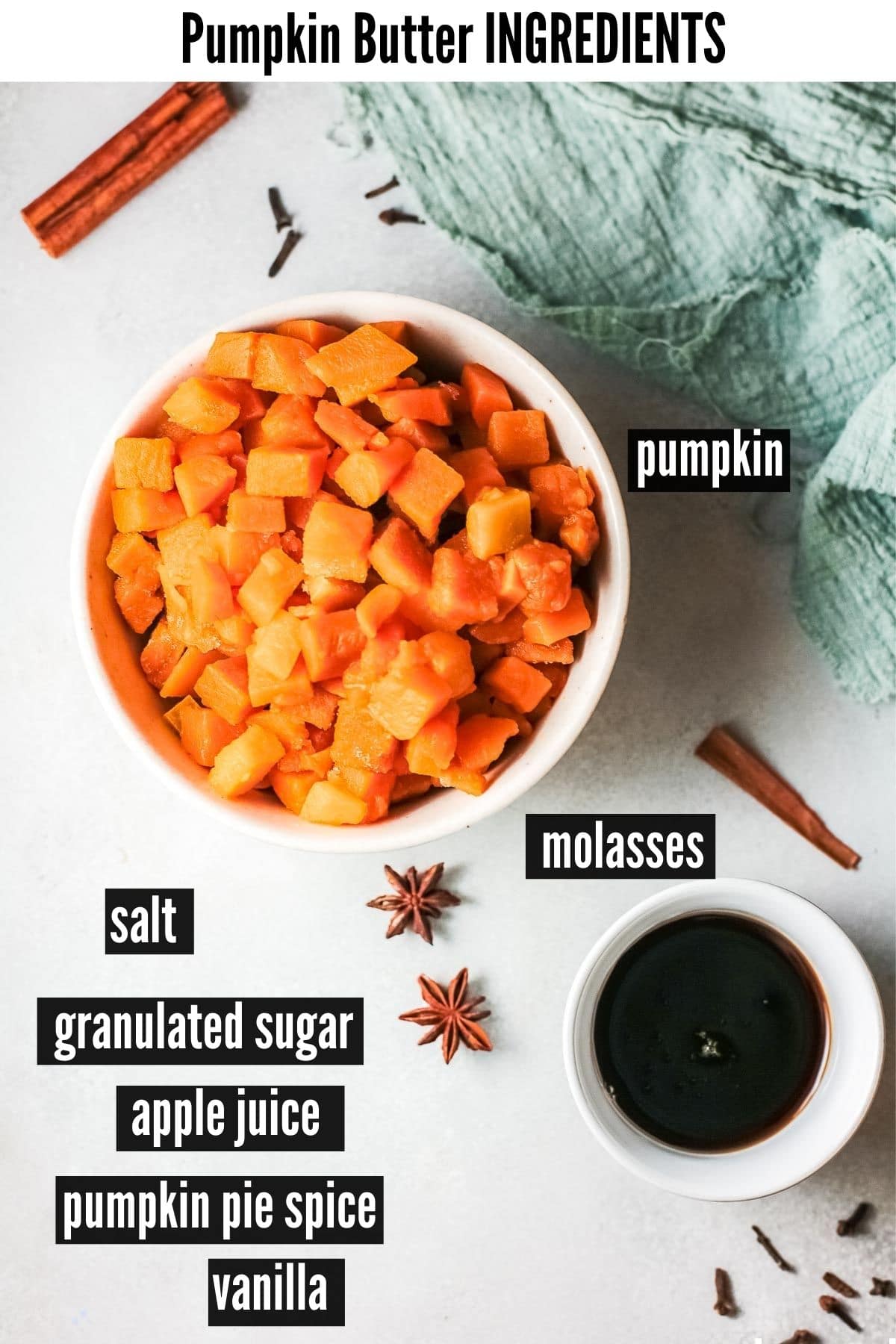 Recipe Ingredients + Notes
Pumpkin – this recipe uses fresh pumpkin!
Apple Juice – apple juice provides the cooking liquid for the other ingredients. It adds wonderful flavor.
Molasses – this homey sweetener gives deep caramel-y flavors.
Granulated Sugar – a lighter sweetness to complement the molasses.
Pumpkin Pie Spice – this perfect blend of fall spices adds the perfect spice touch without having to measure out several individual spices.
Vanilla Extract – adds a warm, mellow vanilla flavor.
Salt – the offers a nice flavor balance to the sweet ingredients. In adding it the salt deepens the sweetness with its contrasting flavor. I recommend Kosher Salt which is a less salty tasting salt.
Homemade Pumpkin Pie Spice Blend
If you'd like to use individual spices instead of pumpkin pie spice blend:
4 teaspoons ground Cinnamon
2 teaspoons ground Ginger
1 teaspoon ground Cloves
1 teaspoon Allspice
1/2 teaspoon ground Nutmeg
Best Pumpkins for Making Pumpkin Butter
Sugar pumpkins and Pie Pumpkins are smaller with sweeter flesh.
Though they are smaller they offer a good amount of flesh versus larger Jack-0-Lantern pumpkins with lots of space inside.
They are widely available at grocery stores and Farmer's Markets in the fall.
Save the seed for making the BEST roasted pumpkin seeds too!
I've actually made this recipe with store prepared butternut squash cubes too and it's delicious!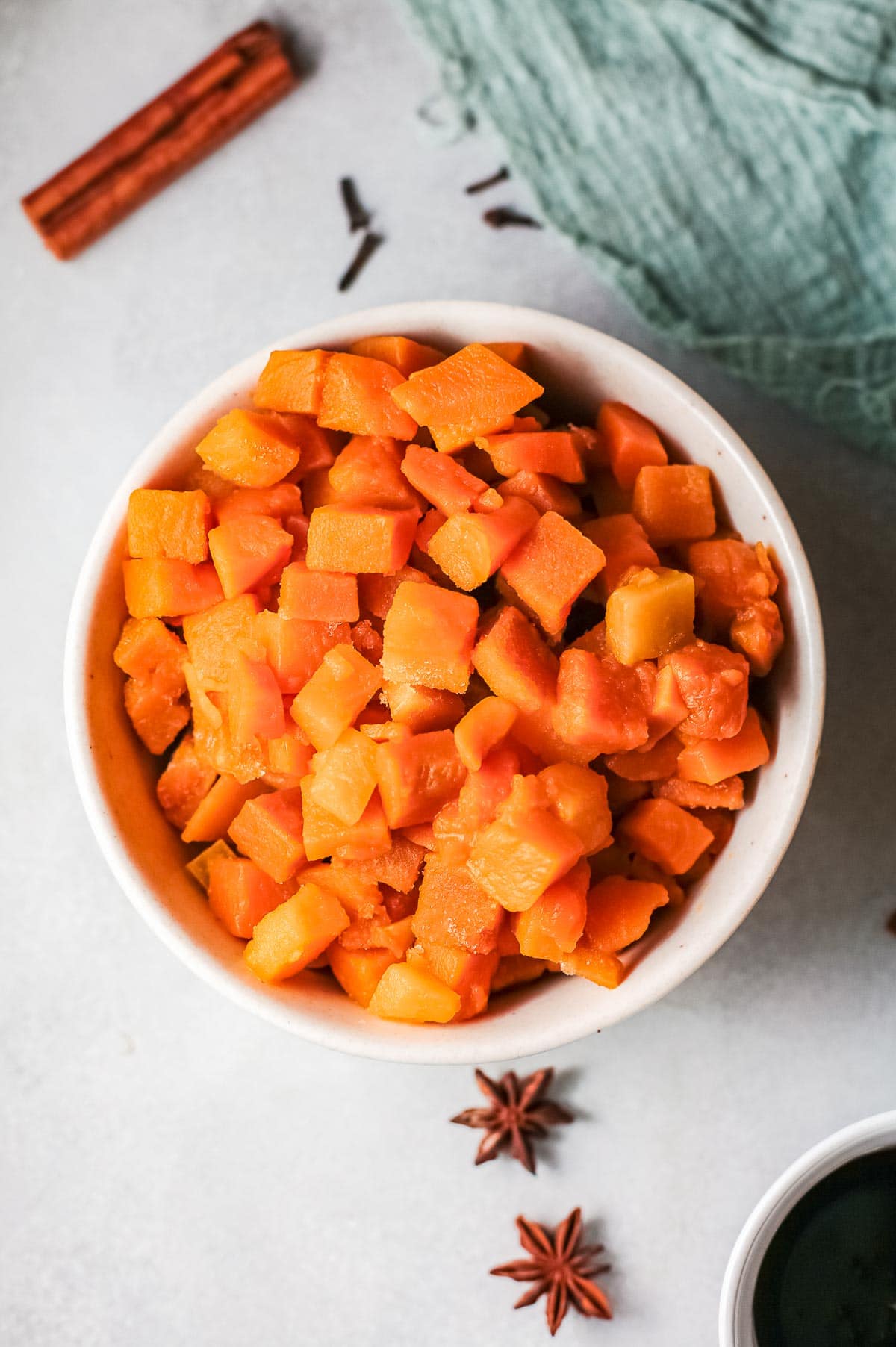 Can frozen Pumpkin be used?
Yes! Some stores carry frozen, cubed pumpkin for steaming (Walmart for one).
You can use this pumpkin to save some preparation time.
If substituting frozen pumpkin for the Instant Pot, add 3 minutes to the cooking time.
For the slow cooker the time will remain the same.
Best Way to Peel a Pumpkin
Cut off the very bottom and just below the stem on top with a sharp chef's knife.
Use a sharp vegetable peeler to take off the peel in strips.
A paring knife can also be used but a vegetable peeler is easier.
Cut the pumpkin into pieces then chop with the chef's knife to get the amount needed.
How do you make Pumpkin Butter from Scratch?
It's easy! This recipes has two options: an Instant Pot recipe and Slow Cooker recipe.
They use the same easy steps with times appropriate for each device.
The end result of both methods will be thick and delicious.
How to Make it – Step-by-Step
Instant Pot
STEP 1: Add all the ingredients to the Instant Pot EXCEPT the vanilla: pumpkin, molasses, granulated sugar, salt and apple juice (photos 1-2). Stir together.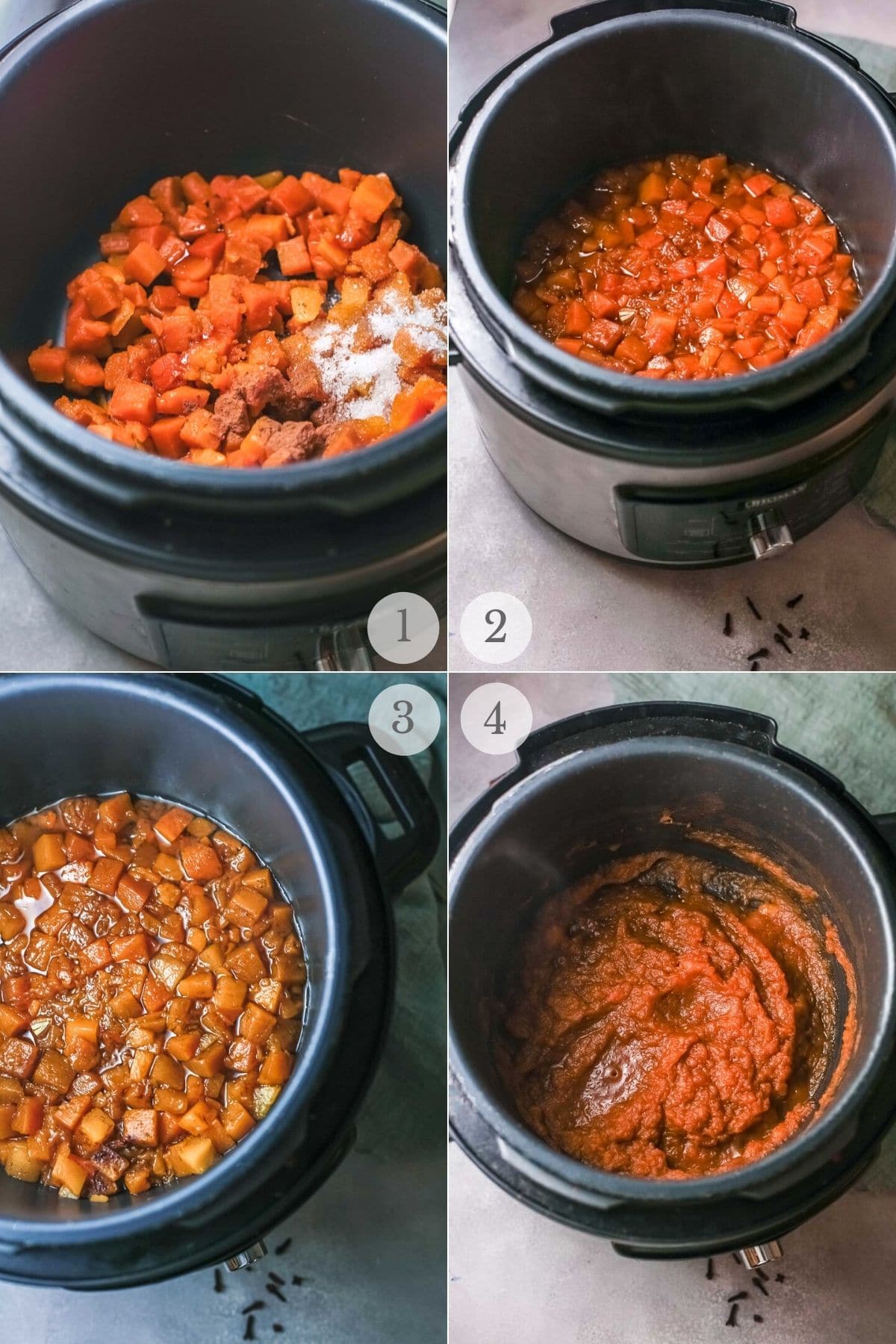 STEP 2: Secure the lid, switch the vent to SEALING and cook on HIGH PRESSURE for 12 minutes. Do a QUICK RELEASE of the pressure and add the vanilla. Photo 3 is how it will look following cooking.
STEP 3: Use an immersion blender to puree the mixture (photo 4).
Slow Cooker
STEP 1: Place all ingredients EXCEPT the vanilla into the slow cooker.
STEP 2: Cook on LOW for 5-6 hours, stirring every two hours, until the pumpkin is soft. Stir in the vanilla.
STEP 3: Use an immersion blender to puree.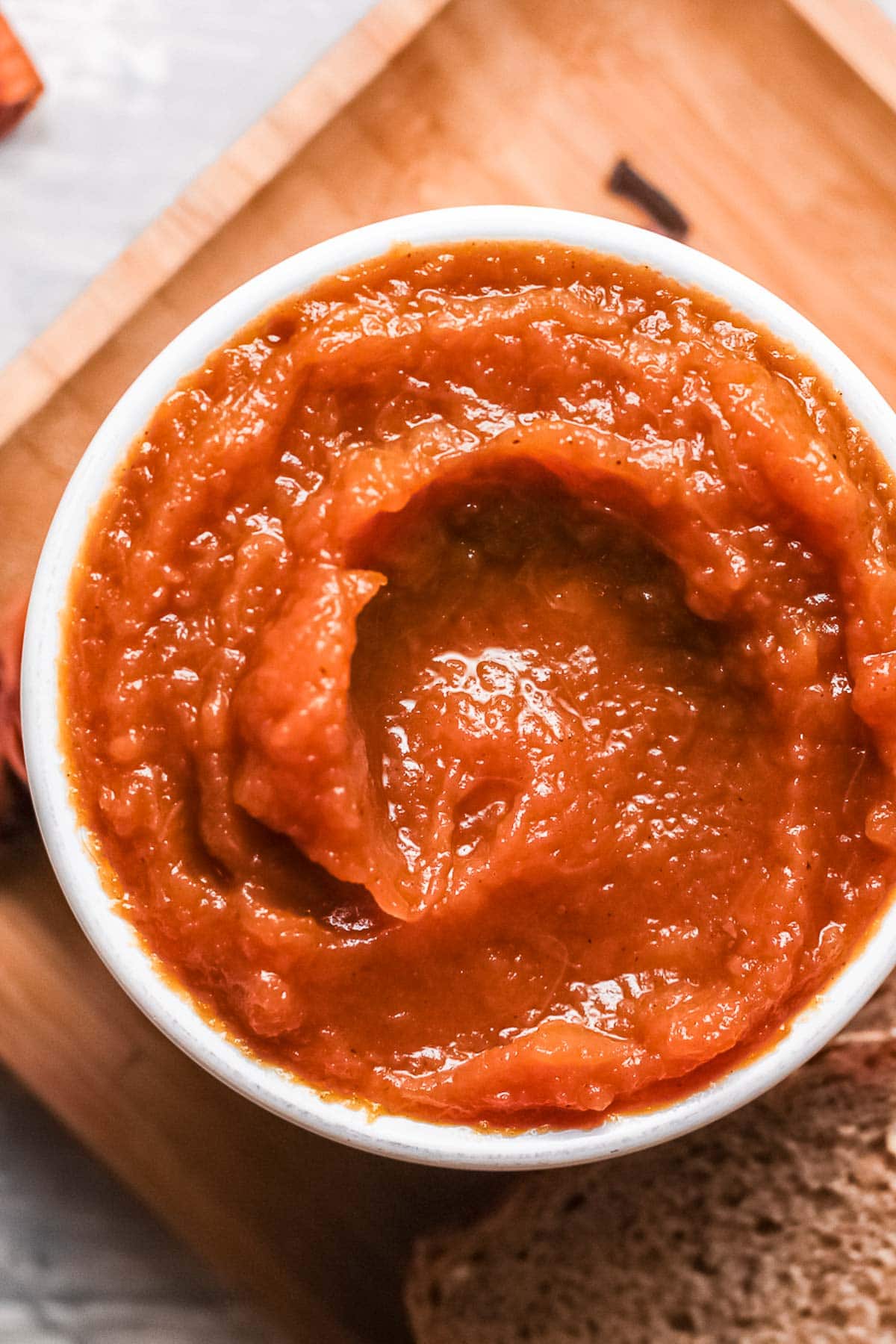 How to Use it
The most simple way to enjoy this fall treat is to spread it onto a warm piece of crusty bread. BUT that's only the start.
Baking. Add some in muffins, quick breads, cookies, cakes or pies. The sweet seasonal flavor full of spices is and easy shortcut.
In Salad Dressing. This easy Maple Pumpkin Butter Vinaigrette makes winter salads alive with seasonal flavor! Very easy recipe too.
Cocktails and Drinks. Adding a small amount to classic cocktails and drinks completely changes the flavor. Try it in Hot Buttered Rum or Mexican Hot Chocolate.
Pancakes and Waffles. Try it instead of syrup ON Pumpkin Ricotta Pancakes or Baked Chocolate Chip Pancakes. Or stir some into Easy Buttermilk Pancakes or Maple-Pecan Waffles for some delicious fall flavors.
Stir it into Oatmeal or add it to Baked Oatmeal. Try it with granola too.
Add it to a sauce for Roasted Chicken or Pork. The sweet pumpkin flavor works deliciously with roasted and grilled meats.
In Smoothies or on Yogurt. It's delicious in fall flavored smoothies.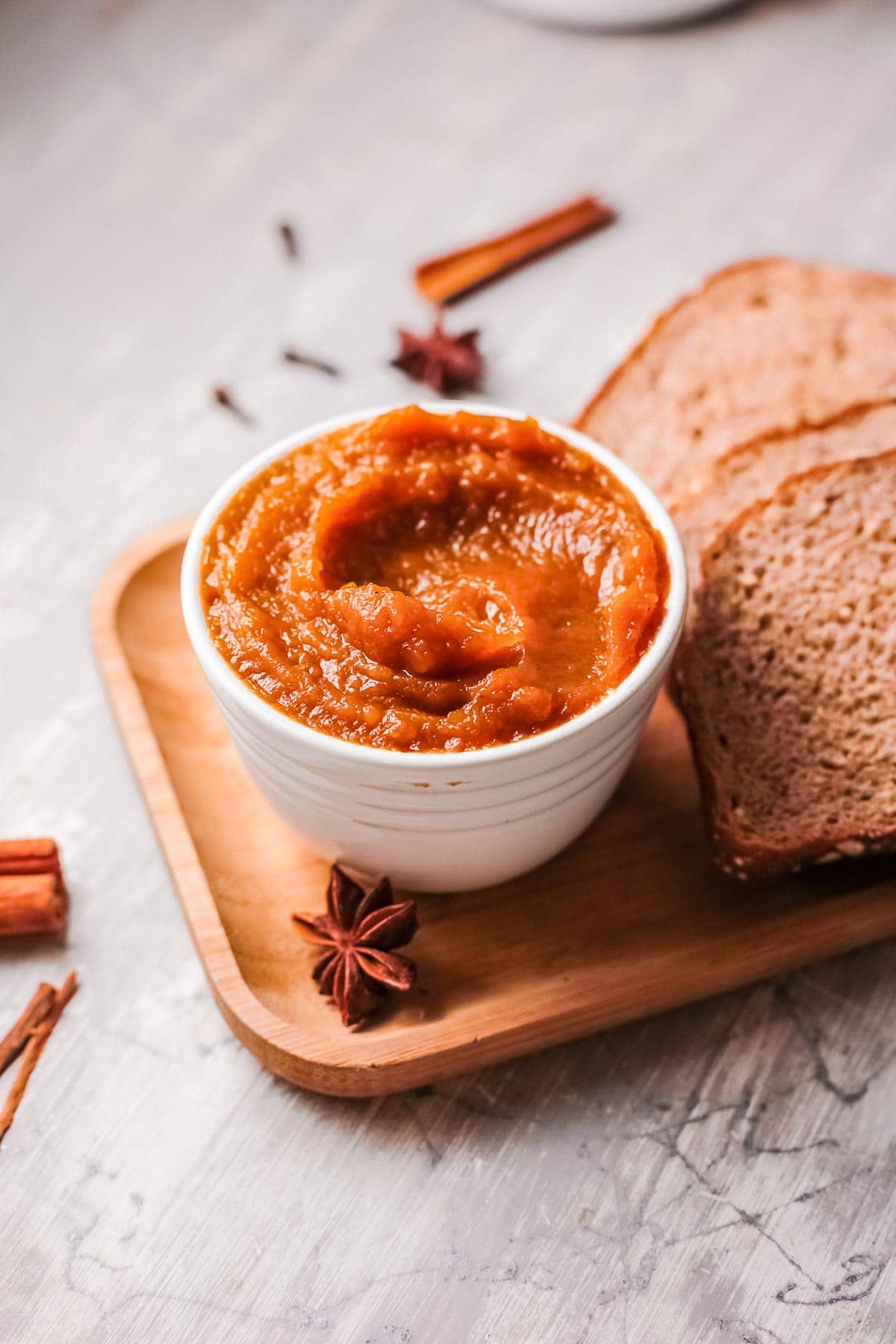 How to Store it
Store in a sealed glass container in the refrigerator for up to 2 weeks.
To freeze it: place in a freezer safe container (allowing 3/4-inch 'head room' on top for expansion) and seal. Freeze up to 3 months.
Thaw in the refrigerator and stir well after thawing before use.
Another option is to add it to an ice cube tray. This allows smaller portions to be used at a time.
Pro Tips
Be Careful when Blending the Cooked Pumpkin. Following the cooking cycle in either the slow cooker or Instant Pot the mixture will be very hot. Take care when pureeing.
Using an Immersion Blender vs Regular Blender. An immersion blender or stick blender is perfect for pureeing the mixture. It can splash so take care.
It can also be blended in a regular blend in batches. If choosing this method be careful of the hot mixture when transferring it to the blender.
Thickens as is Chills. The mixture will be like thick applesauce after pureeing. As it cools and chills in the refrigerator, it will become thicker and more spreadable.
Substituting Brown Sugar. If desired 1/3 cup of brown sugar can be substituted for the molasses and granulated sugar.
Recipe FAQ's
Can Pumpkin Butter be canned?
Unfortunately NO it cannot be canned. The USDA changed it's recommendations in the late 1980's regarding the food safety of canning.
Because it is thick, it is not guaranteed it will be heated to the required temperature all the way through. This creates food safety exposure even when using a pressure canner.
Pumpkins are also a lower acid vegetable which can encourage food safety issues when using water canning.
Store it in the refrigerator or freeze it for longer enjoyment.
Can Pumpkin Puree be used instead of fresh pumpkin?
To substitute pumpkin puree (store bought or homemade) use 1 29-ounce can (or 2 15-ounce cans) of puree.
Cook for 4 minutes on HIGH PRESSURE with a 10 minute NATURAL RELEASE. Follow with a Quick Release of any remaining pressure.
Blending won't be necessary just stir it together.
Can you Substitute Pumpkin Butter for Pumpkin Puree?
Consider swapping it into recipes that use puree. They have a very similar consistency.
Bear in mind the butter is very sweet so that should be factored into a swap.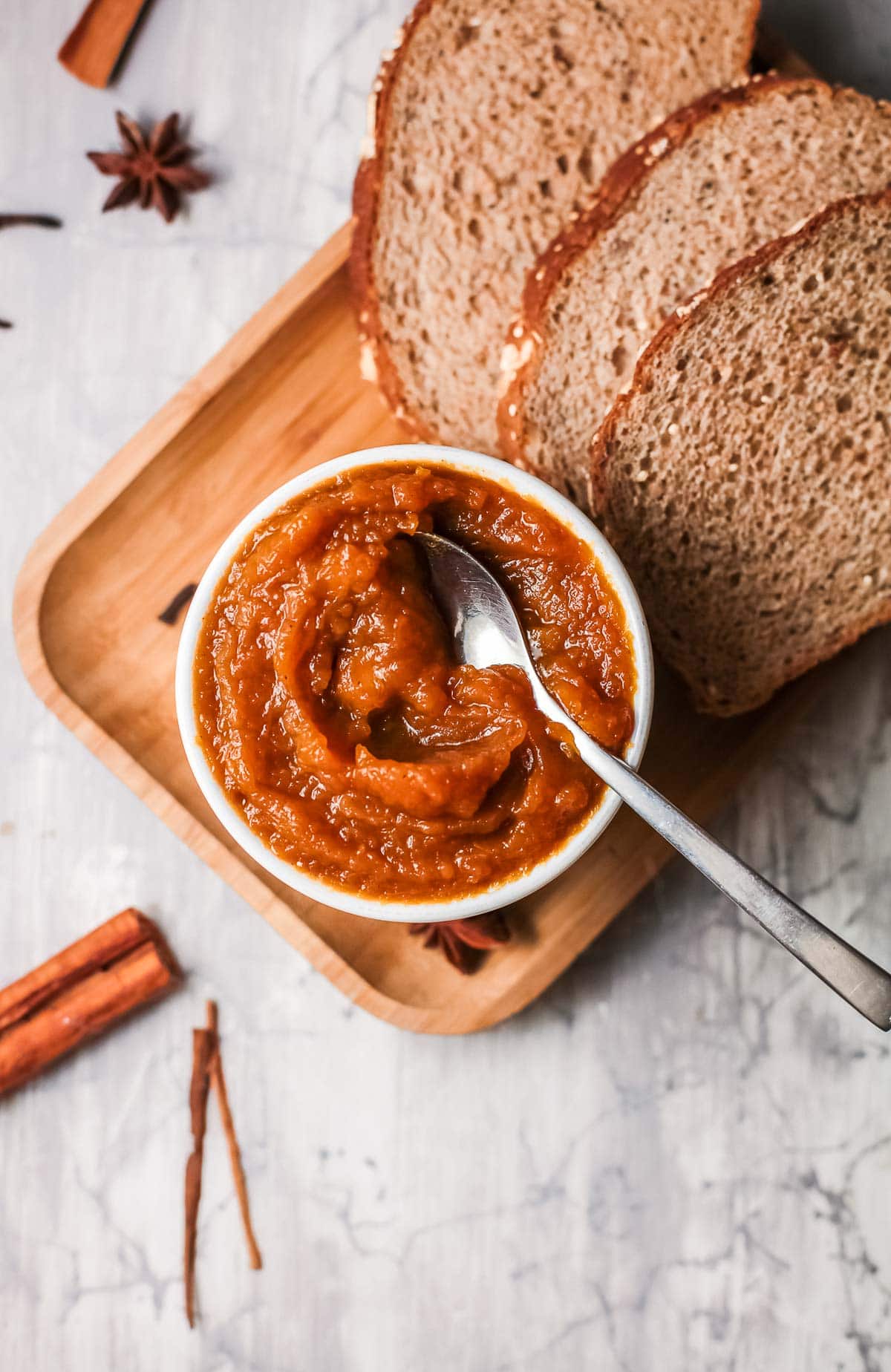 More Recipes You'll Love!
Did you make it? Please RATE THE RECIPE below!
Please SUBSCRIBE and FOLLOW ME on FACEBOOK , TWITTER , INSTAGRAM and PINTEREST !
Recipe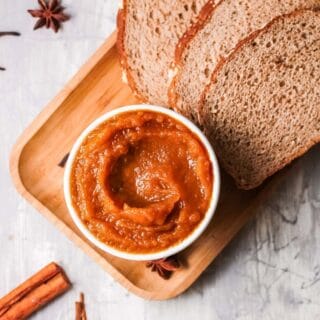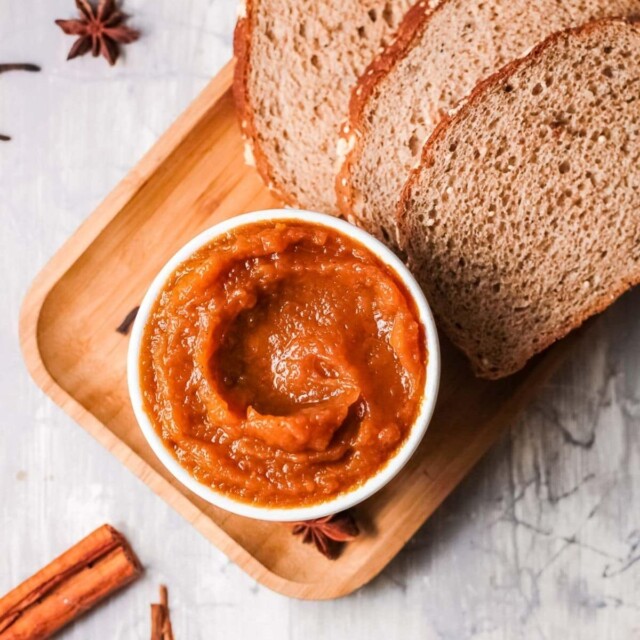 Pumpkin Butter
This thick spreadable fall treat is great on toast or in other sweet or savory recipes! Easy to make in the Instant Pot or Slow Cooker.
Print
Save Recipe
Recipe Saved!
Pin
Rate
Servings:
32
2 tablespoon servings (total yield: 4 cups)
Ingredients
6

Cups

pumpkin

peeled and diced

1

Cup

apple juice

¼

cup + 2 tablespoons

molasses

¼

cup + 2 tablespoons

granulated sugar

2

tablespoons

pumpkin pie spice

2

teaspoons

vanilla extract

Pinch

of salt
Instructions
Instant Pot
Add all the ingredients, except the vanilla, to the Instant Pot. Stir to combine.

Close the lid, seal the valve and set on HIGH PRESSURE for 12 minutes.

Manually release steam, open the lid and add the vanilla extract.
Slow Cooker
Place all the ingredients, except the vanilla, in the slow cooker and set on LOW for 6 hours. Cook, stirring every 2 hours until the pumpkin is soft.
ALL METHODS
Use an immersion blender to puree everything together until you have a thick butter. It will be the consistency of thick applesauce.

ALTERNATIVE METHOD: the mixture can be processed through a regular blender in batches. However it will be very hot so be careful.
Notes
This pumpkin butter is freezer friendly! So make a large batch and keep it frozen to have on hand at all times.
● You can use ⅓ Cup brown sugar instead of using molasses and white sugar.
● It's delicious with toast but it's also really good over granola too!
How to substitute pumpkin puree for the fresh pumpkin:
Use 1 29-ounce can pumpkin puree (or 2 15-ounce cans) in place of the cubed pumpkin.
Cook on HIGH PRESSURE for 4 minutes. Follow with a 10 minute NATURAL RELEASE and quick release any remaining pressure.
Add the vanilla extract.
No blending will be required. Just stir and chill.
To use individual spices instead of Pumpkin Pie Spice:
4 teaspoons ground Cinnamon
2 teaspoons ground Ginger
1 teaspoon ground Cloves
1 teaspoon Allspice
1/2 teaspoon ground Nutmeg
Cooking Times
The cooking times in the recipe card are for the Instant Pot (not including time to come to pressure). Here are the cooking times:
Instant Pot: 12 minutes with a Quick Release
Slow cooker: 6 hours on LOW
Storing it
Refrigerator: sealed for up to 2 weeks.
Freezer: up to 3 months.
Nutrition
Calories:
31
kcal
|
Carbohydrates:
8
g
|
Protein:
1
g
|
Fat:
1
g
|
Saturated Fat:
1
g
|
Sodium:
2
mg
|
Potassium:
139
mg
|
Fiber:
1
g
|
Sugar:
6
g
|
Vitamin A:
1852
IU
|
Vitamin C:
2
mg
|
Calcium:
15
mg
|
Iron:
1
mg