Chocolate Chip Pancakes are a perfect way to start a weekend day. These EASY baked pancakes are fast enough for weekdays too! They make breakfast feel special whenever you serve them.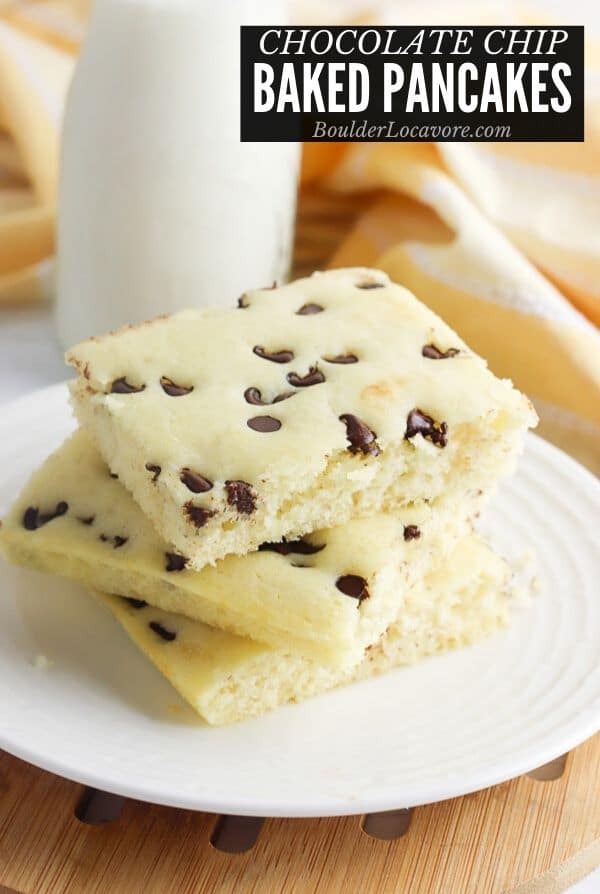 These fluffly pancakes will become a favorite the first time you make them.
For those you serve because of the sweet surprise.
For you because they are SO easy to make.
Baked pancakes are great for a crowd, holiday or brunch when flipping pancakes individually on the griddle takes too long.
Meet your new favorite pancake recipe!
What are Baked Pancakes?
Baked pancakes are prepared in one batch and baked in the oven.
Unlike singular pancakes which are poured into a skillet or griddle and cooked on the stove top, the entire batch of pancakes are done at once!
They are fast to put together with a simple homemade pancake mix.
The end result is light, fluffy chocolate chip pancakes!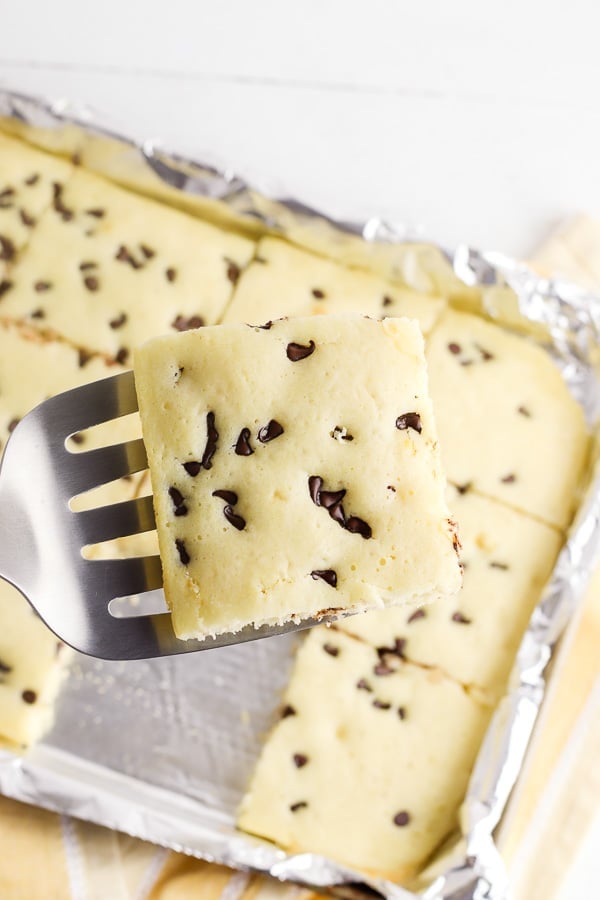 Ingredients
These chocolate chip pancakes use basic pantry ingredients.
This makes them easy to whip up with little notice or preparation!
All-purpose flour (regular or gluten-free measure-for-measure flour blend)
Salt
Baking powder
Granulated Sugar
Milk
Vegetable oil
Egg
Chocolate chips
Ingredient Notes
Flour
This recipe has been tested with each regular All-Purpose Flour and gluten-free measure-for-measure flour blend with great results!
Either type of flour can be used.
Chocolate Chips
I recommend using mini chocolate chips for these baked pancakes.
Their size offers the perfect amount of chocolate in every bite.
However ANY chocolate chips can be used!
If you don't have any on hand you can also chop up a chocolate bar and use that too!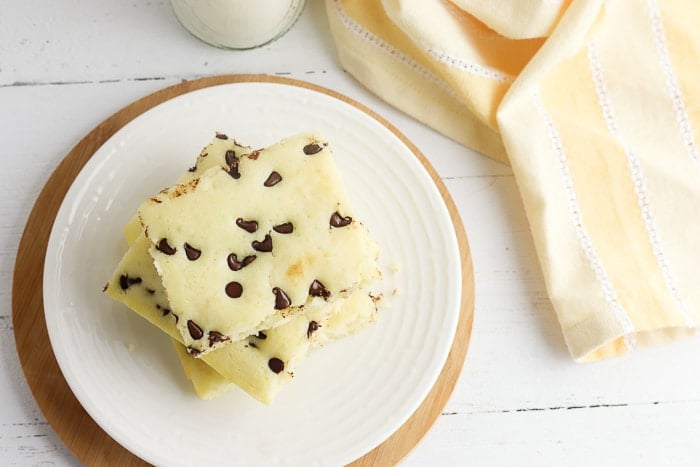 Topping the Chocolate Chip Pancakes
As with regular pancakes, add your favorite topping. Use one or more of the following:
Melted Butter
Syrup
Fruit Jam
Whipped Cream (this option is my family's favorite)
Change Up the Flavor!
Change the flavor of the chocolate chips OR add some flavored extract to the pancake batter to change them up.
Use the same amount of chocolate chips in the substitute flavor.
If adding extract use 1/2-1 teaspoon. For stronger extract flavors I recommend 1/2 teaspoon to start.
Here are some ideas:
Lemon extract with white chocolate chips
Orange extract with dark chocolate chips
Mint chocolate chips or chopped Andes mints instead of regular chocolate chips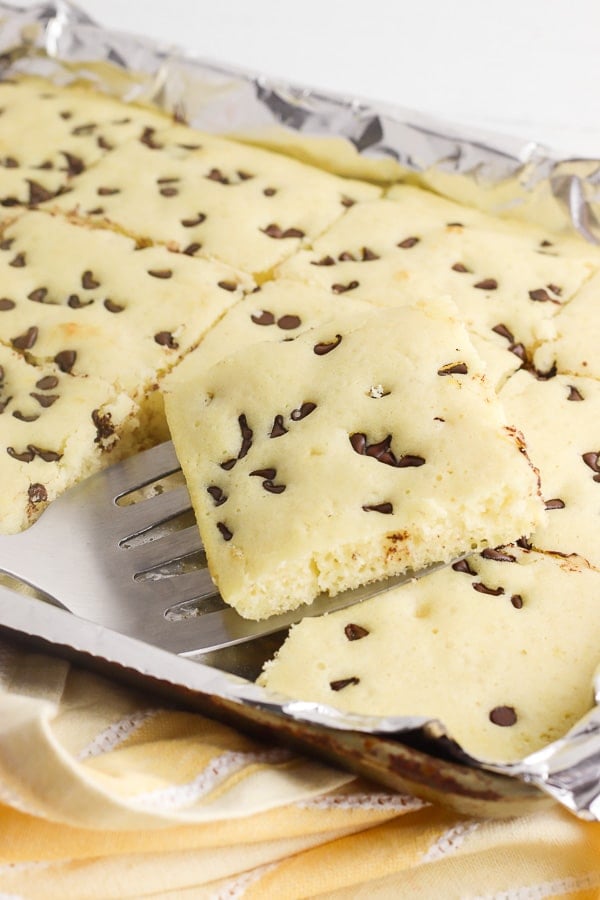 How to Make Baked Chocolate Chip Pancakes – Step-by-Step
STEP 1: Preheat the oven to 350 degrees F. Line a 9×13 rimmed baking sheet (a quarter sheet pan) with parchment paper or foil. Lightly spray with non-stick cooking spray.
STEP 2: In a mixing bowl combine the flour, salt, baking powder and granulated sugar. Whisk together (photo 1).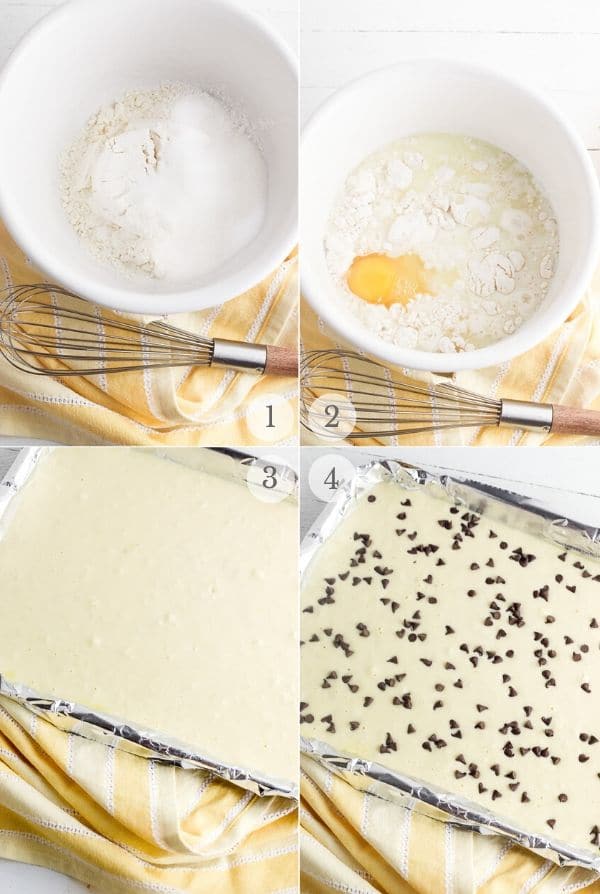 STEP 3: Add the milk, vegetable oil and egg; stir to fully combine (photo 2). Do not overmix.
STEP 4: Spread the batter evenly in the prepared pan (photo 3) and sprinkle the chocolate chips on top (photo 4).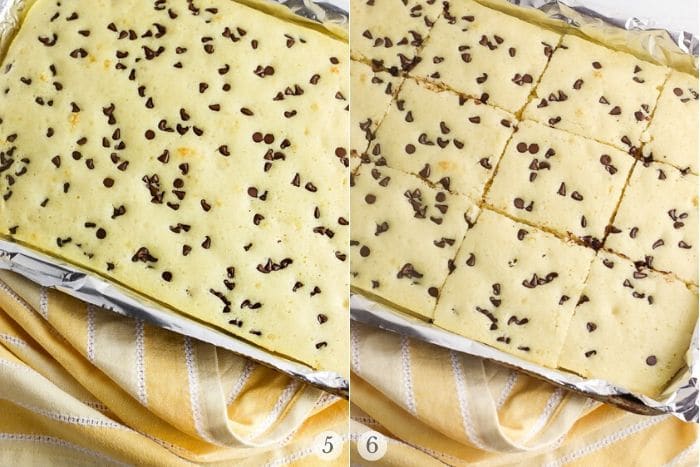 STEP 5: Bake for 25-30 minutes until the pancake springs back when touched and is starting to turn golden in color (photo 5). Remove from the oven and place on a cooling rack.
STEP 6: Allow to cool for 5 minutes in the pan. Cut into 12 squares and serve warm (photo 6).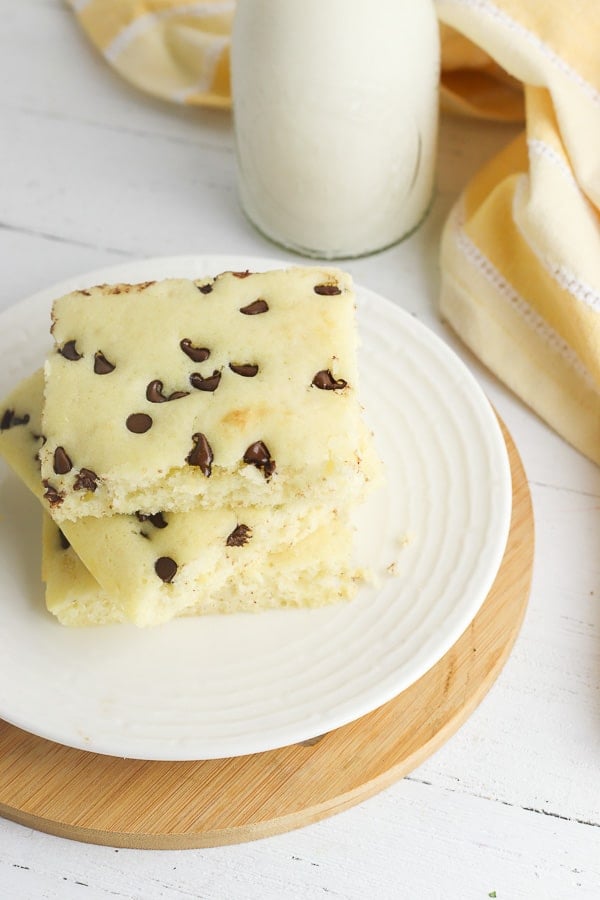 Reheating Leftovers
Store any leftover pancakes in a sealed container in the refrigerator.
Reheat for a few seconds in the microwave.
Did you make it? Please RATE THE RECIPE below!
Please SUBSCRIBE and FOLLOW ME on FACEBOOK , TWITTER , INSTAGRAM and PINTEREST !