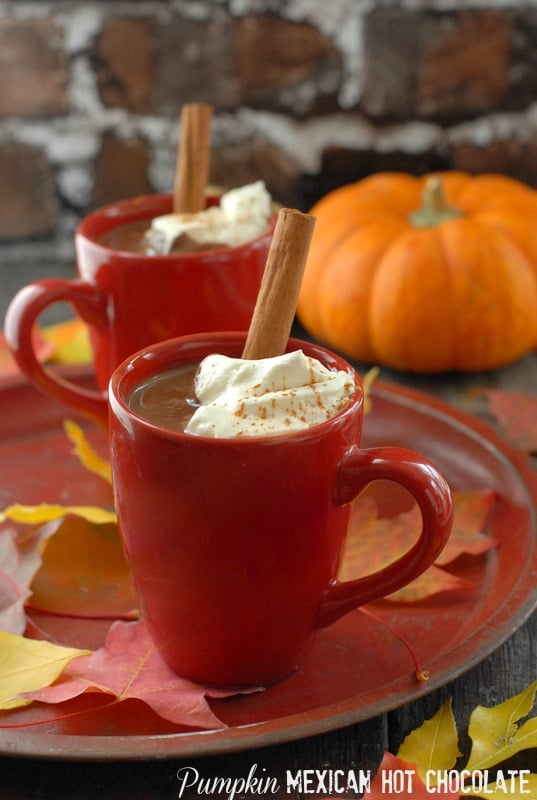 Fall has clearly settled in. The temperatures are sliding toward bonafide and consistent sweater-and-boot weather. The trees are a riot of color almost too brilliant to believe. Attempts at snow are on the weather forecast horizon and everything is feeling all the more cozy.
Our trees are aflame at their autumnal peak right now. A red Maple is shamelessly flashing orangey-red leaves and our Aspen trees are dropping yellow-gold leaves like coins falling from the heavens. We found ourselves in an impromptu leaf gathering earlier this week, like collecting unexpected gems, each more interesting and radiant than the last. We became lost in the collecting, without a clue of what to do with our booty other than to admire the work of Mother Nature.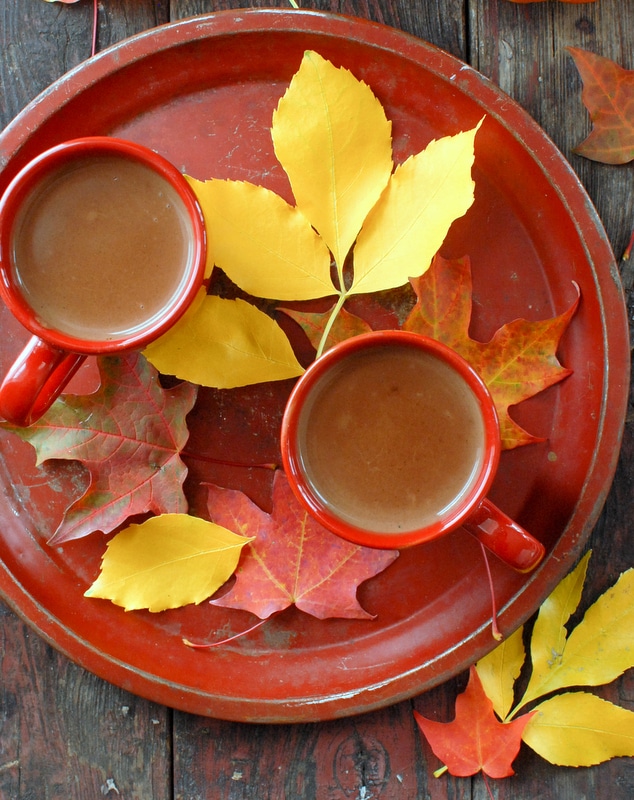 With chilly uncovered hands and flushed cheeks, we laid our leaf treasures out in front of a roaring fire and I decided it was a perfect time to christen the season with homemade Pumpkin Mexican Hot Chocolate. As simple as mixing packaged hot chocolate powder with milk and microwaving is, there is no comparison to homemade hot chocolate. It doesn't take long and the richness can't be beat.
This Pumpkin Mexican Hot Chocolate is rich and sultry. It is a deep alluring brown tone with a thicker consistency making it ooze a luxe feel. The balance of pumpkin and chocolate work to flaunt the flavors of the season without frivolity.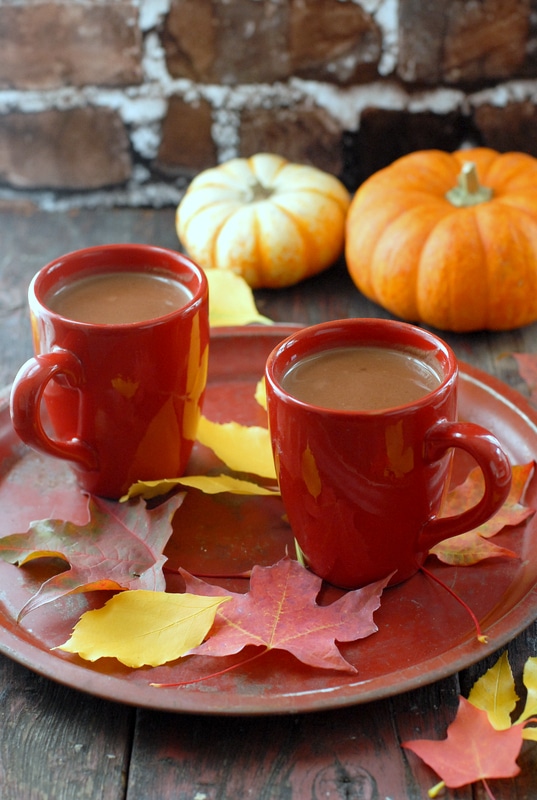 For those unfamiliar with Mexican Chocolate, it is a specially prepared sweet chocolate that includes cinnamon. There are divided views on whether the traditional version of Mexican Hot Chocolate includes chilies for a low burn of warmth. I've included it in my version. I used iconic Ibarra chocolate, which is produced in Mexico and is used for making Mexican hot chocolate and mole sauce. The familiar yellow and red hexagonal box contains disks of chocolate wedges that are mixed with cinnamon, chocolate liquor and partially dissolved granulated sugar giving the chocolate an interesting texture. It is intended for cooking and melts to create a rich and luscious hot chocolate!