Making cute Popcorn Balls for Halloween is an easy and fun project for all ages. These brightly colored, festive treats feel like a party whether you are having one or not!

These easy Popcorn Balls are a perfect choice for a Halloween party, making treats for friends or school OR just making a cute Halloween treat.
They are easy to make without any melting sugar and candy thermometer fussiness.
Always soft and delicious making them easy to eat. A fun project for friends or kids too.
Add some Vampire Punch (or a Grave Digger Cocktail for adults), Graveyard Halloween Cupcakes and Creepy Spider Egg Pudding and your party is ready to go!
Toxic Waste Jello Cups are fun and very easy too!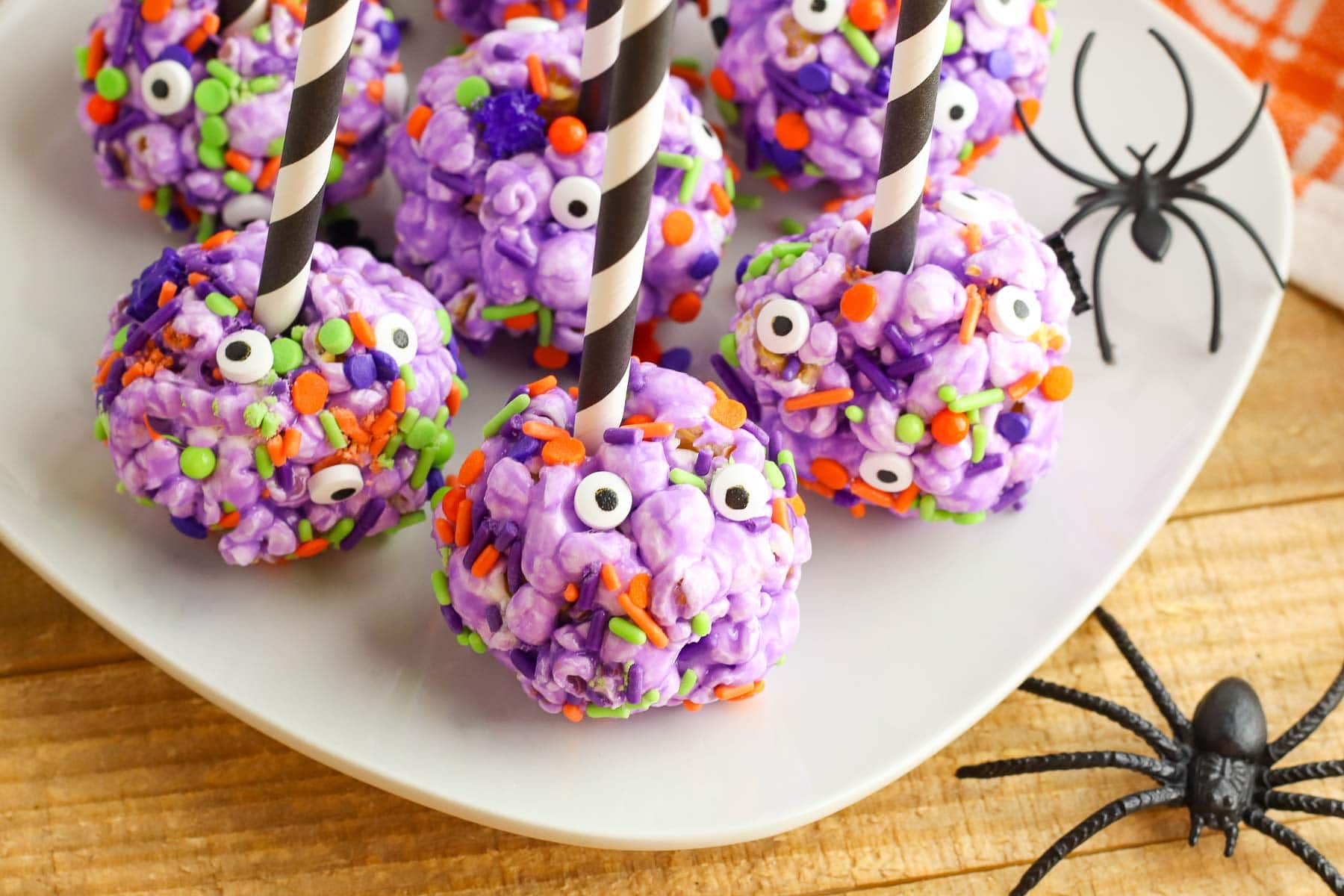 Easy Homemade Popcorn Balls
Everyone loves popcorn balls. There are two ways to make them and you'll love this way the best!
The traditional method requires boiling corn syrup, sugar, water and salt to a specific temperature. It also requires monitoring the temperature with a candy thermometer.
This recipe uses melted marshmallows and butter. They melt quickly on the stove and do not require a thermometer.
The finished treats are soft and easy to eat.
They do not harden to an inedible hardness that you've probably encountered with store bought traditional popcorn balls.
Recipe Ingredients + Notes
Popcorn – use freshly popped popcorn for best texture and flavor. You'll need about 2/3's cup of unpopped kernels for the volume needed. Use your favorite method to make the popcorn; any popcorn will work. I like making it on the stove top with a Whirly pop.
Unsalted Butter – melted butter helps melt the marshmallows to make a sticky mixture to form the balls.
Mini Marshmallows – marshmallows are what hold these all together. They melt quickly and keep the popcorn balls soft and easy to eat.
Gel food Coloring – we used purple but you can use any color you like. Gel food coloring makes a more brilliant and dramatic coloring. It can be purchased at craft stores and grocery stores where baking supplies are found. Or buy online.
Halloween Sprinkles – pick sprinkles that work with your popcorn ball colors. Find them at baking supply locations or buy online. There are some really cute mixtures on Amazon.com with tiny ghosts and candy eyes in them already. TIP: smaller sprinkles stick to the popcorn better. Larger or heavier sprinkles may fall off.
Candy Eyes – you'll find loads of things to do with these candy eyes. We loved them on Mummy Halloween Cookies too! Available at baking supply locations or buy online.
Paper Straws – the 'sticks' on these Halloween popcorn balls are decorative paper straws. There are lots of fun Halloween straws or simple striped straws as shown in the photos too.
How to Make it – Step-by-Step
STEP 1: Lay a piece of wax paper or parchment paper out on the counter top for the formed popcorn balls to cool. Put the sprinkles in a large pan and the candy eyes in a bowl. Pop the popcorn (photo 1) and set aside.
STEP 2: In a large stock pot or Dutch oven melt the butter over medium heat (photo 2). Add the marshmallows and stir until they are completely melted (a few minutes) (photo 3).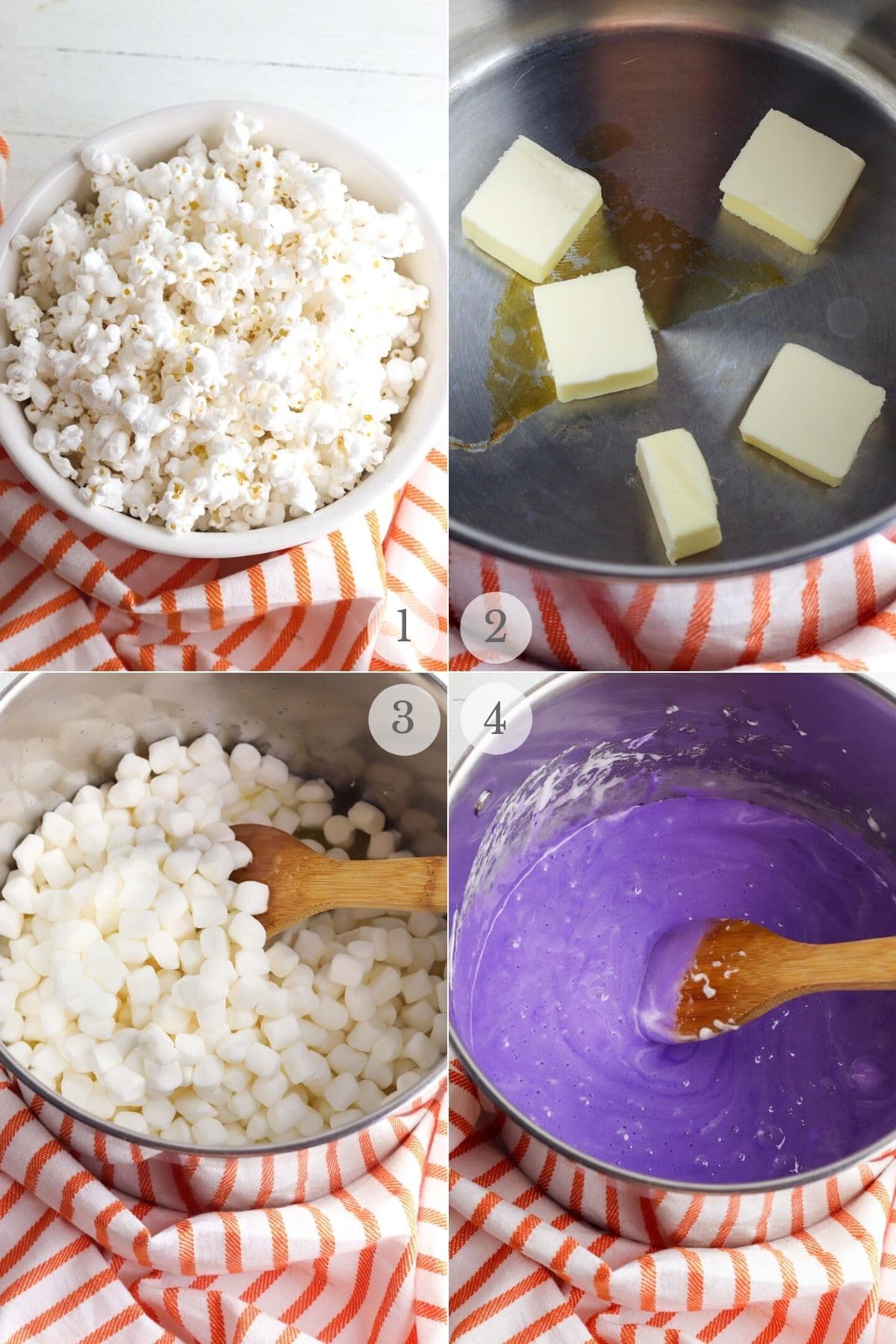 STEP 3: Remove pan from heat and stir in a few drops of gel color until the color is bright and vivid (photo 4).
STEP 4: Add the popcorn to the pan and stir to fully coat with the marshmallow mixture (photo 5). Scoop out the popcorn mixture to make balls approximately 3-inches across. Press to compact each ball to hold together.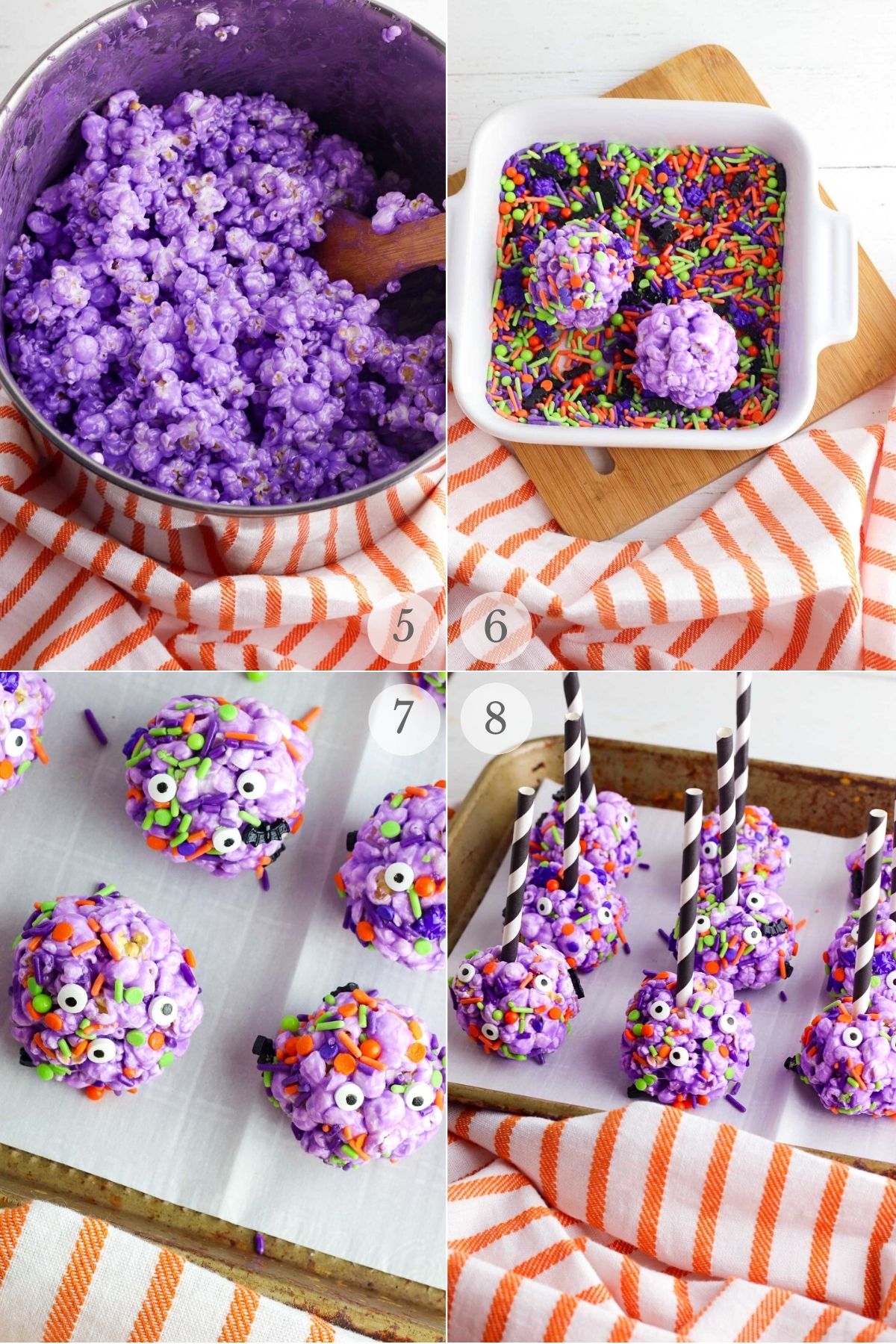 STEP 5: Roll the ball in the sprinkles, and press on candy eyes (photo 6-7). Add the straw and set on the wax paper to fully cool (photo 8).
NOTE: if the balls separate when the straw is added, squeeze them back together and allow to fully cool before handling.
If you love these, try these Halloween Popcorn Balls with Gummy Worms. You'll love the surprise that gives them their color and flavor.
Pro Tips
Spray a silicon spoon or spatula to stir the popcorn mixture. It will be sticky so this helps it from sticking to the stirring device.
Spray hands with non-stick spray when rolling the balls. This keeps it from sticking to your hands.
Move quickly between forming the balls and rolling in sprinkles. If the balls cool fully they are not as sticky and the sprinkles do not stick as well.
Make it a team effort! Have one person roll the popcorn balls, another to roll in sprinkles and a third to push on the candy eyes. This is a great recipe to do with kids.
If the popcorn ball separates when the straw is inserted, squeeze back into a ball. Allow to cool fully before handing.
Straws can be optional. If you'd rather just make balls and leave out the straws, ignore that last step.
Use smaller sprinkle sizes. Large sprinkles may fall off easier.
How to Store
When the balls are set, cover each one with plastic wrap. Store at room temperature.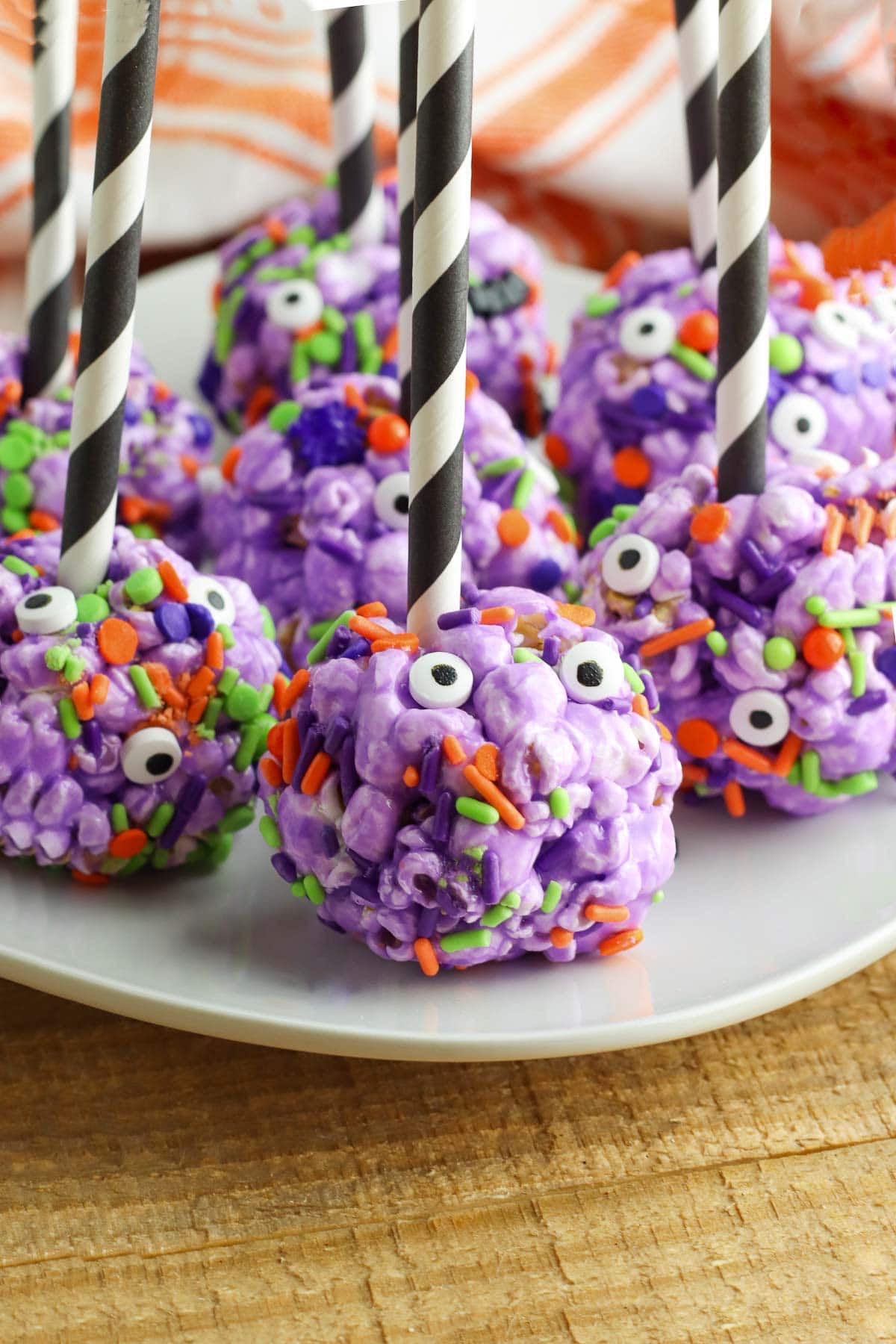 More Popcorn Recipes You'll Love
Did you make it? Please RATE THE RECIPE below!
Please SUBSCRIBE and FOLLOW ME on FACEBOOK , TWITTER , INSTAGRAM and PINTEREST !
Recipe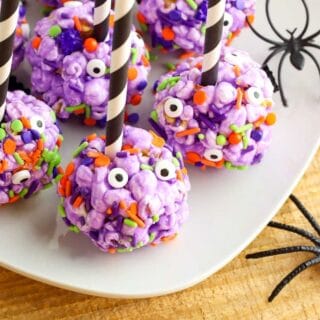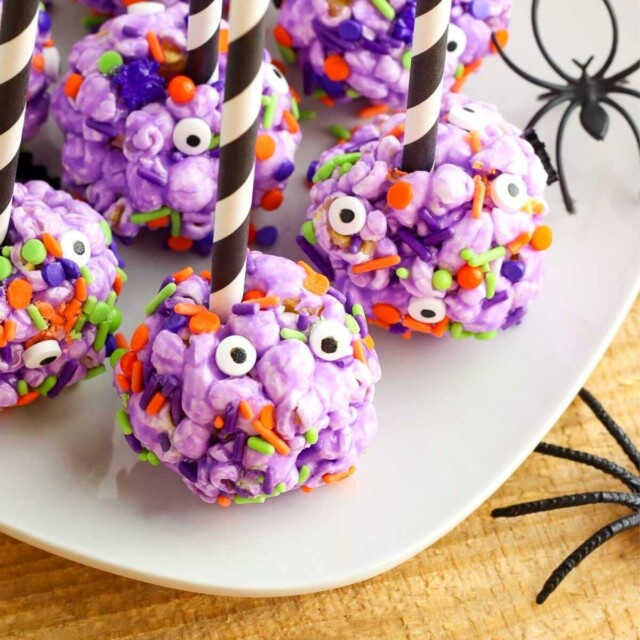 Halloween Popcorn Balls
Soft and easy Halloween popcorn balls don't require a candy thermometer or any fussy steps. Fun to make and they feel any occasion feel like a party.
Print
Save Recipe
Recipe Saved!
Pin
Rate
Ingredients
16

cups

popped popcorn

(around 2/3 cup unpopped kernels)

5

tablespoons

unsalted butter

1

16-ounce package

mini marshmallows

Purple gel food coloring

or color of your choice

Halloween sprinkles

Candy eyes

Paper straws
Instructions
Place a piece of wax paper or parchment paper on the counter top for the popcorn balls to cool once they are made.

In a large stock pot or Dutch oven, melt the butter over medium heat.

Add the marshmallows and stir until melted. TIP: use a silicon spoon or spatula sprayed with non-stick spray to keep the mixture from sticking.

Remove the pan from heat and add three to four drops of purple gel food coloring. Stir until well mixed and the marshmallows are bright purple (or color of your choice).

Add the popcorn to the pan and stir to coat.

Spray hands with non-stick cooking spray and roll popcorn mixture into balls aproximately 3-inches in diameter. Squeeze to compact the balls.

Roll the popcorn ball in sprinkles, and press candy eyes into them (if desired).

Stick a paper straw into the top of each popcorn ball and allow to cool completely on the wax paper before serving.

NOTE: if the popcorn balls begin to separate when the straw is inserted, squeeze the ball together and allow the set.
Notes
When forming the balls and rolling in sprinkles, move quickly so the balls do not harden and lose their stickiness which allows the sprinkles to stick.
This is a fun project for a few people to do in an assembly line style.
Nutrition
Calories:
131
kcal
|
Carbohydrates:
25
g
|
Protein:
2
g
|
Fat:
3
g
|
Saturated Fat:
2
g
|
Cholesterol:
8
mg
|
Sodium:
19
mg
|
Potassium:
29
mg
|
Fiber:
1
g
|
Sugar:
13
g
|
Vitamin A:
105
IU
|
Calcium:
2
mg
|
Iron:
1
mg