Ricotta Pancakes are light, fluffy and so easy to make. This recipe adds pumpkin, fall spices and homemade Ginger-Thyme pancake syrup for an unforgettable breakfast!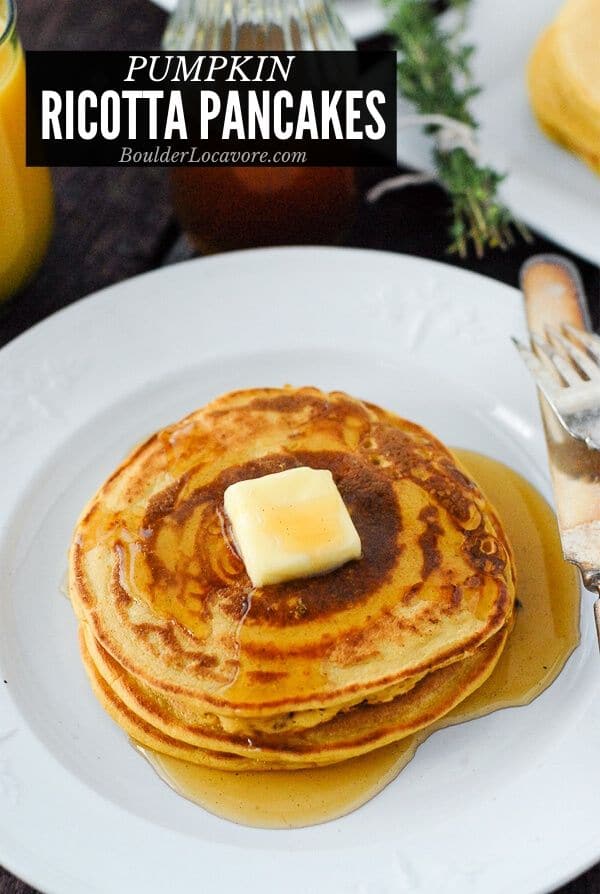 A hot breakfast always starts the day off right!
This easy recipe for Pumpkin Ricotta Pancakes are flavor-packes and soul-warming.
As children we loved the Ricotta Pancakes my grandmother would make.
Light, fluffy and so moist in the middle.
I've changed up my Grandmother's recipe for fall flavored Pumpkin Ricotta Pancakes.
Warming spices and a homemade Ginger-Thyme Syrup make an exciting seasonal recipe your family will beg you to make on repeat!
What are Ricotta Pancakes?
Ricotta pancakes contain ricotta cheese. Ricotta cheese is a soft, wet cheese sold in containers.
It's probably most familiar as an ingredient in lasagna recipes.
Adding the moist cheese to pancakes creates pancakes with almost a custardy consistency inside.
They don't dry out like regular pancakes can.
The ricotta cheese does not make the pancakes taste 'cheesy'.
It mainly adds moisture to the pancakes unlike a traditional pancake batter.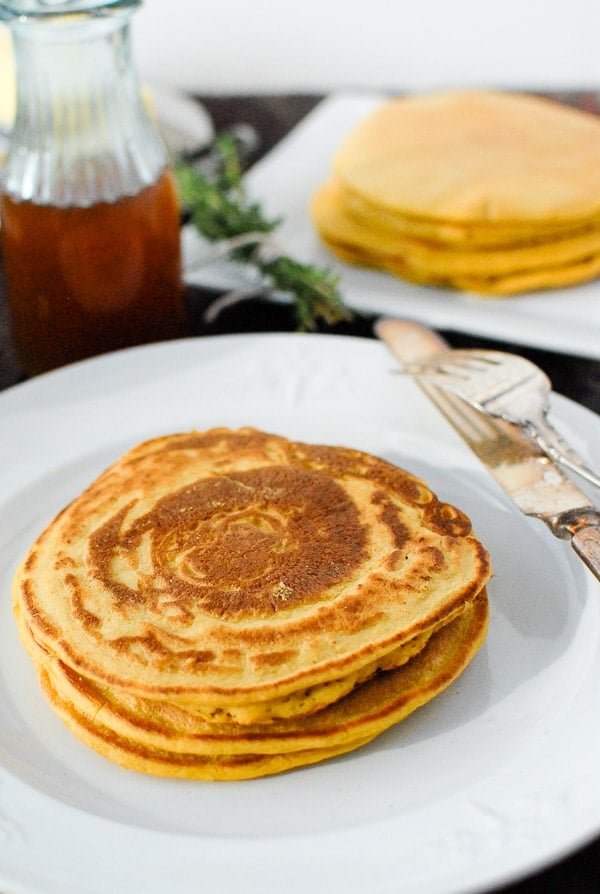 Pumpkin Ricotta Pancakes
To give these ricotta pancakes a delicious fall flavor pumpkin puree and fall spices are added.
Light Fluffy Pancakes
Ricotta pancakes are probably most well known for their light fluffy texture.
There is an optional additional step to make the pancakes the fluffiest possible (detailed below).
Whether you take a few extra minutes to try this way or add the eggs whole, the pancakes are moist and delicious!
PRO TIP for Fluffiest Pancakes
Instead of mixing whole eggs into the batter, separate the egg whites and yolks.
Mix yolks in with the wet ingredients.
Beat the whites separately until fluffy then fold into the wet ingredients.
Pumpkin Ricotta Pancakes Ingredients
Making pancakes from scratch is easy. It takes only a few minutes to mix together the wholesome ingredients.
Baking Powder
Kosher Salt
All Purpose Flour (regular or gluten-free blend)
Ground Cinnamon
Nutmeg
Milk
Ricotta cheese
Pumpkin Puree
Eggs
How to Make Pumpkin Ricotta Pancakes – Step-by-Step
For a detailed printable recipe refer to the recipe card at the end of the post.
STEP 1: Combine all the dry ingredients in a mixing bowl and mix to combine.
STEP 2: In a second large bowl combine the wet ingredients: milk, ricotta cheese, pumpkin puree and eggs. Whisk.
STEP 3: Add the wet ingredients to the dry ingredients. Mix only to combine (do not overmix).
STEP 4: Spoon batter onto a heated griddle or skillet. Allow bubbles to appear on the top surface before flipping the pancakes.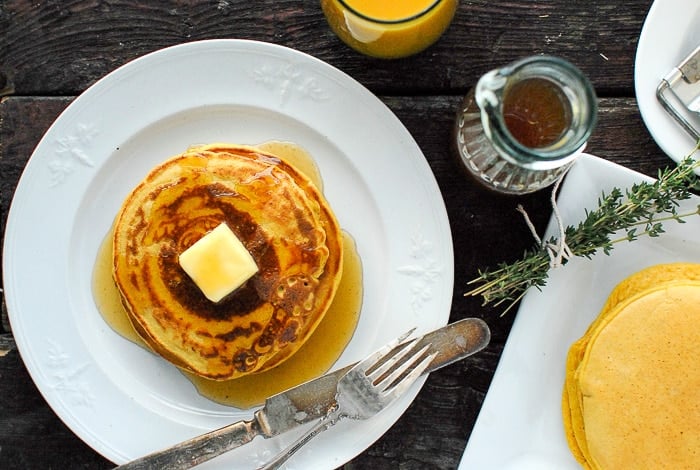 Homemade Ginger-Thyme Pancake Syrup
Regular maple syrup or whipped cream would be delicious on these Pumpkin Ricotta Pancakes.
If you have a bit more time making a homemade pancake syrup is a delicious addition to the pancakes.
It's easy and you may become hooked on making your own!
Kid-Friendly Pancake Syrup
When making this originally I wondered if the flavors would be 'kid friendly'.
My then 9-year old cleaned his plate and asked if we could have it again for dinner!
Thickening Homemade Pancake Syrup
I've made numerous homemade pancakes syrups. They are very easy but the one thing that's different than store bought syrups is their thickness.
After experimenting I've found the best results with using a bit of arrowroot or cornstarch to thicken the syrup.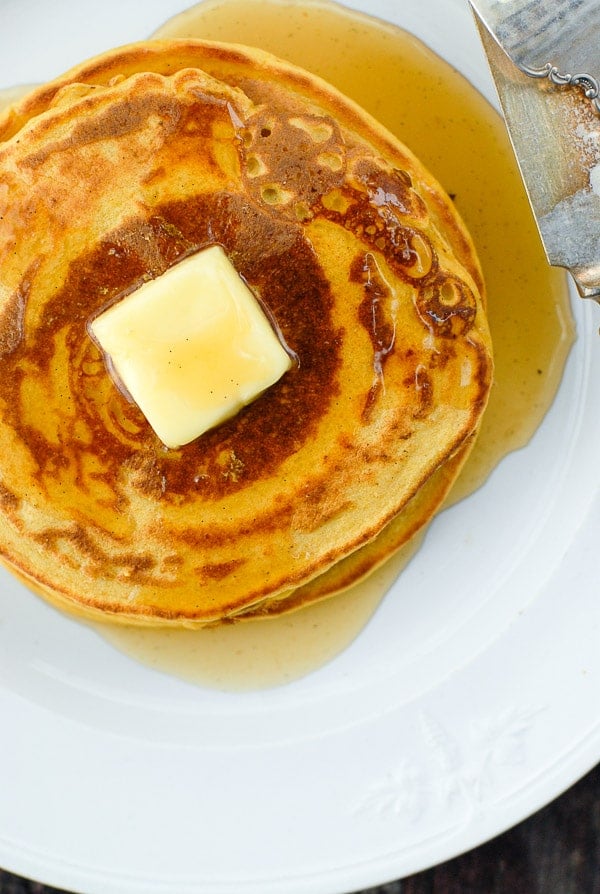 Tips When Using a Thickener
There are two key tips when using a thickener for homemade pancake syrup:
Tip #1: Do not add the starch to the syrup mixture directly
Always make a 'slurry' which is a mixture of starch and water.
The slurry will be made with equal parts starch and water. Mix it together to dissolve the starch before pouring it into the syrup mixture.
This ensures the starch will not clump. If just pouring it in directly the starch may not dissolve fully.
Making a slurry is used in many recipes such as homemade gravy.
Tip #2: The syrup will thicken once it has cooled
You'll notice some thickening as the syrup cooks but it will be fully thickened after it has completely cooled.
Homemade Pancake Syrup Ingredients
Pancake syrup is sugar mixture. This version includes ginger and thyme to give a special flavor!
Fresh Ginger root
Granulated White Sugar
Light Brown Sugar
Honey
Fresh Thyme
Vanilla Bean
Water
Arrowroot starch or Cornstarch (for thickening)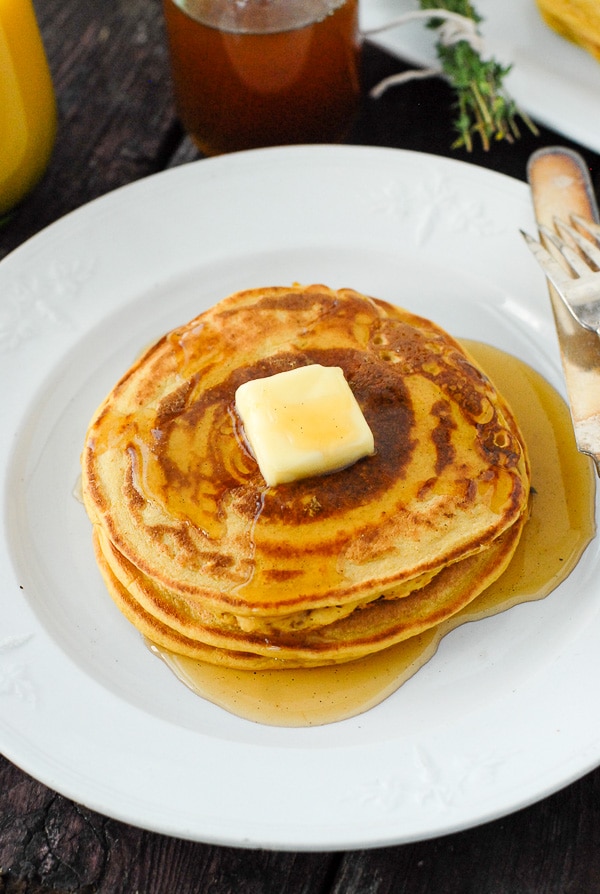 How to Make Homemade Pancake Syrup
Pancake syrup is very easy to make.
For this Ginger Thyme homemade syrup allowing fresh ginger and thyme infuse in a sugar mixture gives it a full bodied fresh flavor.
STEP 1: Combine all ingredients in a medium saucepan. Bring to a low boil, stirring to dissolve sugars, honey and starch. Simmer for 30 minutes
STEP 2: Strain. Discard the ginger, thyme and vanilla bean.
STEP 3: Allow to cool and thicken before using. NOTE: for faster cooling the syrup may be refrigerated.
The syrup can be made the day before making the pumpkin ricotta pancakes.
Storing Homemade Pancake Syrup
The strained syrup may be stored in a sealed container in the refrigerator for up to one month.
Do not leave the fresh ingredient in the syrup when storing.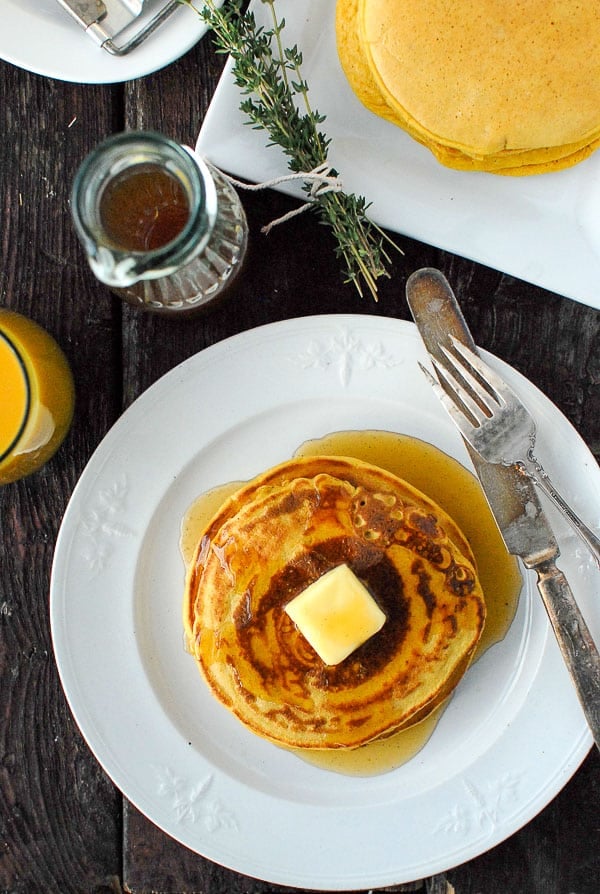 Try These Recipes too!
Did you make it? Please RATE THE RECIPE below!
Please SUBSCRIBE and FOLLOW ME on FACEBOOK , TWITTER , INSTAGRAM and PINTEREST to see more delicious food, travel and what I'm up to!
Originally published: October 2, 2012
Ricotta Pancakes are light, fluffy and full of pumpkin flavor and fall spices!