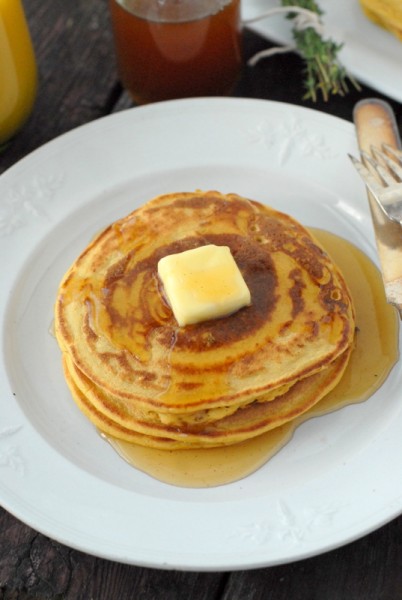 It has been awhile since I've pulled a recipe from my Grandmother's recipe box to give it a whirl. With all the vintage recipe collections I have, hers included, I usually take a look through them initially to pull out interesting seasonal recipes and queue them up for that particular season. I like recipes with whole ingredients, and those that might be unique though feel able to translate to a current day palate.
Ricotta Pancakes are something I remember my Nana making as I was growing up when we'd  visit her in Northern California. She and my Grandfather, Papa, had a flat in San Francisco where Papa worked and in the 1960's built a weekend house in Pebble Beach (before it was 'THE Pebble Beach') where they'd spend the weekends for a number of decades. It was in Pebble Beach, in their warmly wood-paneled great room she'd take the time to juice oranges from a groovy built-in juicing accessory in the counter top and make things like pancakes. These were usually chatty breakfasts before we'd bundle up and walk the 20 minutes to the beach where I'd happily spend hours lost in tide pools and collecting shells on a sheltered beach I was sure no one else knew of (despite it being immediately below the parking lot for Seal Rock, a mandatory tourist bus stop).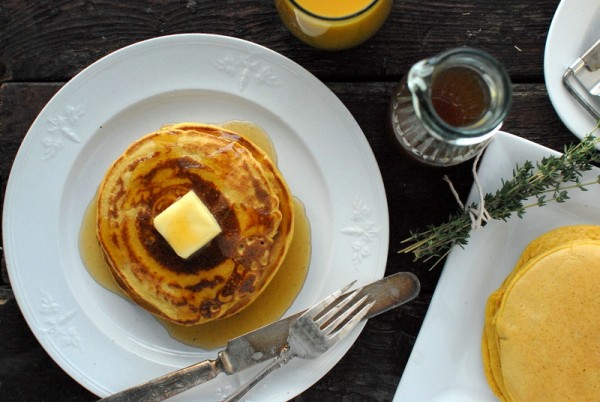 I'm sure at the time it was very 'nouveau', putting ricotta cheese in a pancake! I loved the light texture, distinct flavor and departure from regular ho-hum pancakes. I've hung onto the recipe imagining it would pair well with something I would contribute, a homemade syrup, fruits; something. It dawned on me this week with some extra freshly roasted pumpkin puree on hand that the flavor combination would be a lovely meeting of the two. I was right. It's a perfect light flavor of each ricotta and pumpkin, neither over powering the other.
Nana would have called her personality 'peppery'. I would not call it that but though being a congenial and frequent hostess; in family conversations she did not mince a lot of words. I guess I'd call her 'economical' with her verbiage. She was of the ilk for instance that when a phone conversation was done, you hang up. She would indulge me with a simple 'goodbye' but not prefaced with any warning such as "ok I need to be going now'. Just 'goodbye' and it all was abruptly over. This recipe card made me laugh, being so to the point. In fact so much so there are no instructions. It feels a bit like we are doing a trans-generational culinary relay race of sorts, leaving me to pick up where she left off to finish her vision!
Loving the flavors of the season I wanted to make my own syrup. I never liked Maple Syrup as a child, though I do now. My mother would stock Boysenberry Syrup I think made by Smuckers which I loved until High School when my Science teacher went on a tirade about having made jelly for Smuckers as a juvenile, taunting us with rugged tales of questionable ingredients and disgusting practices (who knows if it was real or perhaps a rouse to get us to pay attention to his lecture). These days I enjoy making my own syrup when I can. Realizing how easy it is to make my own syrup was an 'ah ha' for me and it affords completely unique combinations to suit my mood or dish.
In this case I made a Ginger-Thyme Syrup and found it perfect with the pancakes! Warming and flavorful, it did not overpower the pancakes but partnered beautifully. I will add I was unsure about the depth of flavor of the syrup being 'kid friendly' but was delighted when my 9 year old gave it the thumbs up and then asked to finish the batch of pancakes and syrup for his dinner.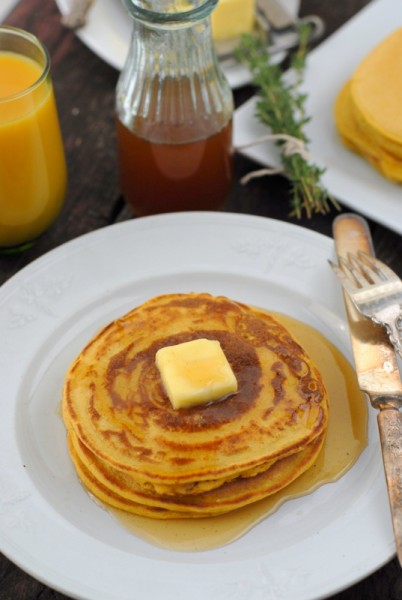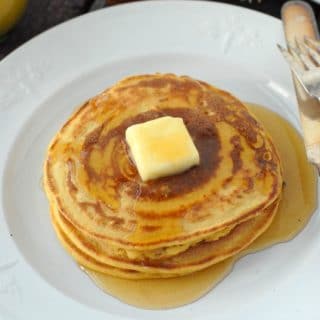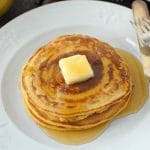 Ginger-Thyme Syrup
Loving the flavors in the syrup I elected to allow the infusing stage to go overnight and still found the flavors were not too strong. You can follow the directions below or make it in the evening, strain it in the morning and rewarm the syrup to dress your fall pancakes! Can be doubled for a larger batch.
Servings
8
2 tablespoon servings (Makes 1 cup)
Ingredients
½

cup

peeled

, sliced ginger

1/3

cup

granulated sugar

1/3

cup

light brown sugar

1/3

cup

honey

4

sprigs thyme

½

vanilla bean

, split open, scraped into pan

1

cup

water

2-3

teaspoon

arrowroot starch

(or cornstarch)
Instructions
Combine all ingredients in a medium sauce pan and bring to a low boil, stirring to dissolve sugar, honey and arrowroot starch. Simmer for 30 minutes.

Strain; discard the ginger, thyme and vanilla bean.

Allow to cool and thicken before serving. NOTE: should the syrup not be as thick as you prefer after is cools, bring the syrup back to a simmer, whisk in an additional teaspoon of arrowroot starch allowing it to dissolve, turn off heat and allow to cool to room temperature.
Nutrition Facts
Ginger-Thyme Syrup
Amount Per Serving
Calories 119
% Daily Value*
Fat 0g0%
Cholesterol 0mg0%
Sodium 5mg0%
Potassium 44mg1%
Carbohydrates 31g10%
Protein 0g0%
Vitamin A 25IU1%
Vitamin C 1.1mg1%
Calcium 10mg1%
Iron 0.3mg2%
* Percent Daily Values are based on a 2000 calorie diet.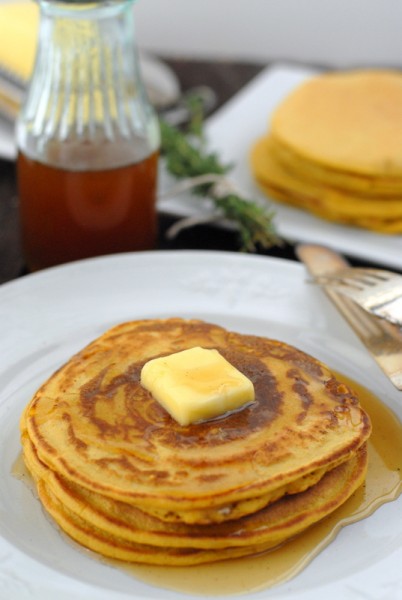 [mpprecipe-recipe:75]