One of my favorite cuts of meat is the moist, tender pork loin roast. Easy to make, this Boneless Pork Loin Roast with Garlic and Fresh Herbs is perfect for a busy weeknight or serving when entertaining.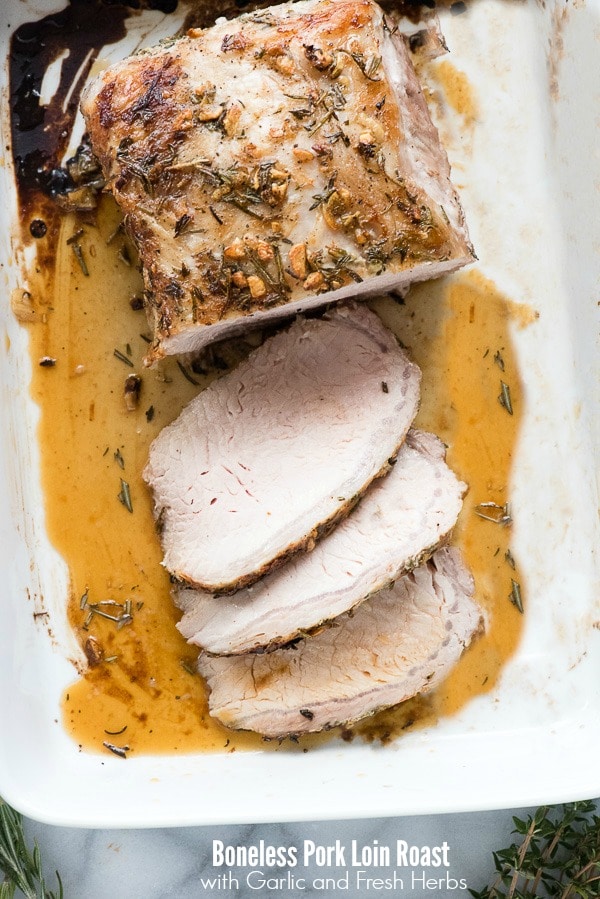 Hey everyone! Hope your Sunday is going well. Today I'm sharing one of my very favorite cuts of meat, the center cut boneless pork loin. It's a dense cut of meat that when cooked properly is succulent, tender, flavorful with a great 'mouth feel'. I'm sure if you watch cooking shows you've heard that last term before, mouth feel. It might sound a bit weird but it's aptly descriptive of something that has a pleasurable texture to chew. This recipe could not be easier and is simply delicious: Boneless Pork Loin Roast with Garlic and Fresh Herbs.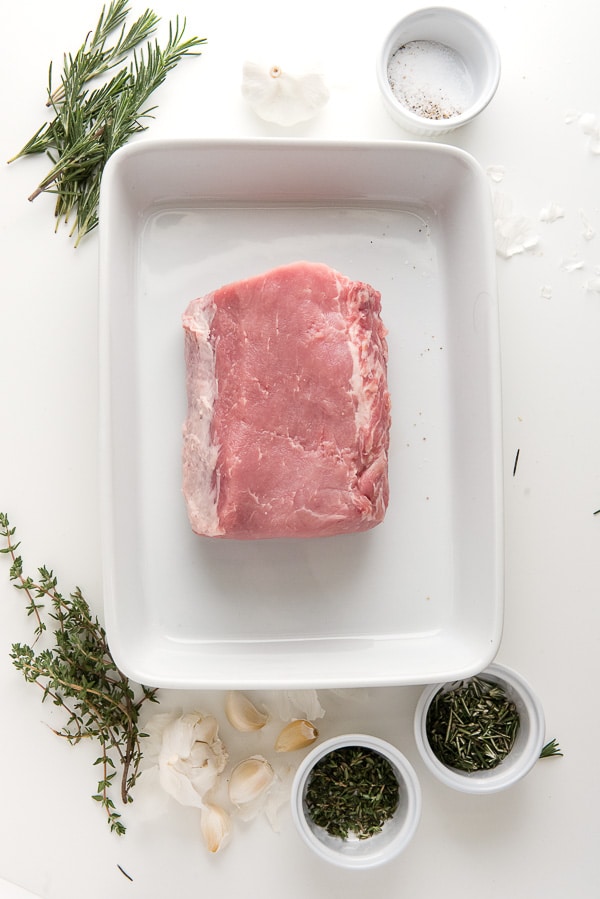 Before we dive in I want to clarify there is a difference between a pork TENDERloin and a pork loin. Different location on the animal and different cut of meat. The pork tenderloin is a long, more slender cut of pork. It's also fantastic for a quick recipe and marinates really well. It has very little fat so should not be over cooked or it can dry out.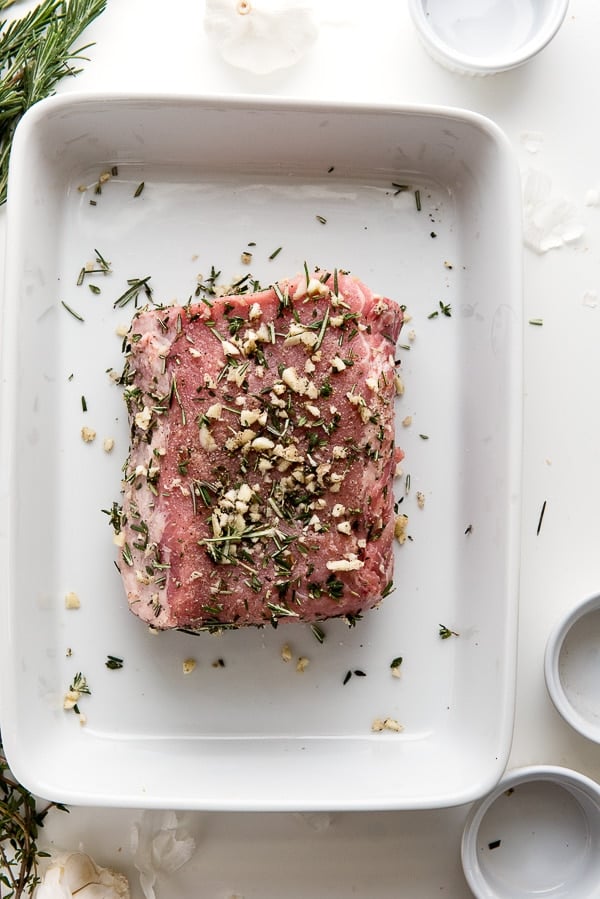 A center cut pork loin is a larger cut of meat (by comparison a slice of tenderloin is about 2-3 inches in diameter versus the center loin roast which would be more like 5-6 inches) and has some fat around the outside. Generally, it has been trimmed before you buy it but this adds to the flavor and juiciness without it tasting fatty. The present fat can be trimmed further but I prefer to leave it intact.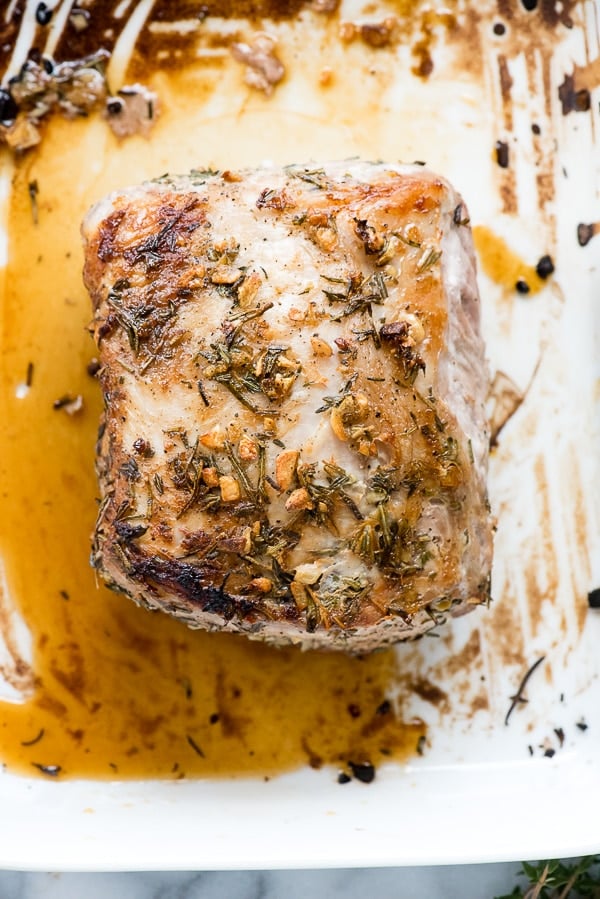 Besides the flavor and texture of the boneless pork loin roast, I love the ease of making it. It does not require being marinated because of its natural flavor. Adding a simple rub as I am today becomes a finishing touch without much effort. Regular readers will note my ongoing 'little effort' quest with recipes. I think finding solid, easy to make recipes that fit with busy weeknight, lazy weekends and entertaining are a golden find. This Boneless Pork Loin Roast with Garlic and Fresh Herbs certainly fills that bill.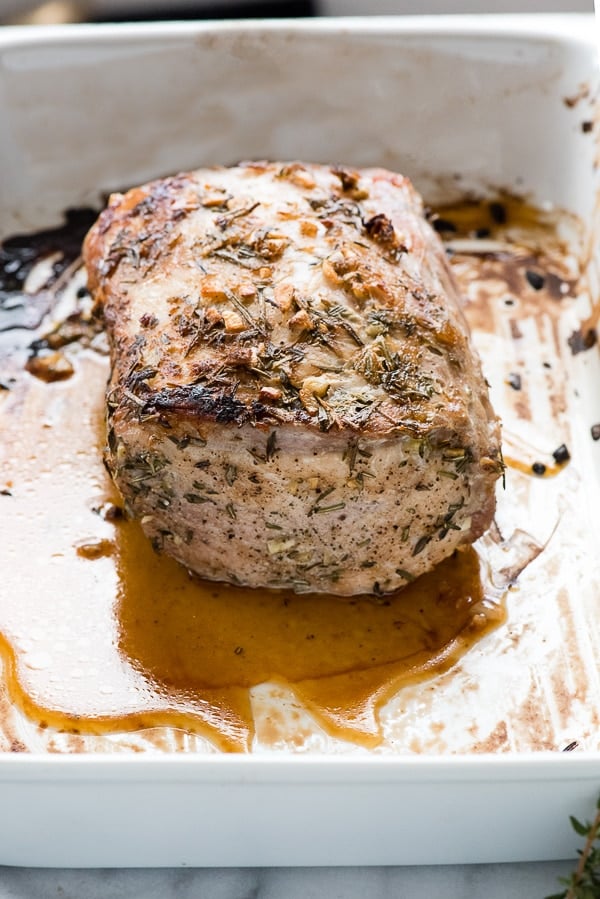 This boneless pork loin roast is massaged with kosher salt, freshly ground black pepper, chopped fresh garlic, fresh rosemary and fresh thyme. Your kitchen will be so fragrant when making dinner! It's roasted and flipped midway to emerge with a lovely crust and juicy meat.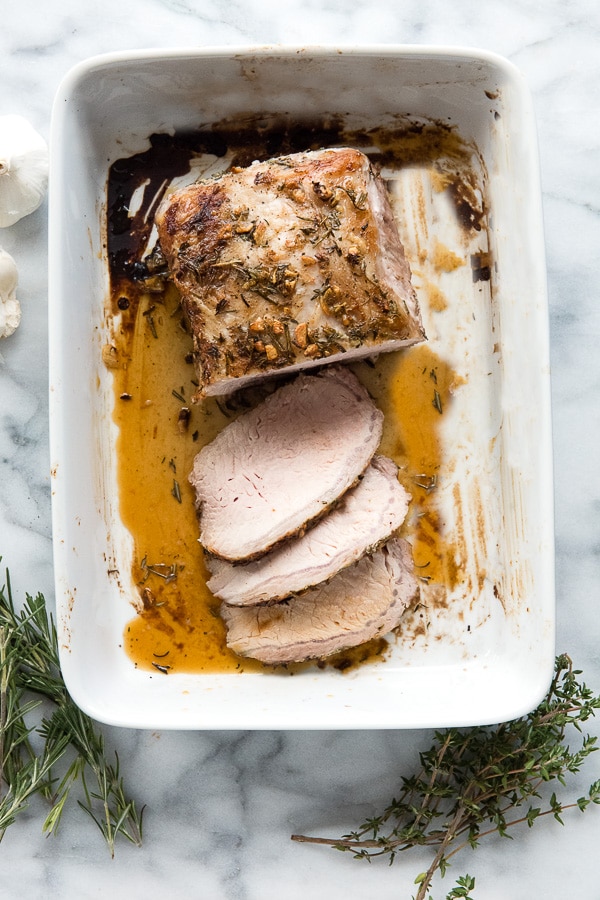 One of my key kitchen tools is an Instant Read thermometer. When cooking meat that is more lean like the boneless pork loin roast, it's key to be able to measure the temperature quickly and remove the meat at the right time to not over cook it.

I want to connect with you! Leave a comment and follow me on Facebook, Twitter, Pinterest & Instagram!