Boneless Pork Loin Roast with Garlic and Fresh Herbs is perfect for a busy weeknight or serving when entertaining! Easy and delicious.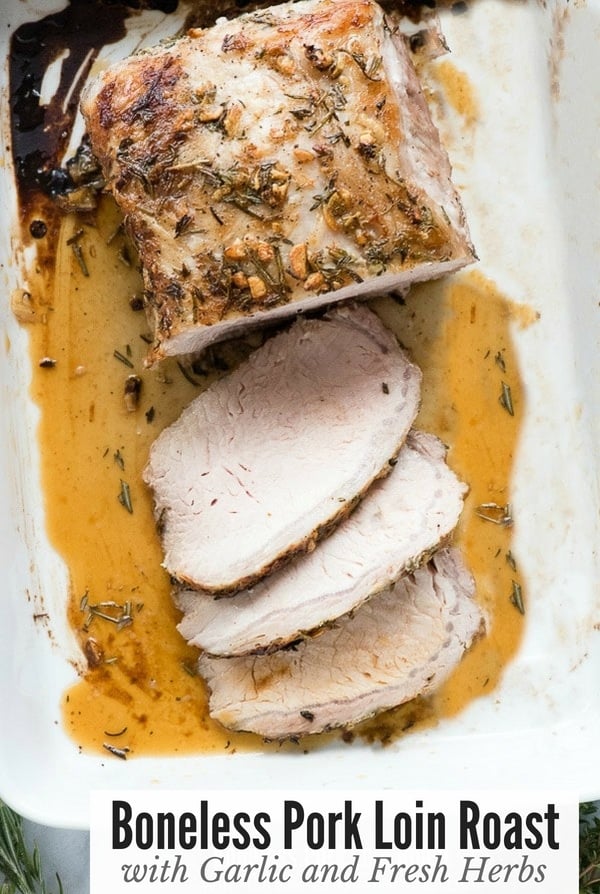 Originally posted March 2017; updated September 2018
One of my very favorite cuts of meat is the center cut boneless pork loin roast. It's a dense cut of meat that when cooked properly is succulent, tender, flavorful with a great 'mouth feel'.
I'm sure if you watch cooking shows you've heard that last term before,"mouth feel". It might sound a bit weird but it's aptly descriptive of something that has a pleasurable texture to chew.
This Boneless Pork Loin Roast recipe with Garlic and Fresh Herbs could not be easier and is simply delicious; making it a great choice for weeknights or entertaining.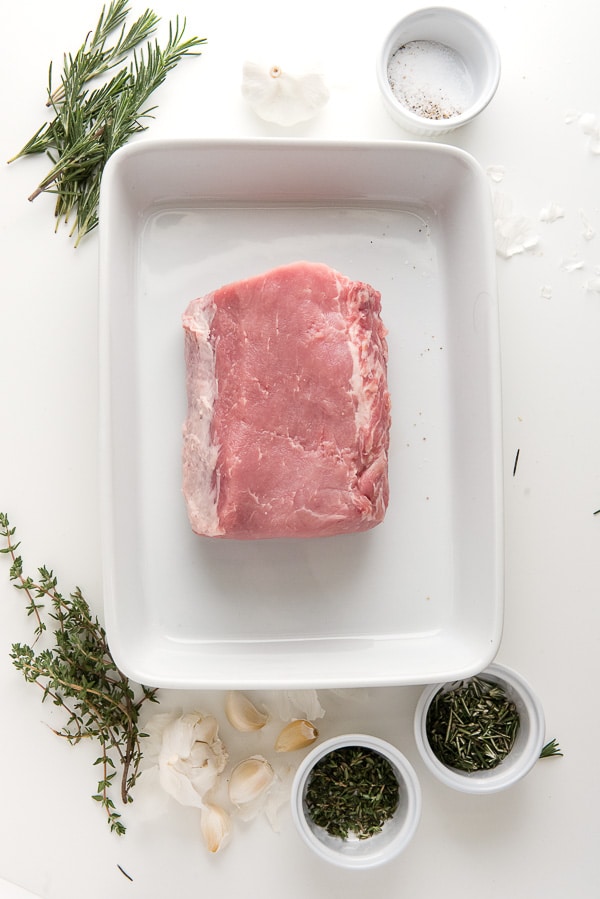 Difference between Pork Tenderloin and Boneless Pork Loin Roast
To avoid confusion I want to clarify the difference between these two popular cuts of pork; a pork tenderloin and a pork loin.
They come from different locations on the animal and are different cuts of meat.
Pork Tenderloin
The pork tenderloin is a long, more slender cut of pork. It's also fantastic for quick recipes and is a great choice for marinating. It has a light natural flavor perfect for absorbing flavors from marinating before cooking.
The pork tenderloin has very little fat so should not be over cooked or it can dry out.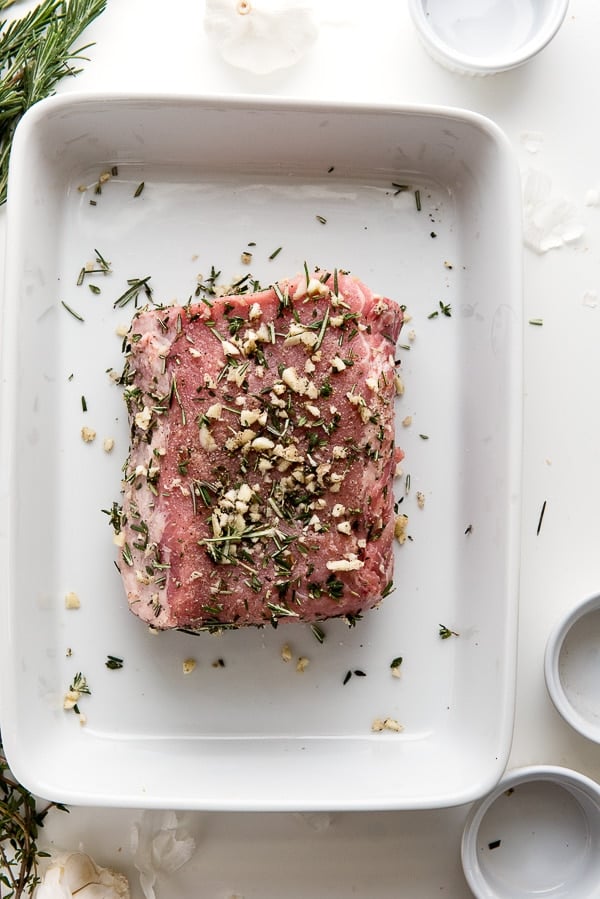 Boneless Pork Loin Roast
A center cut boneless pork loin is a larger cut of meat and has some fat around the outside. By comparison a slice of pork tenderloin is about 2-3 inches in diameter versus the center boneless pork loin roast which would be more like 5-6 inches.
Generally, a boneless pork loin roast will have been trimmed before you buy it but the external fat adds to the flavor and juiciness without it tasting fatty.
The present fat can be trimmed further but I prefer to leave it intact.
This cut of pork (the boneless center cut loin) can be used for pork chops too (the butcher will but them for you) and they too are delicious.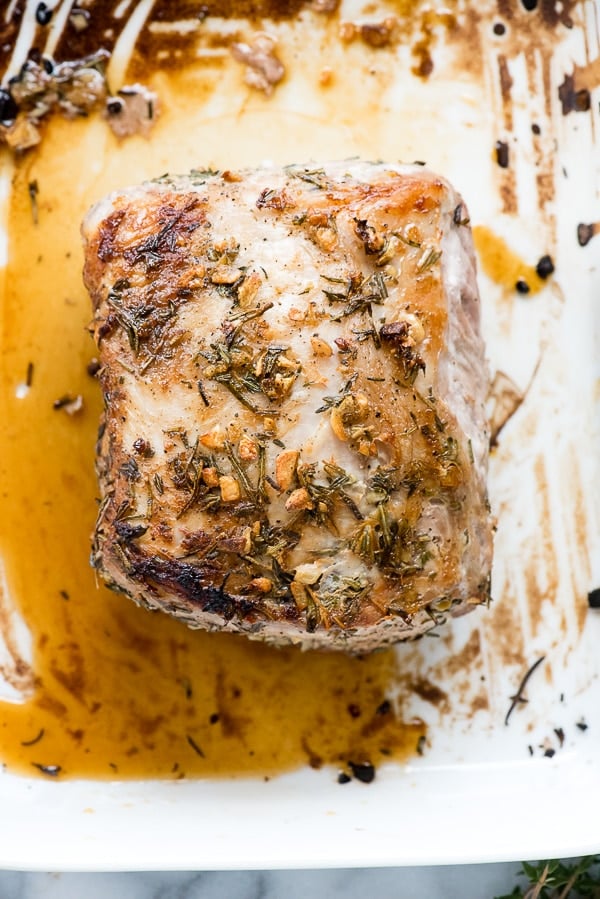 Why You Should Make a Boneless Pork Loin Roast
Besides the flavor and texture of the boneless pork loin roast, I love the ease of making it.
It does not require being marinated because of its natural flavor. Adding a simple rub, as in this recipe, becomes a finishing touch without much effort.
I think finding solid, easy to make recipes that fit with busy weeknight, lazy weekends and entertaining are a golden find. This Boneless Pork Loin Roast with Garlic and Fresh Herbs certainly fills that bill.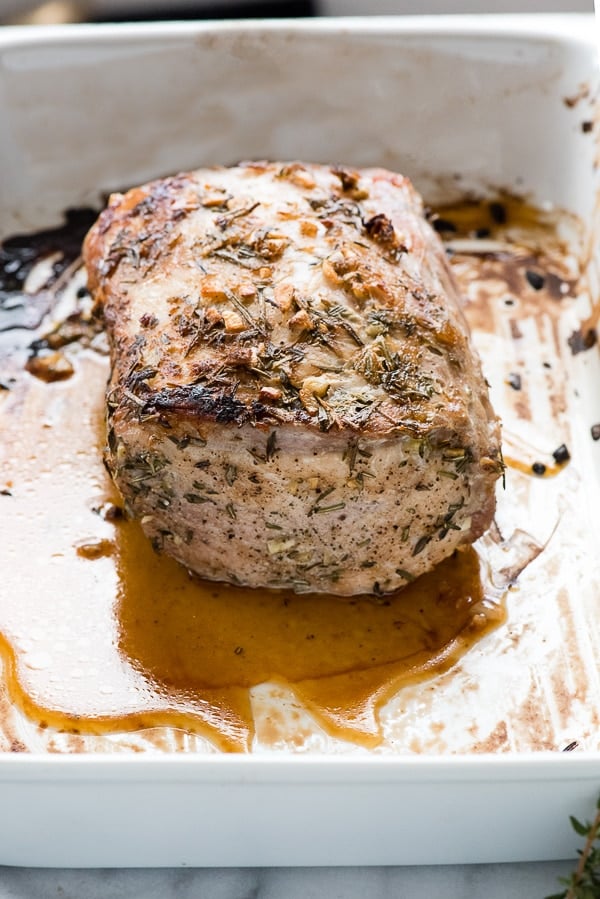 How to Make this Boneless Pork Loin Roast recipe
This boneless pork loin roast is massaged with kosher salt, freshly ground black pepper, chopped fresh garlic, fresh rosemary and fresh thyme and placed in a roasting pan.
It's roasted and flipped midway to emerge with a lovely crust and juicy meat. That's it!
Serve it with some Fresh Green Beans with Bacon and Sliced Almonds, a nice green salad or some Instant Pot Mashed Potatoes with Sour Cream and Garlic!
Your kitchen will be so fragrant when making dinner!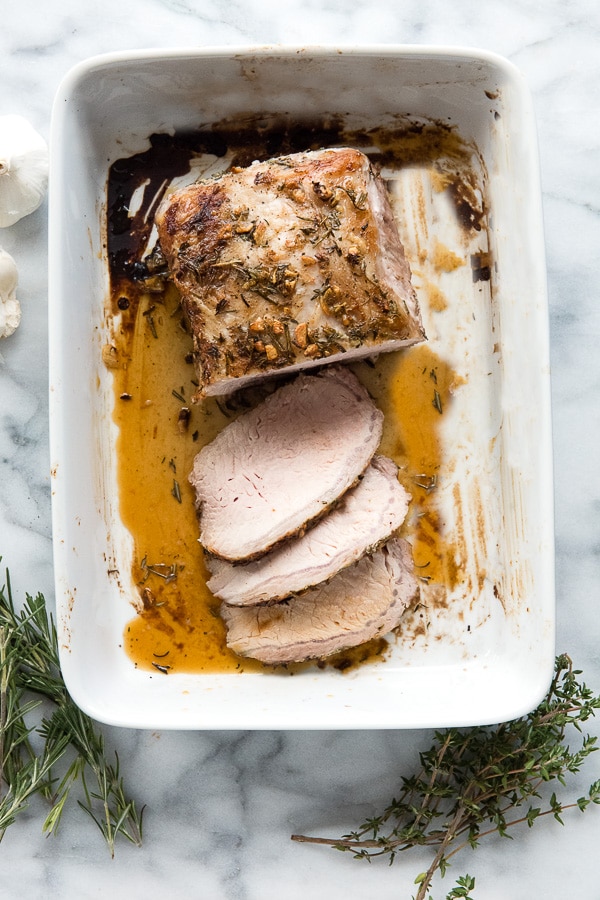 A Kitchen Tool You Need
One of my key kitchen tools is an Instant Read thermometer. When cooking meat that is leaner like the boneless pork loin roast, it's key to be able to measure the temperature quickly and remove the meat at the right time to not overcook it.
Step-by-Step Instructions for Making Boneless Pork Loin Roast with Garlic and Fresh Herbs:
Whether it be for a homey Sunday dinner or a busy weeknight, this Boneless Pork Loin Roast with Garlic and Fresh Herbs never disappoints. With five-ten minutes prep time, a flip of the roast mid-way through cooking, and the end result is a reliably tender, succulent roast every time.
Other easy pork recipes you'll love:
If you've tried this Boneless Pork Loin Roast recipe please RATE THE RECIPE below!
Please SUBSCRIBE and FOLLOW ME on FACEBOOK , TWITTER , INSTAGRAM and PINTEREST to see more delicious food, travel and what I'm up to!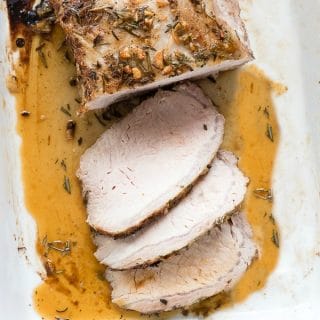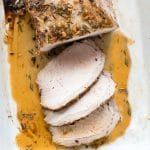 Boneless Pork Loin Roast with Garlic and Herbs
This easy to prepare roast is full of natural flavor which is celebrated by the addition of the garlic-herb rub. It makes any meal more sophisticated (with little effort required)! *A tip for quickly removing fresh rosemary and thyme from their stem: hold the tip of the stem in one hand, and place the forefinger and thumb of the other hand below the tip. Pull downward toward the stem and the leaves will easily come off.
Total Time
1
hour
10
minutes
Ingredients
1

tablespoon

chopped fresh Rosemary Leaves*

2

teaspoons

chopped fresh Thyme*

4

large Garlic Cloves

, diced

1 1/2

teaspoons

Kosher Salt

3/4

teaspoon

freshly ground Black Pepper

1 2-1/2

pound

Boneless Pork Loin Roast
Instructions
Preheat the oven to 400 degrees F. Line a roasting pan with foil; dull side facing up.

Combine the rosemary, thyme, garlic, salt and pepper in a small bowl; mix fully. Rub the mixture into the pork roast on all sides.

Place the roast in the prepared pan (if one side has more prominent fat, place that side facing down in the pan). Cook for 30 minutes and flip over.

Roast 20 additional minutes and check the internal temperature. Remove the roast when the internal temperature reaches 155 degrees F. Allow the roast to rest for 10 minutes before cutting into 1/2 inch slices (across the roast). Serve with any pan juices.
Recipe Notes
Adapted from Epicurious
Nutrition Facts
Boneless Pork Loin Roast with Garlic and Herbs
Amount Per Serving
Calories 153
Calories from Fat 36
% Daily Value*
Fat 4g6%
Cholesterol 71mg24%
Sodium 491mg20%
Potassium 430mg12%
Carbohydrates 0g0%
Protein 25g50%
Vitamin A 30IU1%
Vitamin C 1.2mg1%
Calcium 10mg1%
Iron 0.7mg4%
* Percent Daily Values are based on a 2000 calorie diet.