Fluffy Buttermilk Pancakes are a delicious, homey start to any day! With only 5 ingredients, this pancake recipe is fast and easy enough for any day of the week too.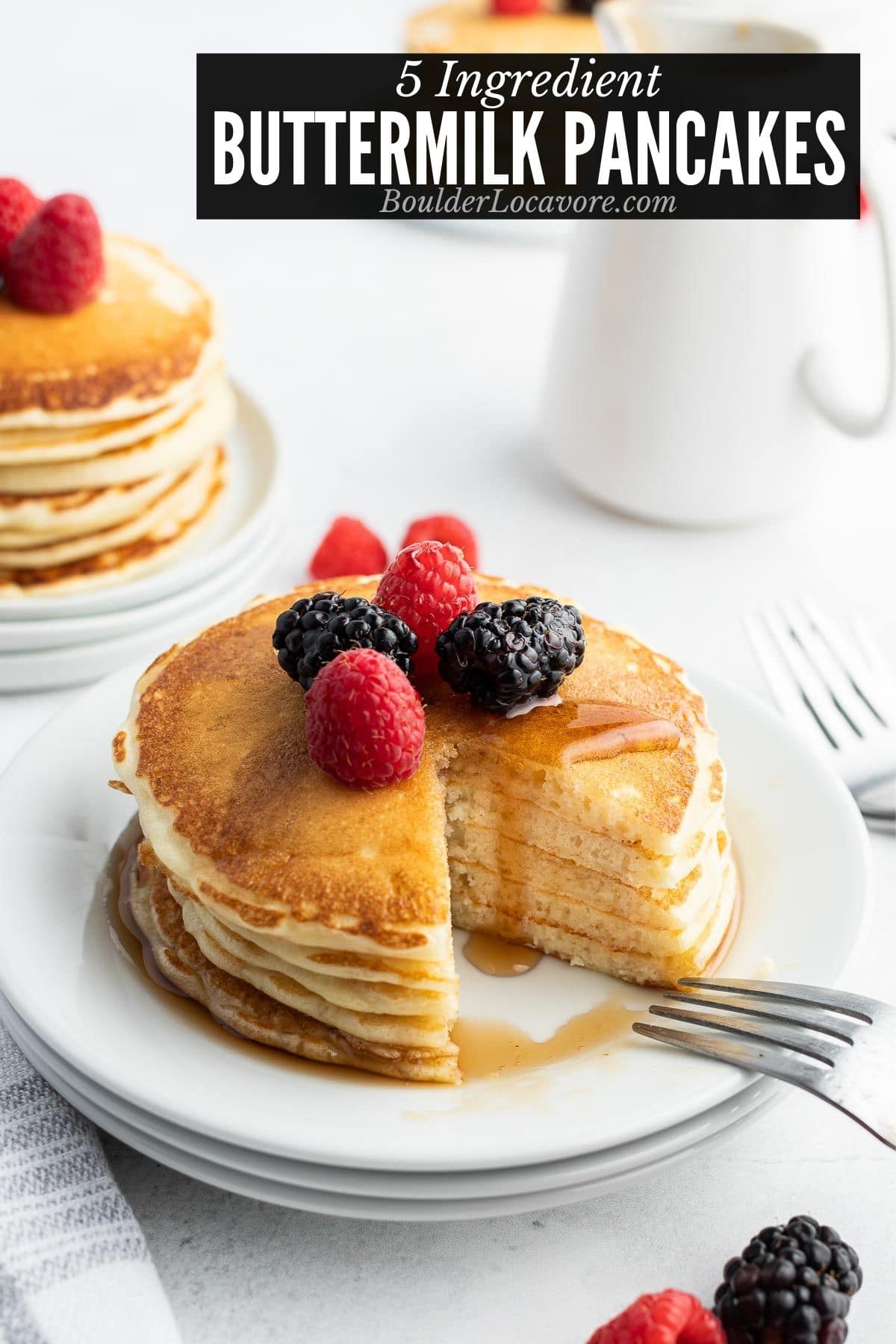 Feel like making pancakes is too big an effort to to start the day? This Buttermilk Pancakes recipe will get you over that with one satisfying bite!
They are SO easy to make!

Easy Fluffy Pancakes
Pancakes are a signature weekend breakfast and this easy recipe will become a favorite!
Big light and fluffy pancakes with a homey taste of buttermilk.
If you are a pancake box mix user, this recipe is just as easy and fast.
The buttermilk pancakes rise as they cook making thick, airy pancakes perfect for stacking.
It only takes 5 common ingredients to make them too!
Recipe Ingredients
Self-rising flour
Granulated sugar
Eggs
Buttermilk
Vegetable oil

DIY Buttermilk Substitute
If you are in the mood to make these pancakes but don't have buttermilk, no worries.
Though real buttermilk is best for this recipe, there is a TRICK to turn regular milk into a buttermilk substitute.
Pour 1 tablespoon of white vinegar or lemon juice into a liquid measuring cup.
Pour in enough milk to make 1 cup total.
Allow to sit for 10 minutes for the milk to thicken and curdle.
This supposedly will work for non-dairy milk too however I've only used it personally with dairy milk.
Tested Recipe
We've tested this recipe with regular self-rising flour, gluten-free self-rising flour, at sea level and at altitude.
The pancakes are airy and delicious in all cases.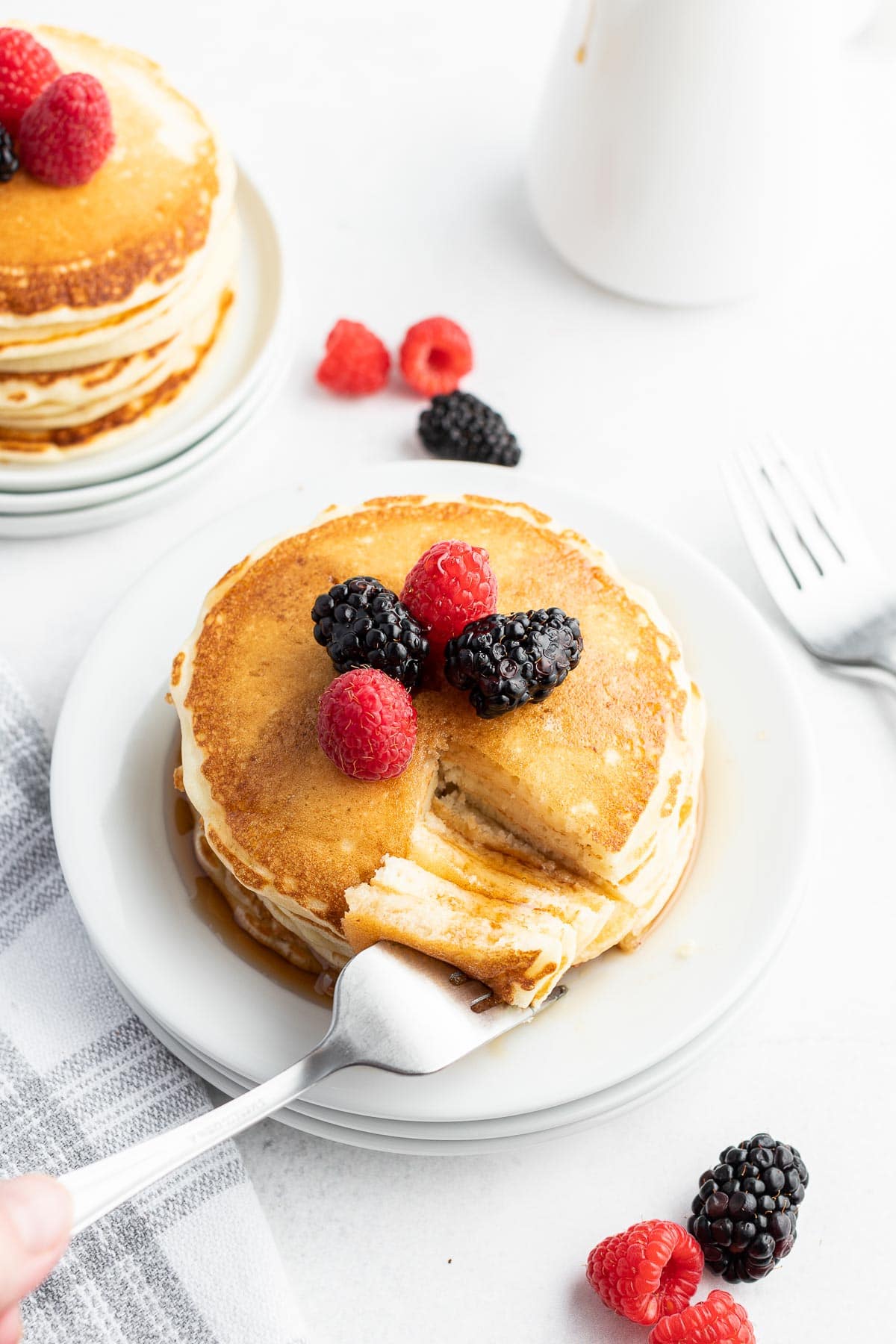 How to Make them Gluten-Free
As of the writing of this post, I'm not aware of any commercially available gluten-free self rising flour.
No worries! You can make it at home in a flash.
How to Make Gluten-Free Self Rising Flour
In a bowl combine:
1 cup Gluten-Free Flour blend with a binder included (like xanthan gum, guar gum etc)
1 1/2 teaspoons Baking Powder
1/2 teaspoon Salt
This will make 1 cup of gluten-free self rising flour. Double this amount for this pancake recipe (amounts in the recipe card Notes below).
Selecting a gluten-free flour blend with a binder is important you you'll have to add that.
I use Bob's Red Mill 1-to-1 Gluten-Free flour blend for flavor, texture and baking results.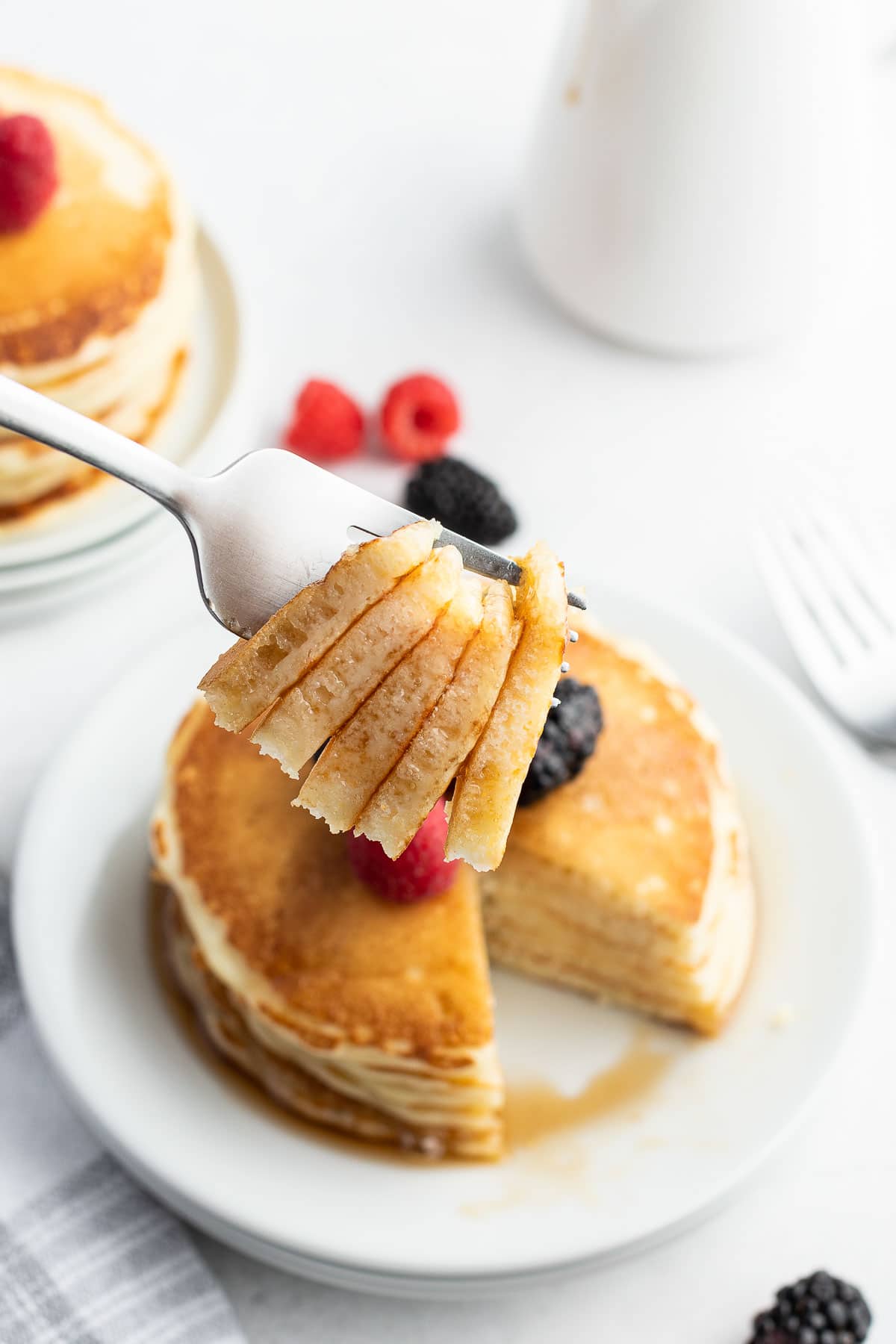 How to Make Buttermilk Pancakes – Step-by-Step
STEP 1: In a large mixing bowl combine the flour and sugar. Stir. (photo 1)
STEP 2: In a second medium-size bowl combine the eggs, buttermilk and oil. Whisk together. (photos 2-4)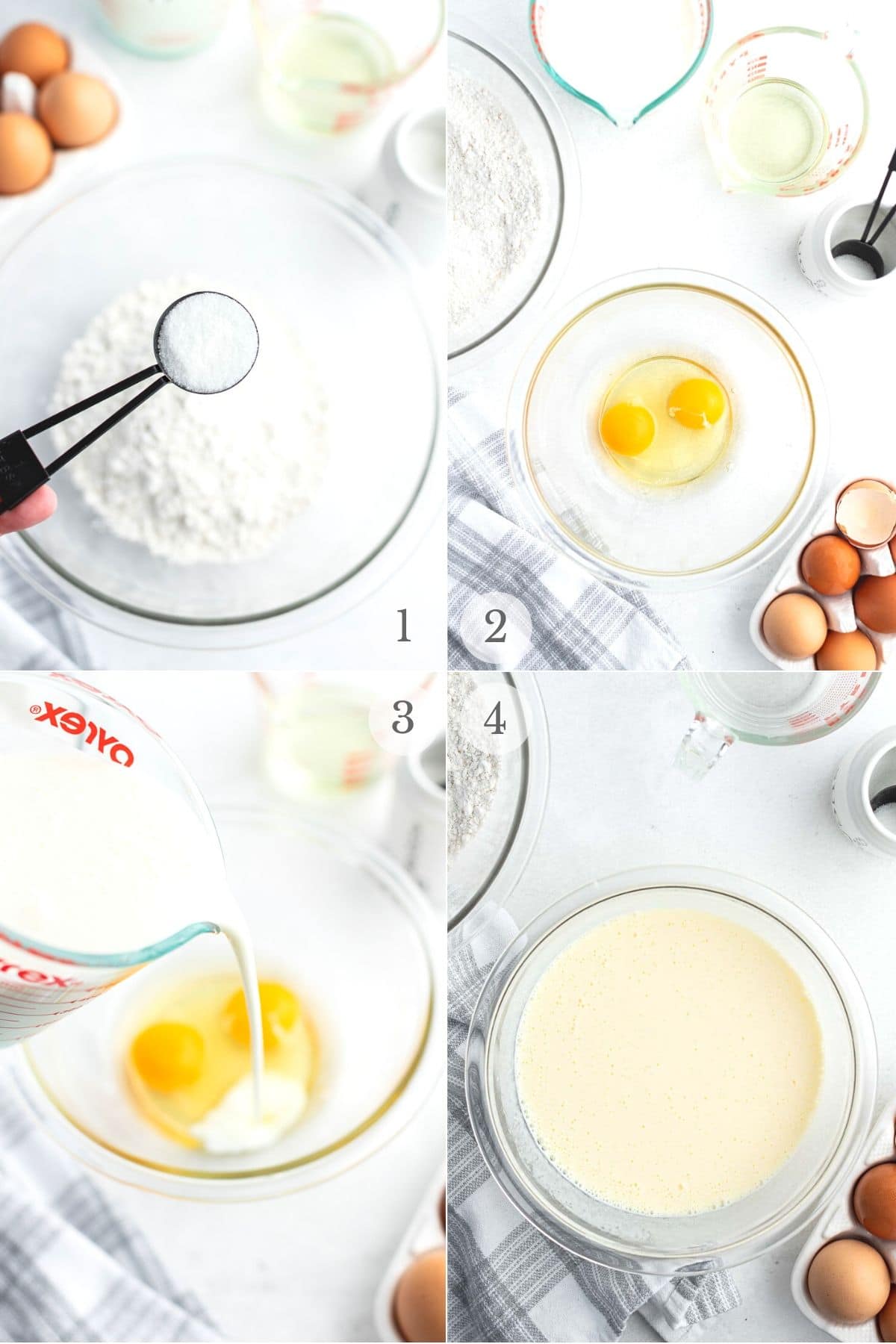 STEP 3: Pour egg mixture (wet ingredient) into the dry ingredients (photo 5) and stir to mix the batter together (note: batter will be lumpy). Allow the batter to rest for 10 minutes (photo 6). It will become thick.
STEP 4: Heat a large skillet or griddle over medium heat. Spray with non-stick spray, or melt a little bit of butter on the griddle. Measure 1/3 cup of batter per pancake onto the griddle.
Cook until bubbles begin to form (photo 7) and flip over. Cook on the opposite side until the underside is golden brown in color (photo 8).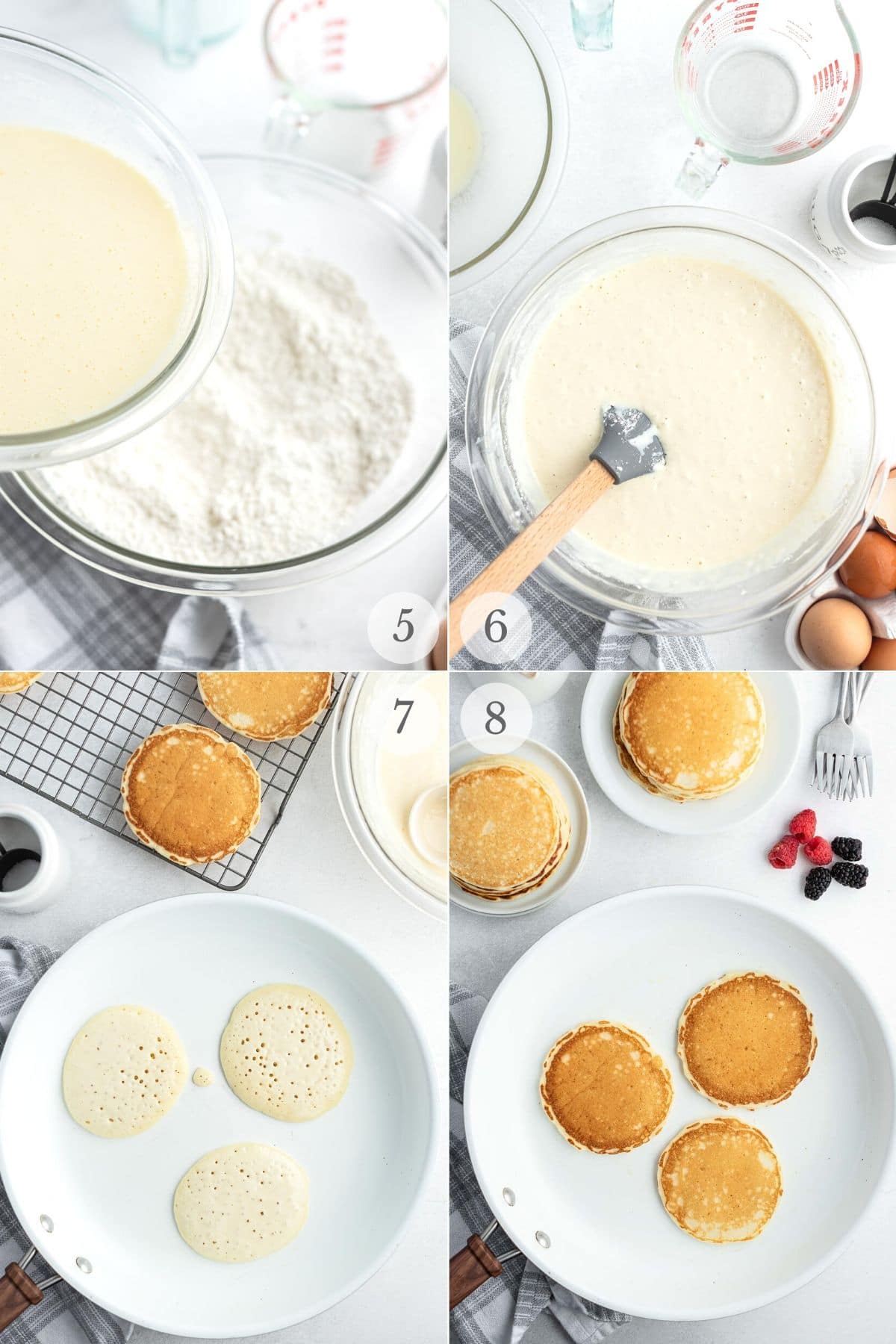 Serve with maple syrup, whipped cream, fresh berries or however you love to top your pancakes.
When to Flip Pancakes?
I'll confess when I began to cook I thought you guessed at when to flip pancakes over. And was often wrong!
Fortunately there is a way to tell and to flip them at the perfect time.
Look for tiny bubble to appear as the pancakes cook (see photo 7 above).
When those appear it's time to flip them over to cook on the other side!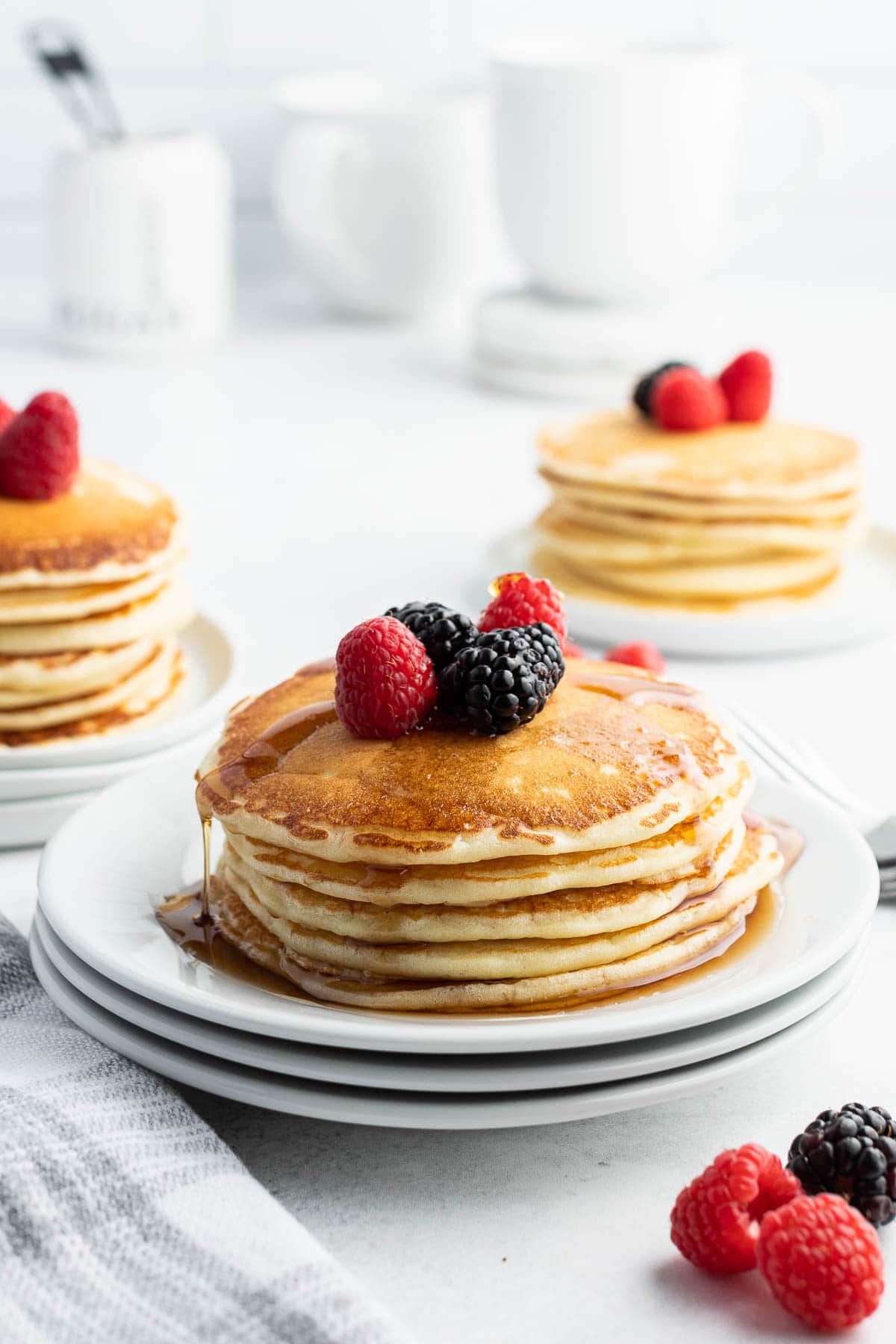 Try these Recipes too!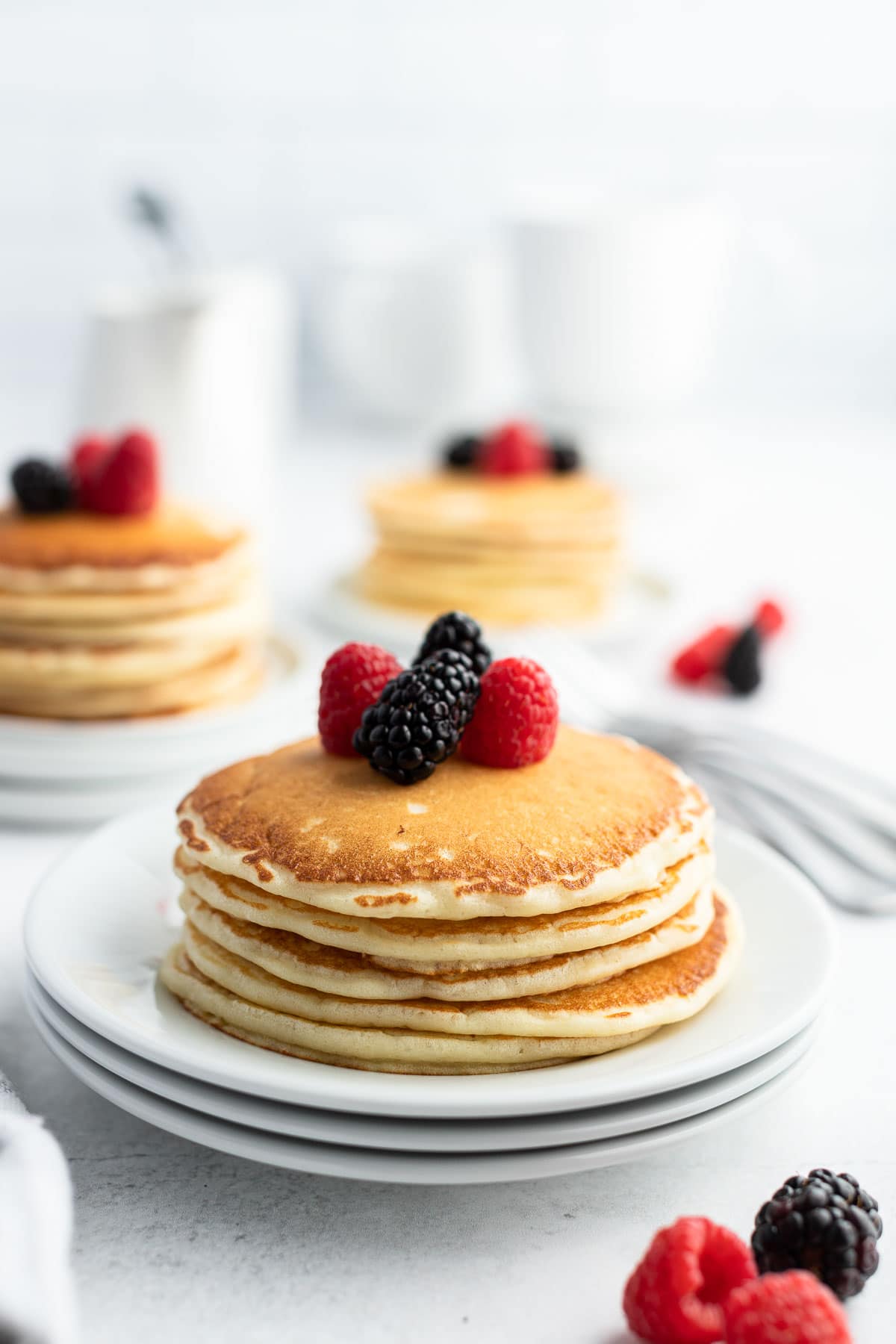 Did you make it? Please RATE THE RECIPE below!
Please SUBSCRIBE and FOLLOW ME on FACEBOOK , TWITTER , INSTAGRAM and PINTEREST !
Recipe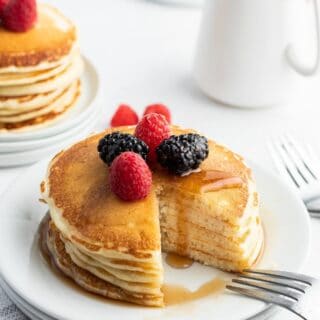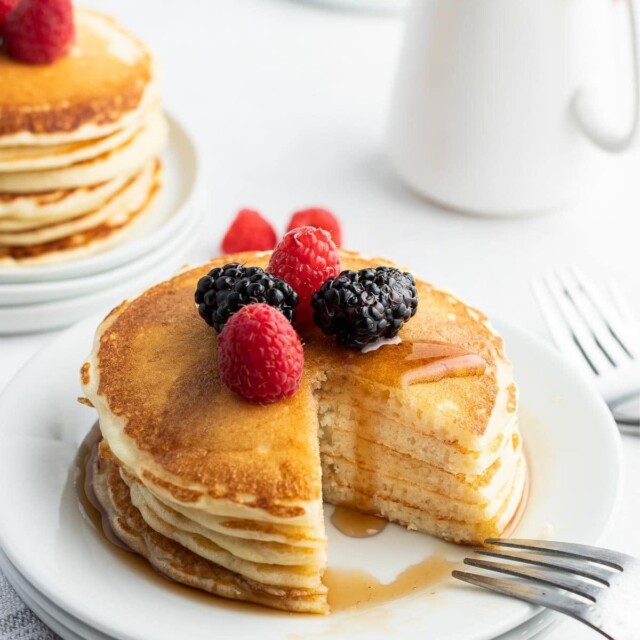 5 Ingredient Buttermilk Pancakes
Makes: 18 medium pancakes prep: 5 minutes plus 10 minutes to allow batter to rest. Cook: 20 minutes if making 3 pancakes at a time in a pan
Print
Save Recipe
Recipe Saved!
Pin
Rate
Servings:
15
4 1/2 inch diameter pancakes
Ingredients
2

cups

Self-rising flour

see notes for Gluten-Free Self Rising Flour

1 ½

tablespoon

Granulated Sugar

2

Eggs

2

cups

Buttermilk

¼

cup

Vegetable oil
Instructions
In a large bowl stir together the flour and sugar.

In a medium bowl whisk eggs, buttermilk, and oil together. Pour into flour mixture. Stir to combine. Batter will be slightly lumpy. Allow batter to rest for 10 minutes. The batter will thicken.

Heat a large skillet or griddle over medium heat. Spray with non-stick spray (unless already non-stick) or melt a small amount of butter on the skillet.

Spoon batter onto the heated griddle/skillet in 1/3 cup amounts. NOTE: the pancakes will puff up and expand while cooking so do not crowd the griddle for easier flipping.

When bubbles form on top and underside of the pancakes is golden in color, flip the pancakes over. Only do this once.

Cook until the underside is golden brown and serve hot.
Notes
Gluten-Free Self Rising Flour recipe:
Use this amount for this recipe.
2 cups Gluten-Free Flour Blend

with a binder

1 tablespoon Baking Powder
1 teaspoon Salt
This recipe has been tested with each regular self-rising flour, gluten-free self-rising flour, at sea level and at altitude with great results!
Pancake size:
Any size pancakes can be made. Because they puff up and expand while cooking do not overcrowd the skillet or griddle.
Flip over when bubble appear on the top of the pancakes. NOTE: larger, thicker pancakes may not have as many bubbles as shown in the recipe photos.
Nutrition
Calories:
155
kcal
|
Carbohydrates:
19
g
|
Protein:
5
g
|
Fat:
7
g
|
Saturated Fat:
5
g
|
Cholesterol:
32
mg
|
Sodium:
53
mg
|
Potassium:
85
mg
|
Fiber:
1
g
|
Sugar:
4
g
|
Vitamin A:
106
IU
|
Calcium:
53
mg
|
Iron:
1
mg