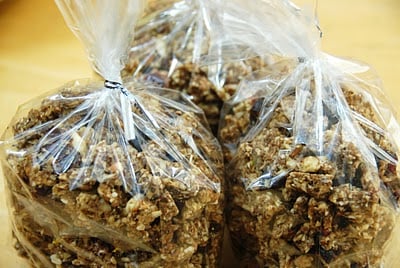 I experiment with many genres of food preparation.

 

Last year I became interested in the raw food approach after enjoying some fabulous food at a friend's birthday party.

 

Naively I thought 'raw food' would be just that; carrot sticks, bean sprouts, scary green smoothie drinks.

 

Had I not known this party spread was prepared by a raw food chef, I would never have guessed.
The belief with raw food is that the nutrients are at their best when uncooked.

 

Nuts are soaked to make them more beneficially digestible.

  

Food is dehydrated at low temperatures to allow the highest retention of nutrients.
I wanted to share a favorite recipe and truly what I've been told is the best granola ever (from a number of recipients).

 

Unlike traditional granolas the crunch is really from ground dehydrated nuts.

 

There are no oats or grains to form the sharp edges usually associated with some gum-cutting granolas.

 

It's a very flavorful energy filled snack and absolutely delicious in a dousing of cold milk.
I do make my granola in a dehydrator following the recipe below.

 

I realize not everyone has a dehydrator so if you don't have one spread the mixture onto cookie sheets and bake on a very low setting in your oven (250-300 degrees) until crisp to your preference.

 

Be sure to monitor the cooking.

 

You will note a color lightening as the granola becomes dehydrated or baked in the case of an oven.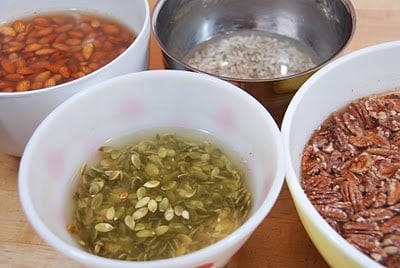 Adapted from Raw Food, Real World (Reagan Books, 2005)
·        
1 apple, cored and chopped
·        
1 ½ cup date paste (see method to make below); 3 cups pitted dates to make the needed amount of date paste
·        
½ cup maple syrup
·        
2 tablespoons lemon juice
·        
2 tablespoons orange zest
·        
1 tablespoon vanilla extract
·        
1 teaspoon ground cinnamon
·        
2 teaspoons sea salt
·        
½ cup sunflower seeds, soaked 2 hours or more
·        
2 cups almonds, soaked 4 hours or more
·        
3 cups pecans, soaked 2 hours or more
·        
1 cup pumpkin seeds, soaked 2 hours or more
·        
1 cup dried cranberries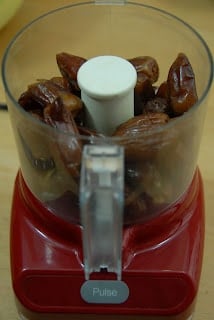 Date paste is basically pulverized dates forming a paste.

 

I have found about 2 cups of pitted Medjool dates and ¼ cup of water makes about 1 cup of date paste.

 

I put them in a food processor or electric chopper and pulse to begin to make paste while adding a small amount of water at a time.

 

The paste will not be fully smooth.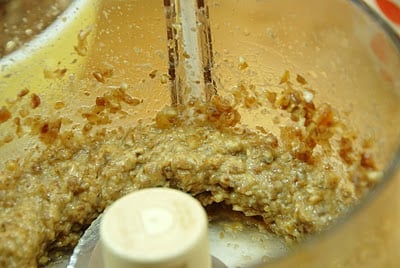 1.
 

Place the apple, date paste, maple syrup, lemon juice, orange zest, vanilla, cinnamon, salt plus half of the sunflower seeds (drained) into a food processor and pulse until fairly smooth.

 

Put the mixture into a large mixing bowl with room to hand mix remaining ingredients.
2.
Place the remaining sunflower seeds and the nuts into the food processor bowl and pulse to chop nuts.

 

Add to the moist mixture in the bowl along with the cranberries and hand mix to fully combine.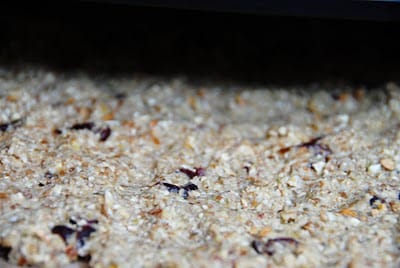 3.
Spread the mixture onto Teflex sheets on the dehydrator trays and dehydrate at 115 degrees for 8-10 hours.

 

Flip onto dehydrator screen trays and continue to dehydrate about 8-10 more hours at 115 degrees or until granola is no longer moist and crunchy to your taste (see note above if you will be using an oven).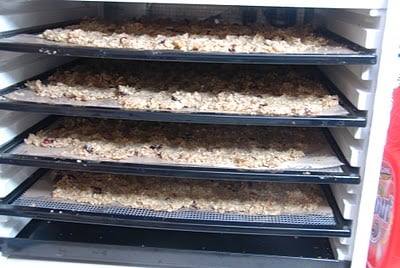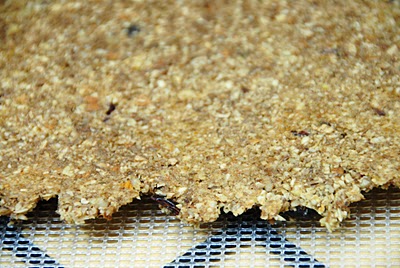 4.
Break apart and store in the refrigerator