Sour Cream Coffee Cake is a perfect start to a weekend or holiday morning! This classic recipe is a family favorite (and family recipe) that's moist, sweet and topped with a streusel topping and ripple in the middle!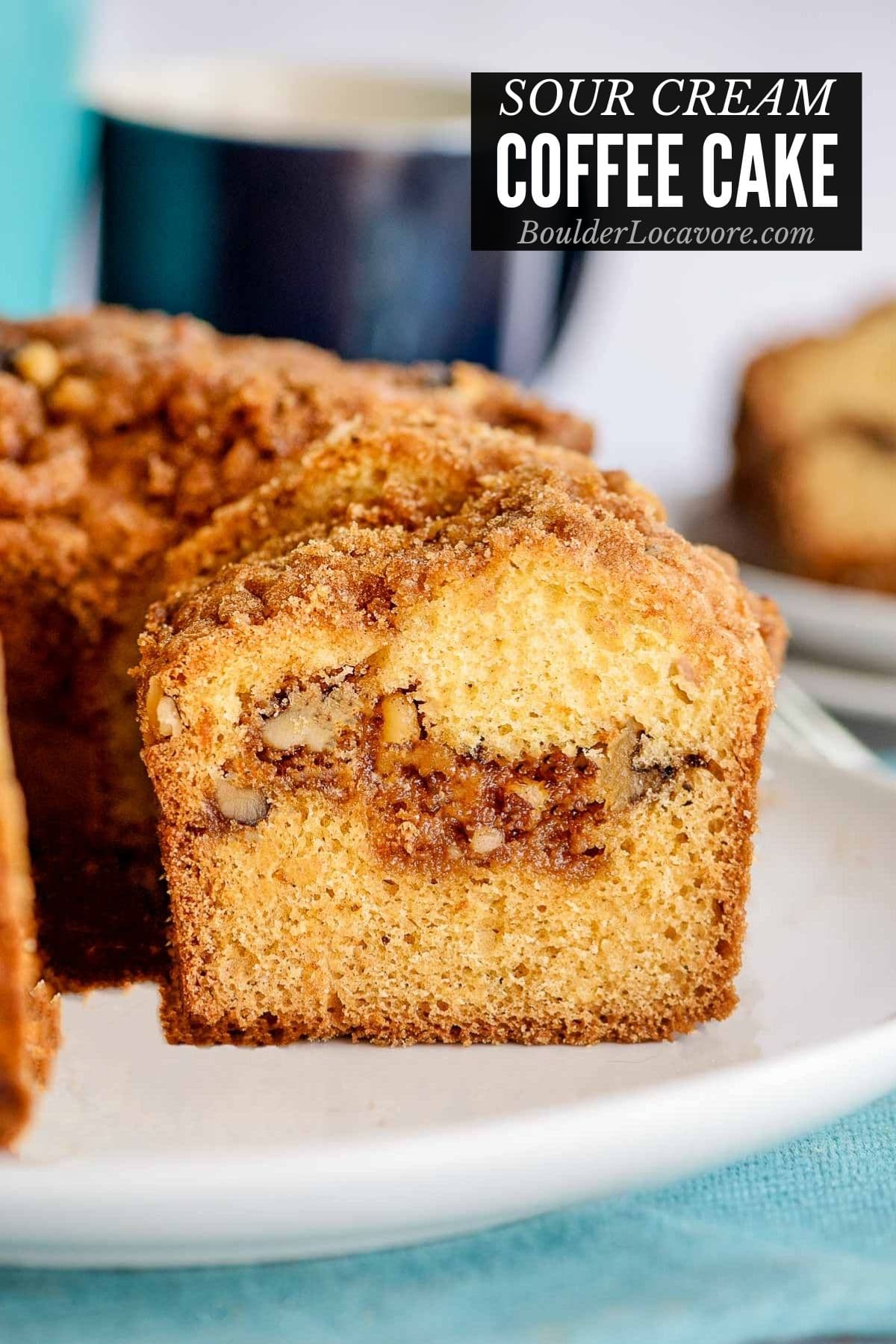 I have started Christmas morning with this coffee cake every year since I was a child.
It's a family favorite originally served by my Grandmother, then my mom and now me.
There's something so cozy about a brown sugary coffee cake with a steaming hot cup of coffee to start the day.
We trade off between this, Banana Coffee Cake, Blueberry Coffee Cake and fresh Peach Coffee Cake throughout the year.
But on Christmas morning, it has to be this Sour Cream Coffee Cake!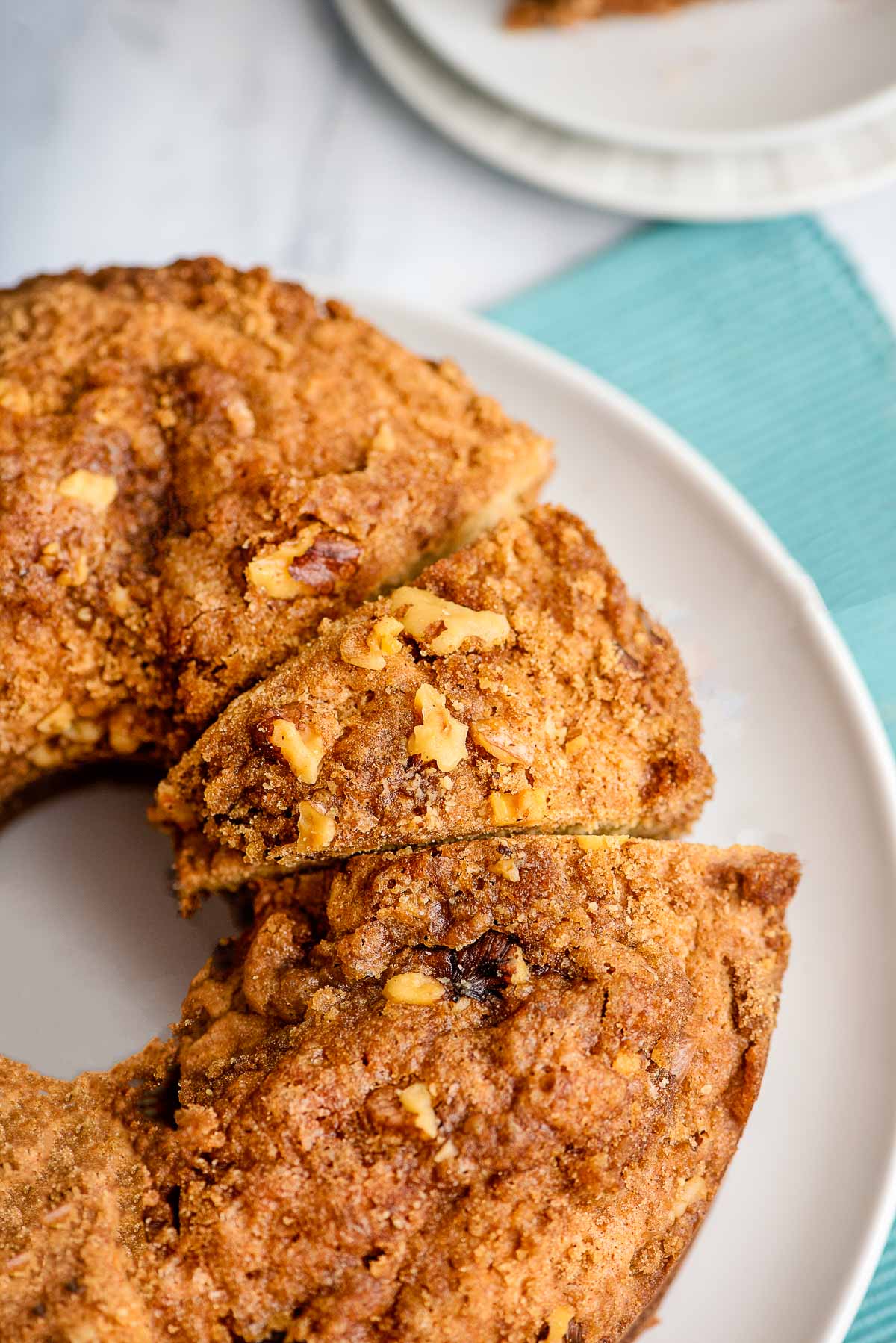 Sour Cream Coffee Cake
This recipe is straight out of my Grandmother's recipe box. It's a recipe that is tried and tested in many decades of holiday mornings and brunches.
Coffee cake is usually a simple sweet breakfast cake with basic baking ingredients.
This version includes sour cream which makes the cake extra moist.
The streusel ripple in the middle and on top make it extra special.
What is Streusel Topping?
This classic topping is the finishing touch perfect on top of muffins, pies, breads and cakes.
It's a mixture of butter, brown sugar, and a bit of flour. Often spices and nuts are included too.
When cooked it makes a crumbly texture on top and adds a nice sweet crunch.
This recipe uses cinnamon and walnuts!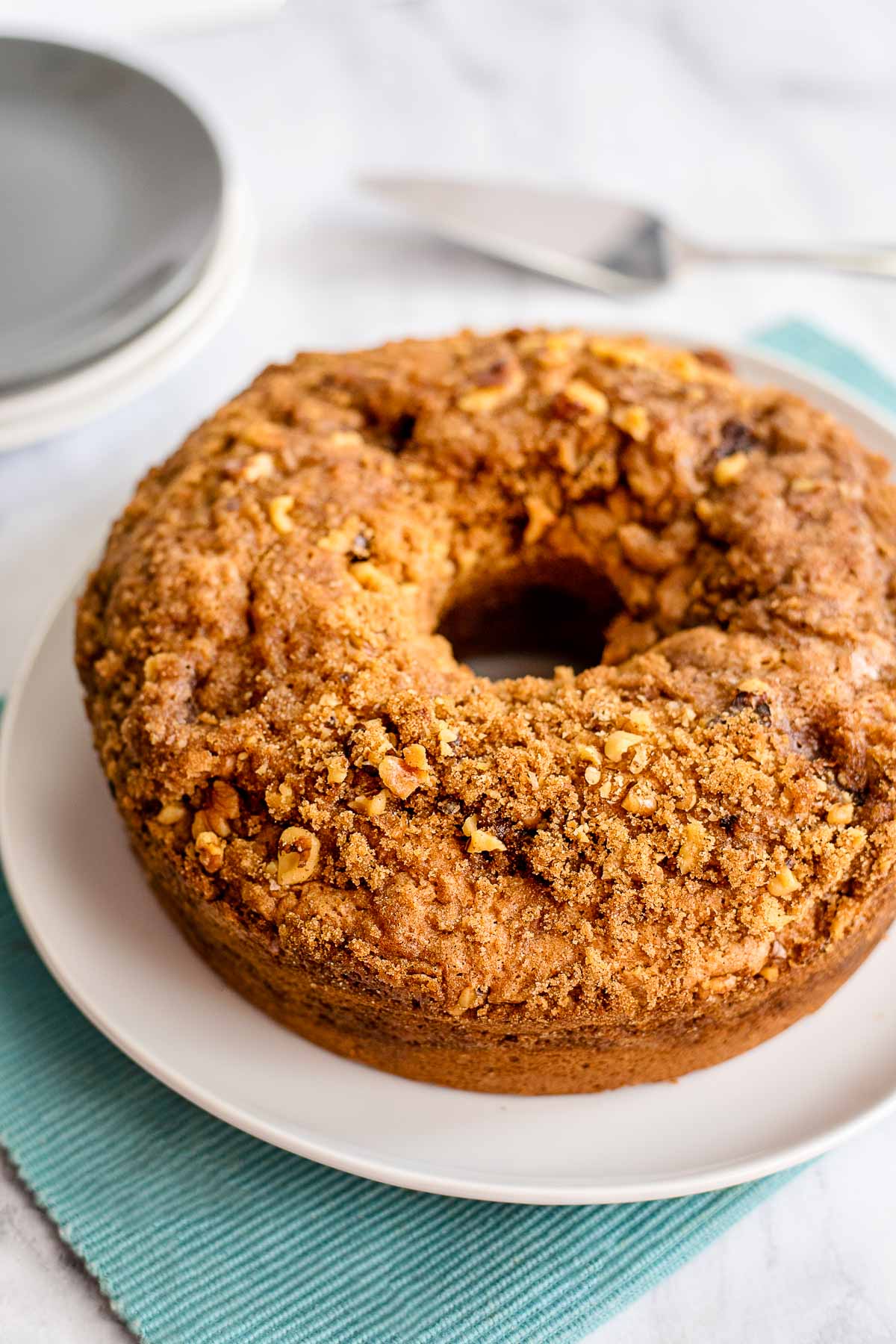 Recipe Ingredients + Notes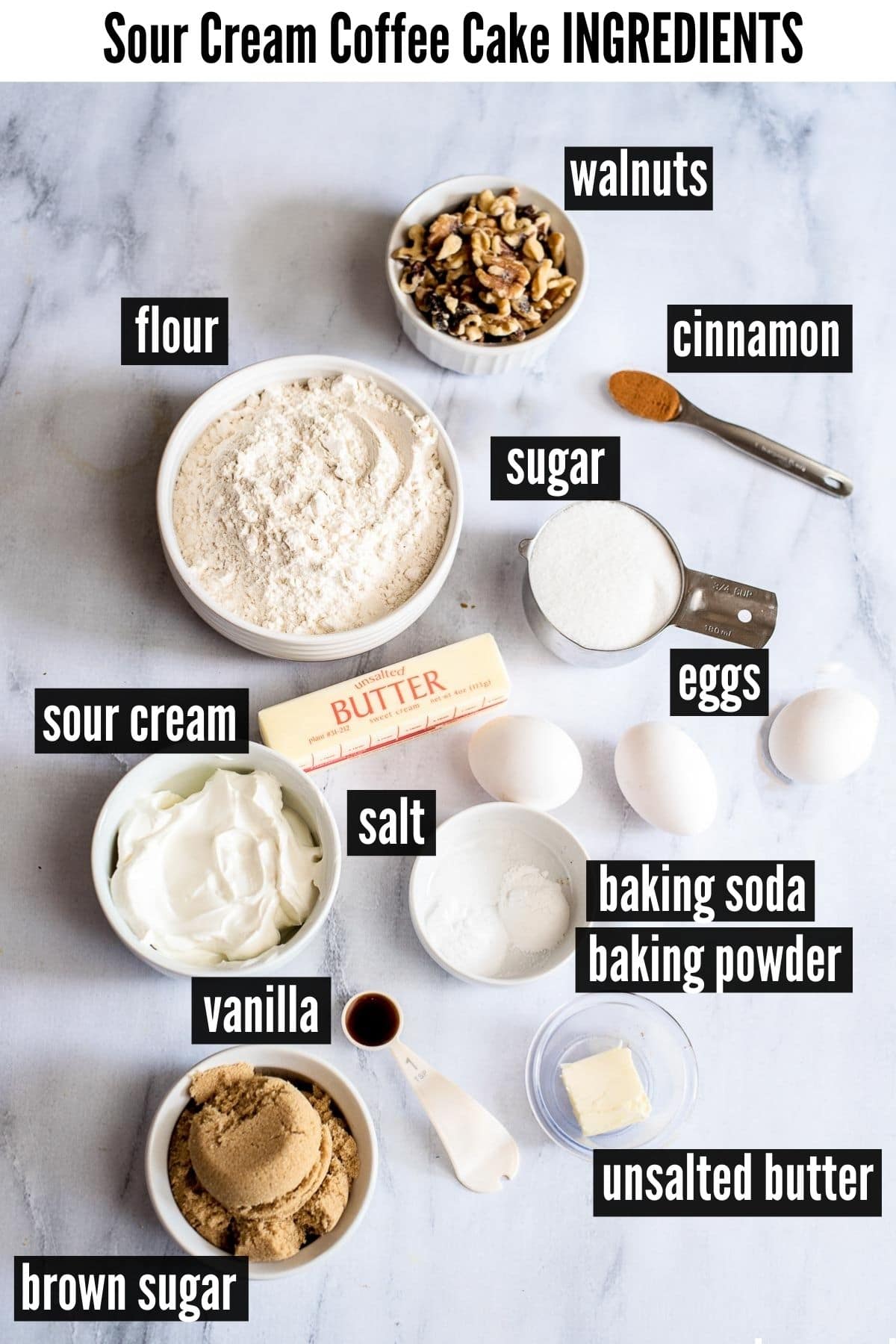 Flour – regular All Purpose Flour or gluten-free measure-for-measure flour blend can be used for this recipe. I recommend Bob's Red Mill 1-to-1 Flour Blend if making the recipe gluten-free.
Baking Soda and Baking Powder – both are used for making the cake rise.
Salt
Granulated Sugar – used to sweetened the cake.
Unsalted Butter – this is used both in the cake and the streusel topping.
Eggs
Vanilla – adds homey flavor!
Cinnamon – adds some warming homey flavor to the streusel topping.
Brown Sugar – the star of the topping! For a sweet crunch.
Walnuts – chopped and added to the streusel for a delicious flavor and texture. Pecans can be substituted too.
What Kind of Pan to Use for Coffee Cake?
I have my Grandmother's pan which is a tube pan (shorter than an angel food cake pan) with removable sides.
Use an angel food cake pan or similar tube pan. Choose one that allows the sides to be removed or the bottom to be pushed up through the top opening.
Tried and Tested Recipe
This recipes has been made with regular all purpose flour, gluten-free flour, at sea level and at altitude with great results!
How to Make it – Step-by-Step
STEP 1: Preheat the oven to 350 degrees F. Spray an angel food pan or tube pan with removable bottom with non-stick spray.
STEP 2: Sift together the dry ingredients in a large bowl: add the flour, baking powder, baking soda and salt (photos 1-2). You can use a sifter or a sieve as shown below.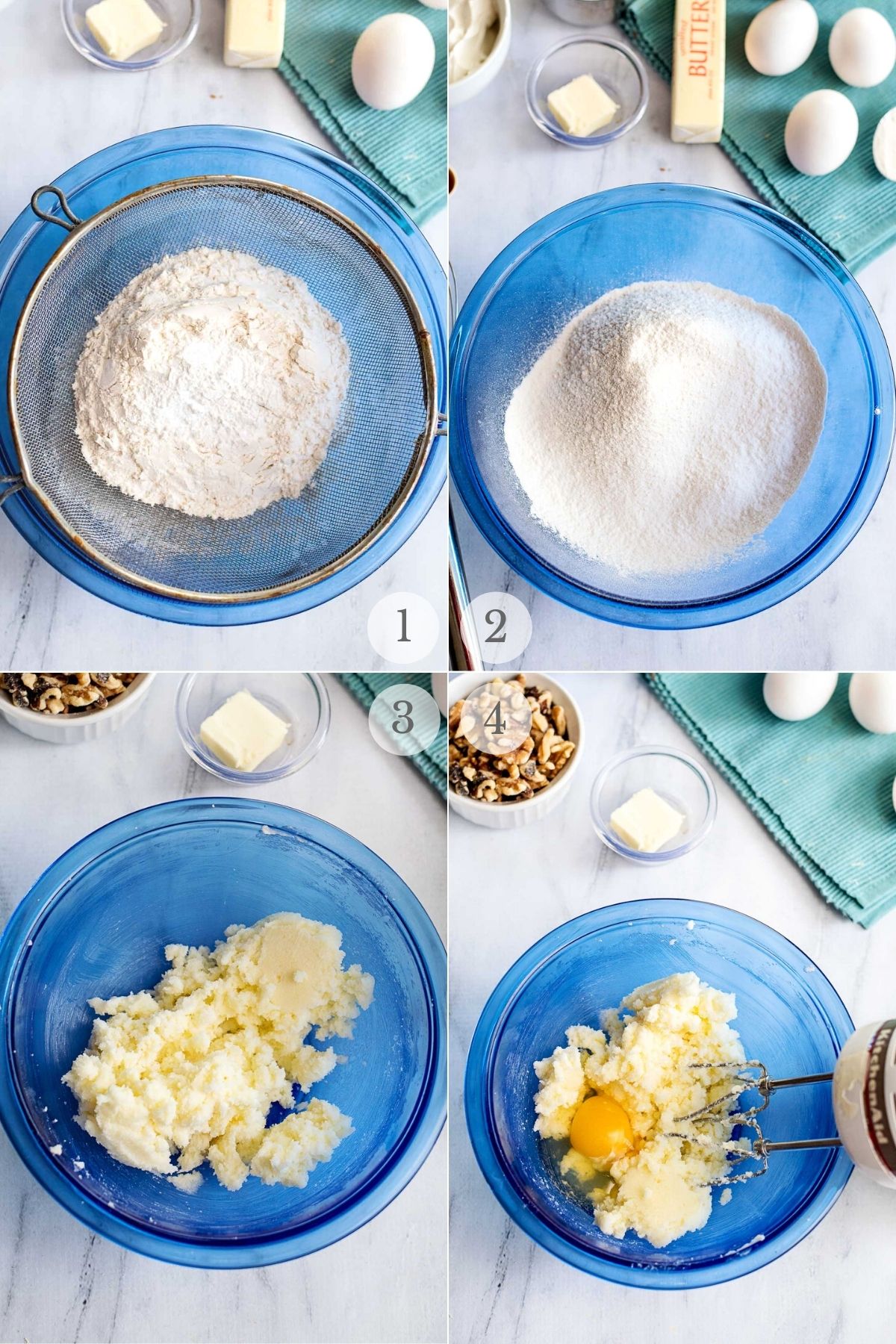 STEP 3: Cream together the butter and granulated sugar with a mixer (photo 3) until it's light and fluffy. Add the eggs one at a time (photo 4). Add the vanilla (photo 5).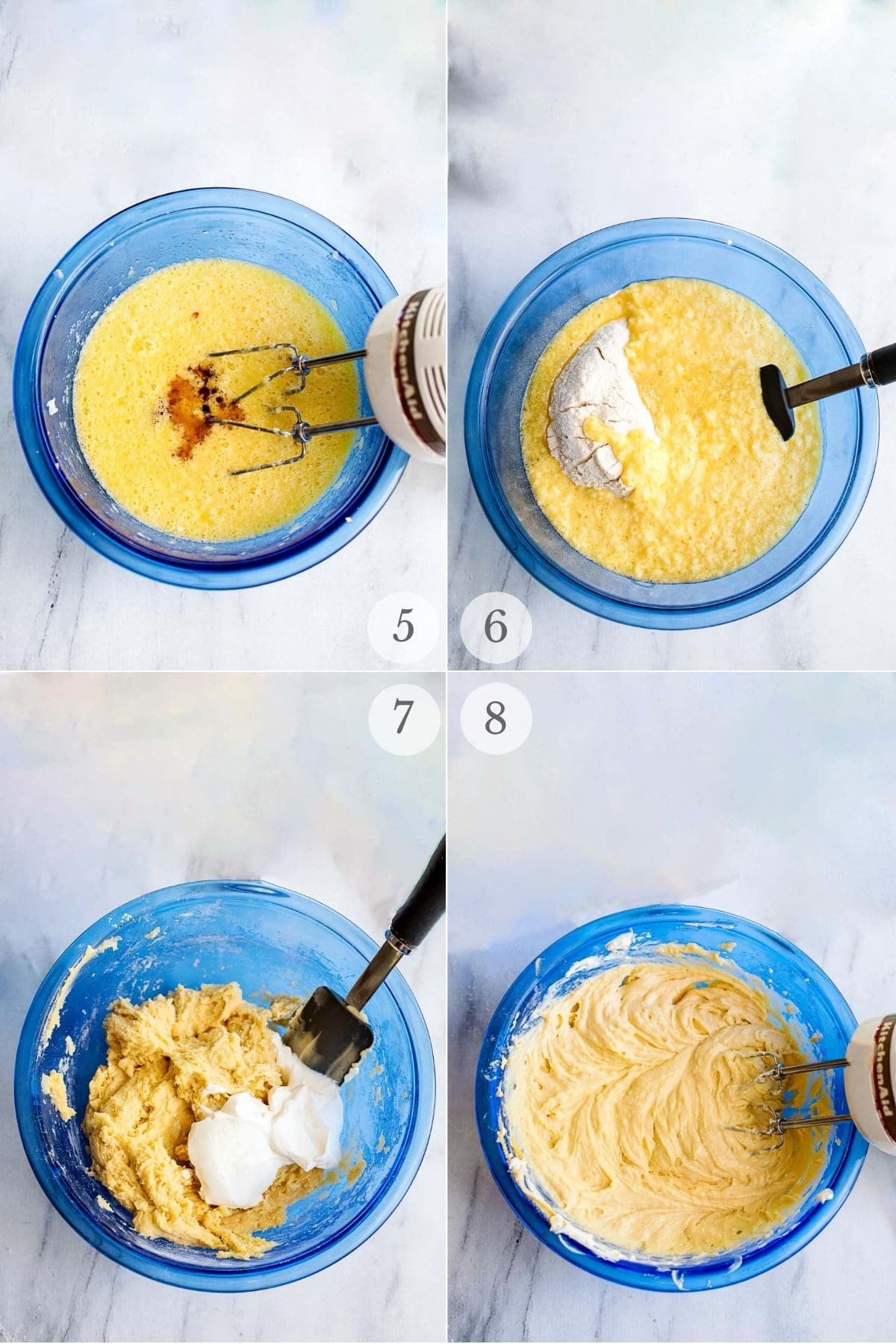 STEP 4: Add the flour mixture to the wet ingredients (photo 6). Stir in the sour cream a little at a time (photo 7) and mix together (photo 8).
How to Make Streusel Topping
STEP 5: In a small bowl mix the brown sugar and butter together with a fork (photo 9-10). Stir in the flour, cinnamon and nuts; mix together (photo 11-12).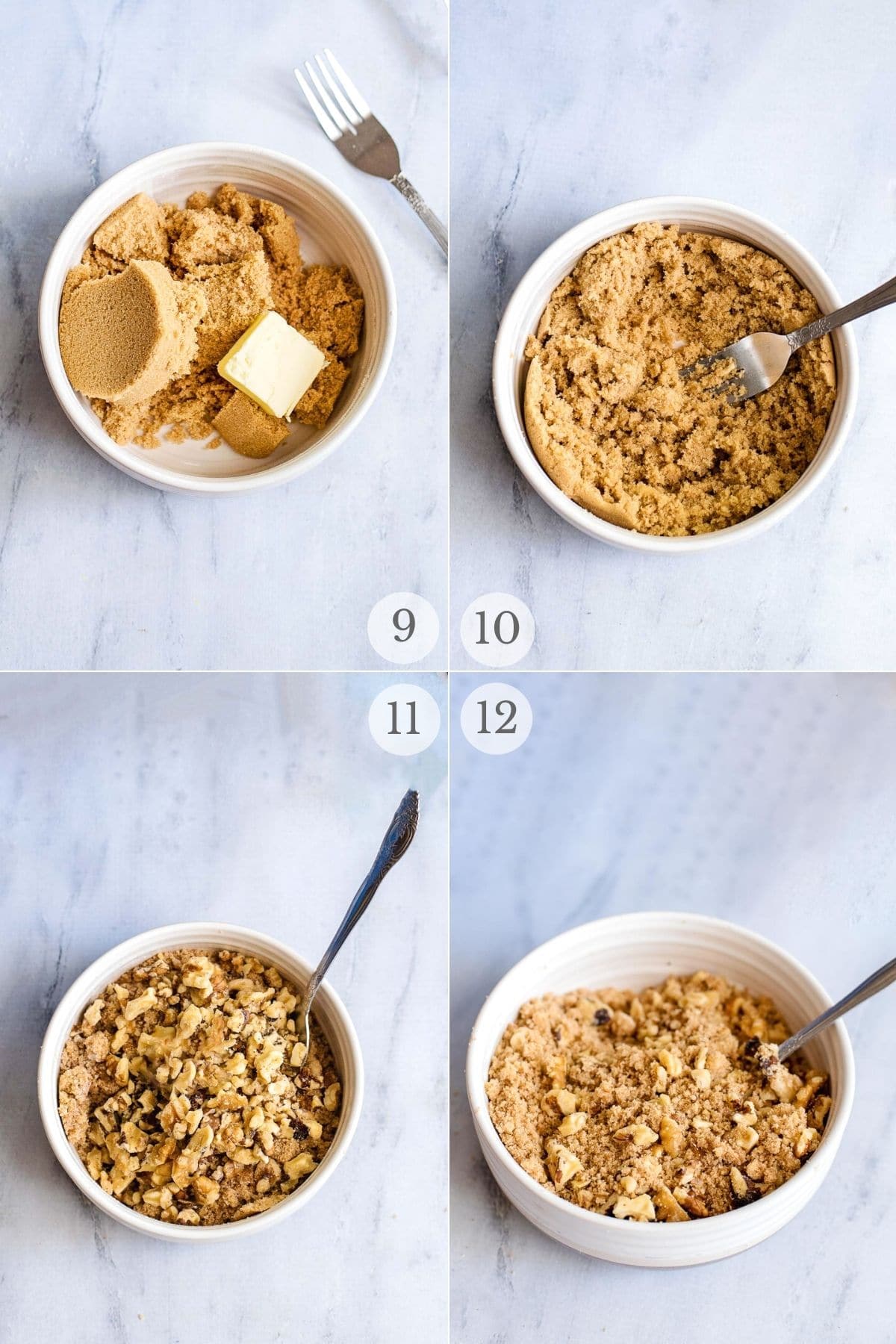 STEP 6: Spoon half of the cake batter into the prepared baking pan (photo 13). Cover with half of the streusel mixture (photo 14).
Repeat with the remaining batter on top (photo 15) and streusel on top (photo 16).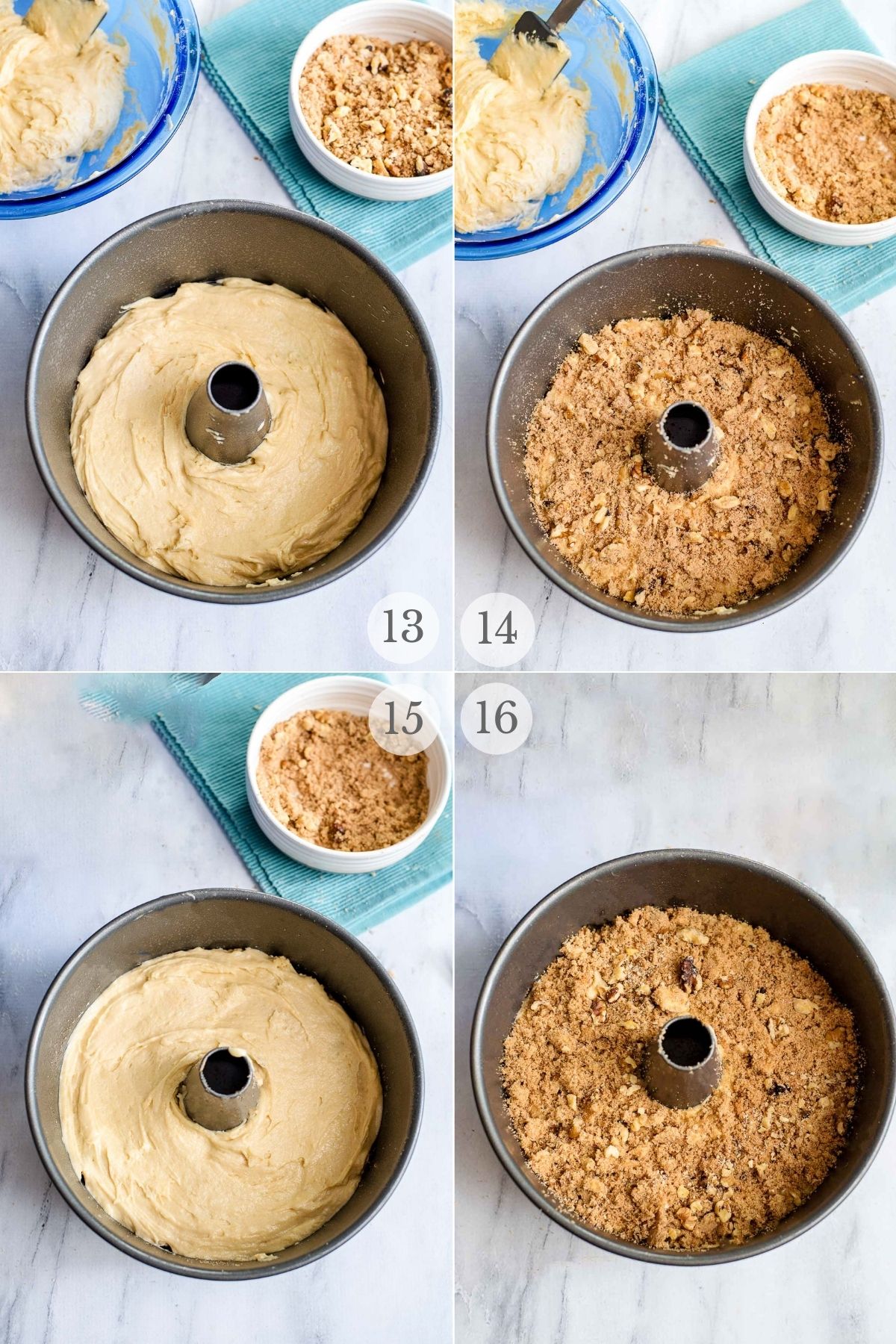 STEP 7: Bake for 45 minutes on 350 degrees. Reduce the heat to 325 degrees and bake an additional 15 minutes or until an inserted toothpick or cake tester comes out clean.
Remove from the oven and place on a cooling wire rack for 15 minutes before removing the sides of the pan. Allow to cool fully. Serve warm or at room temperature.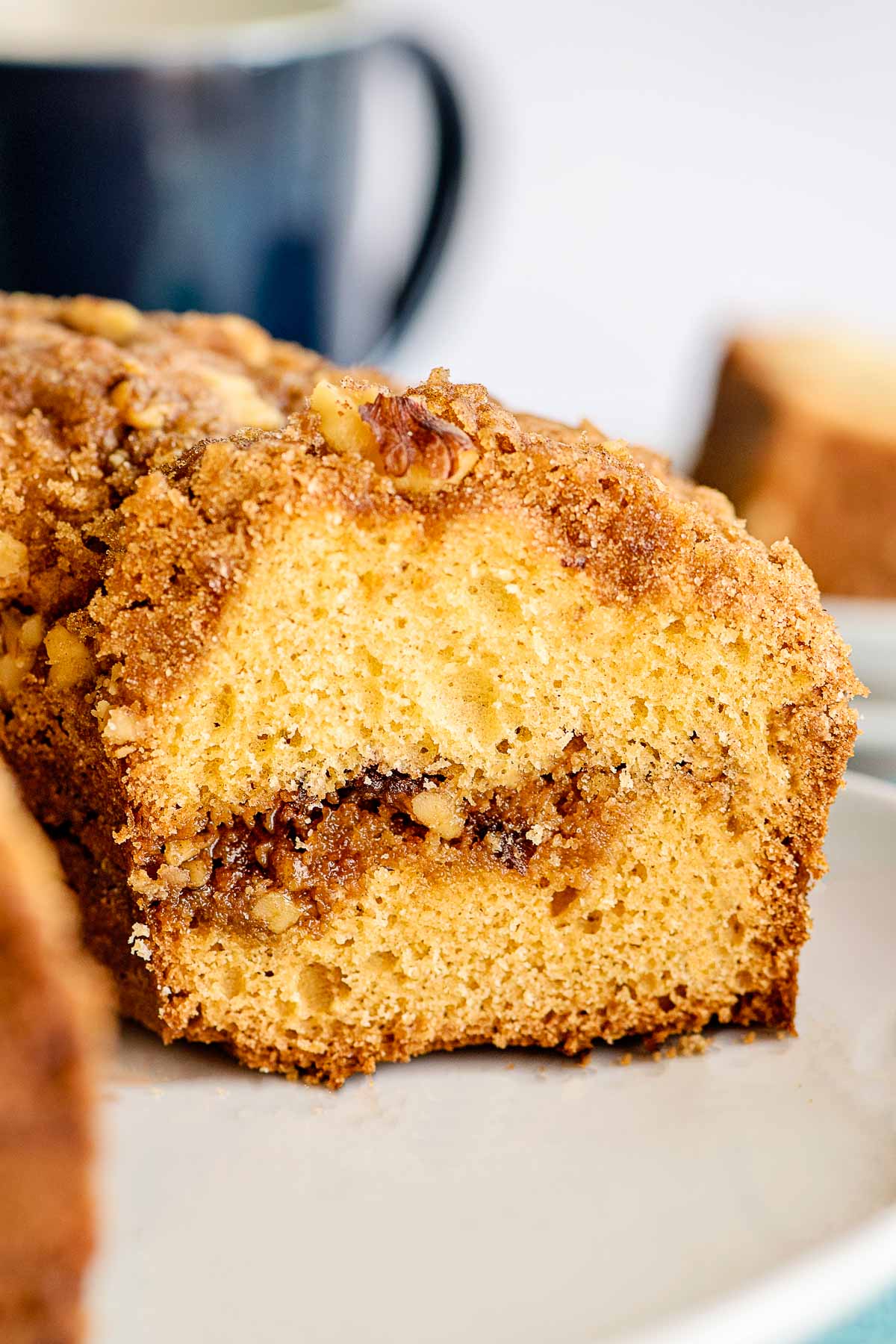 Storing Leftovers
Wrap snugly with plastic wrap and store in the refrigerator for up to 5 days.
Warm slices for a few seconds in the microwave before serving.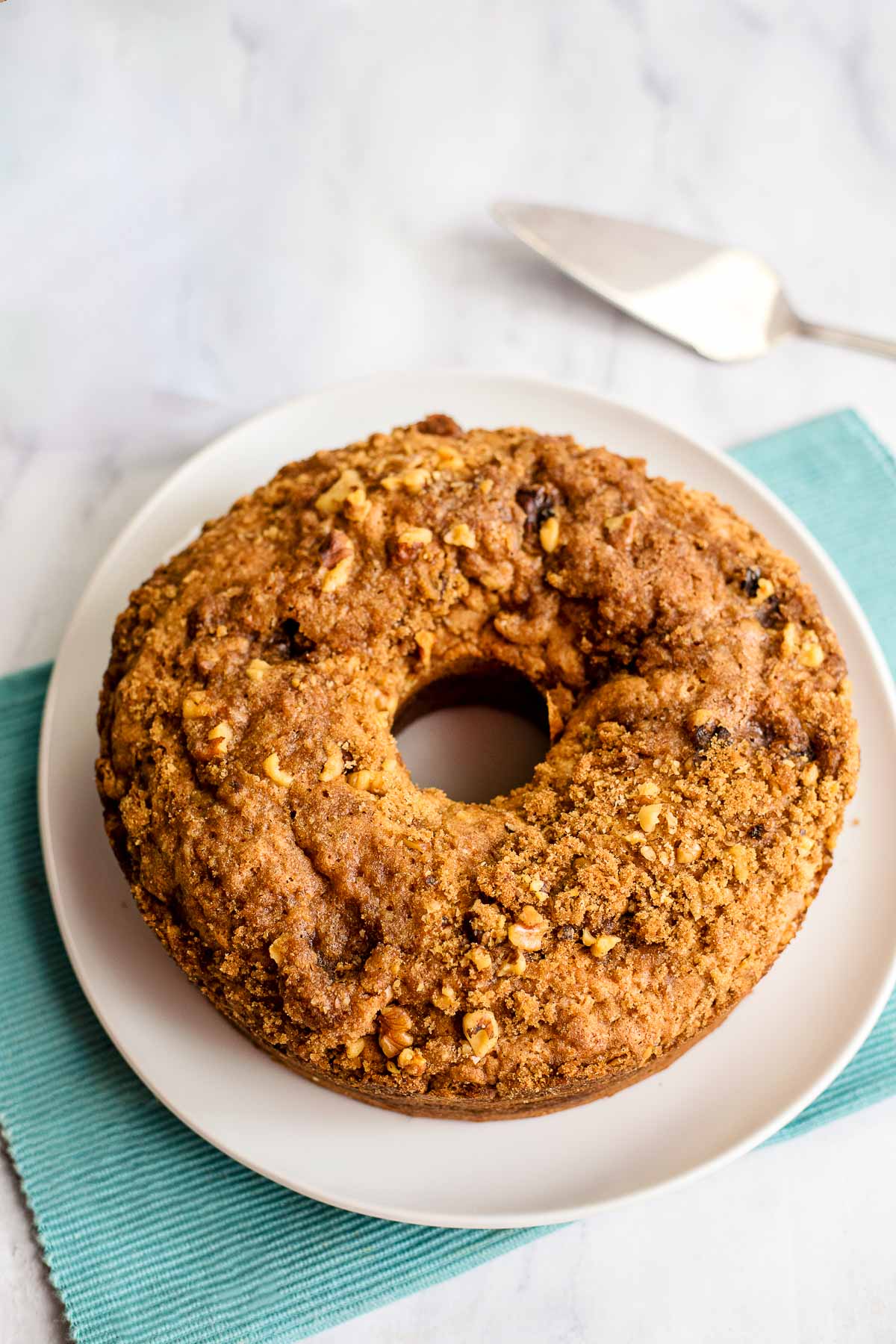 Did you make it? Please RATE THE RECIPE below!
Please SUBSCRIBE and FOLLOW ME on FACEBOOK , TWITTER , INSTAGRAM and PINTEREST !