Pumpkin Cream Cheese Muffins are a celebration of fall flavors in a light, fluffy muffin. The surprise sweet cream cheese filling is always a hit! They taste like pumpkin cheesecake muffins!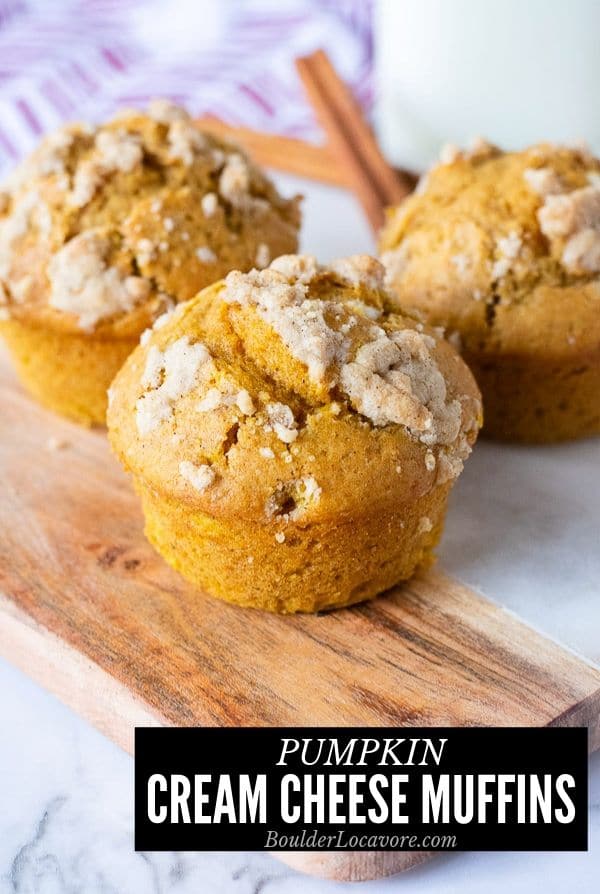 Pumpkin and warming spices like cinnamon and allspice always taste like fall.
This recipe will be a breakfast or treat recipe you'll want all year long!
For a double dose of fall spread some Pumpkin Butter on them too!
What are Pumpkin Cream Cheese Muffins?
Light, fluffy muffins full of cozy cold weather flavor.
What makes them extra special is a surprise of sweet cream cheese filling inside!
They really could be called Pumpkin Cheesecake Muffins for the sweet tangy flavor.
Topped with streusel for the finishing touch.
This is a great recipe to make an ordinary day special!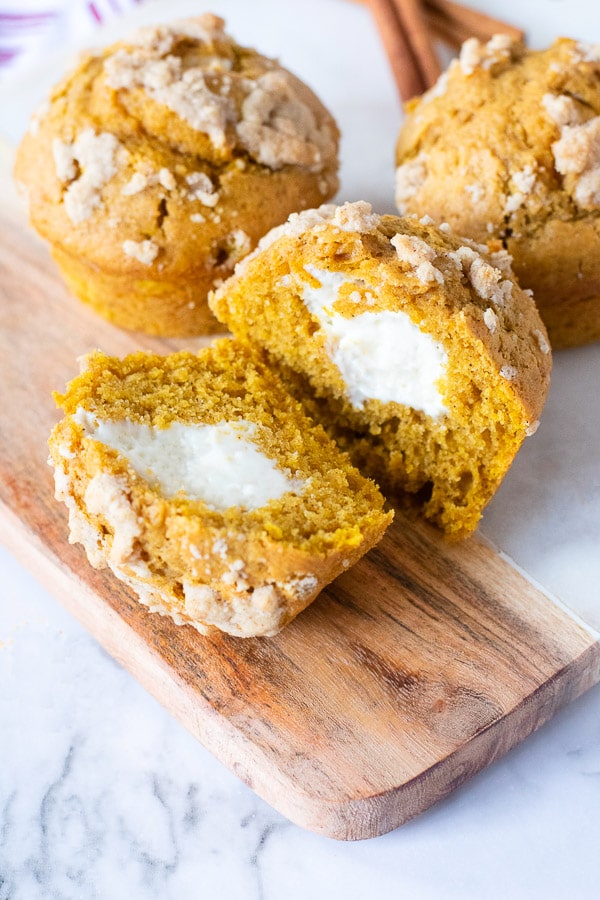 Pumpkin Cream Cheese Muffin Ingredients
Though this list may look long, most of the ingredients are probably already in your pantry!
They are quick to assemble and bake too.
All-Purpose Flour (regular or gluten-free)
Cinnamon and Allspice – instead of full pumpkin pie spice this recipe mixes these two spices for a perfect spice balance.
Baking powder
Kosher salt
Pumpkin puree
Granulated sugar
Brown sugar
Vegetable oil
Eggs
Whole Milk
Vanilla extract
Unsalted Butter
Cream cheese
Confectioner's (powdered) sugar
Use Store Bought or Homemade Pumpkin Puree
In the fall canned pumpkin is everywhere and easy to use for this recipe.
It's also fun and easy to make homemade pumpkin puree! Either one can be used for these muffins.
How to Make them Gluten-Free
This recipe has been tested both with traditional (gluten) all-purpose flour and gluten-free flour. The muffins turn out wonderfully with both.
Recommended Gluten-free Flour
Measure-for-measure gluten-free flour blends are designed to be behave just like gluten flour in terms of binding.
They are already balanced for you it's not necessary to have multiple flours and binding ingredients.
I used Bob's Red Mill 1-to-1 Gluten-Free Flour Blend for this recipe.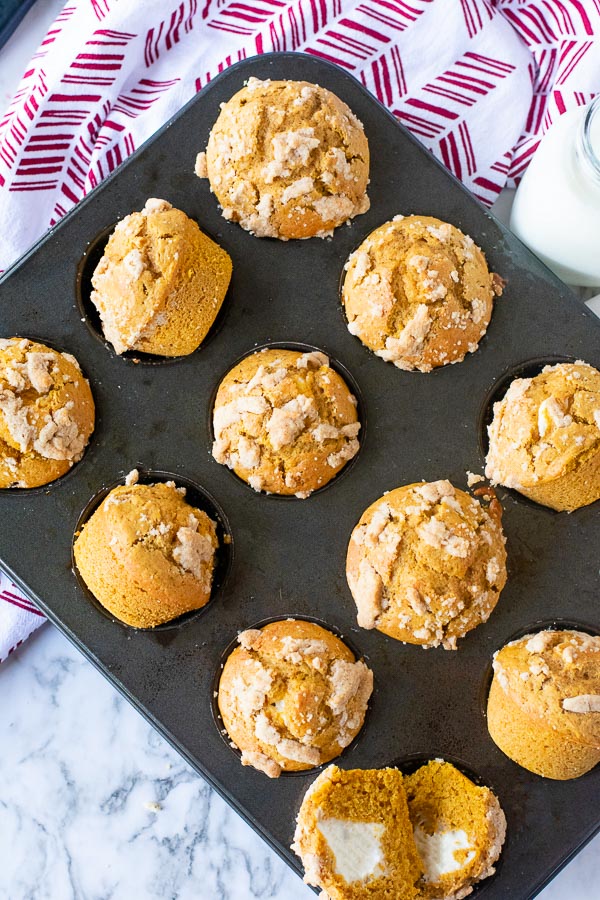 How to Make it – Step by Step
This recipe is broken into three easy preparation steps:
Cream cheese filling
Streusel topping
Pumpkin muffin batter
The three components are combined and baked into a delicious satisfying muffin.
For a detailed printable recipe, refer to the recipe card at the end of the blog post.
Preheat oven to 350 degrees F. Prepare a muffin tin with nonstick spray.
Combine all the cream cheese filling ingredients into a medium bowl (or use a standing mixer). Use a mixer to fully combine until smooth. Refrigerate the cream cheese mixture while making remaining steps.
Make the streusel topping by combining the melted, flour, brown sugar, and cinnamon in a small bowl. Mix with a fork until the mixture is crumbly. Set aside.
In a large bowl combine flour, cinnamon, allspice, baking powder, salt and sugars. Whisk to combine (photos 1-5).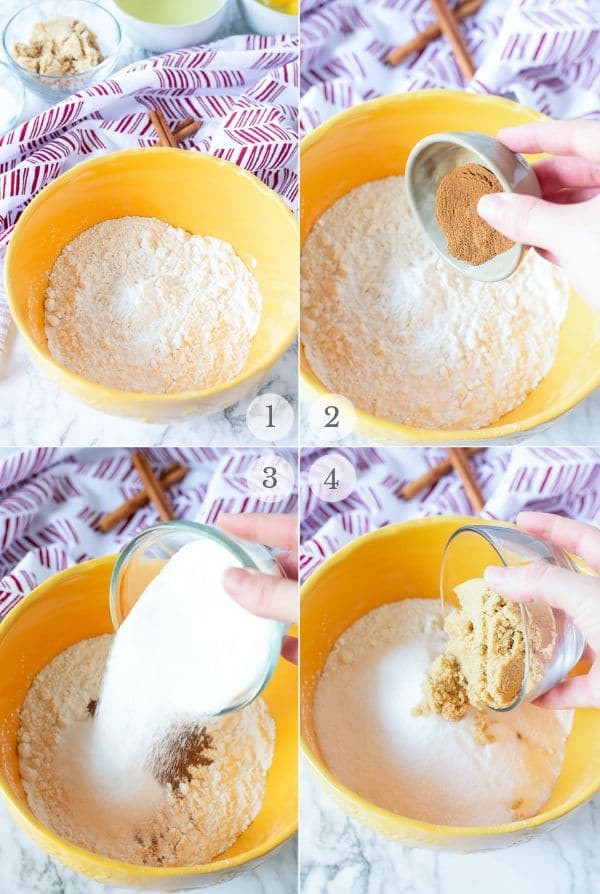 In a separate bowl combine the pumpkin puree, eggs, vegetable oil, milk, vanilla extract. Mix well to combine (photos 6-9).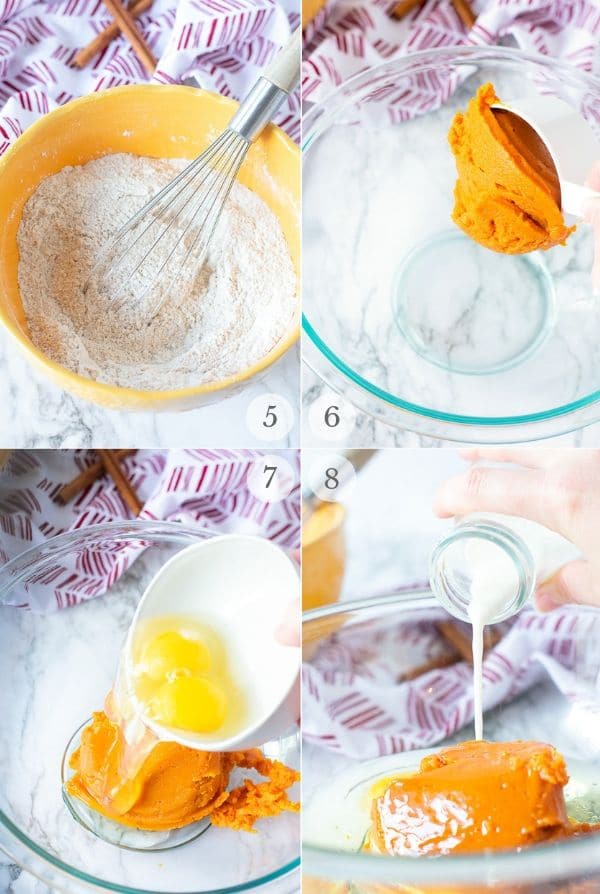 Add the dry ingredients to the pumpkin mixture (photo 10) and mix until well combined (photo 11).
Place 1 ½ tablespoons of batter in the bottom of each prepared muffin tin (photo 12-13).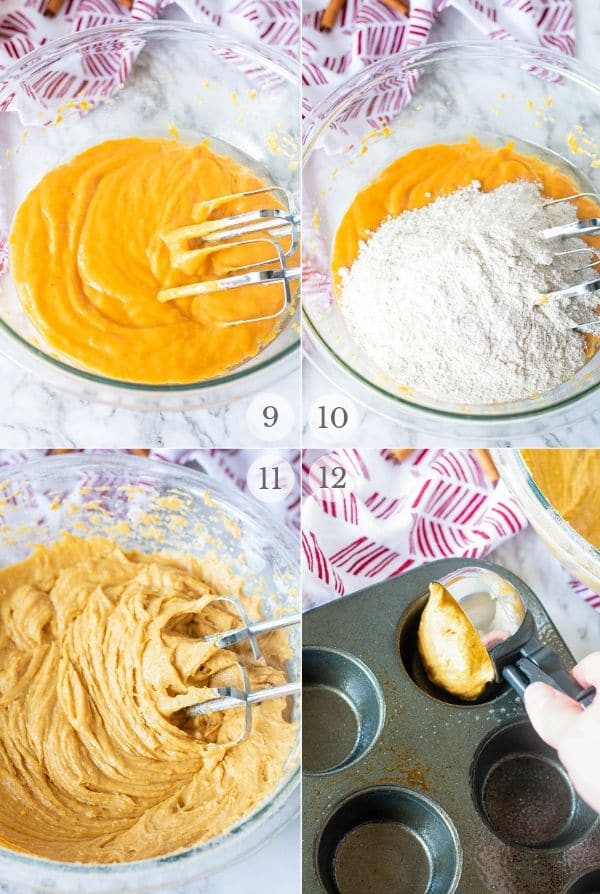 Place a heaping teaspoon of the cream cheese filling on top of the batter in each muffin cavity (photo 14).
Spoon 2 tablespoons of the remaining batter on top of the cream cheese filling in each muffin cavity (photo 15). Be sure the filling is completely covered.
Tap the muffin pan on the counter a few times to settle the batter.
Sprinkle the streusel topping evenly on all the muffins (1-2 teaspoons per muffin) (photo 16).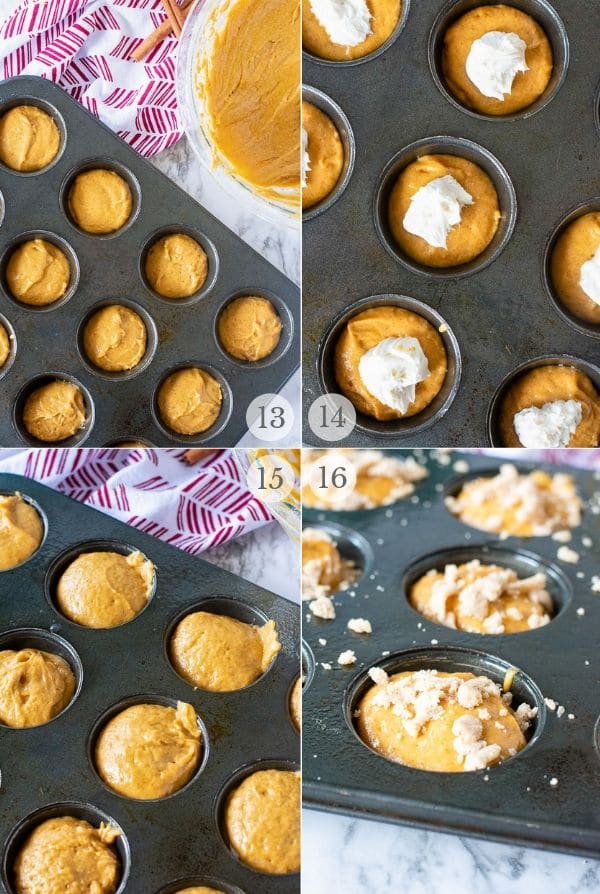 Bake for 15-20 minutes or until a toothpick comes out clean and they are golden brown.
Allow to cook in the muffin tin for 10 minutes after baking. Remove and cool on a rack.
Pro Tip: Use a Cookie Scoop
To make this recipe fast and easy use a cookie scoop to add the batter to the muffin pan.
A size #60 scoop is aproximately 1 1/2 tablespoons in volume. This is the amount needed for the first layer of muffin batter.
Use a slightly heaping scoop for the 2 tablespoon amount of batter called for on top of the cream cheese filling.
Scoops can make quick work of scooping batter. It's also less messy than measuring in a tablespoon and scraping the batter out of the measuring spoon.
How to Store them
Due to the fresh ingredients and cream cheese filling these muffins need to be refrigerated.
When fully cool, place in an airtight storage container. Serve immediately at room temperature.
Store in the refrigerator for up to 3 days.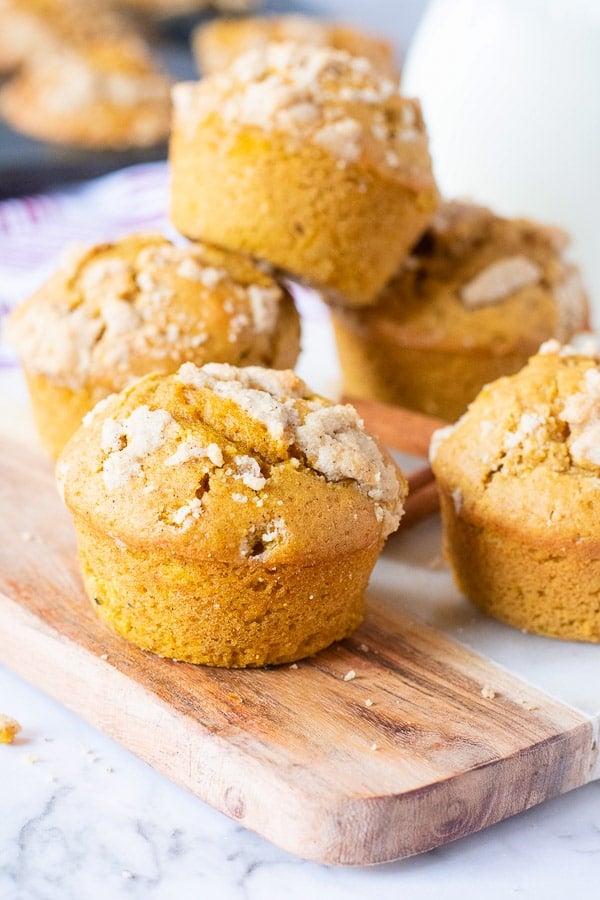 More Muffin Recipes You'll Love
Try these Recipes too!
Did you make it? Please RATE THE RECIPE below!
FOLLOW ME on FACEBOOK , TWITTER , INSTAGRAM and PINTEREST!