Instant Pot White Chicken Chili is brimming with bold spices, shredded chicken, white beans and green chilies. It's a full-bodied chili that's easy and fast to make, and wonderfully filling!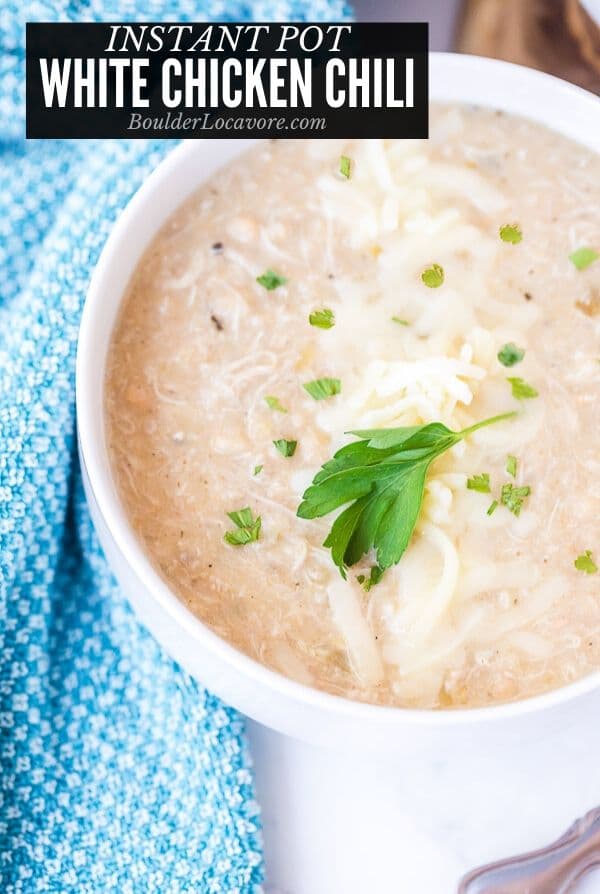 Need an easy, filling dinner recipe that's fast to make? Instant Pot White Chicken Chili is the perfect solution.
It's loaded with vegetables, earthy spices, loads of chicken and filling white beans.
Creamy Monterey Jack is the finishing touch for this cold weather favorite recipe!
It's a great break from traditional chili and just as delicious.
Try our Instant Pot Turkey Chili too. Another white chili recipe that's great for turkey leftovers.
White Chicken Chili Ingredients
What's in this delicious chili?
Don't let the length of the ingredient list scare you.
The majority of the ingredients are spices or ingredients that don't require preparation.
Olive Oil
Onion
Celery
Garlic
Boneless chicken thighs
Diced Green Chilies
Navy beans (or Great Northern Beans)
Spices

Cumin
Garlic Powder
Oregano
Coriander
Kosher Salt
Black Pepper
Cayenne Pepper

Chicken Broth
Monterey Jack cheese
I suggest garnishing the top of the chili with chopped cilantro or Italian parsley.
Serve with this delicious Cornbread recipe!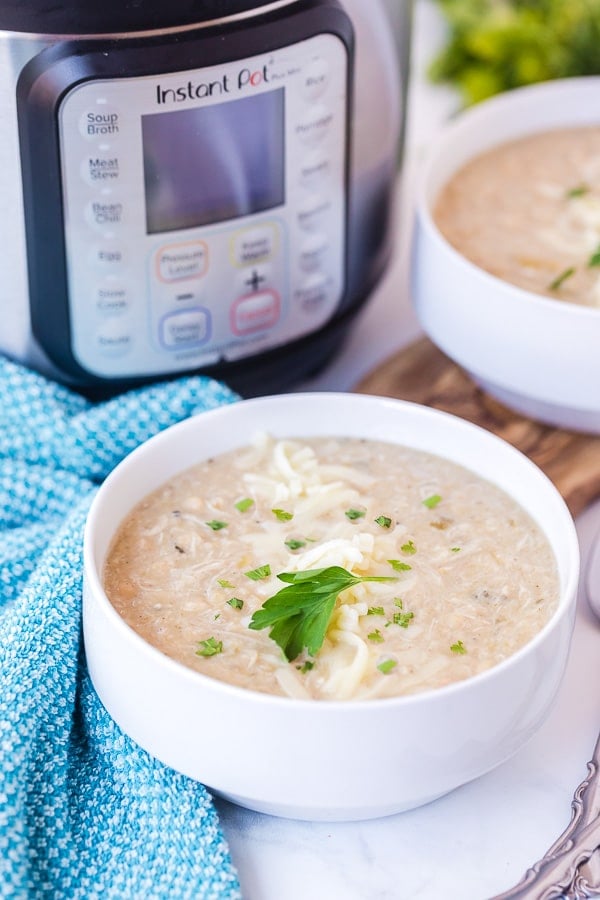 Time Saving Preparation Tip
Use a mini chopper to chop the vegetables.
Because they are all being sauteed together, they can all go into the mini chopper together too!
Ingredient Notes
Chicken Thighs vs Chicken Breasts
Chicken thighs have more flavor than chicken breasts.
For a lighter flavored chili like this Instant Pot White Chicken Chili, that's a plus.
They also do not dry out as chicken breasts can.
That being said if you want to swap chicken breasts into the recipe, that's ok.
Canned Green Chilies
Canned green chilies are available whole or diced. Select 'diced'.
Mild or hot diced chilies can be used based on your desired amount of heat.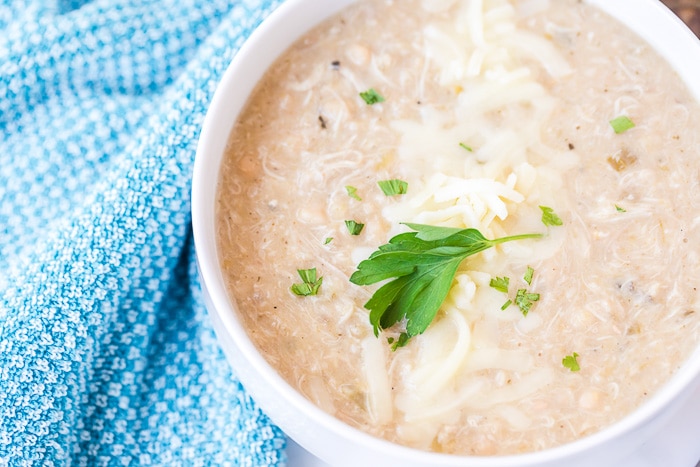 How to Make Instant Pot White Chicken Chili – Step-by-Step
This recipe was developed with a 6 Quart Instant Pot.
STEP 1: Select 'SAUTE' on the Instant Pot. Heat the oil and add the onion, celery and garlic. Saute until the onions are translucent (photos 1-3).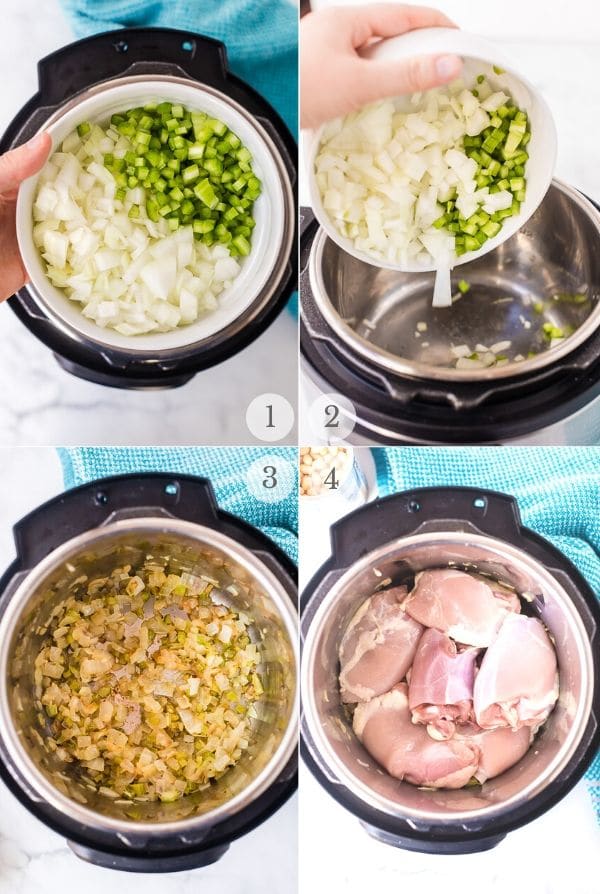 STEP 2: Place the chicken thighs on the vegetables, followed by the green chiles, beans and spices (photos 4-8). DO NOT STIR.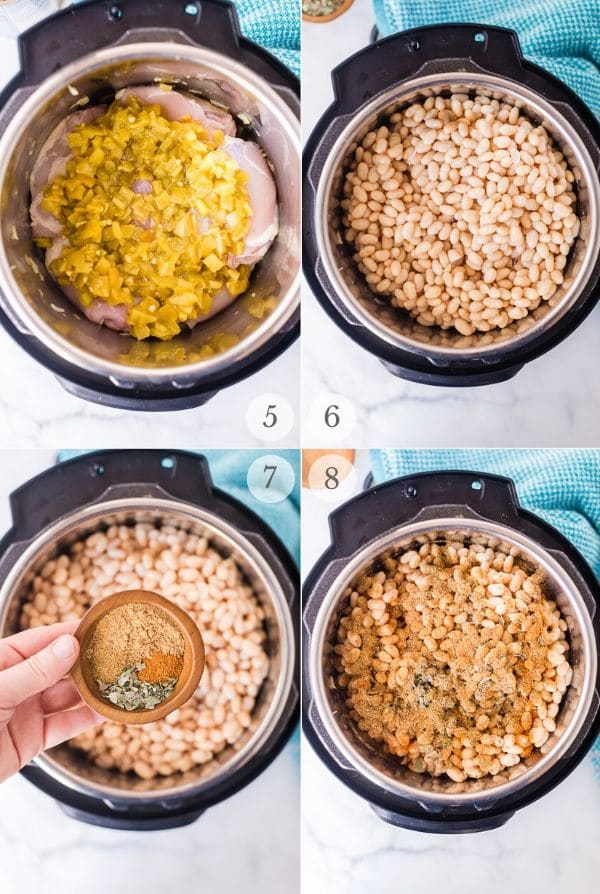 STEP 3: Add the broth (photo 9). Seal the Instant Pot. Cook on MANUAL (High Pressure) for 15 minutes.
STEP 4: When cooking is complete perform a QUICK RELEASE (photo 10 – post cooking).
STEP 5: Remove the chicken and shred using one of the two suggested methods in the recipe card.
OPTIONAL: to thicken the chili, use a hand held mixer or immersion blender to pulverize some of the chili (photo 11).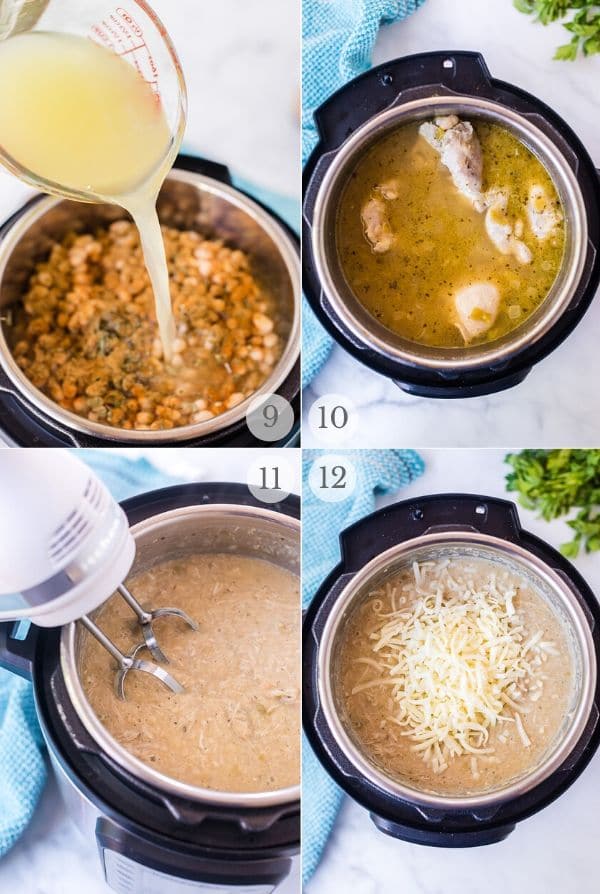 STEP 6: Add the cheese, stir in to melt.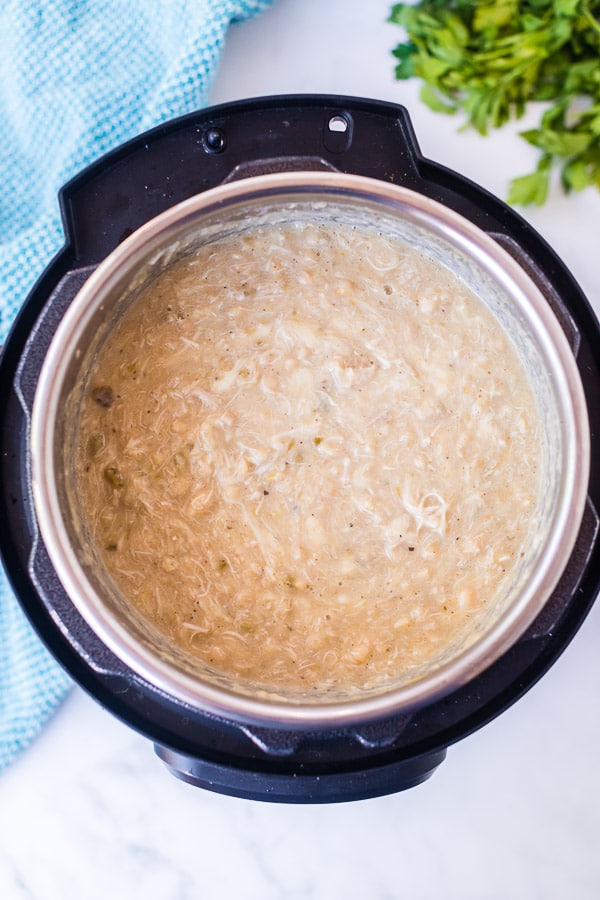 Garnish with chopped cilantro or Italian parsley and serve hot.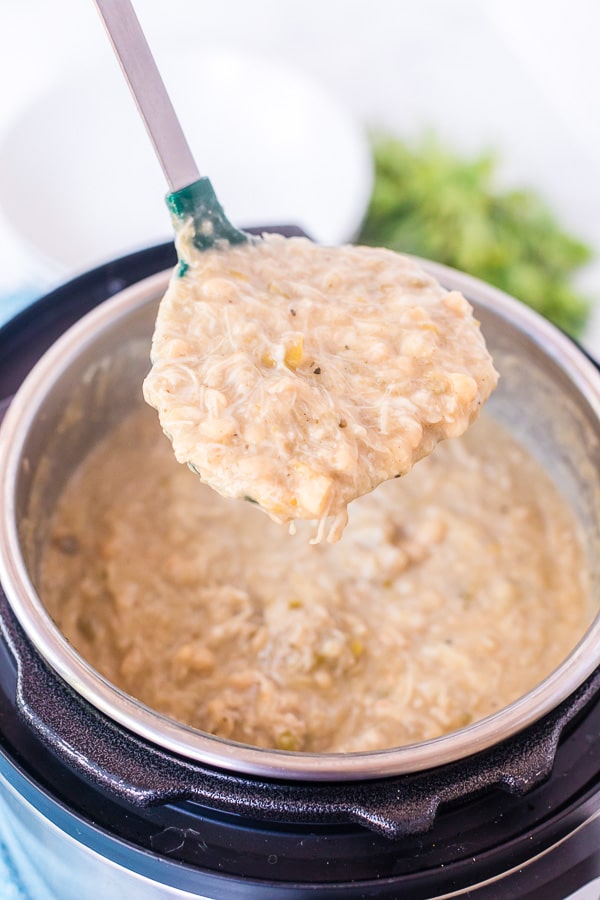 PRO TIP
After sauteing the vegetables be sure to scrape free any food particles sticking to the bottom of the instant Pot insert.
Sticking food is known to trigger a burn warning in some Instant Pot models.
How to Store Instant Pot White Chicken Chili
In the Refrigerator
Store in an airtight container for 3-4 days.
In the Freezer
Place in an airtight freezer container or freezer bag and freeze for up to 6 months.
To thaw: place in the refrigerator overnight.
No Instant Pot? No worries! Try this conventional recipe instead Spicy White Bean Chicken Chili.
More Recipes to Try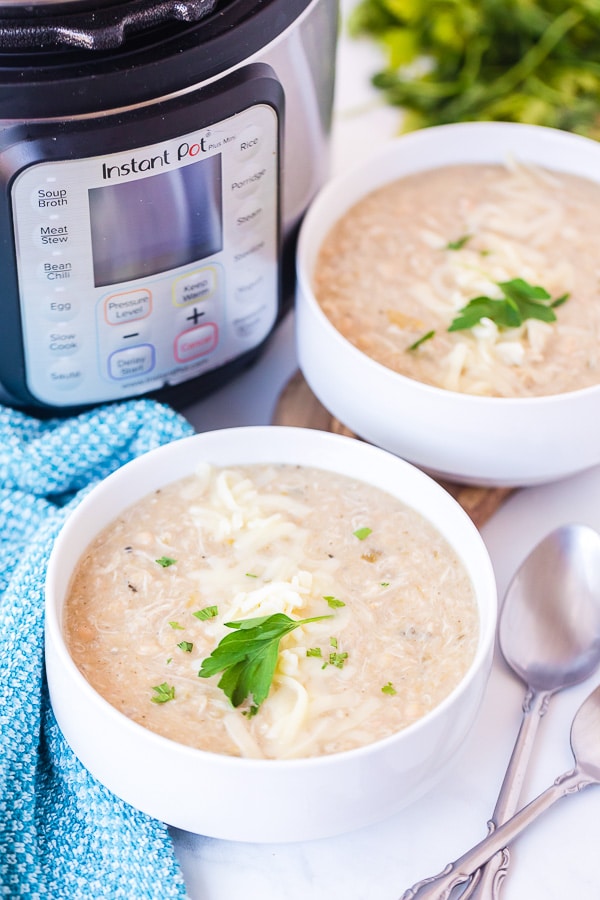 Did you make it? Please RATE THE RECIPE below!
Please SUBSCRIBE and FOLLOW ME on FACEBOOK , TWITTER , INSTAGRAM and PINTEREST !
Instant Pot White Chicken Chili is a soul-warming easy dinner recipe you can make in a flash!