Red Chili is an easy, comfort food recipe that's perfect for a crowd. Two types of pork sausage, bold spices, loads of vegetables and beans make this an unforgettable main dish any night of the week.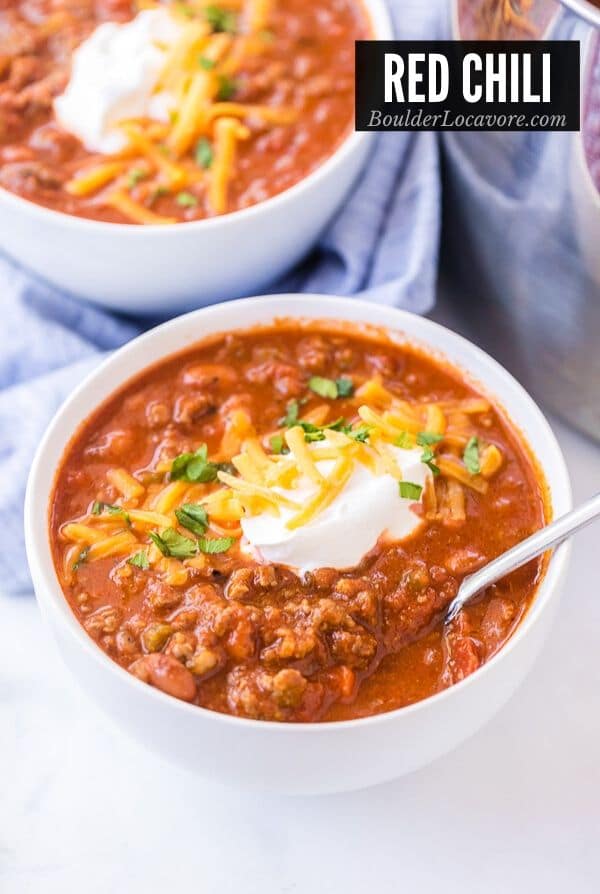 Chili is a universal cold weather recipe.
Eating a steaming hot bowl is like being wrapped in a blanket by a roaring fire!
Red Chili changes up traditional beef and bean chili with two types of ground pork sausage.
Full-bodied chili spices and a couple of unexpected ingredients make this recipe perfect any night of the week.
It's great for football parties and gatherings. Set out toppings and let guests serve themselves!
Red Chili Ingredients
Big flavor is key for this chili recipe. All the ingredients are easy to find and contribute to create a mouthwatering chili.
Don't let the length of the ingredients in the recipe card scare you.
Though Red Chili has lots of ingredients, they are easy and fast to prepare.
Vegetables
Classic fresh and canned vegetables contribute to add wholesome nutrition and great flavor:
Onion
Green Pepper
Celery
Carrot
Garlic
Crushed Tomatoes – canned and undrained
Italian-style Diced Tomatoes with Green Chilies
Tomato Sauce
Pro Tip for Preparing Vegetables
I use a mini chopper for all recipes like this red chili with lots of vegetables that are chopped.
Add them and they are chopped in minutes.
The only clean up is putting the chopper bowl in the dishwasher too!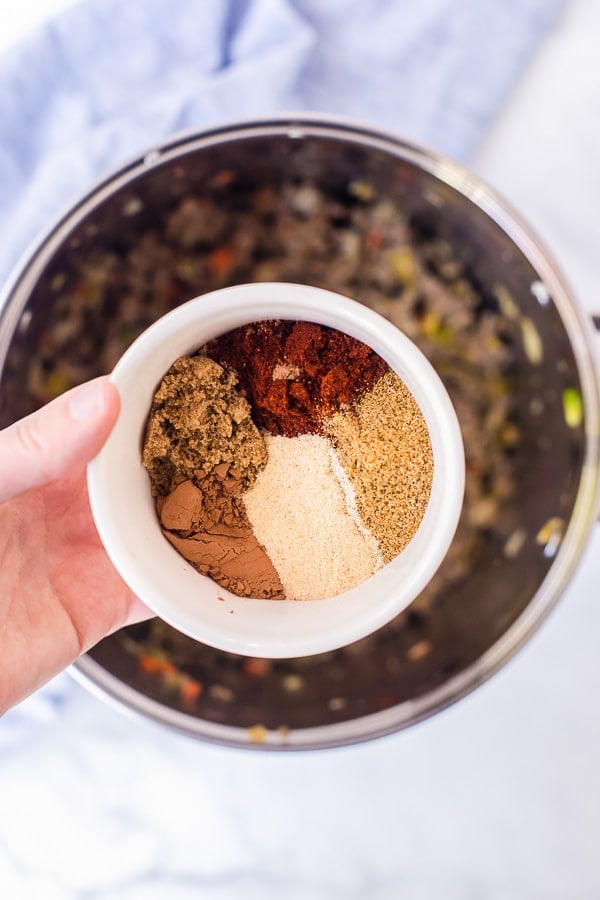 Spices
Chili Powder
Cumin
Garlic Powder
Salt – I prefer Kosher Salt because it tastes less salty and is easier to sprinkle into a dish due to the size of the granules
Black Pepper
Cayenne Pepper
Unsweetened Cocoa Powder – this is a secret ingredient that makes the flavor rich without tasting like chocolate.
Brown Sugar – a little sugar make the flavors in the chili pop!
Meat and Beans
Two types of loose/bulk pork sausage combine for great flavor and hearty texture.
Beans add more protein for a stick-to-your-ribs hunger satisfying chili.
Regular Pork Sausage (bulk)
Hot Pork Sausage
Canned Pinto Beans
Cheddar Cheese
Cheese if often reserved just for topping. In this Red Chili recipe it is melted into the chili!
What Chili Toppings to Use
Adding toppings on red chili is most of the fun! Here are some favorites:
Sour cream
Grated cheese
sliced Scallions
chopped Cilantro
crumbled Tortilla Chips for some crunch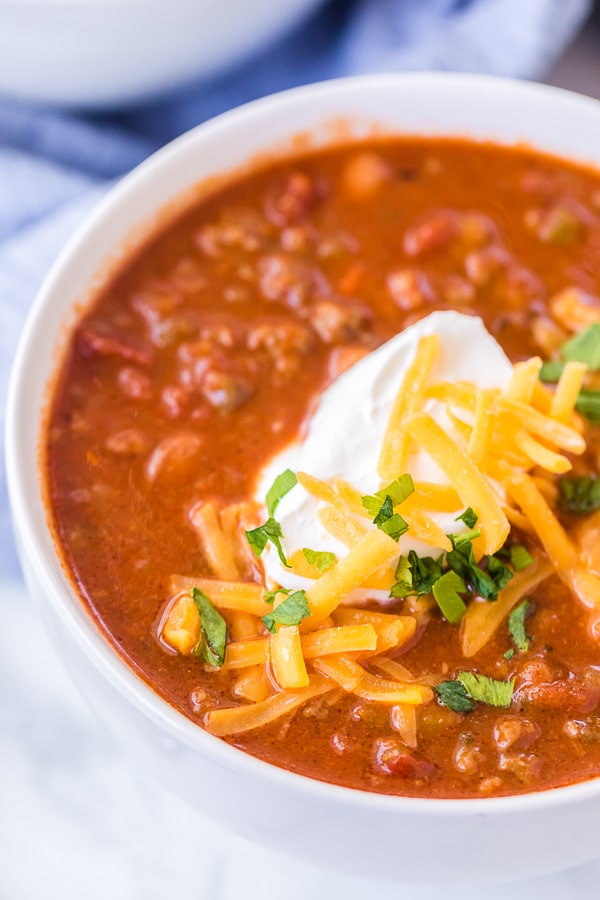 How to Make Red Chili – Step-by-Step
STEP 1: In a large stock pot or Dutch oven, heat the oil. When the oil is heated add the vegetables. Cook until tender (5-7 minutes) .
STEP 2: Add both pork sausages. Cook through breaking apart with a heatproof spatula as it cooks (photo 1).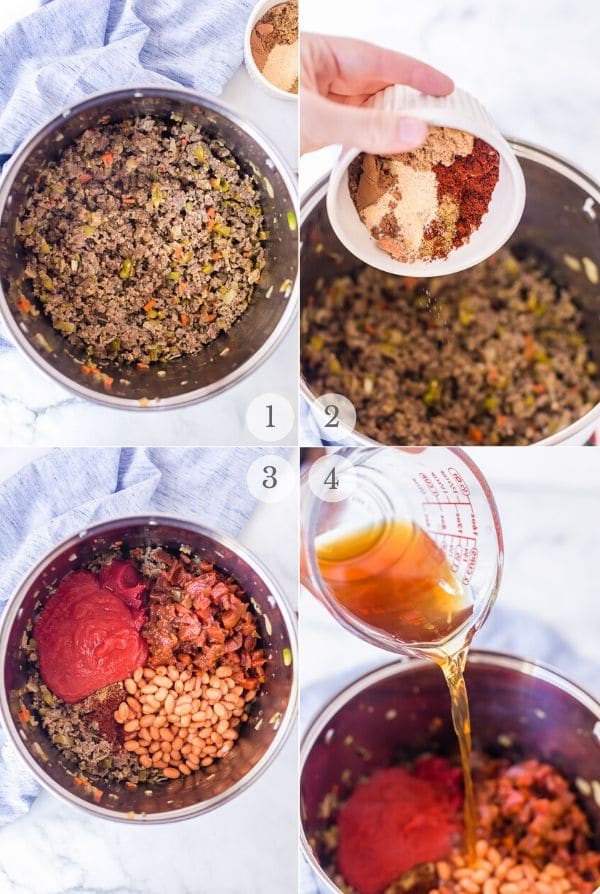 STEP 3: Add remaining ingredients (photos 2-4) EXCEPT cheese. Stir to combine.
STEP 4: Simmer over medium-low heat for at least 20-30 minutes (photo 5).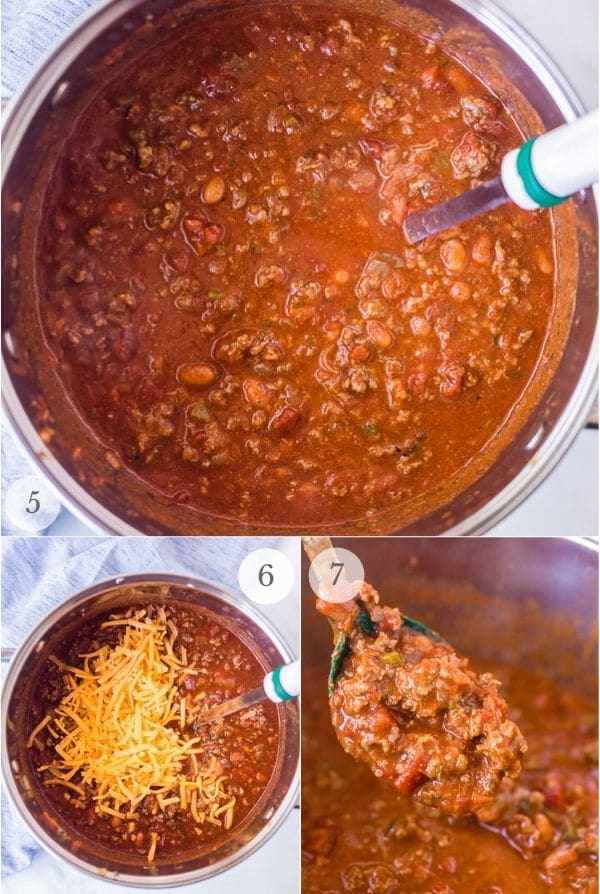 STEP 5: Stir in the grated cheese before serving (photo 6-7). Top with chopped cilantro, sour cream and more cheese (optional).
Serve with this delicious Cornbread recipe!
Better the Next Day!
A fantastic trait of red chili is that it tastes even better the next day! The flavors come together with time and it seems to improve!
How to Store Leftover Red Chili
Refrigerator
Once the chili has cooled, store in an airtight container in the refrigerator for 3 to 4 days.
Freezer
After the chili has cooled add it to airtight freezer-safe containers.
Allow 3/4-inch between the surface of the chili and the top of the container (for expansion).
Store up to 3 months.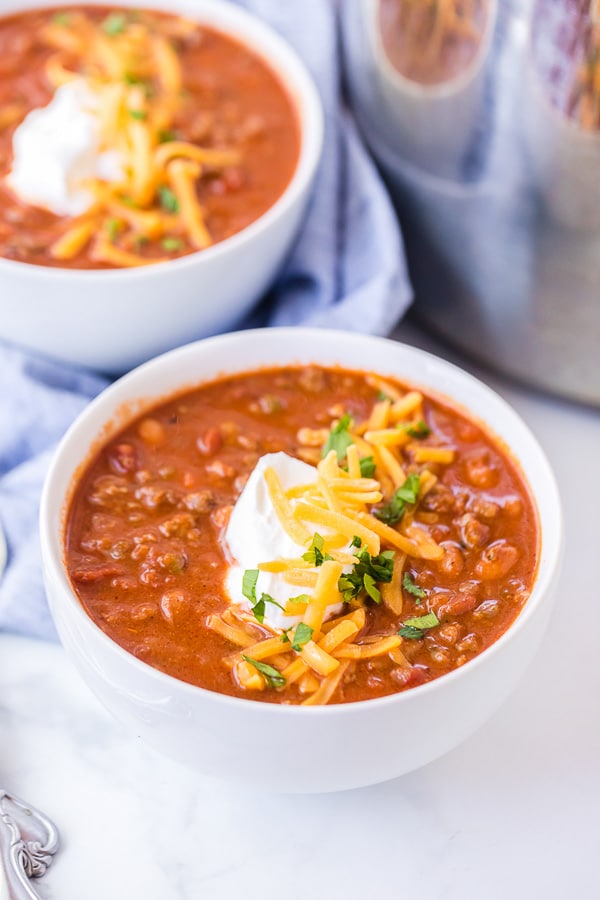 Did you make it? Please RATE THE RECIPE below!
Please SUBSCRIBE and FOLLOW ME on FACEBOOK , TWITTER , INSTAGRAM and PINTEREST !
Red Chili is a spicy, sassy recipe to take the chill out of any day!