Steel Cut Oats recipe for Instant Pot Gingerbread oats with and eggnog float is  perfect choice for wintery mornings. Creamy, with a chewy bite, brimming with holiday flavors.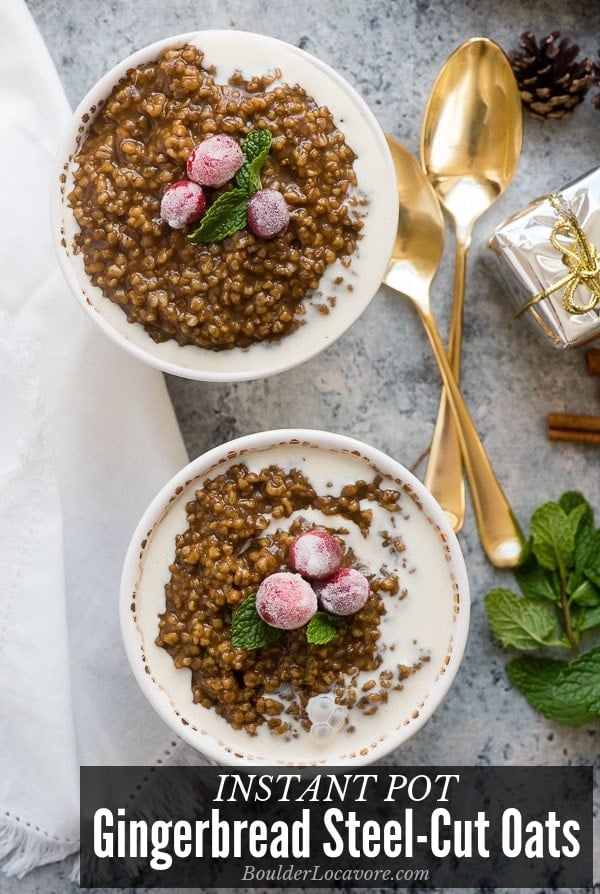 I'm feeling a bit festive with the holidays rolling on in and have put my Instant Pot to work with dazzling results once again.
A steel cut oats recipe is causing great excitement at the breakfast table: Instant Pot Gingerbread Steel Cut Oats  with an eggnog float on top!
This steel cut oats recips makes a warming, delicious start to the day.
It's both easy and fast to prepare, leaving only one pot to clean up.
What are Steel Cut Oats?
Steel cut oats are processed so the whole oat groat (the oat kernel without the husk) is cut into several pieces; leaving something that looks very similar to broken rice kernels.
They take longer to cook than the flat, soft rolled oats of traditional oatmeal fame.
Steel cut oats are often called Scottish or Irish Oats and have a wonderful chewy texture.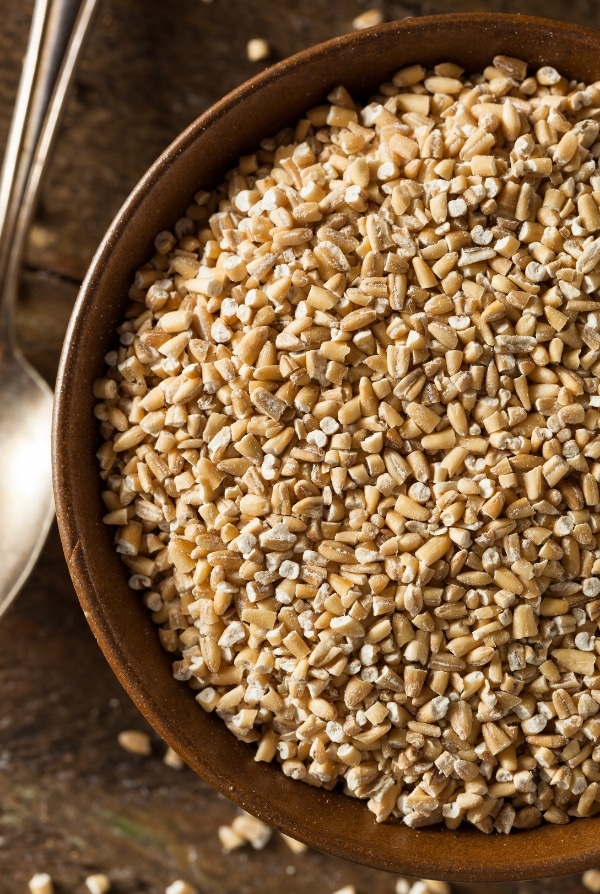 Steel Cut Oats vs. Oatmeal
If you have had steel cut oats, you'll know they are nothing like oatmeal.
They feel to have more substance thanks to their texture when prepared.
This steel cut oats recipe is no exception.
Full of those sweet, familiar winter flavors, it comes out of the Instant Pot soft and ready to be eaten.
What are the Ingredients in this Instant Pot Gingerbread Steel Cut Oats recipe?
The majority of the ingredients in this steel cut oats recipe are the spices creating the delicious gingerbread flavor:
Unsalted Butter
Ground Cloves
Allspice
Ground Ginger
Ground Cinnamon
Kosher Salt
Dark Brown Sugar
Molasses
Steel Cut Oats gluten-free or regular steel cut oats may be used
Water
prepared Eggnog

Making Instant Pot Steel Cut Oats
Cooking steel cut oats in the Instant Pot is a great choice! Why?
It's easy
Requires no monitoring
Infuses flavor wonderfully into the oats
Cooks the steel cut oats perfectly
Retains more nutrition in the ingredients (the beauty of pressure cooking)
How Long Does it Take to make this Instant Pot Steel Cut Oats recipe?
It takes about 30 minutes for the Instant Pot Gingerbread Steel Cut Oats recipe to be done; which includes the time for the Instant Pot to come to pressure.
I love drizzling the prepared eggnog on top for a favorite holiday flavor combo!!
Gluten-Free Steel Cut Oats
It was a happy, happy day for me when steel-cut oats became available in a gluten-free version.
Though oats do not have gluten in them, they are subject to cross-contamination in processing (and can produce cross-reactivity in some gluten-intolerant people).
So those on a medical gluten-free dietary program, like me, must eat only gluten-free oats.
After I became gluten-free over a decade ago it took some time for regular rolled oats to become available for hot cereal. Steel cut oats are even more recent, and a thrilling option for me.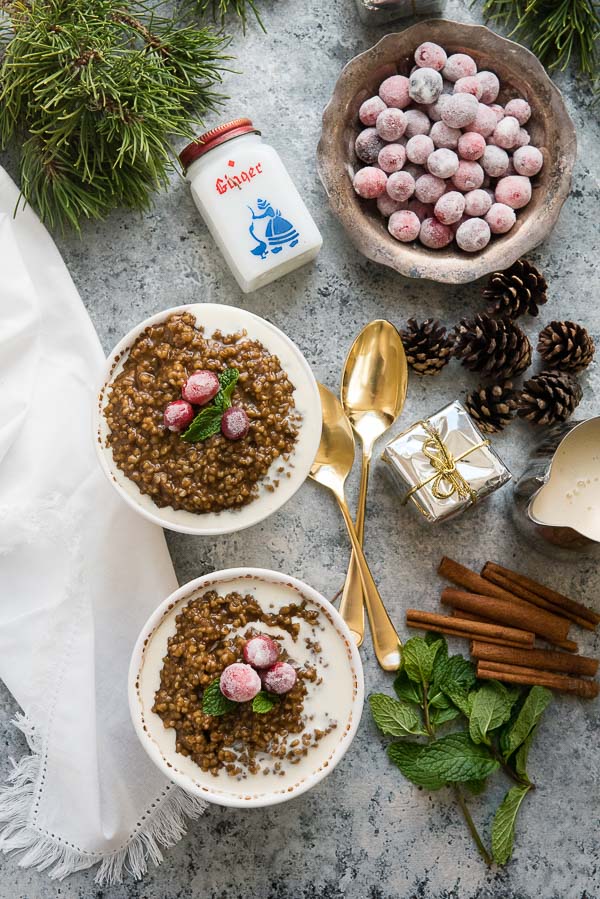 If you don't have an Instant Pot, I suggest making Pear-Ginger Oatmeal with Candied Maple Pecans!
Mind-Blowing Instant Pot Tips You Need to Know!
After developing Instant Pot recipes for the past few years, I've uncovered some unexpected, useful tips I think you'll want to know!
Sign-Up below and I'll tell you all my Instant Pot secrets!
If you've made this Instant Pot Gingerbread Steel Cut Oats recipe please RATE THE RECIPE below!
SUBSCRIBE and FOLLOW ME on FACEBOOK , TWITTER , INSTAGRAM and PINTEREST !
How to make this Instant Pot Gingerbread Steel Cut Oats recipe: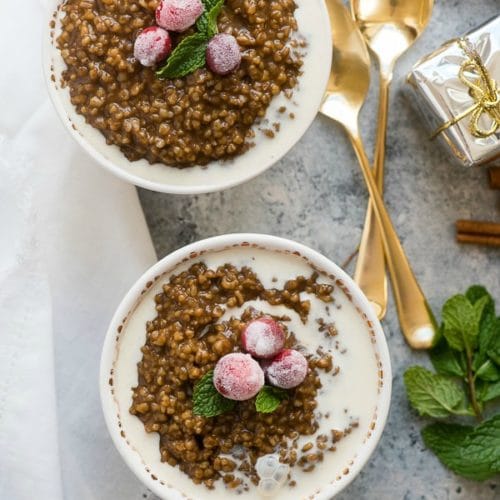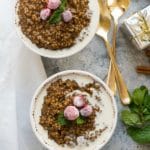 Instant Pot Gingerbread Steel Cut Oats
Spice up your regular oatmeal with gingerbread-flavored steel cut oats prepared in the Instant Pot.
NOTE: Recipe developed in a 6-quart Instant Pot.
Servings
4
3/4 cup servings
Ingredients
1 1/2

tablespoon

Unsalted Butter

1/8

teaspoon

Ground Cloves

1/8

teaspoon

Allspice

1/4

teaspoon

Ground Ginger

1/2

teaspoon

Ground Cinnamon

1/4

teaspoon

Kosher Salt

3

tablespoons

Dark Brown Sugar

1

tablespoon

Molasses

1

cup

Steel Cut Oats

gluten-free or regluar steel cut oats may be used

3

cups

Water

1/2

cup

prepared Egg Nog

for topping the oats
Instructions
Turn Instant Pot to Saute and add the butter to the insert. Allow the butter to melt in the insert then add all of the spices, brown sugar and molasses; stir to completely combine.

Add the steel-cut oats and water and stir to combine. Lock the lid in place, ensuring the vent is sealed. Select the Porridge setting, High Pressure and 12 minutes.

When the cooking is completely allow 10 minutes of natural release. Follow with a manual relase of the remaining pressue. Remove the lid and stir the oats (there will be a layer of liquid on the top) and allow to sit on the Warm seting for 1-2 minutes before serving. Top with eggnog and any other favorite toppings.
Recipe Notes
The cooking time is 12 minutes with a 10 minute natural release.
The time for the Instant Pot to come to pressure may vary but 10 minutes would be an estimated time.
This recipe prepared in a 6-quart Instant Pot.
Nutrition Facts
Instant Pot Gingerbread Steel Cut Oats
Amount Per Serving
Calories 270
Calories from Fat 72
% Daily Value*
Fat 8g12%
Cholesterol 30mg10%
Sodium 177mg7%
Potassium 137mg4%
Carbohydrates 41g14%
Protein 7g14%
Vitamin A 195IU4%
Vitamin C 0.5mg1%
Calcium 85mg9%
Iron 2mg11%
* Percent Daily Values are based on a 2000 calorie diet.
Originally published November 28, 2017