Chicken and Biscuits is a classic comfort food dish. Hearty chicken stew underneath with flaky biscuits cooked on top. This recipe has some delicious shortcuts you'll love!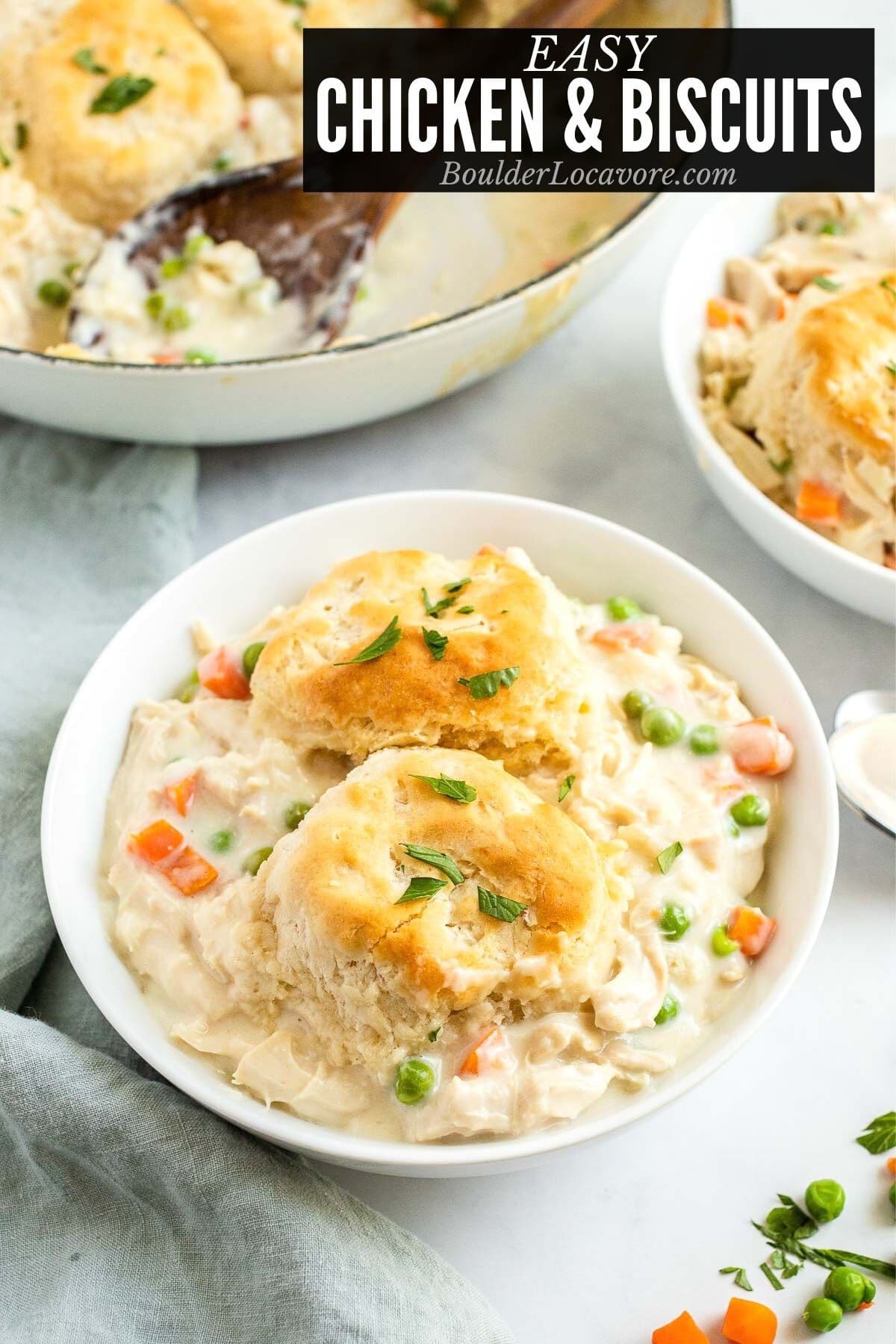 This is 'Sunday dinner' food but easy enough to make any night of the week.
The bottoms of the biscuits are reminiscent of dumplings so it's a little like chicken and dumplings too, the best of both!
Lazy Girl's Pot Pie recipe
When you take a bite of this Chicken and Biscuits recipe you'll be tasting chicken pot pie. Just a lazy girl's version.
There's no crust to deal with but the biscuits that cook in the chicken stew mixture imitate the flavor combination.
It's a hearty satisfying main dish recipe without much effort.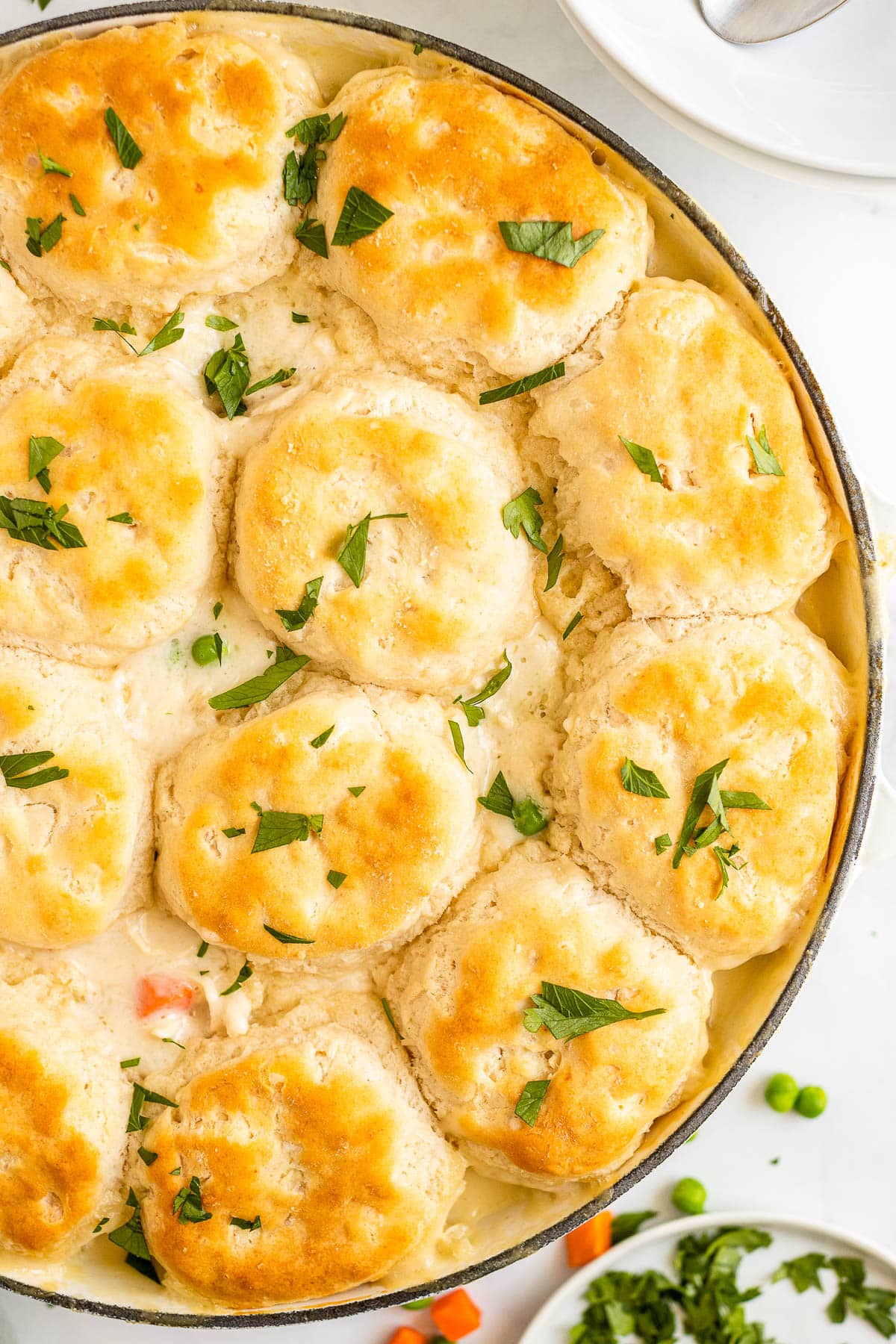 Easy Chicken and Biscuits recipe
This recipe streamlines the recipe ingredients to make a delicious comfort food recipe as easily as possible.
Using prepared frozen biscuits and a frozen vegetable mix cuts down on the work but still delivers delicious results!
The recipe is very flexible too. We've given multiple options for the biscuits and the chicken. So you can spend as much or as little time as you like.
This recipe can be easily be made gluten-free. Choose a gluten-free biscuit option and the rest is naturally gluten-free.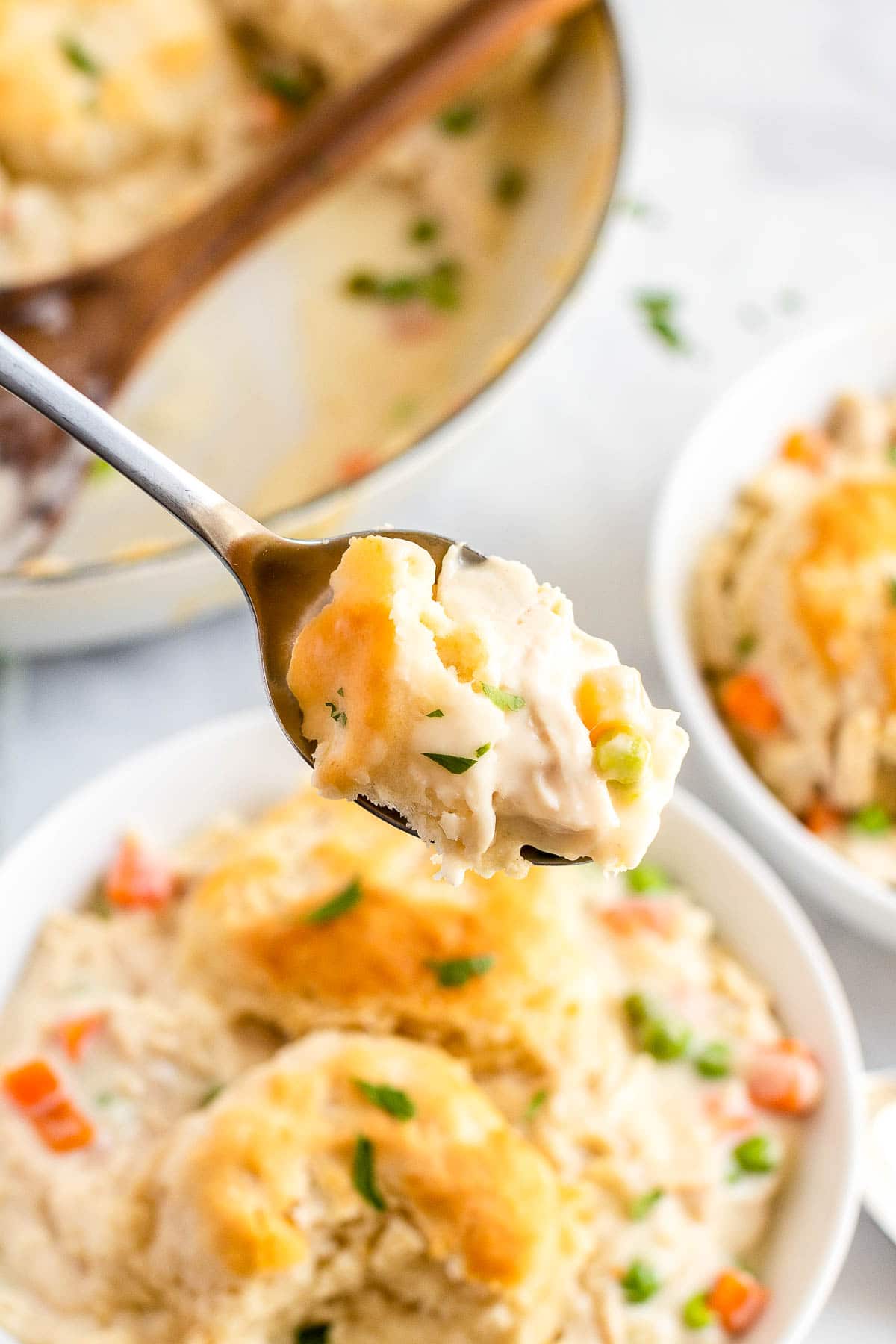 Recipe Ingredients + Notes
Unsalted Butter – the butter and flour combine to make a 'roux' (pronounced 'roo') which will thicken the base of the stew.
All Purpose Flour – either regular All Purpose flour or gluten-free measure-for-measure flour blend can be used. My recommended gluten-free flour is Bob's Red Mill Gluten-Free 1-to-1 Flour Blend.
Chicken Stock – Use low sodium chicken stock (or chicken broth) to make the broth of the stew. You will salt and pepper to taste before it cooks in the oven.
Cream or Half and Half – a 1/4 cup of either heavy cream or Half and Half gives the broth of the chicken stew a rich flavor without being too much!
Chicken – this recipe uses shredded chicken. I've used chicken breast meat but a mix of shredded thigh meat could also be added. There are multiple options for the shredded chicken below.
Peas and Carrots – this is an easy frozen vegetable mix. No need to thaw before using. Just add it to the stew.
A traditional mix of frozen vegetables that includes corn and green beans along with peas and carrots could also be used.
Frozen Biscuits – This shortcut saves time and gives delicious results. BUT there are multiple options for the biscuits below.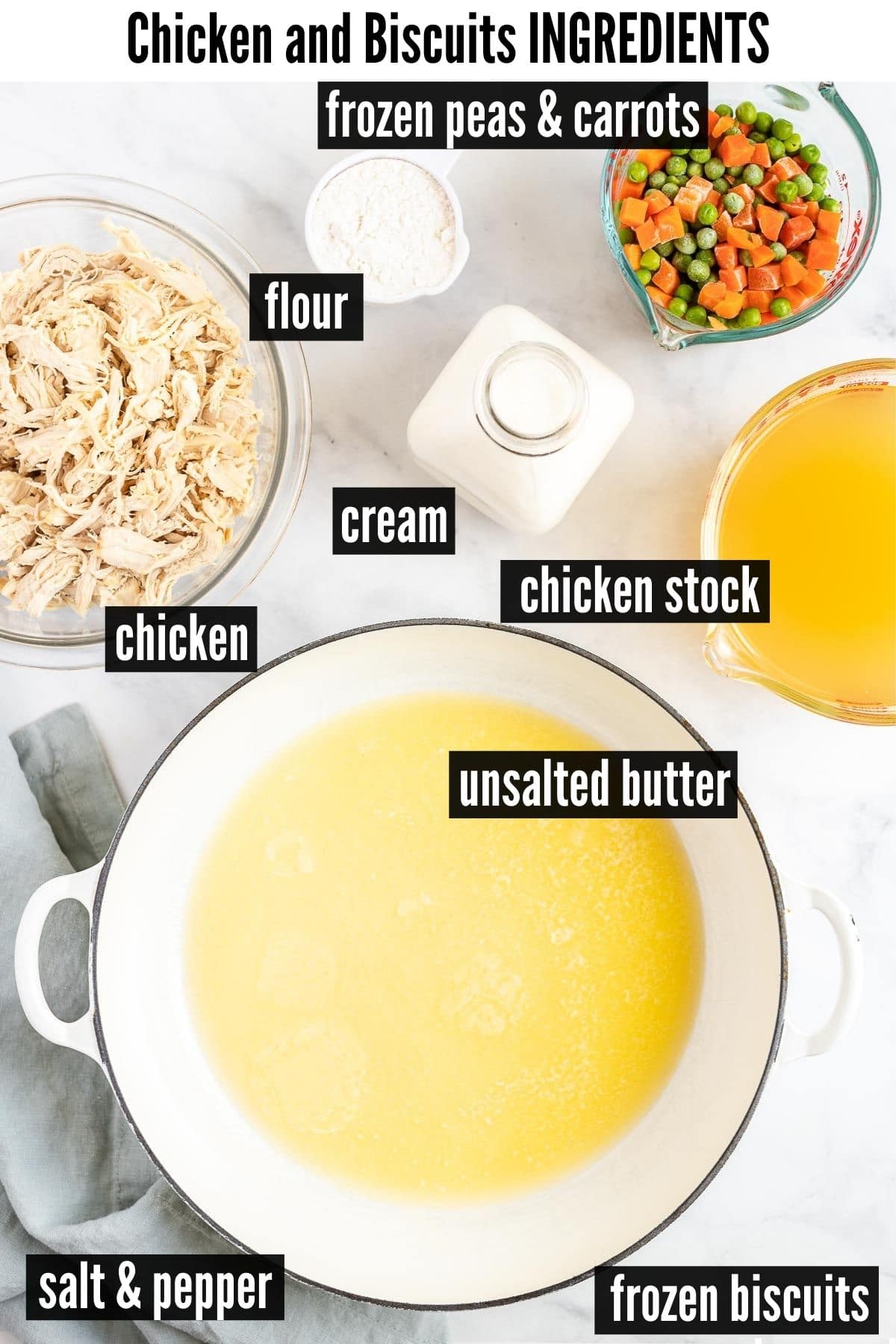 Shredded Chicken Options
Homemade. My favorite recipe is this shredded chicken recipe. It's truly the most delicious shredded chicken you'll ever make, seriously. It has a great time-saving shredding trick you'll love too.
Rotisserie Chicken. Buy a rotisserie chicken and shredded it (I suggest the method used in the recipe above).
Frozen shredded chicken. You can buy a large bag of frozen chicken breast meat. Thaw it by the package instructions before adding the the recipe.
Biscuit Variations + Substitutions
If you would rather not use prepared frozen biscuits there are other great options:
Use prepared biscuits that are not frozen. Prepared biscuits come frozen or refrigerated. You can substitute the refrigerated biscuits and it will also reduce the cooking time.
Use a biscuit mix. Mixes like Bisquick (regular or gluten-free) or dedicated biscuit mix (regular or gluten-free) can be made easily and used in this recipe. Use the 'biscuit rule' below to figure out the cooking time.
From scratch biscuits. If you have a favorite from scratch recipe you can use that too. We love this with my Homemade Red Lobster Cheddar Bay Biscuits! They have cheddar cheese and garlic powder that add some great flavor to the recipe.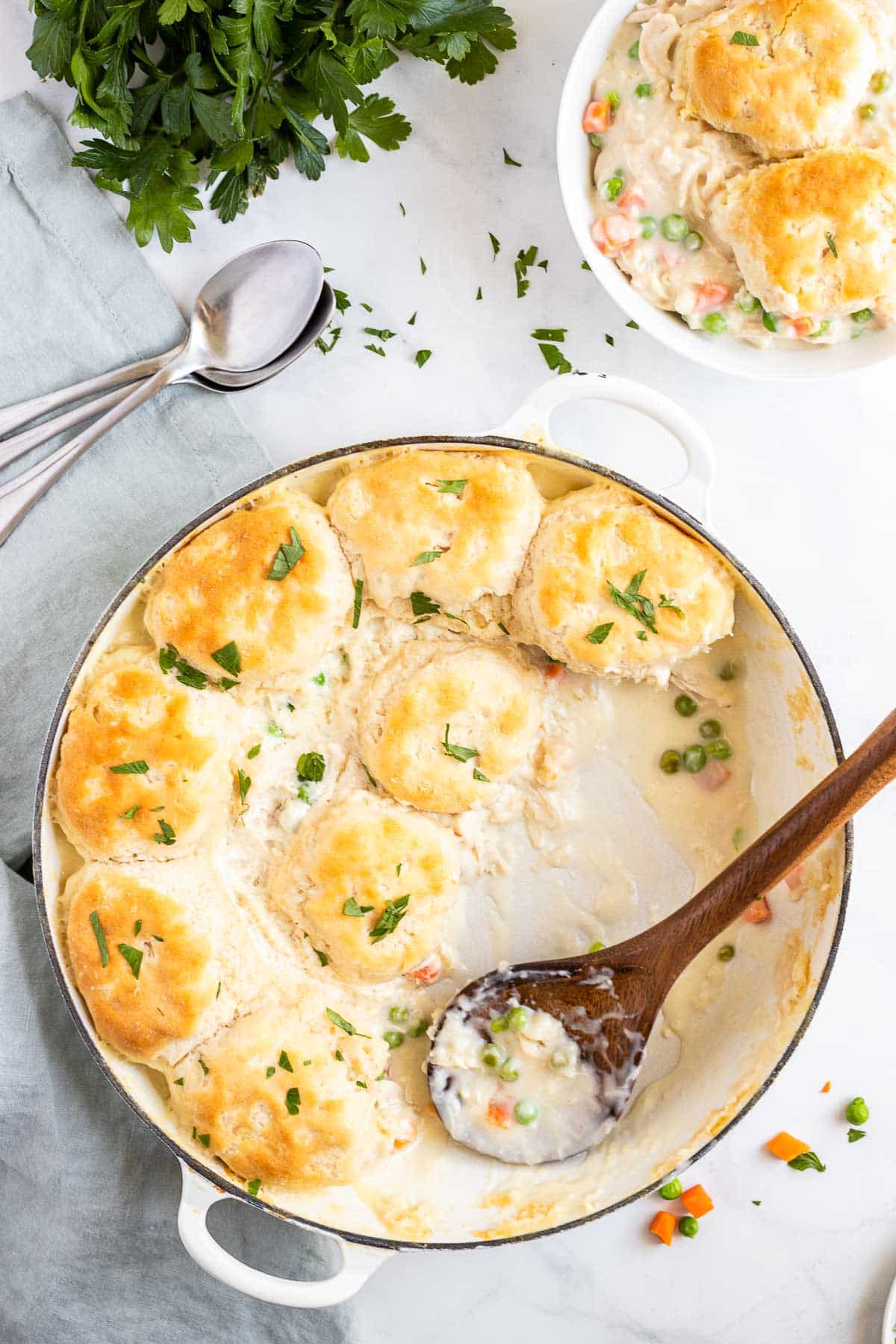 Cooking Time Rule if substituting biscuit type
The stew needs to cook 20 minutes before the biscuits are added (if not making the recipe with frozen biscuits).
Add on the cooking time on the biscuit mix or for the recipe you are using.
Add the biscuits to the stew after it has cooked for 20 minutes. Continue cooking for the time indicated for the biscuits.
Cook until the biscuits are cooked through and golden on the outside.
How to Make it – Step-by-Step
STEP 1: Preheat the oven to 375 degrees.
STEP 2: In an oven proof skillet or Dutch oven melt the butter over medium heat (photo 1). Add the flour and stir or whisk constantly for 1 minute (photos 2-3).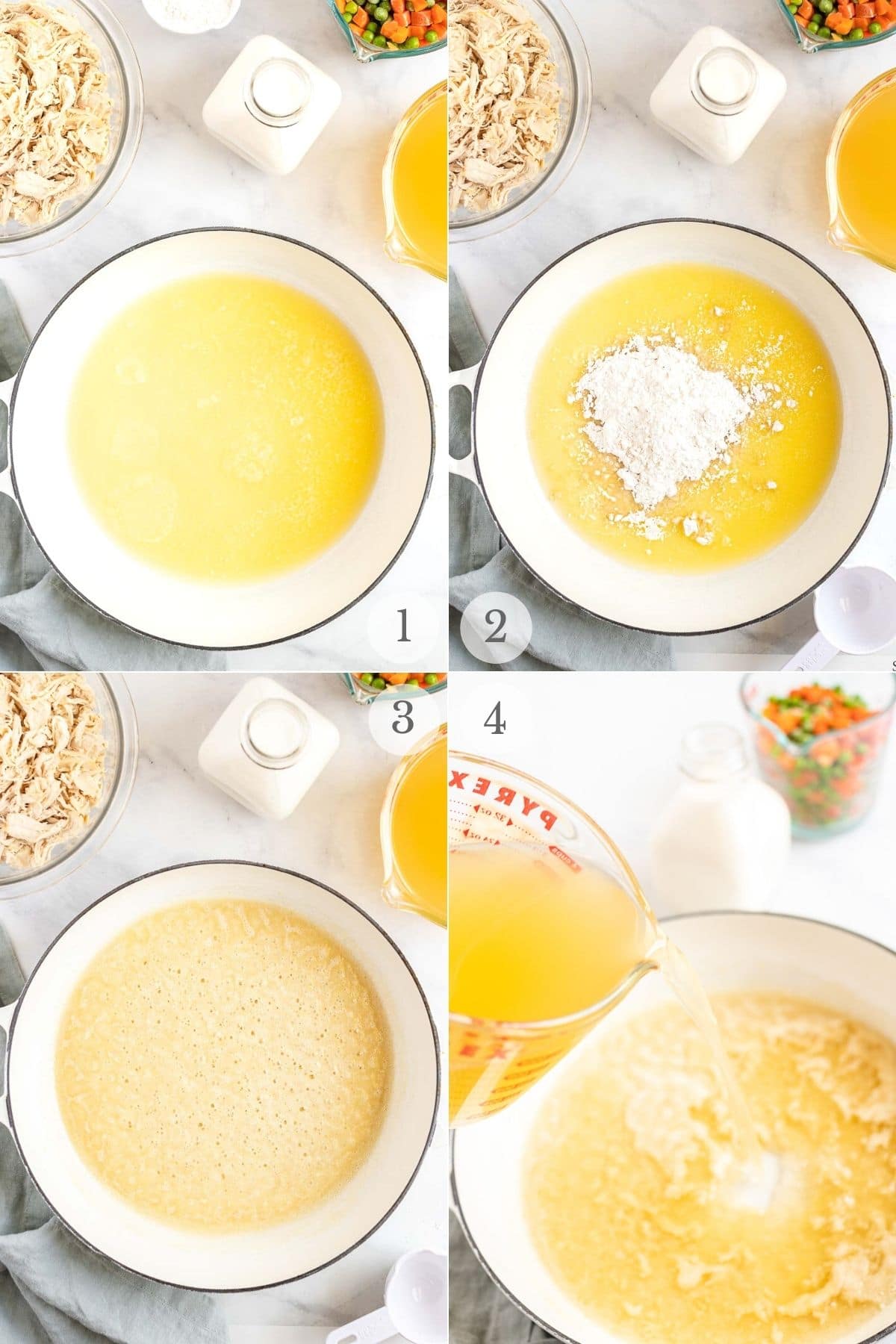 STEP 3: Add the chicken stock, 1 cup at a time, stirring to fully integrate the liquid before adding more stock (photo 4). Then the stock has mixed in, add another cup of the stock.
Repeat until all the stock has been added and is mixed in.
STEP 4: Stir in the cream. Stir until small bubbles begin to appear (just a few minutes) and remove from heat.
STEP 5: Stir in the vegetables and chicken until fully combined (photos 5-7).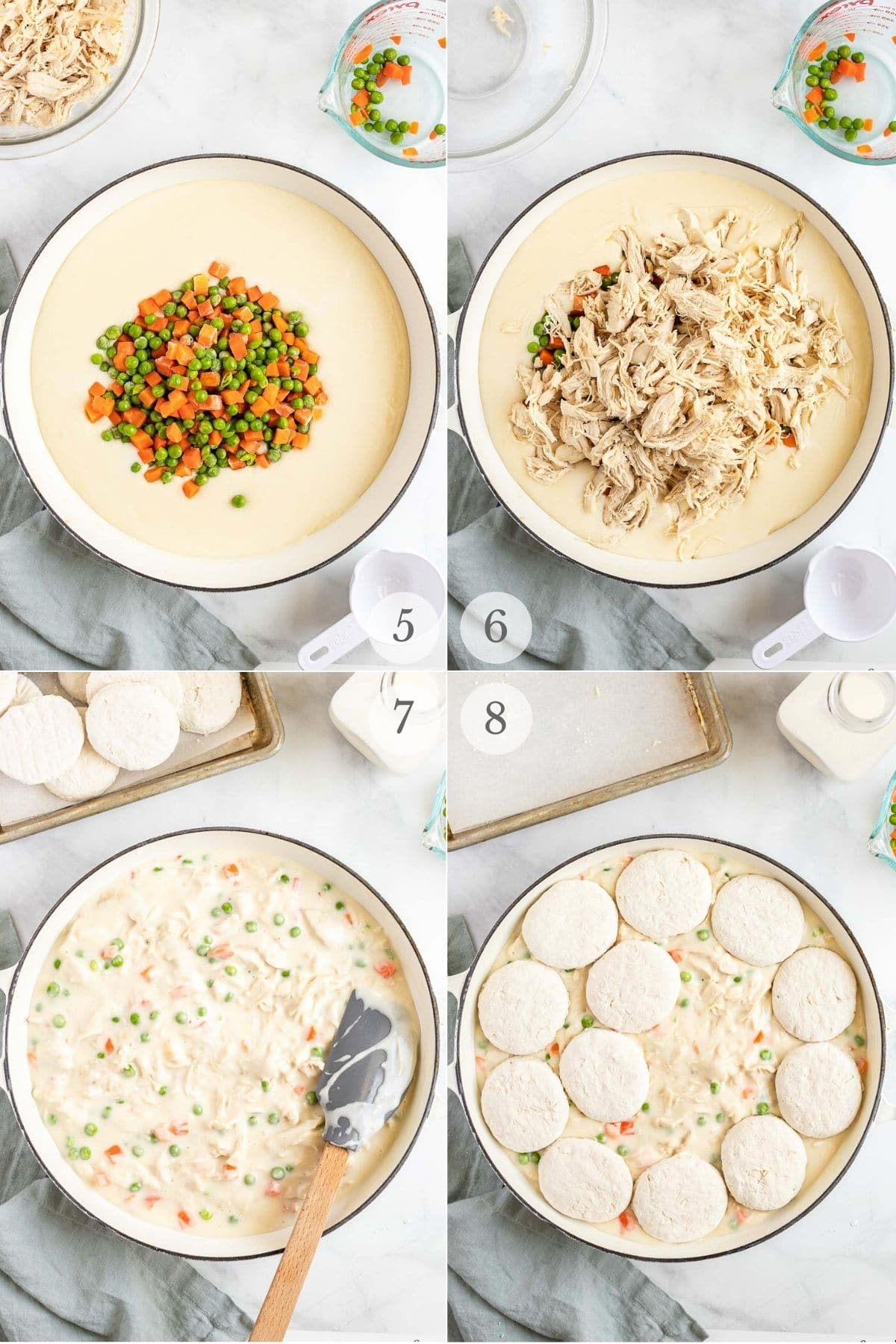 STEP 6: Place the biscuits on top snugly together (photos 8-9).
NOTE if using a different biscuit option: if using refrigerated or homemade biscuits skip this step. The biscuit mix will be added after the chicken mixture has cooked for 20 minutes.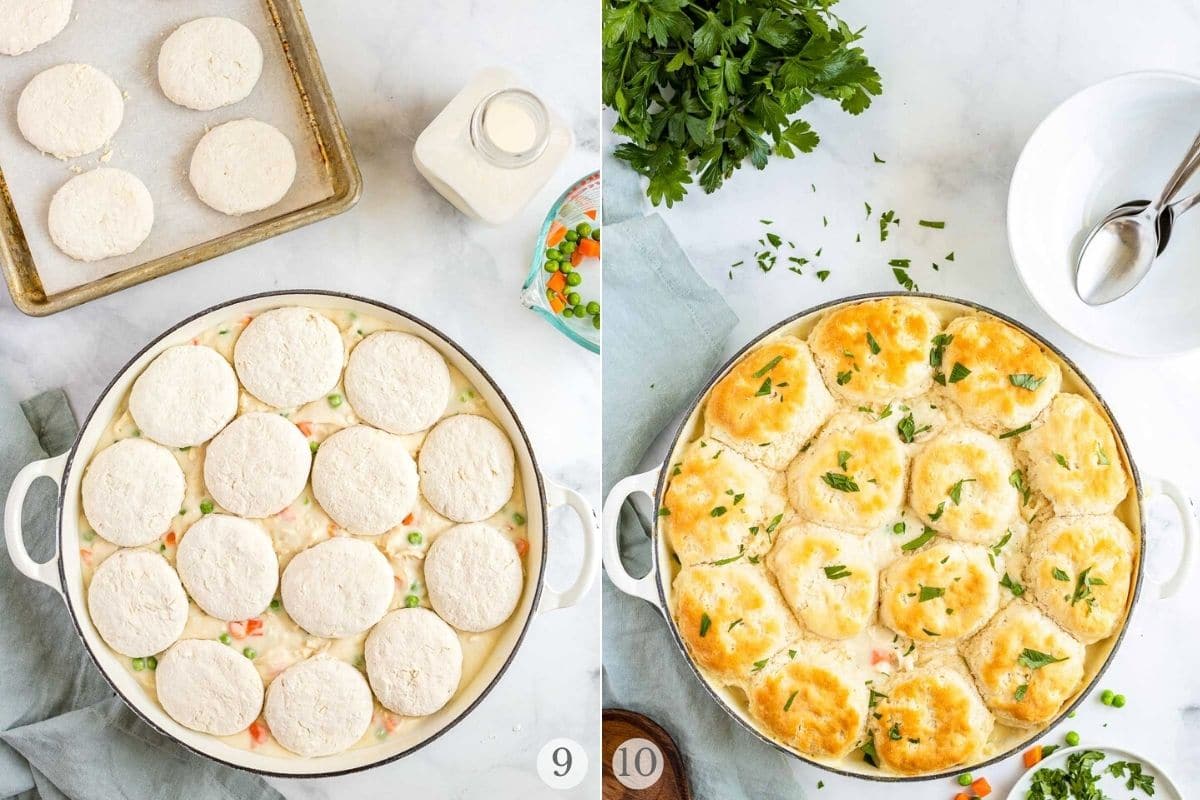 STEP 7: Cook in the oven for 35-40 minutes or until the biscuits are cooked through and golden on top (photo 10).
If using an alternative biscuit
Allow the chicken mixture to cook for 20 minutes.
Remove from the oven and drop the biscuits close to each other on top of the mixture.
Place back in the oven and cook for the length suggested on the mix or recipe being used.
Cook until the biscuits are cooked through and golden in color.
Also homemade biscuits can be round and flat.
OR use a large cookie scoop to scoop the biscuit dough onto the chicken mixture for a more rustic (and easy) presentation.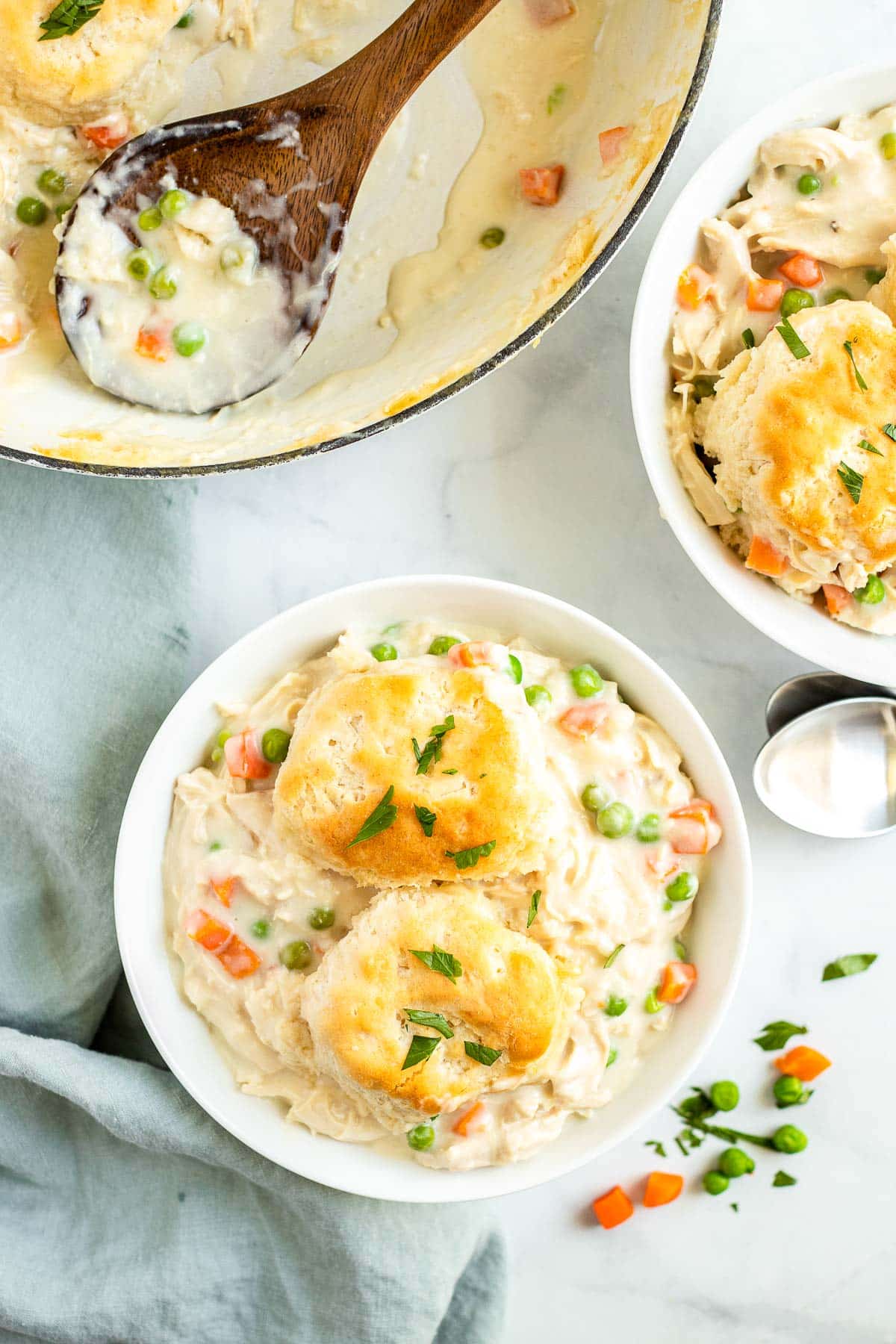 How to Make it Ahead
Make the chicken mixture and refrigerate is (no biscuits).
When ready to cook it, cook the chicken without the biscuits for 20 minutes then add the biscuits and cook for 30-40 minutes.
NOTE: if using a substitute biscuit adjust the time after the first 20 minutes accordingly.
Pro Tips
If you do not have an oven proof skillet or Dutch oven, you could make the stew in a soup pot and transfer to a 9-inch by 13-inch baking pan and top with biscuits.
If the skillet is very full place a rimmed baking sheet underneath to catch any spills while it cooks in the oven.
Storing Leftovers
Store any leftovers in an airtight container for up to 3 days.
Try to keep the biscuits on top so they stay dry.
Reheat in the microwave to warm through.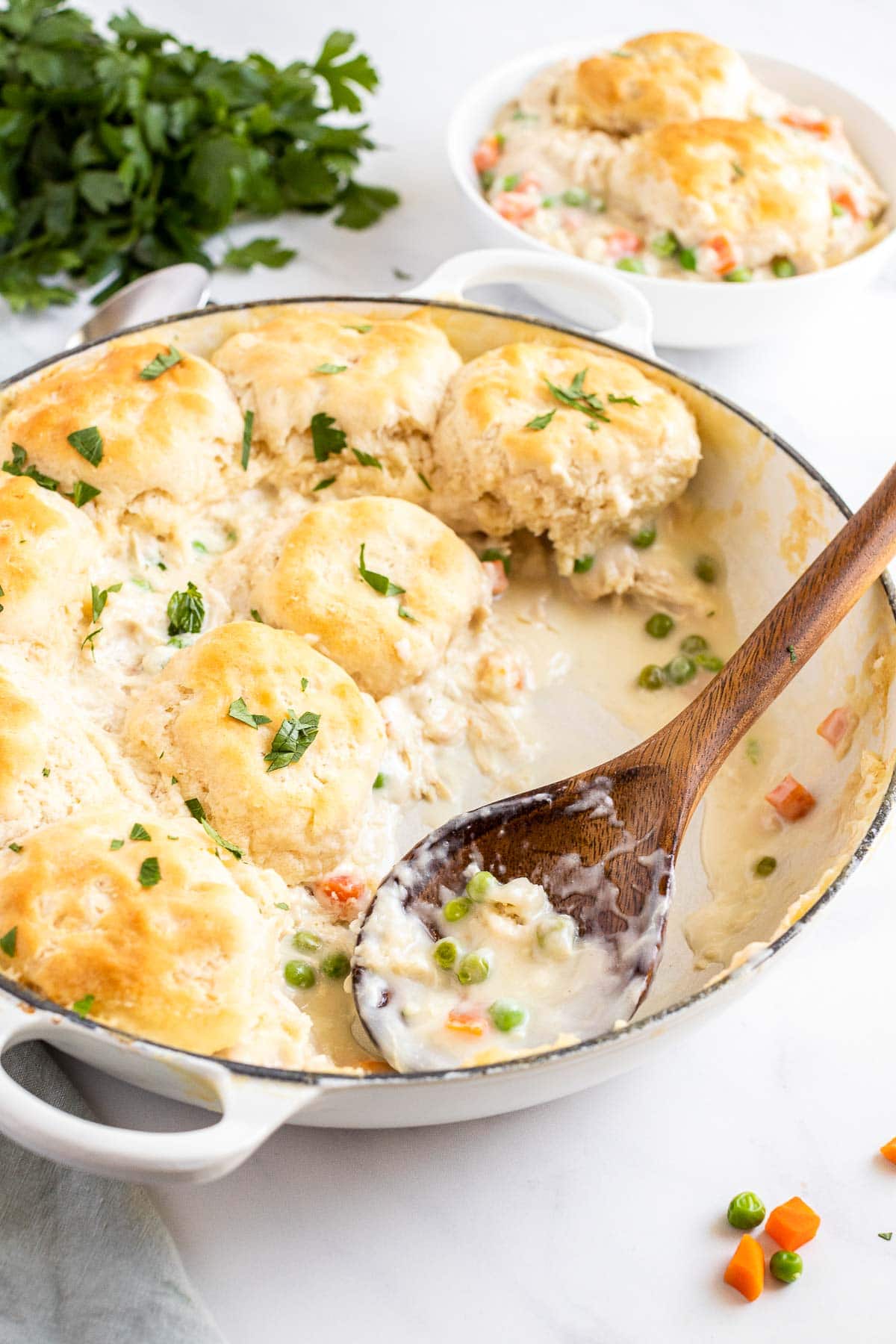 More Recipes You'll Love!
Did you make it? Please RATE THE RECIPE below!
Please SUBSCRIBE and FOLLOW ME on FACEBOOK , TWITTER , INSTAGRAM and PINTEREST !