This delicious soul-warming fall recipe for Southwestern Short Ribs and Harvest Succotash was cooked in 35 minutes in a pressure cooker! Have you cooked in a pressure cooker? The recipe and the scoop on my experience.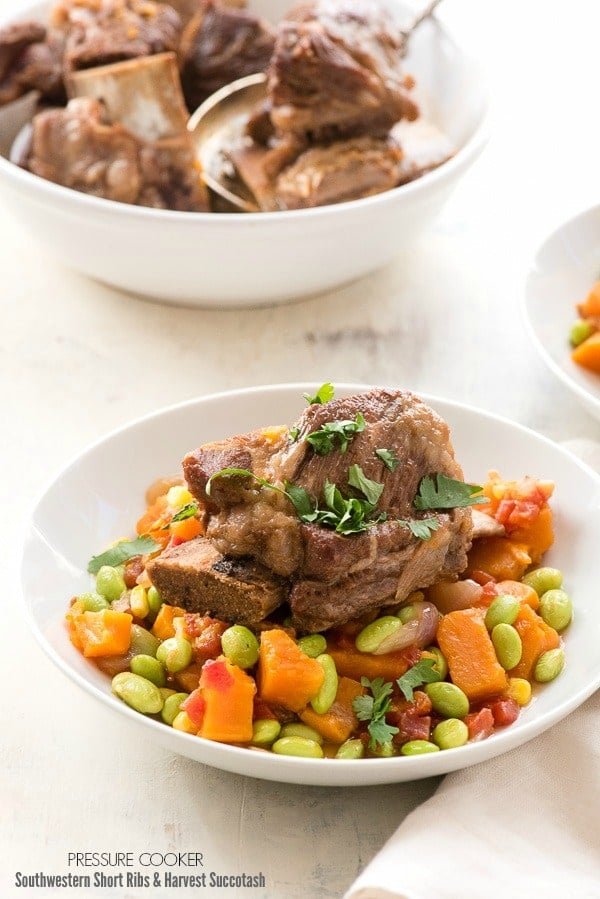 I have been curious for some time about cooking with pressure cookers. I grew up with my mother using one, though I don't recall what she cooked in it. My memories are more around the screaming steam and the rocking triangular piece flying off the cooker and hitting the ceiling. They always have sort of frightened me.
Pressure cookers are back in vogue. For a similar appeal of slow cookers taking away the need to tend to food while it's cooking, pressure cookers expedite the task of cooking by cooking with steam under pressure.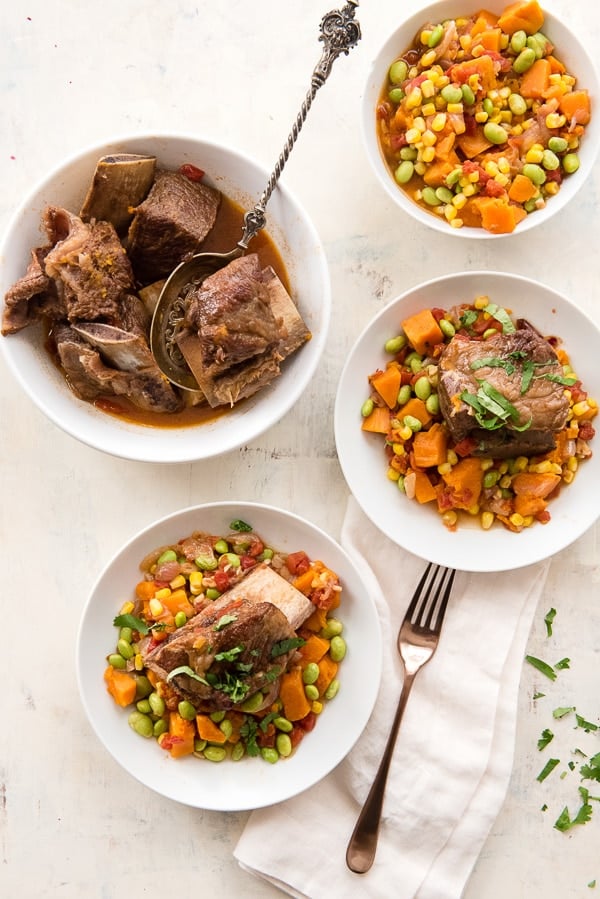 I've been playing with a new pressure cooker from Lagostina that is designed to preserve vitamins and nutrients when cooking (it has both a steaming mode and simmering/boiling mode) which pressure cookers will do being sealed for the entire cooking process. I found the cooker very easy to use and was relieved to find the wobbling metal piece that sits on the steam vent is not part of modern design!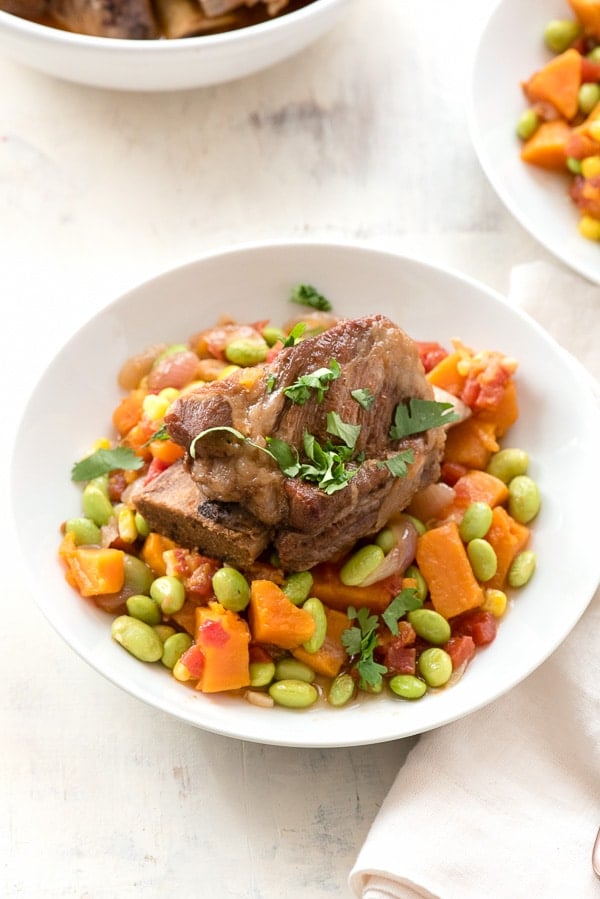 My husband has cooked with pressure cookers and extols their virtues especially with certain cuts of meat or roasts; the types you'd normally braise for instance. Pressure cooking is like braising on steroids; if forces moisture into the food.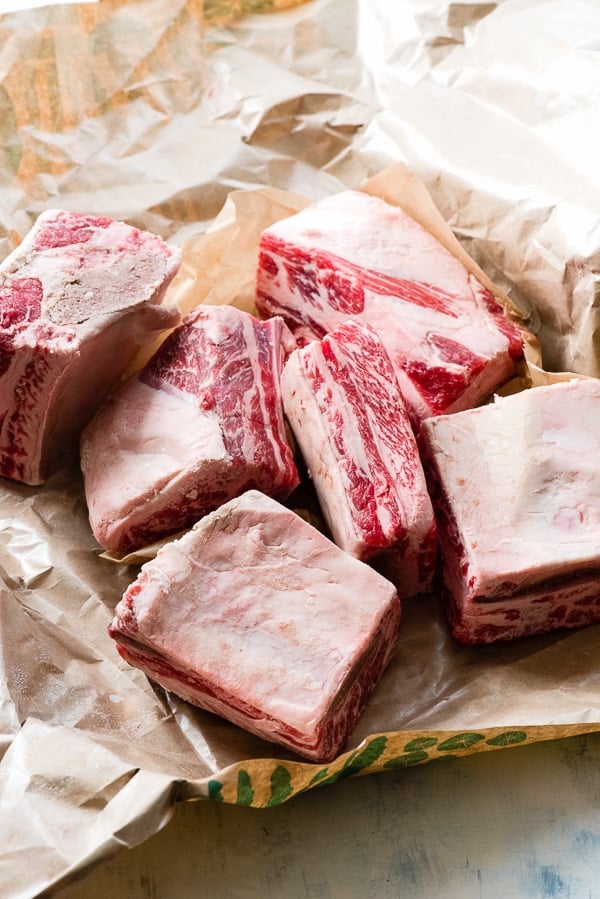 For this recipe I prepared beef short ribs with southwestern seasonings with a harvest succotash. It's a super easy recipe starting with browning the ribs in the base of the pressure cooker, adding the aromatics, liquid and vegetables, finally cooking under pressure for 35 minutes. Dinner is on the table within and hour and most of that time you can be reading a magazine or window shopping on Pinterest.
The short ribs were tender and perfectly cooked. I love the succotash for the color as much as the flavor. I mixed in corn and edamame at the end not wanting them to be mushy from extended cooking though they'd probably be fine if added into the pressure cooker as well. Also I love cooking dried beans which cook far faster in the pressure cooker.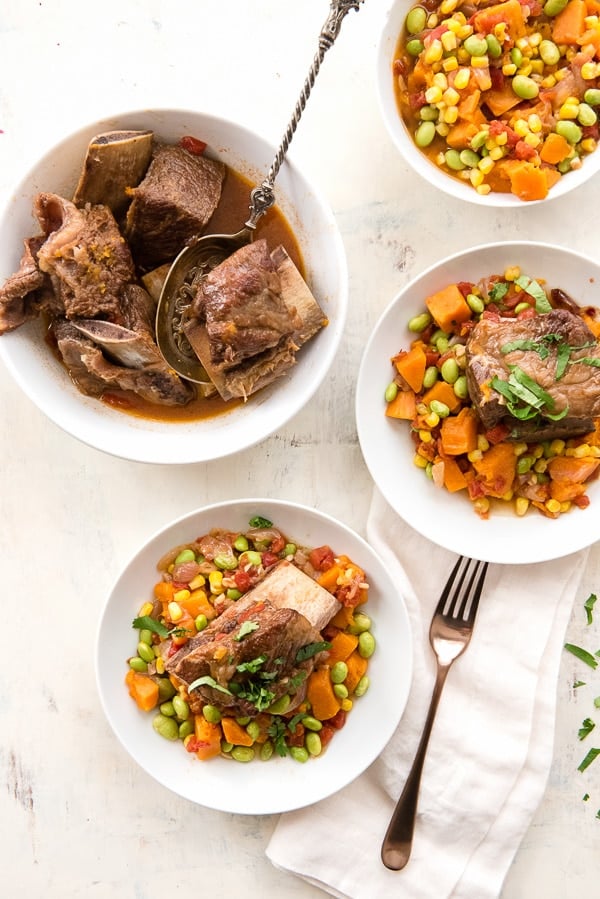 I really love the Lagostina Domina Vitamin Pressure Cooker which is beautiful with a mirror finish and simple to operate. The handle, which locks the lid into place, may be used one-handed. The instructions are easy to understand as are the settings, noted by simple icons. As I mentioned it has two modes, one for quick steaming and one for longer cooking. It comes both with a steamer basket and a special measuring cup to ensure the proper amount of liquid depending on how long you plan to steam cook. I'm very excited to continue experimenting based on how quick and delicious this recipe was to make!
EQUIPMENT/WHERE-TO-BUY:   Do you use a fat separator? They are great for making gravy or in this case if straining or reducing the cooking juices due to the fat in the meat. Pouring the juices into the separator, allowing the fat to rise and pouring it off is an easy way to remove it from the sauce.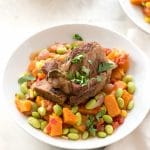 Pressure Cooker Southwestern Short Ribs with Harvest Succotash
These tender short ribs with colorful succotash will dazzle at the dinner table!
Ingredients
2

teaspoons

Olive Oil

1

teaspoon

Kosher Salt

½

teaspoon

freshly Ground Black Pepper

6 2-3

inch

Beef Short Ribs

(approximately 3 pounds), fat trimmed

1

cup

chopped Red Onion

4

medium Garlic Cloves

, peeled and diced

1

cup

low-sodium Beef Stock

1

cup

Pale Ale

(gluten-free or regular; I used New Belgium's Glutiny gluten-free Pale Ale)

1 1-

pound

Yam or Sweet Potato

, peeled and cut into ¾-inch cubes

1 14.5-

ounce

can Petite Diced Tomatoes

2

teaspoons

ground Cumin

1

teaspoon

Ancho Chile Powder

½

teaspoon

ground Coriander

1

cup

frozen Corn Kernels

, thawed

1

cup

frozen shelled Edamame

, thawed and microwaved per package instructions
Instructions
Heat the pressure cooker (no lid) over medium-high heat and add the oil. Sprinkle the salt and pepper onto the ribs. In batches, brown the ribs on each side (30-60 seconds a side average) and place aside on a plate. Drain all fat retaining 1 tablespoon in the pressure cooker.

Add the onions and garlic. Sauté for 2 minutes.

Pour the beef stock and beer into the pressure cooker and using a spatula deglaze the bottom of the pan lifting any bits from the cooking.

Add the sweet potato, tomatoes, cumin, chile powder and coriander to the pressure cooker and stir to combine. Add the beef ribs back into the pressure cooker and secure the lid on the pressure cooker. Cook on high pressure per manufacturer's instructions for 35 minutes. Note: for the Lagostina Domina Vitamin Pressure Cooker, cook on the meat/poultry setting.

After 35 minutes, allow pressure to release. Note: for the Lagostina Domina Vitamin Pressure Cooker set to the steam release setting. Once the pressure has equalized, remove the lid and using a slotted spoon remove the beef ribs and the succotash, placing them in separate vessels for serving.

The sauce: the remaining pan liquids may be used as is on top the ribs when served or may be reduced by cooking over medium-high heat until the liquid has reduced by 2/3's.

To serve: Serve 1-2 ribs on a bed of succotash with a drizzle of the pan sauce.
Nutrition Facts
Pressure Cooker Southwestern Short Ribs with Harvest Succotash
Amount Per Serving
Calories 252
Calories from Fat 27
% Daily Value*
Fat 3g5%
Cholesterol 1mg0%
Sodium 718mg30%
Potassium 959mg27%
Carbohydrates 46g15%
Protein 8g16%
Vitamin A 21655IU433%
Vitamin C 15mg18%
Calcium 103mg10%
Iron 3.1mg17%
* Percent Daily Values are based on a 2000 calorie diet.