This delicious soul-warming fall recipe for Southwestern Short Ribs and Harvest Succotash was cooked in 35 minutes in a pressure cooker! Have you cooked in a pressure cooker? The recipe and the scoop on my experience.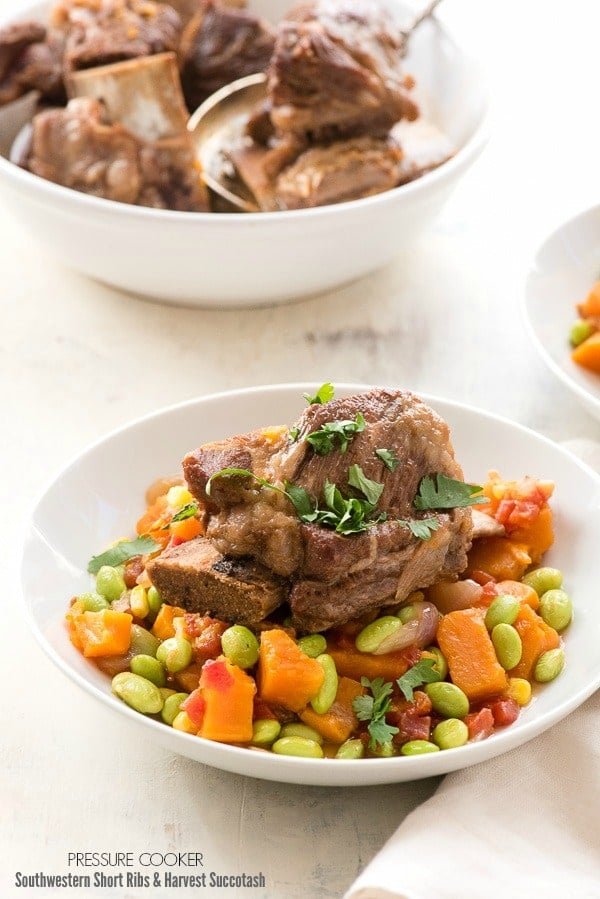 I have been curious for some time about cooking with pressure cookers. I grew up with my mother using one, though I don't recall what she cooked in it. My memories are more around the screaming steam and the rocking triangular piece flying off the cooker and hitting the ceiling. They always have sort of frightened me.
Pressure cookers are back in vogue. For a similar appeal of slow cookers taking away the need to tend to food while it's cooking, pressure cookers expedite the task of cooking by cooking with steam under pressure.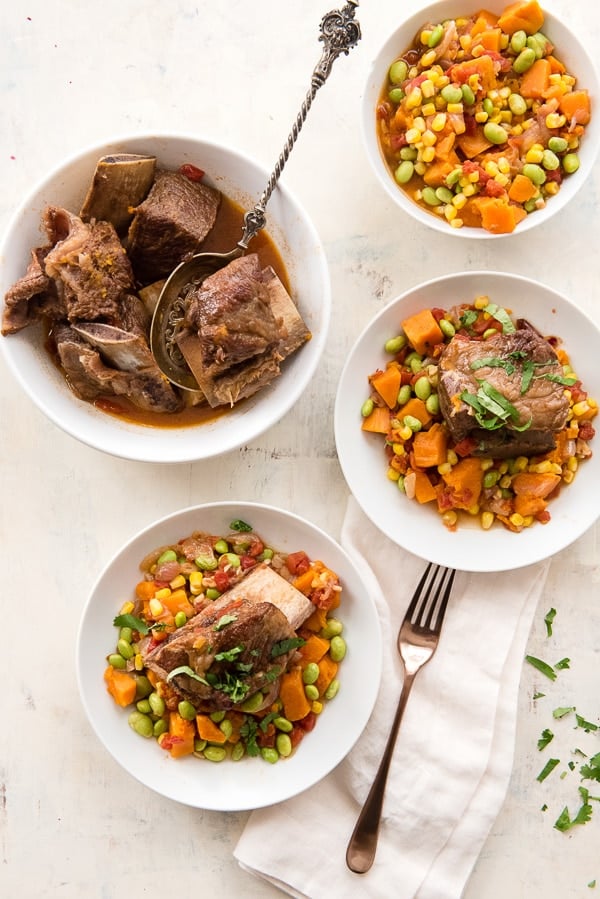 I've been playing with a new pressure cooker from Lagostina that is designed to preserve vitamins and nutrients when cooking (it has both a steaming mode and simmering/boiling mode) which pressure cookers will do being sealed for the entire cooking process. I found the cooker very easy to use and was relieved to find the wobbling metal piece that sits on the steam vent is not part of modern design!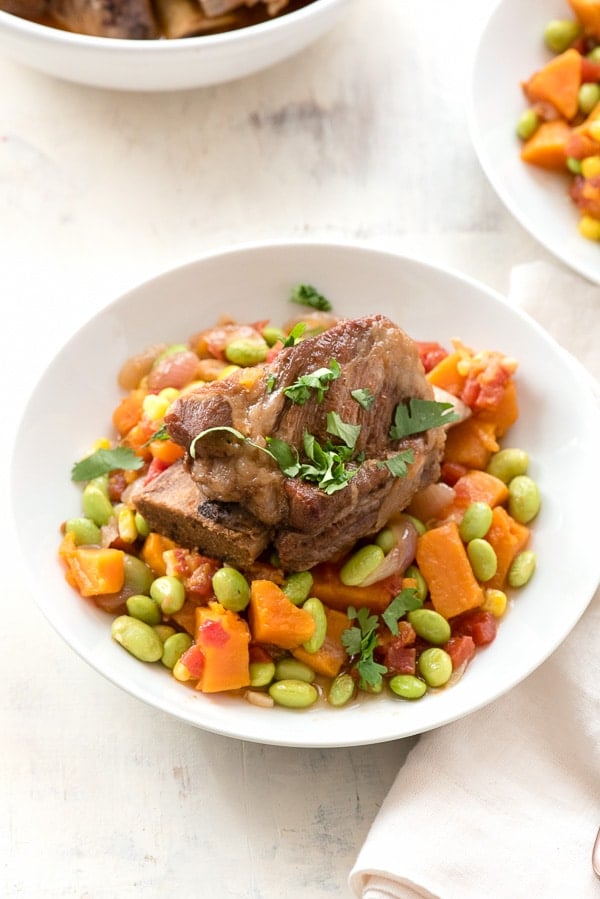 My husband has cooked with pressure cookers and extols their virtues especially with certain cuts of meat or roasts; the types you'd normally braise for instance. Pressure cooking is like braising on steroids; if forces moisture into the food.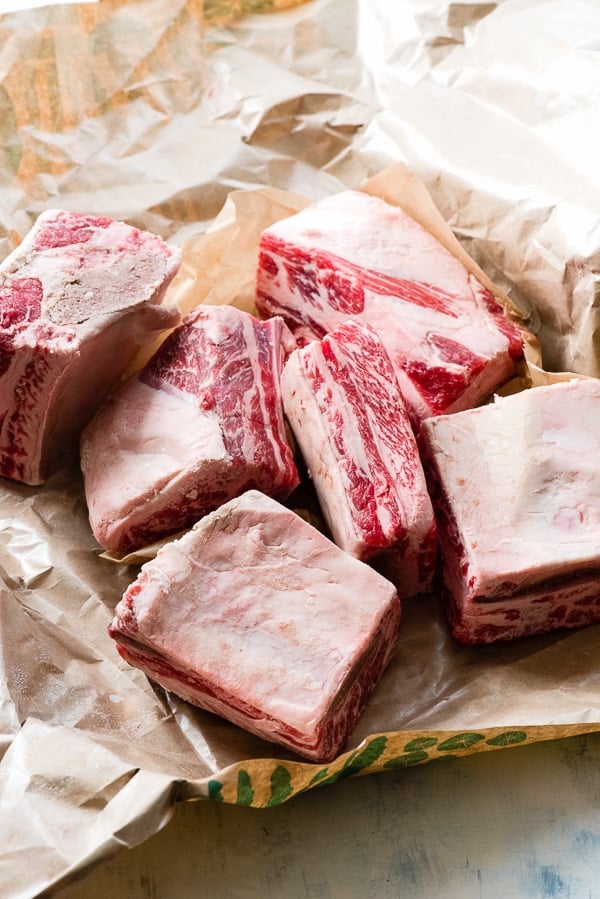 For this recipe I prepared beef short ribs with southwestern seasonings with a harvest succotash. It's a super easy recipe starting with browning the ribs in the base of the pressure cooker, adding the aromatics, liquid and vegetables, finally cooking under pressure for 35 minutes. Dinner is on the table within and hour and most of that time you can be reading a magazine or window shopping on Pinterest.
The short ribs were tender and perfectly cooked. I love the succotash for the color as much as the flavor. I mixed in corn and edamame at the end not wanting them to be mushy from extended cooking though they'd probably be fine if added into the pressure cooker as well. Also I love cooking dried beans which cook far faster in the pressure cooker.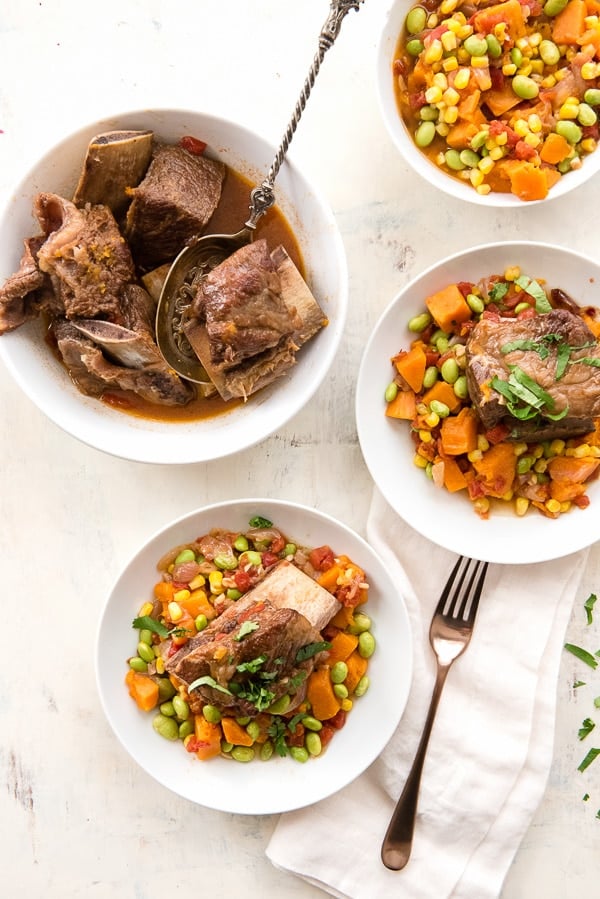 I really love the Lagostina Domina Vitamin Pressure Cooker which is beautiful with a mirror finish and simple to operate. The handle, which locks the lid into place, may be used one-handed. The instructions are easy to understand as are the settings, noted by simple icons. As I mentioned it has two modes, one for quick steaming and one for longer cooking. It comes both with a steamer basket and a special measuring cup to ensure the proper amount of liquid depending on how long you plan to steam cook. I'm very excited to continue experimenting based on how quick and delicious this recipe was to make!
EQUIPMENT/WHERE-TO-BUY:   Do you use a fat separator? They are great for making gravy or in this case if straining or reducing the cooking juices due to the fat in the meat. Pouring the juices into the separator, allowing the fat to rise and pouring it off is an easy way to remove it from the sauce.

I want to connect with you! Leave a comment and follow me on Facebook, Twitter, Pinterest & Instagram!

Cook in half the time while preserving up to 35% more of food's nutrients with Lagostina's innovative stainless-steel pressure cooker. Its patented one-handed drop-lid clicks closed, hermetically sealing for superior safety. The 18/10 stainless-steel pot features a LAGOPLAN® tri-ply bonded base for uniform heat distribution.
7 4/10 qt. capacity
Durable 18/10 stainless-steel construction with mirror-polish finish.
Patented one-handed drop-lid opening system.
Induction compatible.
Two pressure settings: 6psi for vegetable and 10 psi for meat and fish.
Cooks food up to two times faster.
Removable lid offers flawless stove-to-table serving.
Stainless-steel and aluminum body.
Stainless steel and plastic lid.
Includes stainless-steel steam basket, recipe book and BPA-free plastic measuring cup.
Disclosure: This is not a sponsored post. I was provided a Lagostina Domina Vitamin Pressure Cooker for the purposes of this review. All opinions are my own.