Vegetable Beef Soup is a hearty, soul-warming recipe full of chunky texture and wholesome ingredients. This recipe can be made in the Instant Pot or on the Stove Top! Instructions for both included.

The only thing better than a hearty, chunky soup on a cold weather day is an EASY recipe to make it.
Vegetable Beef Soup is a delicious soup brimming with ground beef, loads of delicious vegetables in a thick, flavorful broth.
It also includes a few shortcuts that save time AND give big flavor.
Make it in the Instant Pot OR on the stove top!
The recipe card at the end of the blog post has instructions for both!
Vegetable Beef Soup Ingredients
This soup recipe is full of tasty ingredients, all easy to find.
Olive oil
Garlic
Onion
Lean ground beef
Condensed tomato soup (canned)
Diced tomatoes (canned)
Frozen vegetables
Potatoes
Beef broth/stock or water
Salt and pepper to taste

Time Saving Ingredients
I love finding great ingredients that add wonderful flavor to a recipe AND save time!
This soup recipe has some super stars.
Lean Ground Beef
Vegetable Beef soup often uses chunks of beef.
Using lean ground beef adds great flavor and a thickness to the soup that's comforting and homey.
It's sauteed in the Instant Pot making it easy!
Canned Tomato Soup
Using canned condensed tomato soup adds a wonderful flavor and texture to the Vegetable Beef soup recipe.
Canned Diced Tomatoes
Canned tomatoes ensure great tasting tomatoes at any time of the year. Since they are already diced, it cuts down on the ingredient preparation too.
Frozen Vegetables
I'll confess, I'm not normally a huge frozen vegetable fan. This despite having a family connection to the start of Clarence Birdseye's frozen vegetable revolution.
This vegetable beef soup recipe is a perfect use for frozen vegetables. They add color, flavor, great texture and are a huge time saver for recipe prep.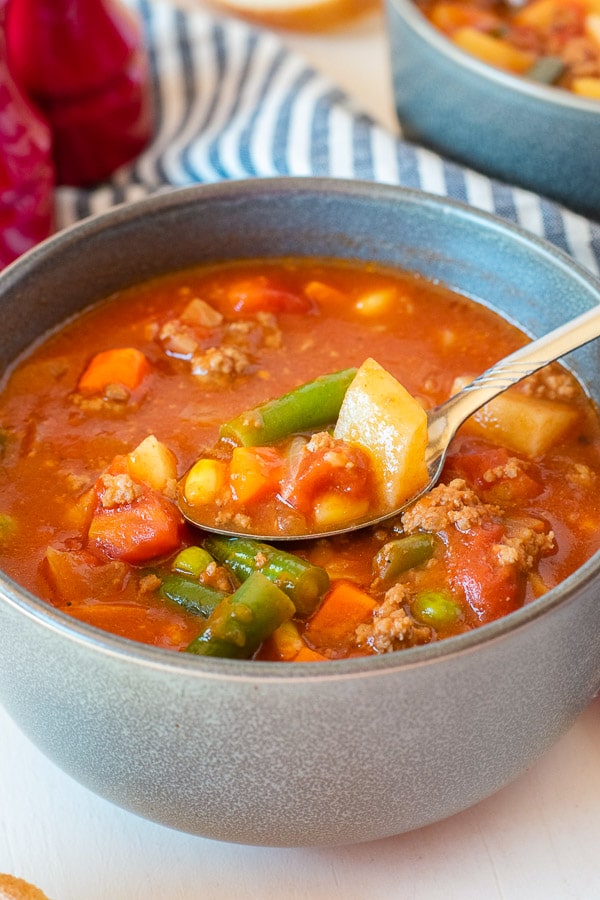 Gluten-Free Vegetable Beef Soup
All the ingredients in this soup should be gluten-free.
Check the label on the soup you select to ensure that is gluten-free.
Otherwise all other ingredients are naturally gluten-free.
Pro Tip for Sauteing in an Instant Pot
Being able to make an entire recipe in the Instant Pot is fantastic! It makes for easier clean up too.
There is a key step when using the saute function with an Instant Pot.
Scrape any browned bits of food from the bottom of the insert before starting the next recipe step.
If any food is sticking to the bottom of the insert is can trigger a 'BURN' warning.
This seems to vary in different Instant Pot models.
A certain way to avoid it is to take the step to scrape any food that is sticking to the bottom.
How to Make Instant Pot Vegetable Beef Soup – Step-by-Step
For a detailed printable recipe refer to the recipe card at the end of the blog post.
STEP 1: Select 'SAUTE' function. Add the olive oil (photo 1).
STEP 2: When Instant Pot is heated, add the garlic (photo 2) and onions (photo 3). Saute for 2-3 minutes.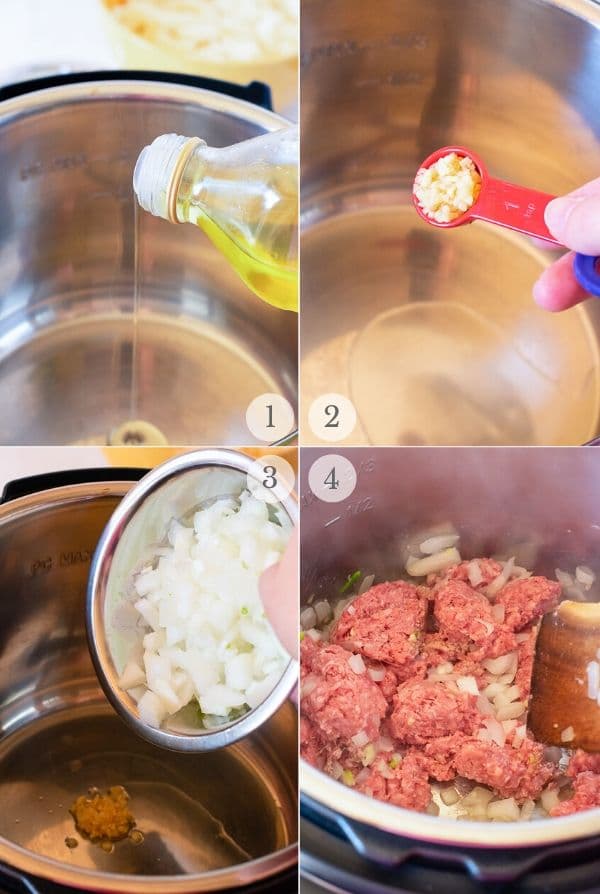 STEP 3: Add the ground beef. Saute, breaking into small pieces, until browned (photo 4).
STEP 4: Add 1/2 cup of the beef stock or water to the Instant Pot. Using a stiff spatula scrape the bottom of the insert to free any browned bits sticking to the insert.
STEP 5: Turn off the SAUTE function. Add the tomato soup, diced tomatoes, frozen veggies, potatoes (photos 5-8) and remaining broth/water. Stir to combine.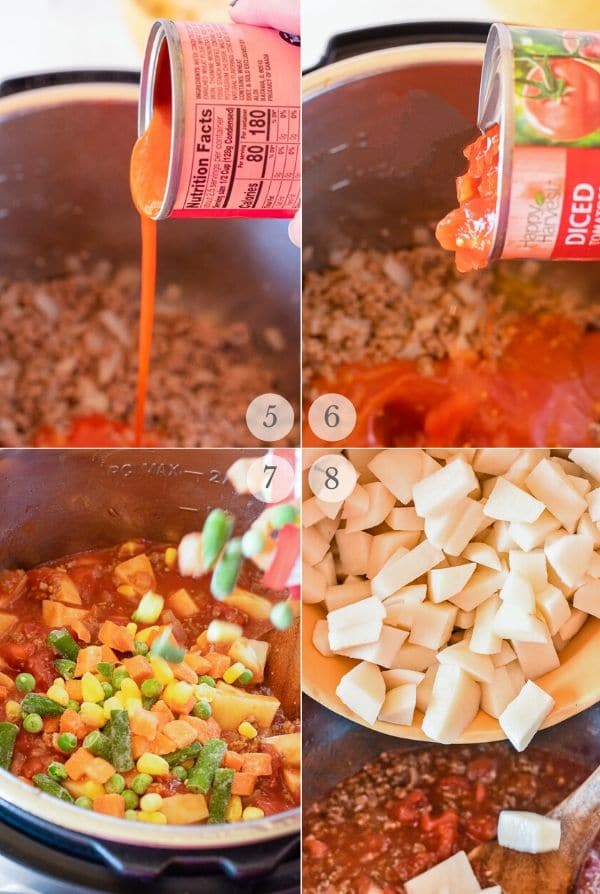 STEP 6: Secure the Instant Pot lid. Cook on 'SOUP/BROTH' setting for 8 minutes cooking time. Allow a NATURAL RELEASE before removing the lid.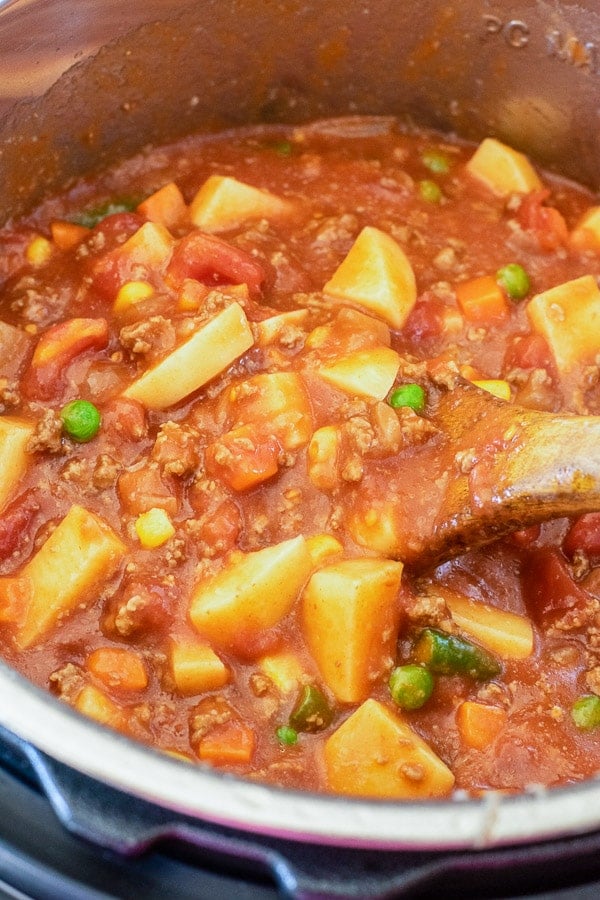 Salt and pepper to taste. Serve!
Make it On the Stove Top too!
If you don't have an Instant Pot no worries!
Stove top instructions are included in the recipe card below.
How to Store Leftover Vegetable Beef Soup
In the Refrigerator
Store any soup leftovers in airtight containers in the refrigerator for 3-4 days.
In the Freezer
Store soup in airtight containers or freezer bags (with as much air squeezed out as possible to avoid freezer burn). Store for 4-6 months.
Thaw in the refrigerator and reheat in a microwave or in a saucepan on the stove top.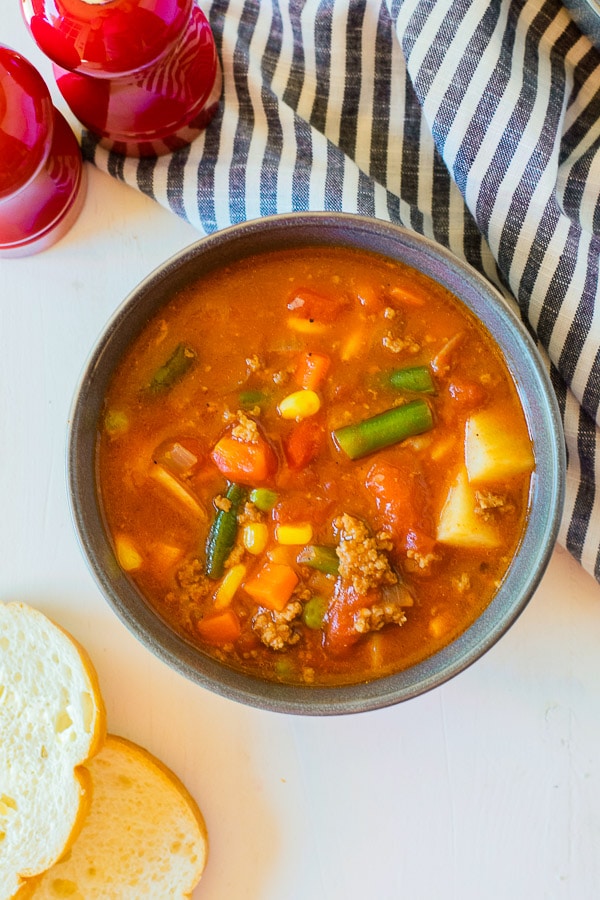 What to Serve with Vegetable Beef Soup
Did you make it? Please RATE THE RECIPE below!
Please SUBSCRIBE and FOLLOW ME on FACEBOOK , TWITTER , INSTAGRAM and PINTEREST!