Chicken Enchiladas are a comfort food favorite but take time to prepare. This skillet version has everything you love and is ready in about 30 minutes!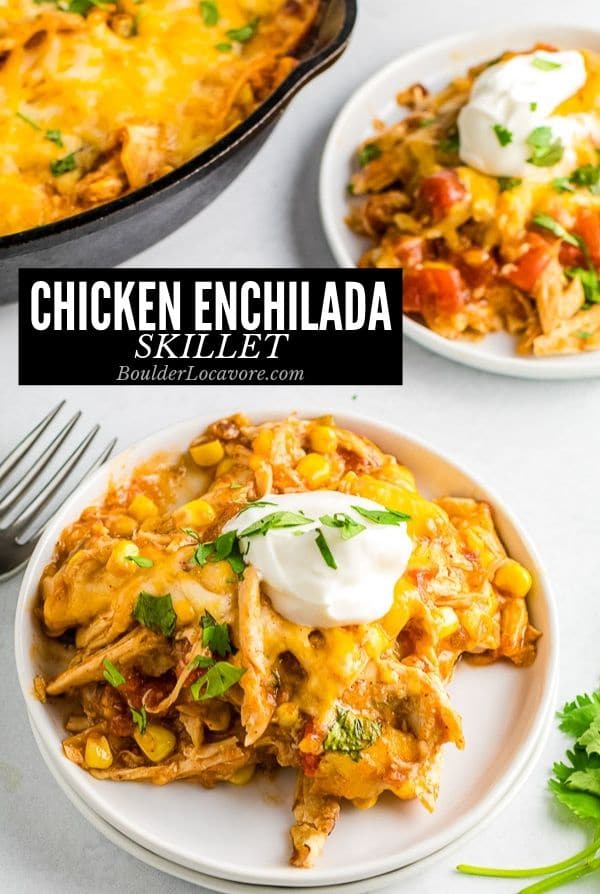 There are two things that make a recipe my favorite for dinner.
It's ready in 30 minutes.
Mexican Food.
This Chicken Enchilada Skillet is both of those things. Easy to make, full of robust exciting flavors and quick to get on the table any night of the week.
If you like classic enchiladas try our easy Chicken Enchiladas recipe too.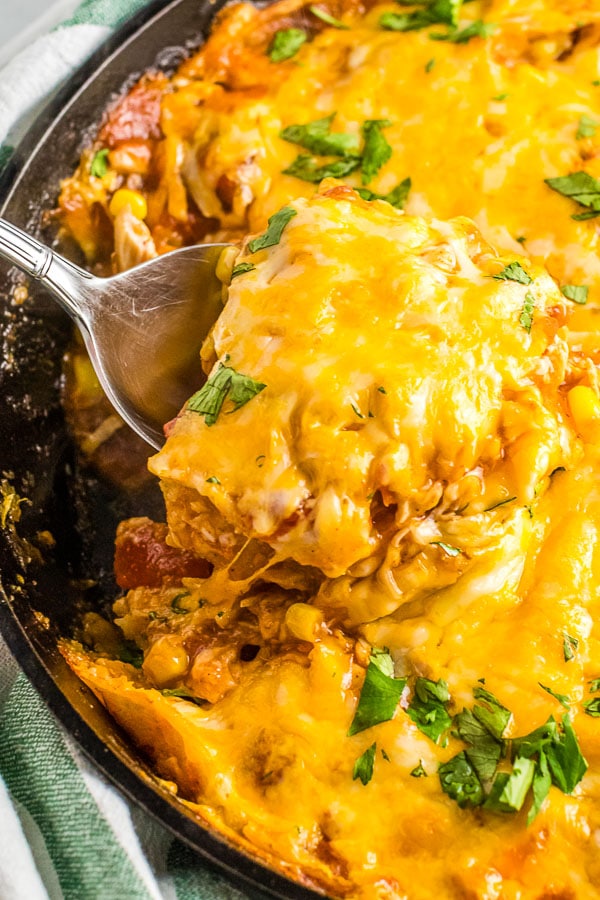 Chicken Enchiladas
There is no question why chicken enchiladas are one of the more popular entrees at Mexican restaurants.
Chock full of moist shredded chicken, tomatoes, spicy earthy enchilada sauce, ooey gooey cheese all rolled into a tortilla.
They are warming, satisfying, filling comfort food.
Chicken Enchilada Skillet
The only thing better than chicken enchiladas are deconstructed chicken enchiladas as in this skillet.
All the ingredients you love in enchiladas are here. There is no time spent cooking the filling and rolling tortillas.
Everything is mixed together making a delicious FAST Mexican skillet casserole.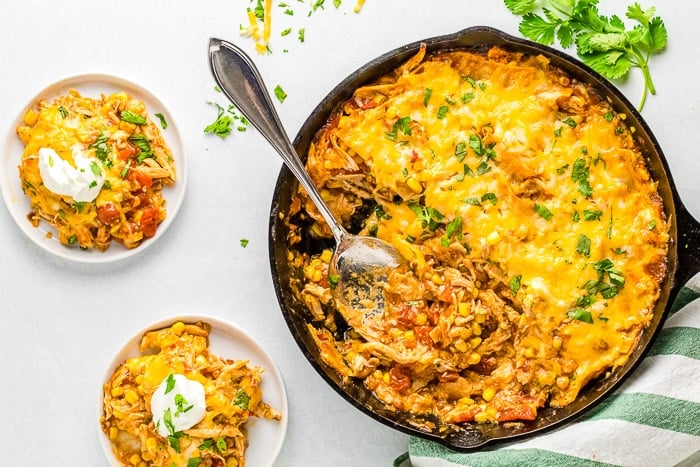 Chicken Enchilada Skillet Ingredients
The ingredients in this chicken enchilada skillet recipe are easy to find. For the Mexican ingredients check the international aisle of the grocery store.
Vegetable oil
Red onion
Cumin
dried oregano
Kosher salt
Garlic clove
1 can Rotel
Enchilada sauce
Corn tortillas
shredded cooked Chicken or Mexican shredded chicken
frozen Corn
shredded Colby Jack cheese
Suggested Toppings
Cilantro for garnish (optional)
Sour cream (optional)

What is Rotel?
Ro*tel is a brand of canned tomatoes with green chilies originating in Texas. The name 'Rotel' has become known as a product identifier more than a brand.
Recipes calling for Rotel are looking for a canned diced or chopped tomato with some chilies mixed in.
If the Rotel brand is unavailable in your area, find similar products in the canned vegetable aisle of the grocery store.
Substitute something the appeals to you with a Mexican flavor. I love fire roasted tomatoes with chilies!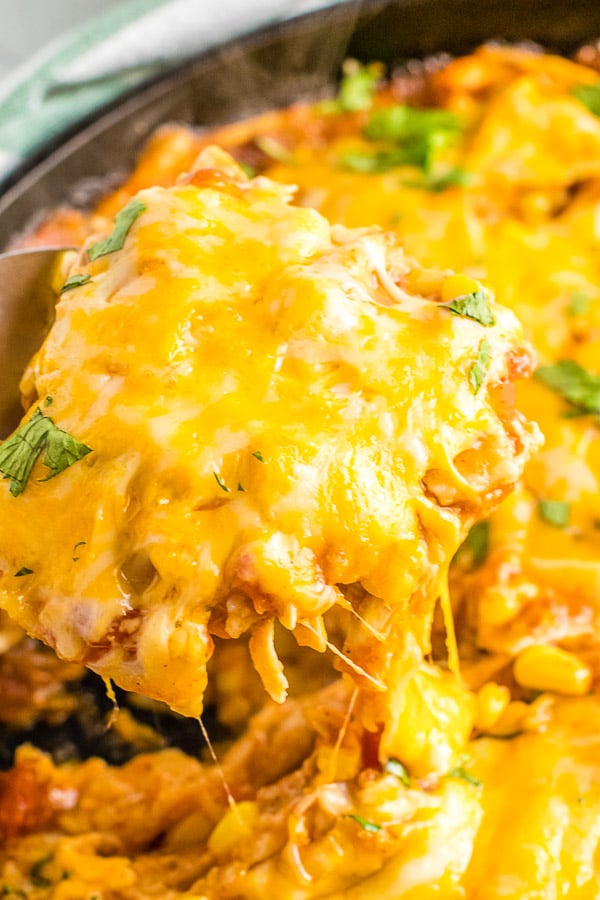 The Best Way to Shred Chicken
There are multiple ways to shred chicken for this chicken enchilada skillet.
Buy Frozen Shredded Chicken
I recently tried frozen shredded chicken. Freshly cooked shredded chicken is still my favorite but the frozen option is easy and perfect for a casserole like this.
It's difficult to taste the difference between frozen, thawed shredded chicken and freshly made in a recipe like this one.
It's possible to find good quality frozen shredded chicken too. I now have a big bag in my freezer for quick meal making on the fly.
The Best Homemade Shredded Chicken
This is one of the most popular recipes on Boulder Locavore. It's an easy recipe and completely delicious.
The two-part recipe cooks boneless skinless chicken breasts to perfection then has a fast easy shredding method you'll love.
The chicken breasts can be used without shredding too. I know you'll love this Best Homemade Shredded Chicken recipe!
Shredded Rotisserie Chicken
A middle ground between the two methods above is buying a rotisserie chicken at the store and shredding it at home.
It can be shredded with two forks, tearing the meat into shreds. You also can use the shredding tip in the method above as a total time saver.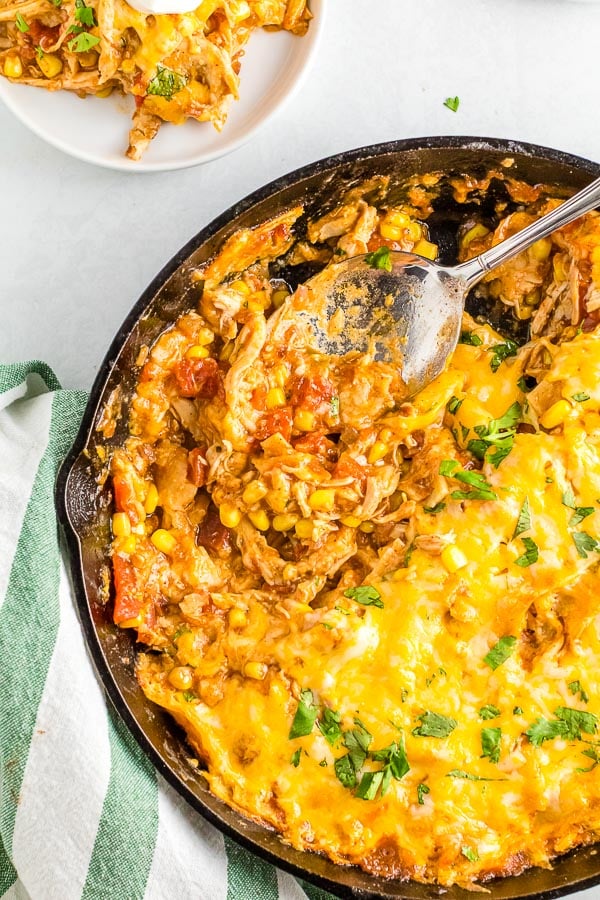 How to Make this Skillet Chicken Enchilada recipe – Step by Step
For a detailed printable recipe refer to the recipe card at the bottom of the blog post.
Preheat the oven to 375 degrees.
In an ovenproof skillet heat the oil over medium-high heat.
Sauté the onions until translucent.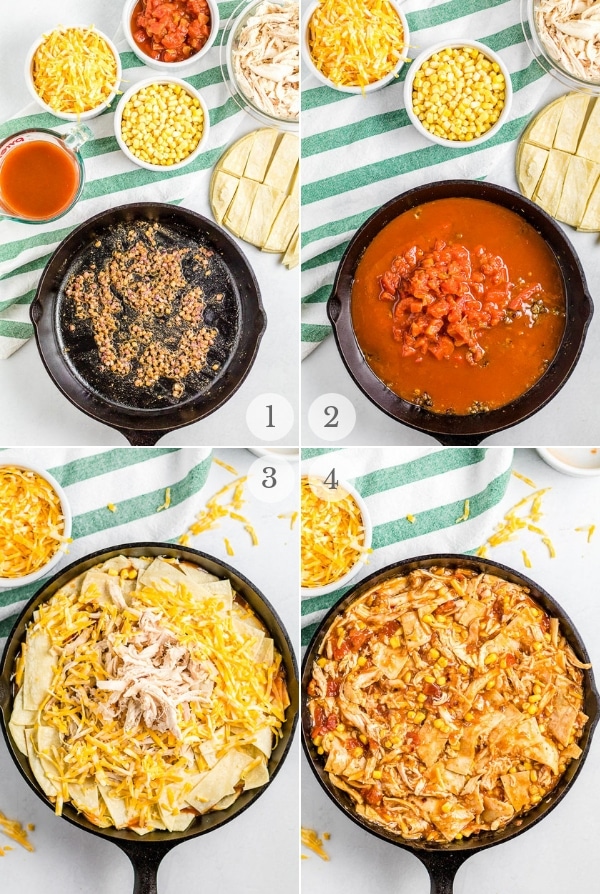 Add the spices, salt and garlic; sauté one minute longer (photo 1). Remove from heat.
Add the Rotel and enchilada sauce (photo 2), chicken, corn, strips of corn tortillas and half of the cheese (photo 3).
Stir to combine (photo 4).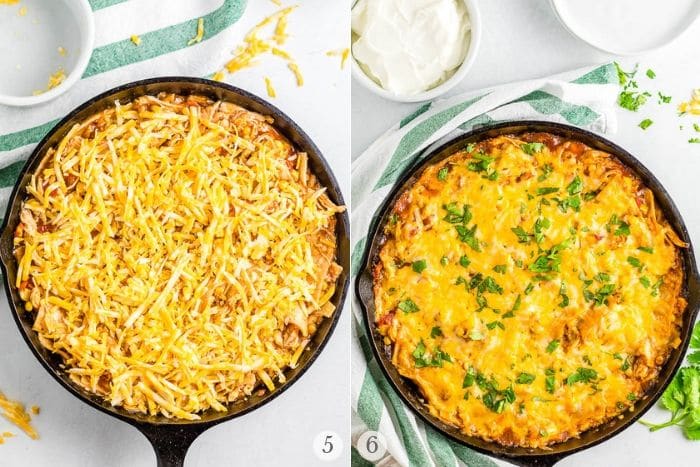 Top with the remaining cheese (photo 5) and bake for 20 minutes until cheese is melted and bubbling (photo 6).
Top with sour cream and chopped cilantro.

More Mexican Recipes You'll Love
Did you make it? Please RATE THE RECIPE below!
FOLLOW ME on FACEBOOK , TWITTER , INSTAGRAM and PINTEREST to see more delicious food, travel and what I'm up to!