Soft, sweet, moist Cornbread is fast and easy to make. Make this cornbread recipe just once and you'll never use a mix again! Six variations let you change the flavors up to go with any meal.

Cornbread is a homey bread recipe that goes with everything from chili, soups, grilled meats and more.
Making it from scratch is fast and easy.
The ingredients are probably in your pantry right now!
It's fantastic as is BUT I'm including 6 ways to change it up too.
With some easy mix in ingredients you can totally change the flavor to match any meal!
Cornbread Recipe from Scratch
Cornbread is SO easy to make from scratch. Once you try it you'll never use a mix again.
There is a strong regional divide between the north and south of the U.S. on the 'right way' to make cornbread.
I'm not claiming this to be a 'correct' Northern OR Southern recipe. It's just plain delicious!
This cornbread is slightly sweet and moist.
You can see from the photos it has a more cakey consistency rather than being super crumbly.
It's a 'must have' recipe for your kitchen. It can be changed up many ways and used for so many things.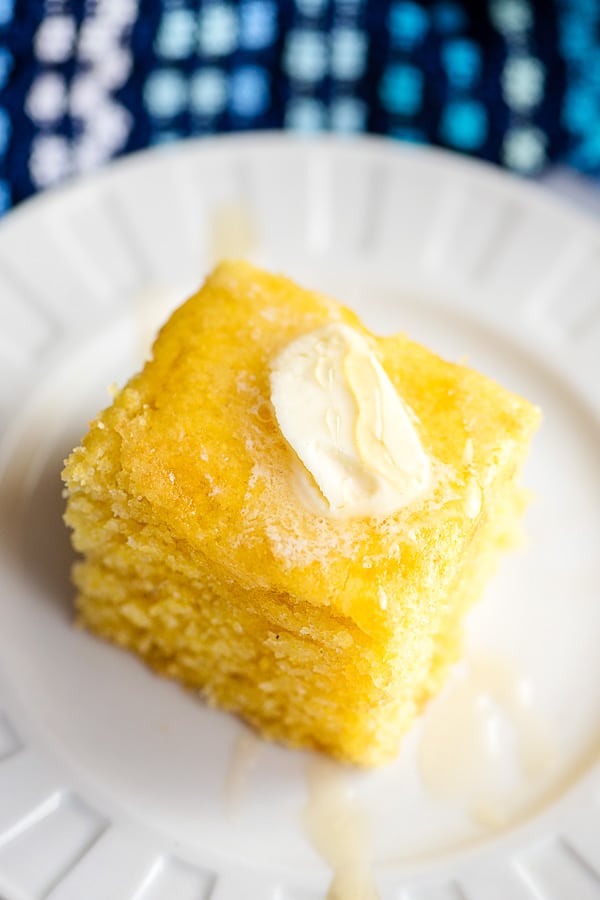 Ingredients
All purpose flour (regular or gluten-free measure-for-measure flour blend)
Yellow cornmeal
Granulated sugar
Salt
Baking powder
Egg
Milk
Vegetable oil

Ingredient Notes
Flour
This cornbread recipe has been tested with each regular All-Purpose Flour and gluten-free measure-for-measure flour blend.
The results are fantastic with both.
My recommended gluten-free flour blend is Bob's Red Mill gluten-free 1-t0-1 Baking Flour.
Yellow Cornmeal
Cornmeal is finely ground dried corn. This cornbread recipe uses finely ground Yellow Cornmeal.
In the grocery stores if you purchase 'Yellow Cornmeal' it will be finely ground.
Coarsely ground cornmeal adds more texture.
Make it Gluten-Free
The only ingredient that needs to be changed is the flour. Use gluten-free measure-for-measure flour blend.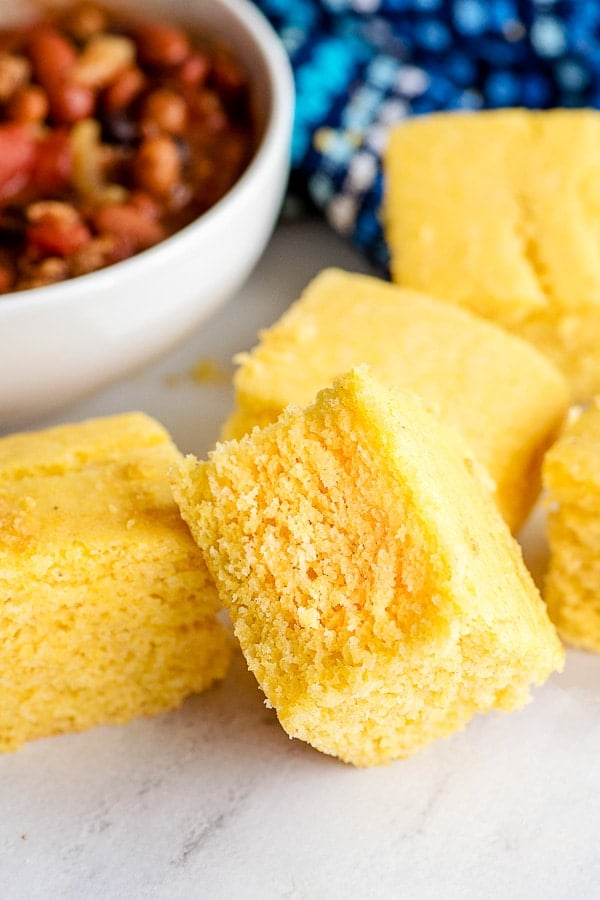 Cornbread Recipe Variations
A fantastic thing about cornbread is that is can be changed up so many different ways.
From spicy, salty, cheesy even to sweet.
Here are six of my favorite variations. The listed 'mix in' ingredients are added to the batter and baked as normal.
Details in the recipe card at the end of the blog post.
Cornbread with Corn Niblets
Add 1 cup canned (drained), frozen or fresh corn
Mexican Cornbread
1/4 cup chopped Jalapeno peppers or bell peppers
1 cup canned (drained), frozen or fresh corn
1/2 cup finely shredded Mexican cheese
Cheesy Garlic Cornbread
1/2 cup shredded cheddar
1/2 teaspoon minced garlic
Jalapeno Jack Cornbread
6 ounces pepper jack cheese
1/2 cup chopped and seeded jalapeno peppers
Pepper Jack Bacon Cornbread
6 strips of back (chopped)
3/4 cup shredded pepper jack cheese
1/4 cup thinly sliced green onion
Lemon Raspberry Cornbread (sweet)
1 cup fresh raspberries
1 teaspoon finely grated lemon peel
Top with 2 tbsp sliced/slivered almonds

Why Does Cornbread Crack?
Quick breads (breads that don't contain yeast) often crack due to the outside cooking faster than the inside.
Eventually the internal heat will break through the top surface.
This does not affect the moistness or flavor of the cornbread, only the appearance.
If the cracks bother you, try the tips below to avoid cracking.
Here are some PRO TIPS to try to avoid bread cracking while baking:
Position the oven rack in the middle of the oven.
Avoid opening and closing the oven door during baking.
Add a second pan with some boiling water to the oven. This adds more moisture to the oven.
Cook at a lower temperature for a longer time:
Bake at 350 degrees.
Start checking for doneness beginning at 30 minutes.
The cornbread will probably take an additional 15-20 minutes to bake.
Different Ways to Bake It
Use a square 8-inch pan for cornbread squares.
Use a round 8-inch pan to cut the cornbread into wedges.
Bake in a cast iron cornbread pan. These classic pans create small muffins or a corn cob shape and make a wonderful crisp crust on the outside of the cornbread.
Make Cornbread Muffins:
Spray 12 muffin tin cavities with non-stick cooking spray or fit them with baking liners
Fill 2/3's full
Bake for 15 minutes until the tops are golden and a toothpick inserted comes out clean
How to Make Cornbread – Step-by-Step
STEP 1: Preheat the oven to 400 degrees. Prepare an 8-inch baking pan by spraying with non-stick cooking spray OR line with foil (leave an overhang) and spraying the foil with non-stick spray.
STEP 2: In a mixing bowl combine the flour, cornmeal, salt, baking powder and sugar (photos 1-4). Stir.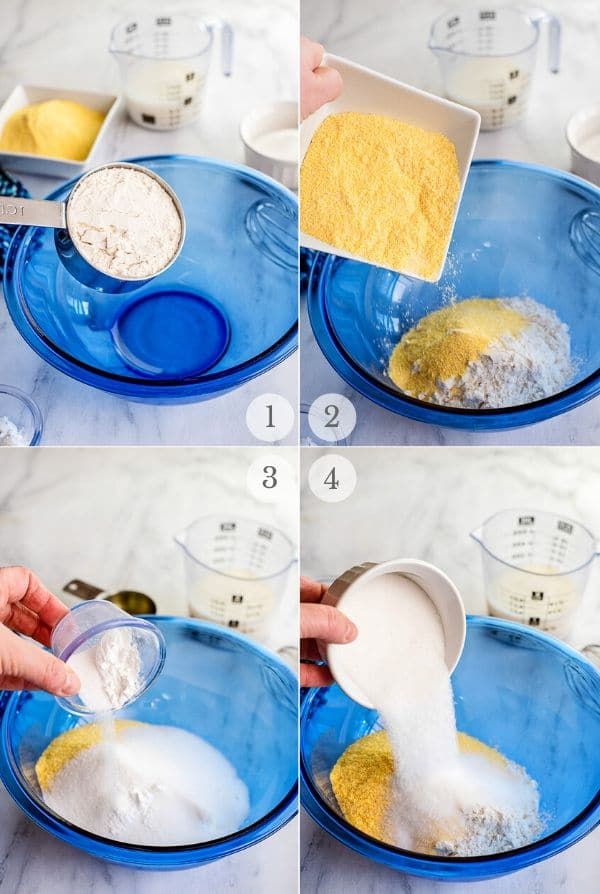 STEP 3: Add the egg, vegetable oil and milk (photos 5-7); stir to combine (photo 8).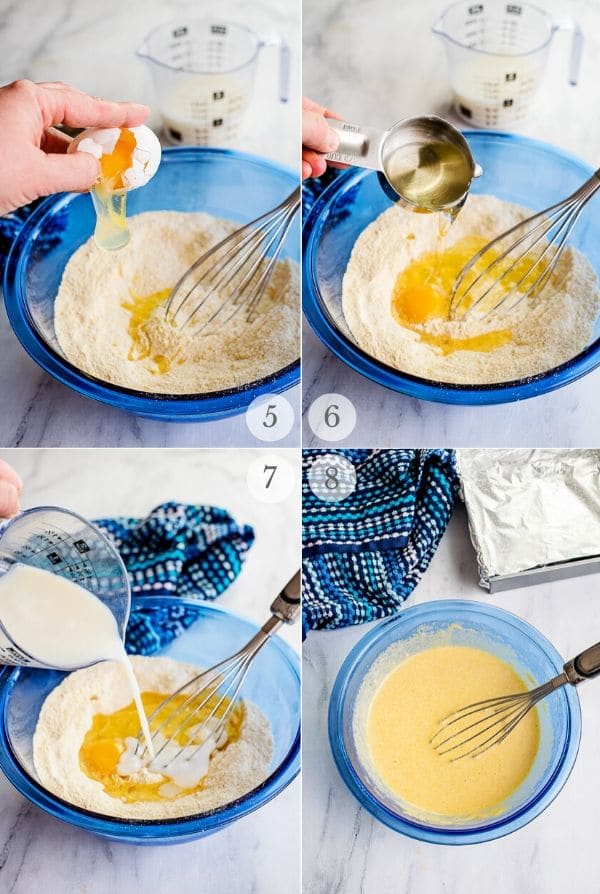 STEP 4: Pour batter into the prepared pan (photo 9-10). Bake for 20-25 minutes until a toothpick inserted comes out clean (photo 11).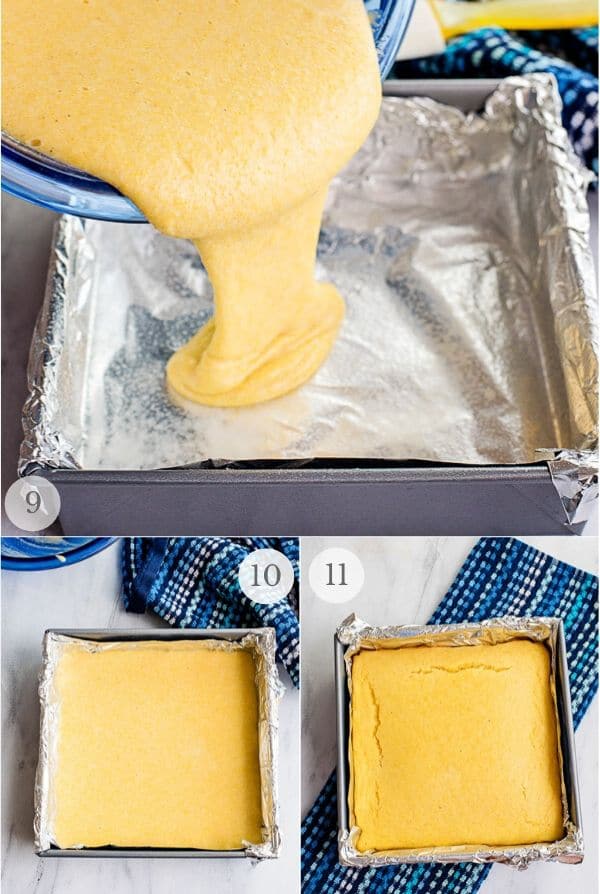 STEP 5: Cool fully on a cooling rack before cutting. NOTE: if using foil in the pan, lift the cornbread out of the pan for easy cutting. Otherwise turn out onto the cooling rack.
How to Use Cornbread
It's perfect to serve with any chili recipes. Serve it with your favorite soup recipes too.
Serve it by itself or warm with a slice of butter drizzled with some honey!
This cornbread recipe is perfect for cornbread stuffing recipes too.
How to Store
At Room Temperature
The cornbread can be stored at room temperature up to 2 days. Cover with plastic wrap or foil.
If in a hot or humid climate, store it in the refrigerator.
In the Refrigerator
Cover the cornbread tightly with plastic wrap and store in the refrigerator for up to 1 week.
Reheat for a few seconds in the microwave before serving.
In the Freezer
After the cornbread has totally cooled, wrap tightly in plastic wrap then in foil or put into a plastic freezer bag.
Store in the freezer for up to 3 months. Thaw in the refrigerator and warm before serving.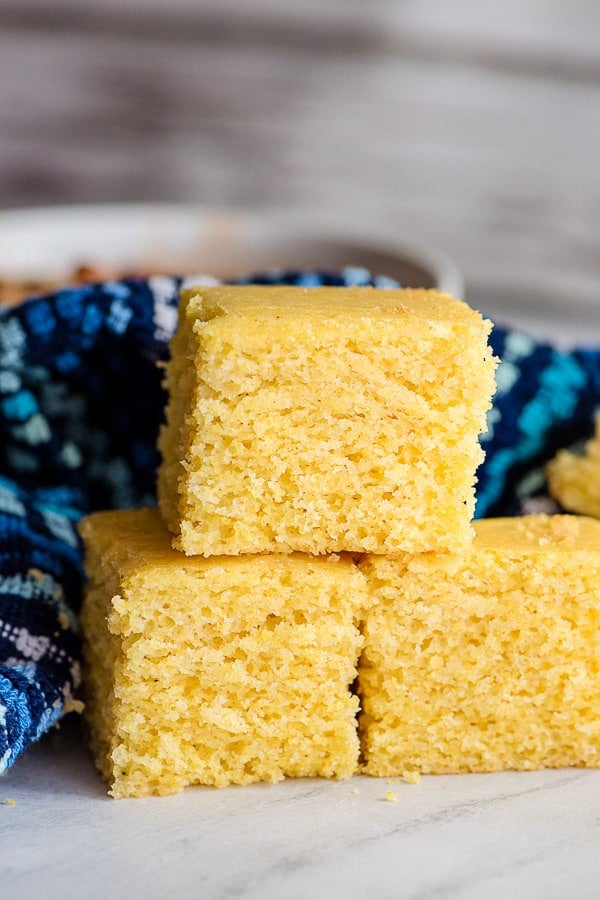 More Recipes You'll Love
Did you make it? Please RATE THE RECIPE below!
Please SUBSCRIBE and FOLLOW ME on FACEBOOK , TWITTER , INSTAGRAM and PINTEREST !