Instant Pot Beef Stew is fast, easy comfort food. This version, Carne con Papas, has succulent chunks of beef, potatoes, rich authentic Cuban spices in a savory broth.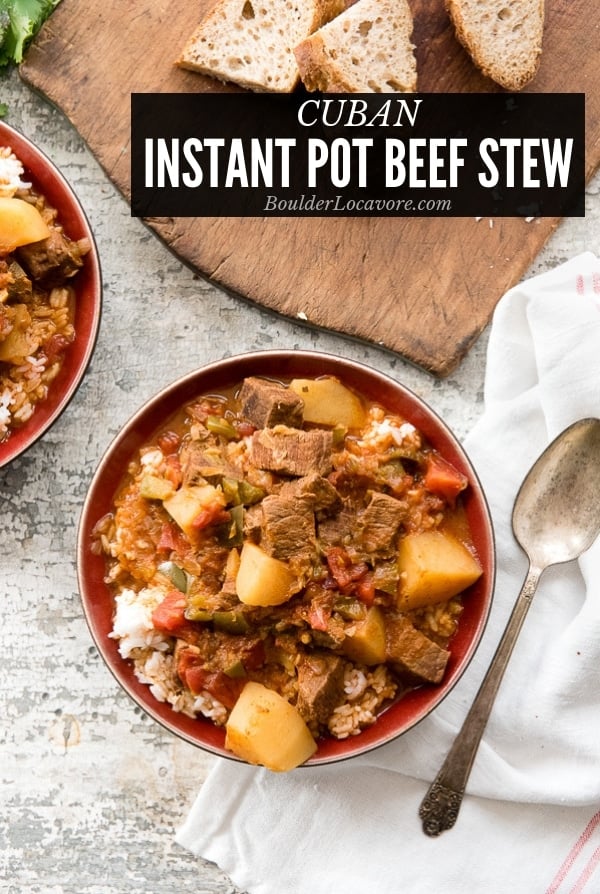 Carne con papas or Cuban Beef Stew is a soul-warming dish with rich spices (though it's not spicy-hot), chunks of tender meat and potatoes in a savory broth.
This Instant Pot beef stew cooks quickly and perfectly no effort from you!
Cuban Instant Pot Beef Stew (Carne con Papas)
The recipe makes a hearty stew with tender chunks of beef, potatoes, in a rich Cuban-spiced broth. It's a satisfying, easy, exciting recipe!
Making Cuban Instant Pot Beef Stew is a wonderful way to take a favorite comfort food recipe and kick it up a notch.
Adding traditional Cuban flavors and ingredients makes dinner a bit more exciting!
Cooking in the Instant Pot tenderizes the meat and keeps the vegetables firm for a satisfying texture.
Ingredients in this Instant Pot Beef Stew
The wholesome ingredients in this Instant Pot Beef Stew combine to create a hearty, filling dish with flair!
Olive Oil
Beef Stew Meat (my butcher uses Top Sirloin)
Garlic Cloves
White Spanish Onion
Green Bell Pepper
Potatoes
Low Sodium Beef Broth
Dry Sherry or Madeira (note: if you prefer not to use any liquor, substitute ½ cup more beef broth)
canned Tomato Sauce
canned Diced Tomatoes
Paprika
Distilled White Vinegar
Oregano
Cumin
Don't let the ingredient list length scare you! Many of the ingredients require no preparation other than being measured.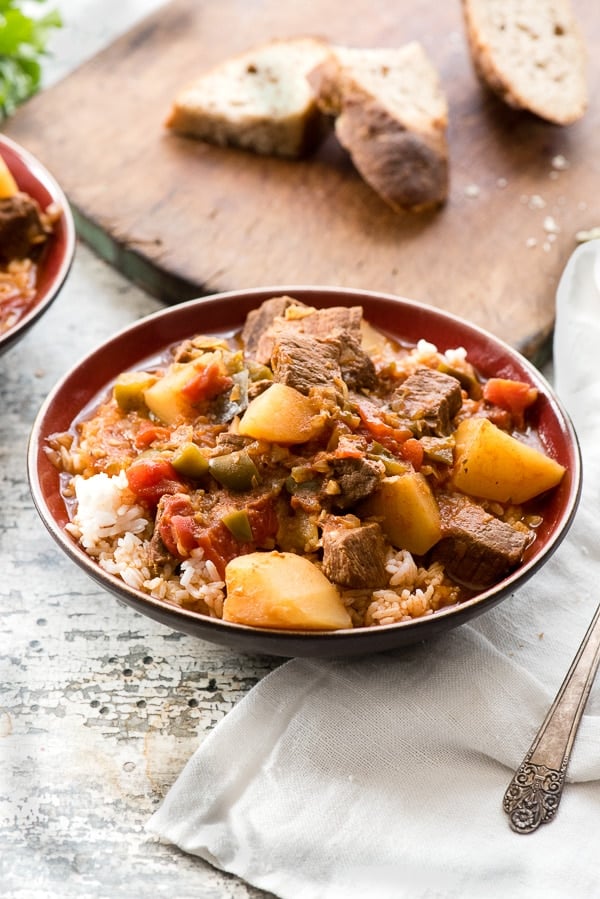 Instant Pot Beef Stew Preparation Shortcut
I love using a mini chopper whenever I can instead of hand chopping ingredients.
It saves alot of time when chopping or dicing. After use, the container and lid can be put in the dishwasher for cleaning.
What Size Instant Pot is used for this Instant Pot Beef Stew?
This recipe was developed using a 6 qt Instant Pot.
How Long Does this Instant Pot Beef Stew Recipe Cook?
Total cooking time for Cuban Instant Pot Beef Stew is about 45 minutes, in addition for the time to allow the Instant Pot to come to pressure.
The Meat/Stew function is used which is pre-programmed for 35 minutes. The meat is seared, and the vegetables sautéed for a few minutes before the Instant Pot Beef Stew is sealed and cooked.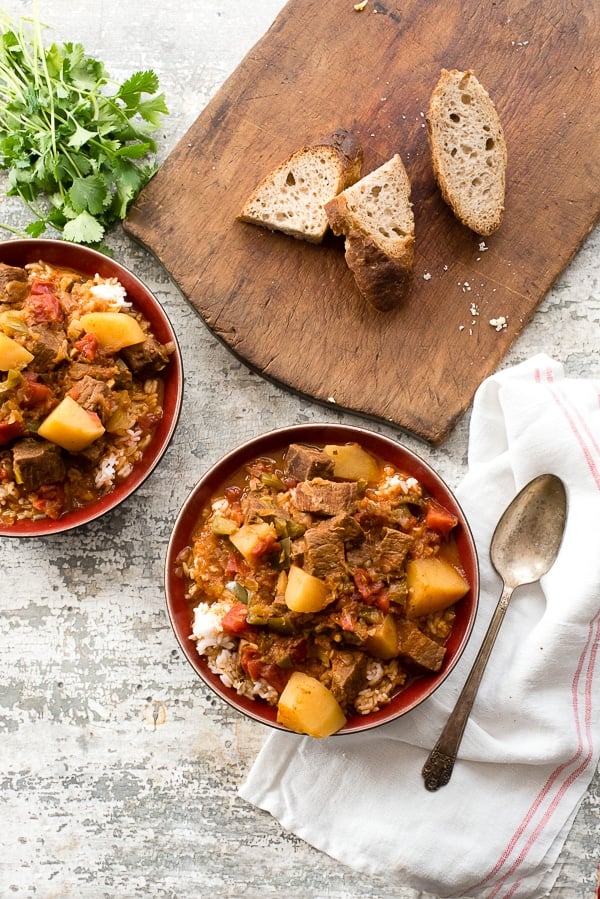 How to make Cuban Instant Pot Beef Stew (Carne con Papas) – Step by Step:
Preparing Cuban Instant Pot Beef Stew (Carne con Papas) is easy.
All steps of this recipe are done in the Instant Pot making for easy clean up!
Using the Sauté function, sear the stew meat is seared on all sides and set aside.
Sauté the garlic, onion and green pepper.
Return the meat and any juices to the Instant Pot, along with the remaining ingredients.
Using the STEW function, allow the instant pot beef stew to cook
When cooked, allow to sit 10 minutes then perform a Quick Release
Serve on a bed of rice or by itself. It's a hearty, filling recipe with authentic Cuban seasonings.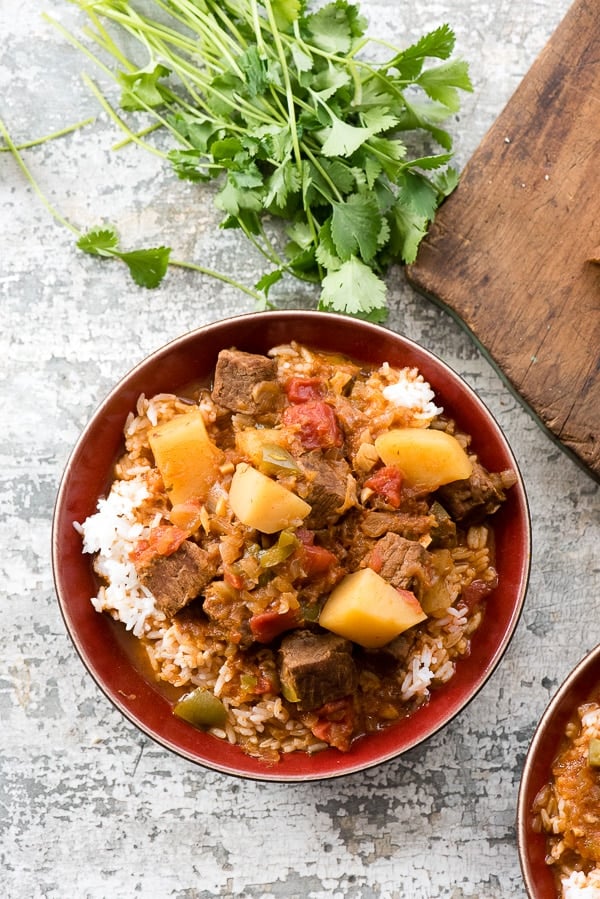 Mind-Blowing Instant Pot Tips You Need to Know!
After developing Instant Pot recipes for the past few years, I've uncovered some unexpected, useful tips I think you'll want to know!
Sign-Up below and I'll tell you all my Instant Pot secrets!
Check out more INSTANT POT RECIPES you'll love! Beef Bourguignonis a French beef stew classic to try.
Love Cuban food? Try these recipes next:
More Recipes You'll Love!
If you've tried this Cuban Instant Pot Beef Stew (Carne con Papas) recipe on BoulderLocavore.com please RATE THE RECIPE below!
SUBSCRIBE and FOLLOW ME on FACEBOOK , TWITTER , INSTAGRAM and PINTEREST !
Originally published: February 24, 2017