Best Chili Recipes cover soul-warming comfort food for every preference. With meat, vegetarian (and vegan), in slow cookers, Instant Pots and cooked traditionally.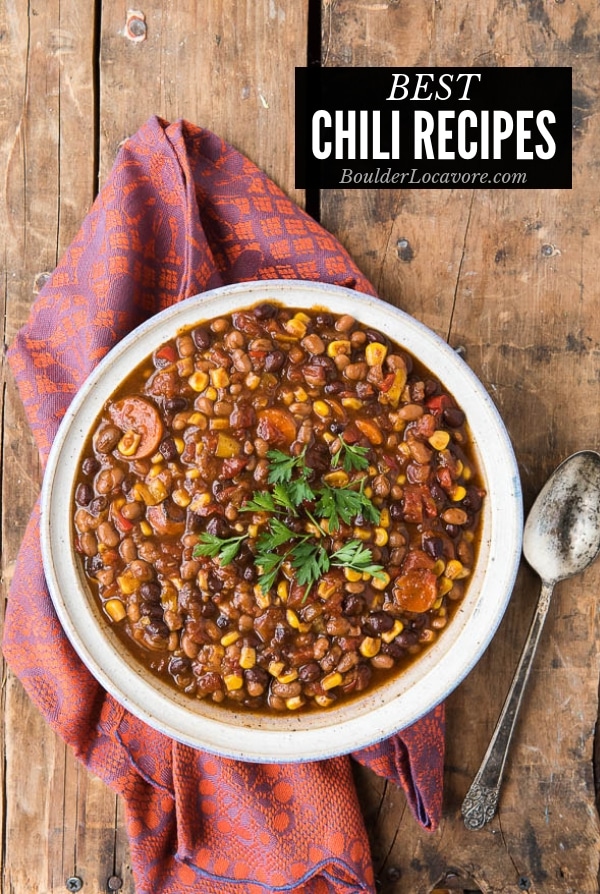 Frigid temperatures call for soul-warming comfort food. There is nothing like a robust chili to take the edge off a cold day and satisfy with earthy spices.
Chili is an easy food with great flexibility. This collection of the best chili recipes offers something for everyone.
Whether you love a meat-only chili, vegetarian options, light and white or something cooked with easy in a slow cooker or Instant Pot; it's on this list.
What is Chili?
Chili is a spicy, hearty stew, usually with some form of tomatoes, beans, using chili powder or seasonings and often with meat.
It's an easy dish to make and affordable. The flavors continue to develop after it cooks making it perfect for leftovers too.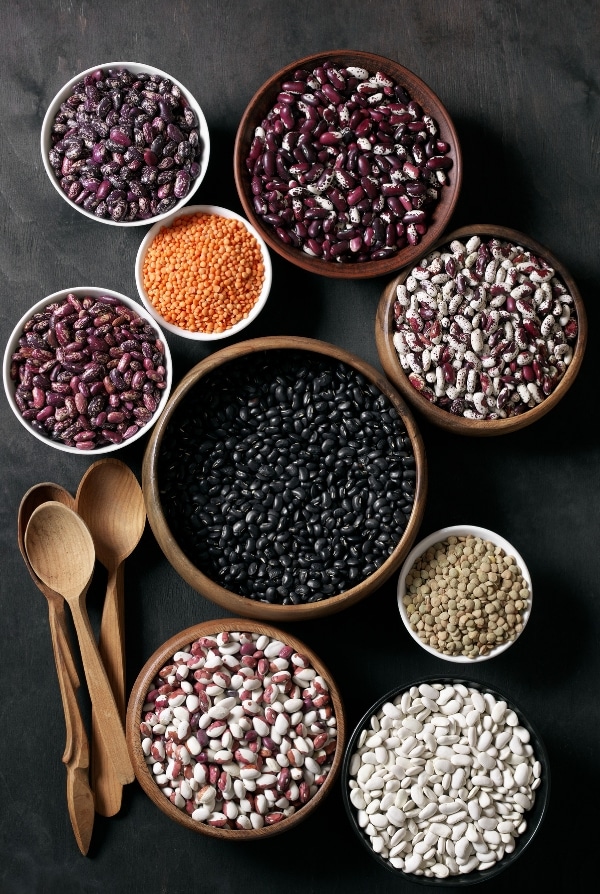 The Bean Debate
There are some very opinionated stances about whether beans belong in chili or not.
Texas chili is definitely a bean-free affair.
Other versions often include beans, and beans of different types OR combinations.
I have no opinion about which is right or wrong!
Instead, these best chili recipes offer a variety to choose from and you can choose!
What's is 'Chili con Carne'?
Chile con Carne is chili with meat. It also includes tomatoes, chili powder or spices.
It is up to individual interpretation about whether it also includes beans.
Why Make Chili
As you'll see with these best chili recipes, there are many variations of chili, and something everyone will love!
It's a soul-warming recipe that doesn't take much effort.
The best chili recipes rely on the right combination of ingredients for an easy, satisfying recipe.
Chili can be cooked on the stove top, in a slow cooker and in an Instant Pot.
This versatility help match a method for every person in terms of finding the best chili recipes for them.
Most chili recipes develop flavor as they age so are even better the day after making them.
Chili freezes well so can be kept on hand for a quick meal when time runs short.
Suggested Supplies for making the Best Chili Recipes
Chili is not a fussy dish; quite the opposite.
It's down to earth and doesn't require special equipment.
The one kitchen items that is universally suggested is a large heavy Dutch oven or soup pot.
Also, if selecting a recipe for a slow cooker or Instant Pot, you'll need those items as well.
Secret Ingredients in Best Chili Recipes
Every chili cook has their own 'secret' ingredients that makes their chili superb.
It may be hard to get a confession about WHAT exactly makes the chili so good!
Here are some common 'secret ingredients' that you'll find in best chili recipes:
Sugar offsets the heat and creates balance in the chili flavors.
Cinnamon is a complementary spice to the spicy heat in chili and adding some perks up the flavors.
Apple Cider Vinegar brightens flavors without making the chili 'vinegary' when just a splash is used (I love using it in chicken soups too for the health properties and flavor).
Unsweetened cocoa deepens the earthy chili flavor without making it taste chocolatey.
Cornmeal added to thicken the chili and give some corn flavor.
Homemade Chili Powder
Chili powder is a key ingredient in most chili recipes.
It's readily available in all grocery stores but you can also make homemade chili powder too!
The Best Chili Recipes
Click on the chili titles or photos to access the recipes!
Serve any of these with this delicious Cornbread recipe!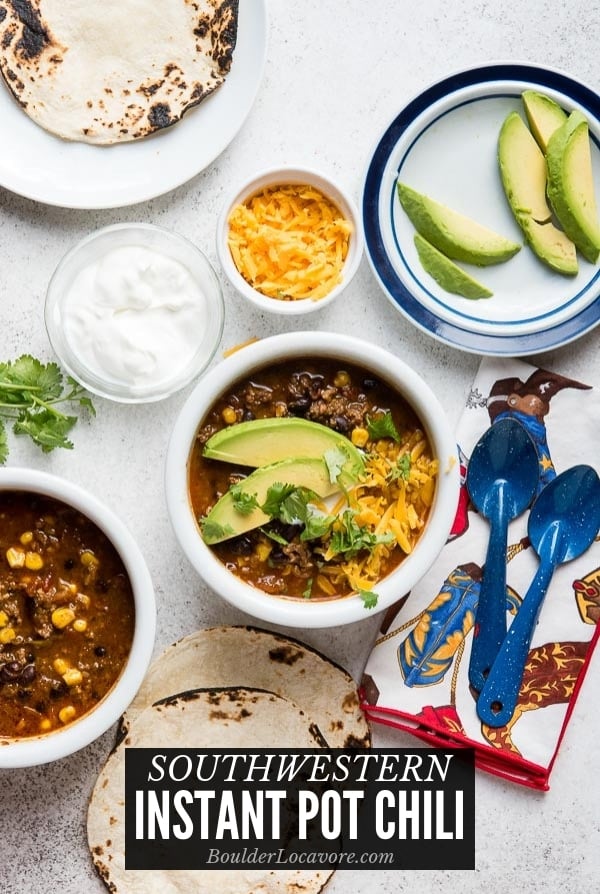 This chili is easy in the Instant Pot and features signature flavors of the American Southwest: chipotle, black beans, corn, ground beef, green chilies, smoked paprika and more. Only 15 minutes cooking time and it tastes like it's been simmering all day long.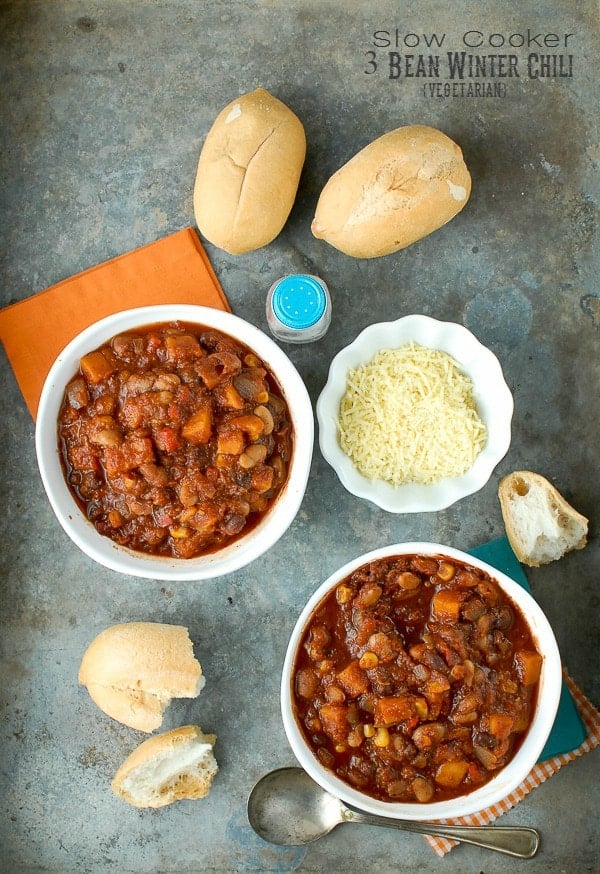 Hearty chili doesn't always have to have meat; and this three-bean version proves that. Packed with plant-protein and flavor, this chili includes a sweet surprise perfect to offset the spicy heat.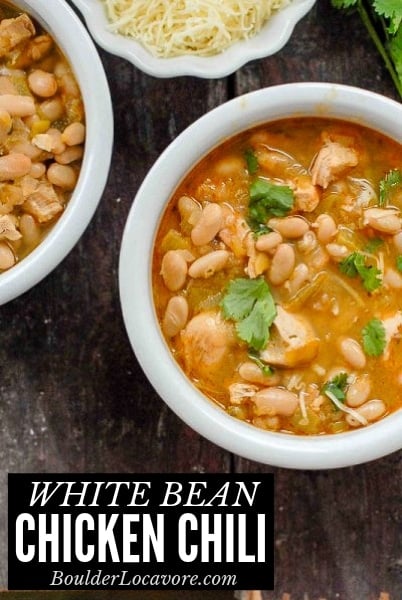 And here's a version for the Instant Pot! Instant Pot White Chicken Chili
White-on-white never looked or tasted better than with this white bean chicken chili recipe. Great Northern Beans and savory chicken breasts deliver the look; cumin and cayenne pepper serve up the heat.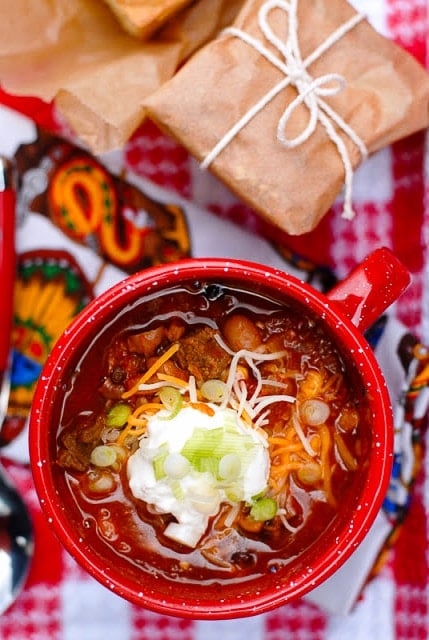 This steak chili was created with outdoor activities and tailgating in mind. Roasted chilies and sweet peppers pump up the flavor of this hearty recipe.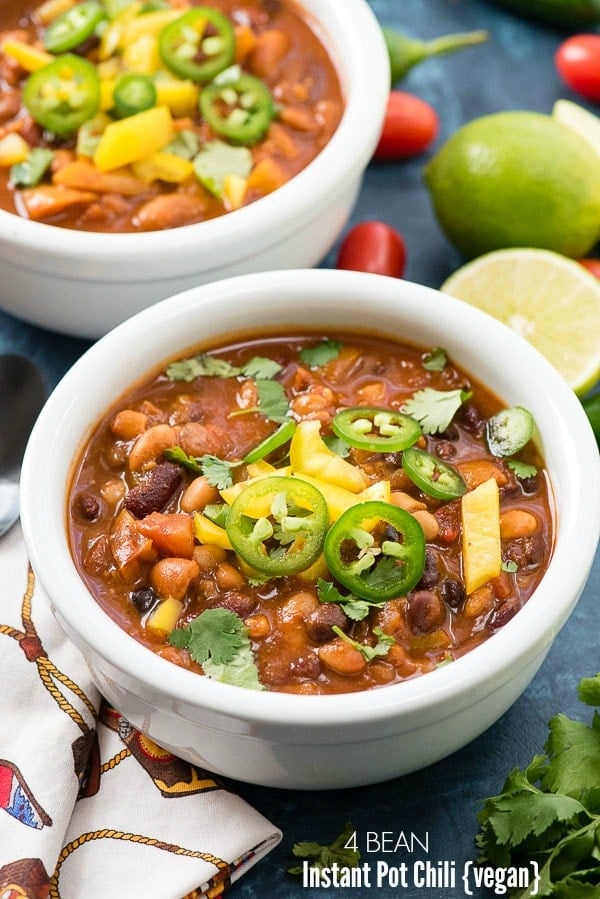 Loads of smoky, spicy flavor combine with black beans, red kidney beans, cannellini beans and Great Northern Beans for a hearty, satisfying vegan chili you'll love. You won't miss the meat in this one; trust me.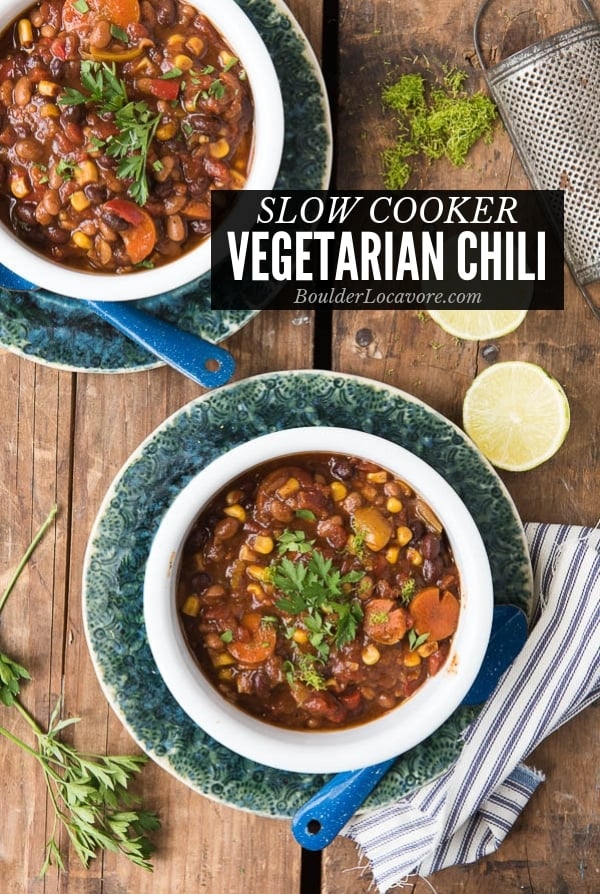 Another 'won't miss the meat' vegetarian chili with some special surprises: canned tangy baked beans and a splash of coconut milk make for a tangy, sweet and spicy flavor in this easy chili recipe.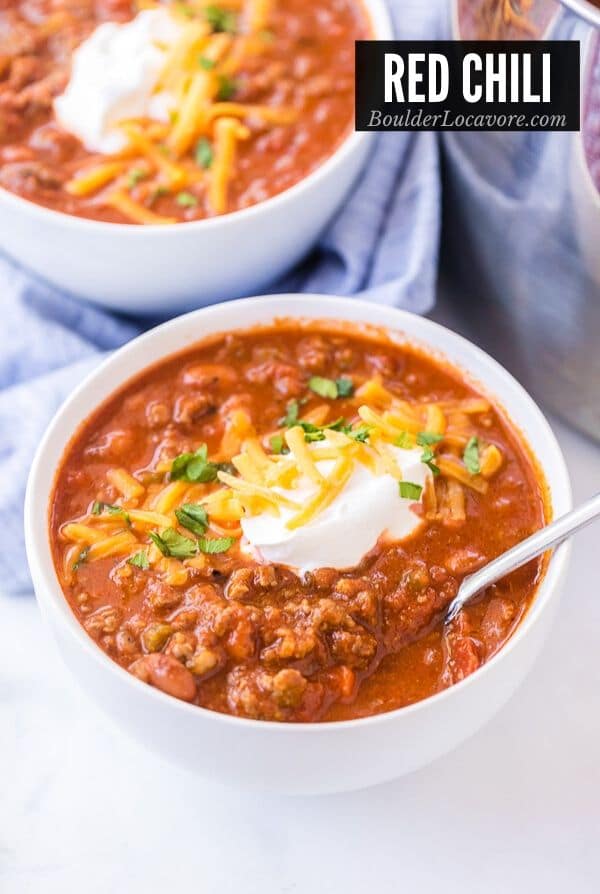 Two types of pork sausage, loads of vegetables, exciting smoldering spices and pinto beans make this Red Chili recipe a family favorite.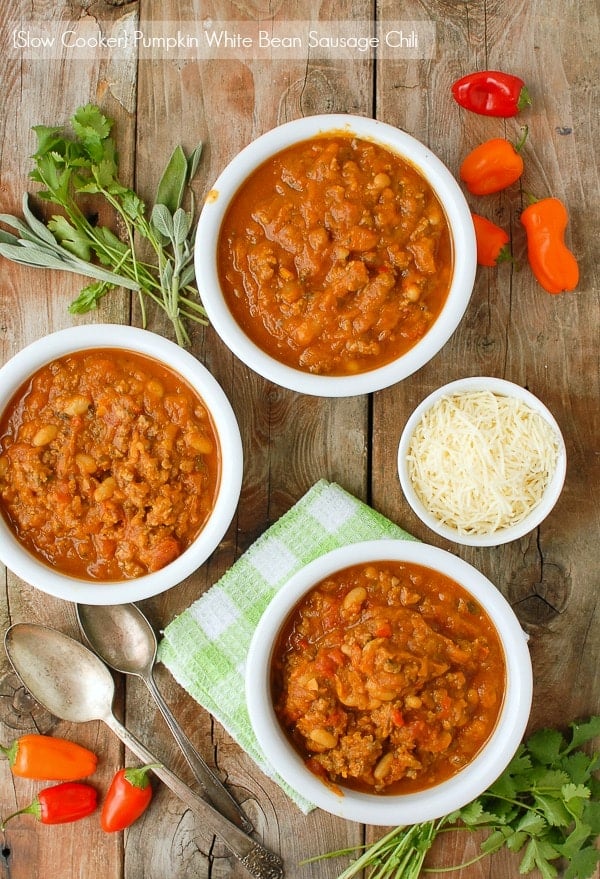 This seasonal gem of a recipe combines ground turkey, spicy breakfast sausage, pumpkin puree and an assortment of spices for a thick, irresistible easy chili recipe that cooks effortlessly in the slow cooker.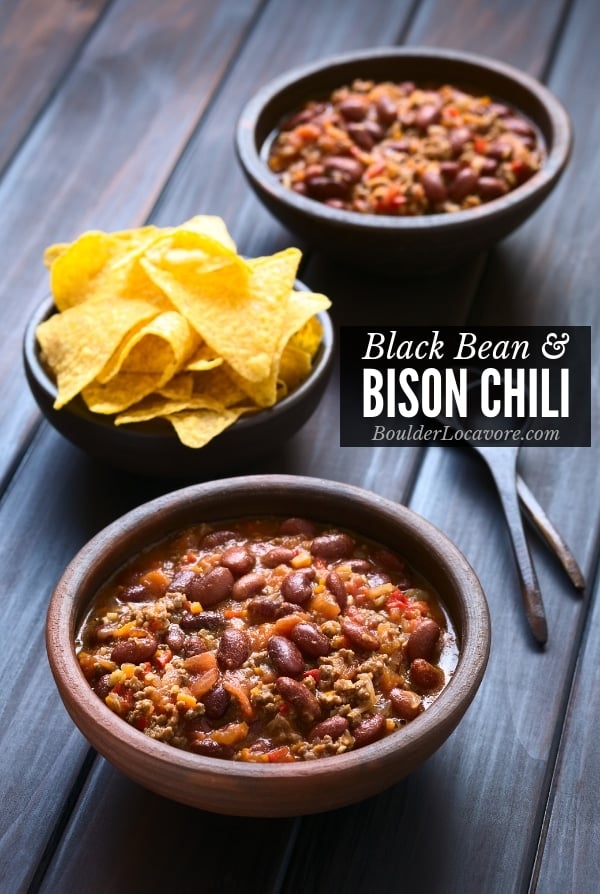 Bison or buffalo meat has become very popular for being a lean red meat option. It's shines in this hearty chili recipe loaded with chunky ingredients.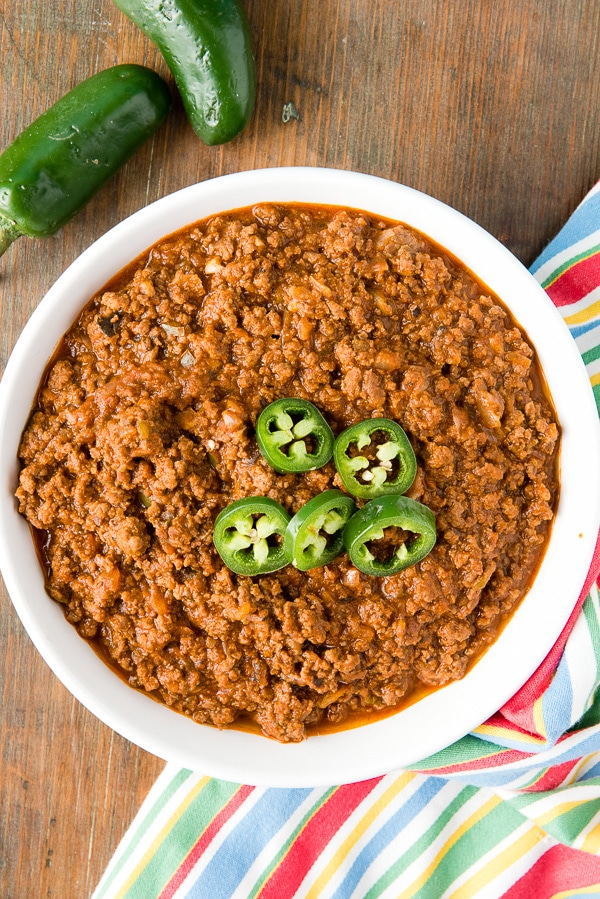 Texans are proud of their chili and this Texas-inspired version offers a smoky, spicy bean-less chili perfect for eating on its own or serving over Chili Cheese Fries.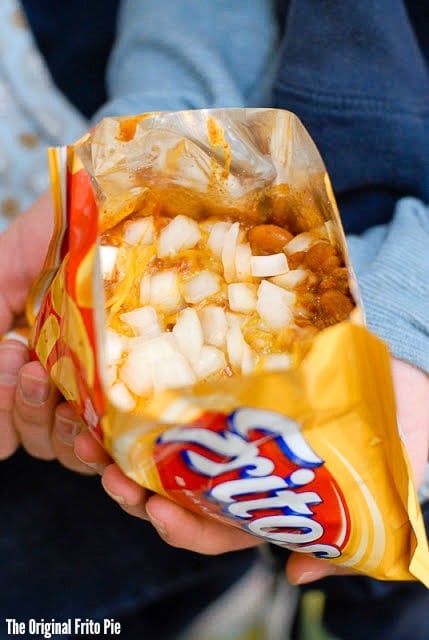 This red chile is more of a sauce than a chili in the traditional sense. Perfect for serving over something like Frito Pie, it has the earthy spices of the southwest and the heat isn't for the faint of heart!