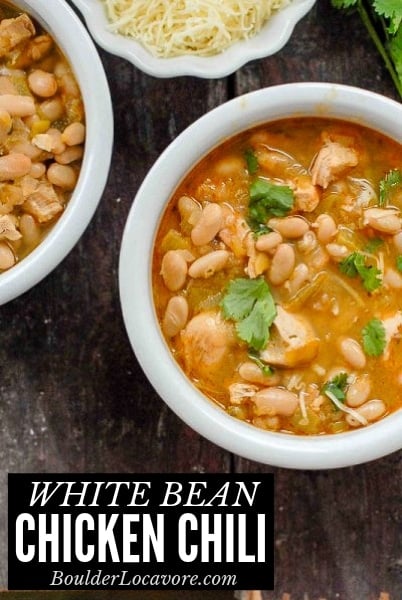 I love the elegance of tone-on-tone dressing. It seems so chic, so 'put together'.
In that same vein when I discovered this recipe for 'White Chili' in a family recipe collection, I instantly loved the aesthetic of coordinating a dish chromatically.
White-on-white, blanco-en-blanco, with a pop of discreet, muted chile green.
I felt confident I'd look very hip while eating it and it would be certain to go with any outfit.
If you love using an Instant Pot try Instant Pot Turkey Chili or Instant Pot White Chicken Chili too!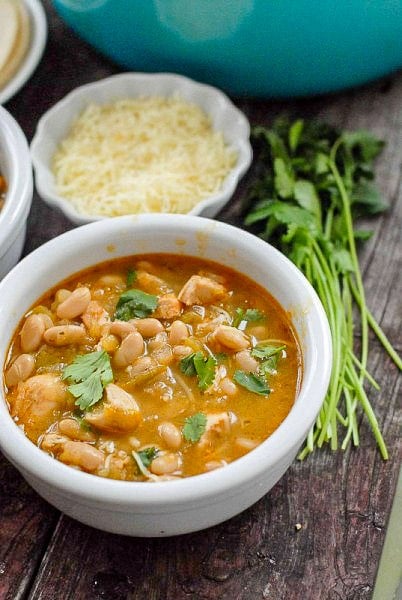 It is chili season thanks to the arctic wiles of the mountain regions. It's been an underwhelming winter to date, leaving us constantly checking ski conditions at our little local area and wondering when 'it will come'.
We enjoyed highs in the teens this past weekend, empathetically watching the beloved NFL home team man-up in single degree temps that meteorologists reported felt to be below zero, their breath curling out of their nostrils like angry dragons.
I'm not clear how they even handled a football frankly and why they weren't crying it was so cold (I would have been).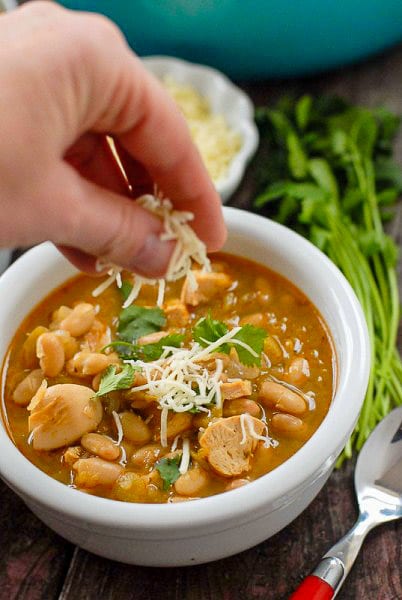 The arrival of said weather prompted perfect timing to try the White Chili recipe.
I tweaked it a bit and after I finished admiring the sublime color match, I realized it fits seamlessly into the eating protocol of the first part of the New Year, offering a lighter, healthier version of a favorite cold-weather dish.
Pale in visual tone does not mean wimpy or flavorless by any means.
Where red chili typically is chunky meat, beans and tomatoes in a thick sauce, White Chili offers a hearty yet light combination of succulent chunks of white chicken, smooth-flavored Great Northern Beans in a richly-flavored broth.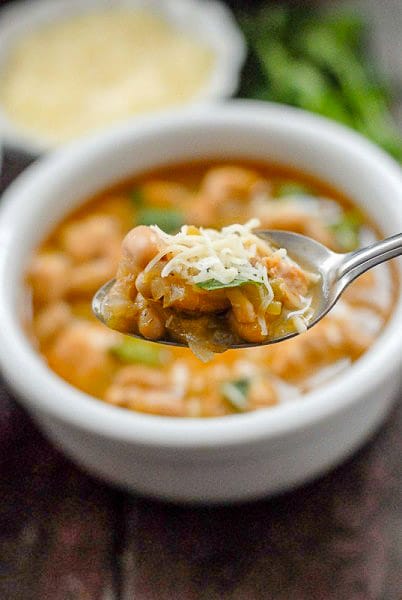 It quenches the winter hunger for warm, filling food without leaving one heavy in the stomach. If you are on a mission to better health or less calorie consumption, this is a perfect dish. And if you aren't, this is a perfect dish!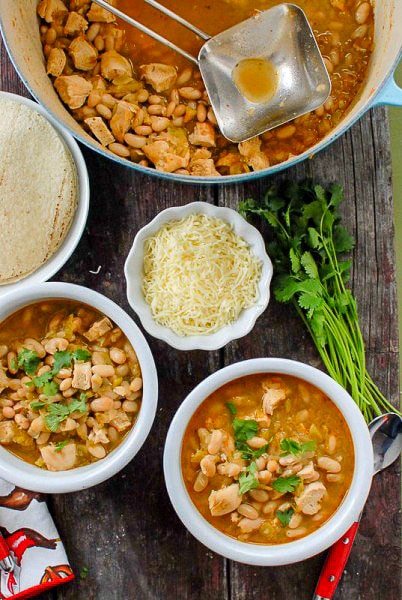 Try These Recipes too!
Instant Pot White Chicken Chili
Serve with this delicious Cornbread recipe!