Braising is a wonderful cooking method to create flavorful one-pot meals with little effort. Cider Braised Chicken Thighs with Apples and Onions is perfect for fall and takes about 60 minutes to get on the table. Pan seared chicken thighs are combined with apple cider, fresh apples and onions to bake in the oven for an easy dinner recipe.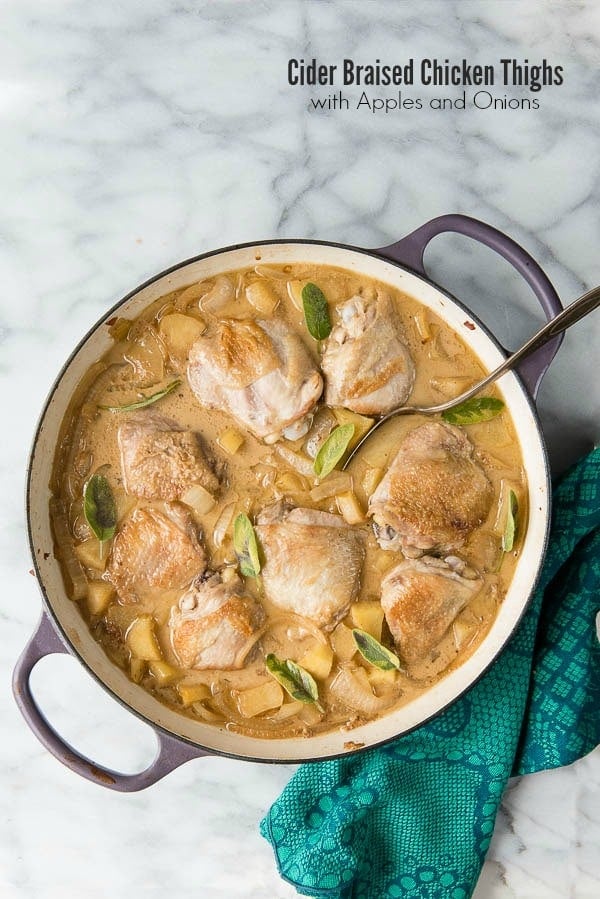 I think there is a happy meeting place between delicious recipes and easy, quick preparation for busy nights or frankly when you aren't in the mood to slave in the kitchen.
Braising is a wonderful way to harvest the flavors of some select ingredients with a bit of sautéing and cooking in the oven to produce savory, succulent cuts of meat brimming with great flavors.
The other advantage of braising is the process produces a sauce and even a side dish depending on what is cooked with the protein, cutting the effort down even further.
This recipe is perfect with homemade Spiced Apple Cider!
If you love chicken breasts this roasted chicken recipe also uses apple cider and onions.
What is Braising?
If you haven't done braising it's a simple one pot method of sautéing meat and usually some vegetables or aromatics, then combining with liquids and bake in the oven. Generally the recipes don't require loads of ingredients; braising relies on distinct flavors to create a memorable dish. Another favorite braising recipe that is a great example of this is Vermouth-Braised Lemon Chicken Legs. It includes fingerling potatoes so the entire meal is almost done when the pan comes out of the oven. Another favorite for lemon-lovers is Irresistible Lemon-Garlic Chicken Thighs!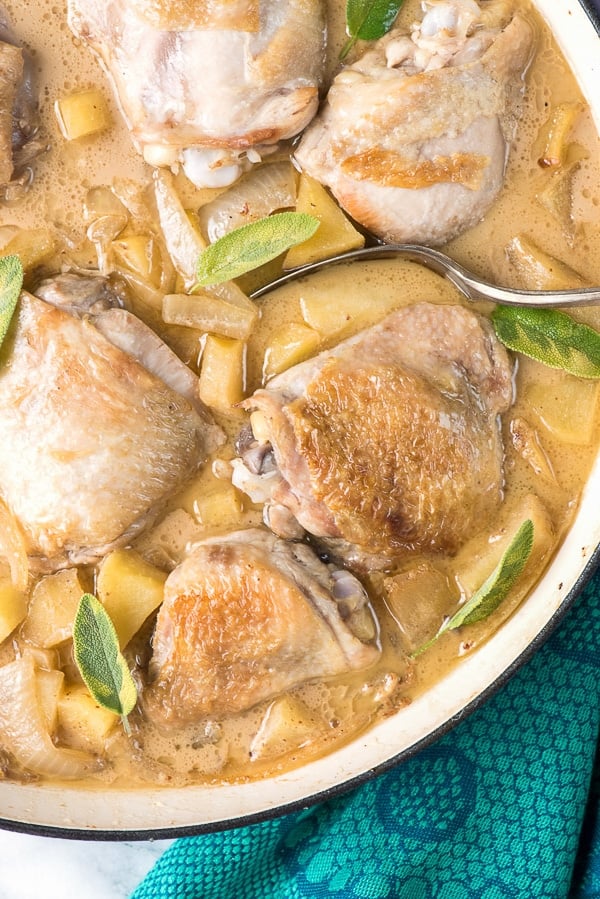 I love cooking with seasonal ingredients and the varieties of apples popping up is really exciting! A favorite of mine are Honeycrisp apples and I love making fresh applesauce or slow cooker apple butter with them to eat with everything. Apples traditionally are paired with pork however I wanted to cook them with my favorite piece of chicken: the thigh. The thigh is the most flavorful meat (along with the drumstick) and being dark meat it also is a juicier piece of the chicken.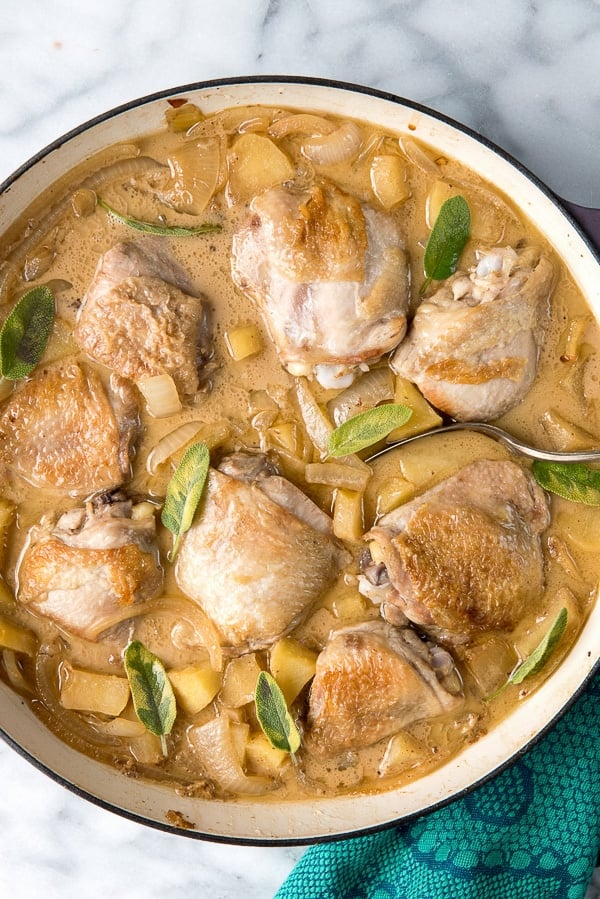 Cider Braised Chicken Thighs with Apples and Onions. This simple fall-inspired recipes combines chicken thighs, yellow onion, fresh apple slices with spiced apple cider, apple brandy, broth and stoneground mustard for a luscious, flavorful recipe. Served with a side grain and the pan sauce will remind you why fall is a favorite season of all who enjoy cooking!
How to Make Cider Braised Chicken Thighs with Apples and Onions:
This delicious recipe was originally published in October 2015 and has been updated in 2017.