Halloween festivities aren't complete without a ghoulish recipe or two. Would you ever guess this Swampy Frog Egg Pudding is a modern spin on a classic dessert gone to the dark side? Gluten-free, dairy-free and fright-filled.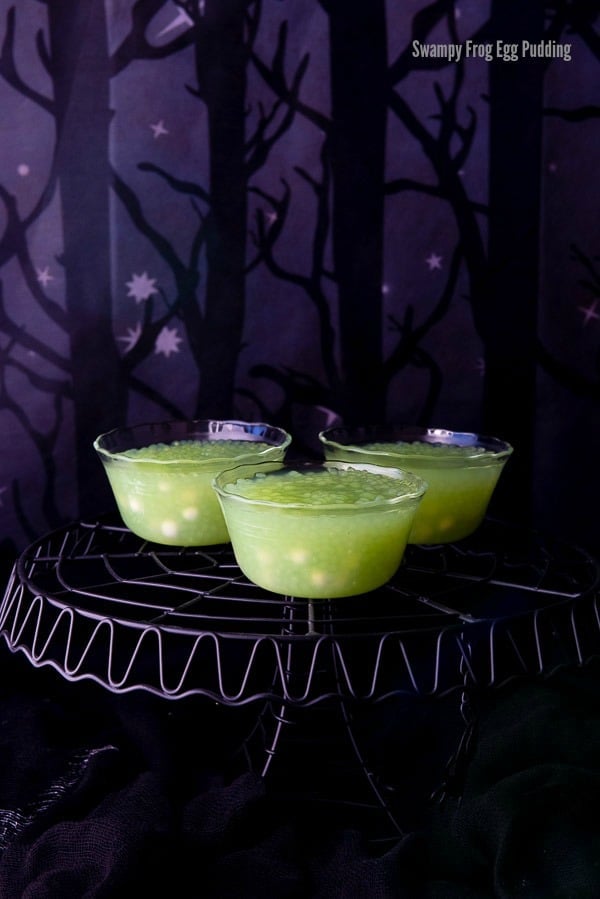 My mind is so full of ideas for fall recipes I think I'll never have the time to share them all! And though I've created a respectable collection of Halloween recipes, I can't let a year pass without something new to add to the bunch.
I think the delight of Halloween foods and drinks is a distinguishing characteristic that clearly identifies it as a Halloween edible (and often something that would never be made or consumed at any other time of year).
Something that makes one squirm or with some whimsy that is the essence of the holiday fun (this Jack o Lanterns fruit dessert pizza comes to mind).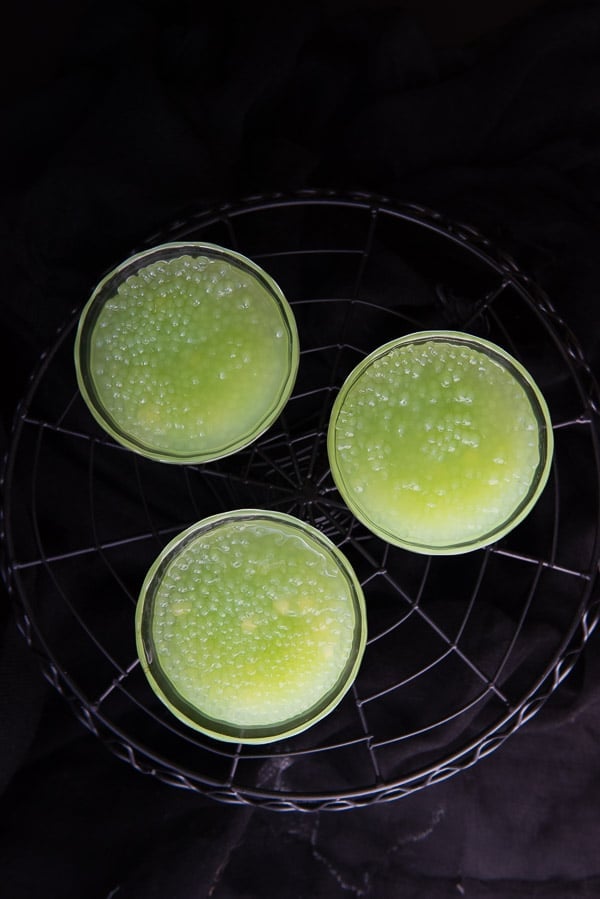 You would not believe how many months beforehand my mind starts working overtime to think of something new, fun and unexpected. I never like to do the same things twice and I deliberately try not to see what other things are popping up on the internet to keep my own train of thought on the track.
Swampy Frog Egg Pudding is actually a simple non-dairy tapioca recipe using multiple colors and sizes of tapioca pearls to create both the eggs and the color. For those who have enjoyed Bubble Tea, the large white eggs are Boba tapioca pearls. They are combined with regular size white and green pearls which become translucent as they cook making a cool texture and visual appearance.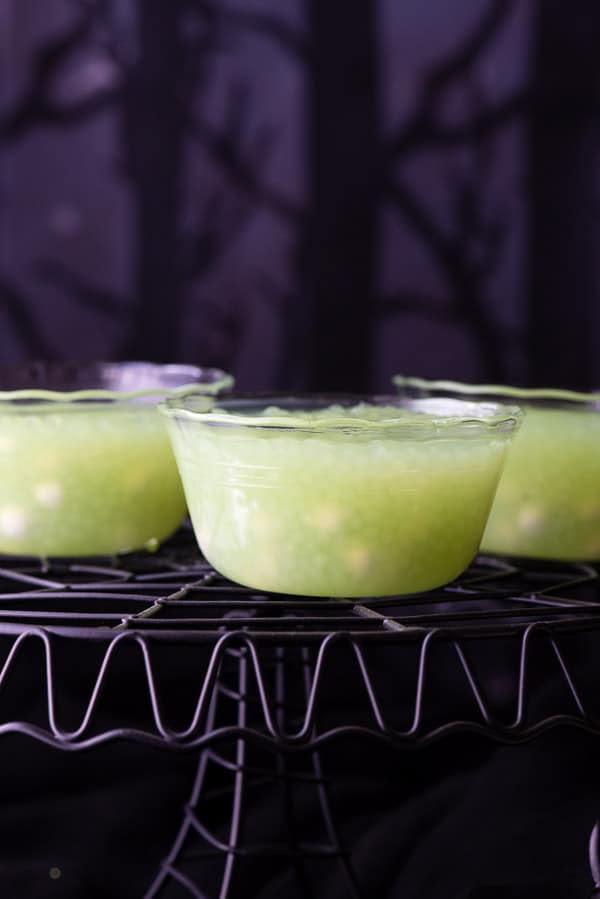 I toyed with this recipe for an entire weekend to find just the right mix of appearance, texture and flavor for the occasion. Non-dairy tapioca pudding, or better described tapioca pudding made with water instead of milk has a more gelatinous consistency. It's like jello, though stickier, and perfect for this ghoulish treat!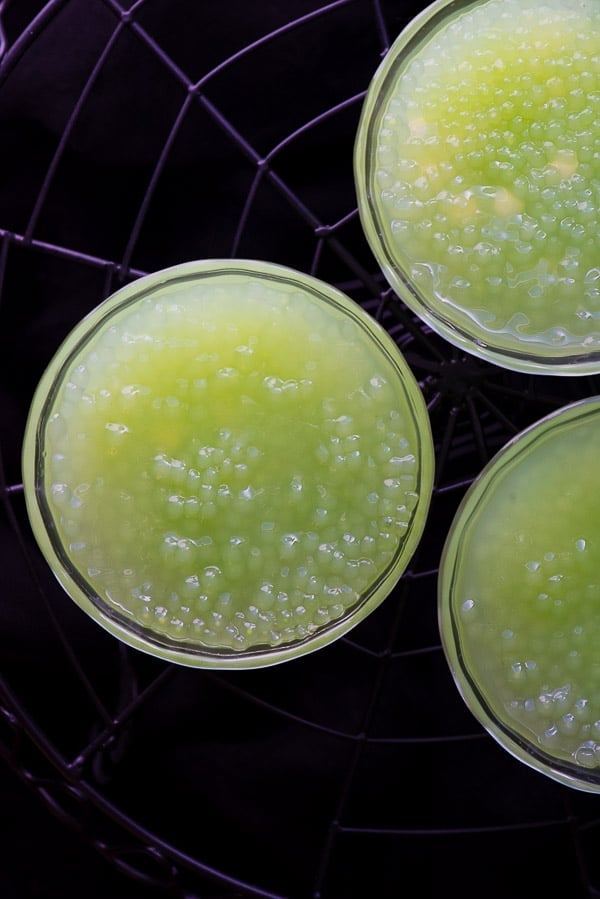 Ironically there is no added coloring in the recipe. The combination of the green tapioca in the mix creates the swampy green shade. I used granulated sugar which has a naturally fine consistency more like a baker's sugar, which dissolves very quickly.
I suggest using clear vanilla extract if possible which can be found at stores featuring baking supplies or online; regular vanilla works well too though the color will change the pudding shade a bit.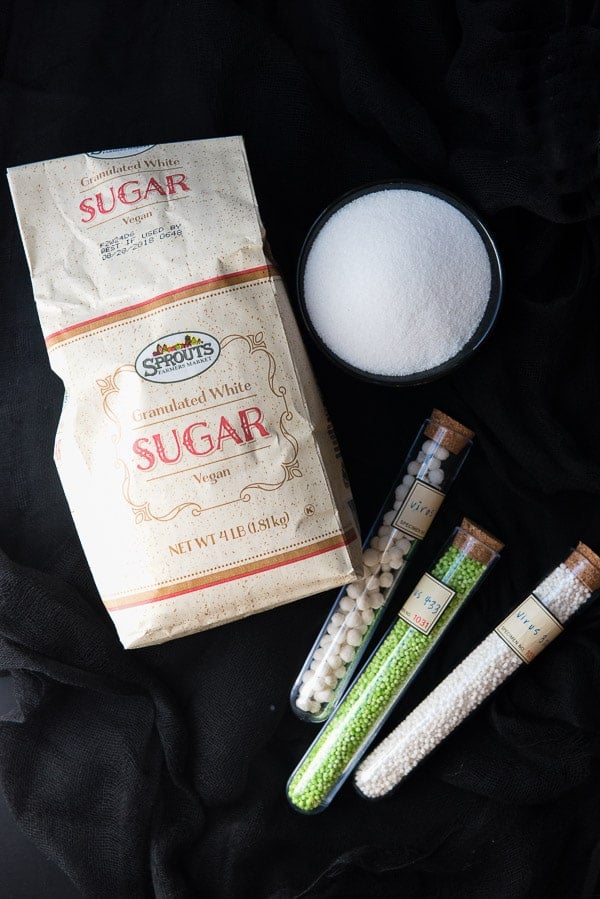 Where to Buy ingredients
The green tapioca and large boba pearls are most commonly found at a grocery store including Asian grocery items or online.
There are many colors of both the smaller tapioca and the boba (green and black too).
If you have difficulty finding the small green tapioca you can double the small white tapioca and add a bit of food coloring for the green tone.
Any way you make it will be a delight!
More Recipes You'll Love