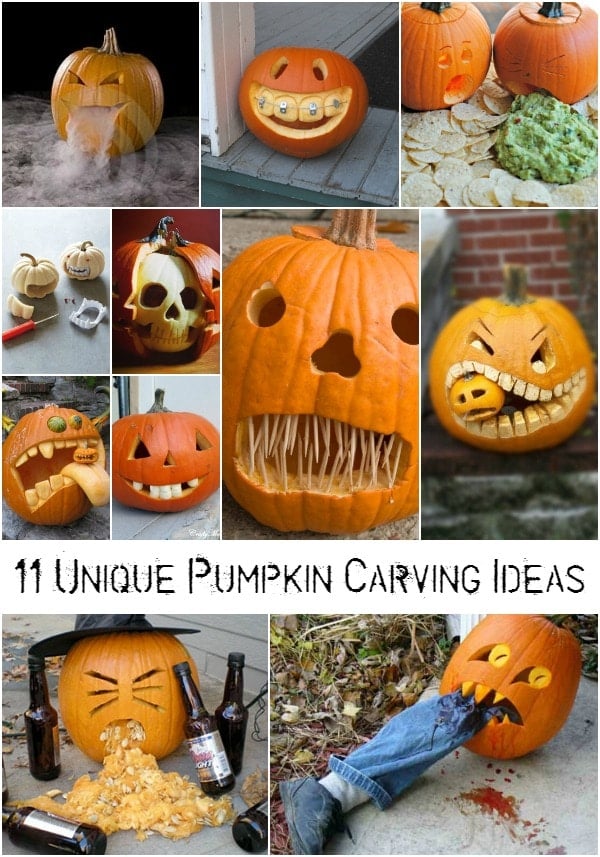 Now that October has arrived, I'm finding myself sort of obsessed with Halloween.  I can't wait to make a Tootsie Pop Trick or Treat wreath for the door.  We use it for treats on Halloween night as well, having little ghouls pull a pop, which they love not realizing the wreath is more than mere décor.  I'm thinking up Halloween food and drink recipes and am excited to pull our storage bins down to spookify our house and porch.
We love going to a traditional pumpkin farm in October to get pumpkins for carving as well as to cook from scratch.  About four years ago I discovered a sweet farm that has a pumpkin patch and is completely noncommercial.  You can go out into the patch to select pumpkins or choose from already harvested large groups of different varieties.  Their prices are good and there isn't any inorganic fanfare, just pumpkins, corn stocks and the family who has been running the farm for years.
Despite my holiday fervor, I do get into a bit of a pumpkin carving rut.  I'm of the old school triangle-eyes-round-mouth jack-o-lantern styling, partially because of my limited artistic skill in the great orange orb arena.  Over the last few years I've seen an incredible odyssey of pumpkin carving prowess online, far exceeding my own.  There are a few approaches however that have caught my eye which turn basic pumpkin carving into an eye-catching spectacle.  I wanted to share some fantastic examples to perhaps prompt you out of your pumpkin carving box this Halloween!  Links to DIY tutorials included for most.
Pumpkins with Teeth.  Other than two large front teeth, I've never carved a toothy Jack-o-Lantern.  I can't take my eyes off these.
Pumpkins with Marshmallow Teeth
And perhaps due to having a tot in these now, Pumpkins with Braces
Vomiting Pumpkins have been all the rage over the past few years.  I find them as repulsive as I do funny.
Pumpkins Vomiting Seeds (I saw one image with the pumpkin vomiting seeds onto the top of a pumpkin pie)
Pumpkins Vomiting Guacamole to decorate your Halloween table
There are gory pumpkins too (hard to imagine a pumpkin being that, but they are).  This Pumpkin Devouring a Bloody Leg, which has been viral on the internet, originates as an entry to a pumpkin carving contest for This Old House in 2010.  There is no tutorial but I think it would be pretty easy to create.
I'm fascinated by Cannibal Pumpkins; you know, pumpkins eating other pumpkins?
Another Pumpkin-Eats-Pumpkin idea I love is this large pumpkin savoring a mini carved pumpkin on its grotesquely large tongue.  Unable to find original carving details, I believe the tongue is a piece of another pumpkin with the outer skin removed with a bit of carving to round the edges, and the rounded side facing down.  I love the idea of using colorful ghords as eyes and horns.
I spent an hour online trying to track down the DIY instructions of this White Skull Pumpkin inside a Carved Pumpkin with no luck.  I actually do not think the instructions are posted online but my guess is that the outer pumpkin was carved, cut in half down the front of the carved face, with another white carved pumpkin inserted inside with the outer pumpkin positioned to allow the white pumpkin to peek out.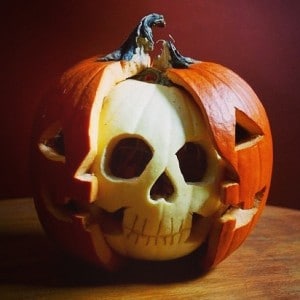 Lastly this simply carved Smoking Jack-o-Lantern with dry ice fog coming out of its mouth is perfect for an eerie porch decoration!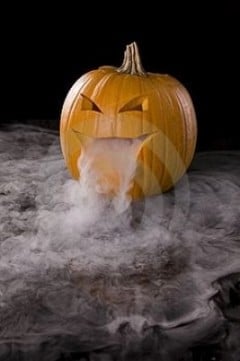 If this isn't enough, while I was searching for fun ideas I ran into a series of 'pumpkins giving birth' online.  Though the graphic nature of squash birthing squash is too much for my holiday sensibilities, it does give a nudge that my old school carvings probably could be boosted with a bit more creativity!