Black Quinoa in Sage Brown Butter Sauce is a fast and easy recipe brimming with fall flavors. Protein-packed as a main dish or perfect as a side dish too.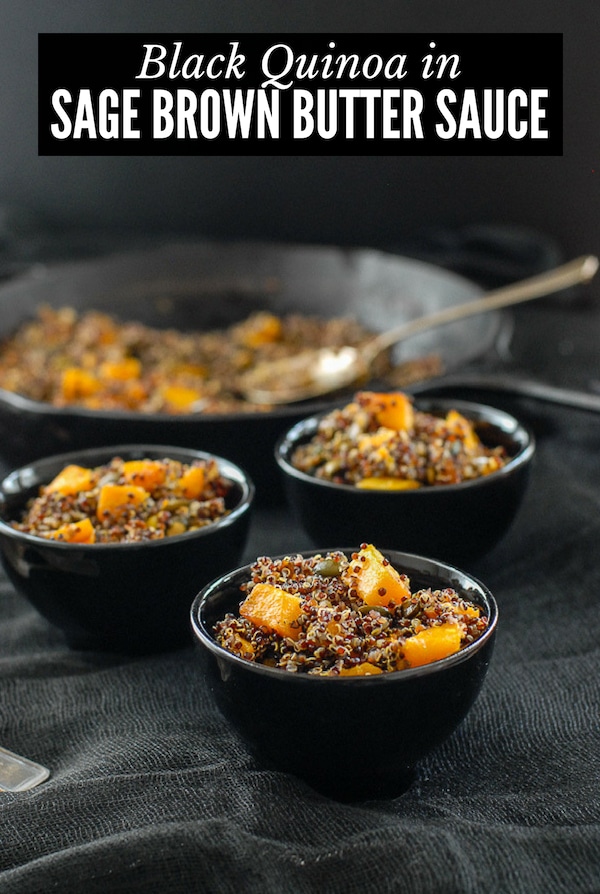 Originally published October 2013; updated October 2018
With the bold flavors of fall food, it only takes a few choice ingredients to create a delicious satisfying recipe. It doesn't have to be complicated.
This recipe is protein-packed making it a perfect option for a meatless main dish as well as a side dish too!
Black Quinoa in Sage Brown Butter Sauce
An absolute favorite grain of ours is quinoa (pronounced 'keen-wah'). It originates in South America and is a complete protein. Quinoa is quick to make (about 20 minutes total) with a light flavor and nice texture (think soft crunch).
Throw in a simple sage brown butter sauce, and butternut squash creates a fantastic textured dish with a warm buttery flavor with little time or effort. Some roasted, salted pepitas (pumpkin seeds) to top and the recipe becomes a new fall favorite.
The protein amount in this recipe makes it a great main dish choice or side dish to other proteins (like roast chicken).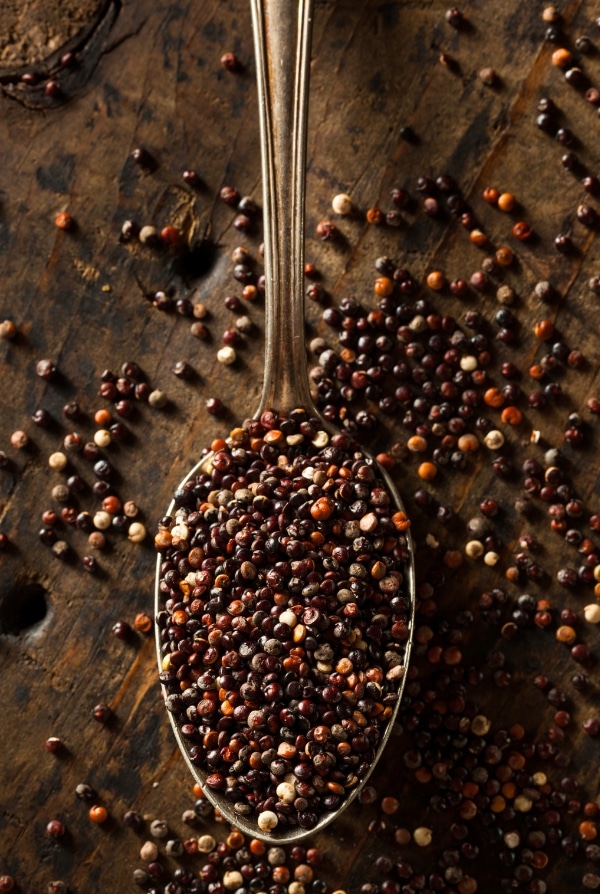 What is Black Quinoa?
Quinoa comes in multiple colors or a mix. Black quinoa is one variety. Black quinoa has an earthier flavor than white quinoa is a bit sweeter than other types of quinoa. It retains its color when cooked as well.
The dark color and pleasing flavor makes it a perfect centerpiece for this flavor-packed recipe. It's also a great option for a healthy Halloween recipe (no mistake on the orange and black combo)!
Where to Buy Black Quinoa
Quinoa has become readily available at most grocery stores although black quinoa can be a bit more difficult to find. Grocery stores with a larger natural food's selection are a great place to check. Also, I order black quinoa online from Amazon (they have a less expensive 'add on' option too).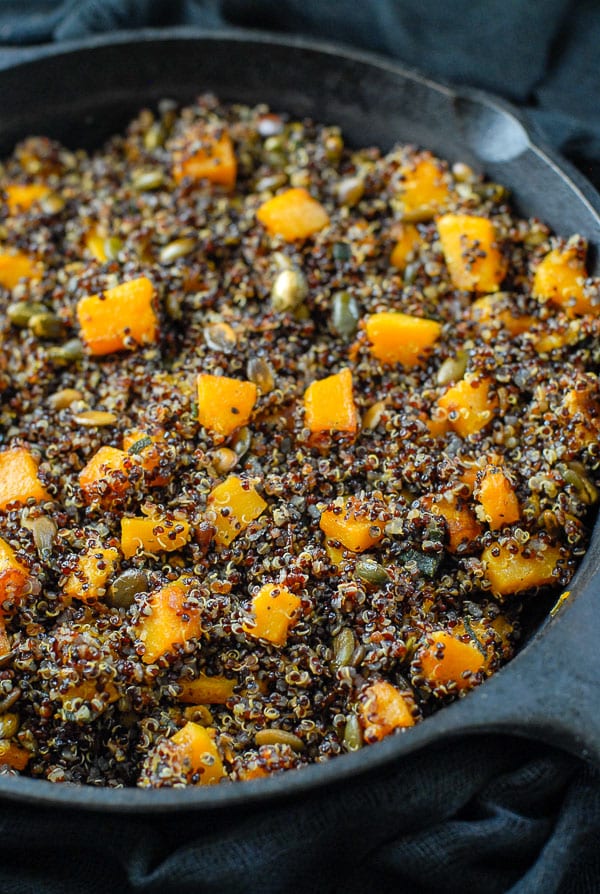 How to Cook Black Quinoa
Cooking black quinoa could not be easier. It is combined with water and boiled for about 20 minutes until the germ appears. Black quinoa sprouts a curly germ giving the appearance of a little white stripe.
For this recipe the black quinoa is cooked separately then combined with the sage brown butter sauce and butternut squash.
Sage Brown Butter Sauce
Fresh sage and brown butter are a combination made in culinary heaven in my opinion!
Brown butter sauce is made by cooking unsalted butter until the milk solids brown (you'll see specks in the butter). The process of cooking changes the flavor of the butter to be slightly nutty and wonderful. It's a simple sauce that packs a punch of flavor.
Adding fresh sage is a very easy way to completely change up the flavor. Sage brown butter sauce is great on many different recipes. Another one of my favorites is Butternut Squash Noodles in Sage Brown Butter.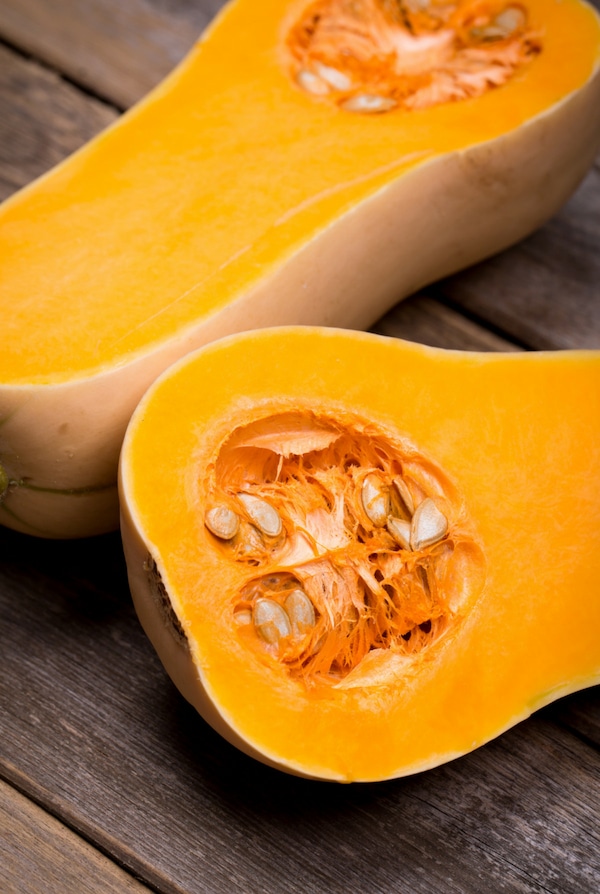 How to Cook Black Quinoa in Sage Brown Butter Sauce – Step by Step:
Melt butter in a large heavy skillet over medium-high heat; stirring often. Allow butter to cook for 2-3 minutes.
Add shallots and sauté for 2 minutes. Add the sage and sauté an additional minute. NOTE the butter should foam slightly and begin to turn a deep golden color.
Add the butternut squash to the skillet; stir to coat. Sprinkle the salt and pepper over the squash.
Arrange butternut squash to be in a single layer only. Allow to sit undisturbed to brown slightly (about 4 minutes). Check to ensure they do not overbrown.
Once browned on the bottom, flip butternut squash over, reduce heat to medium-low, cover and allow to become soft (5-7 minutes).
When the butternut squash is cooked (should retain their form but not be hard), stir in the prepared black quinoa.
Sprinkle on the pepitas and serve immediately.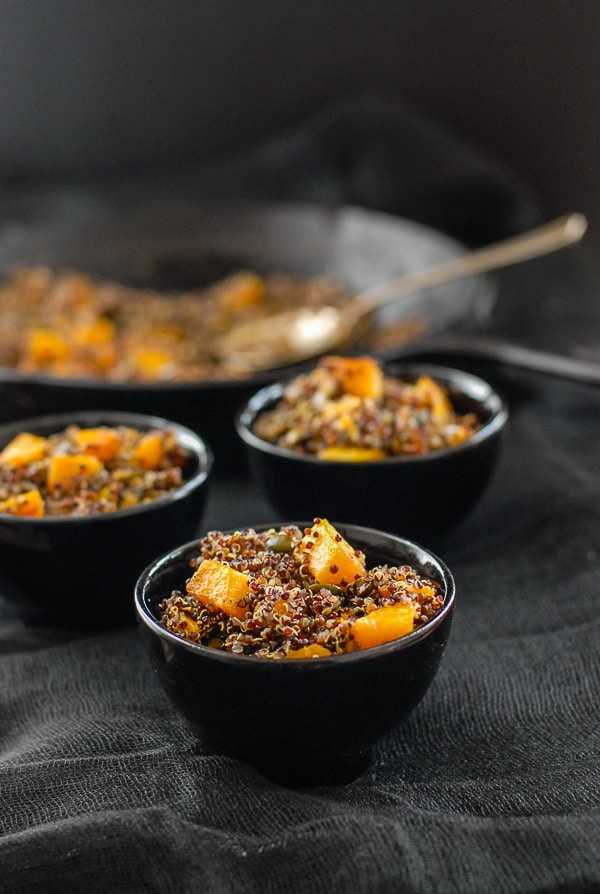 If you've made this Black Quinoa in Sage Brown Butter Sauce recipe please RATE THE RECIPE below!
Please SUBSCRIBE and FOLLOW ME on FACEBOOK , TWITTER , INSTAGRAM and PINTEREST to see more delicious food, travel and what I'm up to!