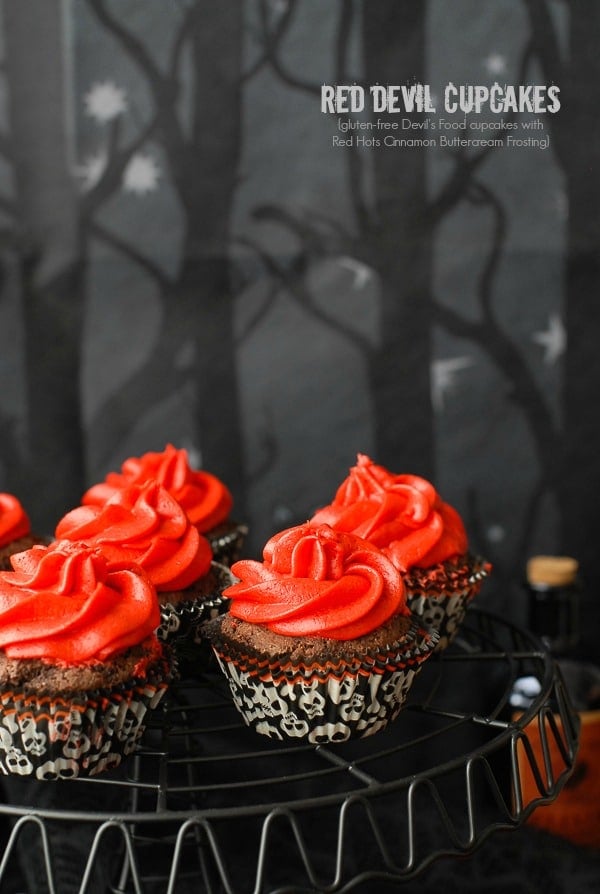 With Halloween being a week away I wanted to create a few more fun ways to celebrate! I will admit I'm feeling the need for some healthier food after having a Whimsical Fall M&M Cake and Trick-or-Treat Ice Cream at the ready for noshing. Very hard to resist!
I really had my heart set on cupcakes, devilishly delicious cupcakes! After making Graveyard Cupcakes for a prior Halloween celebration I felt we needed to add some new fun cupcakes to our party arsenal. 'Devil's Food' seemed completely spot on!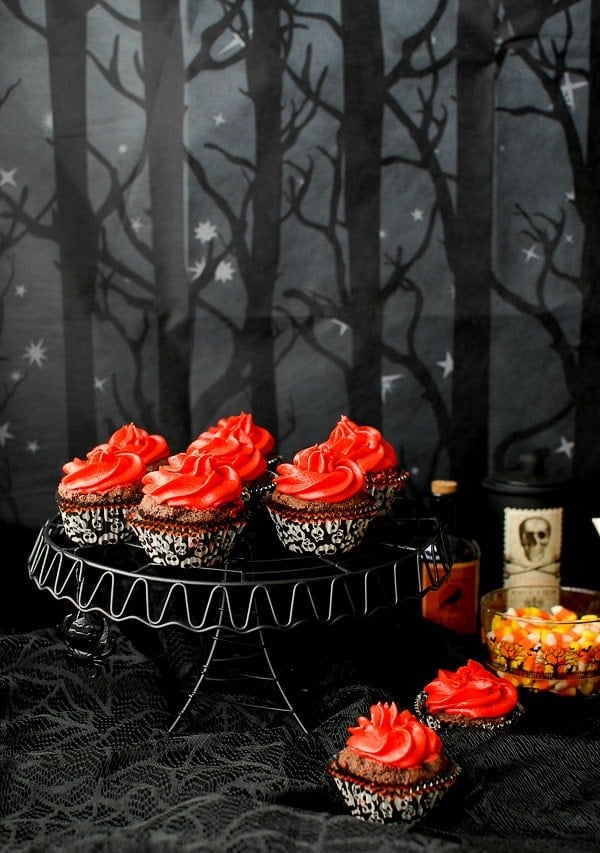 What is Devil's Food?
For those who don't know, Devil's Food is a moist, light, rich chocolate cake. I did a bit of research, always interested in the history of cakes with iconic names.
Devil's Food began to appear in the late 1800's but truly became 'the rage' in the early 1900's. At the time it was more easily distinguished from the just-plain Chocolate Cake by the use of Dutch-processed cocoa powder, higher baking soda amounts and often cookie to provide the light, airy texture and rich flavor.
The name of 'Devil's Food' is of unclear origins but believed to be referring to how sinful the cake is to eat, in contrast to the white, light 'Angel Food' cake which showed up in cook books about the same time.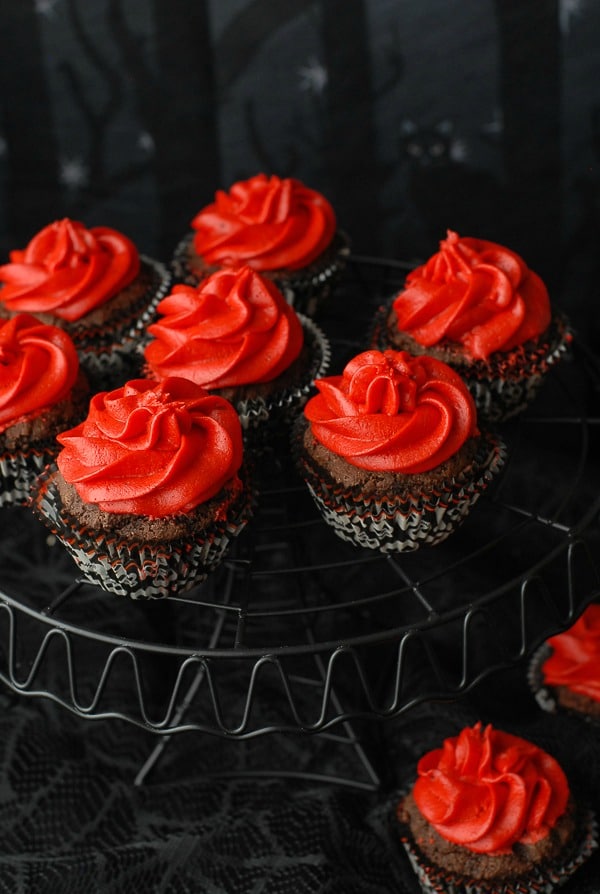 Typically Devil's Food Cake is frosted with chocolate frosting however I decided to make something equally devilish in taste and appearance: Red Hot Cinnamon Buttercream Frosting.
Flavored with pulverized Red Hots candies, the frosting bears a true spicy, cinnamon flavor that is perfection on these cupcakes.
Not overly sweet as some buttercream frostings can be and definitely with a kick. In its natural state the frosting is a fleshy-pink tone from the Red Hots. I wanted the frosting to be undeniably devilish and opted to add some coloring (vegetable based colorings can be used if preferred or it can be left untinted).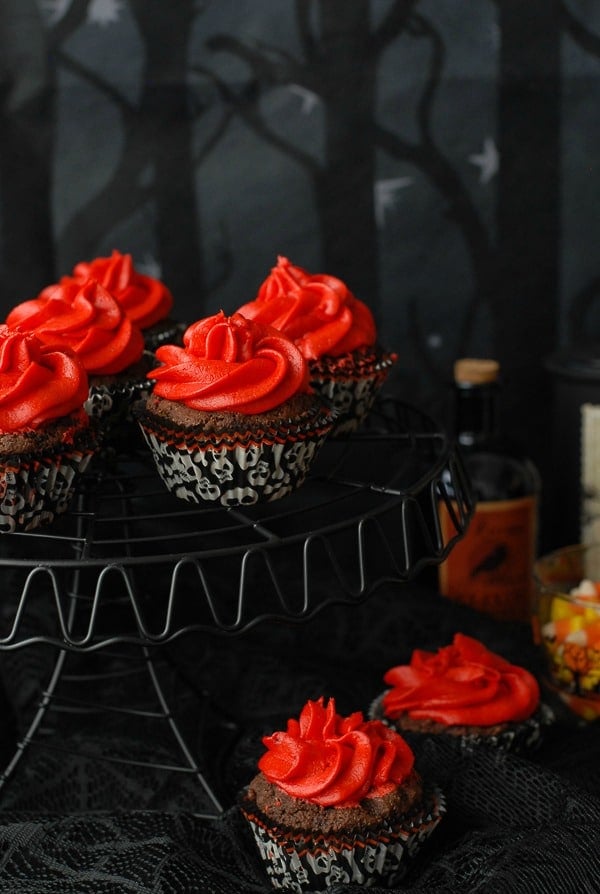 The cupcakes are rich chocolate without being over the top. They are moist, light, and a beautiful flavor of chocolate thanks to a combination of Dutch-processed cocoa powder and melted Bittersweet Chocolate.
They are deeply chocolaty but not deeply sweet. Paired with the frosting makes for a wonderful treat!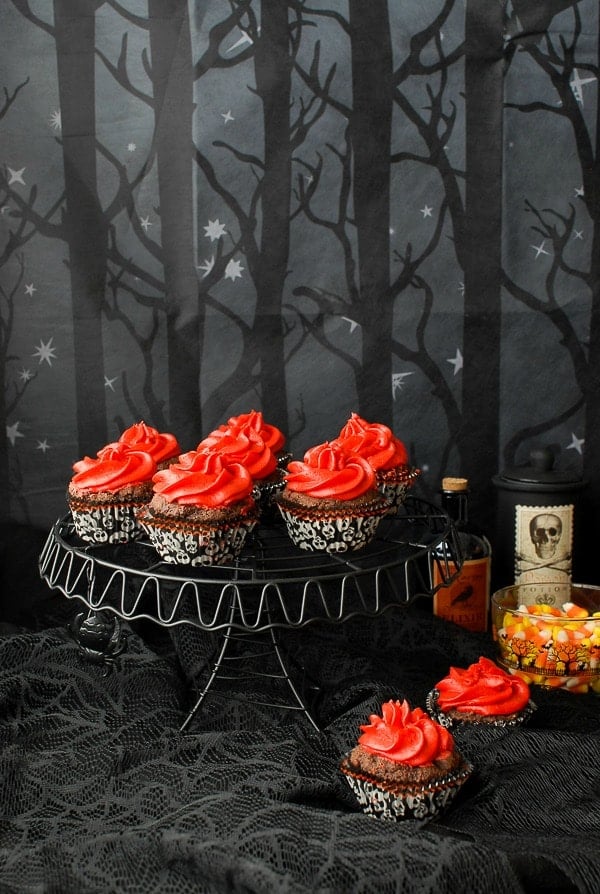 Cinnamon Buttercream Frosting
This cinnamon buttercream frosting has true cinnamon flavor.
The secret ingredient? Red Hots candies!
I promise it's the best, most true flavored cinnamon frosting you've tasted.
Ground Red Hots are added to the frosting to give it a sweet fiery cinnamon flavor.
When needing to grind the Red Hots (or cinnamon imperials, they are basically the same):
Buy a dedicated coffee grinder and grind them in that.
They are inexpensive and give you flexibility to grind your own spices.
After use, brush it out with a coffee brush (one that has not been used for coffee) and use it for grinding any spices.
A damp paper towel may be used in between different types of spices too.
For instance, when I make homemade curry powder I add all the spices into my dedicated grinder for my own curry powder.