One pot recipes are always a favorite especially when they are bursting with flavor like this Mexican Chicken and Rice Skillet recipe. Seared chicken thighs, spicy rice full of black beans, corn, tomatoes, sweet peppers and onions make for a robust easy meal!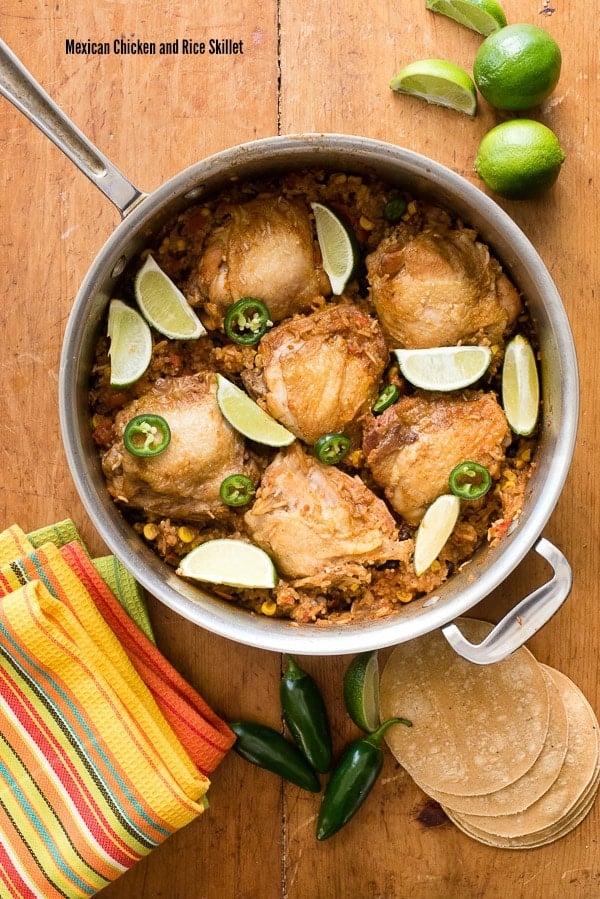 I L.O.V.E. this one pot Mexican Chicken and Rice Skillet! I crave these flavors as the winter winds howl outside and it seems impossible to warm up. The flavors are soul-warming, the chicken perfectly seared and succulent. When I pulled together the recipe I'd been envisioning in my head, it did not disappoint.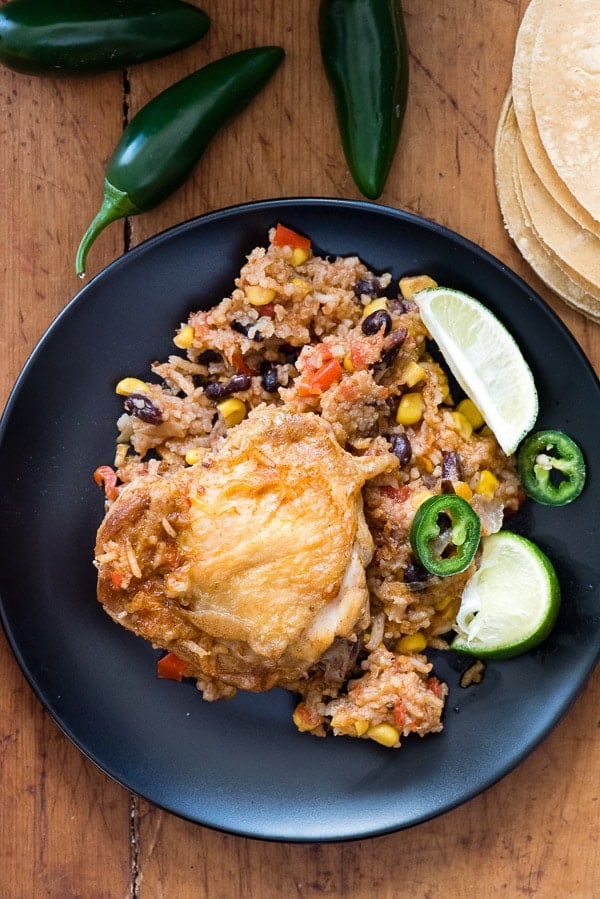 Regular readers will notice a recipe theme, especially at this time of year,; easy, flavorful, approachable dinner recipes that don't require slaving in the kitchen. It's my personal mission, for myself and for you! I'm never willing to compromise quality of flavor but if I can pull together a one pot meal, that's my jam. It's why I love braising recipes at this time of year.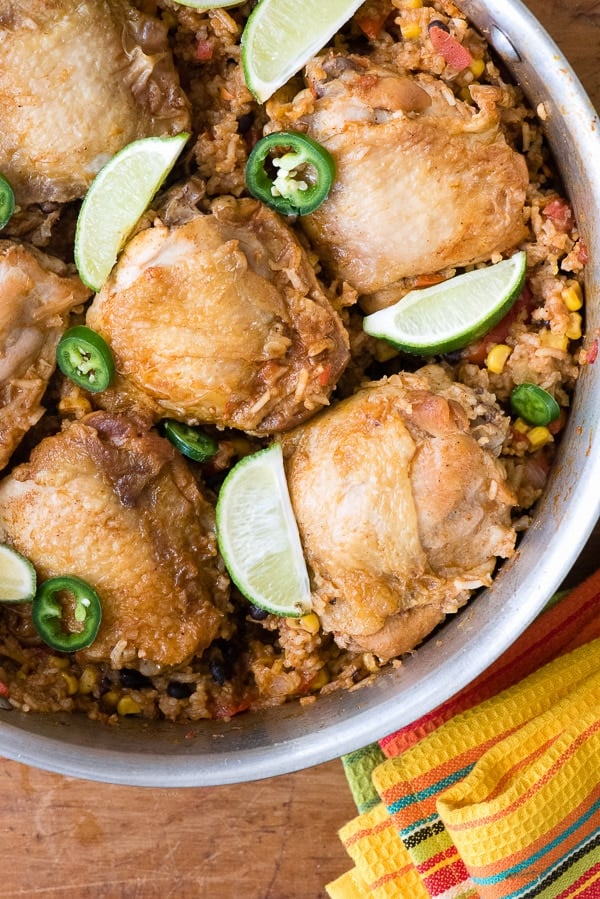 This recipe creates an abundant portion of soft rice which reminds me in texture of Spanish rice one would make from a box. It has a denser texture, bursting with flavor. It's spicy in an earthy way and boasts beautiful colors and textures thanks to the corn, black beans, petite diced tomatoes, onions and colorful sweet peppers.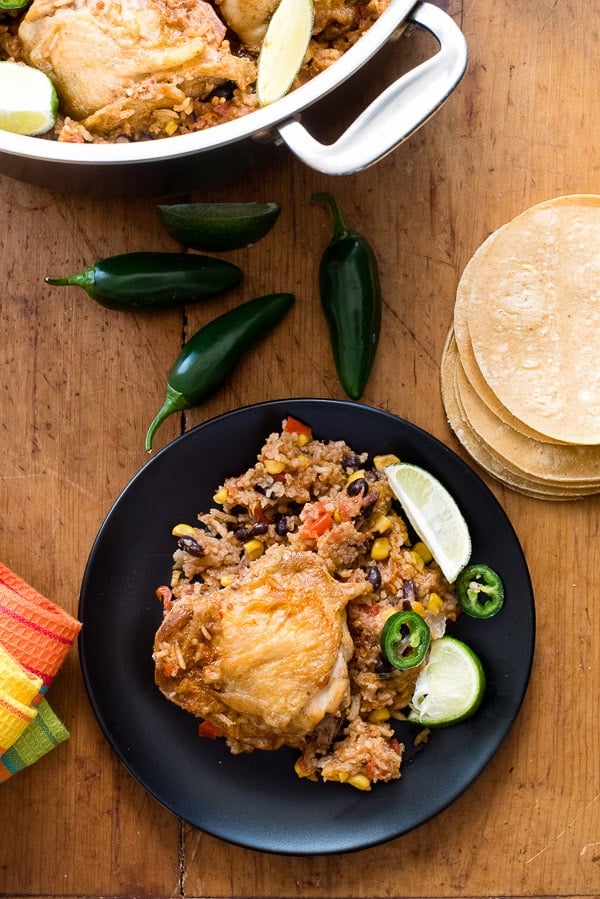 How to make Mexican Chicken and Rice Skillet – Step by Step:
The length of time for the recipe to cook fully may vary with altitude. Chicken thighs are first seared on their own before the rice mixture is combined and the chicken returned to the pan for the rice to cook through, absorbing all the liquid.
The recipe is left to simmer untouched for 20 minutes and depending on how much of the liquid is absorbed at that point (as well as how done the rice is to the taste and the internal temperature of the chicken) it is either removed from the heat to rest before serving, or to cook a bit longer.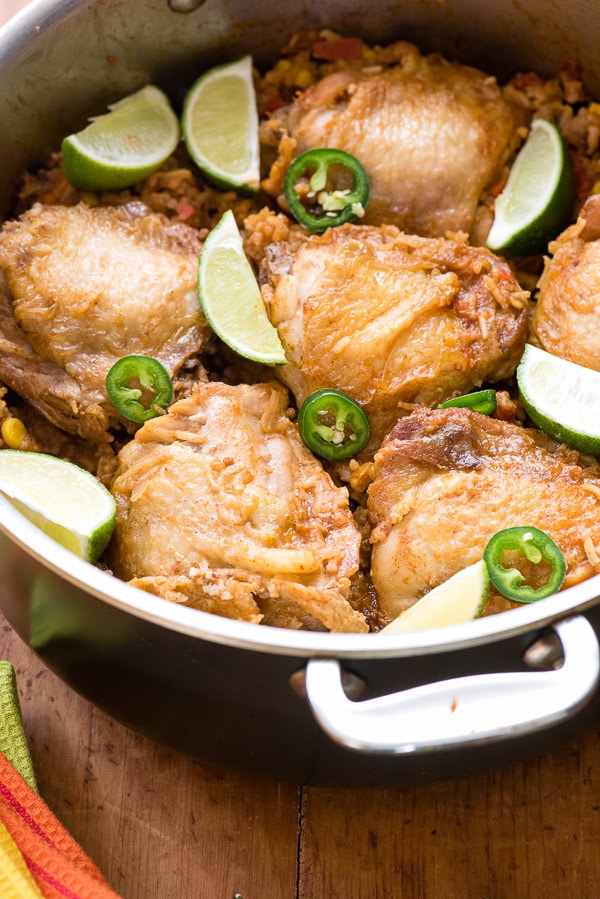 What makes Mexican Chicken and Rice Skillet Spicy?
Spicy flavor is really delivered from the hot paprika and chipotle chili powder (which adds a smoky flavor too). If you generally prefer a more mild heat, I suggest cutting those two ingredients back by half. You can always add some hot sauce or salsa to perk the heat up before serving.
A TIP if food is TOO Spicy: If when having made the recipe you find the spiciness to be too hot, adding a dairy product, sour cream in this case, (or drinking milk) is the secret to dimming heat!
EQUIPMENT: Using a deep skillet with lid with lid or a Dutch oven would be preferable for this recipe.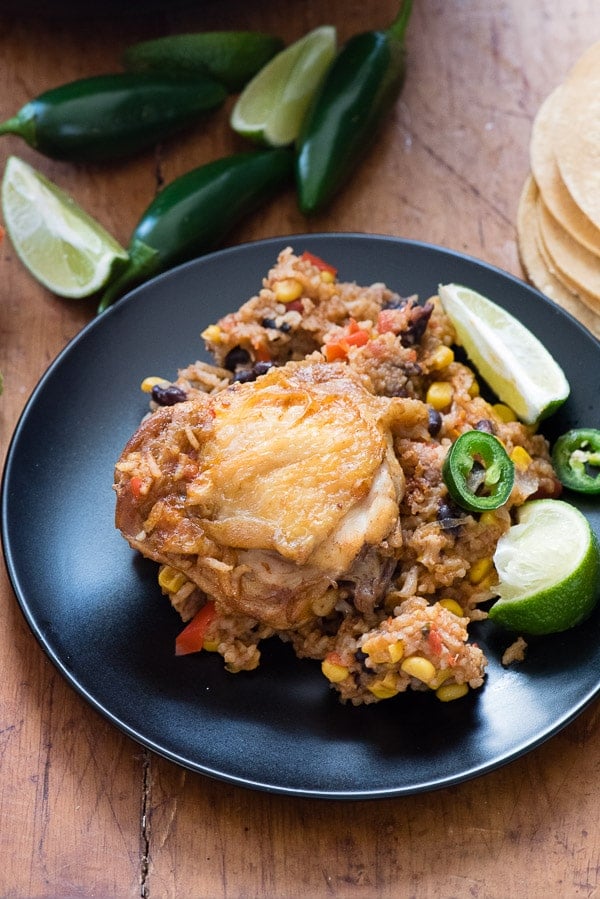 More Mexican-Inspired Recipes You'll Love:
If you've tried this Mexican Chicken and Rice Skillet or any other recipe on BoulderLocavore.com please don't forget to rate the recipe and let me know where you found it in the comments below, I love hearing from you! You can also FOLLOW ME FACEBOOK, TWITTER, INSTAGRAM and PINTEREST to see more delicious food and what I'm up to!
Originally published: September 25, 2016