If you've ever had Mexican Street Corn or Elote, this is a dip recipe you won't want to miss! Charred corn, with flavors of lime, chili powder, cilantro and cotija cheese in a creamy scoopable dip.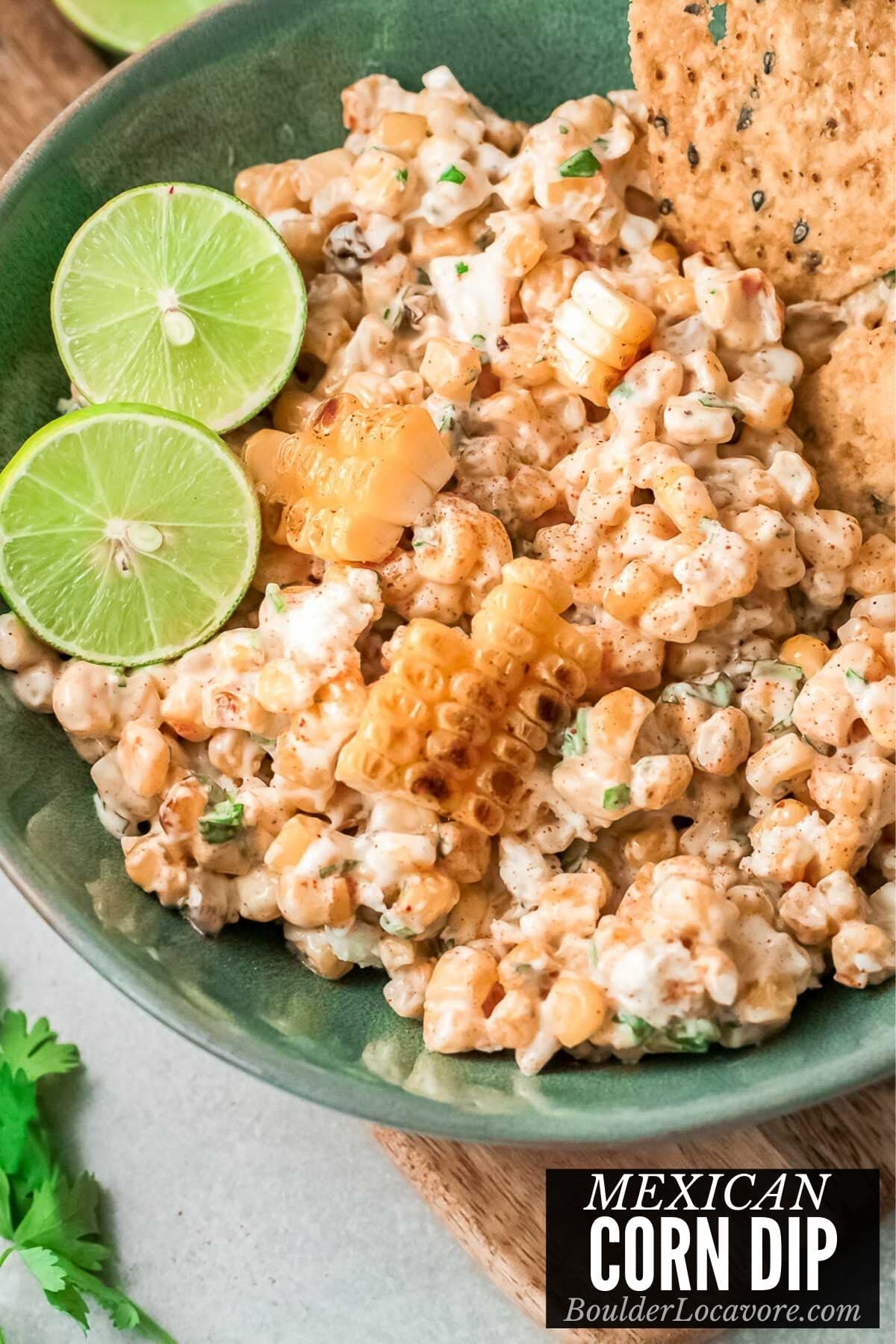 Change up your 'chips and dip' with this zesty Mexican Corn Dip. It's packed with a variety of flavors and pleasing textures.
Scoop it up with corn chips or tortilla chips. It can even be used as a relish on grilled meats.
And it's ready in just a smidge over 15 minutes!
Like Cowboy Caviar its a very flexible dip too. We have several variations for how you can change it up!
Jump to:
What is Mexican Street corn?
Also called 'Elote' this grilled corn on the cob is a treat like none other. It can be made in multiple ways but it usually is grilled corn on the cob (elote translates to mean 'corn cob').
It's slathered with a tangy, spicy mayonnaise sauce, sprinkled with crumbled cotija cheese and chopped fresh cilantro.
It has sweet, spicy, tangy flavors that are fantastic eaten together.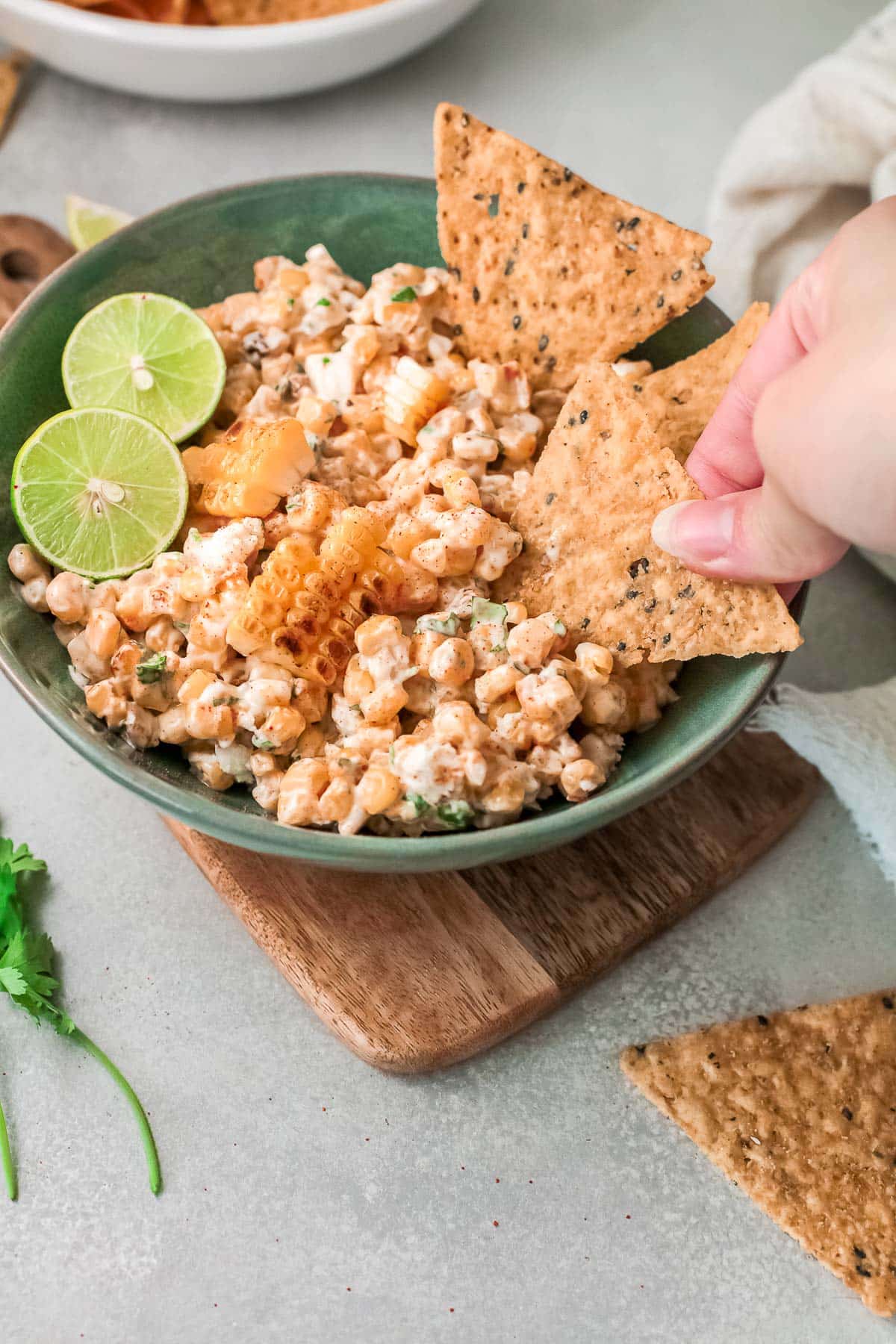 Mexican Corn Dip
This dip recipe takes all the best things from traditional Elote and turns it into an easy appetizer recipe.
The corn is charred, either in a skillet or on a griddle or on a grill. This brings out a natural sweetness in the corn from charring it over higher heat.
It has a wonderful texture and mixture of tangy and spicy flavors in a creamy dip.
Mexican corn dip can be whipped up quickly and easily. It's served warm for best flavor but can also be chilled if desired.
Recipe Ingredients + Notes
Olive oil. Used in cooking the corn. Any neutral flavor oil that cooks well on medium-high heat can be used.
Corn kernels. Fresh corn kernels or frozen and thawed corn can be used. If using frozen corn you'll need 2 10-ounce packages.
Mayonnaise. Gives a creamy, tangy flavor to the dip.
Sour cream. Adds more tanginess to the dip. Mexican crema can also be used.
Lime juice. Use fresh lime juice from 1 lime. I use a hand held juicer to extract the most juice.
Cilantro. Fresh torn cilantro is stirred into the dip. Some can be sprinkled on top when serving too.
Chili powder. This adds some earthy spicy flavor.
Cotija cheese. This is a Mexican cheese made with cow's milk. It's usually sold in a round disk sealed in plastic in the cheese section of the grocery store.
It has a drier texture similar to feta cheese and is easy to crumble.
Salt and pepper. Will season to taste after combining the dip.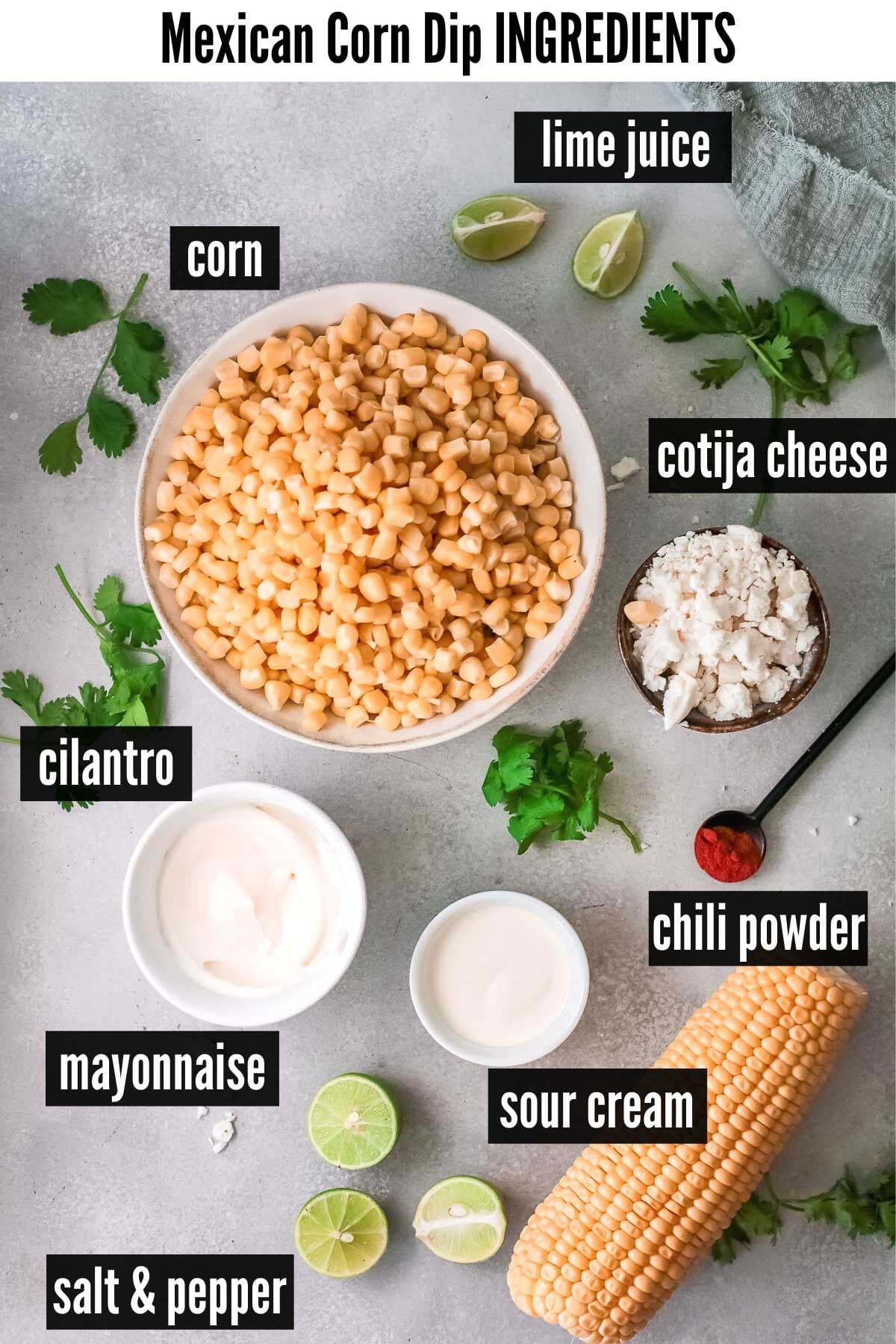 Variations
Make is spicy! Add some seeded diced jalapeno peppers for some spicy heat. Or add a little hot sauce.
Roasted chile peppers. If you have some extra time and want a smoky, spicy additon, roast some chile peppers, chop them up and add them. Here's how to roast peppers.
Try different chili powder. If you like smoky flavor try Chipotle powder. Want an earthy flavor? Ancho chili powder is delicious.
Want is cheesy? Stir in some shredded cheese. Try cheddar, Colby, Monterey Jack or Pepper Jack cheese….or a blend.
Cubed avocado. To add a smooth creamy texture add some small cubes of avocado.
Add some garlic. Some chopped garlic thrown in at the end of charring the corn will add some more robust flavor. A sprinkle of garlic powder could also be added.
Add vegetables to change the flavor or texture. Chopped red bell pepper, diced green chiles, black beans, green onions. You get the idea! It's a flexible salad to add in other ingredients you love for a new flavor.
Greek yougurt swap. Full fat Greek yogurt can be swapped in for the sour cream.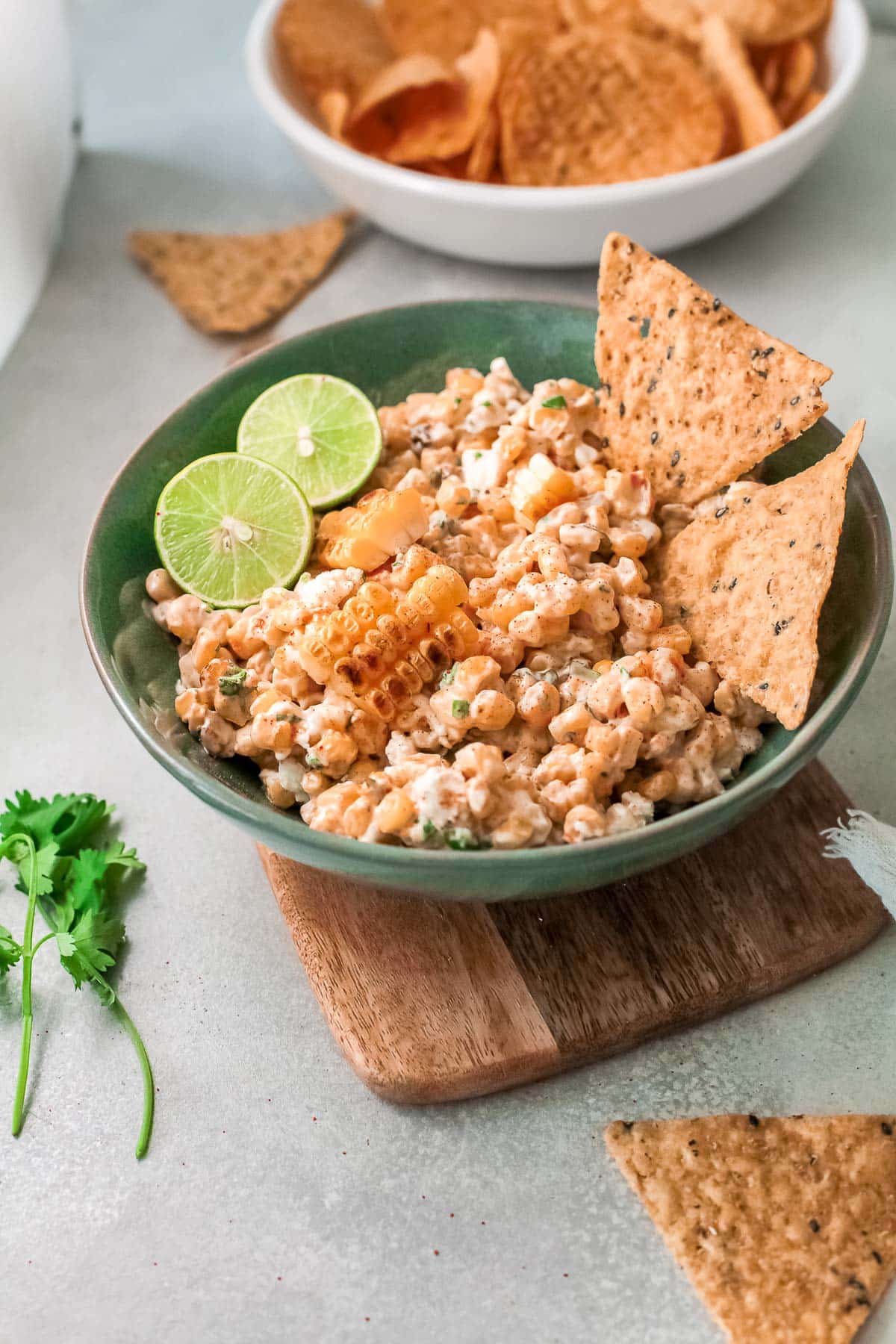 Use Grilled Corn!
To make this dip recipe more similar authentic elote use grilled corn.
How to Grill the corn
Boil the corn first. Place the corn in a large pot of boiling water for 5 minutes (photo 1).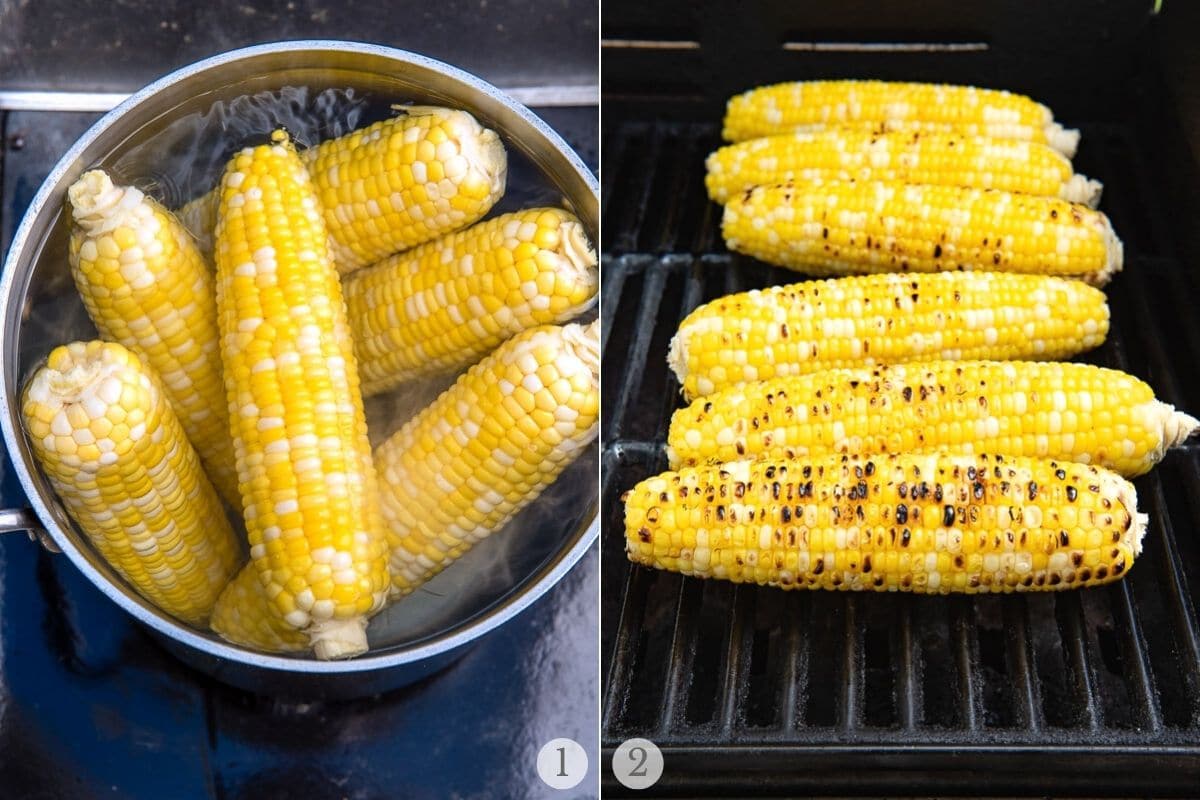 Grill. Place the boiled ears of corn on a clean, oiled grill heated to 400 degrees F.
Rotate them from side to side to fully char the corn kernels. It will take 2-3 minutes grilling time (photo 2).
Remove the corn kernels. Allow the corn to cool for a minute or two. Cut the kernels from the cob and proceed making the dip as directed.
I LOVE this corn zipper tool for removing kernels from the cob. It removed them like butter without taking any of the cob.
How to make Mexican Corn Dip – Step-by-Step
STEP 1. Cook the corn
In a large heavy skillet or on a griddle add the oil over medium to medium-high heat.
Add the corn (photo 1) and cook 5-6 minutes until the corn begins to char (photo 2).
Remove and place in a large bowl.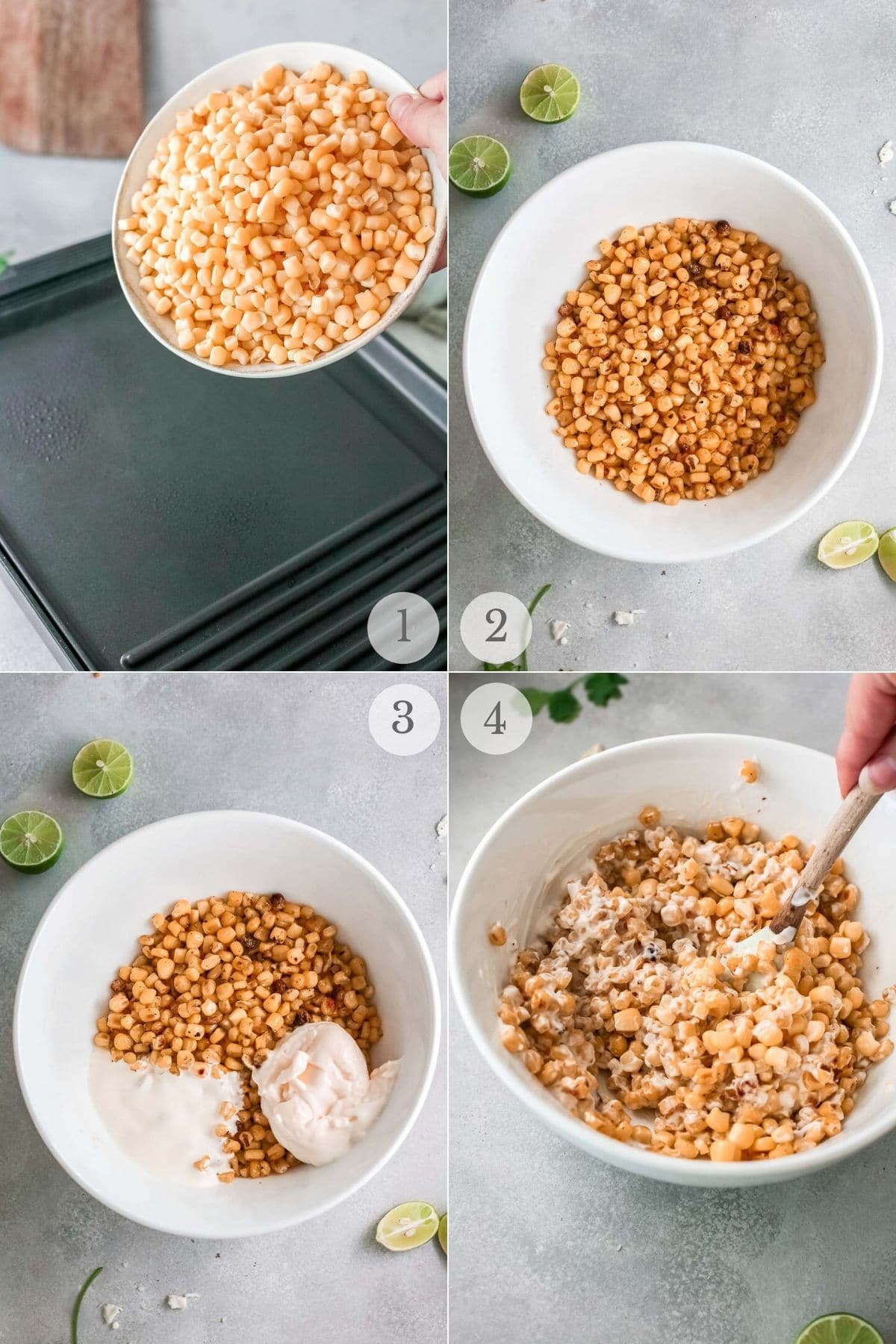 STEP 2. Make the dip
Add the mayonnaise, sour cream, lime juice, cilantro and chili powder. Stir together (photos 3-5).
Stir in the cotija cheese. Salt and pepper to taste (photo 6).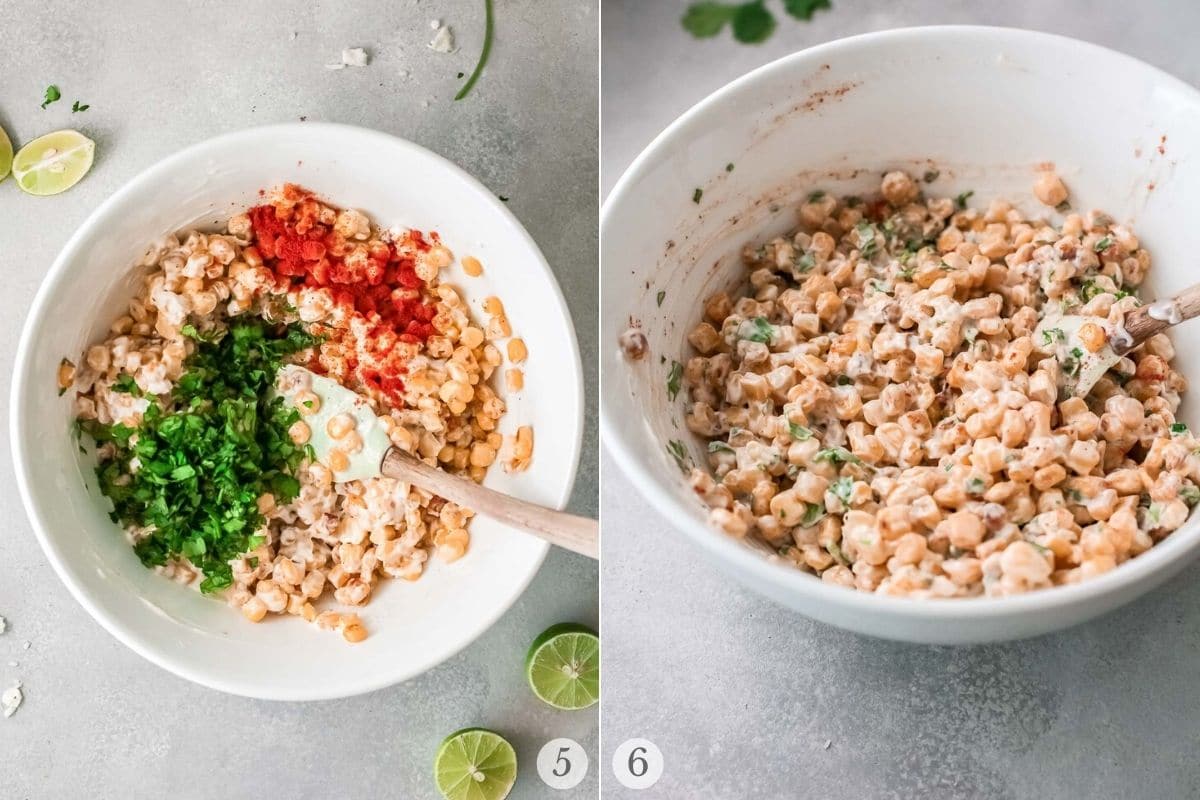 Pro Tips
Don't leave the dip out more than 2 hours unchilled. Dips or salad recipes with mayonnaise should not be left out at room temperature for more than 2 hours to avoid food poisoning.
For ideas on how to keep it cool check out our Party Dips information.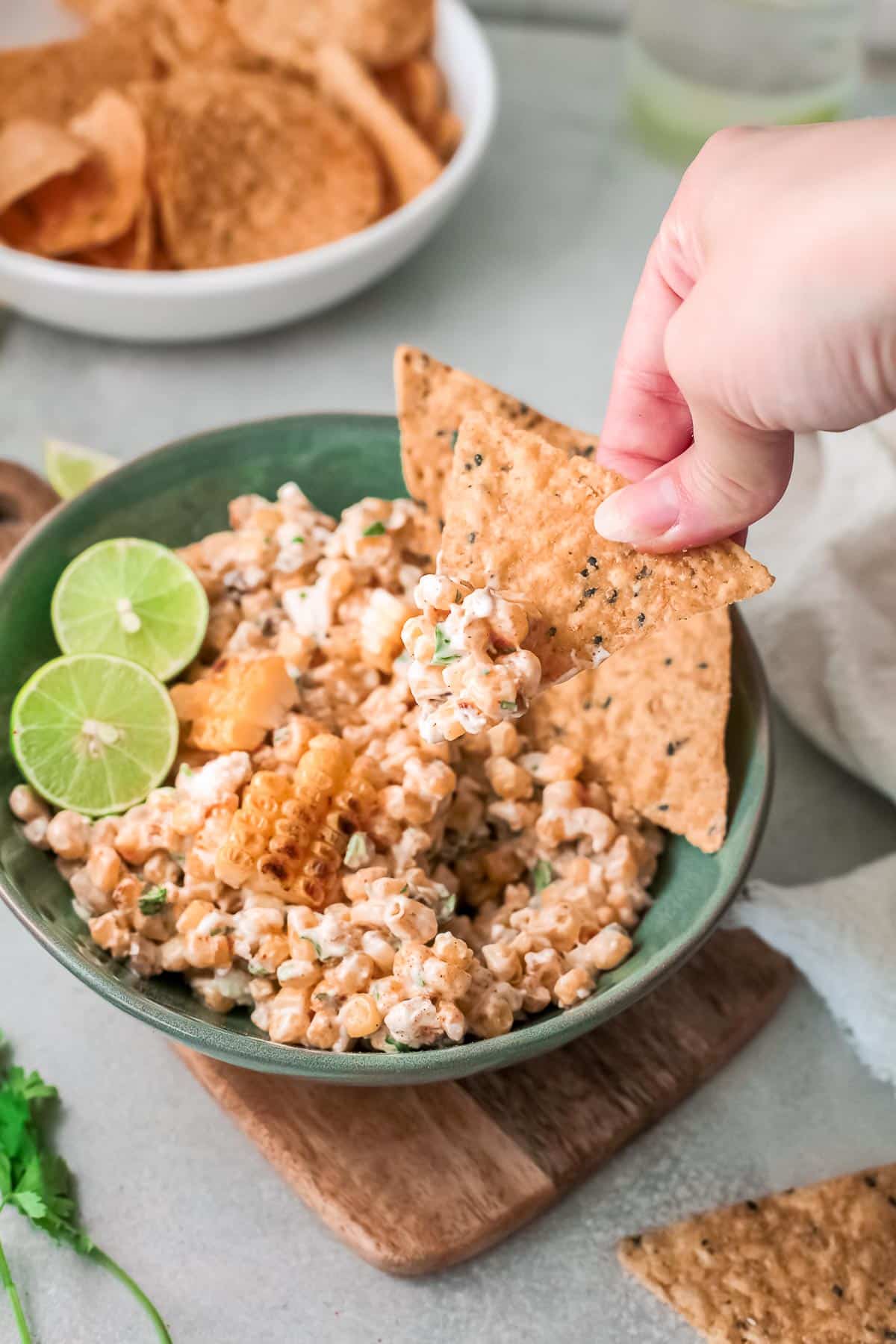 FAQs
Can I use reduced fat mayonnaise or sour cream?
We recommend using full fat versions. The lower fat versions tend to thin out leaving the dip less creamy.
Can I make this ahead?
Yes! It can be made up to 2 days ahead of time. After making it allow it to cool slightly, store in an airtight container in the refrigerator. It can be served chilled.
Storing Leftovers
Store in an air tight container in the refrigerator for up to 2 days.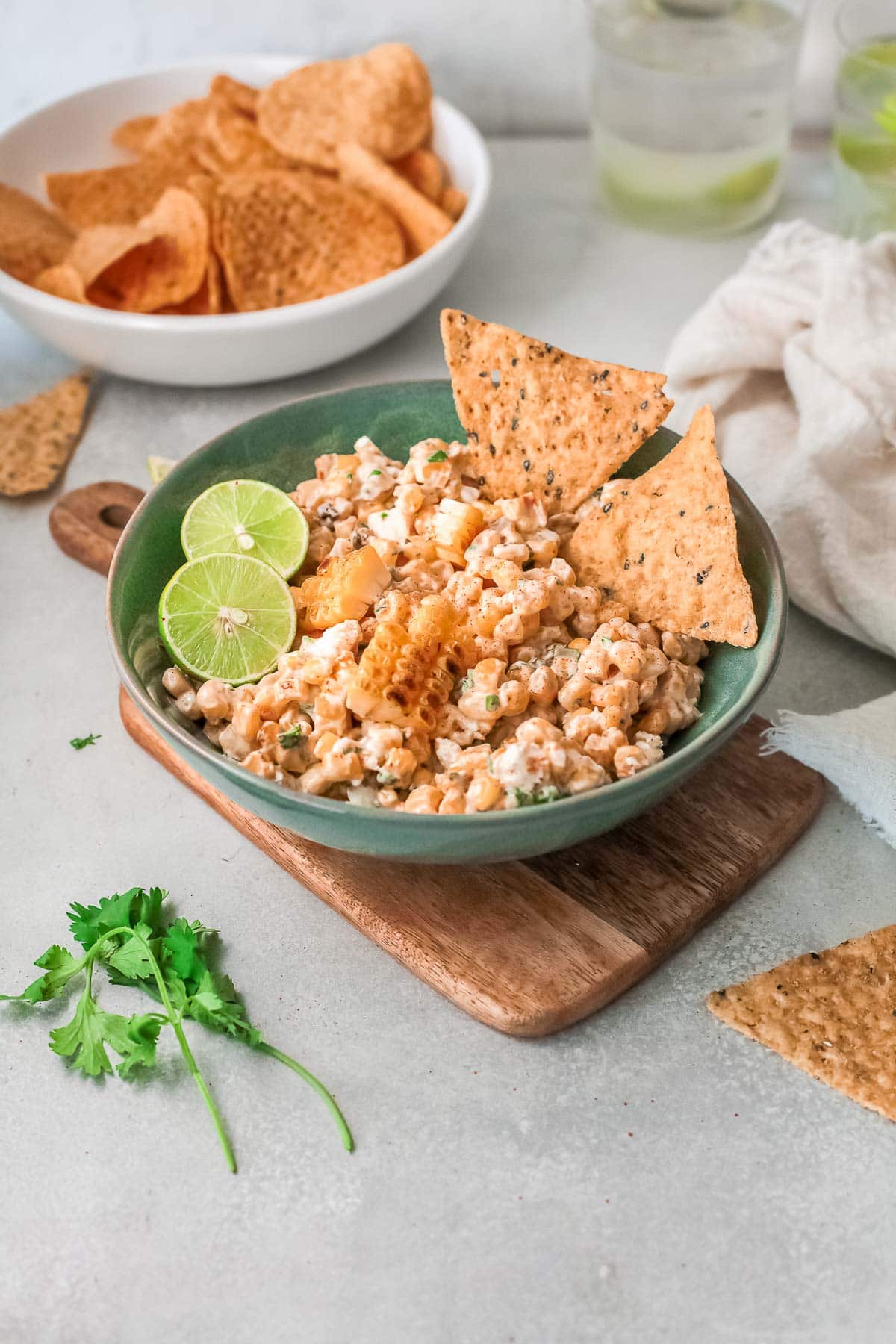 More Recipes You'll Love!
Did you make it? Please RATE THE RECIPE below!
Please
SUBSCRIBE
and
FOLLOW ME
on
FACEBOOK
,
TWITTER
,
INSTAGRAM
and
PINTEREST
!
Recipe