Homemade Candy Cane Infused Vodka makes a great gift as well as a staple liquor for wintertime cocktails. The Candy Cane Cocktail will be the hit of your winter entertaining too!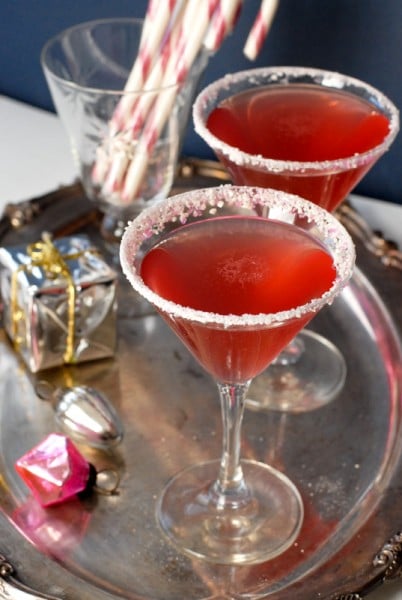 I don't think there is a more universal symbol of Christmas than the Candy Cane. Dating back to the 1600's, they were originally candy sticks fashioned into the shape of a crook, all white with no peppermint flavoring.
In the early 1900's candy canes took on the familiar peppermint flavoring and stripes, though definitive historical roots for the changes remain a bit unclear. Welcome 2012 when candy canes change form once more in the Boulder Locavore kitchen; they are made into booze.
Blame it on untethered curiosity, a devout passion for 'repurposing' and loving a novel cocktail, when stumbling upon these enchanting metallic pink and cream candy canes (organic nonetheless) I knew they were destined for something more; someone's jolly holiday cocktail.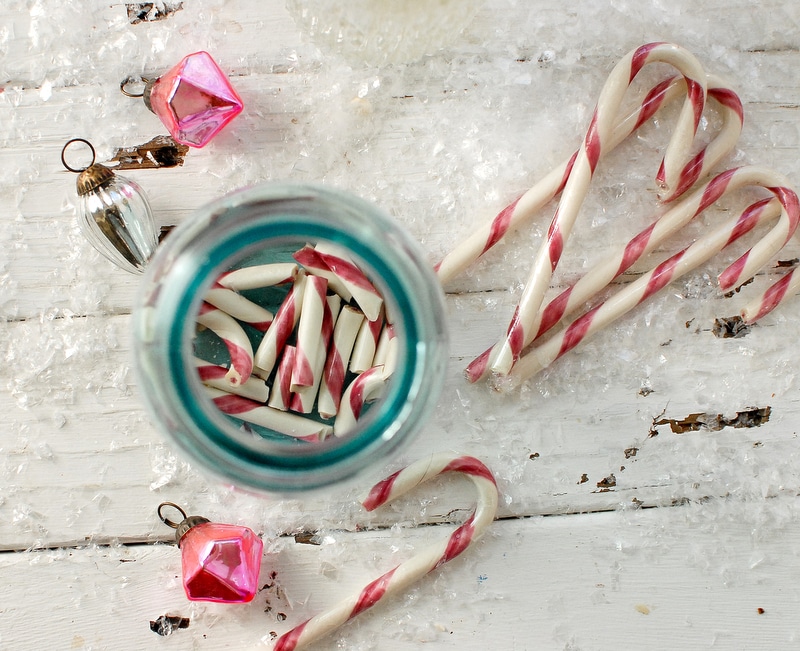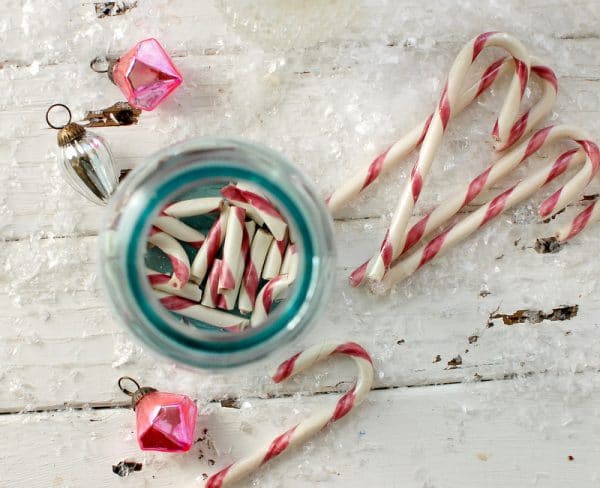 Homemade Peppermint Vodka Made with Candy Canes
I befell temptation around Halloween when combining candy corn and vodka, risking friendship with a Master Distiller when confessing my concoction. Much to both our surprise, it turned out bearing the flavor of candy corn minus the sickening sweetness, validating my urge for liquid experimentation.
Candy canes and vodka are not such a daring pair but seem seasonally too well matched to pass up trying them together. As hoped, the result was a minty-fresh, light infused vodka without any weighty sugar tempting accidental boarding onto the Hangover Express when hoping for the Polar Express instead.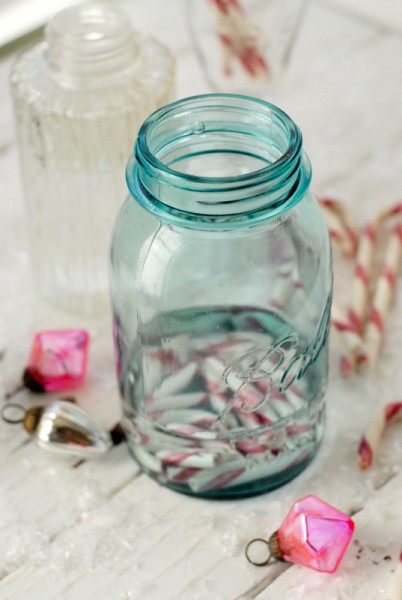 Candy Cane Cocktail
Once the vodka was rightfully infused, I set about employing it in a festive cocktail. Though potentially cliché, I could not shake the classic combo of peppermint and chocolate.
But don't fear, this drinks like a martini not a liquored-up milkshake. It's fresh, with clean flavors, and no weighty presence like the beloved egg nog which coats your senses with a bit of a holiday film (I too have a festive recipe for Egg Nog but with the amount of spiking it bestows, it also is not heavy).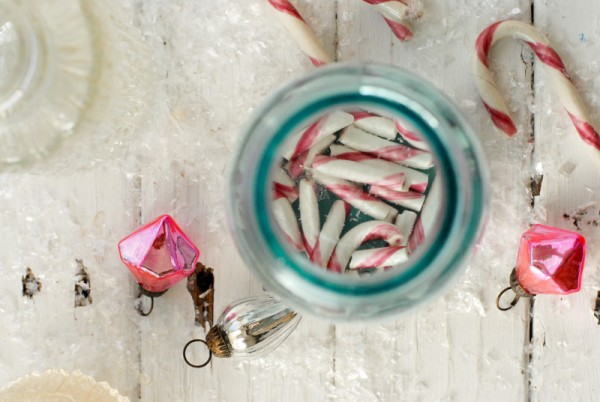 Tips for Making Candy Cane Infused Peppermint Vodka
A few tips before grabbing your Mason jar.
The candy canes will dissolve in probably less than an hour. Allow the infusion sit undisturbed for about 4 days to let the flavors to fully develop.
Also these beautiful, all natural, organic candy canes lost the gorgeous pink luster when infused leaving a dingy, wash-water hue vodka. I added a few drops of natural pink coloring from India Tree Dyes (all vegetable based dyes; available at Whole Foods Markets) to perk it up.
If you use an artificially colored candy cane you will most likely find its color to remain in the infused vodka.
Do not use green and red striped candy canes. They will create a dingy colored vodka.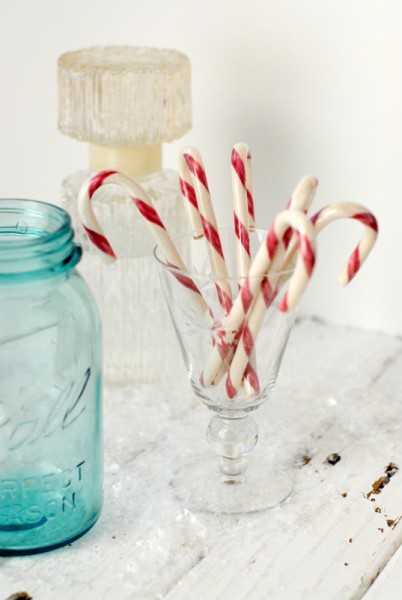 Supplies for Making Candy Cane Infused Peppermint Vodka
Supplies for Candy Cane Cocktail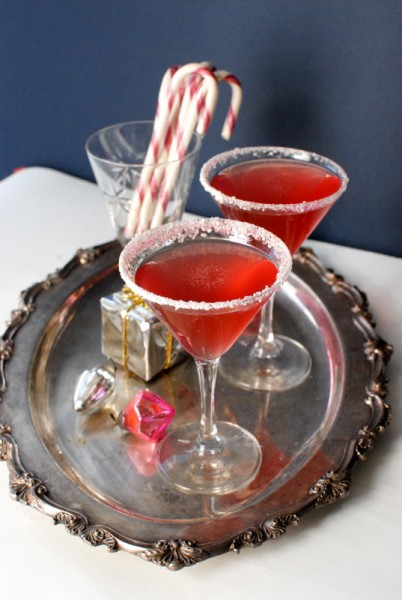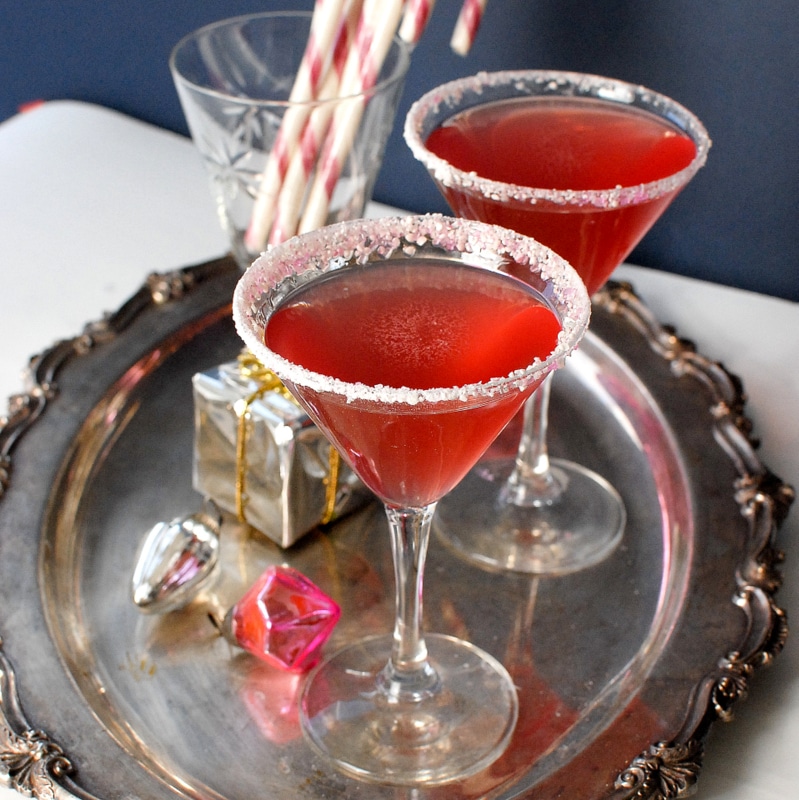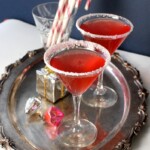 Homemade Candy Cane Vodka and Candy Cane Cocktail
This simple, festive candy cane infused vodka has a surprisingly light, fresh result perfectly paired in the Candy Cane Cocktail with Creme de Cacao for a classic peppermint and chocolate libation.Candy cane types: I used the organic pink and white candy canes shown here. A reader cautioned against candy canes with green and red stripes as it created a dingy colored vodka. I suggest sticking with traditional red and white candy canes rather than alternative colored candy canes to keep the color festive and appetizing.
Servings
2
cocktails (1 1/2 cups (12 ounces) Candy Cane Vodka
Ingredients
For Candy Cane Infused Vodka:
1

cup

Vodka

½

cup

Vanilla Vodka

, purchased or this DIY recipe

6 6-

inch

Candy Canes
For Candy Cane Cocktail:
3

ounces

Candy Cane Vodka

2

ounces

Crème de Cacao

, clear (no color)

Dash Angostura Bitters

2

6-inch

Candy Canes
Instructions
To infuse the Candy Cane Vodka:
Pour plain vodka and vanilla vodka in a jar with a lid. Add 6 candy canes, broken up so the liquid covers them. Allow to sit in a cool, dark location for 3-4 days, shaking periodically to mix any sediment into liquid.

When ready to use, strain through 2 layers of cheesecloth to trap any sediment. Seal in a jar, store in a cool, dark location until using.
To make 2 Candy Cane Cocktails:
To make Candy Cane rimming sugar: place 2 candy canes in a chopper or blender and process into a granulated sugar. Rim cocktail glasses.

Add Candy Cane vodka, Crème de Cacao, Bitters and ice to a shaker; shake and strain into a rimmed cocktail glass
Nutrition Facts
Homemade Candy Cane Vodka and Candy Cane Cocktail
Amount Per Serving
Calories 200
% Daily Value*
Fat 0g0%
Cholesterol 0mg0%
Sodium 0mg0%
Carbohydrates 16g5%
Protein 0g0%
* Percent Daily Values are based on a 2000 calorie diet.