Homemade Candy Cane Infused Vodka makes a great gift as well as a staple peppermint vodka for wintertime cocktails. The Candy Cane Cocktail will be the hit of your winter entertaining too!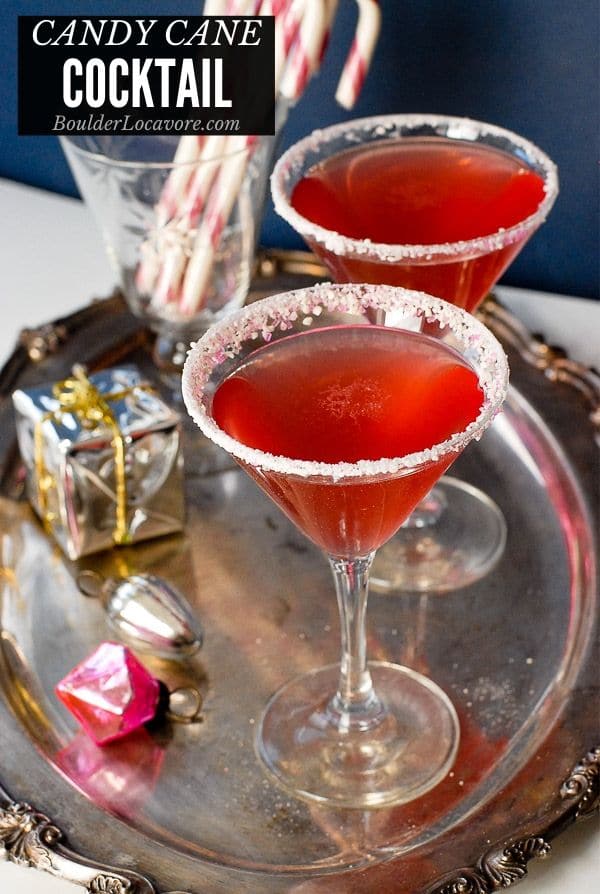 Pulling off a seasonal cocktail to WOW doesn't have to be hard.
In fact you can infuse your own liquor to make it completely unique and special.
Candy Cane Peppermint Vodka is the first easy step. It's easy and fun to make, and delicious to drink.
Candy Cane Cocktails are the star of holiday entertaining.
Complete with a candy cane rim to the cocktail glass, it will be the star of your holiday parties.
Candy Canes
Nothing screams 'Christmas' more than candy canes.
Dating back to the 1600's, they were originally candy sticks fashioned into the shape of a shepherd's crook, all white with no peppermint flavoring.
In the early 1900's candy canes took on the familiar peppermint flavoring and stripes, though the historical reasons for that change remain a bit of a mystery.
Fast forward to today and we are iterating candy canes one more time: infusing them to make Peppermint Vodka.
It's very easy recipe that's perfect for gifts and winter cocktails.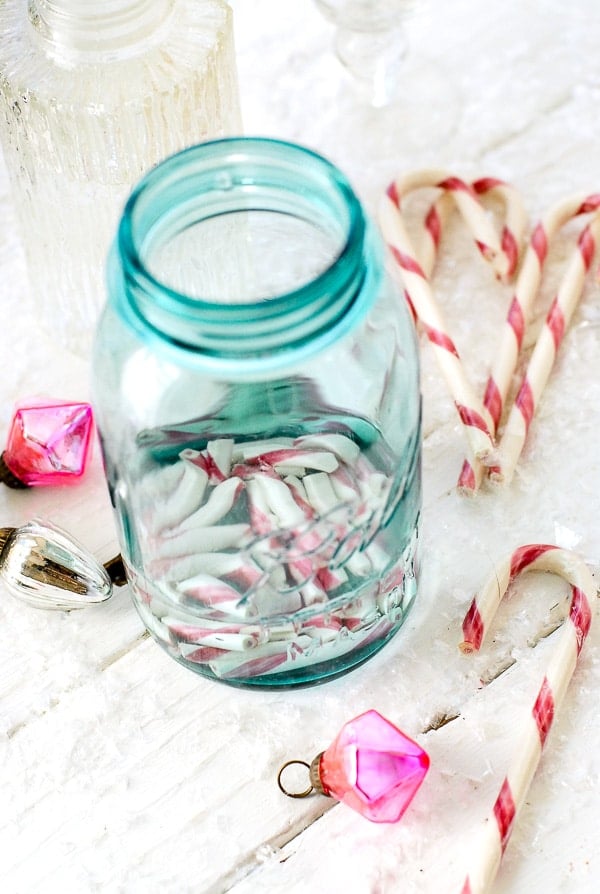 Homemade Peppermint Vodka Made with Candy Canes
My first attempt at making a candy-infused vodka with candy corn. It sounds like it might be disgusting but it turned out fantastic.
It's a buttery, orange vodka without the sickening sweetness normally found when eating candy corn.
Candy canes and vodka are a match made in liquor heaven.
Together they make a minty-fresh, light infused vodka without any heavy sugary flavor.
I personally think sugary cocktails are a ticket to the Hangover Express.
With this peppermint vodka it's the Polar Express instead.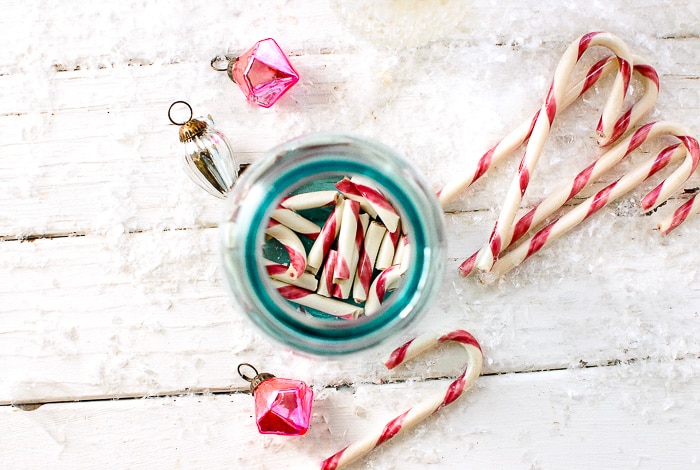 Candy Cane Vodka Ingredients
There are only three ingredients in this DIY peppermint vodka:
Vodka
Choose a plain, unflavored vodka for this infusion.
Vanilla Vodka
Adding the vanilla vodka gives a warm balance to the minty flavor. Purchased vanilla vodka can be used or you can infuse your own too!
Candy Canes
Be sure to select a peppermint flavored candy canes for the best results.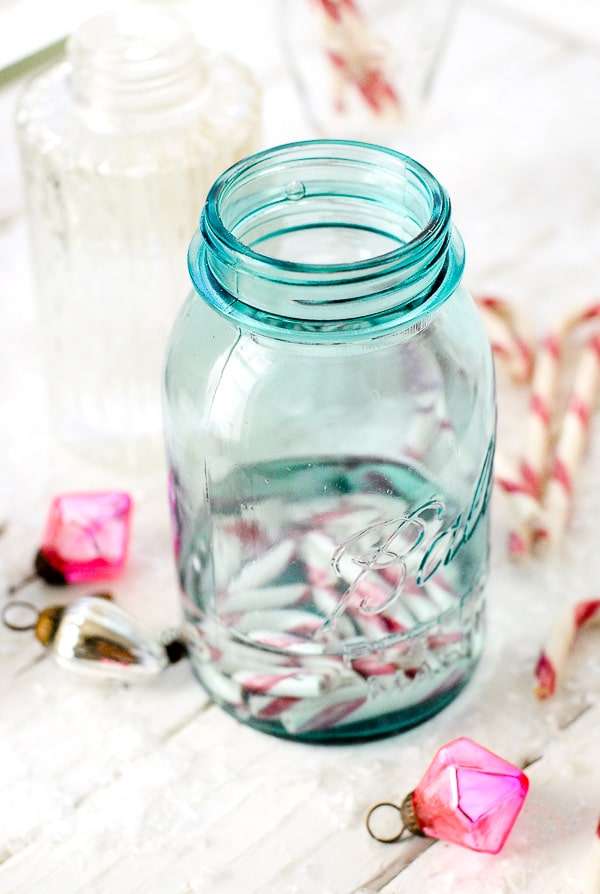 Supplies for Making Candy Cane Infused Peppermint Vodka
What Type of Candy Canes to Use for Candy Cane Vodka?
Our testing results say using classic red and white peppermint candy canes give the best flavor and color results.
See the Pro Tips below for more notes.
How to Make Candy Cane Peppermint Vodka – Step-by-Step
For a detailed printable recipe refer to the recipe card at the end of the blog post.
Making liquor infusions is very easy. This will take less than 5 minutes to put together.
STEP 1: Pour the vodkas into a jar.
STEP 2: Add broken up candy canes (the liquid should cover the candy canes).
STEP 3: Place in a cool, dark location for 3-4 days. Shake periodically to mix any candy sediment into the liquid.
STEP 4: When the vodka flavor is to your liking, strain through 2 layers of cheesecloth (removes any undissolved candy cane). Seal in a jar in a cool, dark location until using.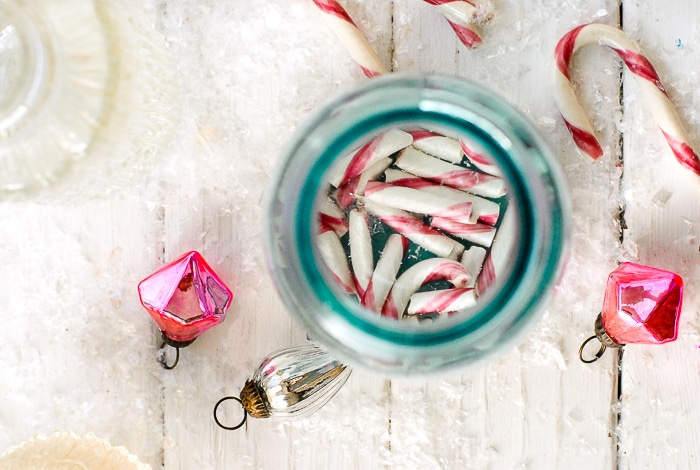 PRO TIPS for Making Candy Cane Infused Peppermint Vodka
A few tips before grabbing your Mason jar.
The candy canes will dissolve in probably less than an hour. Allow the infusion sit undisturbed for about 4 days to let the flavors to fully develop.
Also these beautiful, all natural, organic candy canes lost the gorgeous pink luster when infused leaving a dingy, wash-water hue vodka. I added a few drops of natural pink coloring from India Tree Dyes (all vegetable based dyes; available at Whole Foods Markets) to perk it up.
If you use an artificially colored candy cane you will most likely find its color to remain in the infused vodka.
Do not use green and red striped candy canes. They will create a dingy colored vodka.
CANDY CANE VODKA – PRINTABLE GIFT LABELS
Download a sheet of FREE printable Candy Cane Vodka gift labels! It's a great way to turn this easy liquor infusion recipe into a surprise holiday gift.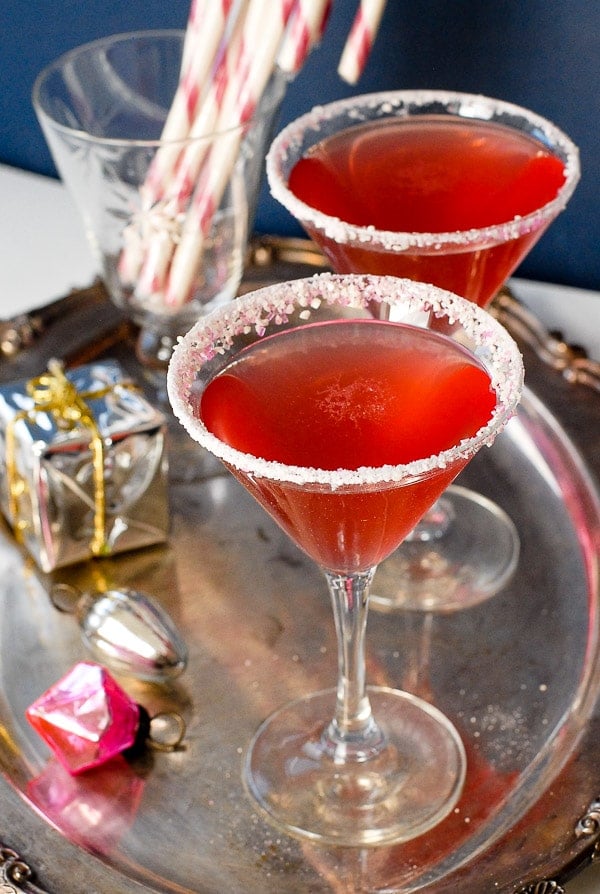 Candy Cane Cocktail
Candy Cane peppermint vodka pairs perfectly with chocolate flavors for a candy cane martini you'll love!
This drinks like a martini, not a liquored-up milkshake.
It's fresh, with clean flavors, and no weighty presence like the beloved egg nog which coats your senses with a bit of a holiday film (I too have a festive recipe for Egg Nog but with the amount of spiking it bestows, it also is not heavy).
Candy Cane Cocktail Ingredients
This candy cane martini is a delicious peppermint-chocolate cocktail! Perfect for holiday sipping!
Candy Cane Vodka
Crème de Cacao, clear (no color)
Angostura Bitters
Candy Canes (to turn into cocktail glass rimming sugar)
NOTE: do not select non-clear Crème de Cacao or you'll have a brown cocktail.
Candy Cane Rimming Sugar
It's very easy to make your own rimming sugar for the cocktail glasses:
Put candy canes into a blender or mini chopper.
Process the candy canes until making a granulated sugar.
If you haven't done it before, here is how to rim the cocktail glasses: How to Rim a Cocktail Glass.
Supplies for Candy Cane Cocktail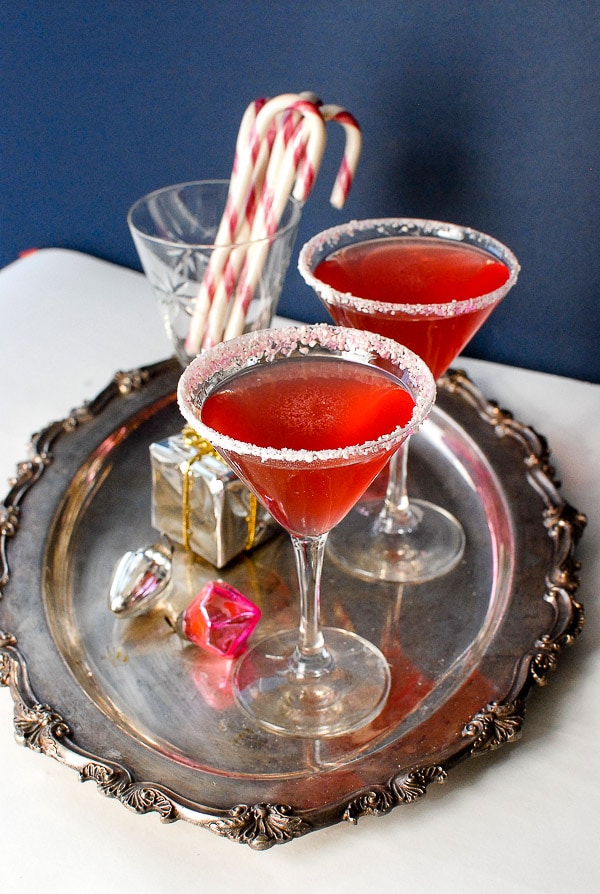 Try These Recipes Too
Did you make it? Please RATE THE RECIPE below!
Please SUBSCRIBE and FOLLOW ME on FACEBOOK , TWITTER , INSTAGRAM and PINTEREST !
Recipe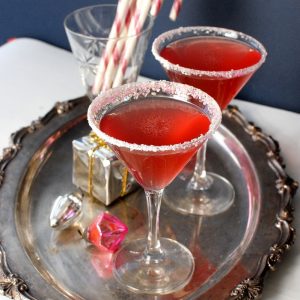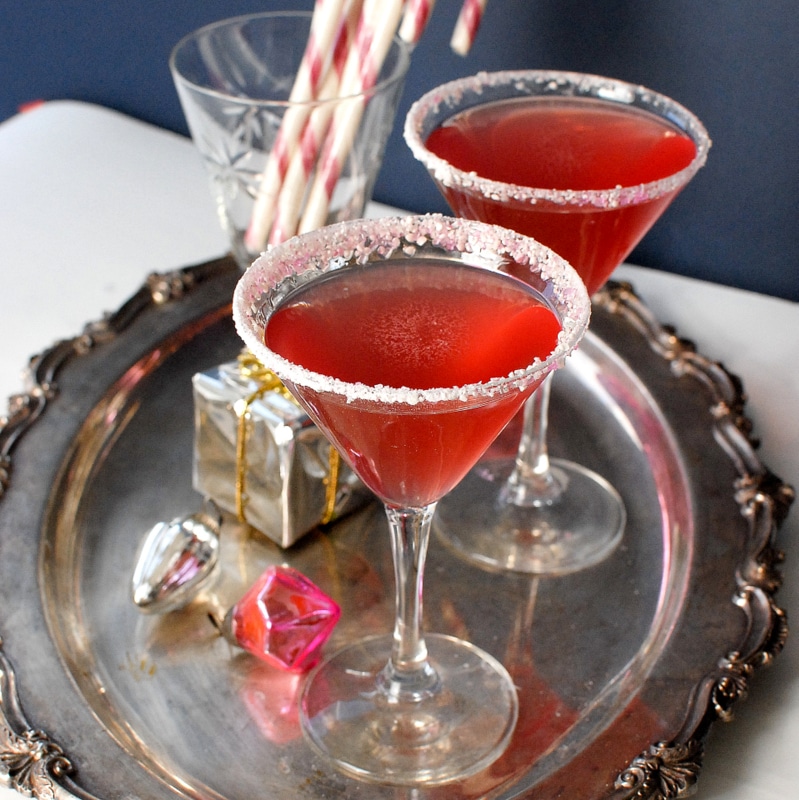 Homemade Candy Cane Vodka and Candy Cane Cocktail
This simple, festive candy cane infused vodka has a surprisingly light, fresh result perfectly paired in the Candy Cane Cocktail with Creme de Cacao for a classic peppermint and chocolate libation.
Print
Save Recipe
Recipe Saved!
Pin
Rate
Servings:
2
cocktails (makes 1 1/2 cups (12 ounces) Candy Cane Vodka
Ingredients
For Candy Cane Infused Vodka:
1

cup

Vodka

½

cup

Vanilla Vodka

, purchased or this DIY recipe

6 6-

inch

Candy Canes
For Candy Cane Cocktail:
3

ounces

Candy Cane Vodka

2

ounces

Crème de Cacao

, clear (no color)

Dash Angostura Bitters

2

6-inch

Candy Canes
Instructions
To infuse the Candy Cane Vodka:
Pour plain vodka and vanilla vodka in a jar with a lid. Add 6 candy canes, broken up so the liquid covers them.

Allow to sit in a cool, dark location for 3-4 days, shaking periodically to mix any sediment into liquid.

When ready to use, strain through 2 layers of cheesecloth to trap any sediment. Seal in a jar, store in a cool, dark location until using.
To make 2 Candy Cane Cocktails:
To make Candy Cane rimming sugar: place 2 candy canes in a chopper or blender and process into a granulated sugar. Rim cocktail glasses.

Add Candy Cane vodka, Crème de Cacao, Bitters and ice to a shaker; shake and strain into a rimmed cocktail glass
Notes
Candy cane types: I used the organic pink and white candy canes shown here. A reader cautioned against candy canes with green and red stripes as it created a dingy colored vodka. I suggest sticking with traditional red and white candy canes rather than alternative colored candy canes to keep the color festive and appetizing.
Note on serving size: cocktail recipe makes 2 servings. Candy Cane Vodka makes 1 1/2 cups (12 ounces).
Nutrition
Calories:
200
kcal
|
Carbohydrates:
16
g
|
Protein:
0
g
|
Fat:
0
g
|
Saturated Fat:
0
g
|
Cholesterol:
0
mg
|
Sodium:
0
mg
|
Sugar:
8
g
Originally published: December 4, 2012