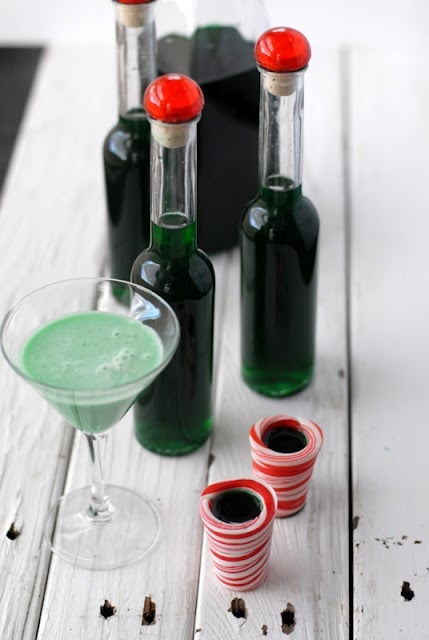 I recently got my mitts on my Mom's recipe file to pilfer for interesting recipes that match my seasonal food focus and for any family treasures.  We are fortunate to have handwritten recipe cards back to my Great Grandmother which has proven to be a gift revealed to have access to favorites passed down via the dining tables (and cocktail glasses) of multiple generations.  We've pieced together decades of food-related memories for our family and our friends who have taken part in various relatives, kitchen exploits.
You might expect when going through a mother's recipe file that you'd find a favorite family apple pie recipe, maybe the old faithful lasagna well remembered from one's youth, or a favorite holiday cookie recipe.  Apples don't fall far from the tree my friends so I suspect it would not shock you that in addition to the family culinary nostalgia I found a number of DIY liqueur recipes.   Quelle surprise.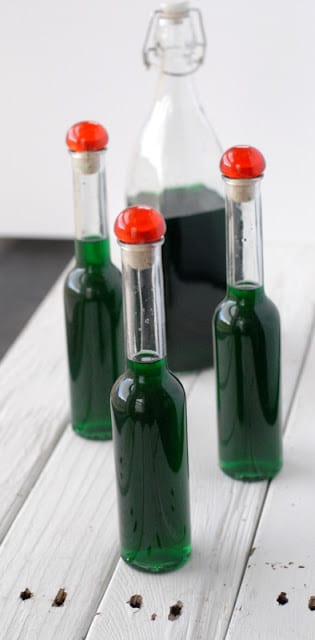 When I found a recipe for
Crème de Menthe
(mint liqueur) I was thrilled.
With
Grasshopper Pie
being in new rotation and the mint-i-ness of the season setting in, this seemed a fun concoction perfectly timed.
Most importantly I'm pleased to report, it's good!
In a head to head taste test, it beat out the store purchased bottle of Crème de Menthe.
The color is the same, the depth of mint identical but it's a smidge smoother than the purchased Crème de Menthe.
It takes mere minutes to assemble and has a whopping 5 ingredients.
What a perfect time to whip up a batch for entertaining, gifts or just for your own enjoyment!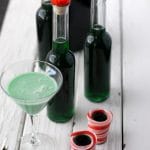 Homemade Crème de Menthe
Homemade Creme de Menthe is very easy to make and lasts indefinitely when stored in a cool dark place. Great for cocktails and in recipes like Grasshopper Pie.
Servings
40
2-ounce servings (10-11 cups total volume)
Ingredients
8

cups

water

8

cups

sugar

1

pint

190 proof grain alcohol

(I used Everclear brand)

3

tablespoons

peppermint extract

1

tablespoon

green food coloring
Instructions
Combine the sugar and water. Heat until the sugar dissolved (happens quickly; no need to boil it), stirring frequently to hasten the process. Allow to cool.

Once cool add the grain alcohol, peppermint extract and green coloring.
Nutrition Facts
Homemade Crème de Menthe
Amount Per Serving
Calories 184
% Daily Value*
Sodium 3mg 0%
Potassium 1mg 0%
Total Carbohydrates 40g 13%
* Percent Daily Values are based on a 2000 calorie diet.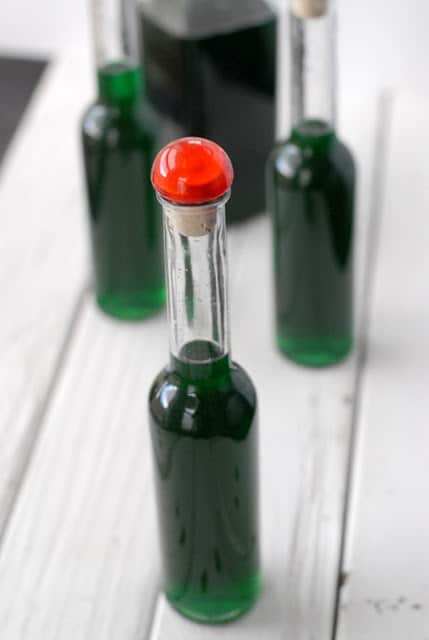 Now that you have it, what can you do with it?
Grasshopper Cocktail
Essentially a chocolate mint cocktail!
Combine all ingredients in a cocktail shaker with crushed ice. Shake and pour into a martini glass. (Tip: for the bright green color, use clear or light Crème de Cacao. The darker version will still be delicious but the color of the drink is more like drab spinach….not so appetizing).
Grasshopper Pie
: a vintage frozen pie recipe with a crème de menthe whipped filling

 
Over vanilla ice cream
I actually combined 2 parts Crème de Menthe and 1 part cream as a cocktail which was great.I did not finish it so poured that into some coffee which was also fabulous.