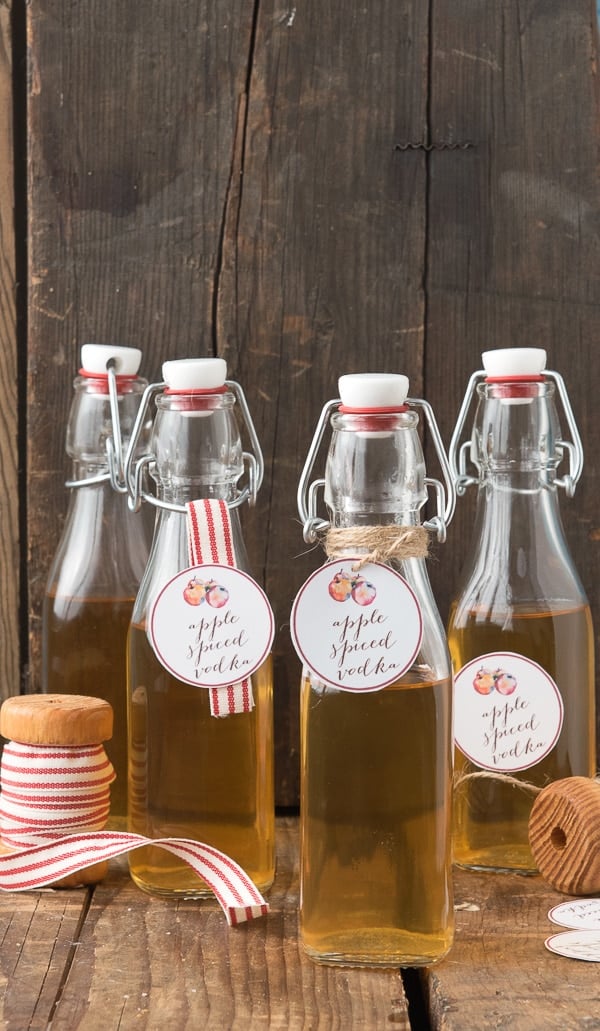 When I first began Boulder Locavore I was so enthusiastic about what was happening in the food scene I wrote about anything and everything. At the time I found a great deal of inspiration in Michael Pollan, in knowing my farmer, growing my own food, canning, making anything I could think of from scratch. I was like a long lost relative from Little House on the Prairie. If it had anything to do with food it was fodder for my blog. I wrote about a guy selling coffee on the street corner my kids' then elementary school. I wrote about buying cookbooks on the cheap from Amazon.com sellers. I canned 150 pounds of tomatoes that year (just in case the circus stopped by I guess hankering for pasta with tomato sauce) motivated by reading Animal, Vegetable, Miracle during a trip to Costa Rica. I was on fire.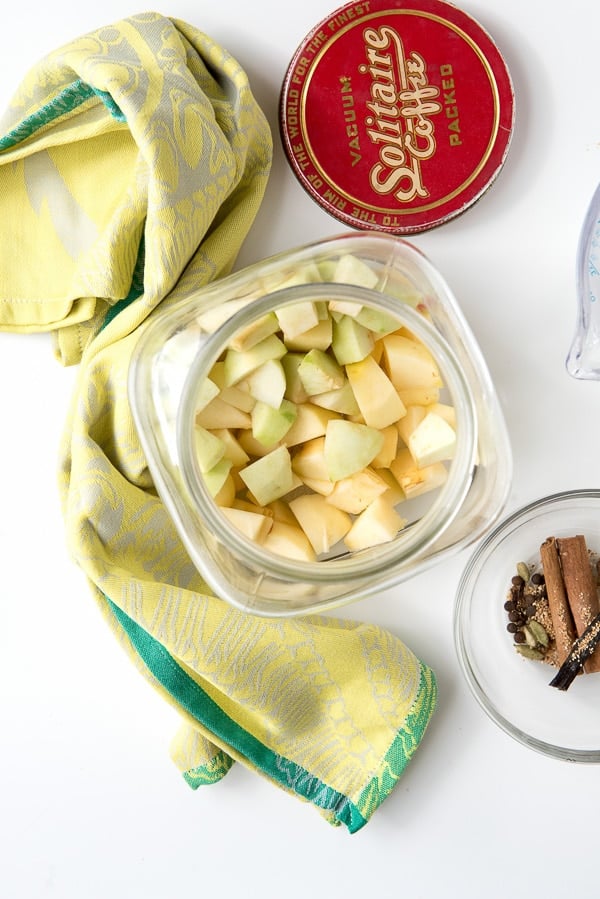 I have always been in love with ingredients. They have provided my cooking inspiration as a seasonal eater. I would go to my CSA farm pick up or the Farmer's Market, still do, to buy what was in season as well as what I'd never seen or cooked before. I would kibitz with the farmers (who smartly could suggest cooking methods to their patrons), decide what to do and basically held a seasonal culinary boot camp for myself in my own kitchen.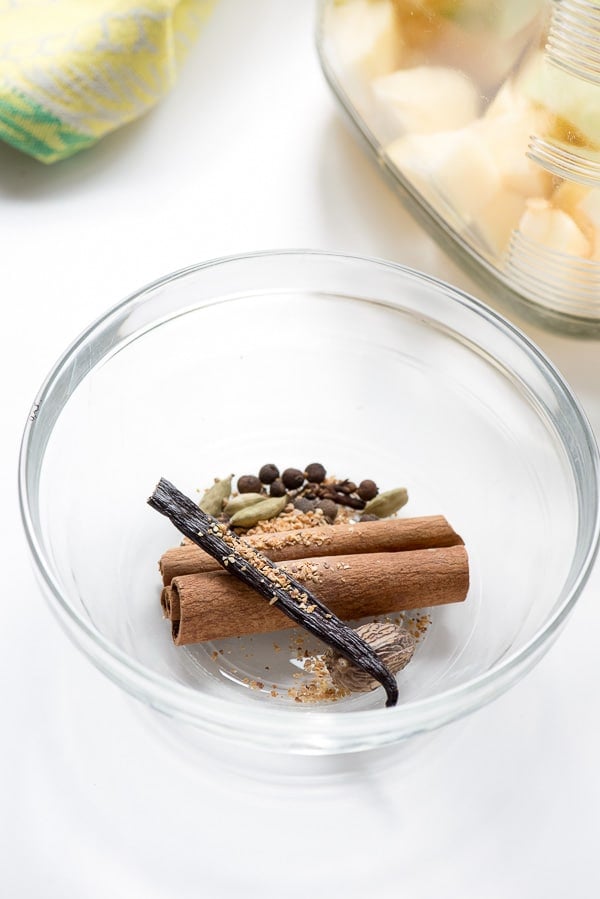 About this time I joined a few other bloggers in a monthly vintage recipe swap. A recipe would be selected for the month from a vintage cookbook and we would update it, reinvent it, deconstruct it, however we were moved to; then all post on the same day. I loved it! It truly was my foray into developing recipes. I'd let my imagination run wild and challenge myself to learn new cooking methods (largely self-taught) combining interesting flavors, to come up with a modern update I loved.
I do not recall why I began pairing my dishes with cocktails but I did. It became part of the challenge for me. And not just making cocktail; making the liquor to go in them too. The very first liquor infusion I made was for Apple Infused Vodka. To this day it is one of the most consistently visited infusions on Boulder Locavore. It's a very simple recipe but makes a wonderful flavored vodka that has many uses from the simplest cocktail to those more elaborate.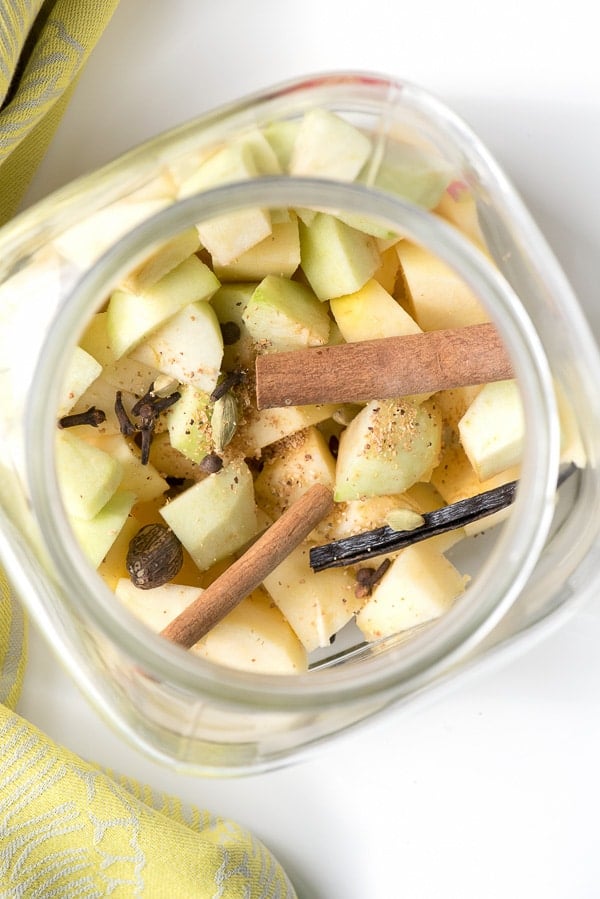 A few weeks ago I bit the bullet and cleaned our kitchen pantry. It is an ample pantry with 5 foot long by 18 inch deep shelves; five of them plus the floor space making the equivalent of six. Plenty of room for a family of four and yet bottles of oils, vinegars and other jars of exotic origin were packed in to the point of the shelf edges, being lined up as though a condiment mass suicide as about to ensue hurling themselves from the shelves. Admittedly I was greatly at fault having taken up almost the full two top shelves with liquor and infusions!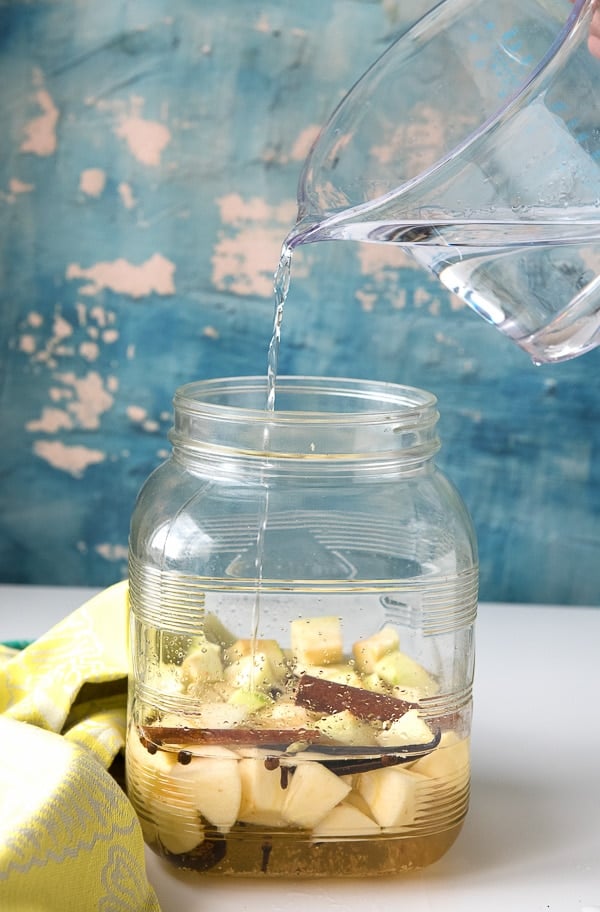 As difficult as it was, I forced myself up to the top shelf to discard the Mason jars with mere tablespoons left of some concoction I'd made years ago and did not label. I definitely saved the Hedgerow Gin (something you want to be making at this time of year), the Cherry Bounce (another great recipe to be ready for the holidays), homemade Crème de Menthe, homemade Coffee Liqueur, DIY Lemon Vodka and the end of a batch of Apple Vodka. The moral of that story for me? It was time for a new infusion.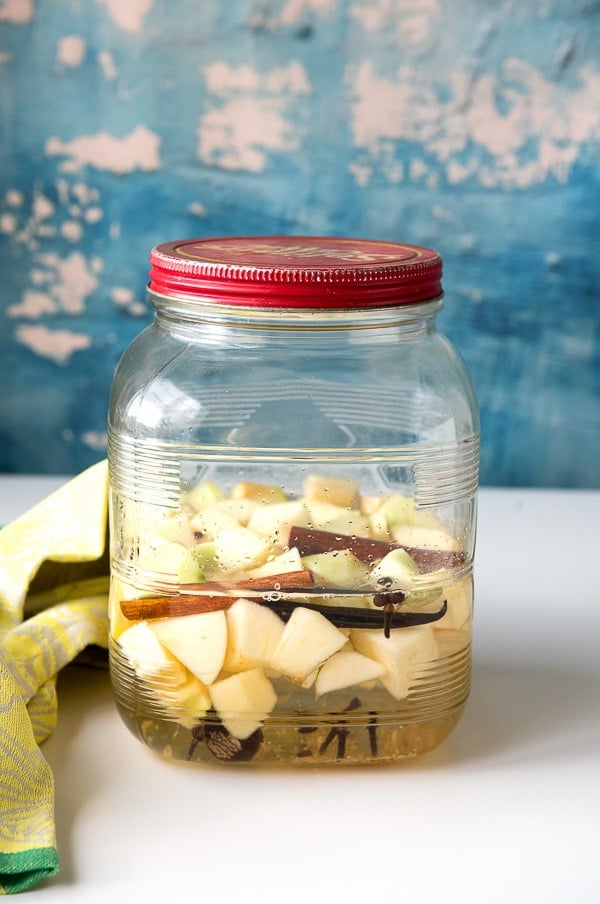 Another favorite seasonal infusion both of mine and Boulder Locavore readers has been Spiced Pear Vodka. I always know fall is in the air, not from the turning of the leaves, but from the visitors to that recipe. It's wonderful for the holidays and for gifts.
Inspired by both these popular recipes I created an Apple Spiced Vodka infusion. With flavors of cinnamon, clove, cardamom, vanilla, orange peel, allspice berries and nutmeg, the vodka stands out as a celebration of the cold weather season. I've been loving heated spiced drinks lately like apple cider, Hot Buttered Rum, Hot Toddies, and Glogg (Scandinavian Spiced Wine). I could imagine the Spiced Apple Vodka in a traditional rocks cocktail or part of a heated cocktail to take the edge off in a steaming mug by the fireplace.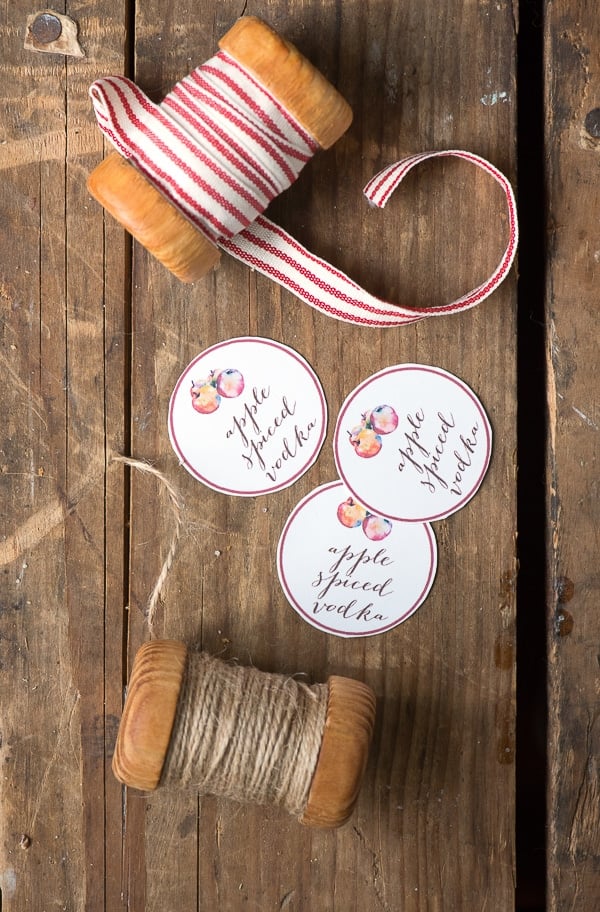 The recipe is simple to make and infuses for 5 days in a cool dark place. The yield is a smidge less than 4 cups and it can be doubled keeping the ingredient proportions the same. It would be a perfect gift or stocking stuffer and I'm including free printable gift tags if you find yourself so inclined! Simply print a sheet out using cardstock in your printer and cut them out.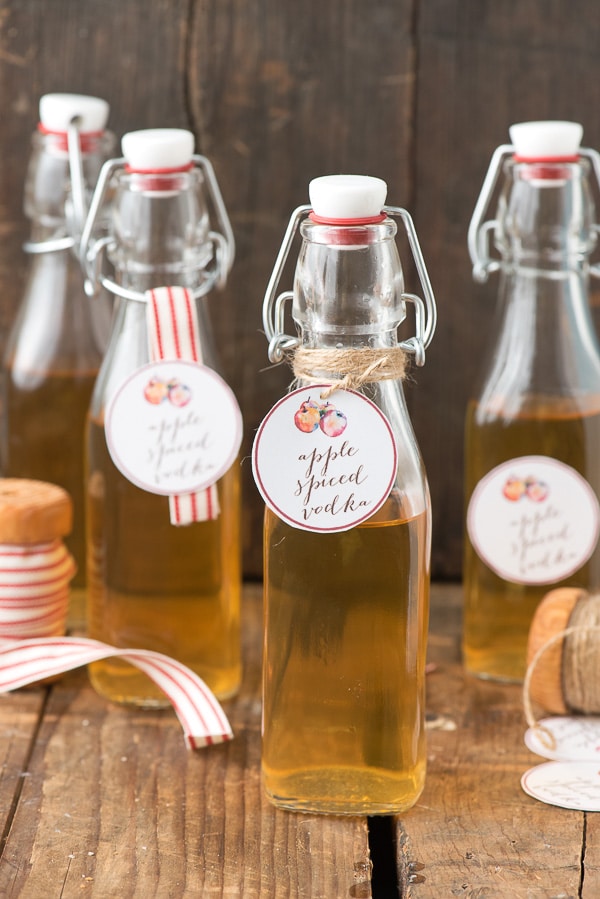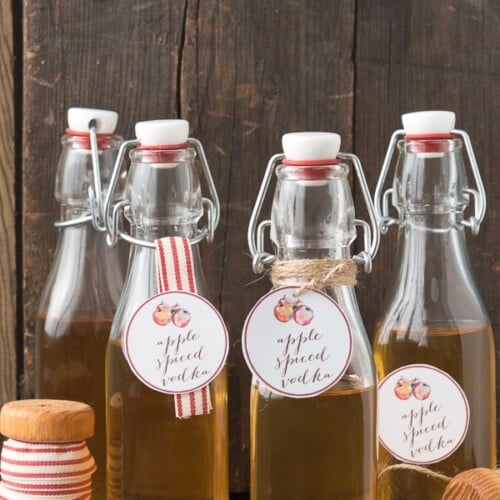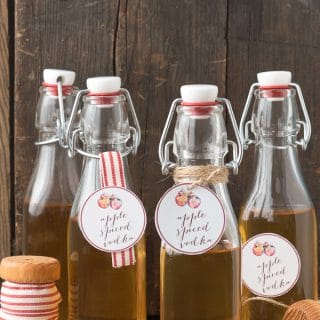 Spiced Apple Vodka (infusion)
This robust vodka infusion brings forth bright apple flavors paired with warming spices for a flavorful end result. Great in the most simple of cocktails or in a toddy-style hot cocktail to take the edge off winter's bite! Infuses for 5 days and can be doubled keeping all the ingredient proportions the same.
Print
Save Recipe
Recipe Saved!
Pin
Rate
Ingredients
3

Apples

(different varieties with one being Granny Smith); peeled, cored and chopped into large pieces

2

Cinnamon Sticks

(3 ½ long)

5

Green Cardamom Pods

½

Vanilla Bean

, slit vertically

10

Allspice Berries

¼

teaspoon

Dried Orange Peel

1

Whole Nutmeg

, shaved (grated on each side to expose the layer under the outer pod)

4

cups

Vodka

(unflavored)

Printable Gift Tags
Instructions
Add all ingredients to a large (6 cups or more) jar with lid. Seal and place in a dark, cool location for 5 days. Swirl the jar once daily to mix ingredients.

Strain the infused vodka through a sieve to remove the large ingredients. Strain a second time through cheesecloth or a clean coffee filter to remove any smaller spice particles.
Nutrition
Calories:
171
kcal
|
Carbohydrates:
6
g
|
Protein:
0
g
|
Fat:
0
g
|
Saturated Fat:
0
g
|
Cholesterol:
0
mg
|
Sodium:
1
mg
|
Potassium:
46
mg
|
Fiber:
1
g
|
Sugar:
3
g
|
Vitamin A:
20
IU
|
Vitamin C:
1.8
mg
|
Calcium:
9
mg
|
Iron:
0.2
mg