Eggnog is a classic holiday drink. This recipe from the 1900's has fondly been dubbed 'Designated Driver Required Eggnog' thanks to its classic booziness. Drink responsibly!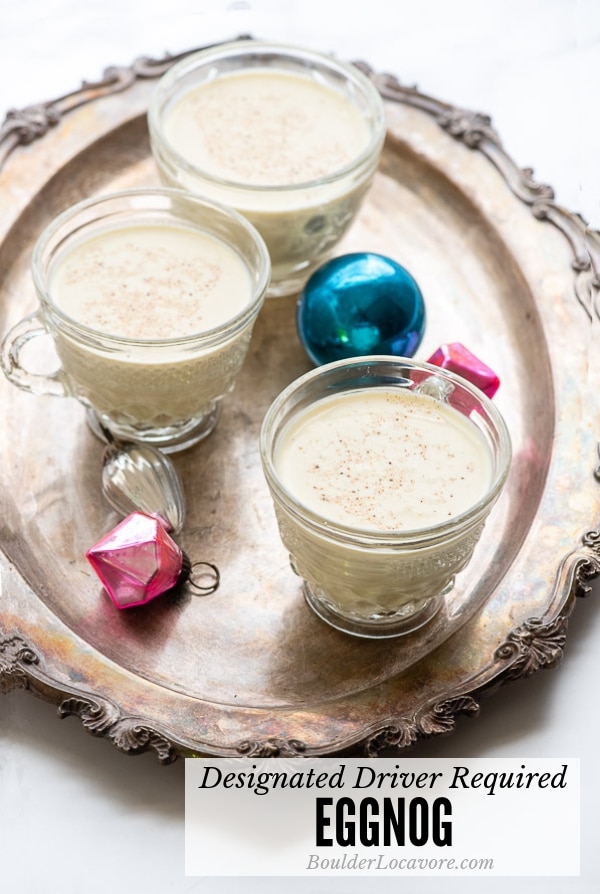 Eggnog (or Egg Nog or Egg-Nog; all the same thing) is probably the most classic drink for the winter holidays.
It pops up in stores around Thanksgiving, perfect for a warm sip after a chilly walk or trimming the Christmas tree.
Did you know you can make Eggnog from scratch? I have a family recipe for a boozy version of Eggnog straight from my Great Grandmother's recipe box.
After making it myself ,I fondly renamed it: Designated Driver Required Eggnog.
It's a classic boozy eggnog perfect for adult holiday celebrating. Please Uber, Lyft or walk home after drinking it however.
What is Eggnog?
Eggnog is a rich, sweetened dairy milk-based drink that traditionally includes alcohol. Historically it was served chilled with a frothy consistency thanks to whipped egg whites.
It also was called 'milk punch'. The flavors of milk punch can vary, as in Classic New Orleans Brandy Milk Punch and Gingerbread Brandy Milk Punch (which is actually vegan), but both have a milk and alcohol ingredient.
These days you can find or make it with any type of milk. It's often consumed warmed with a bit of rum too!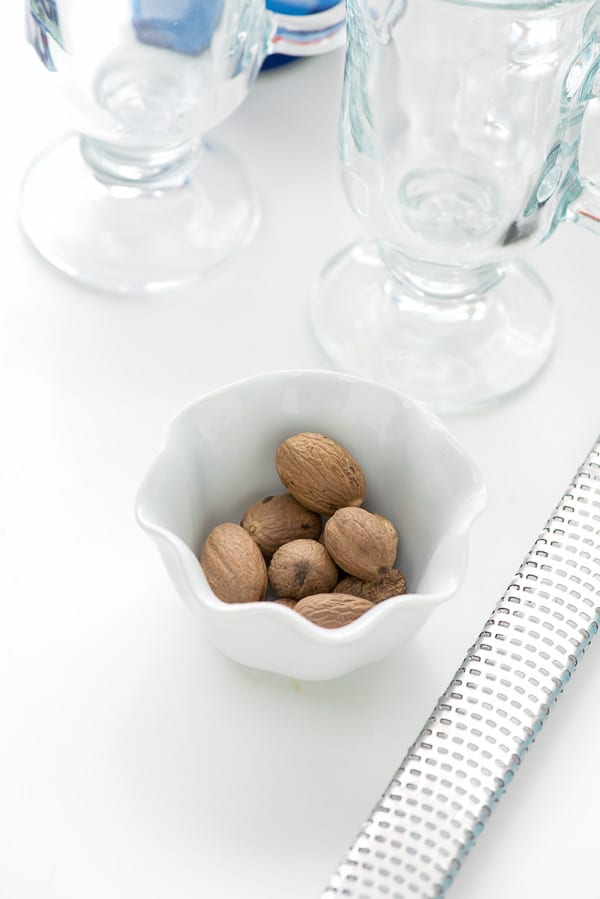 What are the Ingredients in Eggnog?
This recipe includes:
Eggs (a dozen of them)
Granulated Sugar
Rye Whiskey
Jamaican Rum
Milk (not cream)
It's garnished with nutmeg. If possible using freshly grated nutmeg!
Is It Safe to Drink Eggnog with Raw Eggs?
My recommendation is the use pasteurized eggs for any recipes containing raw eggs which should remove any risk from eating raw eggs.
The statistics on contracting Salmonella are pretty slight but of course follow your own judgment.
There is a debate about whether the amount of alcohol in eggnog recipes would kill salmonella (the risk of consuming raw eggs) many 'experts' feeling it does. Again to be safe, use pasteurized eggs.
What Liquor Is Used in Eggnog?
Rum is the traditional liquor used in most eggnog recipes. Grammy's eggnog uses both Rum and Whiskey.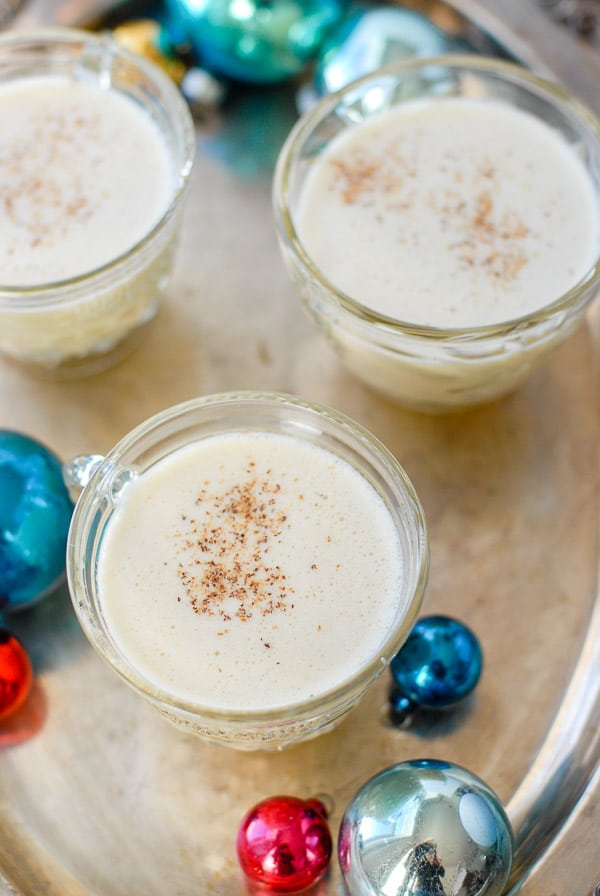 A Note on Rye Whiskey for Gluten-Free Consumers
Most major governing bodies for gluten free foods (National Institutes of Health's Celiac Disease Awareness Campaign and the Canadian Celiac Association for example) state the belief that the distillation process of a spirit extracts any gluten present leaving them gluten free.
I have occasionally read some dissenting views but the main position holds.
I used Leopold Brothers brand for the recipe pictured here who confirmed their Rye Whiskey IS gluten free.
Make Ahead!
The original recipe notes to make the day beforehand. This allows the flavors to blend into boozy bliss before serving!
It's still great if you make it the day of serving.
How to Serve It
A punch bowlis the best way to serve this eggnog for a party!
Eggnog Recipe Tasting Notes
The flavors in this Eggnog recipe are perfectly balanced though if you want to pull it back a notch I'd cut back on the Rye Whiskey.
This eggnog recipe is very boozy, I won't lie. It's a serious drinking cocktail punch.
The consistency of this fresh from-scratch eggnog is different than the thick store-bought eggnog. It's lighter and frothy due to beating the egg whites.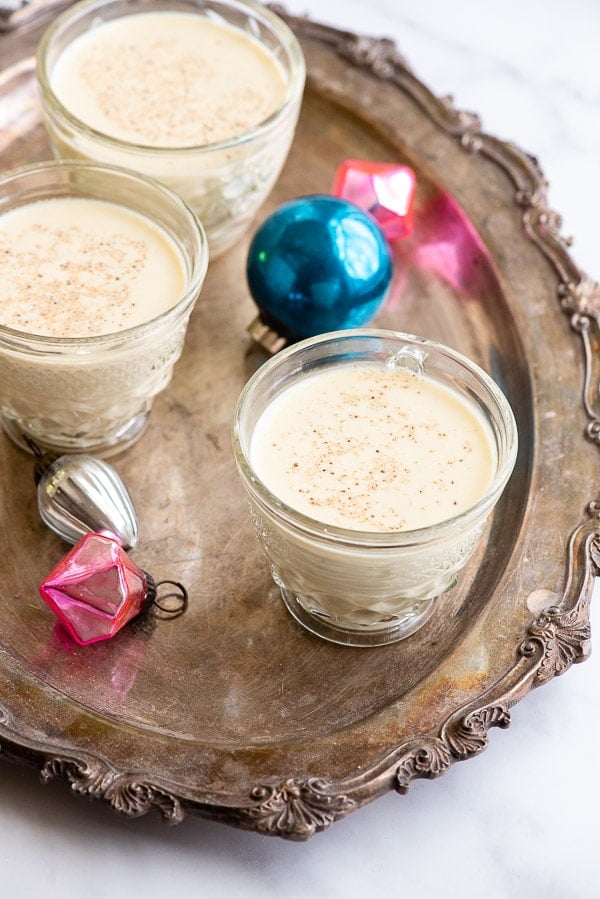 How Long to Store Designated Driver Required Eggnog?
Make it the day beforehand and store it in the refridgerator in a sealed glass container (Mason jarsare great).
This eggnog will store well for at least a week.
I just read an article about a very similar recipe (same vintage) being stored for 6 weeks! I don't recomment that.
History of this Eggnog Recipe
To give a frame of reference on this liquored-up eggnog recipe, my great grandmother would have made this in the first half of last century (1900's).
Noted on the recipe card is 'old family recipe of Mrs. Blair'.
I do not know who Mrs. Blair would be but I would not be surprised to find she owned a distillery or perhaps a still at the time based on the recipe ingredients lol!
My great grandparents entertained often and I'm sure this recipe was the star of holiday parties.
The Only 5 Punch Recipes You Need – Free Printable
Punch recipes are a 'must have' for hosting friends and family.
Five of my favorite punch recipes have been combined onto one handy CHEAT SHEET you can print!
These punch recipes will work all year long!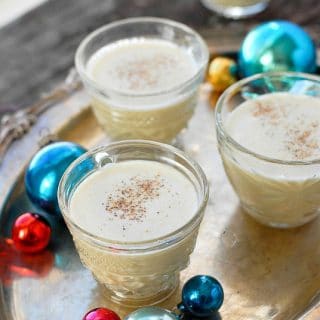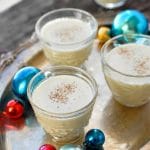 Designated Driver Required Eggnog Recipe
This boozy vintage eggnog recipe is perfect for some serious adult holiday partying. Recipe from the early 1900's.
Servings
14
-1/2 cup servings (makes 7 cups)
Ingredients
12

Eggs

whites and yolks separated

3/4

cup

Granulated Sugar

1

quart

Rye Whiskey

1

pint

Jamaican Rum

1

pint

Milk

not cream
Instructions
Beat egg yolks with sugar to fully combine.

In a separate bowl, beat egg whites until frothy. Add 2/3 of the egg whites to the yolk/sugar mixture. Stir to combine.

Very slowly drizzle in the rye and rum into the egg/sugar mixture stirring gently as you pour.

Slowly pour in milk and stir to combine.

Stir in remaining 1/3 egg whites; stir to combine. Sprinkle with a bit of nutmeg when serving.

Refrigerate in a sealed container until serving and/or for storage.
Nutrition Facts
Designated Driver Required Eggnog Recipe
Amount Per Serving
Calories 363
Calories from Fat 36
% Daily Value*
Fat 4g6%
Cholesterol 143mg48%
Sodium 68mg3%
Potassium 96mg3%
Carbohydrates 12g4%
Protein 5g10%
Vitamin A 260IU5%
Calcium 59mg6%
Iron 0.7mg4%
* Percent Daily Values are based on a 2000 calorie diet.