Lemon Vodka is easy to make yourself! This infused vodka is light, citrusy and less expensive than buying it!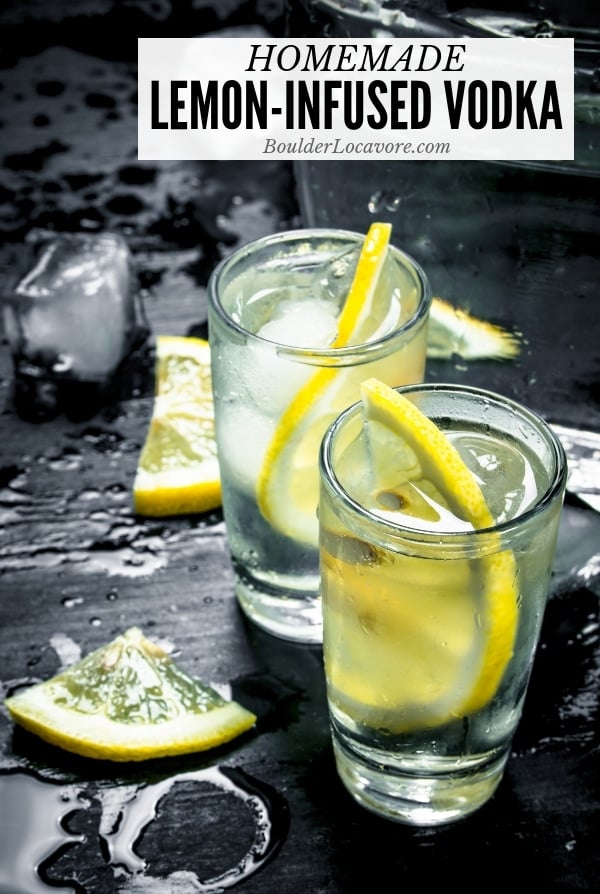 Infusing spirits yourself is not only easy, it's affordable and rewarding!
Having created more liquor infusions than I can count, Lemon Vodka is one that has been remade the most.
The light citrus flavor is refreshing on its own with mixers, or added to cocktails.
This early Boulder Locavore recipe has been reprised and updated. It's a great recipe for home mixologists!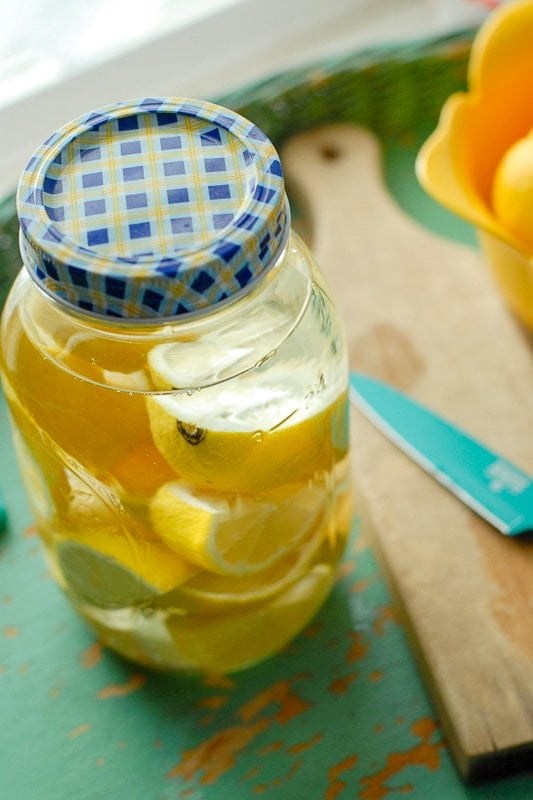 Homemade Lemon Vodka
A number of years ago I realized lemon vodka was the most often replaced liquor in my liquor cabinet.
Makes sense. The bright, light flavor works in many cocktails no matter what time of the year.
It boosts more subtle flavors just as adding acid to food recipes does. Lemon Vodka is thirst-quenching just with a mixer too.
Making it yourself is very easy! Whether for your own use or as a gift, I think you'll love making your own Lemon Vodka.
The first time I made it, I was overwhelmed with the most gorgeous aroma of lemon filling the air when I opened the lid!
The vodka takes on a beautiful shade of light yellow as well!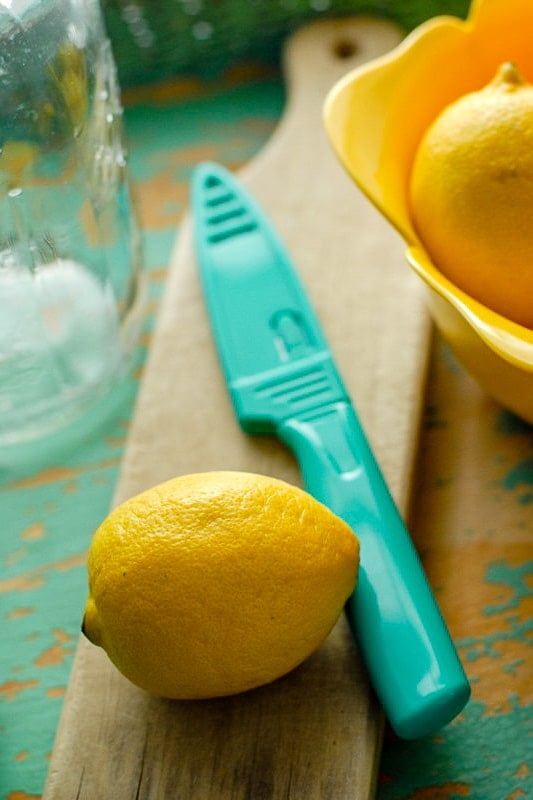 What is Infused Vodka?
Infusing any liquor consists of combining a flavored ingredient with a type of liquor, allowing it to soak for a period of time to infuse the flavor of the ingredient into the liquor.
In this case, fresh lemons are combined with vodka and after soaking a bright, citrus-flavored vodka is created!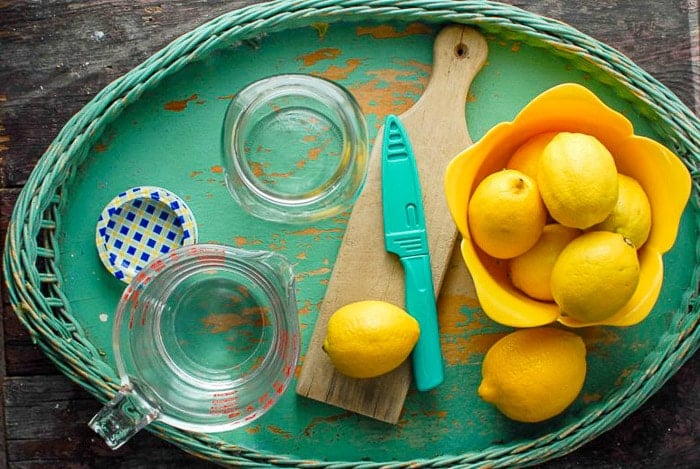 Why Vodka for Infusing?
Any type of liquor can be used for infusing.
Vodka is a very neutral, or flavor-less spirit, making it perfect to absorb the flavors of any ingredient soaking in it.
I've made more complex infusions such as Homemade Spiced Pear Vodka or simple one-ingredient infusions, such as this lemon vodka, and the results are fantastic every time.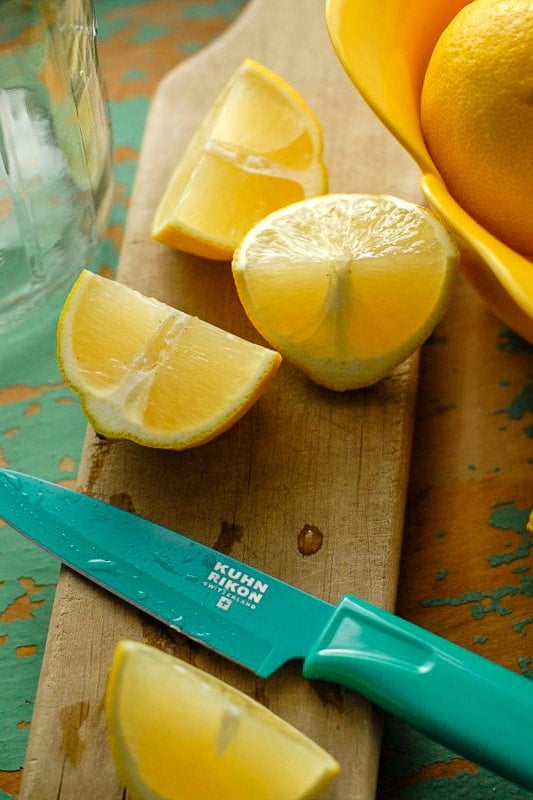 Ingredients in Lemon Infused Vodka
This recipe is simple. The ingredients are:
It's all that is needed to create a citrusy lemon vodka.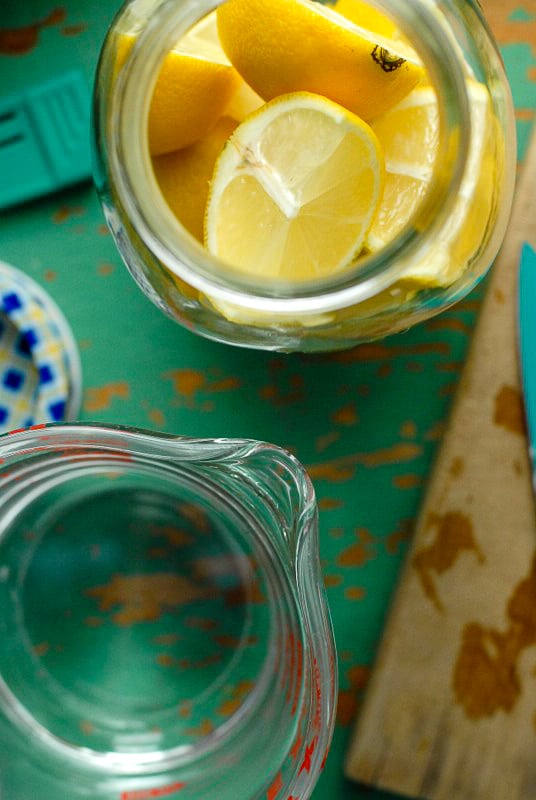 What Type of Vodka to Use for Lemon Vodka?
Whatever grade vodka used will affect the quality of the end result.
Therefore cheap vodka will make a lower grade lemon vodka, as an expensive vodka will be higher quality.
I use a mid-range vodka, with a neutral flavor, that's not 'cheap' but is affordable. I do not personally use the highest-grade vodka.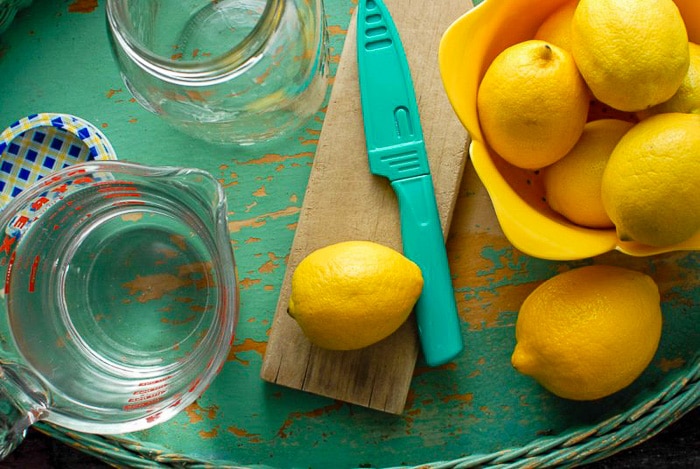 Is Special Equipment Needed for Infused Vodka?
No! Just a one quart jar with a lid.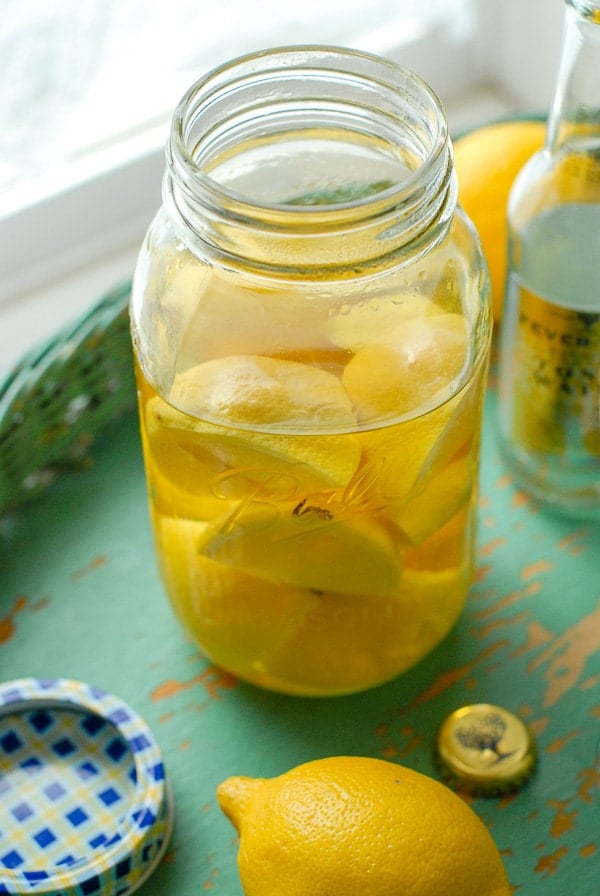 How to Make Lemon Infused Vodka
The process for making infused vodka is very easy. It takes about five minutes to create and patience to wait until it's done!
Quarter three lemons and add them to a quart volume jar (I use Mason jars).
Pour in two cups of neutral (unflavored) vodka.
Seal the jar and place in a cool, dark location for one week.
After one week, taste the vodka for flavor:

If the lemon flavor is to your preference, discard the lemons, and keep the lemon vodka sealed in a cool, dark location indefinitely.
If the flavor is not strong enough, allow the mixture to infuse longer; tasting every few days until it has the preferred lemon flavor. Follow the instructions in the bullet point above for storing.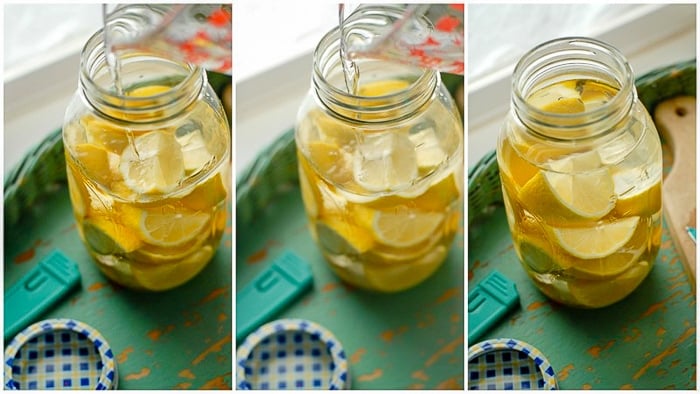 How Long Does Lemon Vodka Take?
The lemon flavor is present after one week however I chose to leave it for 3 weeks before using.
Taste it and continue infusing until the flavor is to your liking.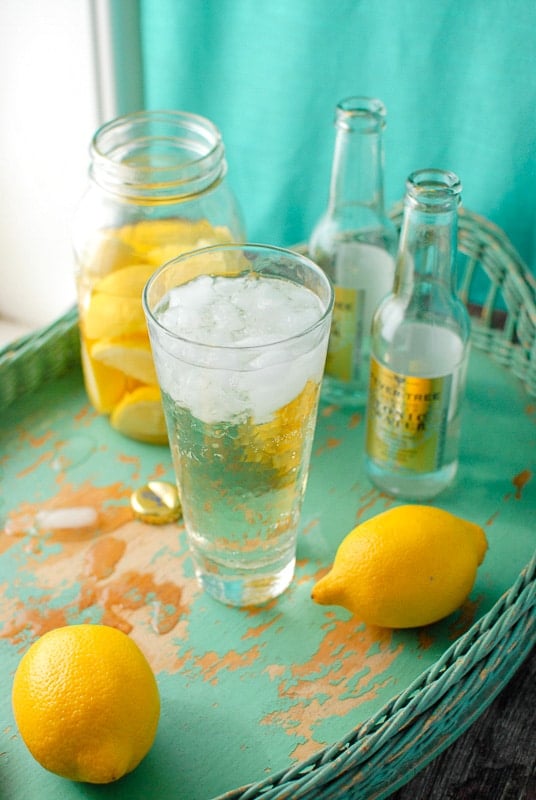 The most simple and fresh cocktail is a Lemon Vodka Tonic (recipe in below). However this infused vodka works great in many cocktails: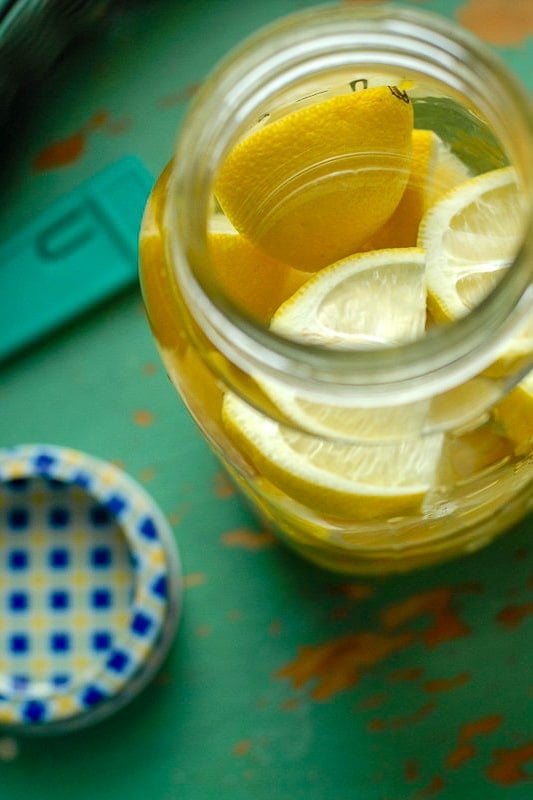 More Cocktail Recipes You'll Love
Fall Cocktails from Vail Colorado Restaurants
How to Make Simple Syrup: 8 Recipes and Suggested Uses
If you've tried this Homemade Lemon-Infused Vodka recipe on BoulderLocavore.com please RATE THE RECIPE below!
SUBSCRIBE and FOLLOW ME on FACEBOOK , TWITTER , INSTAGRAM and PINTEREST !
Recipe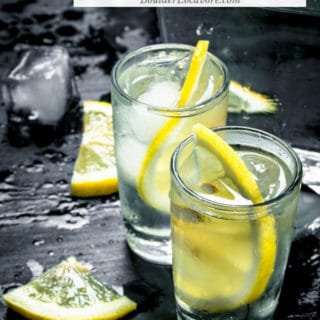 Homemade Lemon-Infused Vodka & Lemon Vodka Tonic
This light citrusy vodka is something you'll use for many cocktails!
Print
Save Recipe
Recipe Saved!
Pin
Rate
Servings:
2
cups infused vodka
Ingredients
Homemade Lemon-Infused Vodka:
2

cups

vodka

(neutral flavor)

3

medium

lemons

, rinsed well and quartered

Quart

size Mason jar with lid

(or any jar with a sealing lid)
Lemon Vodka Tonic cocktail
1 1/2

ounces

Lemon Vodka

Tonic Water

(I love Fever Tree tonic)
Instructions
Homemade Lemon-Infused Vodka
Place lemons and vodka in the jar; seal. Place in a dark, cool place.

Test for flavor after one week. Continue to taste until vodka has taken on the depth of flavor you prefer; remove and discard lemons, seal jar and enjoy!
Lemon Vodka Tonic
Fill a tall glass with desired amount of crushed ice. Add lemon-infused vodka and fill with tonic water.



Nutrition
Calories:
554
kcal
|
Carbohydrates:
0
g
|
Protein:
0
g
|
Fat:
0
g
|
Saturated Fat:
0
g
|
Cholesterol:
0
mg
|
Sodium:
2
mg
|
Sugar:
0
g
Originally Published: March 11, 2012