A sure sign of a great dish for me is when I'm editing photos of it for a blog post I can't wait to eat it again. That is the case for this Butternut Squash Curry. Like mouth watering 'excuse me for a second' while I have a serving now kind of 'can't wait'.
I have always loved curry. When I was growing up my mom would periodically make it I'm sure with something like chicken, nothing as exotic as squash. Probably my favorite part was the layering on of the condiments. Surrounding the steamy bowl of curry would be small bowls of raisins, peanuts, coconut, fried canned chow mien noodles, chutneys and I'm sure something else I've forgotten. I love the different flavors in every bite; tangy, vinegary, sweet, salty all against a backdrop of savory, spicy curry. After living in Asia during my adult life curry has definitely become one of my comfort foods of choice.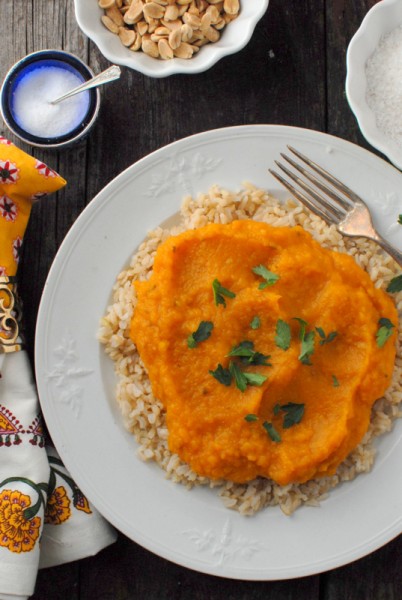 It's taken me a long time to become friends with winter squash. Decades really. I don't recall eating it as a child leaving me on my own as an adult to navigate the overly sweetening preparation methods that, paired with the already dense sweetness of the squash, were over the top for my palate. After a lot of liberally spaced trial and error I did warm up to Butternut Squash. If it were an acquaintance it's gone from the type you want plenty of warning before they show up, needing to psyche up to endure their visit, to one who has a house key and you love it whenever they drop by. I've found my groove with Butternut Squash.
Despite my love for Butternut Squash I'm in a bit of a cooking rut, pretty routinely making it into soup but never sure whatever else to try. Having several on hand from my winter CSA share I pulled out an older stash of magazine recipes (that pile in the moment you are sure you'll make next week and the next thing you know half a decade has passed). In this batch I found a recipe for Butternut Squash Curry. It seemed the perfect remedy for a cool autumn day looking toward snow.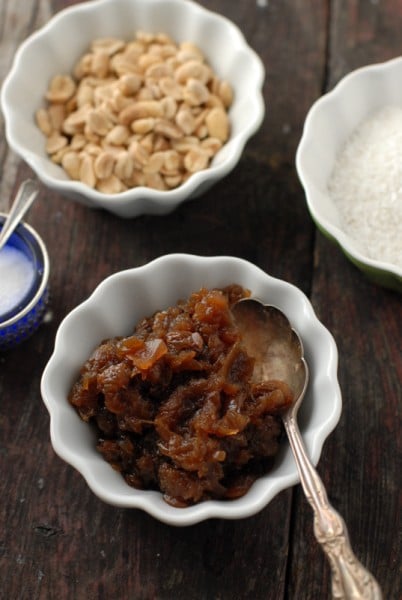 With brown rice in the rice cooker and all the ingredients on hand requiring no shopping I set about whipping up the curry. Each of my children ambled into the kitchen and stopped in that way in a cartoon that is always paired with an over dramatic squealing of brakes hit too hard. 'What are you making for dinner?' (the 'we-really-know-but-wish-we-didn't' tone in their voices was thinly disguised). I answered. The silent pause after my response was what I would imagine a vacuous space with all the air sucked out of it would sound like. 'Will it have CHUNKS of squash?'; the original recipe did. 'Would you rather it did NOT have chunks of squash?' 'Yes please'. And hence beginneth the process of adapting a recipe.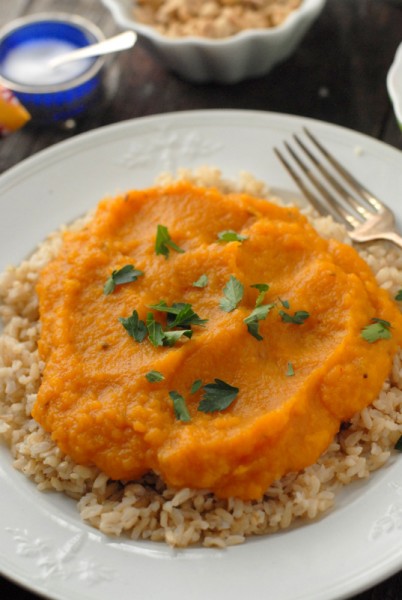 Candidly I have a bit of a texture issue so the idea of a pureed curry over rice was just fine with me. As friendly as I now feel with squash I admittedly have moments with pieces too big or too, well, too 'squashy' and I revert to the unconscious technique of eating disallowing the squash from touching my tongue in between the bite and swallow. The flavor of the curry was sublime; earthy, exotic and seasonally satisfying. I did add in my favorite condiments of unsweetened organic coconut, unsalted roasted peanuts and apple chutney I'd canned myself. It is a filling, warming dish brimming with flavor that is also healthy and easy to make. Hopefully you'll agree!