Orgeat Syrup is a secret weapon in some of the favorite cocktails. It's easy to make at home and keep in the fridge ready for summer drink making!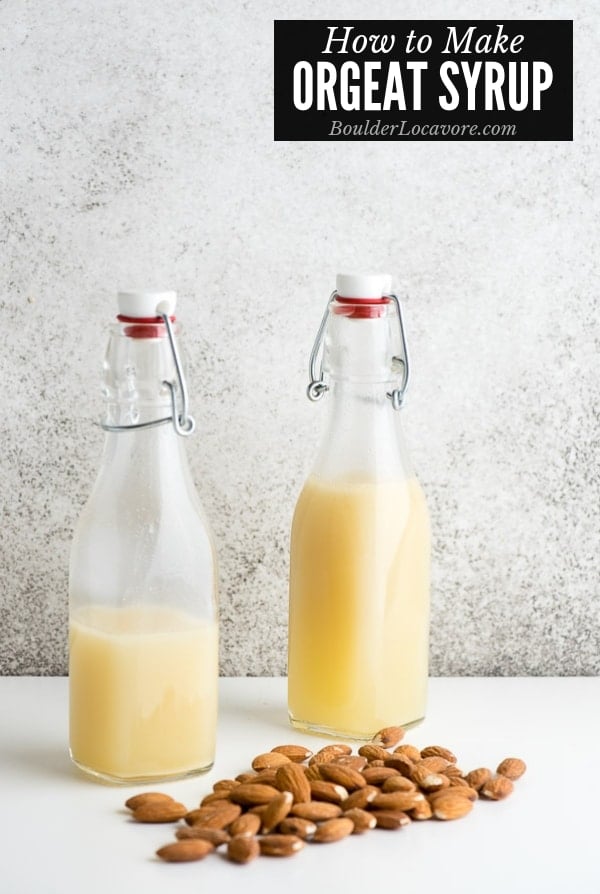 Summer is cocktail season. The quality of ingredients can make the difference between a so-so cocktail and a GREAT cocktail.
Often the mixers are what make a cocktail fantastic.
Orgeat syrup is one of those mixer ingredients. It's easy to make at home too.
After reading this you'll see how easy it is to make and have a list of great ways to use it too.
What is Orgeat Syrup?
It's a delicious almond syrup made with almonds, sugar and orange blossom water.
The light mix of almond and orange blossom make a wonderful versatile syrup that are popular in many cocktails.
The most well-known of which is the tropical Mai Tai. But that's just a start!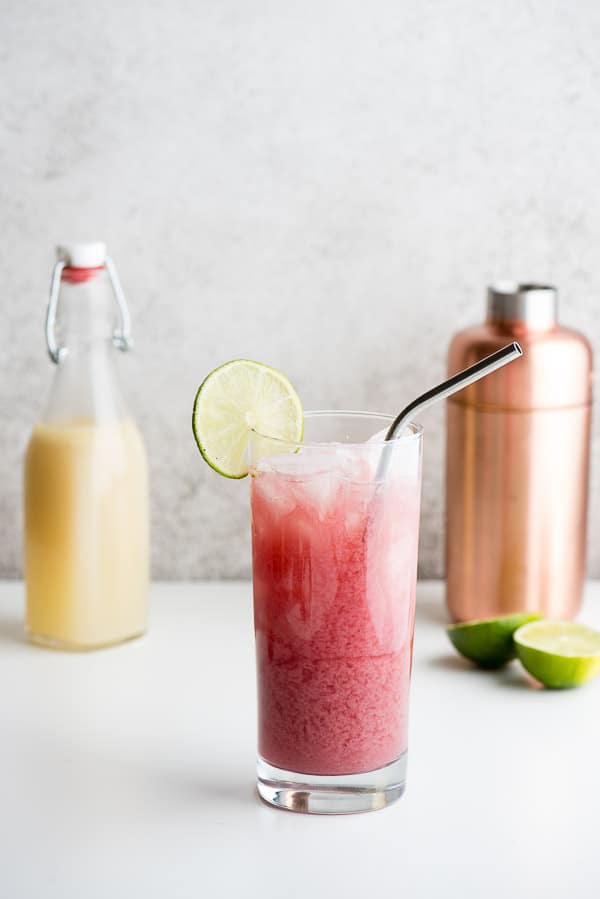 How to Pronounce 'Orgeat'
Have you ever use Orgeat (pronounced or-zha for the French pronunciation or or-zhat) in your home cocktails?
Ingredients in Orgeat Syrup
The ingredients in orgeat are simple and easy to find.
This recipe uses blanched slivered almonds which are already prepared. They create a milky color and subtle flavor.
Slivered Almonds
Granulated Sugar
Water
Orange Flower Water (also known as Orange Blossom Water)
Vodka unflavored
If you are in a DIY mood, you can even make your own orange flower water too!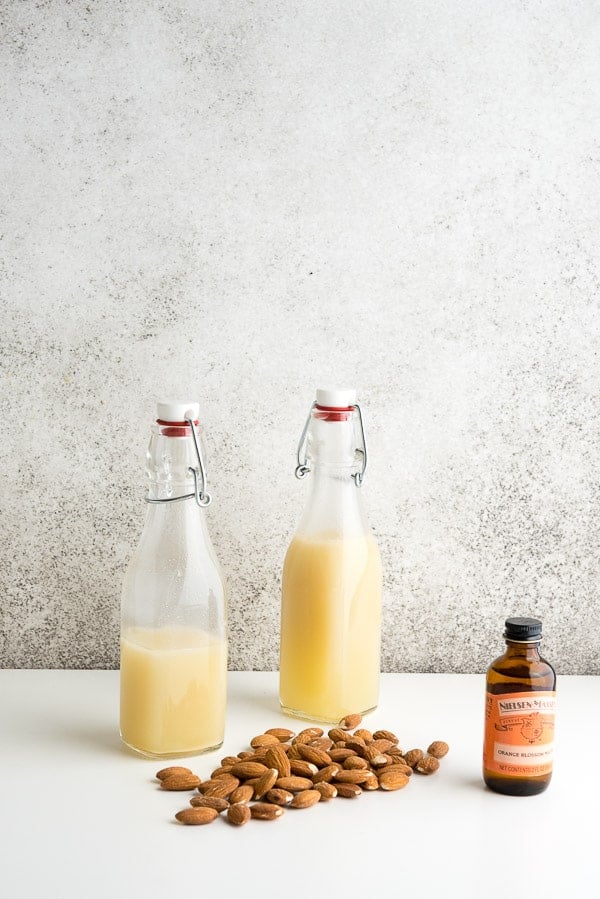 What does Orgeat Taste Like?
It has almond flavor with a bit of a floral flavor from either orange blossom or rose water (one of the two are used).
Since this recipe uses blanched almonds the bitterness found in almond skins is absent.
The flavor is light and delicious.
How to Make Orgeat Syrup – Step by Step
Preheat the oven to 400 degrees F.
Line a rimmed baking sheet with foil, dull side facing up.
Place the almonds in a single layer on the prepared pan.
Roast the almonds for 3 minutes, shaking the tray halfway through cooking.
Remove from the oven and allow to cool fully.
Process through a food processor or blender into small pieces.
In a small saucepan, combine the sugar and water; bring to a boil over medium-high heat to dissolve the sugar.
Add the almonds; remove from the heat. Cover and allow to infuse for 3 hours.
Drain through a fine mesh sieve into a bowl or large liquid measuring cup.
Stir in the orange blossom water and vodka.
Pour into jars or bottles, seal and store in the refrigerator for up to 2 weeks.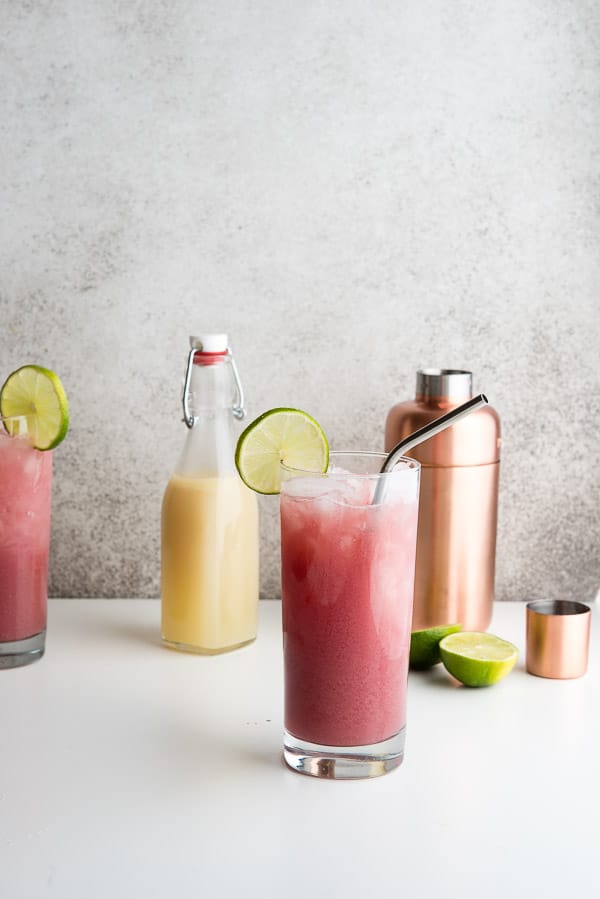 How to Store Orgeat
Store sealed in the refrigerator for up to 2 weeks.
NOTE: the syrup will separate while it sits. Just shake the container gently before using to mix together.
Cocktails with Orgeat
The fun begins when fresh Orgeat is in the fridge waiting to be mixed into delicious cocktails!
Here are some to try (click cocktail title for the recipe):
Mai Tai. This classic tropical cocktail is most commonly associated with traveling to Hawaii. No need to board a plane. Whip this up at home for a mini vacation vibe.
Cape Cod Cooler (recipe below). This refreshing sipper combines cranberry, 2 types of gin, lime and orgeat for a perfect summer cocktail.
Scorpion. Another Tiki drink with rum, brandy, citrus juices and orgeat. Blended with crushed ice and it tastes like a tropical vacation.
Japanese Cocktail. A classic cocktail to use orgeat that is simple to make. Cognac, orgeat and bitters.
Fog Cutter. A famous Tiki drink with multiple types of liquor, orgeat, lime and more. This recipe uses simple syrup which is also very easy to make at home.
Bermuda Hundred. If a Mai Tai and a Negroni had a baby…
Planter's Punch. Rum, orange juice, apple juice and orgeat. Yum.
1001 Cocktails has a collection of cocktails using Orgeat Syrup. It's a great resource when searching for drinks using a specific ingredient or a specific cocktail too!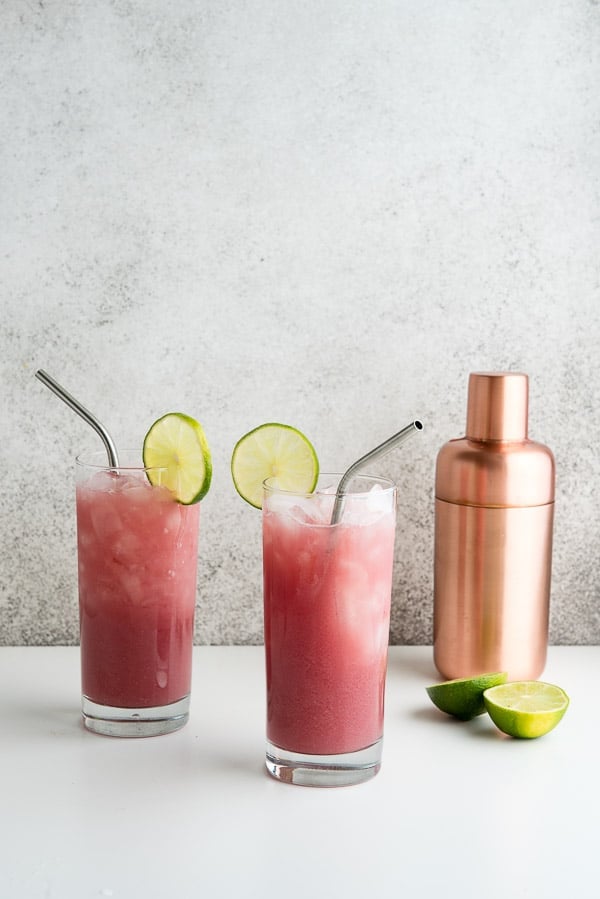 Did you make it? Please RATE THE RECIPE below!
Please SUBSCRIBE and FOLLOW ME on FACEBOOK , TWITTER , INSTAGRAM and PINTEREST!
Originally published: April 18, 2017. This post was originally sponsored by Nielsen-Massey.