Fall cocktails celebrate the season with favorite familiar flavors of apple, ginger, mint and warming spices. These four delicious cocktail recipes from well-known Vail Colorado restaurants will become new favorites!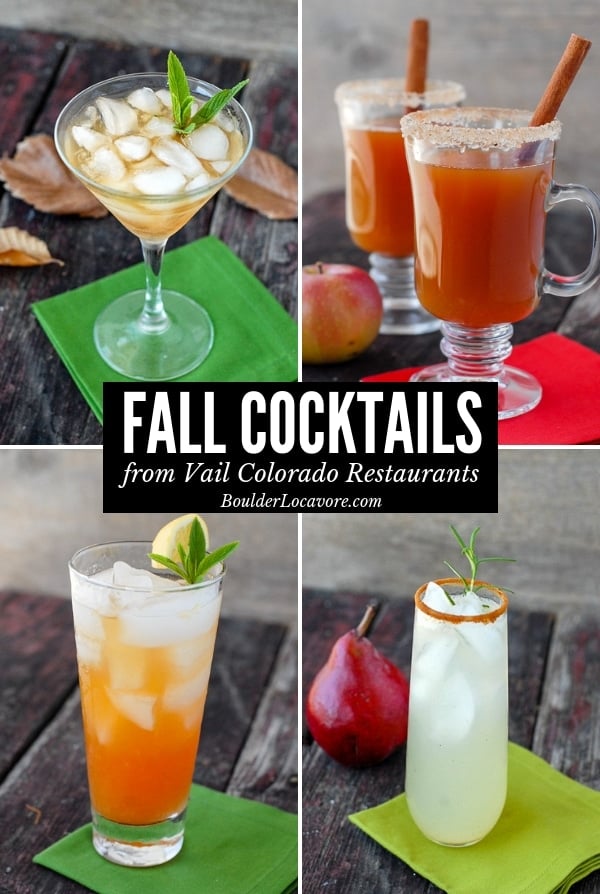 The 'shoulder seasons' (fall and spring) are a perfect time for a mountain getaway. Especially at ski-area locations.
Hotel deals can be at their best and the crowds of usual visitors are at a low.
Most warm weather activities still are available. With cooler temperatures and beautiful fall foliage as a backdrop making for a perfect vacation.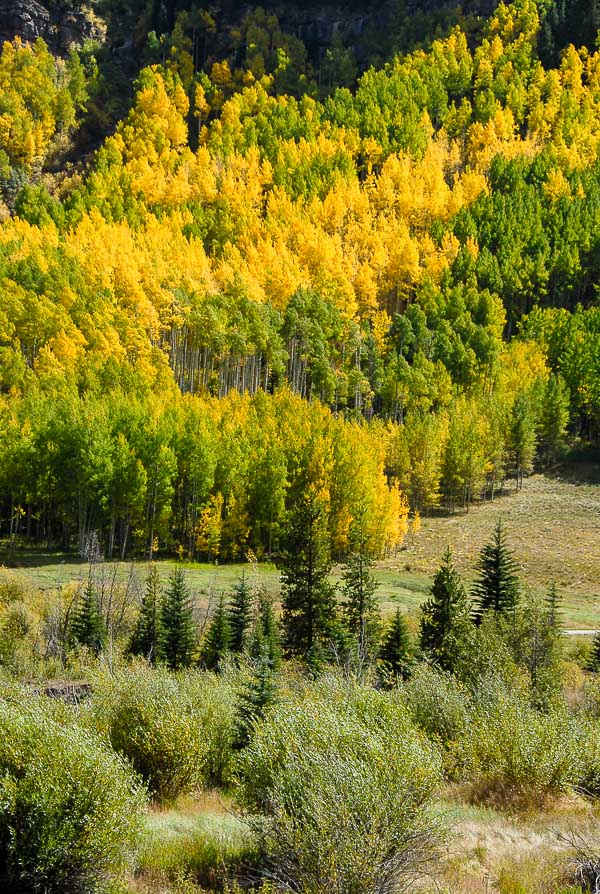 Vail, Colorado is no exception. Just an easy 1 hour 40 minute drive from Denver up I-70 West, the Vail area shines in the autumn.
The surrounding mountains offer a dense concentration of fall color.
Daytime temperatures in the low 70's, allow ski slope mountain biking to rage on.
A long leaf-peeping trail ride with Vail Stables is in its prime.
A wealth of touring and activities are only the start when visiting Vail.
The vibrant food scene offers dining of all types of food, featuring a taste of the local produce, meat, and distillers.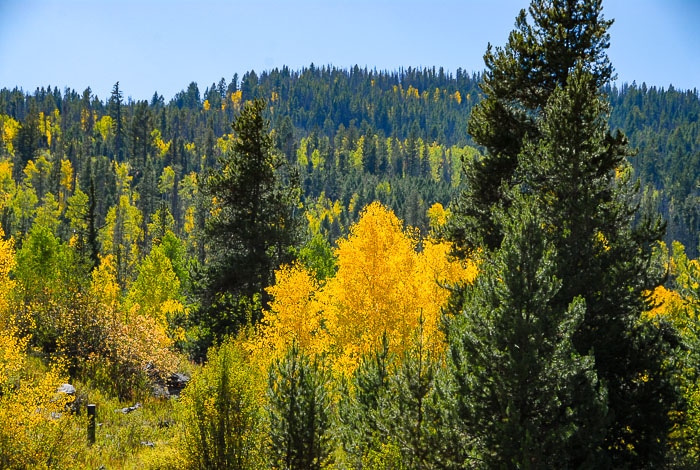 Four of my favorite Vail Colorado restaurants are sharing fall cocktails for a taste of the Colorado autumn in a glass!
What Defines 'Fall Cocktails'?
As the seasons change, so do ingredients and flavors.
Fall brings deeper flavors like pear, apple, warming ginger and more herbs with stronger flavors.
In Colorado, the peach season delivers beautiful juicy fruit in the late summer and early fall.
Those more typically summer flavors creep into fall cocktails too.
Simple syrup, a sugar and water mixture boiled to form a light syrup, is a common cocktail sweetener. Unique simple syrups with bold flavors often give fall cocktails a special flavor in addition to the liquor.
One my personal favorites is the with Homemade Cinnamon Simple Syrup used in these Persimmon Margaritas.
Supplies for Making Fall Cocktails
Fall cocktails don't differ from other seasonal cocktails in terms of the supplies needed.
There are some basic bar tools that make home mixology easy!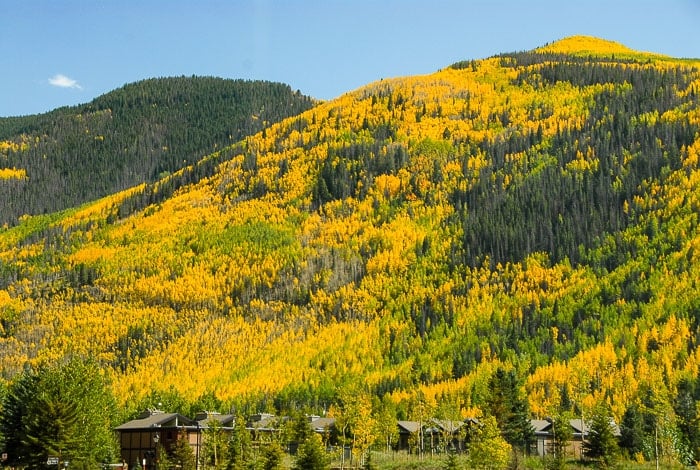 Substitute Ingredients as Needed
These fall cocktails include specific brand ingredients used by the bartender at the Vail Colorado restaurants sharing the recipe.
Feel free to change up to use your own favorite brand.
Or include a substitute if you can't find the listed ingredient.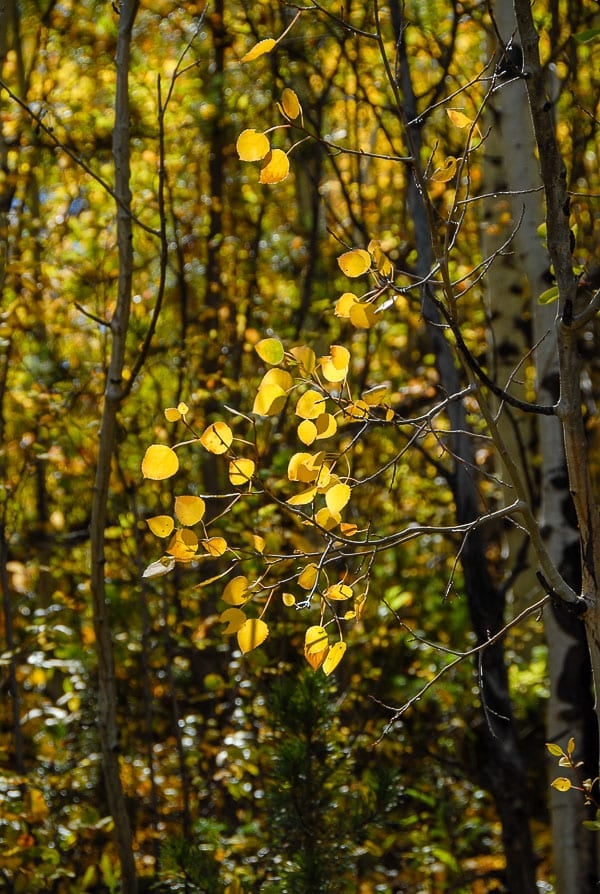 Fall Cocktails from Vail Colorado Restaurants
Vail Colorado is really known for the skiing. It is a long established winter playground for the rich and famous.
What many do not know is that it's a very relaxed place to visit in all seasons.
AND that the food scene is on point.
All the cocktails today come from restaurants using local ingredients whenever possible.
These fall cocktails are a wonderful example of this with locally sourced seasonal ingredients.
I loved making all these fall cocktails and can say without a doubt they are all a smashing success.
Each with distinct flavors of fall, there is a new favorite cocktail here for every preference.
Did you make it? Please RATE THE RECIPE below!
Ginger Pear Snap Cocktail
This cocktail Larkspur restaurant is full of spicy pear vodka, ginger liqueur, sparkling pear juice and rimmed with gingerbread spices!
TIP for DIY Mixologists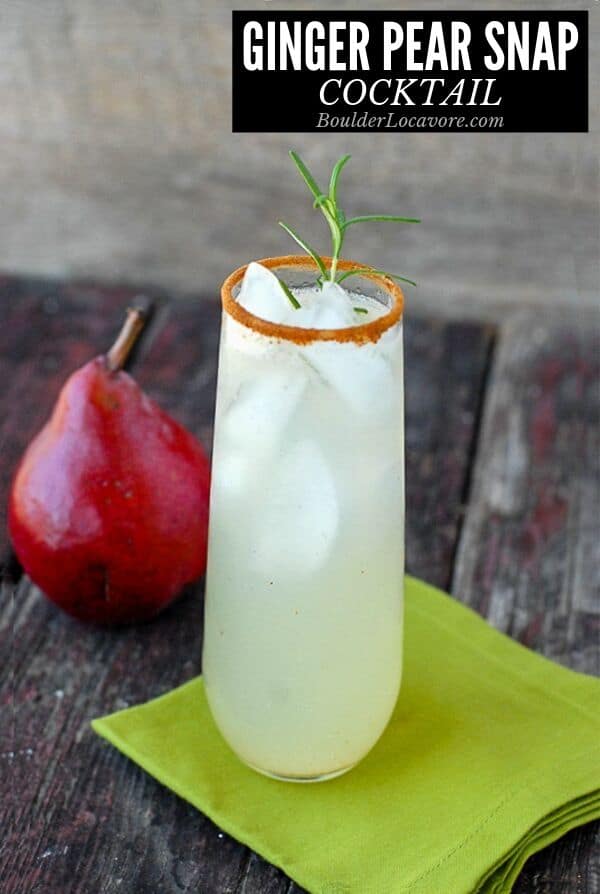 Peach Julep Cocktail
This cocktail borrows from summer's peaches to make a flavor-packed sipper with bourbon, mint and orange bitters.
Fresh Peach Substitute
If fresh peaches are not available, use thawed frozen peaches for this cocktail from Matsuhisa restaurant.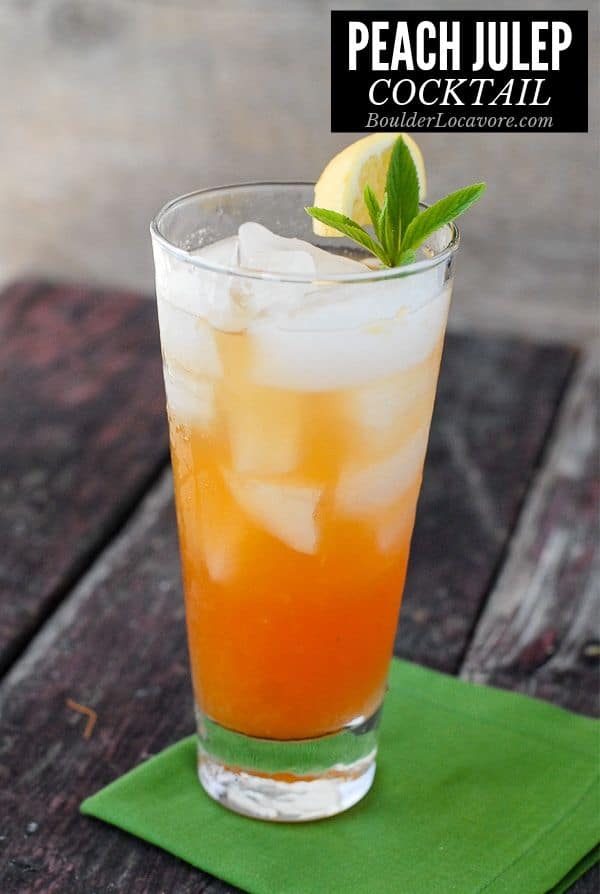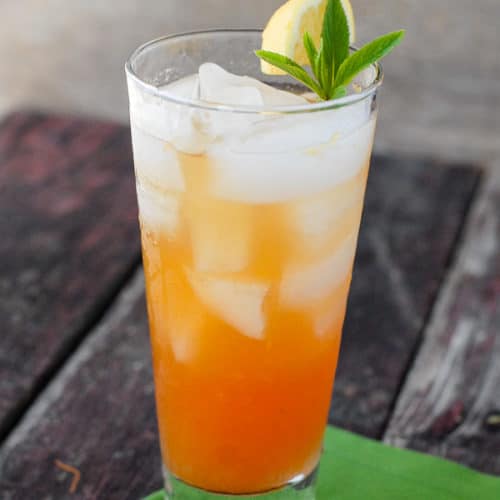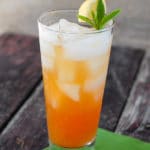 Print
Peach Julep cocktail
Flavors of peach and mint make this a refreshing cocktail for any season. From Matsuhisa restaurant in Vail Colorado.
Ingredients
2

ounces

Bulleit bourbon

½

ounce

agave syrup/nectar

¾

ounce

fresh lemon juice

½

ripe Palisade peach*

peeled and quartered

5-8

mint leaves
Instructions
Muddle peach and agave in a mixing glass.

When peach is completely muddled, add mint. Bruise mint with muddler.

Add lemon juice, bourbon, bitters and ice; shake vigorously. Strain twice into a highball glass with fresh ice. Garnish with mint sprig.
Notes
*Palisades is the peach growing region of Colorado. Any ripe peach may be used for this recipe.
Nutrition
Calories:
231
kcal
|
Carbohydrates:
22
g
|
Protein:
0
g
|
Fat:
0
g
|
Saturated Fat:
0
g
|
Cholesterol:
0
mg
|
Sodium:
2
mg
|
Potassium:
142
mg
|
Fiber:
1
g
|
Sugar:
16
g
|
Vitamin A:
455
IU
|
Vitamin C:
14.8
mg
|
Calcium:
12
mg
|
Iron:
0.5
mg
Hot Mulled Apple Cider
No aroma is more 'Fall' than apple cider. His hot cocktail from Elway's Restaurant is packed favorite warming spices, and apple schnapps or rum.
Wrap your hands around a steaming mug next to a crackling fire to welcome the season.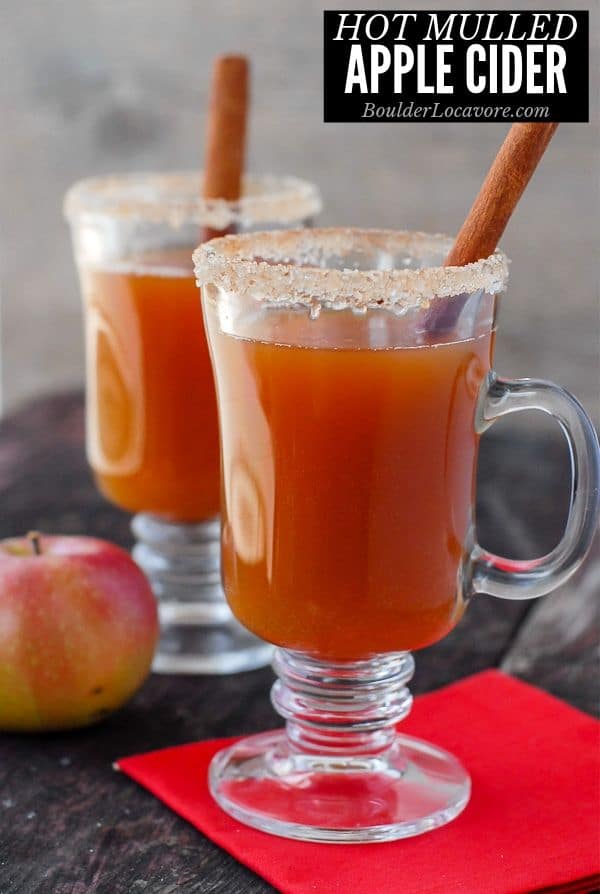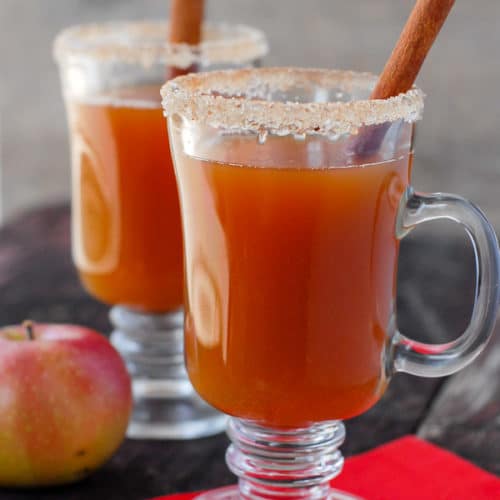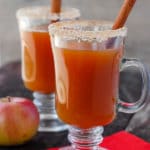 Print
Hot Mulled Colorado Apple Cider
Spiked hot apple cider never tasted so good! Recipe from Elway's restaurant in Vail Colorado.
Ingredients
4

ounces

Big B's Apple Cider*

non locals can use fresh apple cider

Mulling spices

1 ½

ounce

Berentzen ApfelKorn Apple Schnapps or Myers dark rum

Pumpkin spice and sugar

for rimming the glass

Sliced orange

for rimming liquid

Cinnamon stick for garnish
Instructions
Heat apple cider with mulling spices over low heat for 1 hour.

Rim a large brandy snifter with juice of a sliced orange; dip into a shallow glass of pumpkin spice and sugar (1 part pumpkin spice to 5 parts sugar; or to your taste).

Add hot cider and apple schnapps or rum. Garnish with cinnamon stick.
Notes
*Big B's is a Colorado-local brand of fresh apple cider. Any apple cider may be used; fresh preferred.
Larger amounts of apple cider and mulling spices may be simmered and stored in the refridgerator for additional cocktails.
Nutrition
Calories:
150
kcal
|
Carbohydrates:
12
g
|
Protein:
0
g
|
Fat:
0
g
|
Saturated Fat:
0
g
|
Cholesterol:
0
mg
|
Sodium:
4
mg
|
Potassium:
114
mg
|
Sugar:
10
g
|
Vitamin C:
1
mg
Kentucky Thyme Cocktail
This special cocktail from Sweet Basil restaurant uses bourbon, rum, mint, and bitters. An easy homemade thyme-lavender syrup makes it an unforgettable fall drink.
DIY Mixology TIp
Special simple syrups can make an ordinary cocktail into something exciting and memorable. Infusing herbs to flavor the syrup is easy to do and fast too!
For more ideas check out this guide on How to Make Simple Syrup.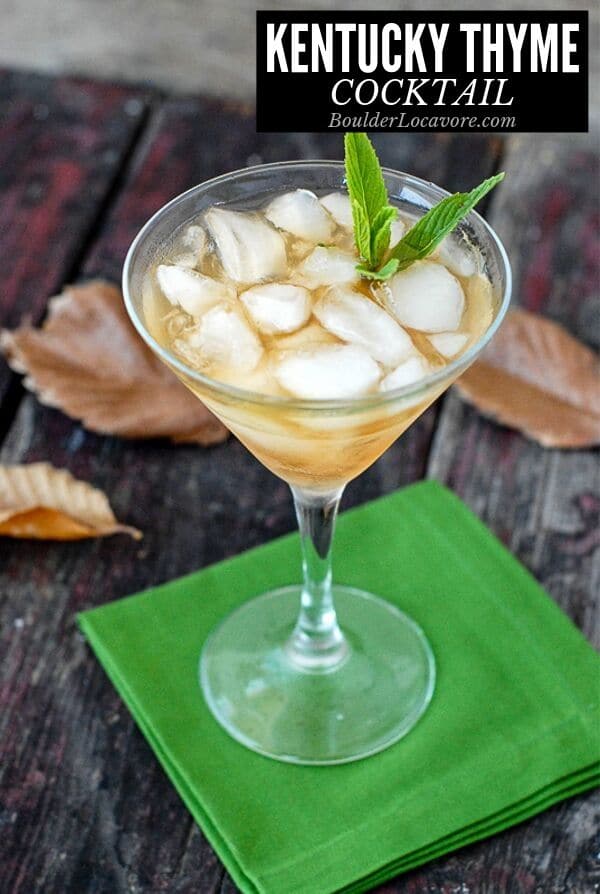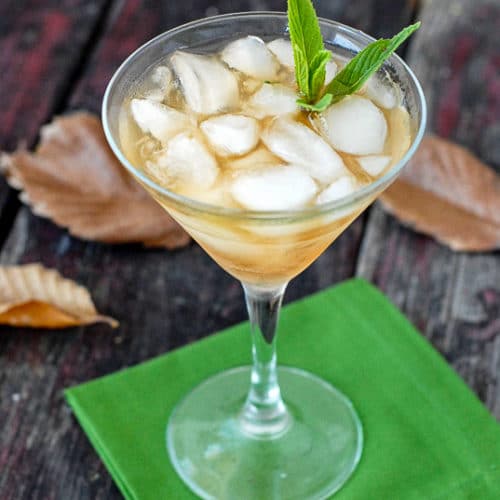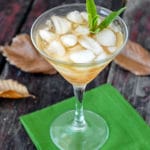 Print
Kentucky Thyme Cocktail
Bourbon, lavender-thyme simple syrup and rum make this an unforgettable cocktail. Recipe from Sweet Basil restaurant in Vail Colorado.
Ingredients
Kentucky Thyme cocktail
5-8

fresh mint leaves

½

ounce

water

½

ounce

Thyme Lavender syrup

see below

1 ½

ounces

Makers Mark bourbon

½

ounce

Mt. Gay rum

Garnish: Mint Leaves
Thyme Lavender Syrup*
2

cups

sugar

1 ½

cups

water

4

sprigs fresh thyme

10

dried lavender leaves
Instructions
Thyme Lavender Syrup
Bring all ingredients to a boil slowly and reduce heat to simmer for 5 minutes. Let cool and strain.
Kentucky Thyme cocktail
Place mint leaves, thyme-lavender syrup, water and bitters in a mixing glass; muddle.

Add bourbon and rum with ice; shake lightly and strain into a cocktail glass with fresh ice.

Garnish with mint leaves.
Notes
*Note on Thyme Lavender Syrup volume: this recipe makes much more than needed for one cocktail above. If you want a larger batch, chill, sealed, in the refridgerator for additional cocktails. Smaller batch: I reduced the ingredients to ¼ of this recipe and it was plenty for a few cocktails.
Nutrition
Calories:
172
kcal
|
Carbohydrates:
11
g
|
Protein:
0
g
|
Fat:
0
g
|
Saturated Fat:
0
g
|
Cholesterol:
0
mg
|
Sodium:
11
mg
|
Fiber:
0
g
|
Sugar:
10
g
|
Vitamin A:
215
IU
|
Vitamin C:
1.6
mg
|
Calcium:
12
mg
|
Iron:
0.8
mg
More Travel Adventures in Vail Colorado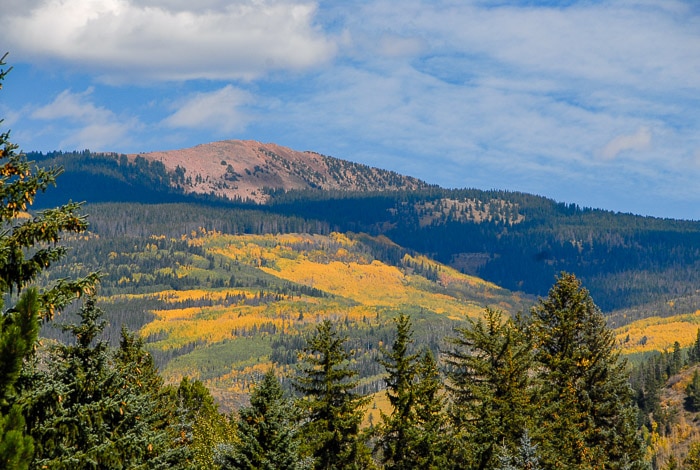 Please SUBSCRIBE and FOLLOW ME on FACEBOOK , TWITTER , INSTAGRAM and PINTEREST!
Originally published in September 2012
Fall cocktails brimming with favorite seasonal flavors are a great way to celebrate the season!