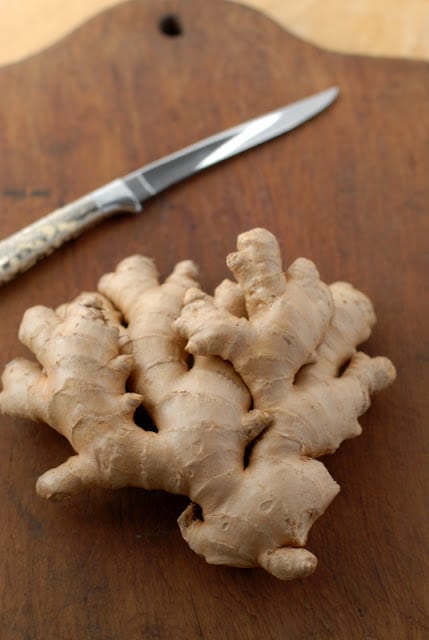 My last blog post shared a cocktail in the spirit of Chinese New Year called a 'Happy Dragon cocktail' made with homemade Ginger-Infused Vodka. It's a cinch and I'll provide the instructions so you may do the same.
Ginger is a coveted culinary and medicinal root.

I have addicted friends who eat it like a beaver chomps through trees.

It has a nice warming effect and is great for ailments of the stomach.

(You may have heard of the motion sick remedy of Ginger Pills).

I for one make a tea from it during the winter with a few 1/8 inch slices of unpeeled ginger, a slice of lemon and a bit of honey in teacup filled with boiling water.

It's light, flavorful and I'm sure good for me!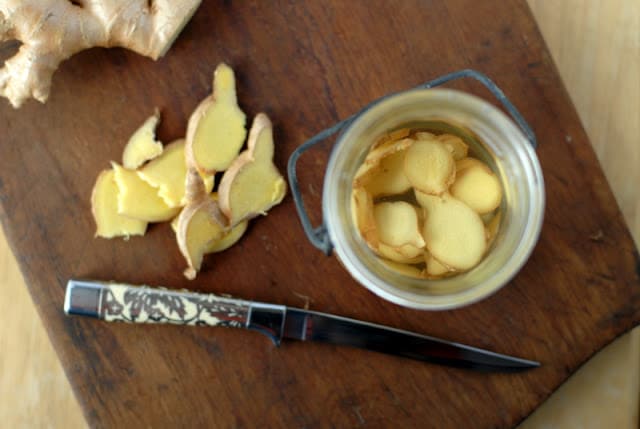 Ginger is a root and when mature it bears spiciness (like arugula is spicy, not like chilies).

It is a distinct flavor you'll identify in most Asian cuisine though it's present in international cuisine.

When infused in the vodka the vodka has a clear ginger flavor but it's not strong in the way something like crystallized ginger is.

Makes for a unique twist in vodka cocktails.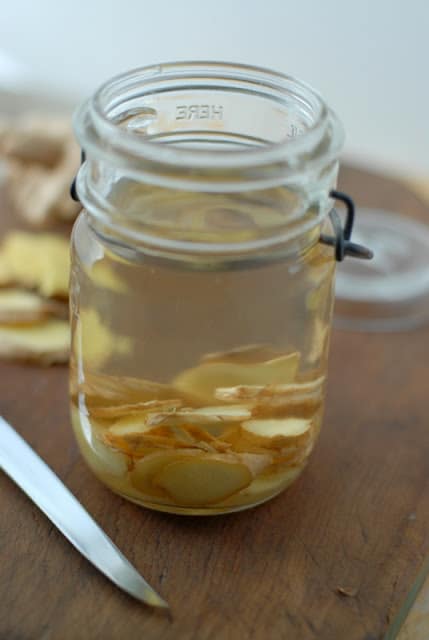 A ginger spin on a classic cocktail.

I garnished with sliced kumquats on a skewer.
·
2 ounces Ginger-Infused Vodka
·
1 ounce Martini and Rossi Rosso Vermouth
POMEGRANATE GINGER SPARKLER
I use organic, unfiltered pomegranate juice so it has a darker reddish-brown color to it that I love.
·
1 ½ ounces Ginger-Infused Vodka
·
2 ounces unsweetened Pomegranate juice
Combine vodkas, simple syrup and pomegranate juice in a shaker with ice.

Shake and pour into a highball glass filled with ice.

Pour in Ginger ale to fill glass.

I garnished with a slice of an Asian pear.
A few straight forward options; one a redo of a classic Vodka Tonic….
·
1 ½ -2 ounces Ginger-Infused Vodka
Fill a highball glass with ice.

Add vodka and fill with a quality tonic.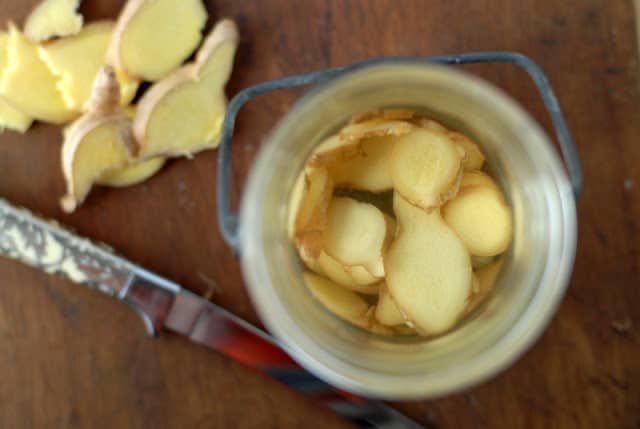 GINGER-VODKA AND GINGER ALE
·
1 ½ -2 ounces Ginger-Infused Vodka
Fill a highball glass with ice.

Pour in vodka and fill with Ginger ale.
In case you missed this…..
This drink is very fresh tasting with the tangerine juice and ginger.

You could easily make it non-alcoholic by omitting the ginger-infused vodka.
·
1 to 1 ½ ounce Ginger-Infused Vodka
·
Juice of 2 tangerines, freshly squeezed
·
Splash lychee fruit syrup (most easily found from a can of lychees)
Fill an 8 ounce flute with ice.

In a separate glass add the ginger-infused vodka, tangerine juice and lychee syrup.

Stir and pour into the flute.

Fill glass with ginger ale.

Garnish with a lychee fruit on a skewer.