Wassail is a classic mulled holiday drink served warm to take the chill out of the day! A mocktail recipe that can be spiked if desired!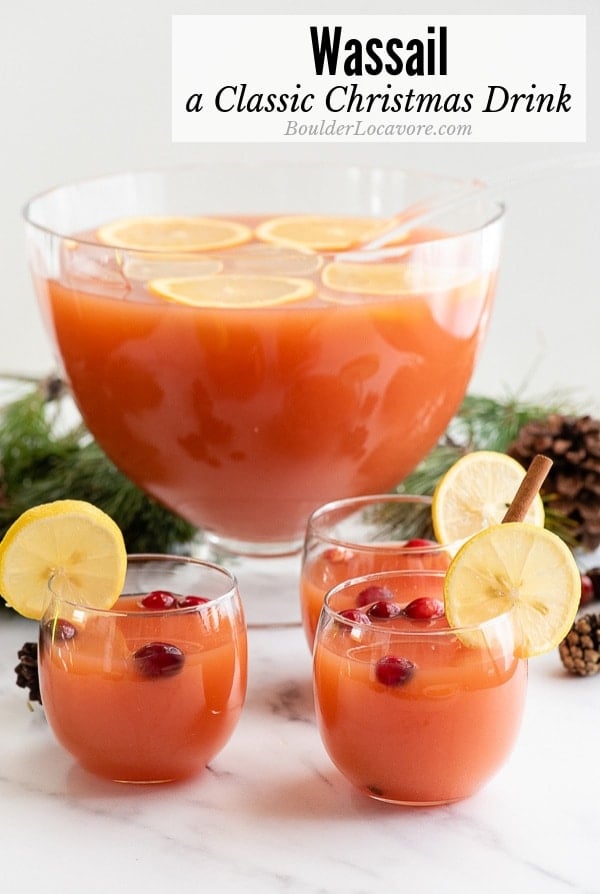 Updated: November 2018
Have you ever wondered what the words of the classic Christmas carol 'Here we come a-wassailing' mean?
I'm sharing that today along with a long-time family Wassail recipe too!
It's a classic holiday drink that can be served as a mulled mocktail or with liquor too.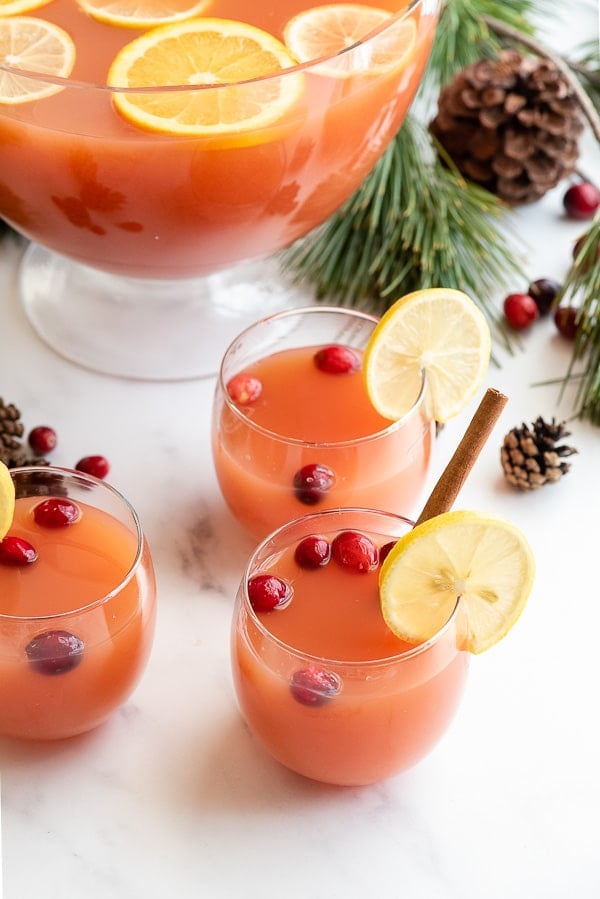 What is Wassail?
Wassail, (pronounced 'wah-sul') is an old English mulled hot drink with mixed fruit juices, spices and usually some alcohol.
This recipe is non-alcoholic but certainly can be spiked with liquor if desired!
What is Wassailing?
The familiar Christmas carol refers to the practice of groups caroling at people's homes and being given a steamy mug of the drink Wassail in exchange for their songs.
The heady aroma of cider-based Wassail fills the cold winter nights with irresistible, homey smells.
These days it's more likely to find families sipping around the holiday game table or at Christmas parties.
However you drink it, it's a holiday winner and easy to make.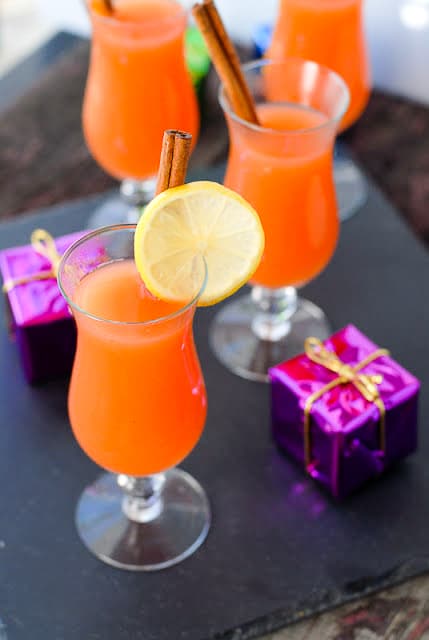 Ingredients in Wassail
A combination of delicious fruit juices and spices make a sweet, slightly tangy blend. This recipe includes:
Apple Cider
Pineapple Juice
Lemon Juice
Orange Juice
Cinnamon Stick
Whole Cloves
It simmers to blend the flavors into a warming holiday drink!
The SECRET Ingredient in this Wassail recipe
Our family recipe has a unique ingredient that not only makes it taste great but creates the pink hue: red hots!
Dissolved into the Wassail recipe they add a cinnamon taste that is delicious! Cinnamon Imperials used for baking can be used too.
Adding Liquor to Wassail
Originally Wassail included some type of liquor. Just enough to keep fingers and toes from tingling in the winter cold.
Most recipes today do not include liquor which allows anyone to drink it!
It's an easy drink to spike if you wish. Try adding:
Vodka (a neutral flavor that won't change the Wassail flavor)
Bourbon (will add some whiskey flavor)
Rum (will complement the fruit flavors and taste a bit like a Mai Tai)
You can spike the main Wassail batch if desired. However, adding liquor per serving instead of the whole batch allows children and teetotalers to enjoy it too!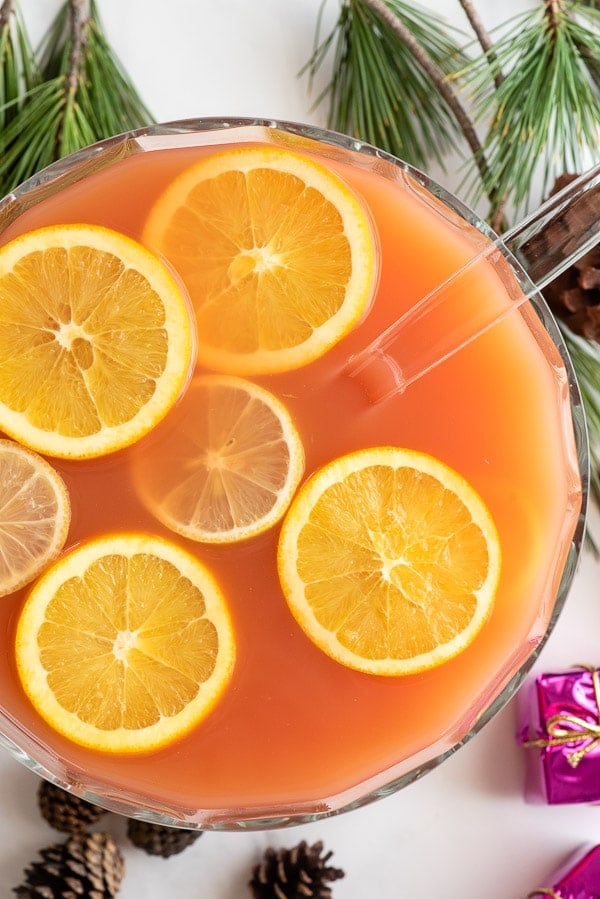 How to Make Wassail
Like most punch recipes, Wassail is easy to make. All ingredients are combined to simmer for 20 minutes and it's ready!
It's perfect to leave on the stove top to stay warm and serve from there.
Make Wassail in the Slow Cooker
This recipe can also be made in a slow cooker.
This is a great option if you want it out of the mainstream cooking. Or if you want it hot and ready when you come home from chilly outdoor activities.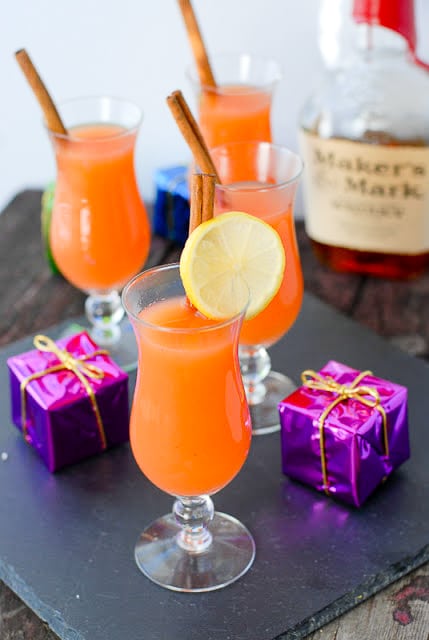 How to Make Wassail in a Slow Cooker
Add all the ingredients to a large slow cooker and cook on:
HIGH for 3-4 hours, or
LOW for 6-8 hours.
How to Store Wassail
If making ahead or having leftovers, store the sealed in the refrigerator. Warm before serving.
TIP: I store it in a glass jar with spigot making it easy to draw a cup to heat in the microwave.
More Holiday Drink Recipes you'll love:

If you've made this  recipe please RATE THE RECIPE below!
Please SUBSCRIBE and FOLLOW ME on FACEBOOK , TWITTER , INSTAGRAM and PINTEREST !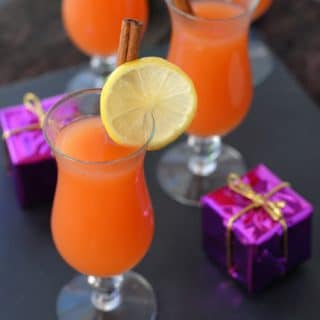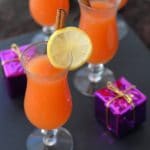 Wassail
Wassail is a classic warm holiday drink made for a crowd. It's non-alcoholic however can easily be spiked with bourbon or rum to suit your tastes!
Servings
16
8-ounce servings
Ingredients
2

quarts (8 cups)

Sweet Apple Cider

5

cups

Pineapple Juice

2

cups

No-Pulp Orange Juice

1

cup

Lemon Juice

1

teaspoon

Whole Cloves

1/2

small package

Red Hots or Cinnamon Imperials (Baking Decorations)
Instructions
Combine all the ingredients in a large pot. Bring to a low simmer and allow to simmer for 20-30 minutes for the flavors to blend.

Strain into serving mugs and serve warm.
Nutrition Facts
Wassail
Amount Per Serving
Calories 113
% Daily Value*
Sodium 6mg0%
Potassium 298mg9%
Carbohydrates 27g9%
Vitamin A 65IU1%
Vitamin C 30.3mg37%
Calcium 26mg3%
Iron 0.5mg3%
* Percent Daily Values are based on a 2000 calorie diet.
Originally published December 11, 2011