Toast the holidays with a classic large-batch drink, Wassail! A hot mulled non-alcoholic drink of fruit juices and spices, is sure to take the edge of chilly winter nights! Easy to spike for those wanting a bit more pep in their step.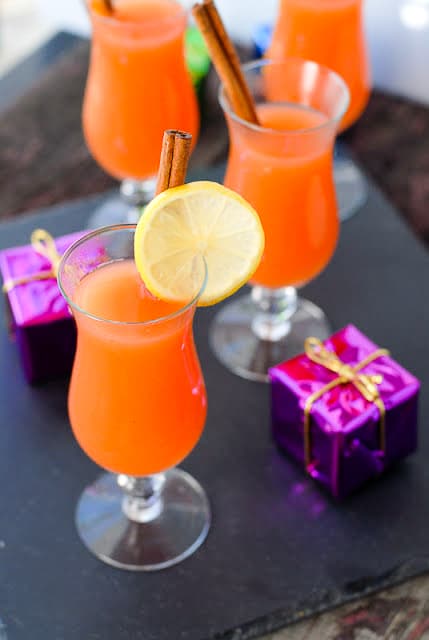 This post has been updated in December 2017.
This traditional holiday drink was an original post on Boulder Locavore and remains a seasonal favorite today. Anyone know the lyrics 'Here we come a-wassailing'? The Christmas carol refers to the practice of groups caroling at people's homes and being given a steamy mug of the drink Wassail in exchange for their songs.
These days it's more likely to find families sipping around the holiday game table or at Christmas parties. However you drink it, it's a holiday winner and easy to make. For those wishing to spike it anything from neutral-flavored vodka, rum to heartier bourbon will do the trick!
The original blog post….
When my brother and I were in elementary school we were stricken with the momentary delusion of believing we could become a singing group. Why did we believe this was possible? Who the heck knows. I had been banned from singing Christmas Carols at family gatherings due to the extremity of my tone deafness; how I catapulted from that to uber stardom in my mind may just reflect an extreme shortfall in my mental capacities as a young child.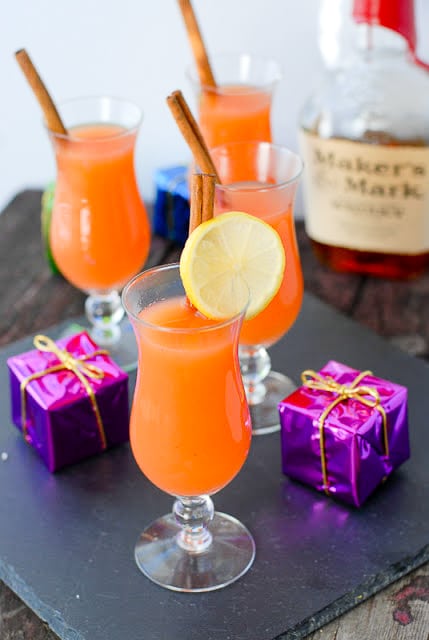 We selected a popular (but in hindsight a fairly slow, whiny) song that did not sound good when sung by the original artist and certainly would not be improved when crooned in our dulcet tones. Quite earnestly we set up a recording situation where the song would be playing and we'd record ourselves singing to it. We did not think through what we'd do with this sophisticated 'demo tape'; I suppose feeling confident we'd just be 'discovered'.
Suffice it to say after seriously singing our duet'ish way through the tune we listened to our recording. I don't recall much dialog ensuing, more a 'knowing' being recording artists was not in our collective cards. I'm hopeful someone burned that tape.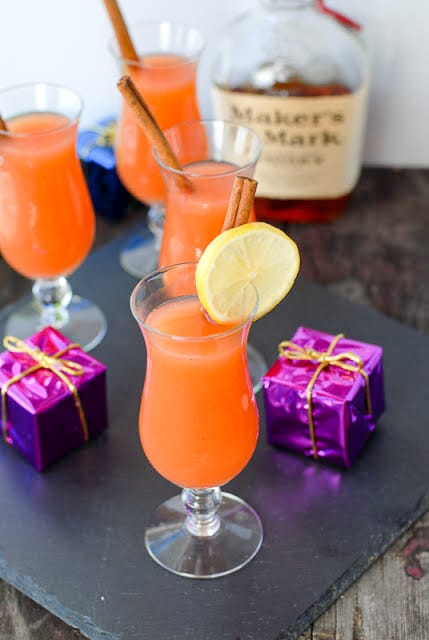 When digging through my Mom's recipe folder and discovering this Wassail recipe in my brother's 'teeny guy' scrawl I knew I had to make it. I don't recall ever having Wassail but seem to have heard it woven in with some Christmas Carol. My first thought of course was how to spike it. I plowed into my favorite neighborhood family run liquor store that has entertained my concoctions over the past year when seeking help. We collaboratively settled on bourbon, feeling rum to be too sweet and Mai Tai'ish when paired with the rest of the ingredients.
How to make Wassail: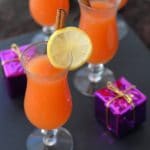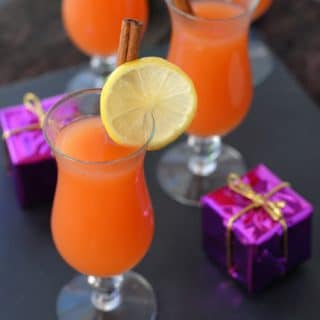 Wassail
Wassail is a classic warm holiday drink made for a crowd. It's non-alcoholic however can easily be spiked with bourbon or rum to suit your tastes!
Servings
16
8-ounce servings
Ingredients
2

quarts (8 cups)

Sweet Apple Cider

5

cups

Pineapple Juice

2

cups

No-Pulp Orange Juice

1

cup

Lemon Juice

1

Cinnamon Stick

1

teaspoon

Whole Cloves

1/2

small package

Red Hots or Cinnamon Imperials (Baking Decorations)
Instructions
Combine all the ingredients in a large pot. Bring to a low simmer and allow to simmer for 20-30 minutes for the flavors to blend.

Strain into serving mugs and serve warm.
Nutrition Facts
Wassail
Amount Per Serving
Calories 113
% Daily Value*
Sodium 6mg 0%
Potassium 298mg 9%
Total Carbohydrates 27g 9%
* Percent Daily Values are based on a 2000 calorie diet.