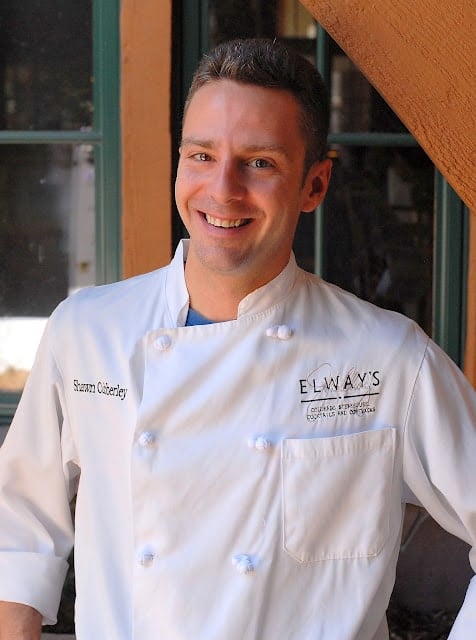 Elway's Executive Chef Shawn Cubberley
As a locavore myself this approach to preparing a meal is a familiar one though always bearing a bit of mystery about the end result, never knowing what ingredients will be fresh and available.
To me it best demonstrates a chef's acumen and creativity, all the while feeling a bit like the Food Network TV show 'Chopped', with a hodge podge of ingredients testing the mettle of the chef at hand.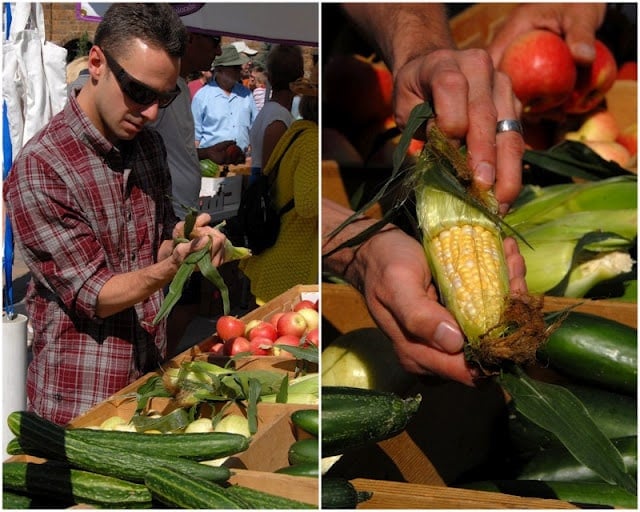 Chef Shawn examining the Olathe Sweet Corn to ensure top kernels are plump and not dehydrated.
Being a colorful guy, Jim felt the best way to kick off our time would be to saber a bottle of sparkling wine (what else would one drink at 10:00 a.m. on a Sunday morning?). Jim explained that every bottle has a vertical seam which must be discovered and followed to a weaker spot in the neck of the bottle which serves as the path of travel for the blunt side of a saber, striking the top of the bottle thus shearing it off in a clean break. Despite Jim's effortless demo, please do not try this at home!
Recipe
Chefs Shawn and Justin choreographed our market purchases into a visual and textural celebration of summer. Fried Green Tomatoes lightly dipped in flour, shaken off and placed in an egg wash and cornmeal, lightly fried and topped with a Fresh Roasted Corn and Heirloom Tomato Relish with micro basil and a Charred Lemon Vinaigrette. Kale sautéed in a pan following bacon, tossed with a bit of vinegar, lemon juice and goat cheese. Freshly baked artisan bread Crostini topped with freshly made Caramelized Peach Marmalade. Pan seared craft-raised Skuna Bay Salmon. 100% Prime New York Strip steak and filet. Jim Lay complimented the meal with a bottle of Merry Edwards Pinot Noir.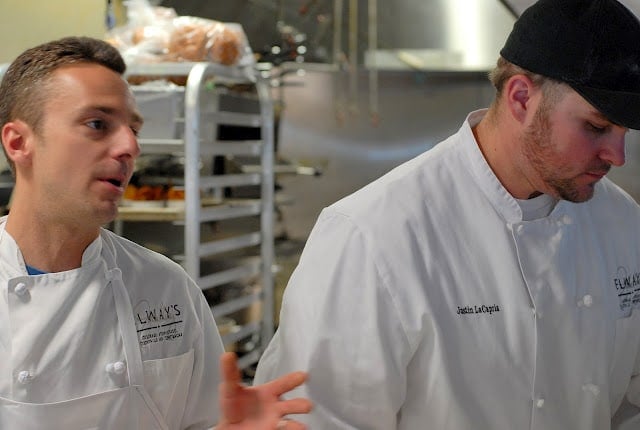 Elway's Executive Chef Shawn Cubberley and Sous Chef Justin LaCapria