You may be grilling burgers all wrong! This EASY Ultimate Burger Grill Guide gives you everything on How to Grill the Perfect Burger! It will change your burger game completely.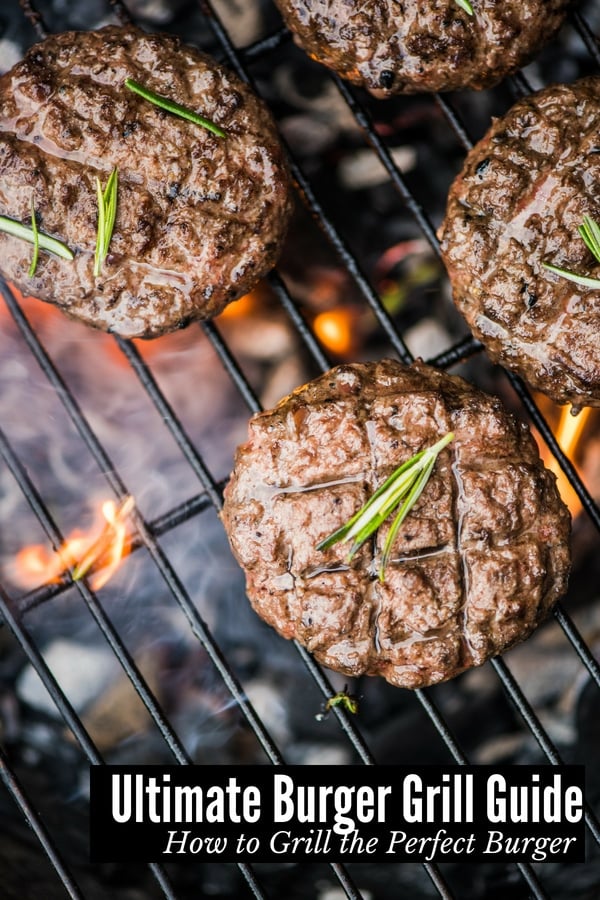 Summer is here and grills are ablaze cooking up seasonal favorites. A summertime staple is cooking burgers on the grill but often they turn out dry and tasteless.
With a few simple burger grill tips for how to grill hamburgers your homemade burgers will rival the best juicy hamburgers from your favorite restaurant.
Ultimate Burger Grill Guide: How to Grill the Perfect Burger
Though grilling burgers isn't difficult it does require some basic information to grill like a pro.
The ground beef used, some key steps in the burger preparation and grilling and basics like knowing how to check for doneness make all the difference!
We'll hold your hand through it, don't worry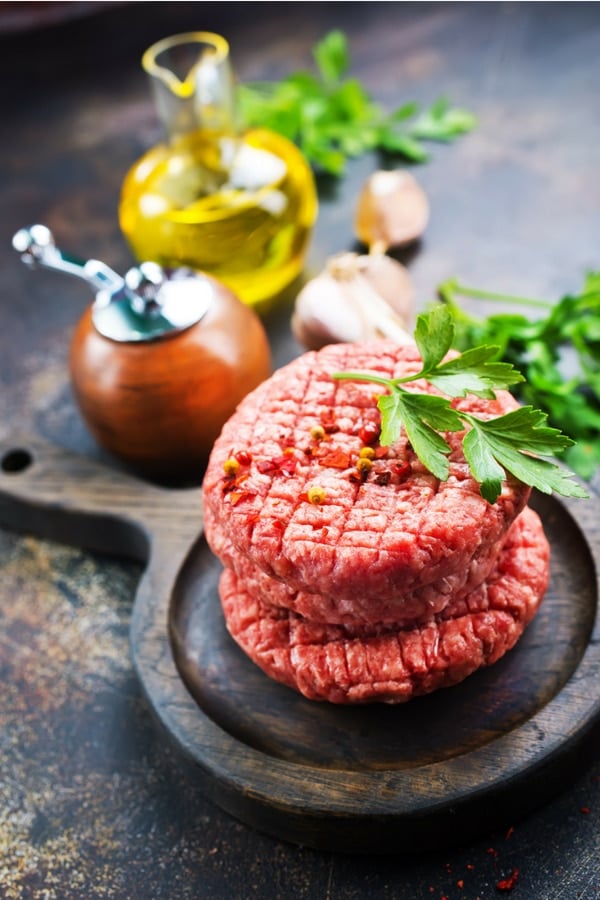 Which Ground Beef to Use for Grilling Burgers
Ground chuck is the most popular ground beef to use for burgers. The higher fat amount gives great flavor and keeps the burger moist while not being overly expensive.
Maintaining a 15-20% fat content is the perfect target in a ground beef to make a great moist grilled burger. Ground meats can be mixed for different flavors; even combinations like beef and chorizo, beef and ground pork or different types of ground beef. Just keep the fat content in that 15-20% sweet spot!
What to Add to the Ground Beef to Make it Stick Together?
I've seen the question 'what should be added to the ground beef to make the burger stick together?'
The answer is NOTHING! Unlike something like meatloaf or meatballs that require a binder like bread crumbs to stick together, good quality ground beef with the fat content mentioned handled well is all that is need for a perfect grilled burger!
How to Grill Burgers – 8 Keys to Pro Success
You may be surprised that many grilling tactics, like pressing the burger down, are the WRONG way to get the perfect grilled burger. Following these simple steps will have you grilling burgers like a pro!
Not the time to cut the fat: Fat is actually a major component in adding flavor to burgers. With our current day fat consciousness, I'm here to advise when grilling burgers don't cut the fat. I typically use 85% lean grass-fed ground beef. I also use 'double ground' beef, which ensures a better mix of the fat uniformly into the meat.
Prepare burger patties and chill them. Making the burger patties early and refrigerating them allows them to better stay intact while grilling. Don't overhandle them which can compress the meat and start to melt the fat. You can even run your hands under cold water before making the patties on a hot day.
Stick Your Thumb in It. Pressing your thumb into the center of the prepared burger to make a divot will keep it from bulging as it grills. It keeps the burgers nice and flat.
Brush burgers with olive oil before grilling. This might sound excessive but it ensures the burgers won't stick on the grill and will take on a nice sear, sealing the juices inside.
NEVER push on a burger when grilling! For some reason it is commonplace as a burger grills to push down on it with a grilling spatula. DON'T! This only squeezes out flavorful juices that keep the burger moist.
Turn once. Only. It is best to turn a burger the fewest times possible. Grill experts recommend starting with a hot grill, allowing a 2-3 minute sear on one side and turning to fully cook on the opposite side. This keeps the burger intact and juicy.
Check the internal temperature. There are many rules of thumb on how to check to see if a burger is cooked. The safest way is to use an instant read meat thermometer and ensure the internal temperature has reached 160. Also, the meat will continue to cook some once it is removed from the grill.
Allow burgers to rest before serving. Once the burgers are done, place them on a platter to 'rest', or sit for about 5 minutes before serving which allows the burger to remain juicy and intact.

Grill Temperature for Burgers
Generally, burgers should be cooked on Medium-High (approximately 375 degrees) to High (400 degrees). Most gas grills have a built in thermometer to monitor the heat but you can buy a grill thermometer for charcoal grills too.
Grill Burgers with Lid On or Off?
When cooking things quickly leaving the lid off is the norm. I live in a windy area so from habit I grill almost everything with the lid on/down (it helps with flare ups too). Burgers can be cooked with the lid on or off just be sure to monitor for flare ups and doneness with an Instant Read Thermometer.
TIP: having a clean food-safe spray water bottle on hand is great for managing flare ups too.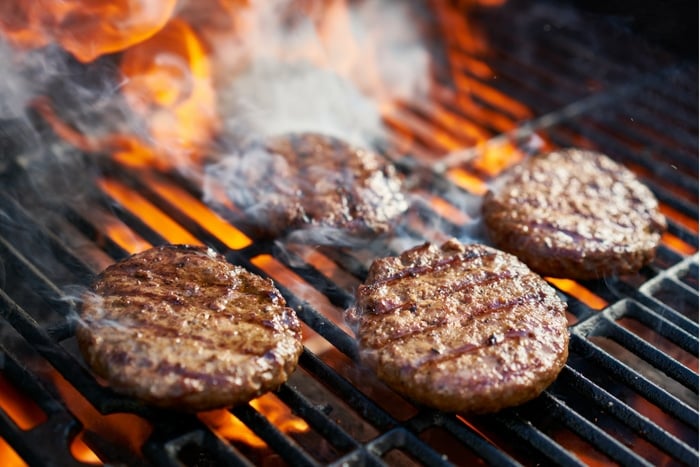 How Long to Cook Burgers on the Grill
The key to testing the doneness of a burger is measuring the internal temperature with an Instant Read thermometer.
The USDA guidelines state ground meat should be cooked to an internal temperature of 160 degrees. This temperature ensures killing of any dangerous food safety related bacteria.
Meat does continue to cook while it rests off the grill so usually they can be taken off the grill slightly under 160 degrees.
This guide focuses on beef burgers but if cooking ground turkey burgers the internal temperature needs to reach 165 degrees. Grilled salmon burgers need to reach an internal temperature of 145 degrees.
Grinding your Own Burgers
The issues with bacteria and food safety driving the USDA to specify the safe doneness temperature of 160 degrees has to do with the grinding process itself.
Ground meat harbors more bacteria opportunity.
As well as when buying ground beef it's not clear what cuts it is made from or how long it has been since it was ground.
If you grind your own burgers from a fresh piece of chuck you can bend the rules can consider grilling to a medium-rare temperature of 130-135 degrees or higher is you prefer it more well done.
As a rule of thumb, here are the cooking times (beef burgers) for different doneness when cooking over high heat (note: all grills are different so always check with the thermometer):
NOTE: these temperatures and times are shared for reference only. I do not recommend cooking burgers to a doneness temperature of less than 160 degrees F unless they have been freshly ground yourself.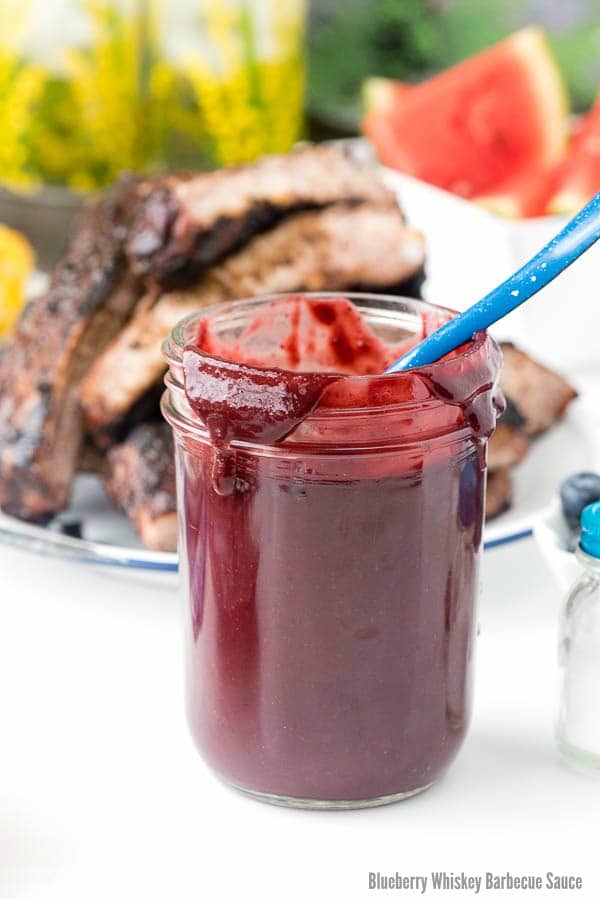 Homemade Condiment Recipes for Grilled Burgers
Once the burger is cooked, topping and adding condiments is the fun part making it a personal masterpiece! I love to throw some red onion slices on the grill to add on top along with some favorite easy homemade condiment recipes. Here are some favorites:

Grilled Burger Recipes
A grilled burger is a classic summer staple. When done well, it is a great example of how the simplest recipes can be the best. My tried and true Best Basic Burger Recipe may be found at the bottom of this guide.
It's easy to change up the flavors following this same burger grill guide by adding in different ground meat to the burger and other ingredients. One of my favorites is Southwestern Bacon Cheeseburgers.
They combine ground beef and ground chorizo sausage with grated Monterey Jack cheese and diced green chilies. The patties are grilled and topped with grilled onions and bacon!
My FAVORITE Burger TIP: when assembling the burger and toppings, place a piece of lettuce UNDER the burger above the bottom bun half instead of on top. This helps keep the juices from the burger from saturating the lower bun (especially good with gluten-free buns).
When you feel like upping your grilled burger game this Hot, Juicy Bacon-and-Egg Cheese Breakfast Burger is one of my favorite grilled burger recipes!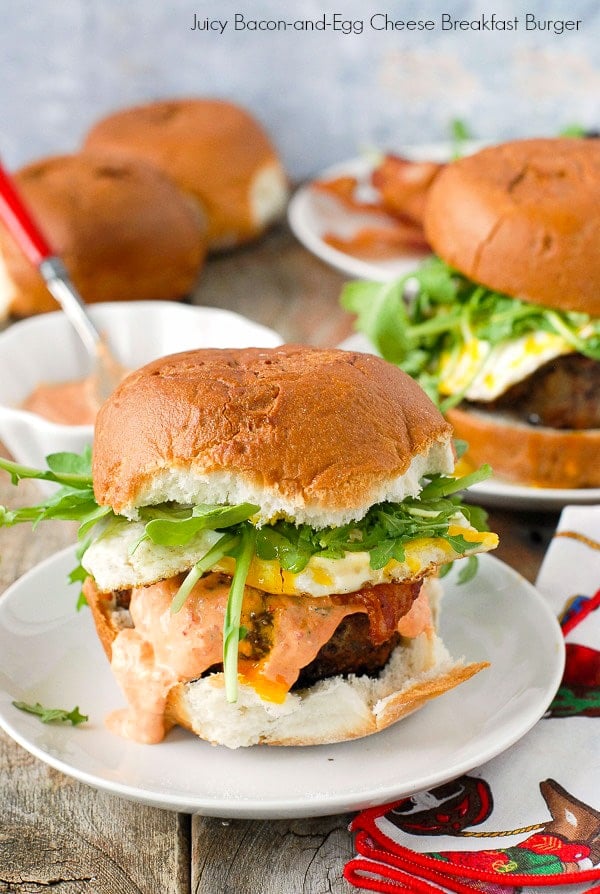 Stuffed Grilled Burgers
A fun way to add ingredients to a grilled burger without just mixing it into the meat is to make a stuffed grilled burger.
What is a Stuffed Burger? Ingredients are added between two burger patties, sealed and grilled. Then cut into the inside adds fantastic flavor to the juicy burger.
Some of my favorite stuffed burger recipes is Stuffed Taco Burgers. Stuffed Taco Burgers combine ground beef, taco seasoning and onions into the burger patties. The burgers are stuffed with guacamole, refried beans, salsa an grated cheese!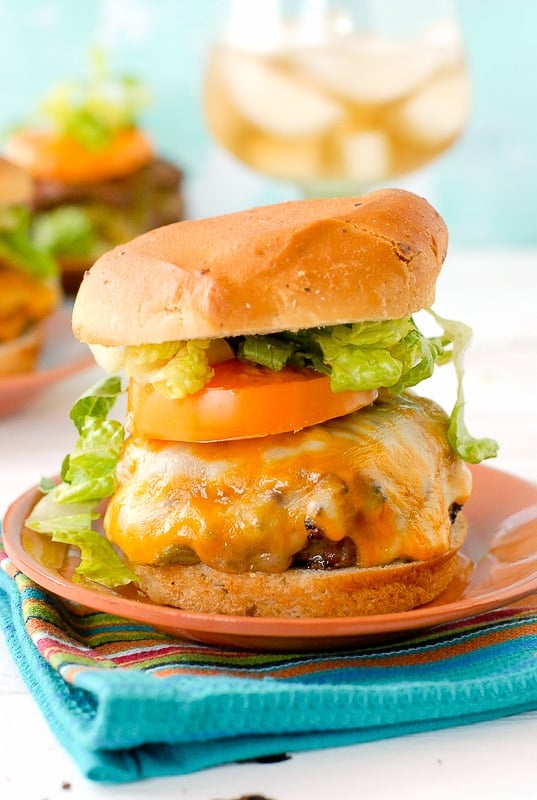 Non-Beef Grilled Burgers
Sometimes just changing up the ground meat makes a whole new grilled burger experience. This Grilled 'Best Bison Burger' was one I enjoyed at one of my favorite resorts in Arizona and they were nice enough to give me the recipe to share. Bison is a leaner meat and readily available in most grocery stores.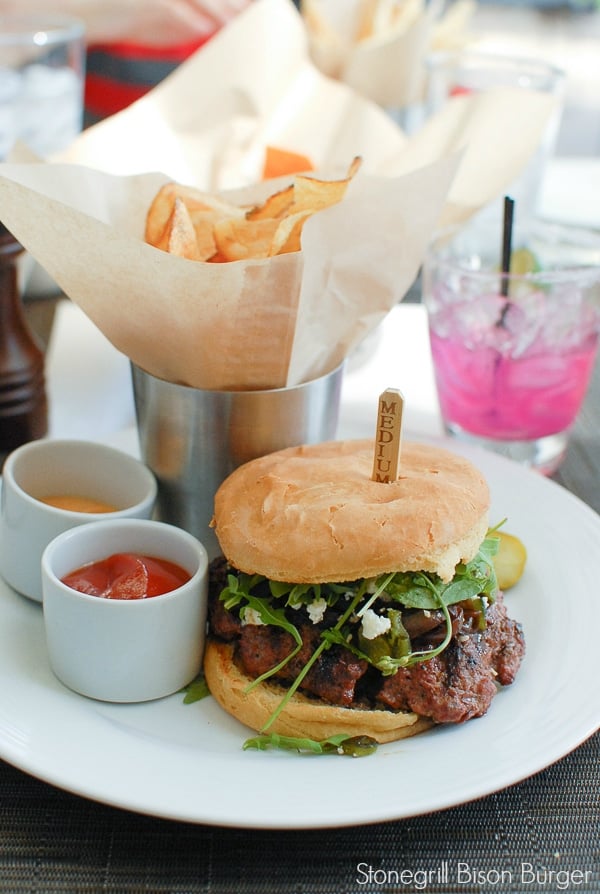 After attending Steven Raichlen's BBQU, an intensive grilling and smoking (food) school, I came home ready to get my grill on! I created a recipe for Hay-Smoked Salmon Burgers.
Smoking food is a different type of grilling although this recipe has step by step instructions for charcoal grilling (it really need to be made on a charcoal grill and I recommend a Weber kettle).
Salmon is very lean so can dry out easily. Smoking them over indirect heat is a great way to add flavor and keep them moist. This recipe is definitely for the more adventureous griller!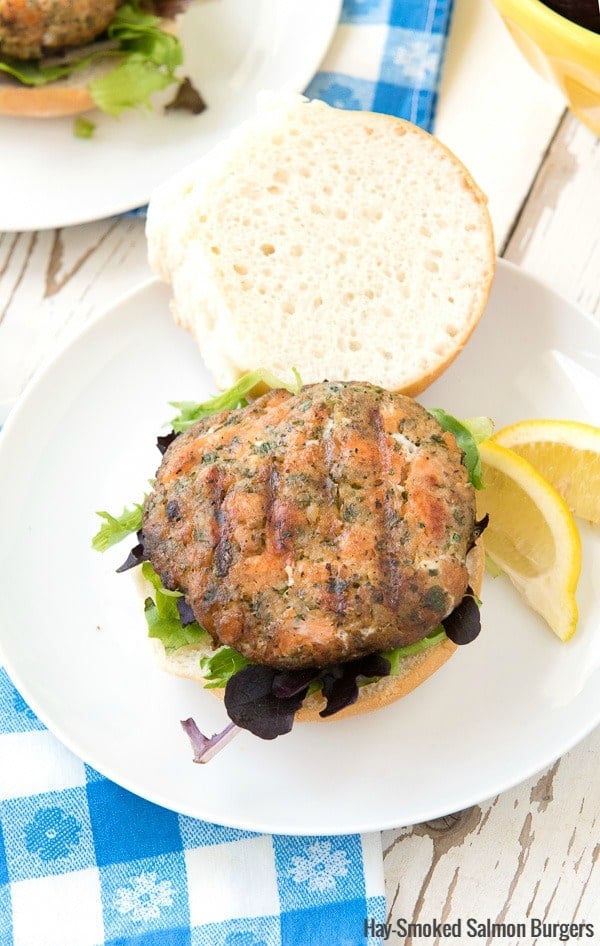 On Grill Smoking Grilled Burgers
A great compromise to add smoked flavor without buying a smoker is adding some wood to smoke on the grill. You can use an smoker box but I use an even easier method. Placing a piece ofheavy foil on the grill with wood chips on it naturally allows them to begin to smoke and infuse flavor.
These Grill-Smoked Green Chile Burgers in a Bacon Weave are delicious and always impress (who doesn't love a bacon weave?). The burgers are grilled with mesquite wood chips for a nice smoky flavor. Don't let the bacon weave scare you either. The step-by-step photos will help you whip them up like a pro (I loved using one in this Spicy Grilled Whole Pineapple in a Bacon Weave).
Everthing you need to know about a Bacon Weave (including step-by-step photos)! It's a great addition to grilled burgers.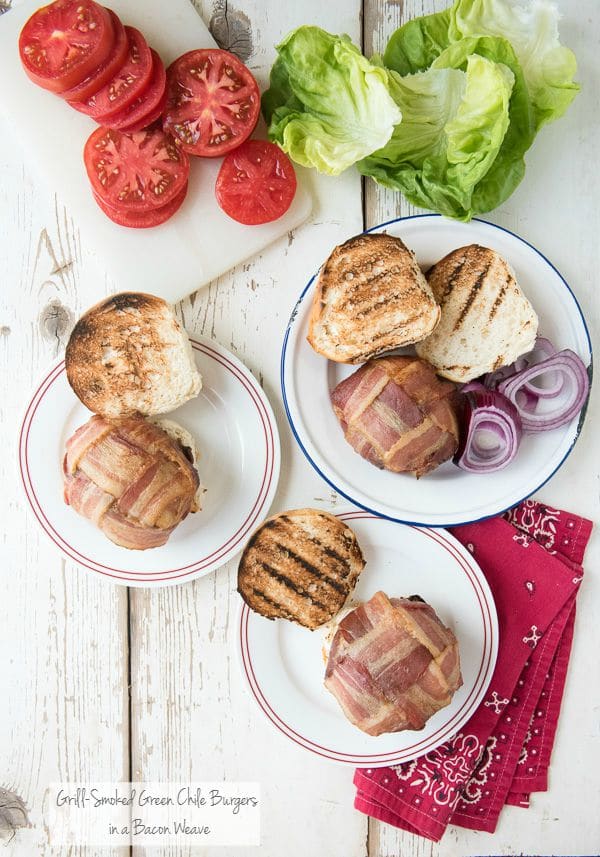 The wood chip smoking technique is so easy you'll want to use it on recipes outside of burgers too. I even made a Grilled Pumpkin Pie with Hickory-Smoked Ginger Snap Crust for Thanksgiving!
Favorite Grilling Tools
Over the time I've been grilling, I've collected some favorite tools. Certainly an Instant Read Thermometer is a key to success. There are other things that make grilling easier without spending a ton of money.
This gift guide of The Best Grilling Tools and Accessories I Couldn't Live Without lists several of my favorite tools but I'm always adding more to my Amazon Store too!
You'll Want to Try these Quick & Easy Recipes too
Did you make it? Please RATE THE RECIPE below!
Please SUBSCRIBE and FOLLOW ME on FACEBOOK , TWITTER , INSTAGRAM and PINTEREST!
Recipe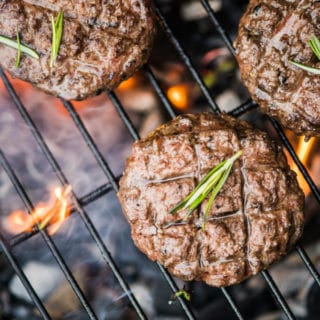 Best Basic Burger Recipe
Grilling perfect burgers is easy with some basic tips. This Best Basic Burger Recipe is a foundational recipe to build from to make great burgers.
Print
Save Recipe
Recipe Saved!
Pin
Rate
Servings:
4
Makes 4 1/2-pound burgers or 6 1/3-pound burgers
Ingredients
2

pounds

Ground Beef

chilled

Olive oil

Buns

Lettuce

Condiments

Cheese if desired
Instructions
Divide ground beef into 4 (½-pound) or 6 (1/3-pound) portions. When handling the meat, gently form into patties of equal size (1-inch thickness) without overworking the meat. Gently create a divot with thumb in the center of each burger. Arrange on a plate in a single layer, cover and chill for at least 1 hour and up to 6 hours.

Heat the grill to high (gas or charcoal); 375-400 degrees F. Brush and oil the grill. Lightly brush one side of the burgers with olive oil, place them on the grill (olive oil side down); brush the top side with olive oil. Cover, cook for 2-3 minutes to sear the bottom (you should see grill marks).

Flip and cook an additional 2-3 minutes for rare, 4-5 for medium-rare or 6-7 for medium doneness as measured with an Instant Read thermometer. If adding sliced cheese, add 2 minutes before burger is finished grilling.

NOTE: time will be less if cooking 1/3-pound burgers.

Remove and allow to rest 5 minutes.

Assemble the burger with a slice of lettuce between the bottom bun and the burger (helps keep the bun intact) and condiments or toppings on top. Salt and pepper if desired.
Notes
The USDA guidelines state ground meat should be cooked to an internal temperature of 160 degrees. Meat does continue to cook while it rests off the grill so usually they can be taken off the grill slightly under 160 degrees.
Nutrition
Calories:
576
kcal
|
Carbohydrates:
0
g
|
Protein:
38
g
|
Fat:
45
g
|
Saturated Fat:
17
g
|
Cholesterol:
161
mg
|
Sodium:
151
mg
|
Potassium:
612
mg
|
Sugar:
0
g
|
Calcium:
41
mg
|
Iron:
4.4
mg