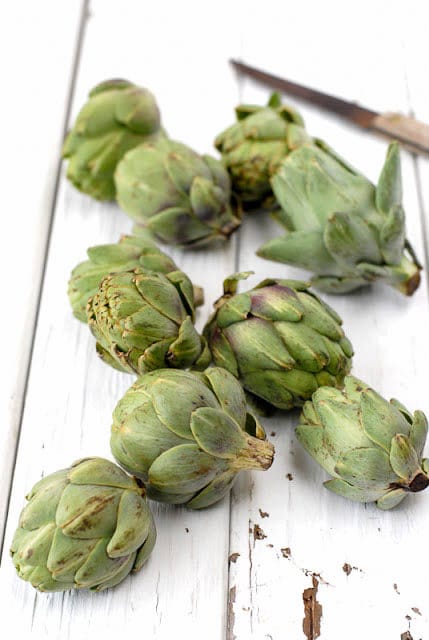 If you say you've seen cuter artichokes, I will know you are lying.

 

When entering the Cure Organic Farm store after my regular CSA share pick up Wednesday I almost died at the sight of these American Girl Doll sized Baby Artichokes.

 

I was verbally fawning over them so extremely, and to anyone within ear shot, I noted a wee 4 year old who began calling out the store's screen door 'Totally cute artichokes!

 

Come buy some totally cute artichokes' (a miniature and more refined approach to what I remember barkers outside peep shows in San Francisco to do when anyone would walk down the street).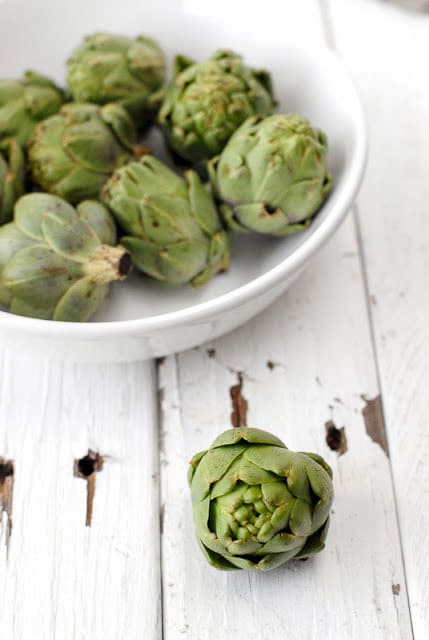 I wanted to 'adopt' the entire basket.
Take them home, admire them, maybe even turn them into a piece of jewelry.
I was flooded with California memories of visiting my Grandparents who had a flat in San Francisco where my grandfather worked during the week and then weekending at their home in the Monterey area.
We'd drive through miles of artichoke fields around Castroville on the drive down, always stopping to buy some fresh from local farm stands.
Such odd, somewhat prehistoric vegetables they are.

 

Thistles actually.

 

With pricker leaves, fuzzy inside and who would ever guess consumption was done by scrapping the inside of the cooked leaf against one's upper teeth.

 

A vegetable that requires an Operation Manual.

 

Nothing like it.

 

And not commonly grown in Colorado.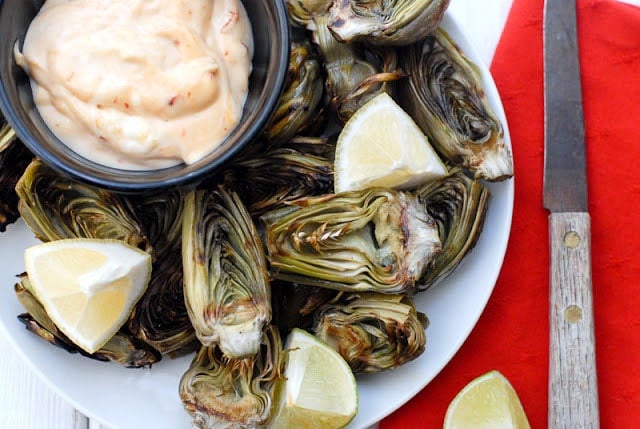 My unbridled enthusiasm was both a reflection of the beauty of these petite versions as well as the artichoke memory, like an old friend unexpectedly coming to visit.

 

I loaded up, consulted with Abby at the farm store and Anne Cure about preparation methods.

  

I departed, wheels turning on how to celebrate my find.
With the holiday weekend afoot, grilling them seemed apropos.

 

Anne had suggested as much or it would not have come to mind.

 

I decided boiling first before grilling would give me the result I hoped for.

 

Always liking a bit of spice in my dishes I decided to pair it with a Chipotle Mayo, having always had the regular artichokes with mayonnaise for dipping as a child.

 

This is a souped up nod to my grandparents for the early introduction to a food many never have the enjoyment of sampling.
This method can be tailored to your volume needs.

 

I would estimate 2-3 per person depending on the artichoke size and rest of your meal.

 

My babies were the size of about a golf ball and a half.

 

You will be eating them whole after they are trimmed and cooked; not pulling off individual leaves as with the larger version.
·

        
12 baby artichokes
·

        
Juice of one lemon (freshly squeezed)
·

        
3 tablespoons olive oil
·

        
2 large cloves of garlic, finely minced or pressed
1.
 

Trim the artichokes by cutting the stem flush with the bottom of the artichoke, remove the bottom few layers of leaves, cut any remaining leaves straight across at the top (removing the thorn), cut the top of the choke.

 

This step is very important!

 

With something so tiny I was reluctant to remove the leaves until only the light green, supple leaves are left.

 

Do it!

 

Otherwise you and your guests will be chewing the leaves like a cud wondering where you can discretely spit out the unchewable leaves.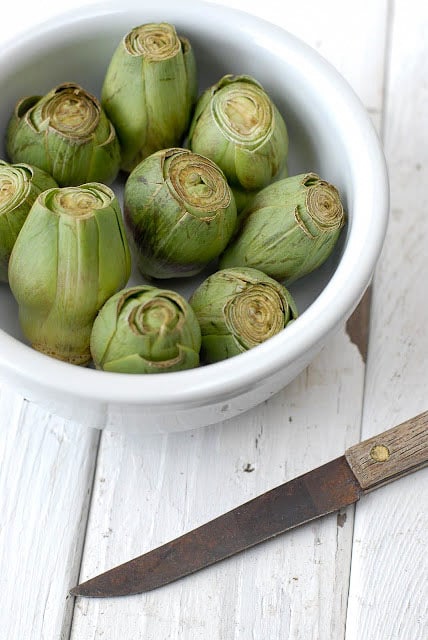 2.
Bring a large pot of water to a boil.

 

Add the lemon juice.

 

Place the artichokes in the water and boil about 8 minutes.

 

You should note them becoming visibly softer and a sage gray/green color.

 

While they are boiling, heat your grill to medium hot.
3.
Drain the artichokes and allow them to cool until they can be handled easily.

 

Cut each artichoke in half lengthwise.

 

If there is a choke (the fuzzy part) use a paring knife or small spoon and scrape it out, being careful to leave the much coveted heart in tact.
4.
In a small bowl combine the olive oil and garlic. Brush both sides of each artichoke half and place on the heated grill.

 

Grill each artichoke 5-6 minutes on each side.

 

Since the different sizes will affect cooking time I suggest sampling one to ensure they are soft enough to eat.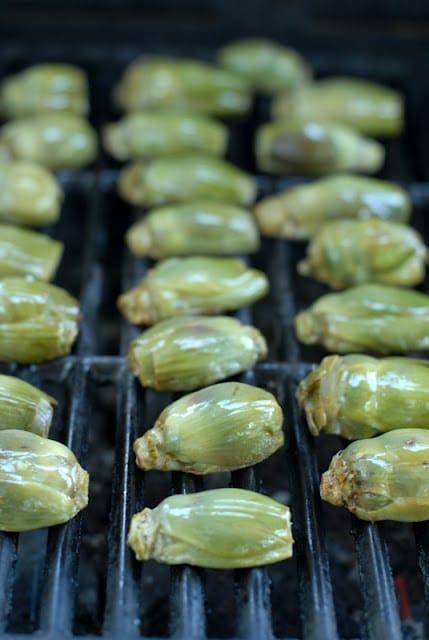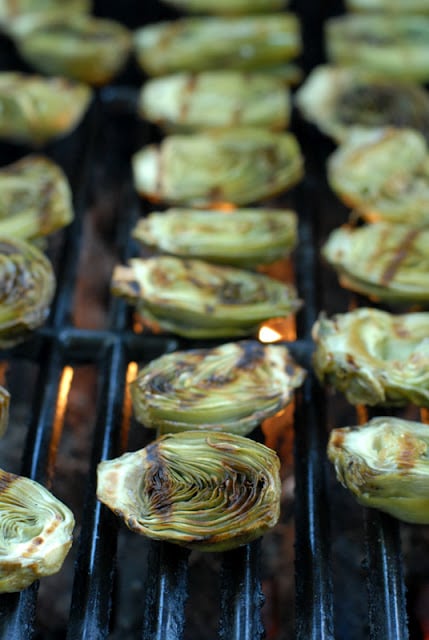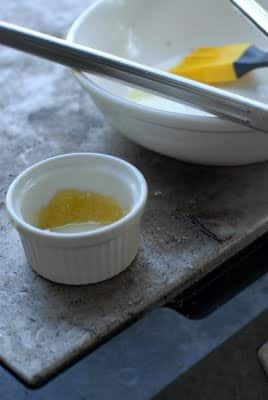 5.
Allow to cool to room temperature and eat with squeezed lemon or dipping in the Chipotle Mayo.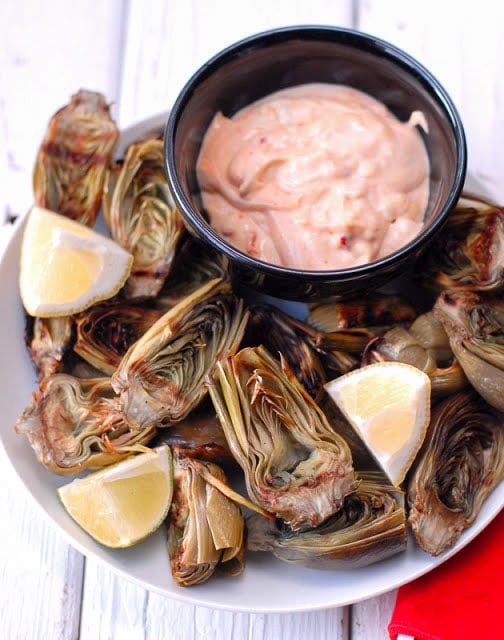 This is adapted from a Bobby Flay recipe.

 

His original recipe was intended to go with Sliders (mini burgers) so was much stronger than I wanted.

 

I wanted the artichoke flavor to be the star with the Chipotle Mayo being a slightly spicy dipping sauce.

 
·

        
1 cup mayonnaise
·

        
1 chipotle chili (from chipotle en adobo)
·

        
2 teaspoons adobo sauce
·

        
Juice from ½ lime, freshly squeezed
Add all ingredients into a food processor.

 

Process until fully combined and the chile is pulverized.

 

Use immediately or refrigerate until ready to serve.