Baby Artichokes are small, delicious and can be eaten whole! Grilled artichokes are a perfect way to prepare these little gems and served homemade Chipotle Mayo dipping sauce.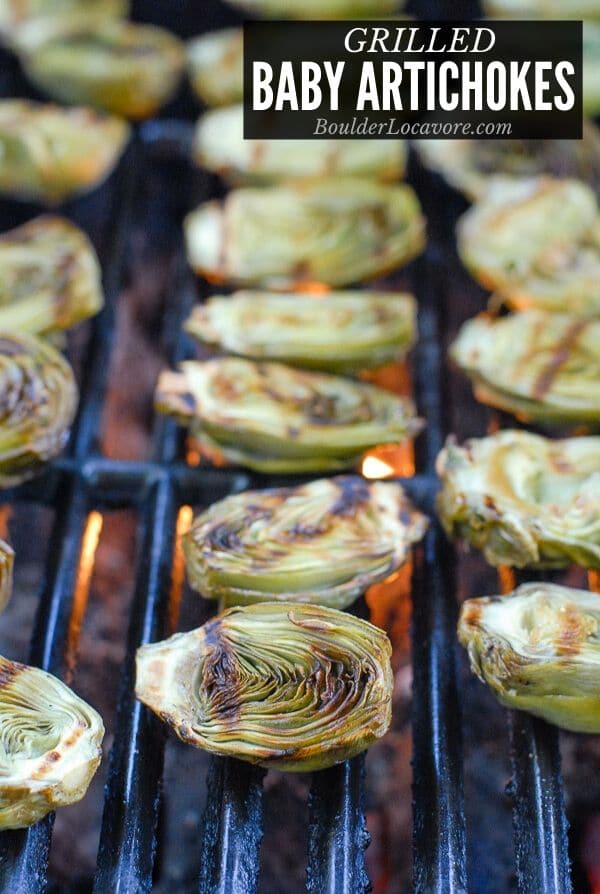 For artichoke lovers, spring is a favorite time of year.
The odd-looking produce starts popping up at grocery stores and Farmer's Markets.
Baby Artichokes are an extra special treat!
They can be cooked and eaten whole!
Grilled Artichokes are a delicious side dish especially when using Baby Artichokes.
Slathered with garlic butter, grilled quickly and served with Chipotle Mayo dipping sauce.
What could be better?!
I was fortunate to have Grandparents who lived on the Monterey Peninsula in California when I was growing up.
We'd drive through artichoke fields often and buy fresh artichokes from farmers.
It wasn't until I was older that I realized not everyone knew about this exotic prehistoric-looking vegetable (technically a thistle).
It was much later that I ran into Baby Artichokes. They are a total game changer.
Much easier to prepare and eat, they make a delicious side dish especially as grilled artichokes.
What IS a Baby Artichoke?
To look at the cute, tiny size you'd think they might be picked early or a tiny species of artichoke.
They are actually the same species that is fully mature but just smaller.
These baby artichokes are often picked from lower on the plant and do not grow to the familiar larger size.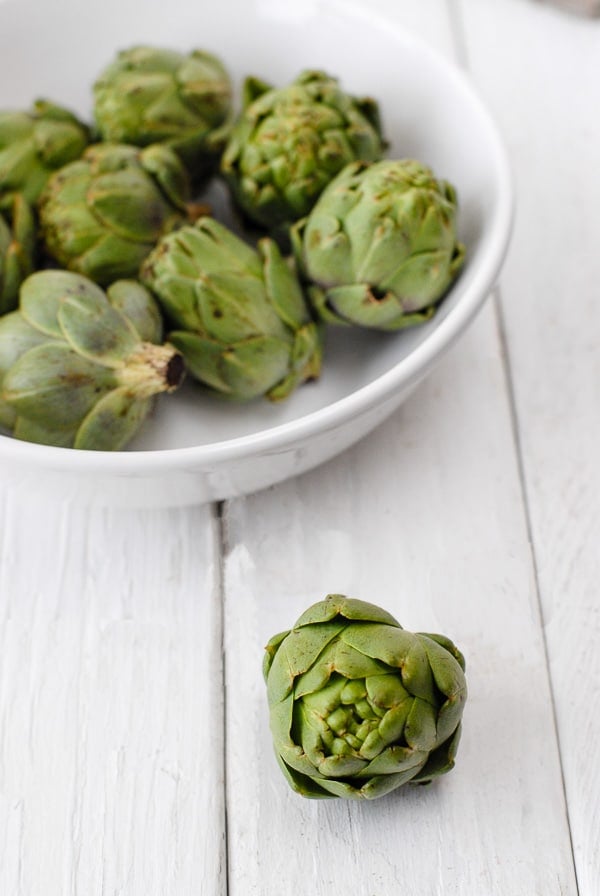 Why Grill Baby Artichokes?
The great thing about baby artichokes is with proper trimming and preparation they can be eaten whole!
Their leaves are more supple and soft inside the outer leaves.
Do Baby Artichokes have a choke?
Typically they do not have a choke.
The choke is a fuzzy portion in the bottom middle of the artichoke which cannot be eaten.
The absence of the choke is why baby artichokes can be eaten whole.
I did find when preparing the baby artichokes for grilling that periodically one WILL have a choke!
Instruction for how to check and remove the choke are included below in the cooking instructions.
Baby Artichoke Season
Baby artichokes can be found all year long depending on your location.
The prime season matches regular artichoke season which is the spring in the United States.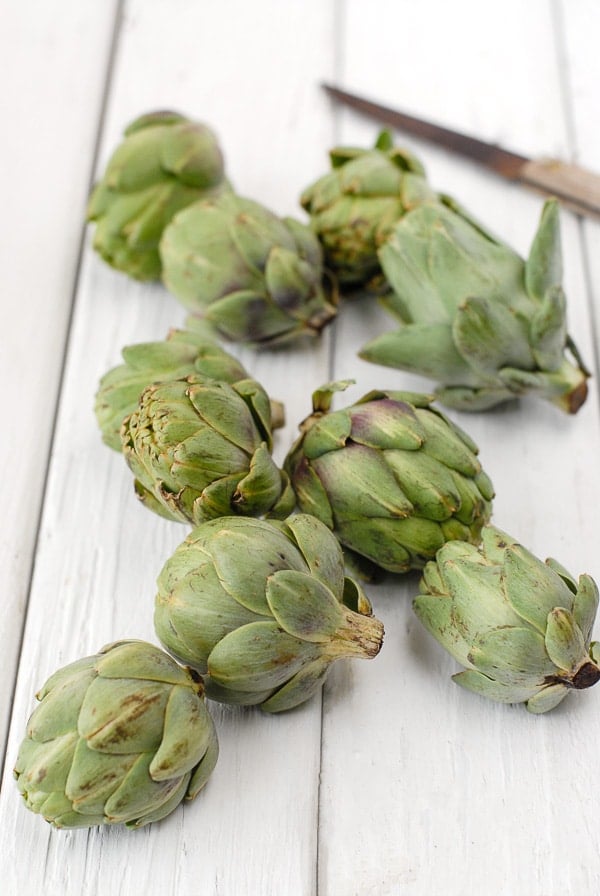 How Many Baby Artichokes per Person?
I would estimate 2-3 per person depending on the artichoke size and rest of your meal.
My artichokes I used shown here were the size of about a golf ball and a half.
You will be eating them whole after they are trimmed and cooked; not pulling off individual leaves as with the larger version.
Grilled Artichokes Ingredients
Baby artichokes
Juice of one lemon (freshly squeezed)
Olive oil
Garlic Cloves
Ingredient Notes
Baby Artichokes
Select baby artichokes that are similar in size. This ensures they will all cook in approximately the same amount of time.
Following the trimming instructions in the cooking section below.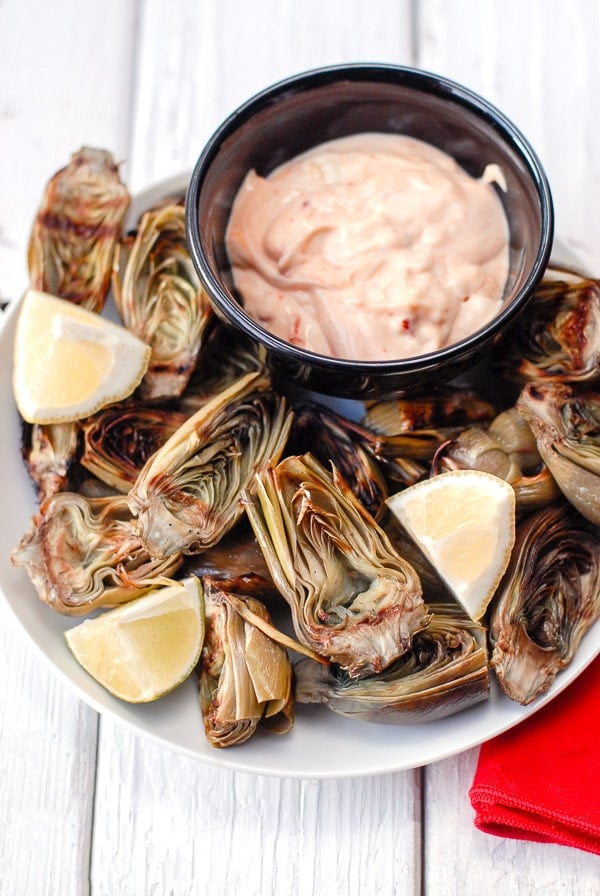 CHIPOTLE MAYO Dipping Sauce
All artichoke lovers now that the dipping sauce is half the delicious fun!
This homemade Chipotle Mayo dipping sauce is smoky, slightly spicy but also allows the artichoke flavor to be the star!
Chipotle Mayo Dipping Sauce Ingredients
Mayonnaise
Chipotle chili (from chipotle en adobo)
Adobo sauce
Juice from ½ lime, freshly squeezed
Chipotle en Adobo can be purchased from most grocery stores in the Mexican food or ethnic food area.
It is a canned item with the whole chilies and the sauce combined.
Note for Gluten-Free eaters: read the ingredients on the can. I have found a few brands that include wheat flour.
How to Grill Artichokes – Step-by-Step
These instructions are for grilling baby artichokes.
The tender young artichokes can be eaten whole when properly prepared leaving only the soft inner leaves.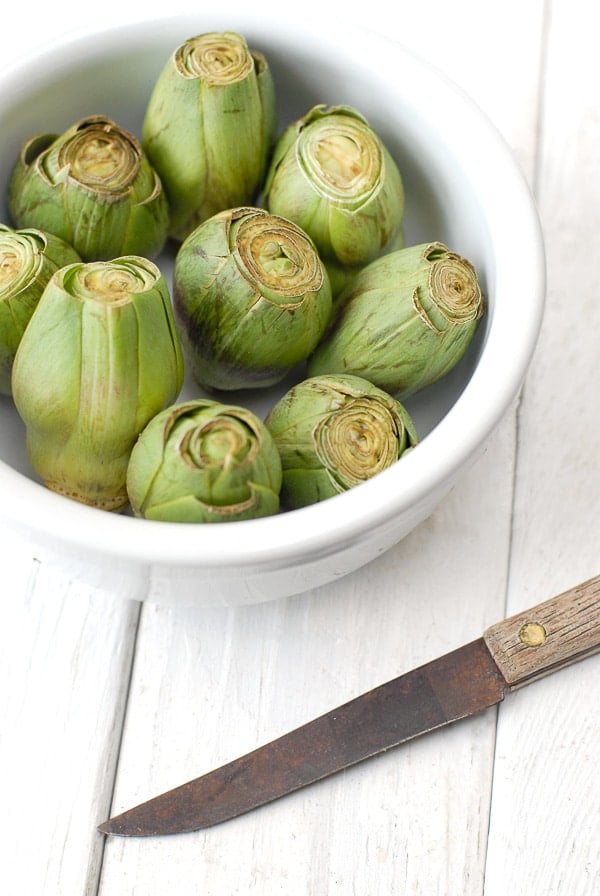 STEP 1: PREPARE THE ARTICHOKES
Trim the artichokes by cutting the stem flush with the bottom of the artichoke.
Remove the bottom few layers of leaves. See note under the photo below.
Cut any remaining leaves straight across at the top (removing the thorn).
Cut the top of the artichoke.
Refer to the photo below for before (on the right) and after trimming (on the left).
This step is very important! With something so tiny I was reluctant to remove the leaves until only the light green, supple leaves are left.
Do it! Otherwise you and your guests will be chewing the leaves like a cud wondering where you can discretely spit out the unchewable leaves.
STEP 2: Bring a large pot of water to a boil. Add the lemon juice.
Place the artichokes in the water and boil about 8 minutes. The artichokes will become visibly softer and a sage gray/green color. While they are boiling, heat your grill to medium hot.
STEP 3: Drain the artichokes and allow them to cool until they can be handled easily. Cut each artichoke in half lengthwise.
If there is a choke (the fuzzy part) use a paring knife or small spoon and scrape it out. Be careful to leave the much coveted heart (below the choke) intact. See illustration below.
STEP 4: In a small bowl combine the olive oil and garlic.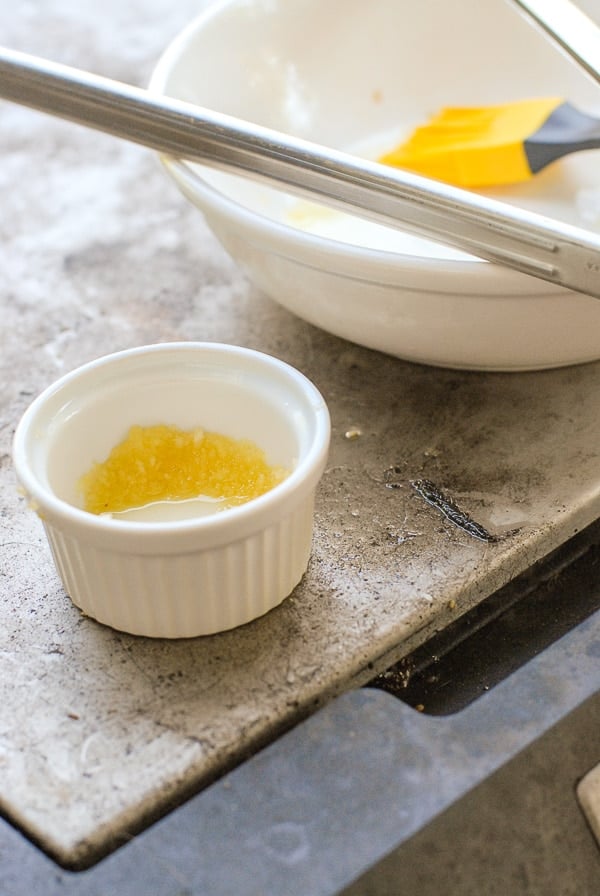 Brush both sides of each artichoke half and place on the heated grill.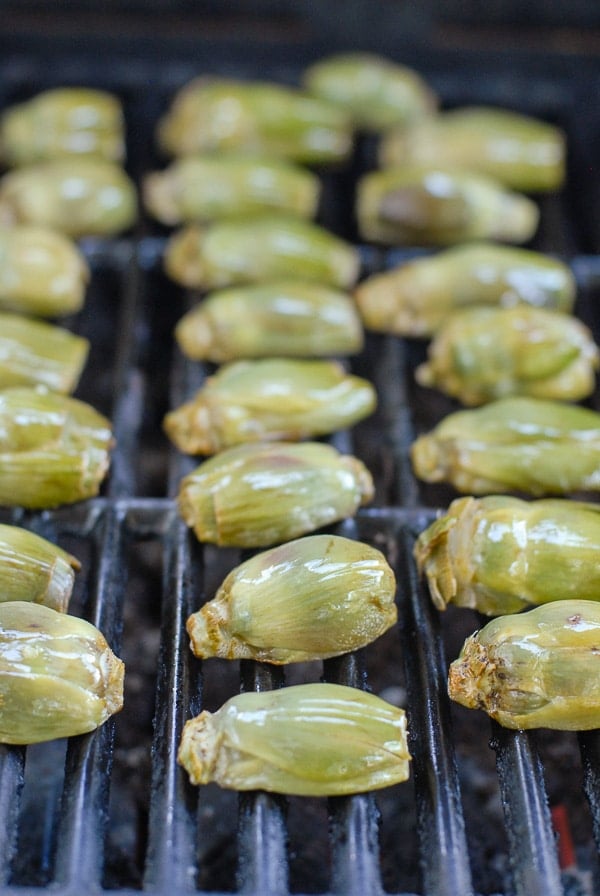 Grill each artichokes 5-6 minutes on each side. Since the different sizes will affect cooking time I suggest sampling one to ensure they are soft enough to eat.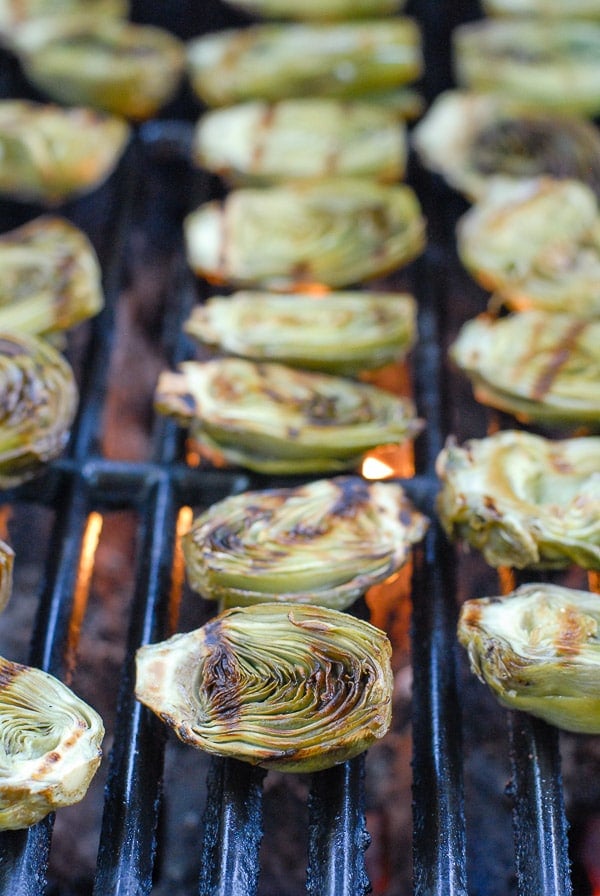 Allow the grilled artichokes to cool to room temperature. Serve with homemade Chipotle Mayo dipping sauce.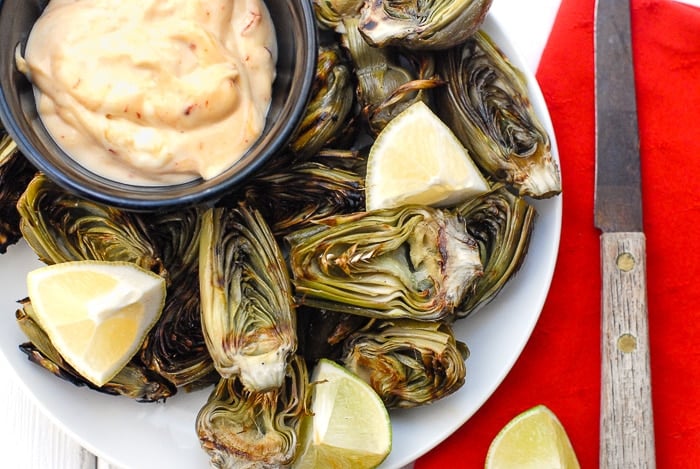 More Artichoke Recipes You'll Love
Did you make it? Please RATE THE RECIPE below!
Please SUBSCRIBE and FOLLOW ME on FACEBOOK , TWITTER , INSTAGRAM and PINTEREST !
Originally published: September 3, 2011