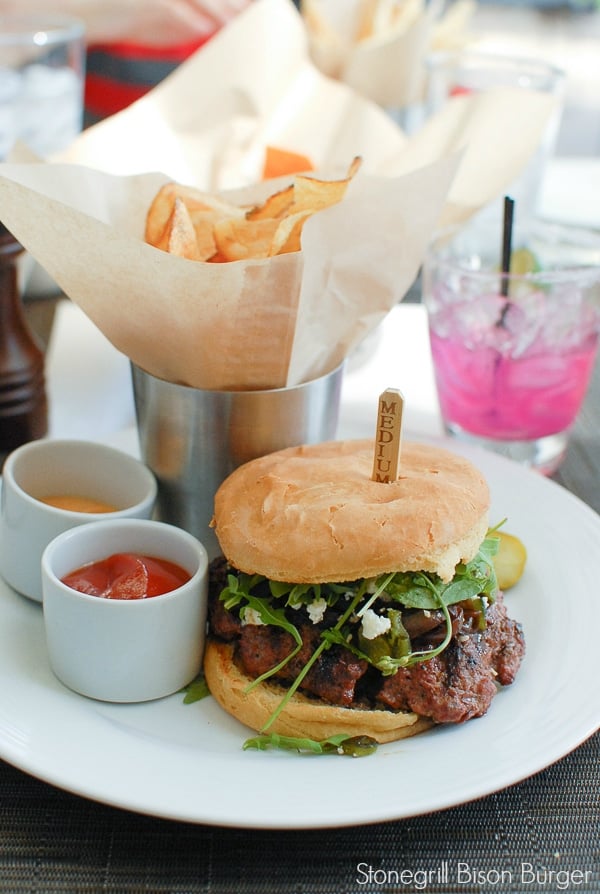 Our road trip destination of Phoenix Arizona, had one mission in mind; a watery dose of sun and fun. When looking for resorts we were scouting destination resorts with dazzling aquatic features, perfect for family travel. Three resort options were clear wins.
JW Marriott Desert Ridge. I love, love, L.O.V.E this resort. Located in North-East Phoenix it is a multi-faceted venue offering an abundance for fun-loving families. Though the resort was booked during our time in Phoenix, we've stayed there as a family twice prior. On our first visit we selected the resort due to a partnership they had with Nickelodeon at the time and once again fled winter to surprise my son with a full on Sponge Bob weekend for his birthday. The concierge worked with me to have our room decorated when we arrived and with booking all the various Sponge Bob activities throughout the weekend. The fun never stopped including the chef creating a gluten-free Sponge Bob themed cake for his special day.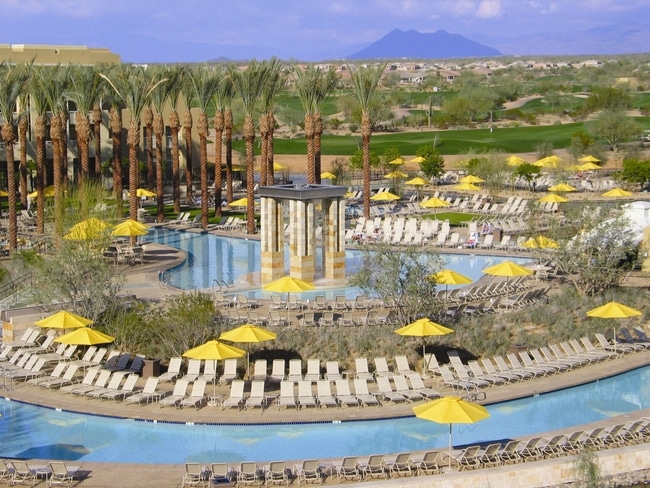 The property is breathtakingly beautiful with the main building being elegant yet without any sense of pretentiousness felt by resort guest or visitors. The resort has a number of activities for families onsite from a simple walk through the desert garden where we spotted quail, rabbits and other desert species, to the fantastic Lazy River pool set up with auxiliary pools to pop into as well. Multiple onsite restaurants offer all levels of dining and easily cater to gluten-free diners offering quality options, realizing the prominence of the need.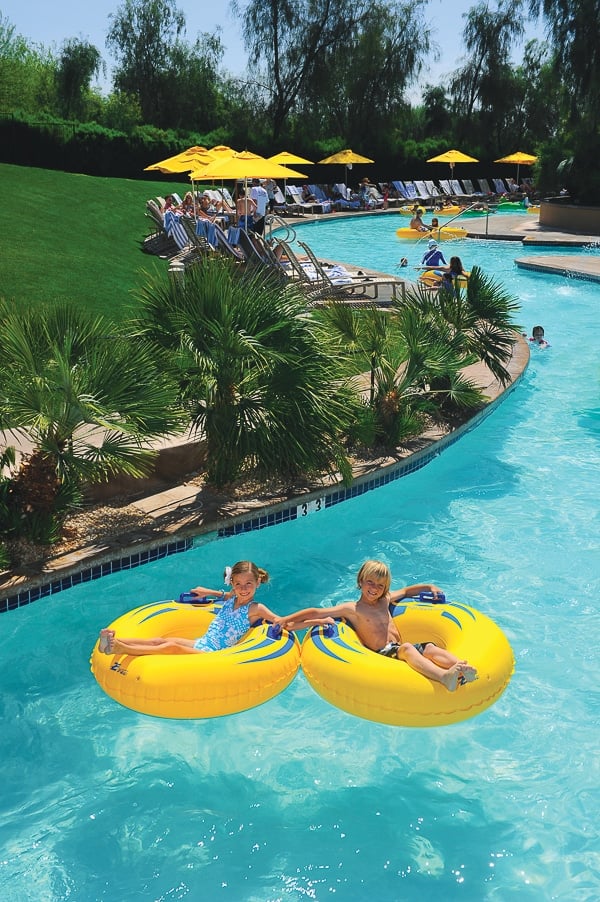 During our Phoenix road trip segment we popped over to the JW Marriott Desert Ridge for lunch. I was fortunate to meet the Chef Joe Graffeo, who presides over all the resort restaurants. The entire lunch experience mirrored my prior encounters with the staff at the 'JW'; everyone was genuinely friendly, personable and helpful. Our waiter Gerardo set a fun tone immediately with his jovial attitude. We felt relaxed, welcomed and anxious to try the food. The manager casually and unobtrusively checked in with tables during lunch creating a natural dialog as though she were attending to guest in her own home.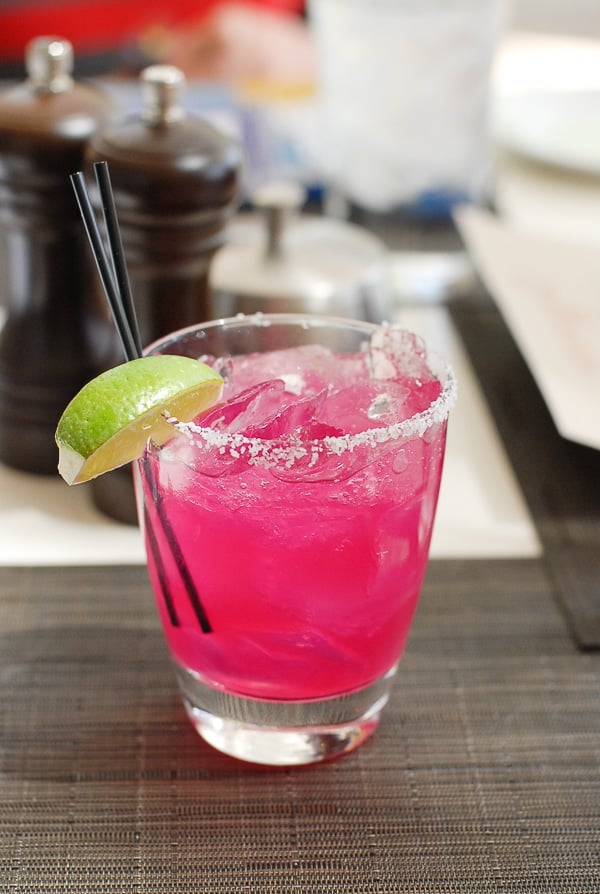 The Stonegrill restaurant where we dined, serves Southwestern American cuisine, offering both indoor and shaded patio dining adjoining a large green area nestled just outside on the interior of the main hotel building. On this day many guests were tossing balls and some kids were frolicking making it truly feel like vacation. We started our lunch with homemade chips, guacamole and salsa that were delicious. My daughter, who can usually forgo guacamole, almost took our hands off when attempting to scoop a bit on a chip for her own furious dipping. She gave it high marks, as did the rest of us. I started with the resort's Prickly Pear Margarita which is a must when visiting the Southwest. Beautifully presented, it was a perfect warm-weather sipper.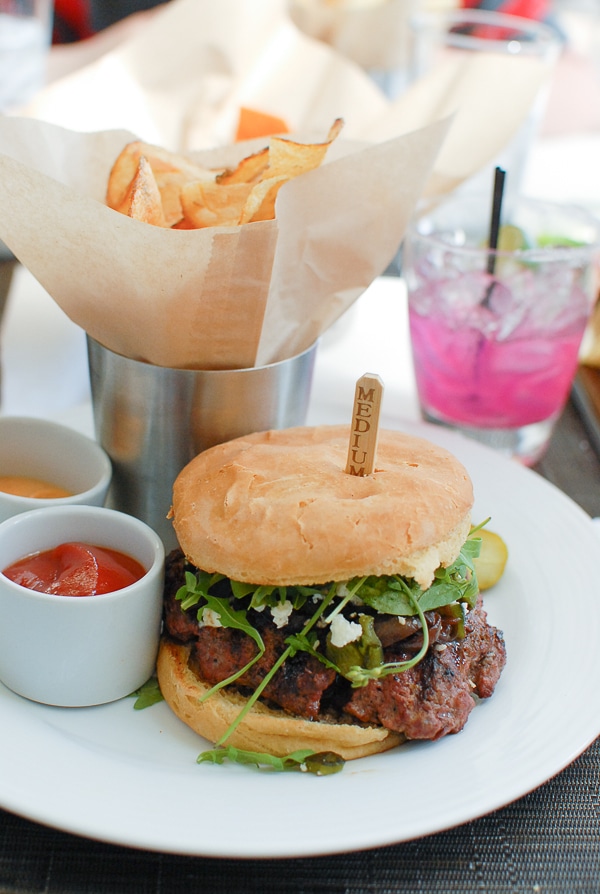 I could not wait to sink my teeth into the Stonegrill Bison Burger. I like bison as it is a leaner red meat but the flip side of that is if it is not cooked well it can become dry. This burger however was perfection. Moist, tender and flavorful (and with a gluten-free bun made locally which was fantastic). The interplay of toppings, chipotle mayonaise, fire roasted poblano, balsamic onions, arugula and local feta cheese, provided a different taste with each bite. I would eat it every day, gladly.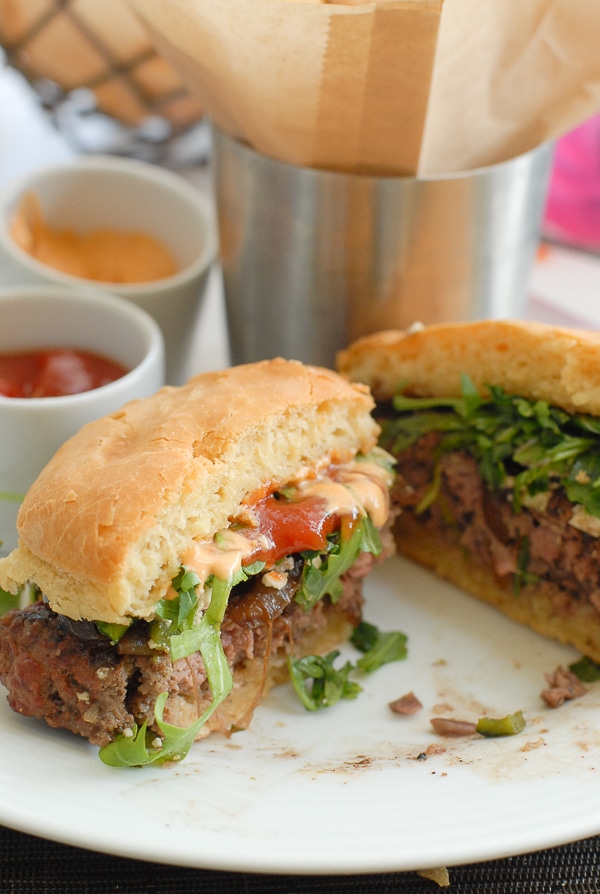 When we thought it could not get any better Chef Graffeo came out to check on us and offered some dessert. I could not have imagined eating one more thing, UNTIL he suggested we try a goat fudge they had just created using local goat milk, and making each peanut butter and chocolate fudge; when paired together he promised it would taste like a Reese's Peanut Butter cup. He was right. The fudge was beautiful to admire, with a light, fresh flavor minus the tang we love in goad cheese. It was a fantastic way to wrap up the most beautiful meal.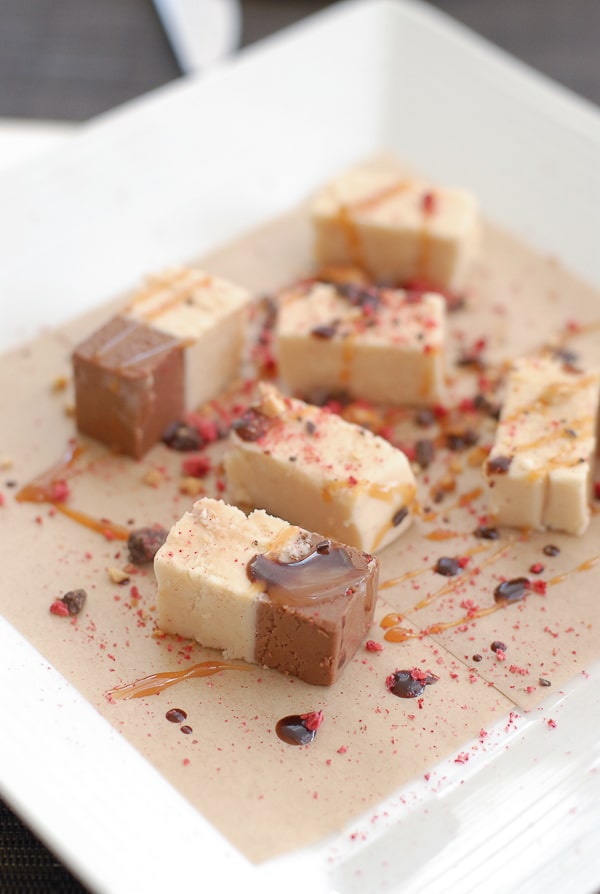 Recipe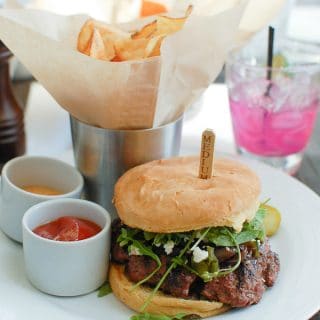 Stonegrill Bison Burger and Prickly Pear Margarita
One of the best vacation memories are usually the food and drink. Thanks to the JW Marriott Desert Ridge resort, these Phoenician memories may be recreated at home. The most succulent, flavorful Bison Burger loaded with savory southwestern toppings, paired with a Prickly Pear Margarita. What could be better?!
Print
Save Recipe
Recipe Saved!
Pin
Rate
Servings:
1
Bison Burger and 1 Margarita
Ingredients
Ingredients for the Bison Burger:
6

ounces

Ground Bison

2

tablespoons

White Onion, Diced

2

tablespoons

Roasted Poblano, Diced

2

tablespoons

White Onion, Sliced

2

ounces

Balsamic Vinegar

1

tablespoon

Crow's Dairy Goat Milk Feta Cheese

1

Brioche Bun with Sesame Seeds (or gluten-free bun)

1

ounce

Arugula

2

tablespoons

Chipotle Aioli

Salt & Pepper to Taste
Ingredients for the Prickly Pear Margarita:
1.5

ounces

Twenty6 Dobel Tequila

.5

ounce

Cointreau

¾

oz

Lime juice

.5

ounce

agave nectar

.5

ounce

prickly pear syrup
Instructions
Instructions for the Bison Burger:
In a mixing bowl, combine bison with diced onion and season with salt and pepper. Form the mix into a burger.

Simmer onions in balsamic vinegar in a sauté pan over medium heat. Cook until onions are caramelized and vinegar is reduced to a glaze

Grill the bison burger to desired temperature. Place the bison patty on a toasted bun.

Top with poblano peppers, crows dairy goat feta and balsamic onions.

Place the arugula on top and spread chipotle aioli on the inside of the bun.
Instructions for the Prickly Pear Margarita:
Combine all ingredients in a mixing glass. Shake hard 20 times, strain into a low ball over new ice. Garnish with lime wheel and salted Rim.
Notes
Recipes provided for publication by the JW Marriott Desert Ridge Resort
Nutrition Information and cooking times for the bison burger only.
Nutrition
Calories:
436
kcal
|
Carbohydrates:
10
g
|
Protein:
32
g
|
Fat:
27
g
|
Saturated Fat:
11
g
|
Cholesterol:
119
mg
|
Sodium:
132
mg
|
Potassium:
690
mg
|
Fiber:
0
g
|
Sugar:
9
g
|
Vitamin A:
670
IU
|
Vitamin C:
4.3
mg
|
Calcium:
79
mg
|
Iron:
5.2
mg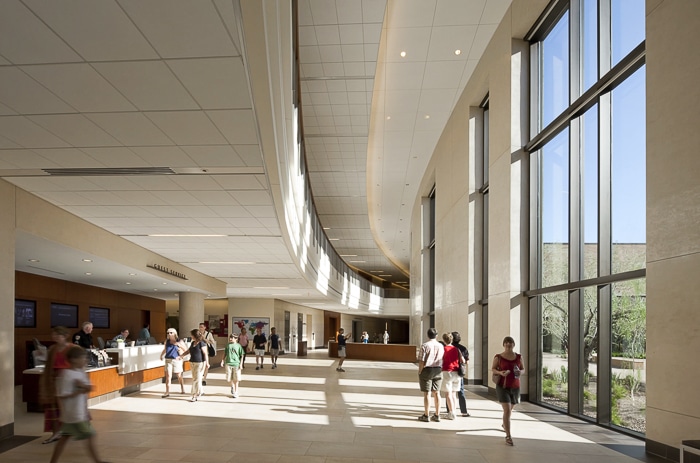 On every trip we've taken as a family, something unexpected presents itself, like travel cream rising to the top of the activity list, catching us off guard with sheer delight. On this road trip it was without question our visit to the Musical Instrument Museum, a mere 5 minutes from the JW Marriott Desert Ridge. When researching for our trip I ran into the 'MIM' on almost every travel activity list listing it in first priority. I figuratively scratched my head wondering what could be so enthralling about a museum of instruments. I was even more gob smacked when planning our day to find the museum suggested most patrons allow four hours for their visit. Four hours?! Well I now can say I not only get it but would say it is worth visiting Phoenix exclusively to experience this museum.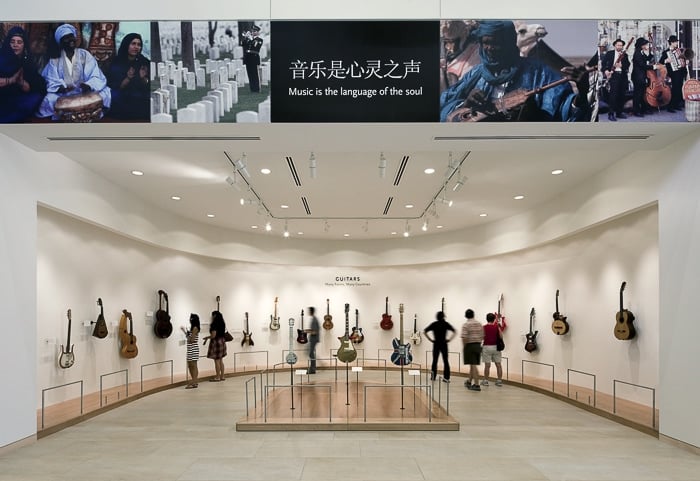 The MIM is the only museum of its kind in the world. Now four years old, it holds instruments from every nation in the world with the exception of two. In the museum's more than 360 exhibits, 5,000 musical instruments and artifacts from around the globe may be viewed. The MIM's permanent collection includes 15,000 instruments. The museum is sleek and modern in appearance and very well organized for viewing instruments, listening to music coordinated with each exhibit and to interact in the Experience Gallery as well. To start all patrons are provided with headsets and a wireless guide system which automatically plays when nearing an exhibit with a display monitor without action from the wearer. There is a short be inspired orientation video introducing the museum's mission and reminding all the 'without music the soul has no language' (still gives me chills).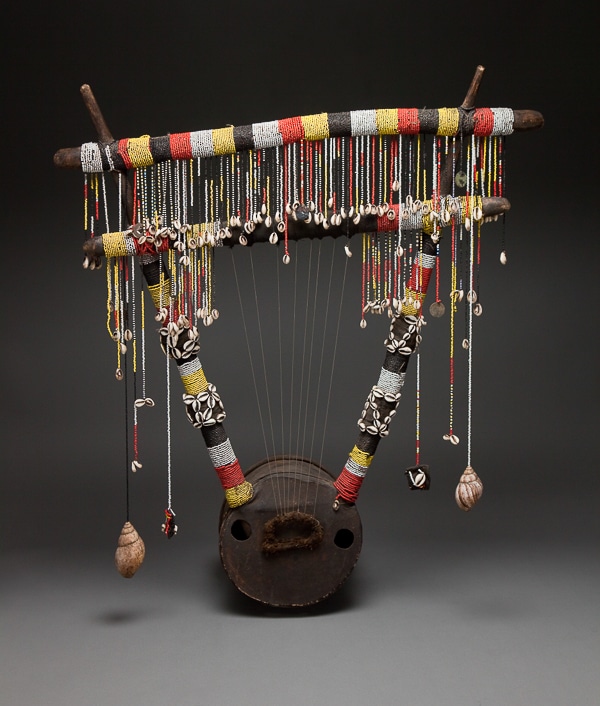 The upper portion of the museum is geographically organized by continent and country. Displays may include videos of how a given instrument is made or video demonstrations of how it is played along with some history. Exhibits are brimming with fascinating props, illustrations and facts. I entered feeling I had a decent grasp on musical instruments and left astounded at how many exist in the world I'd never heard of, many of them visual works of art.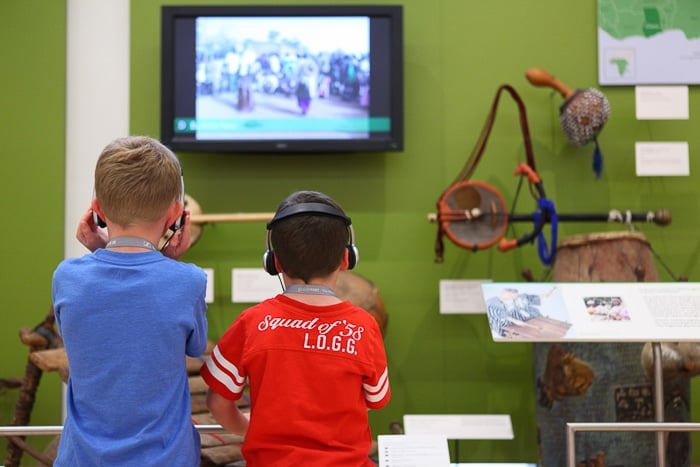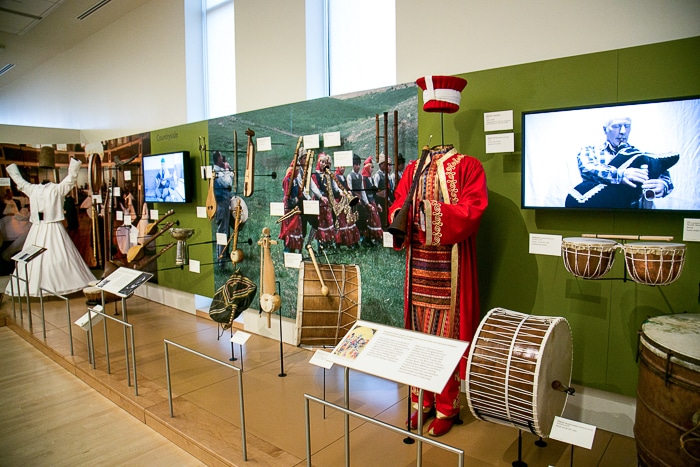 The lower portion of the museum includes an Experience gallery where all ages can play various instruments, many of which are exotic. There are galleries dedicated to those who have shaped music throughout time. An artist's gallery displays fanciful examples of instruments touched by those gifted in art, such as a lime green piano with orange keys painted by the famous glass sculptor Dale Chihuly. There is a wonderful coffee shop and more formal restaurant with both indoor and outdoor seating. We opted for a midway break to reflect and gather our thoughts over some espresso in the peaceful outdoor courtyard. A docent shared that with one's ticket, patrons can leave for a few hours and come back as well. It would be easy to spend multiple days immersed in all this museum has to share. A sure 'must visit' when in Phoenix. A virtual tour may be viewed here on the MIM website or check out their YouTube channel!
TIP: As with our segment in Sedona, Visit Phoenix was invaluable in their assistance with outing and dining suggestions, as well as creative solutions to some road blocks we ran into as well. Travelers may review lodging options and suggestions in the greater Phoenix area on their website and research activities or outings of all types prior to arriving in Phoenix or while local.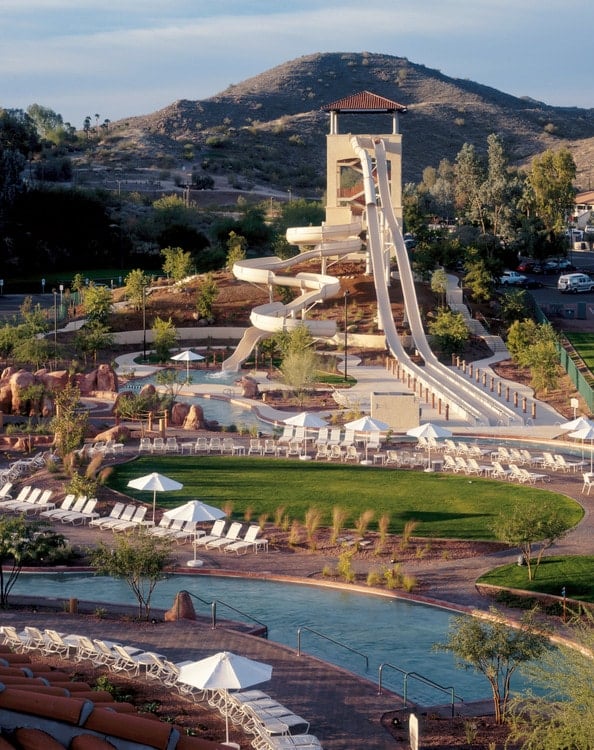 Arizona Grand Resort. Just inside the Tempe city boundary in southern Phoenix, the Grand Arizona Resort is certainly just that. An enormous destination resort has most everything a family could desire. Our residence for our few days in Phoenix, we landed here based on the onsite Oasis Water Park. We scored a great pre-paid rate on Expedia for a 2 queen bed suite and were offered a location upgrade for $20 a night when checking in to be closer to the pools. We grabbed it. Our room was well-appointed and comfortable. There were two traditional pools and hot tubs in different locations within our building's courtyards, and we were next to the water park. The Oasis park has a Lazy River (tube floating), wave pool, formidable water slides, an onsite grill (which can accommodate gluten-free diners), lots of lounge chair seating areas and shows 'Dive In Movies' where patrons can lounge on tubes in the pool watching their favorite family movie after dark. TIP: if visiting the resort mainly for the water park, check to ensure they will be fully open during your stay. When we arrived we learned there was a large convention onsite, and due to the meeting rooms being next to the slides the hours were impacted and even not running one day.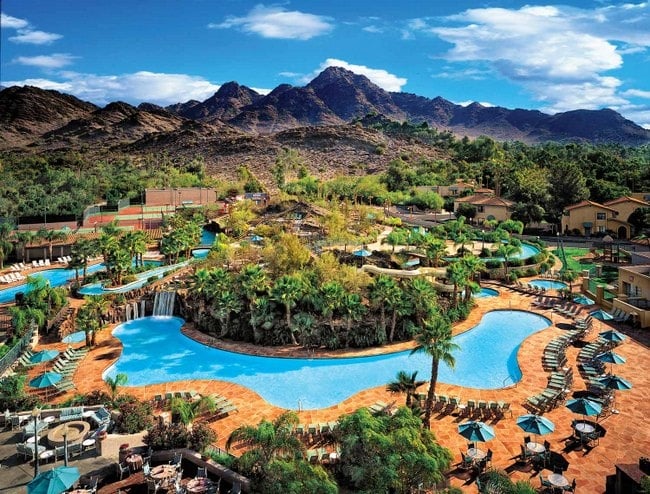 Pointe Hilton Squaw Peak Resort. Also booked during our visit, this resort jumped off the screen for the fantastic backdrop and water park. Four acres of pools, Lazy River, water slide, miniature golf, tennis, kids camps, onsite western-themed restaurant, poolside snacks (and cocktails!), nature hikes are just the start of the family-friendly options on the resort property. The resort offers varied lodging options from accommodations with kitchenettes to more traditional rooms allowing guests to further tailor their stay to their preferred level of comfort and convenience. Close to many Phoenix outings such as the Phoenix Zoo.
RESERVATION TIPS: There are multiple ways to book resorts, from booking on their website or via phone, to using consolidated travel websites such as Travelocity or Expedia. Often when booking ahead and using a 'no cancellation' rate the lodging rates drop substantially.
Always look over all the fees associated with a hotel rate. Larger resorts generally charge a 'resort fee' which is in addition to the nightly room rate and is paid daily when at the resort. It will often cover parking, shuttles, newspapers, WiFi, water park and fitness center use and more. The daily fees range per resort and can be as high as $60/day which could be a most unwelcome surprise if travelers do not realize that additional fee prior to arriving at their destination resort.
Boulder Locavore gratitude to Visit Phoenix for all the planning ideas and assistance, JW Marriott Desert Ridge for the delicious recipes and information, and to the MIM for hosting our day of exploration. MIM photographs courtesy of MIM.