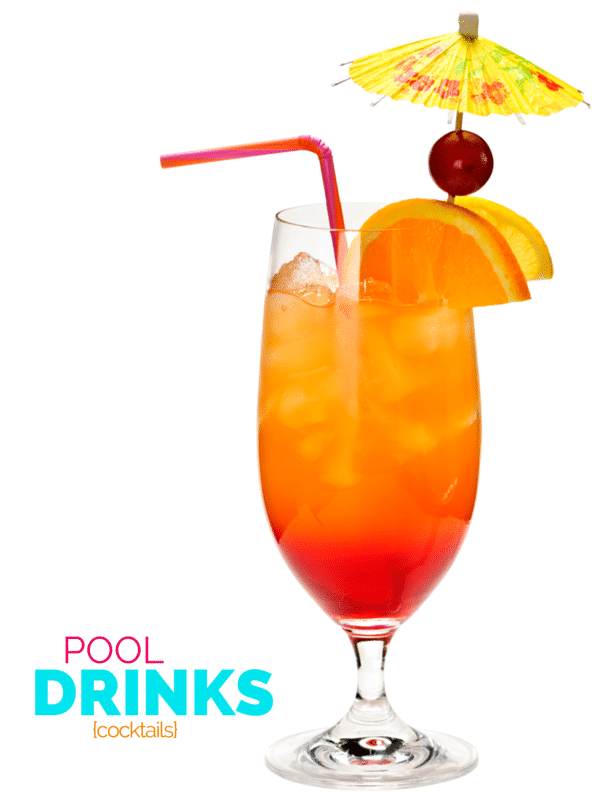 I really don't love the pool scene. Though I feel constantly cold in the winter, I tire quickly of being overheated as well. I get bored just sitting. As I stare out over the shoulder-to-shoulder partially reclined lounges snaking around every inch of the pool perimeter, I feel like a sardine. A warm sardine mind you which is better than a frozen one I suppose.
I'm not a tanner either. A far cry from the frenzy of my Hawaiian Tropic tanorexic youth which drove me to use baby oil mixed with iodine and to lay on tin foil on top of the dog house (it got me 2 extra feet closer to the sun.)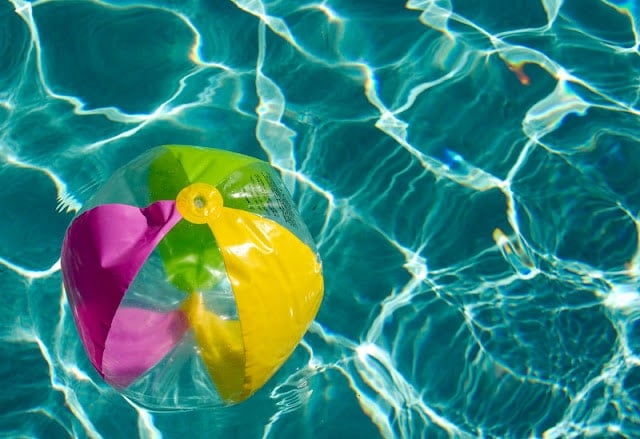 Where is all this leading? It's time for a poolside cocktail.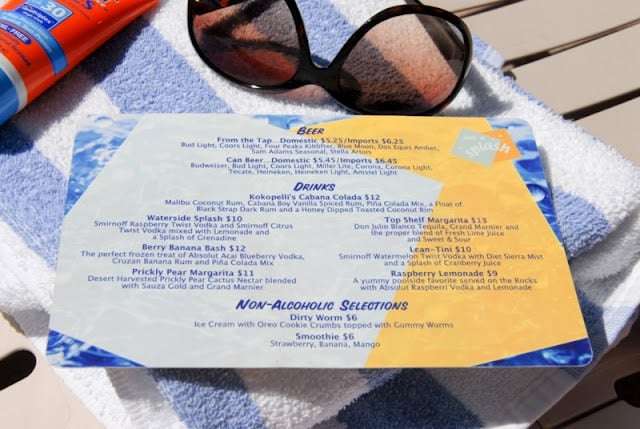 It's mid day in the high desert and I'm on a mini vacation. Very mini. Micro actually. I'm easily tempted by things called 'Kokopelli's Cabana Colada' (though I don't prefer the 'Pina' variety). They leave me ever hopeful the server will also come armed with palm fronds, and grapes to feed me. Even if it doesn't come with anything other than a plastic cup and straw, the microsecond of imagining something other than my burgeoning email inbox needing attention is worth it.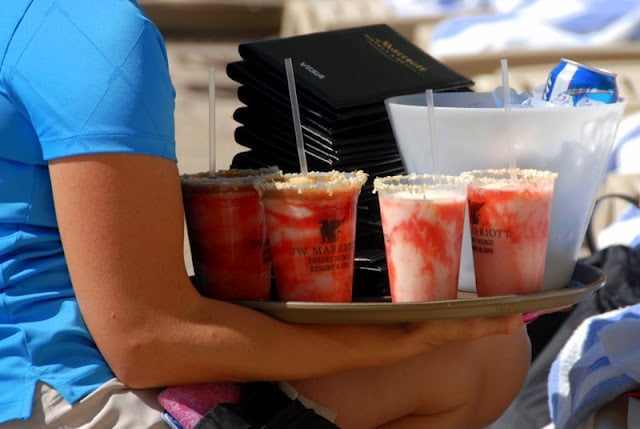 The tanners on the other side of the pool are all the hue of Willy Wonka's Oompah Loompahs signaling their intent is for maximum sun exposure, not the finer aspects of poolside languishing. I on the other hand after a morning of loving texts and emails from friends about the horrible winds and snow in Colorado, am ready to try a new beverage as a personal affirmation summer does lie in my future. Over my few day escape, I sampled and chit chatted with the servers and bartenders to break the code on the fresh, new beverages I'm passing along for you to begin planning your first pool party of summer.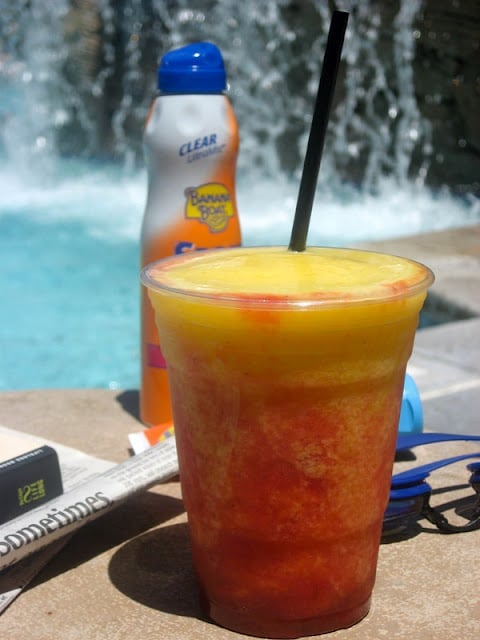 Yummy tequila laced smoothie drink featuring mango and strawberry flavors.

Thick, creamy and very tropical.
·
1 ounce Sauza Gold Tequila
·
Freshly squeezed lime juice
·
Triple Sec if desired to sweeten
This was one of those drinks the bartender clearly doctors the portions of with each making.

Pour a small amount of strawberry puree in the bottom of a 16 ounce glass.

In a blender place 1 cup of ice and mango puree to desired thickness, adding more puree if desired.

Squeeze in ¼-1/2 lime.

Add tequila.

Blend again.

Add Triple Sec to sweeten if too tart from lime juice.

Pour into glass.

Strawberry puree will begin to creep up the sides of the glass rendering a beautiful sunset coloration.
*This resort uses Island Oasis fruit purees.

I might be tempted to make my own from actual strawberries and mango each put into a blender and pureed.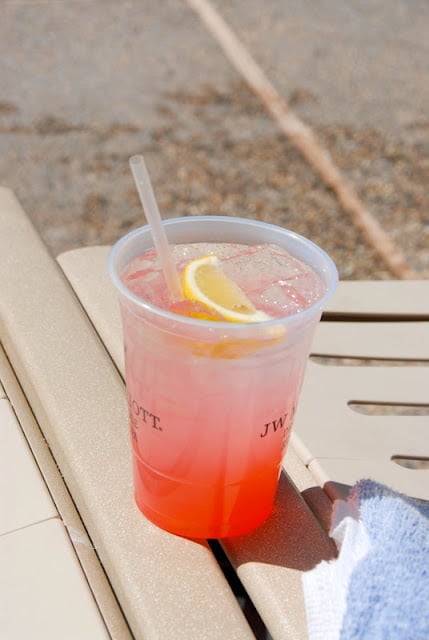 This is a very light, fresh and refreshing pool side libation that slowly works its wiles on you.
·
1 ounce Smirnoff Raspberry Twist vodka
·
1 ounce Smirnoff Citrus Twist vodka
Fill a 16 ounce glass with ice.

Pour a splash of grenadine in the bottom of the glass.

Add the two flavors of vodka and fill with lemonade.

Garnish with an orange slice.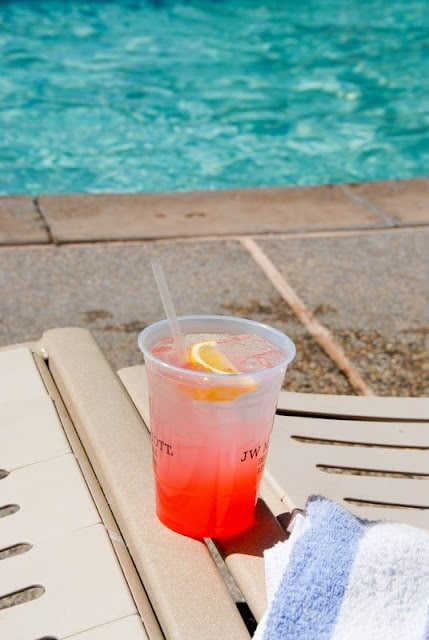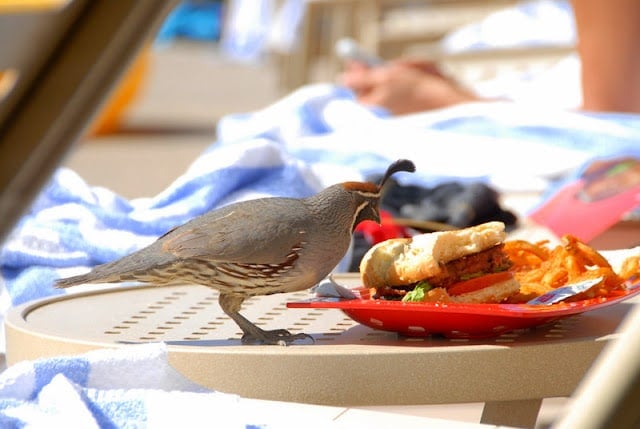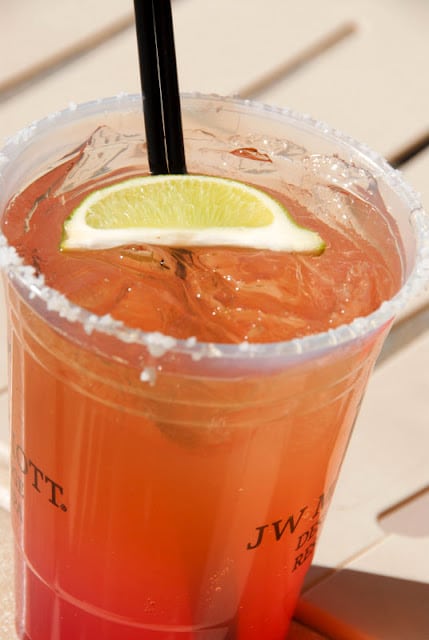 This tastes like smoky flavored danger.

I took one sip and passed it to a willing friend.

The prickly pear nectar (from the cactus) is what makes in of this region and can be purchased at liquor stores or online.
·
Prickly Pear Cactus Syrup (only use a few drops)
·
1 ounce Sauza Gold tequila
Rim a 8 ounce glass with salt (if desired).

Fill with ice.

Combine all ingredients in a separate glass or shaker and pour over the ice. Garnish with a lime wedge.