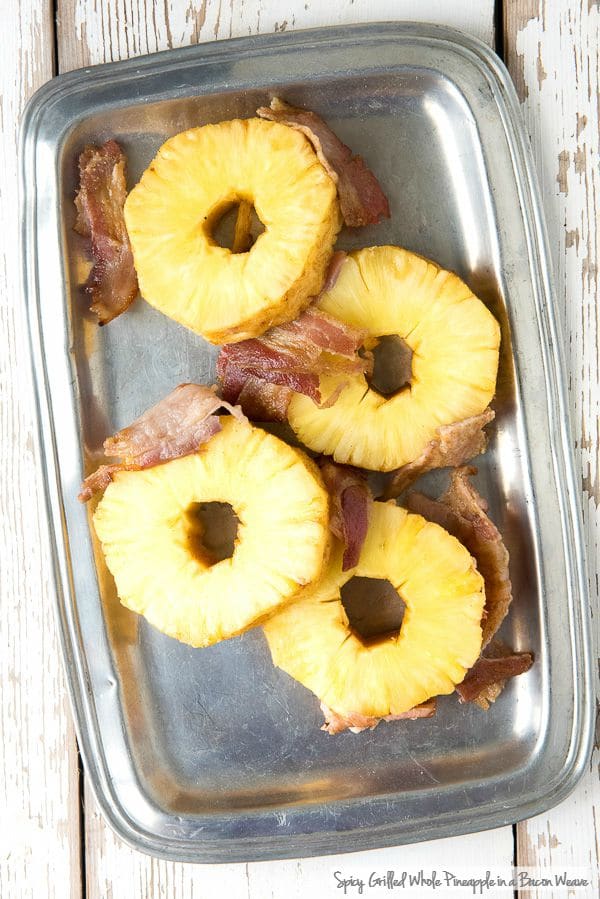 Historically I haven't collaborated on recipes however an opportunity presented itself that was just too good to pass up. I was recently sitting next to one of my very favorite 13 year olds at a day long swim meet. There are many hours between the swimmers' 2-minute-or-less races so lots of downtime. This sentiment I saw on a t-shirt there sums it up: "If I only had one more day in my life I'd spend it at a swim meet because they last forever". I find they become a bit like taking an international plane flight; after a few hours you could have been on the flight for 2 hours or 19, it all feels the same.
My friend Alex is a foodie. Not budding, just plain straight up. He's traveled internationally regularly and has parents with great taste who haven't babied his palate through marginalized kid fare at the dining table. In the middle of a fairly sophisticated dialog about how to prepare conch fritters from Alex's recent trip to the Exuma Cays, a piece of rogue pineapple came flying over my lap launched accidentally from my son (who has asked for credit for the genesis of this recipe, or at a minimum facilitating its inspiration).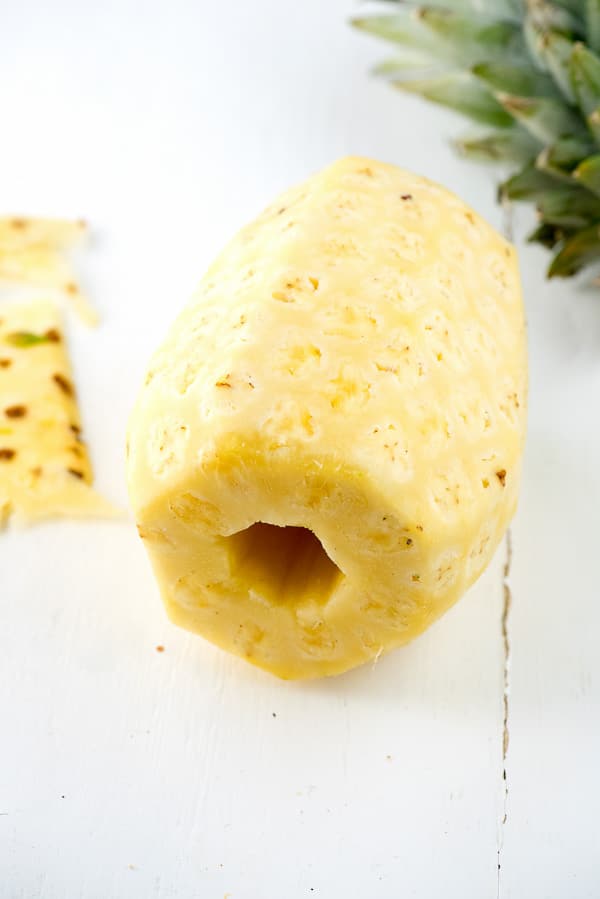 This happened on the day I'd just posted Grill-Smoked Green Chile Burgers with a Bacon Weave. Alex asked 'do you think pineapple would be good wrapped in bacon?', to which I replied 'yes, I think anything wrapped in bacon would be good'. He, a self-confessed lover of The Next Food Network Star, went on to remark about the flavor combination of the pineapple and bacon, their contrasting attributes that made them such an obvious choice to grill.
At this point, on the verge of a complete chlorine-facilitated delirium after getting up at 4:08 a.m. and having sat on metal bleachers for 5 hours, my mind began to drift into this idea. Alex stated proactively that he wanted public credit. Done. We discussed the method which I felt would be best done by peeling and coring the pineapple and wrapping it in a bacon weave, grilling it over indirect heat.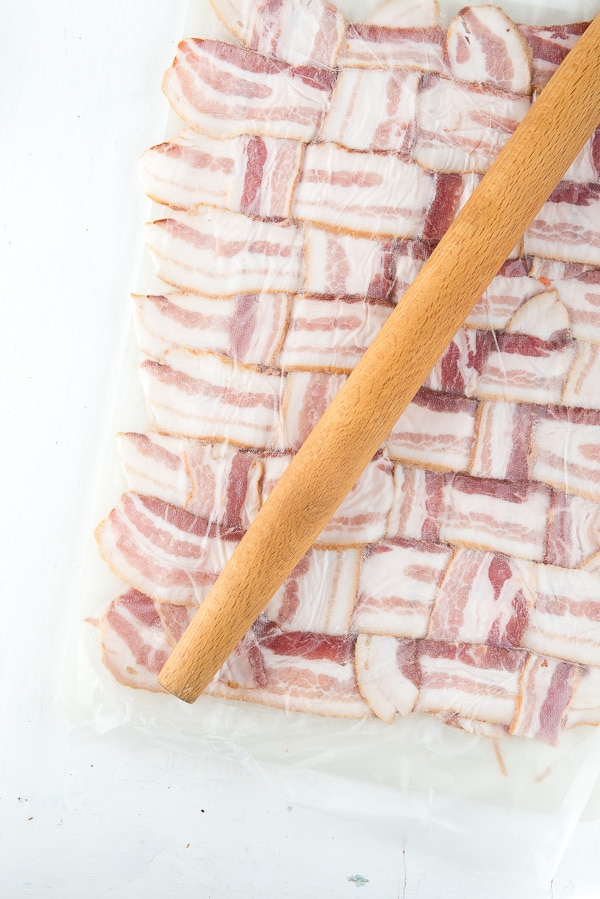 After a few quiet minutes of pondering Alex piped up that it would need a little bit of heat. I agreed. I asked what he thought would be best and he felt cayenne pepper, just a bit. A few more contemplative minutes passed and he added 'on top of the pineapple before the bacon'. Ok then. Who am I to use age as a metric for culinary sensibility? I thought his ideas were spot on.
I came home exited to get grilling. Before finalizing my approach I posed a method question in a Steven Raichlen Primal Grill Facebook group I'm in. It's full of creative, knowledgeable grillers who I'm convinced are the nicest people on the internet. I told them about my budding chef friend and my thoughts, and asked about how they'd approach the grilling. Immediately a few responded telling me to Google 'Swineapple'. I did and discovered a fanciful dish made up of a pineapple peeled and hollowed out, stuffed with spareribs and wrapped in bacon. So imaginative, right?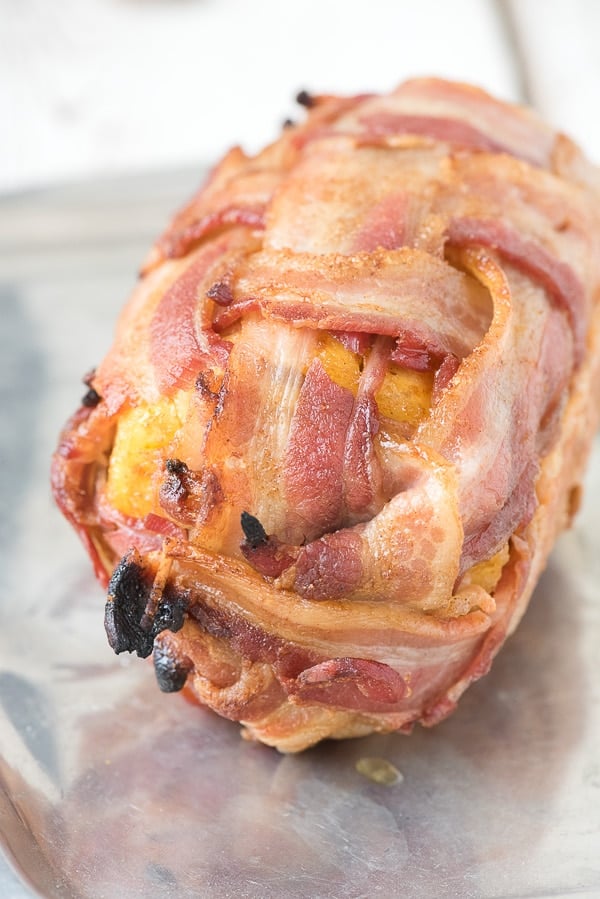 I decided to stick with the original seed idea though added a brown sugar rub along with the cayenne pepper. The bacon weave imparts the smoky, bacon flavor we love which, as Alex envisioned, contrasts perfectly with the sweetness of the cooked pineapple and the heat from the cayenne.
Using a bacon weave works for the grilling however it does not cling to the fruit as it would to meat. After the grilling, cutting thick slices and serving them with part of the bacon works best, and frankly gives the pineapple an opportunity to shine.
Everthing you need to know about a Bacon Weave (including step-by-step photos)!
The pineapple is still firm and may be serves as a side dish, chopped up on ice cream, thrown in pieces into a salad, a smoothie or anywhere you'd like to change up traditional pineapple flavors.